Here you will find a complete list of all the projects from Tulip Group Thailand in Pattaya. They are also doing some projects in Bangkok.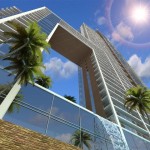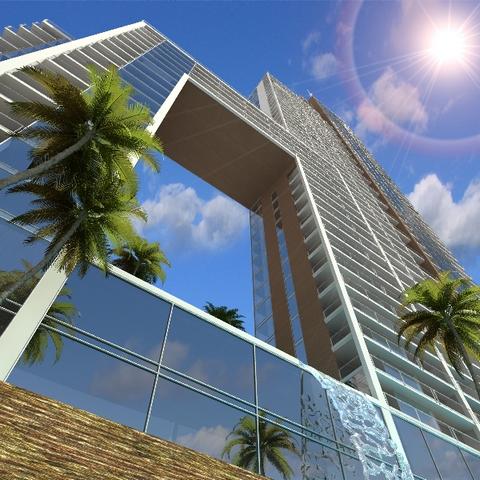 Waterfront Suites & Residences – Owned by Park Plaza Hotels Europe. Waterfront will be a 40-Floor building rising to a height of 150 meters and will be located at Bali Hai Pier in downtown Pattaya.  The project will include a Park Plaza Hotel with 150 rooms and there will be another 300 condominium units. Read more….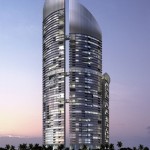 Centara Grand Residence is a stunning condominium development located in a beautiful beachfront setting in Na Jomtien. The project will feature two towers – 46 and 39 stories high – of residential condominiums and a 5-star Hotel by the name Centara Grand Resort and Spa Jomtien in a 3rd tower. Read more….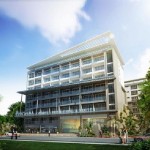 Centara Avenue Residence & Suites Pattaya have started construction of the 8-storey project beginning of June 2012. There will be 380 rooms in the condominium project and 100 rooms in the Centara Hotel. Once the project is developed it will be managed by Centara, Thailands largest hotel chain. Read more….
Centara Grand Pratumnak is a low-rise boutique hotel, there will be a rooftop swimming pool. The rooms will be appointed with amazing marble flooring and some of the most expensive interior fittings ever seen in a hotel. This hotel will attract clients looking for a 5-star property and personal 5-star service. Read more….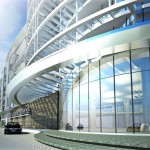 Golden Tulip Hotel & Residence Pattaya was launched October 2012. There will be four buildings – 3 residential buildings and 1 hotel. The project will include a 4-star Golden Tulip Hotel with 200 rooms and 6 condominium buildings. The development will be managed by Golden Tulip Hotels and Resorts. Read more….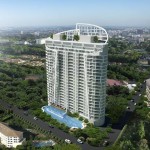 Royal Tulip Suites Pattaya will be a 5-star hotel & residence located in Soi 5 just 30 meters from the beach on Pratumnak Hill. The 5-star hotel will occupy the first 12 floors of the property and the residential component will be on the remaining 10 floors. EIA and building permit were in place in June 2013, prices from 4.8 MB. Read more….
Developments where Tulip Group Thailand is partner with Nova Group Thailand: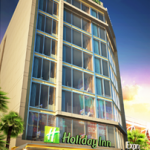 Holiday Inn Express will open in Pattaya in 2013. I am very excited about this project for some unknown reason. The Hotel will have 8 stories and there will be 162 rooms. The Hotel is located on Second Road close to Walking Street. Read more….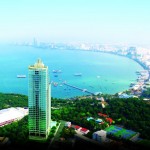 Amari Residences Pattaya is a 35 floor High-Rise that offers one and two bedroom units ranging from 34.5 sqm to 84.5 sqm. This development is located on Pratumnak. Piling work has already started and Amari Residences is scheduled to be completed by the last quarter of 2014. Prices from 2.7 MB. Read more…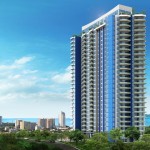 The Cliff is located on Pratumnak Hill not far from Cosy Beach. There are 27 floors and 426 units in this building. This was Nova Groups flagship, at least untill the launch of The Palm on Wong Amat Beach. They have 6 room sizes available from 37 sqm to 102 sqm. Read more….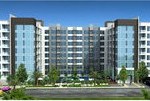 Novana Residence is a new project on Third Road in South Pattaya. There will be 8 floors in this building, 259 units, and with a starting price of only 999,000 Baht it must be considered a good investment. Read more…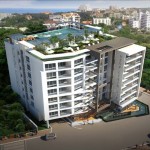 Nova Ocean View condominium is located on Pratumnak Hill Soi 6, it is an 8 story luxury building with a rooftop terrace and swimming pool overlooking the sea. The size of the units range from 45 sqm to 106 sqm and the price range from 2.700.000 Baht to 8.100.000 Baht. Read more…
12 June 2014:
This is not advertising or marketing. This is a piece of art. Just one question: Who is the guy responsible? Internal or external designer? If internal, how did they find this guy? It will be hard or impossible to top this one.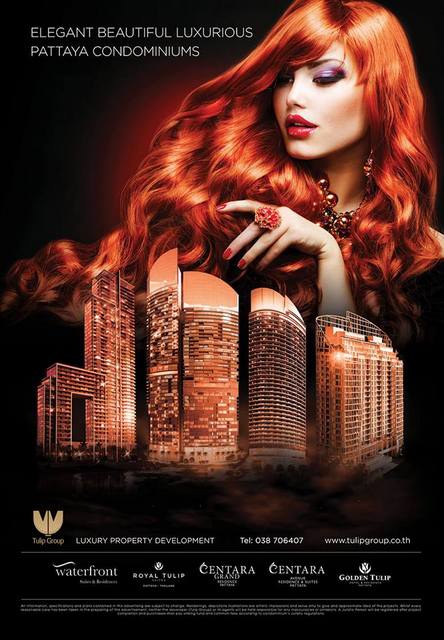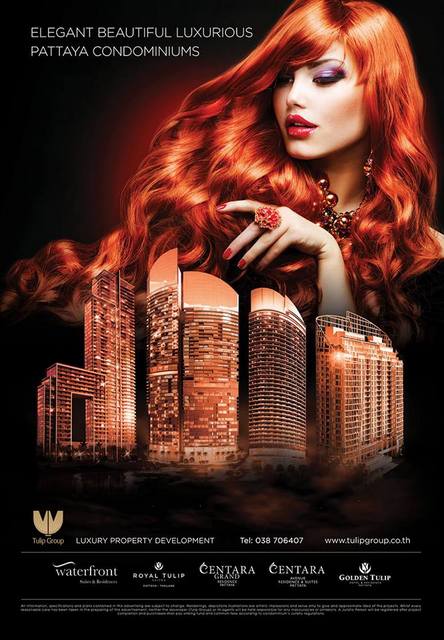 23 June 2013: Royal Tulip Suites Pattaya, read more.
23 January 2013 developer Tulip Group announced that it plans to launch 3 – 5 new projects in Pattaya. The projects will be hotels, mixed use condominiums, a serviced apartment and a new corporate head office.
The luxury property developer currently has 4 condominiums and 5 hotels under construction, all targeting the mid to high-end luxury sector and this business model is set to continue.
According to Vice President Jason Payne their business model is to build only in prime locations, with their target sector being 4 – 5 star luxury.
Tulip Group is currently working on projects with Centara Hotels & Resorts, Park Plaza Hotels Europe and Golden Tulip Hotels & Resorts, and the developer claims that they will be bringing even more 5-star brands to Pattaya.