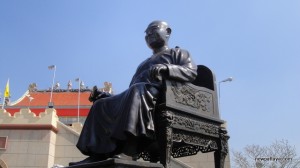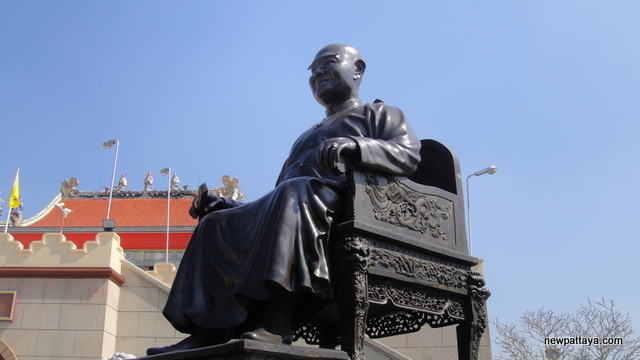 The brief history of Anek Kusala Sala (Viharnra Sien Temple):
Thailand and China have a very long historical relationship. The streams of the cultures of their peoples have been continuously well connected, resulting in a close and cordial relationship between the two countries both at the state and people's levels. Particularly noteworthy were the chinese emigrants to Thailand where Buddhism was the national religion. Seeking a new life under the royal protection, they brought with them their artistic skills and traditional cultures. These emigrants were instrumental in creating new forms of many interesting Thai-Chinese works of art and cultures.
Anek Kusala Sala is widely known as Viharnra Sien. Its Chinese name is "Dan Fu Yuan", whose meaning is abode of gods. It is one of very important centers in Thailand that houses many great Thai-Chinese works of art. The debt of gratitude of Chinese descendants living in Thailand as well as their loyalty of the nation, the dynasty, and His Majesty the King played a major role in inspiring the construction of this building. Most outstanding among these descendants was Master Sa-nga Kulkobkiat who initiated, designed and supervised the construction. In 1987, His Majesty King Bhumibol Adulyadej granted him a royal permission to construct the building on a 7-rai area within the Royally-initiated Wat Yannasangvararam area development project.
His Majesty the King graciously determined 6th June 1988 at 9.19 hours as the auspicious time for inaugurating the construction and also graciously bestowed this building the name of "Anek Kusala Sala". His Majesty King Bhumibol Adulyadej graciously presided over the opening ceremony of Anek Kusala Sala on 24th December 1993. Master Sa-nga Kulkobkiat together with a group of Chinese-Thai people humbly offered the building as well as many antiques and art objects to His Majesty the King, in recognition of the royal beneficience.
The decorations of the building and the exhibited antiques and art objects represent the harmonious fusion between Thai and Chinese works of art and cultures. Importantly, the building also houses numerous art objects contributed by the Chinese government for permanent exhibition. Moreover, the building serves as a place containing collections related to Chinese philosophies and religion including Taoism, Confucianism and Buddhism. The philosophies and the religion provide the solid foundation for the Chinese culture.
In Taoist belief, the Immortals ("Sien" in chinese) roam the universe, and their actions and miracles have produced a rich mythology. The Sien, according to Chinese mythology, are beings who have gained immortality. They are not deities but have been granted the gift of eternal life. The immortals are either celestial or terrestrial. Celestial immortals live in Tian (the Chinese word that refers to both the sky and heaven). The terrestrial immortals live in forests.
The Chinese government gave 328 valuable items to Mr Sanga Kulkobkiat for permanent exhibition. Many sculptures of Buddha images and many Chinese gods and goddesses can be found together in this pavilion to make it convenient for people to worship them without going to many places.
Please also take a look at Viharn Sien Chinese Temple – Part 1.
I was back for a visit on 25 december 2012 and this time I dragged the wife along with me, after all her great grandfather was a chinese emigrant. Yes, there is a strain of chinese blood in the family but my daughter does not know it yet.
Published 25 december 2012.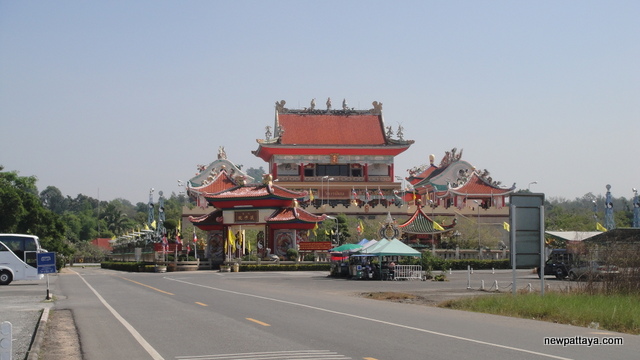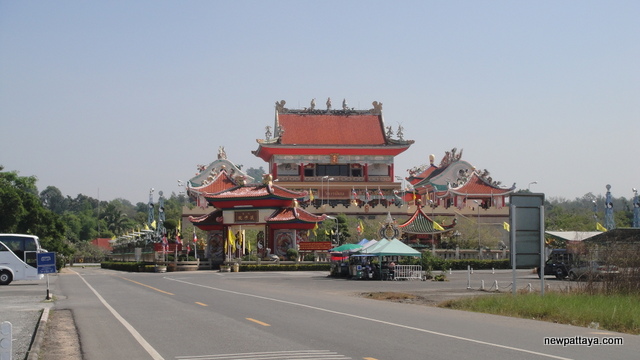 The Eight Immortals are a group of legendary immortals in Chinese mythology. They have the power to give life or destroy evil. Lü Dongbin is the leader. Not only are the immortals revered by Taoists, but by all Chinese society.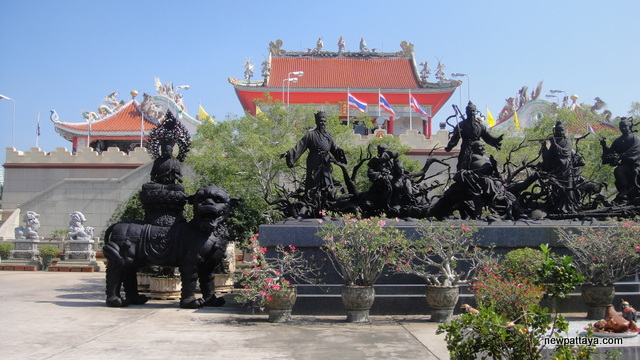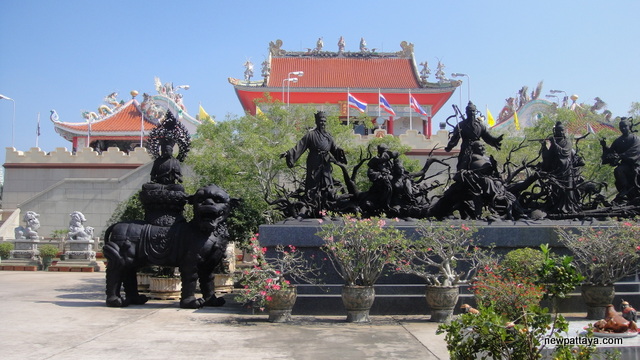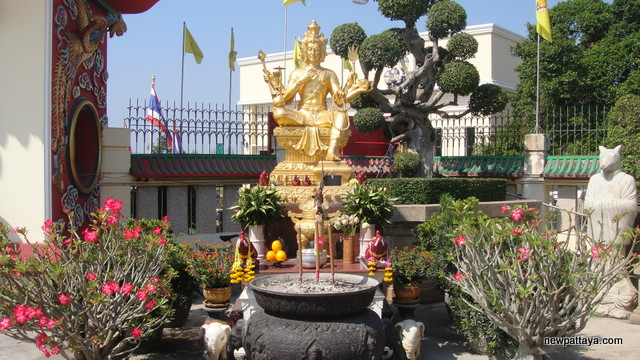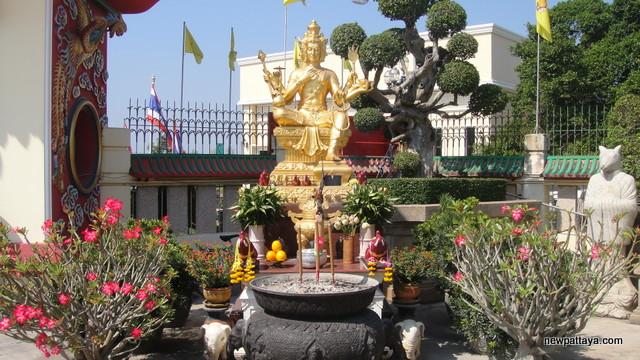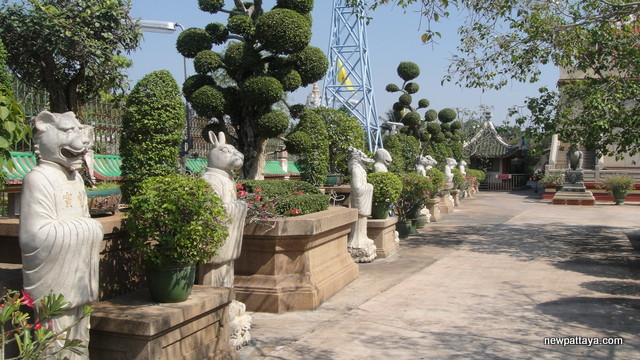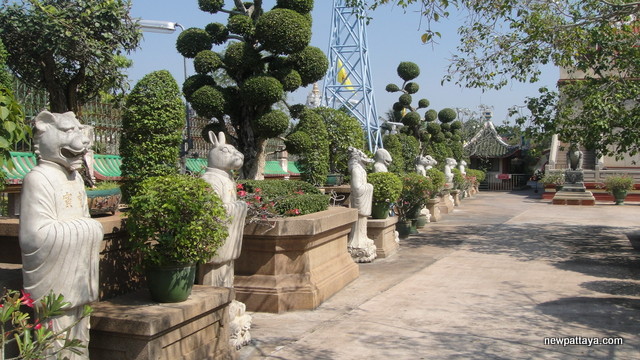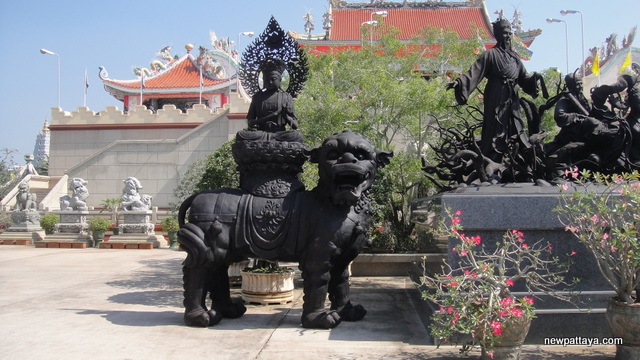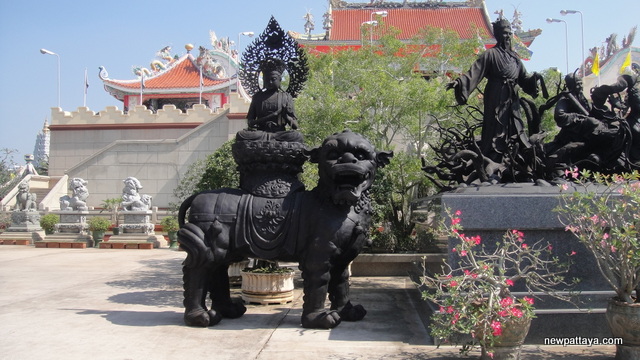 Beneath the statute of Master Sa-nga Kulkobkiat you will find the following brief biography:
Master Sa-nga Kulkobkiat was born in Bangkok on Monday 18th October 1925 and grew up in the People's Republic of China. He was an elder statesman who devoted himself to popularization of Thai and Chinese cultures. He also played an important role in continuously fostering and maintaining the good relationship between Thailand and China. He was a master of Feng Shui, the traditional Chinese art or practice of creating harmonious surrounding that enhance the balance of yin and yang and the flow of energy(qi). Using his expertise, he kind-heartedly helped many people from all walks of life without any discrimination. As a result, he is well known both domestically and overseas. He is admired for his wisdom and is respected as a man who adhered to high ethical and moral principles. He is a mode of a devotee who acted for the common good of the overall society in order to repay a debt of gratitude to his country and motherland.
He left behind this "Anek Kusala Sala (Viharnra Sien)" as an invaluable architectural heritage for Thailand and China. This Viharnra Sien represents one of outstanding creations of art in Southeast Asia that houses many priceless Thai and Chinese art objects. He was also a key leader in constructing another "Viharnra Sien" in Chaozhou city, Guangdong, the People's Republic of China in order to enhance the cooperation between Thailand and China in promoting the cultures of the two countries.
Master Sa-nga Kulkobkiat passed away on Friday 22nd August 2003. In order to pay homage to the master, his relatives and disciples jointly erected this statue in commemoration of his generous contributions to the people, the society and the two countries.
Here he is, the unusual individual that made it all possible: Master Sa-nga Kulkobkiat. I would have liked to have met him.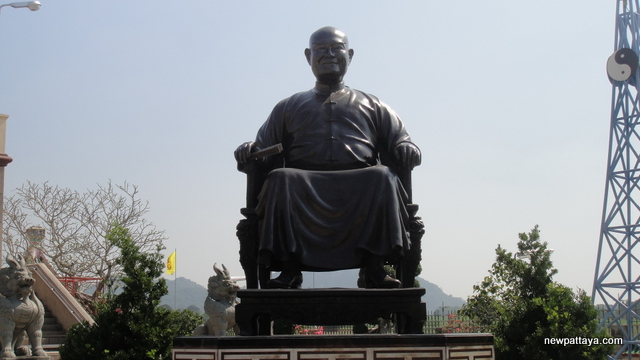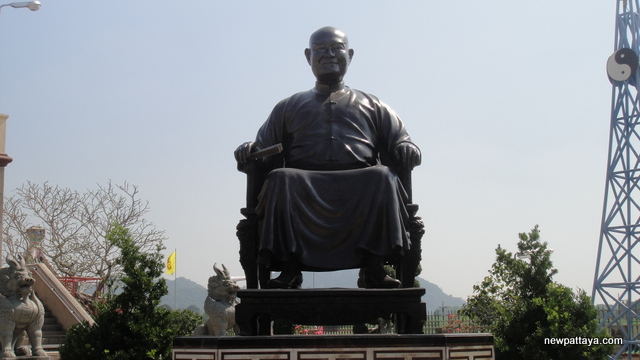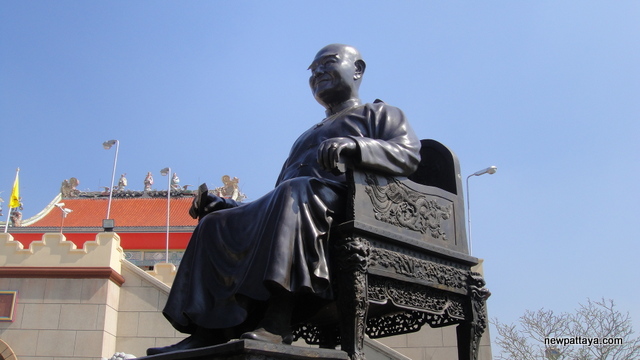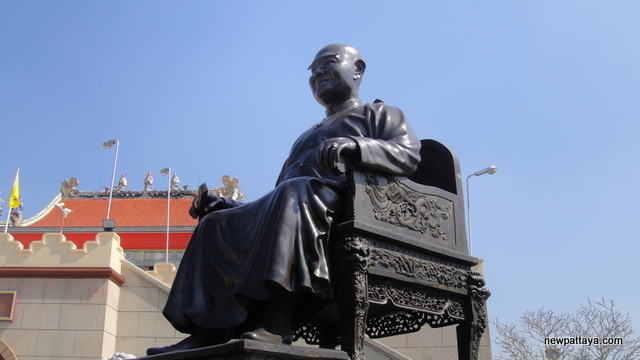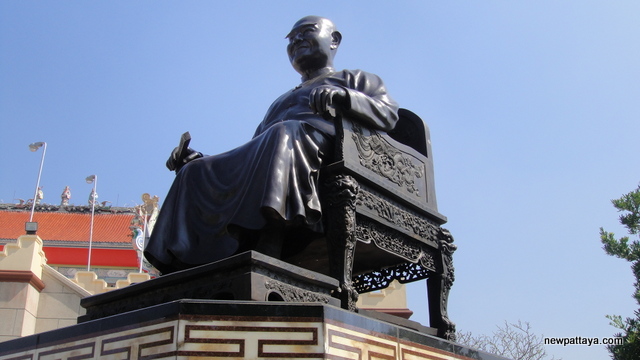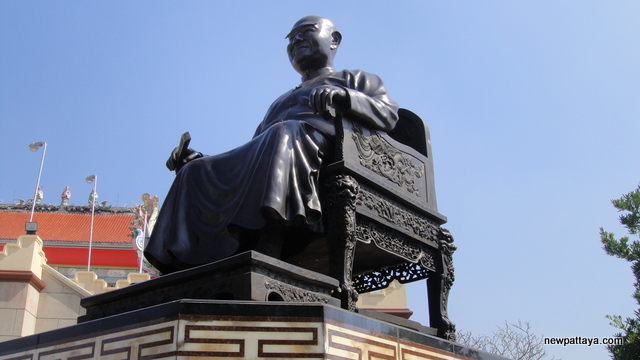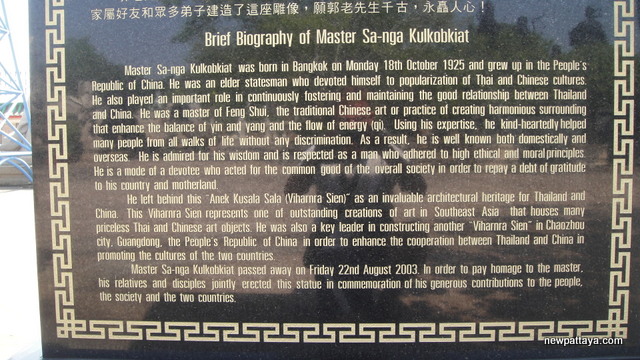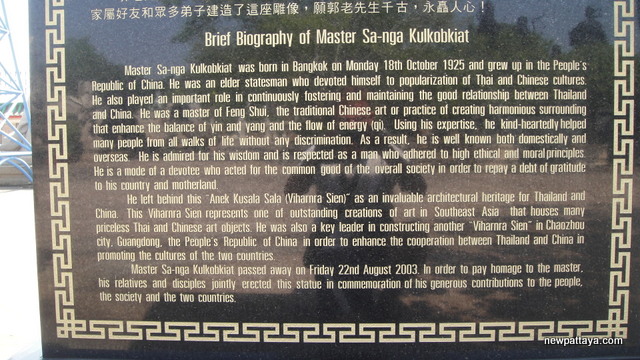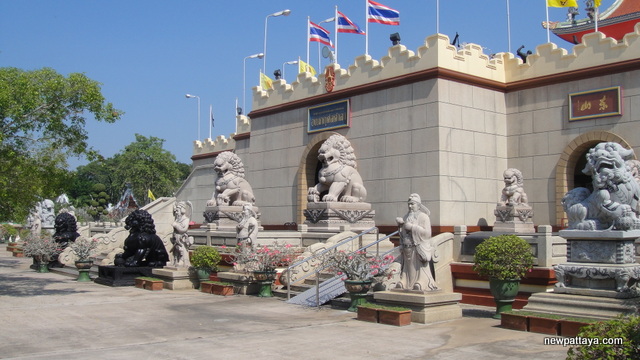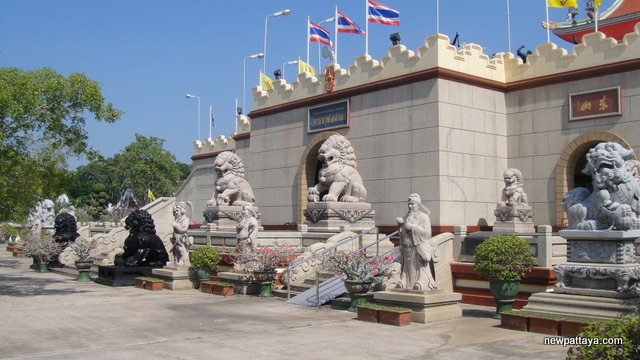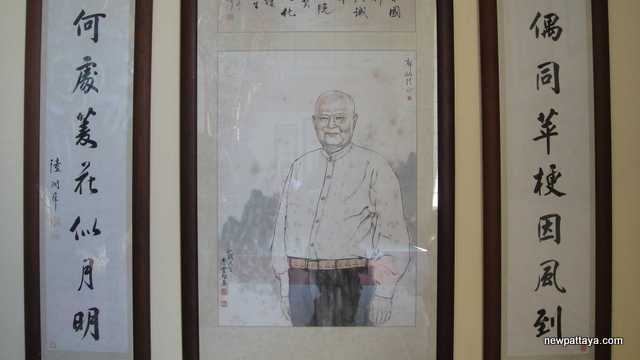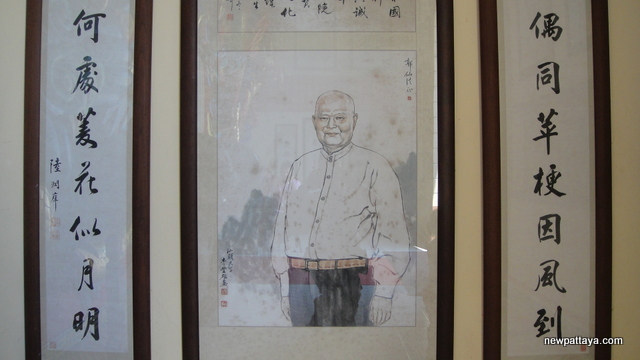 These Terracotta statues of soldiers found in Qin Shi Huang Di's tomb, (Huang Di means Emperor) Xian province in China.
The chinese government gave these terracotta statues to Mr Sanga Kulkobkiat for permanent exhibition in this building. Moreover, the chinese government also gave two sets of bronze chariots that were found in the tomb as well. Actually, the chinese government has never given them to any country, organization or person for permanent exhibition. The chinese government also gave a model of Qin Shi Huang Di's tomb for exhibition.
Qui Shi Huang Di was a great emperor of China who built some of the earliest sections of the great wall. These statues were first found in the tomb in 1974. It was accidentally discovered by farmers digging a well. Now about 6,000 statues were found in the tomb. Each of them has a human-size and different face, size, armour and so on. They are representing people from all parts of China and various military ranking.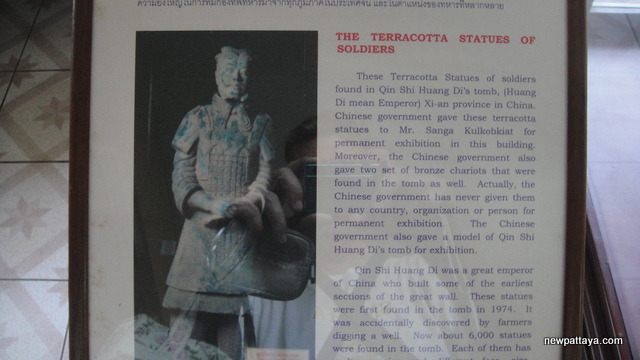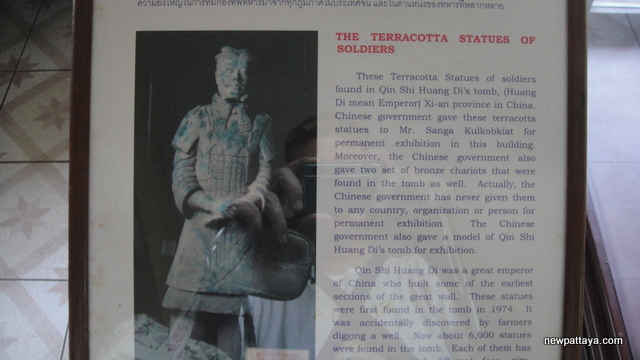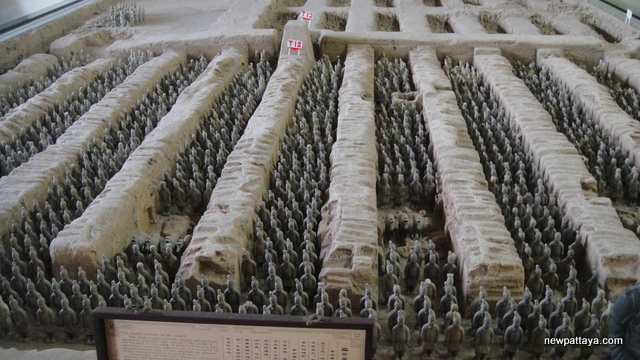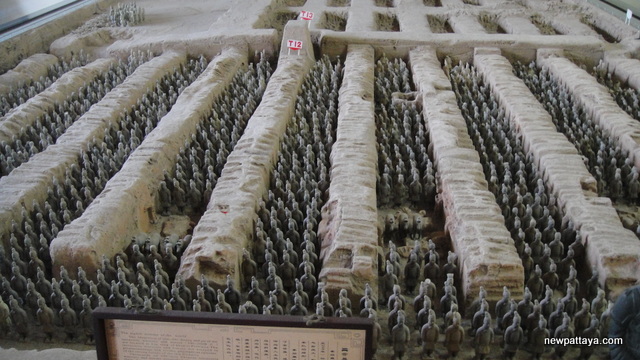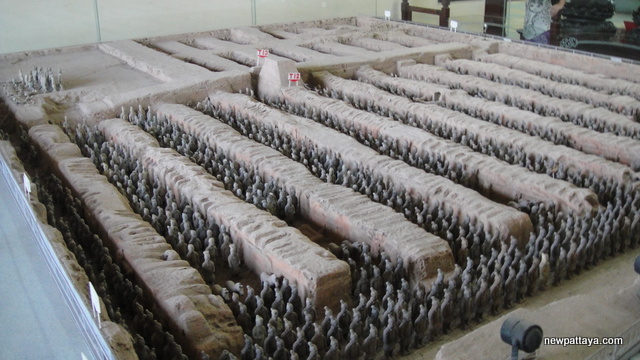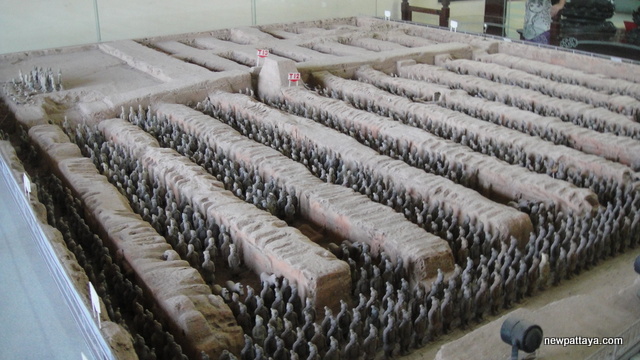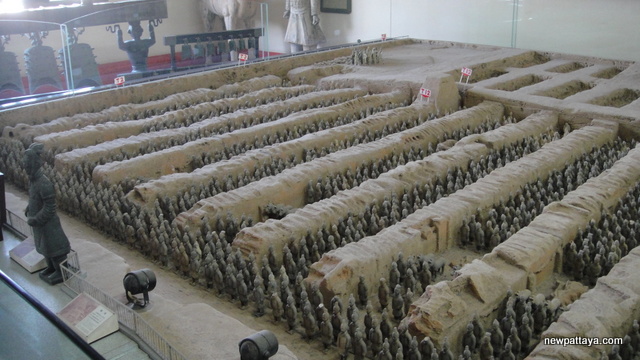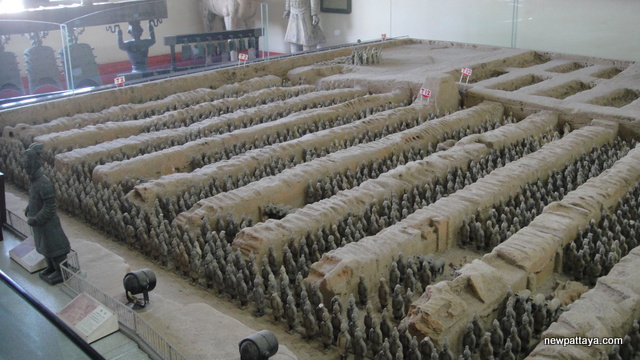 The Immortal Lü Dongbin. Lu Dongbin was born in the tenth century AD. His family name was Lu and personal name was Dongbin. He came of an official family. While still a student he met a fire dragon who gave him a magic sword with which he could conceal himself in heaven. Later, Lu Dongbin visited an inn where he met a man called Han Zhongli. While Han Zhongli warmed up a pot of wine, Lu fell asleep and saw the whole of his future in a dream. He dreamt that he would enjoy good fortune for 50 years but then his luck would run out, his family ruined and he himself killed by bandits.
When Lu Dongbin woke up, he became convinced of the worthlessness of earthly ambition and decided to renounce the world. He followed Han Zhongli into the Ho Ling Mountains in order to seek the Tao and achieve immortality. At the Ho Ling Mountains, he was initiated into the divine mysteries, and became an Immortal. His pseudonym was Shun Yang Tzu. He is the patriarch of many Chinese sects and the most popular immortal in Chinese culture.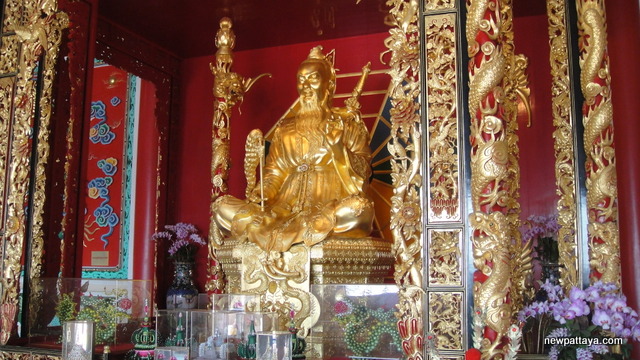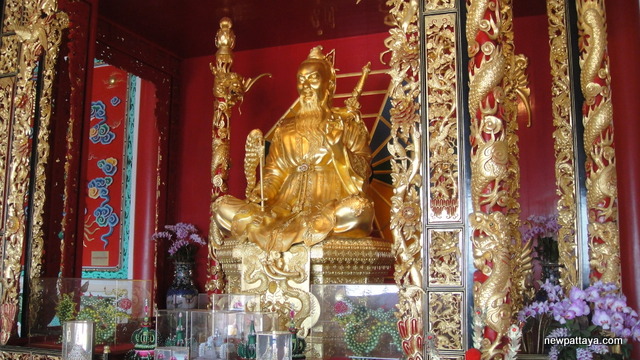 Surprisingly there are relatively few visitors as you can see in my pictures. I was here on a tuesday between 12 and 14 o'clock. I feel a real sense of peace when I am there. It is magical because I feel like being among old friends. For me it is like being in heaven. I can't quite explain it but I feel a weird connection to this place – it feels like I have known the place for forever. I know there is a lot more to this temple than meets the eye. The Temple may be a secret gateway to heaven, a doorway to the heavens that only the enlightened ones can see.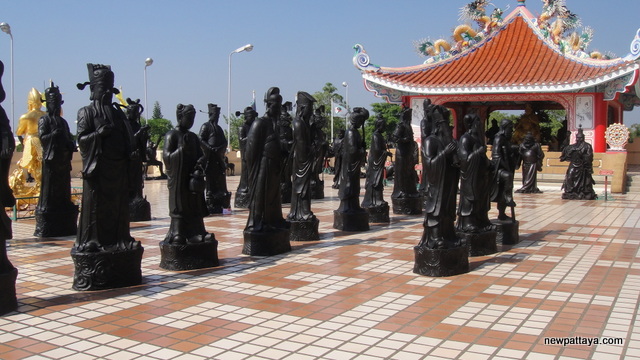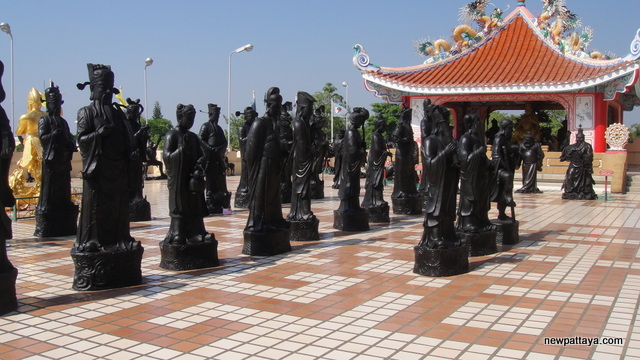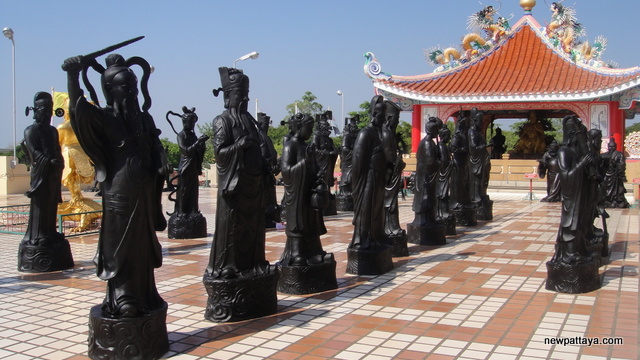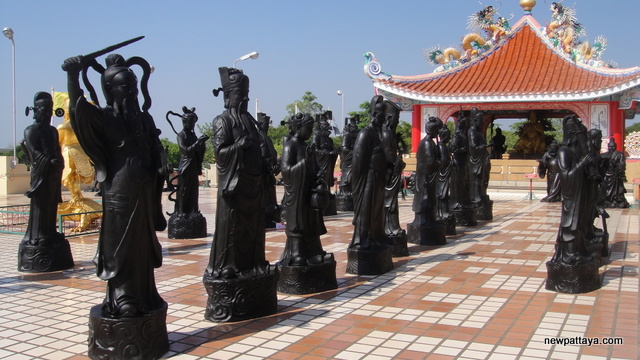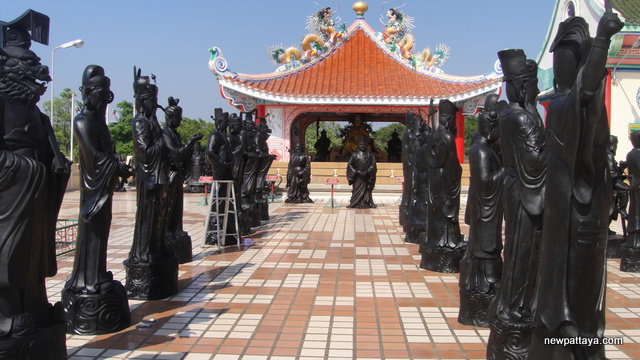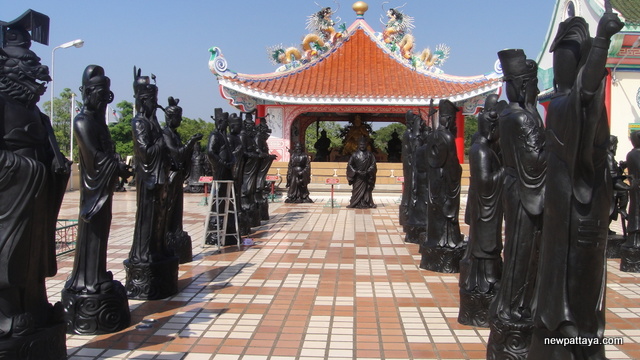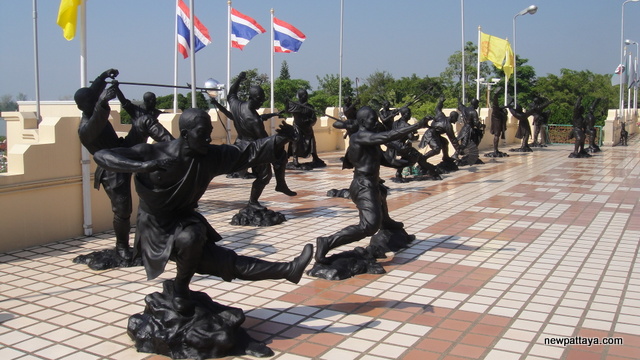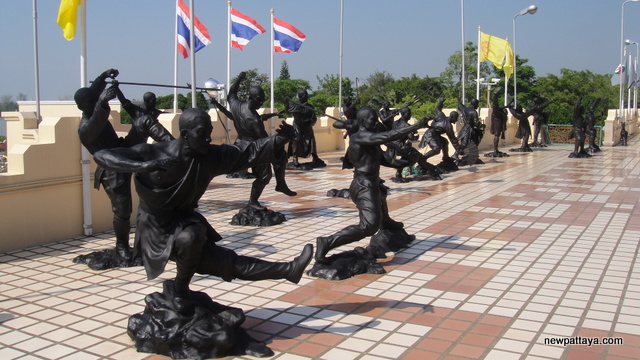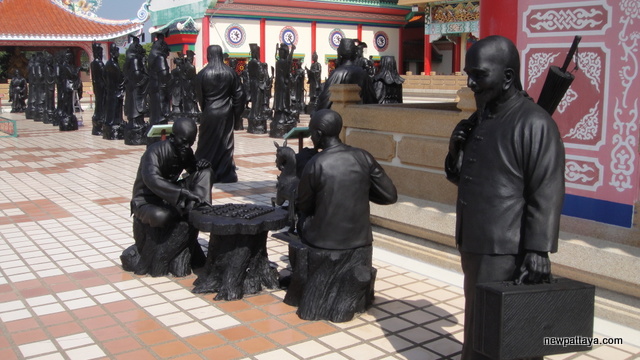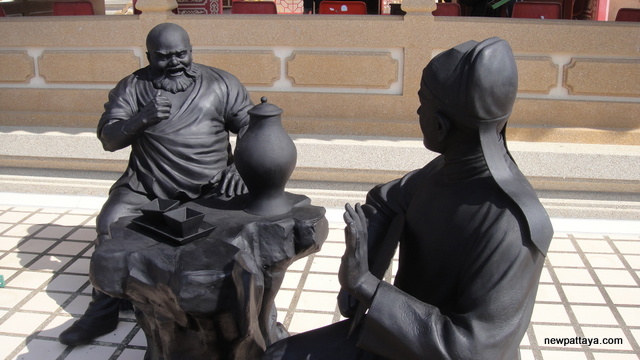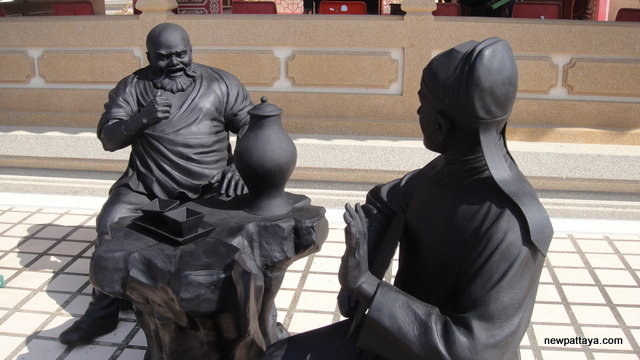 Some descendants of chinese emigrants.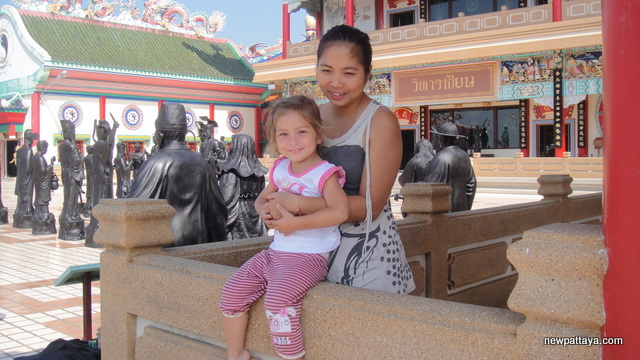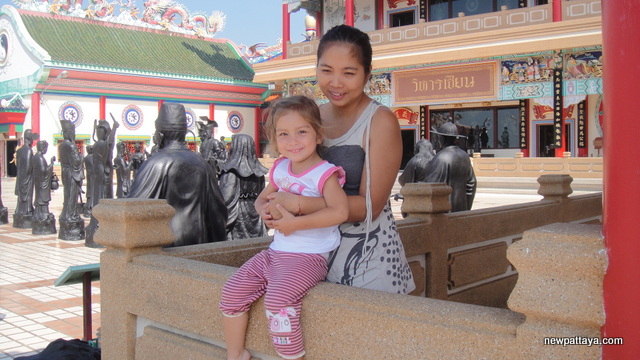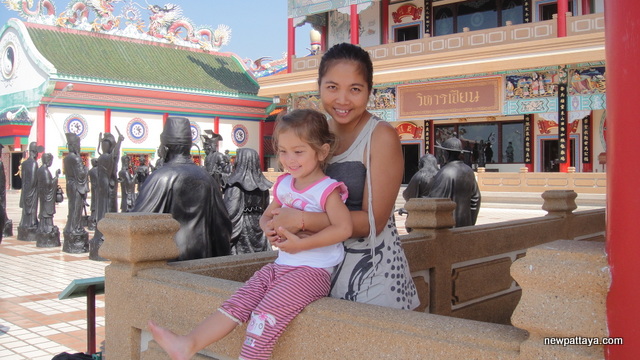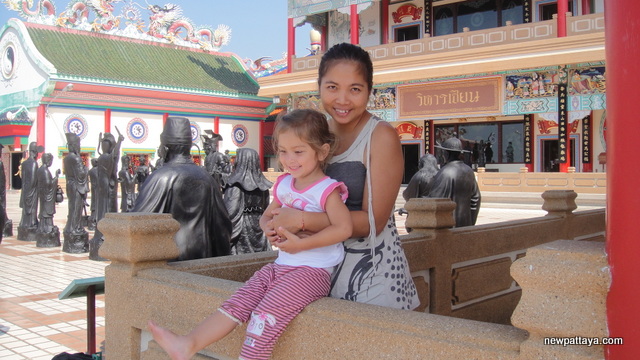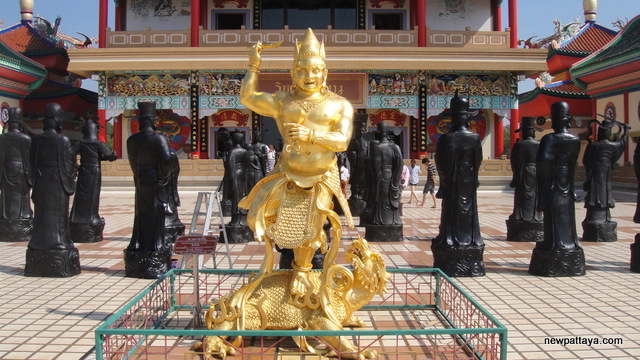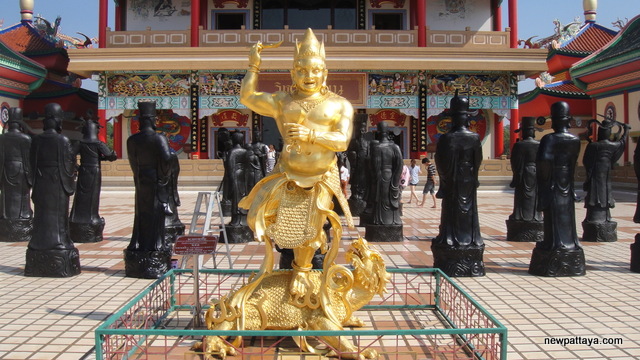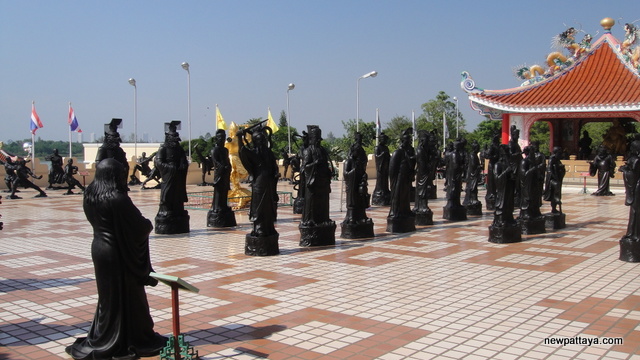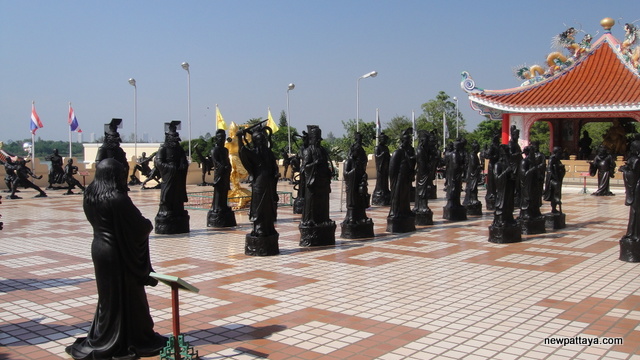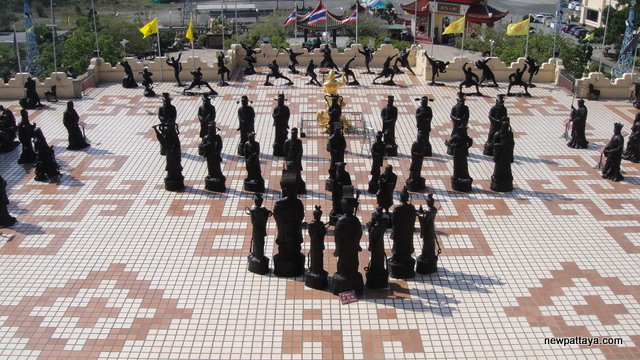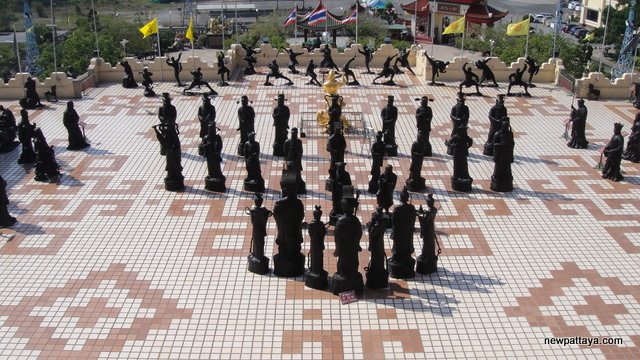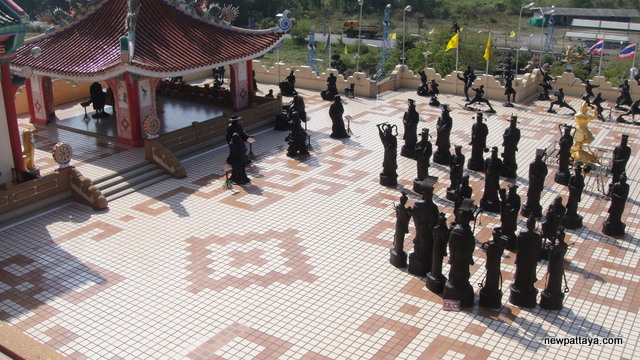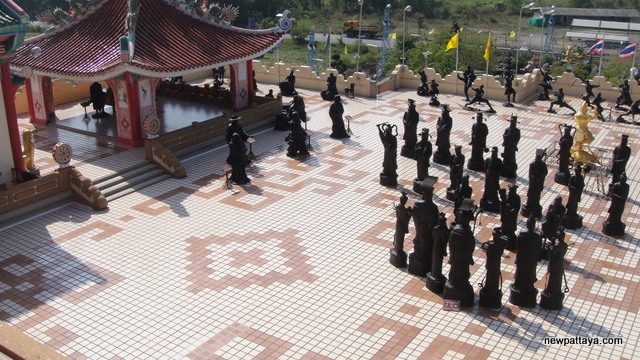 Kuan Yü (Kuan Kung) – a historical hero and warrrior.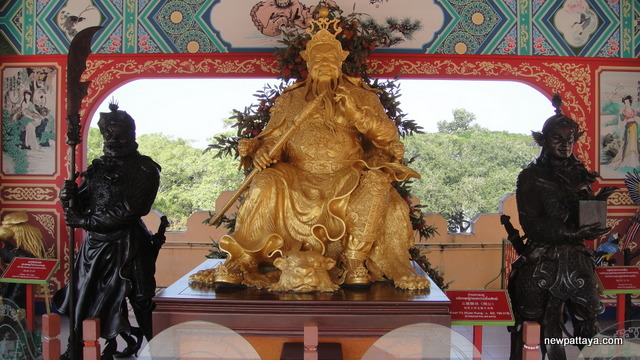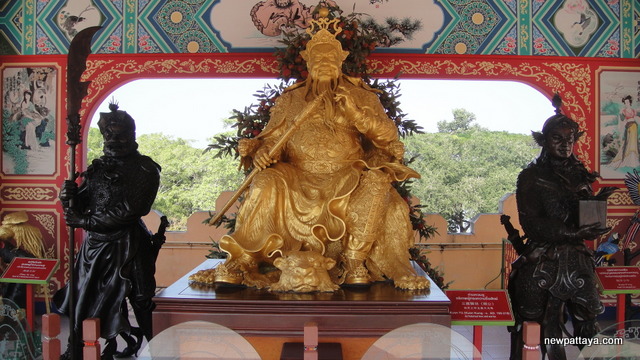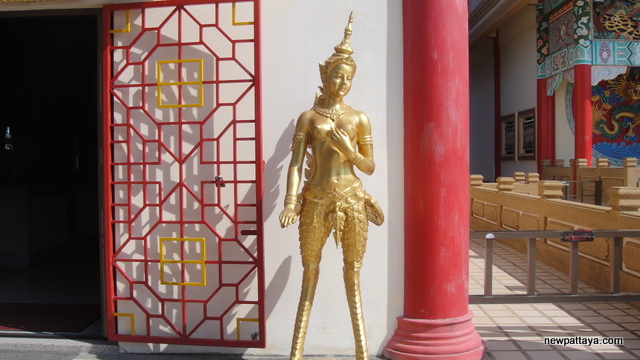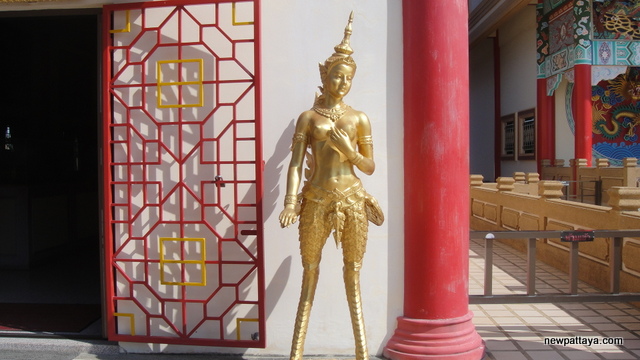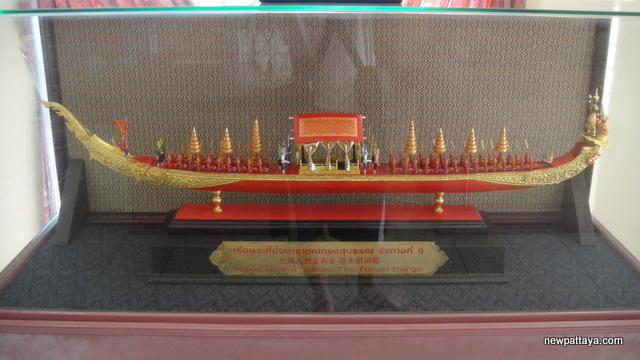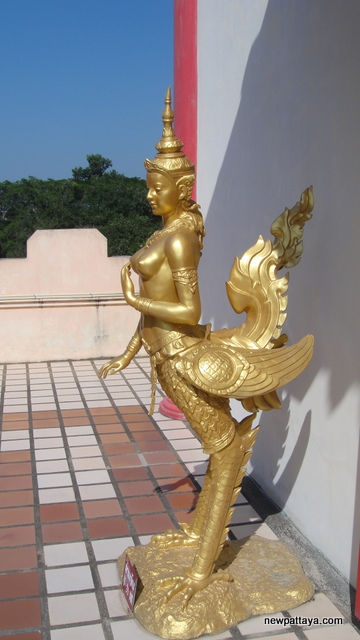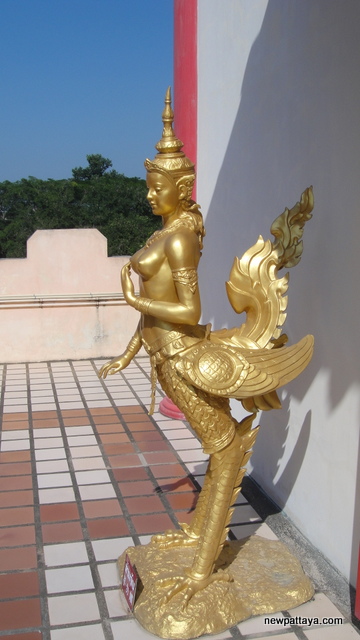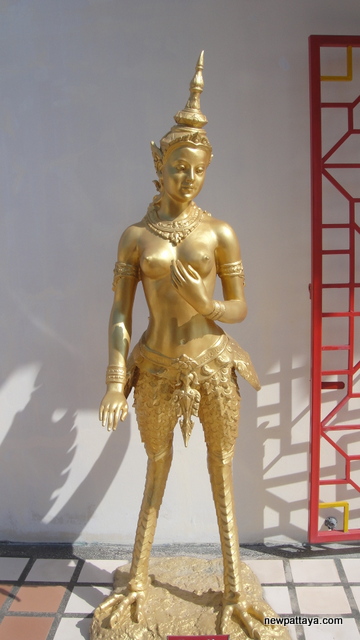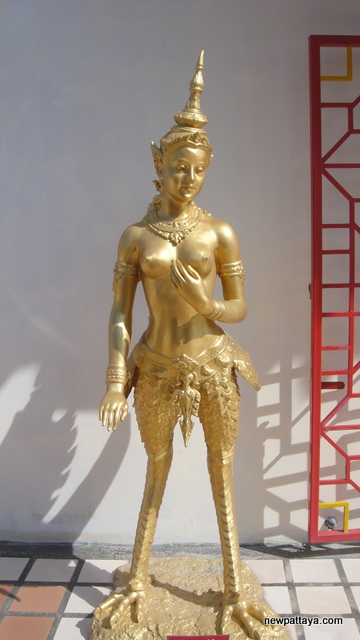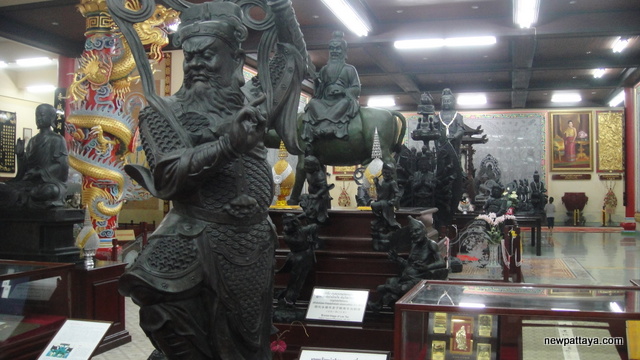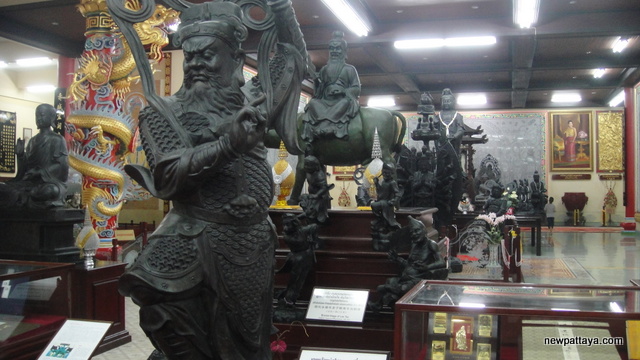 The Metraiya Buddha is known as the laughing Buddha. In Chinese style he is depicted with a fat belly and a wide grin. He has a sack in one hand and hold a rosary in the other hand. He was blieved to be able to predict the weather and his life was filled with miraculous events. Almost all Chinese temples have statues of Maitraiya for people to worship. People worship him to gain wealth and health.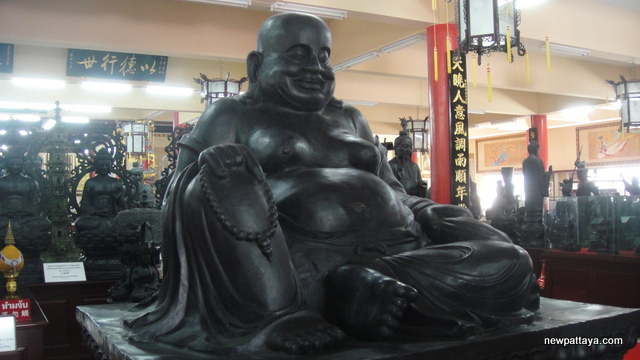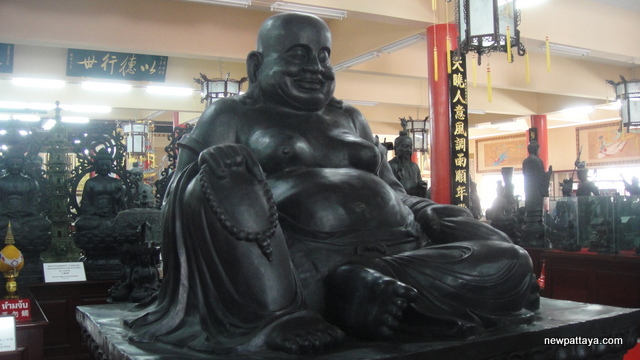 Guan Yin, an ancient Chinese goddess that embodies the virtues of love, kindness, compassion and forgiveness. In Thai she is called Guan Im (กวนอิม), Phra Mae Guan Im (พระแม่กวนอิม), or Chao Mae Guan Im (เจ้าแม่กวนอิม). Worshipped especially by women, this goddess comforts the troubled, the sick and the unfortunate. She is also a goddess of fertility.
Guan Yin is often portrayed having many arms and inside each palm of the hands there is an eye. This representation is known as "A Thousand Arms and A Thousand Eyes". The story is that Guan Yin's father had fallen ill and in order to save him she cut an eye and an arm and mixed them into medicine which saved his life.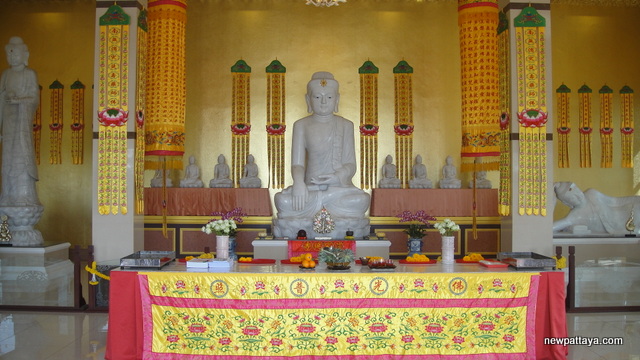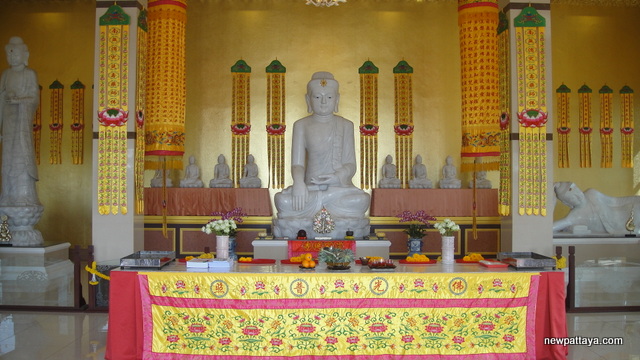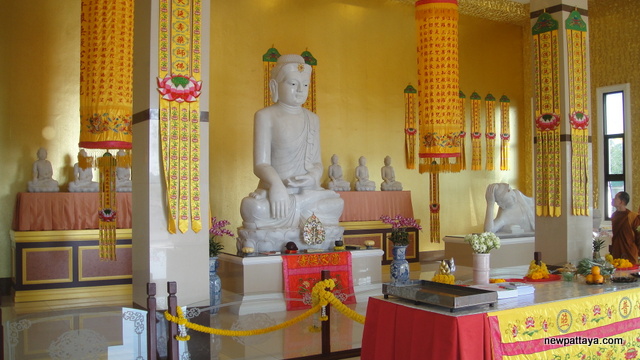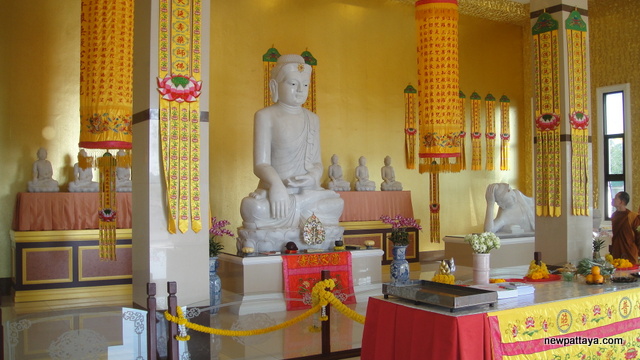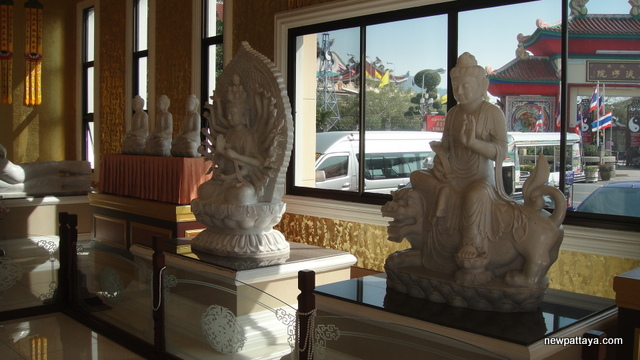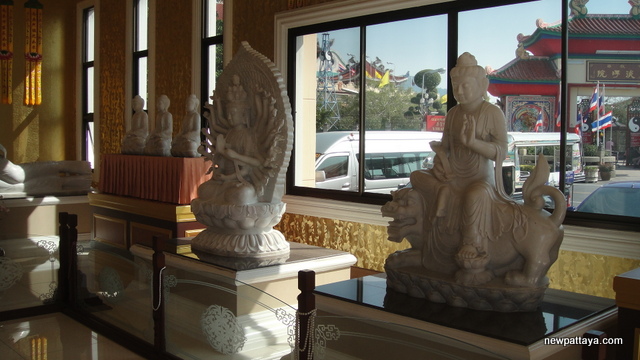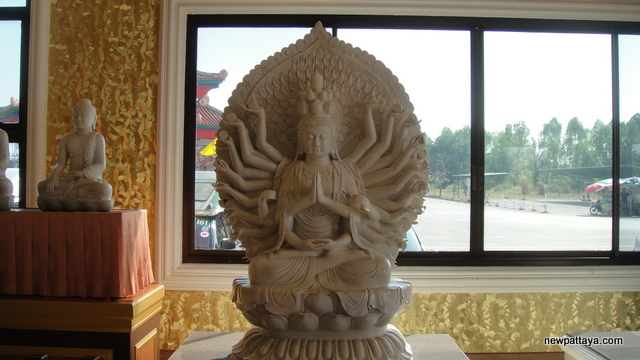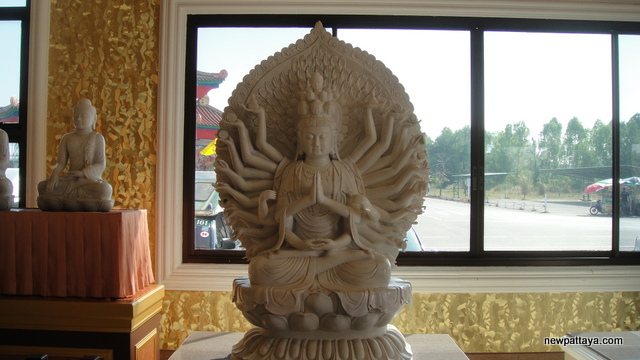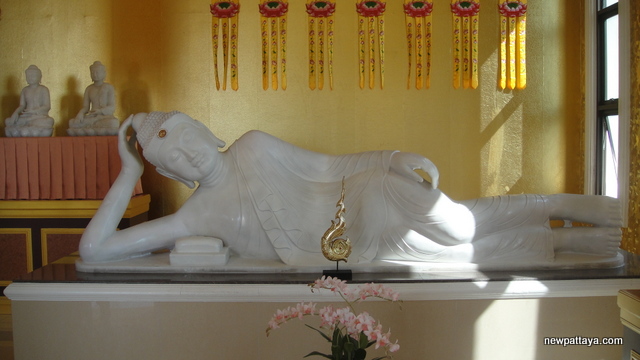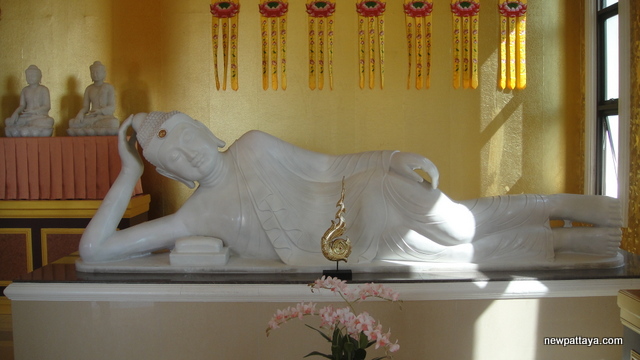 Would you like to support this website? Send funds to us using PayPal, send to secondtouch@hotmail.com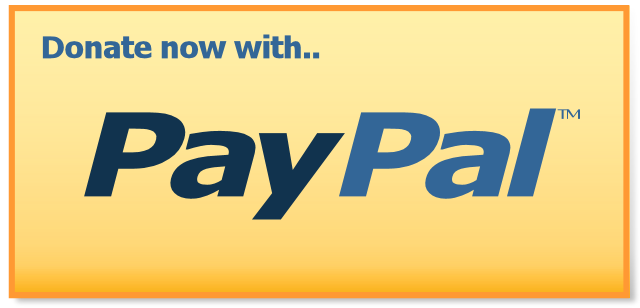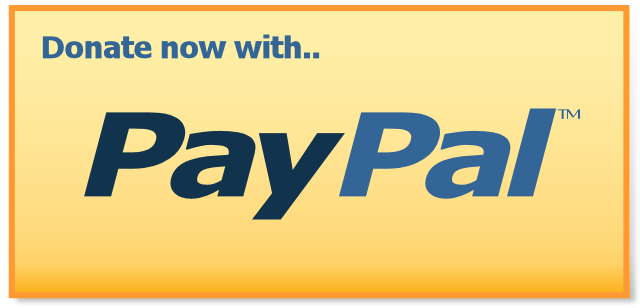 Want more information?