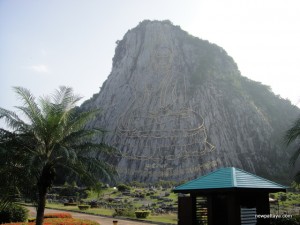 This is the biggest carved Buddha image in the world, it is 109 meter high and 70 meter wide, it is carved by laser and placed on Chi Chan moutain. This Buddha was constructed in 1996 to celebrate the 50th coronation anniversary of His Majesty King Bhumibol Adulyadej.
Khao Chi Chan is a mountain with a Buddha image carved out of the rock by laser beams. Khao Chi Chan is on the 'must see' list of tourist attractions in Pattaya. Constructed to celebrate the 50th anniversary of His Majesty King Bhumibols ascension to the throne, it has now become a landmark for Pattaya. They say the Buddha image was drawn on the cliff by using laser technology.
Khoa Chi Chan opens from 06.00 to 18.00. Khoa Chi Chan is located just next to Silver Lake Vineyard. Look at the map below for directions.