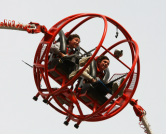 2 Sky Pattaya Rocket Ball is a new amusement attraction that has come to Pattaya in december 2012 and it offers you that thrilling sensation many are looking for. Do you want to be thrown up into the air at high speed and feel like you are inside a cannonball? It is possible to do that right here in Pattaya because of this new amusement attraction that both tourists and locals can enjoy. The Rocket Ball ride will send two seated riders vertical into the air at a verfy high speed – you will be catapulted into the air. The ride is also called a reverse bungee ride.
The Rocket Ball ride consists of two steel towers with a bungee cord connected to each tower. The other ends of the cords are attached to a caged steel vehicle in which two riders are seated. The vehicle is pulled to the ground where riders board. When the vehicle is released from the loading station, the bungee cords engage, sending riders on a high speed vertical launch 50 meters into the air at speeds of 100 km/h in one second and 5G force power. The passenger unit is held to the base of the ride by means of a strong magnet which keeps the elastic ropes stretched.
The device is made by Technical Park and the team at 2Sky Pattaya is trained and qualified to the fullest extent by Technical Park.
The secret of its success is due to the fact that it's easy to set up and down, it doesn't cost much and doesn't take too much room when installed but gives a very thrilling sensation to riders.
2 Sky Pattaya Rocket Ball is located at Bali Hai Pier at the end of Walking Street less than 100 meters from Park Plaza Waterfront.
And the price? 750 Baht for one person or 1000 Baht for two persons.
Published 21 December 2012.
The pictures were taken 21 december 2012.