Novotel Sriracha Marina Bay will be a 28-storey waterfront hotel in Sriracha. Accor, the largest hotel operator in Thailand, has signed a new hotel management agreement with RCK Rungcharoen Co., Ltd. to manage the Novotel Sriracha Marina Bay, a hotel scheduled to open in 2018.
Novotel Sriracha Marina Bay will comprise of 281 guestrooms. The hotel will feature four distinguished food and beverage outlets with a ballroom, five meeting venues and one business centre.
The hotel's amenities include a fully equipped fitness centre and a swimming pool. The hotel is just a one hour drive from Bangkok and Suvarnabhumi International Airport.
The 28-storey Novotel Sriracha Marina Bay and the 32-storey Marina Bayfront Sriracha condominium is part of the same development. The two towers will be situated right next to each other.
The foundation contractor for the project is is ItalThai Trevi.
In the picture below (from left) – Mr. Surachai Chaitrakulthong – Managing Director of RCK Rungcharoen Co., Ltd.; Police General Jongrak Jutanont – Chairman of Advisory Board, RCK Rungcharoen Co., Ltd.; and Mr Patrick Basset, Accor's Chief Operating Officer for Thailand, Vietnam, South Korea, Cambodia, Laos, Myanmar, and the Philippines.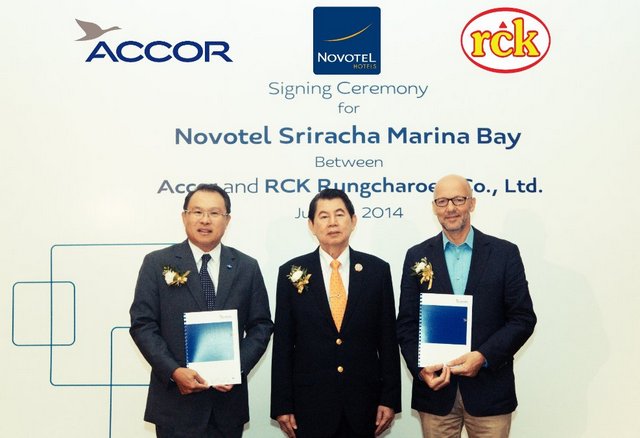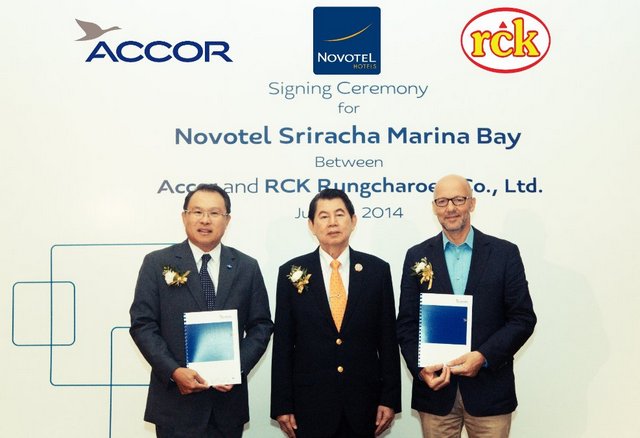 Published 5 November 2014
Want more information? Contact us on FACEBOOK