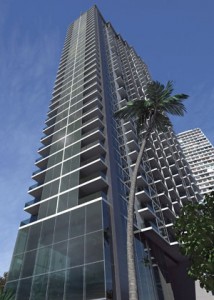 Wong Amat Tower is Heights Holdings flagship high-rise development. The location is very good, just 50 meters from the beach. There are 38 storeys and 361 apartments in this tower. And we must not forget to mention the building is designed by the world famous architect Mario Kleff. The Bangkok based company the Lock-Build Group is the primary contractor. The Architectural Design Agreement was between Laguna Long Beach Height One Co., Ltd., with Director Mr Haim Bar David and Wandee Real Estate & Services Co., Ltd., with Director Mario Kleff.
The lobby will be a soaring 13 meter high and fewer structural columns throughout the building for increased liveable floor space is made possible by state of the art engineering. This is a beachfront location with spectacular views of Pattaya Bay.
There will be a ground floor restaurant & cafe, a rooftop swimming pool. There will be floor to ceiling glass exterior walls throughout the building, a playground for children, a ground floor swimming pool, fully staffed reception with 24 hour hotel-like services and a keycard entry system & 24 hour security with CCTV.
This will be a truly spectacular, 38 storey, state of the art beach front construction. Other outstanding features include high speed private elevators, an in-house fitness center, a separate parking complex, and we must not forget the rooftop infinity swimming pool. This luxurious development is scheduled for completion in early 2014. Knight Frank Thailand has been appointed sole agent.
Published 19 May 2012
Below: a picture dated 21 april 2012. The Wong Amat Tower is progressing nicely.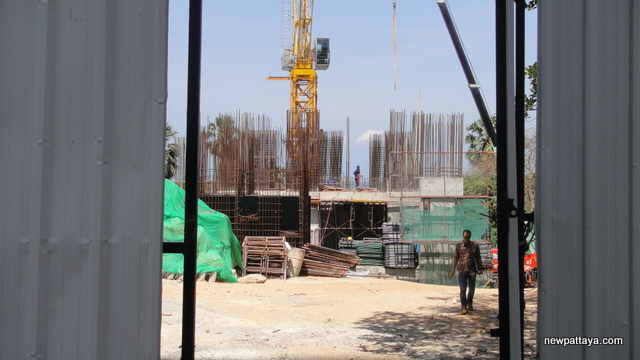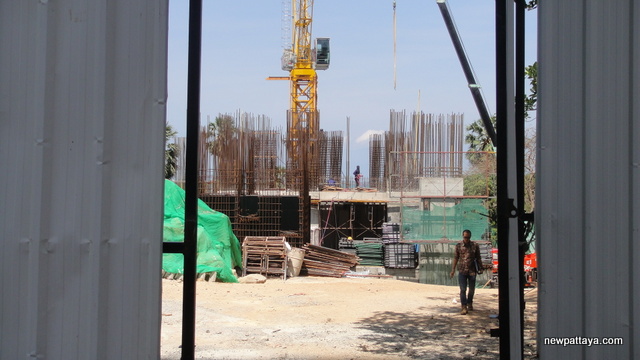 Below you will find some pictures dated 23 May 2012. Notice how much has changed in just 1 month.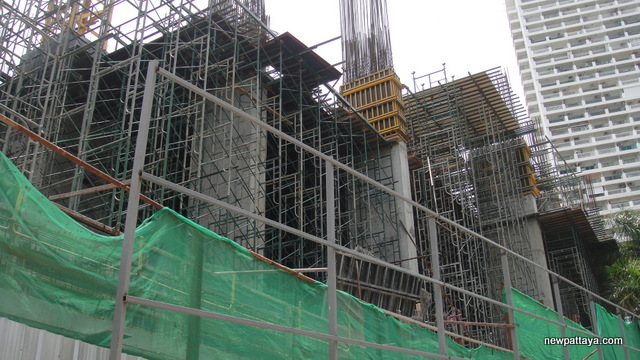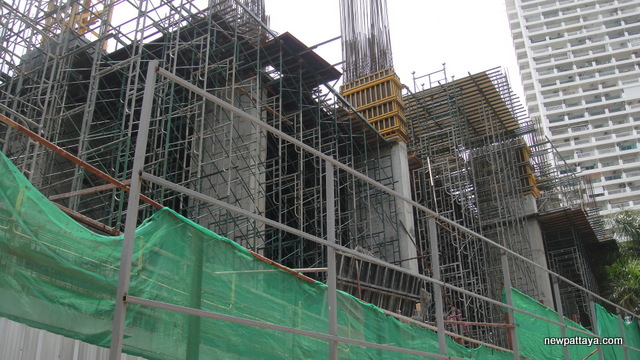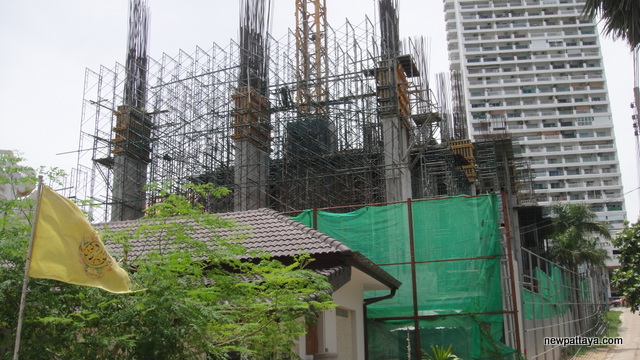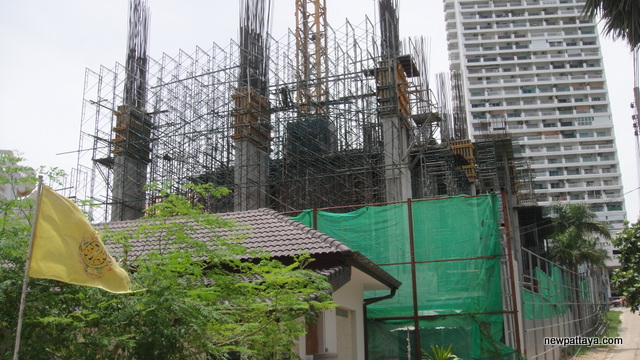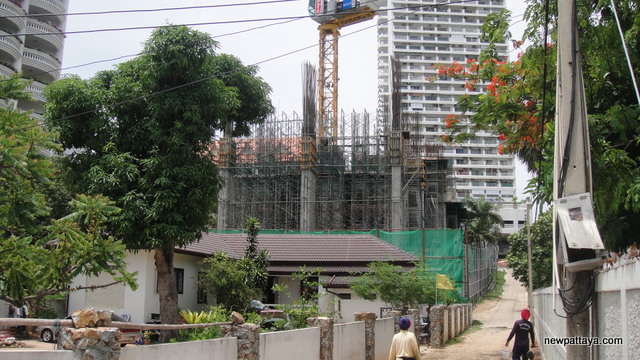 And now take a look at the picture below from 15 june 2012. These guys work fast. A real pleasure to come to this construction site. I am really enjoying myself. Compare with the first picture dated 21 April and notice the difference.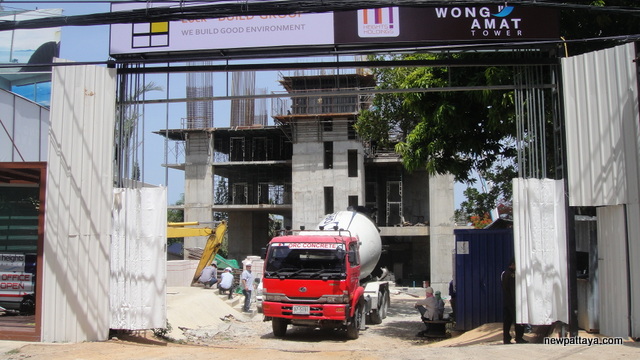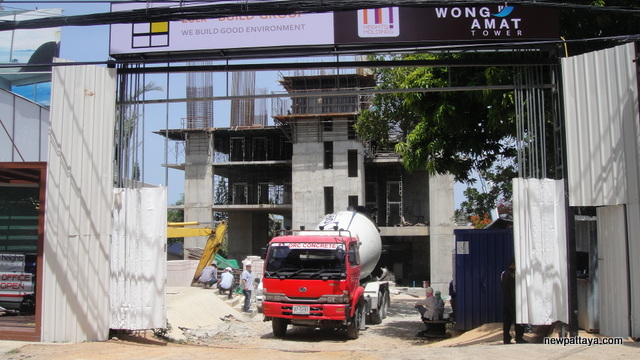 Below is a picture dated 28 June 2012. Wonderful. Just wonderful. Like being in Wonderland.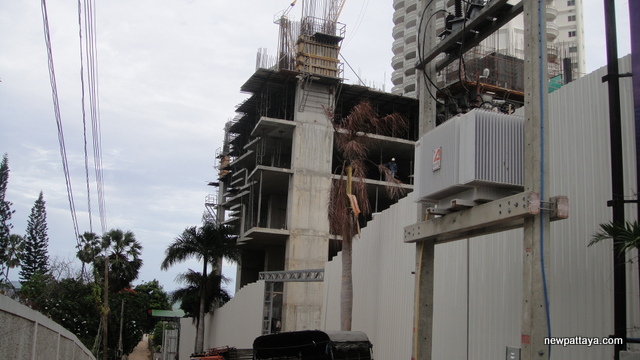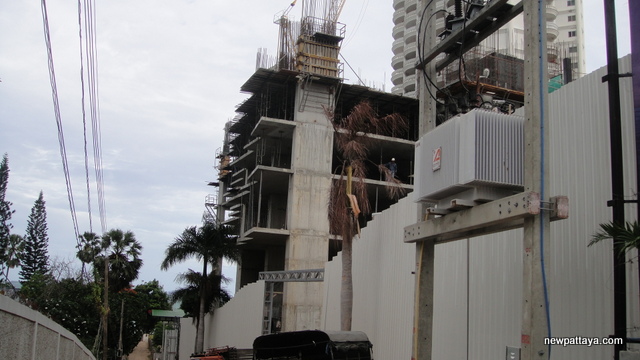 Let me say it so there is no doubt: These guys work really fast. Only 3 months separate the first picture and the ones below. It is truly unbeliveable. Normally I complain when developers are lazy and work too slow as I am known to have little patience. But on this project…. I am speechless. How they do it is beyond my comprehension. The pictures are dated 28 July 2012.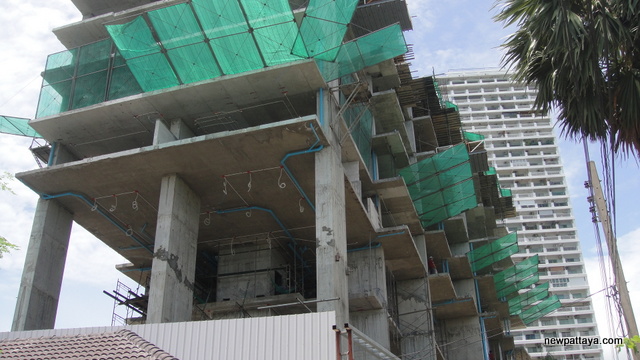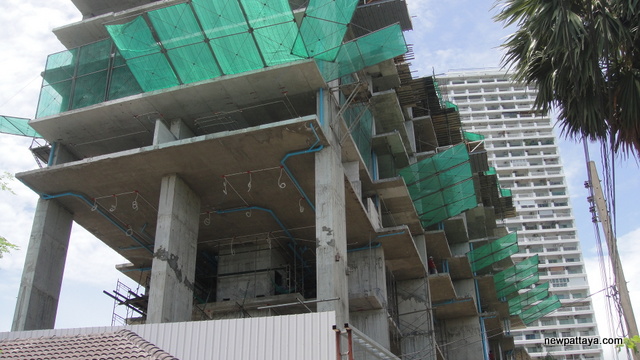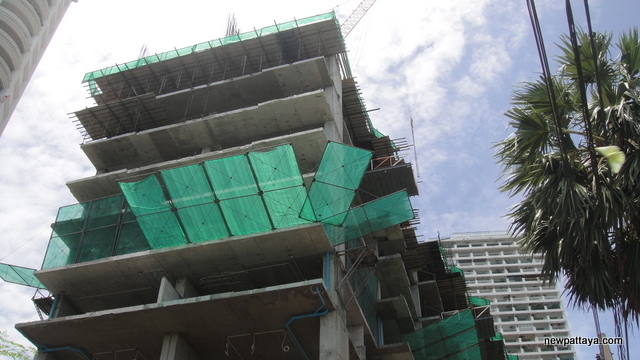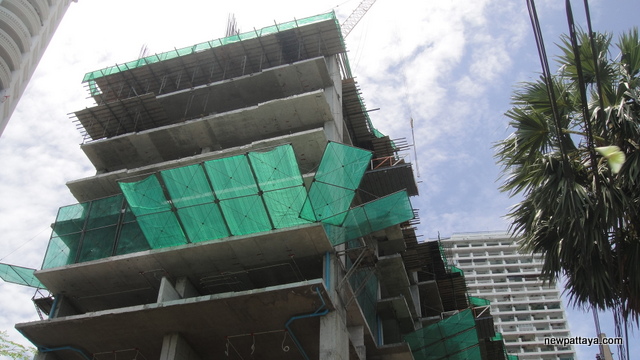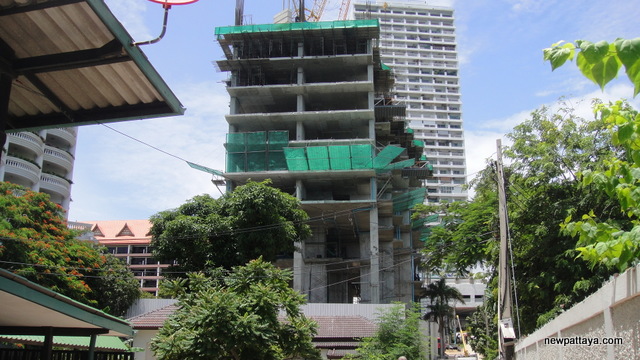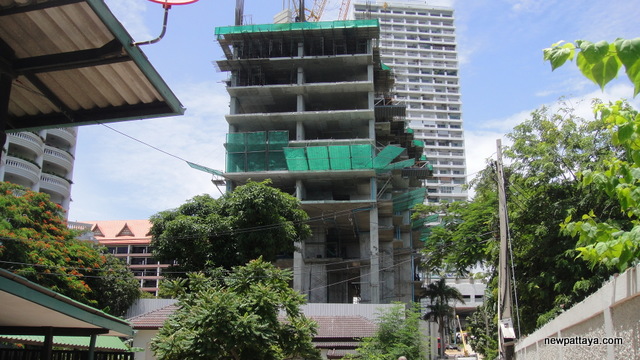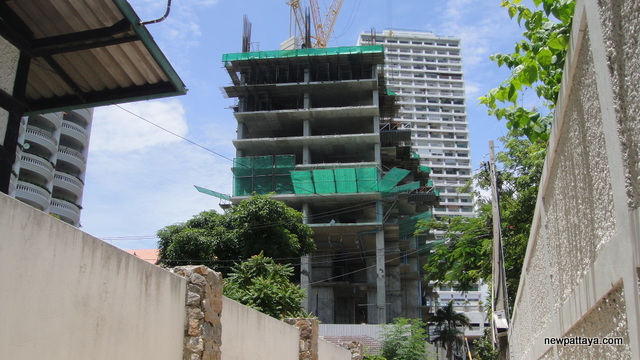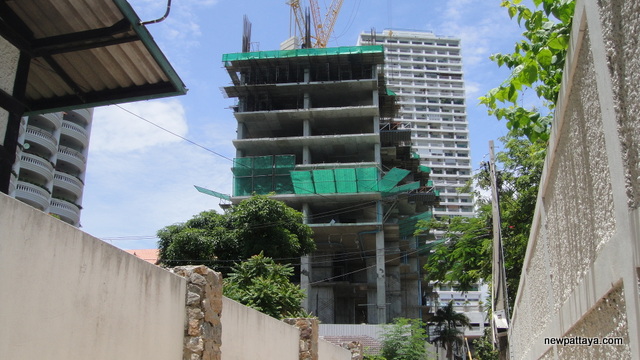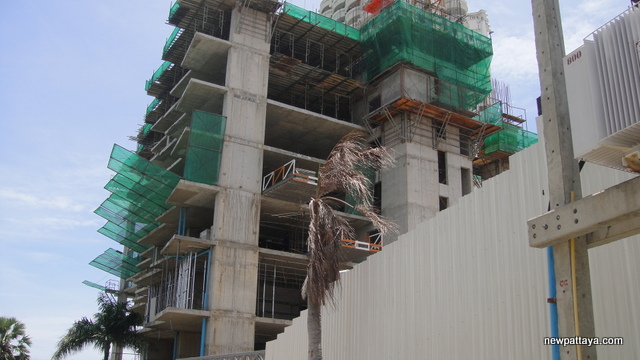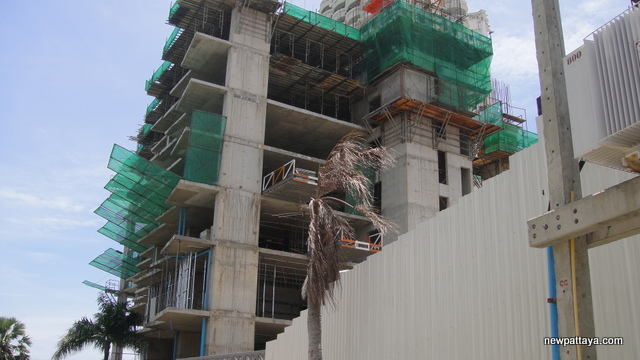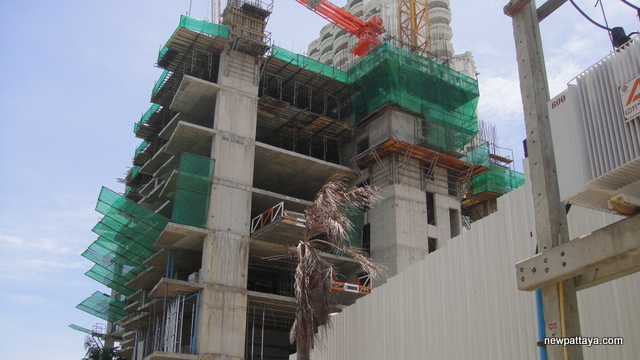 This it is my all time favoutite project, at least for the moment, the wonderful Wong Amat Tower. I cannot help it, I could stand for hours and just look at the concrete and look at people working. I want to touch this building. Some people come to Pattaya for the ladies, others come to watch the naked concrete. It is better than naked girls…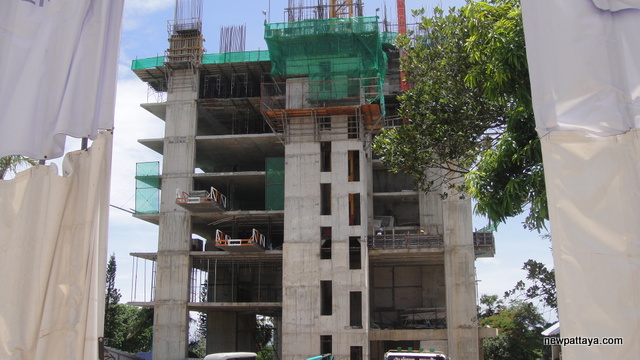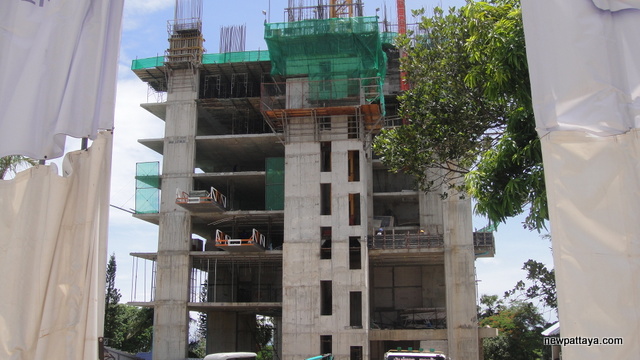 We are back just for some weekend fun. The pics below are dated 11 August 2012. Notice the red numbers on each floor, they are new. But why do they start with number 6? What happened to the first 5 floors? So many questions….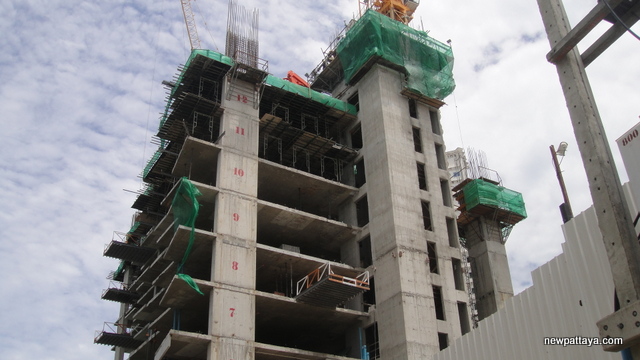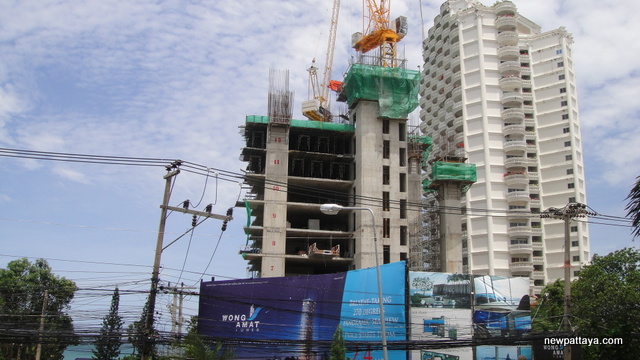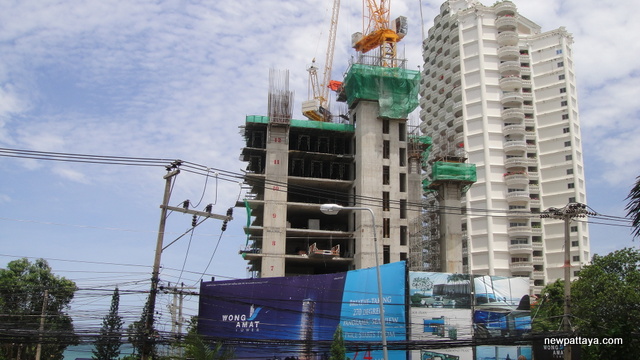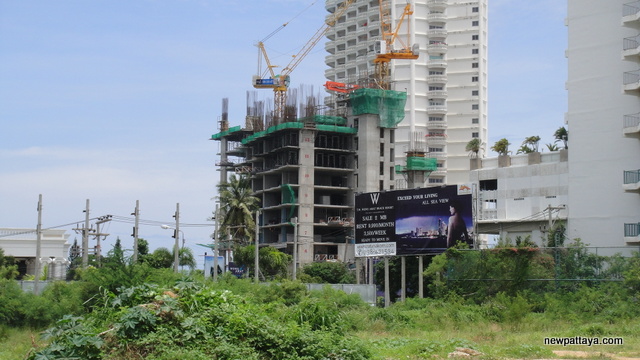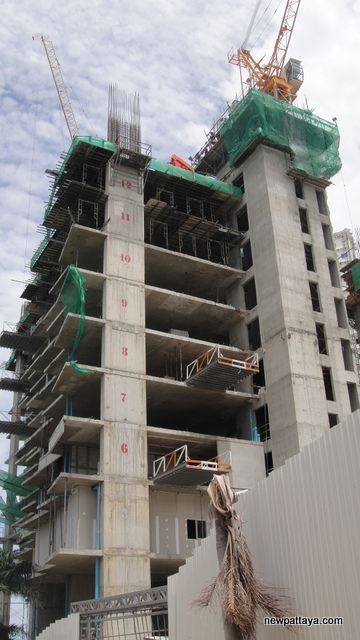 We are back again, we being myself and ลูกสาว, this time on 24 August 2012. Me and my daughter bought some sausages and orange juice at the nearby Family Mart and then we sat down on the stairs just opposite the Wong Amat Tower. We were there for more than half an hour – time flies when you're having fun. Somehow we always end up here when daddy wants to have some fun. I am feeling drawn to this place. What can I do? Go see a doctor maybe? ไปหาหมอ ดีกว่า? ไม่ต้อง, ใช่ ไม่?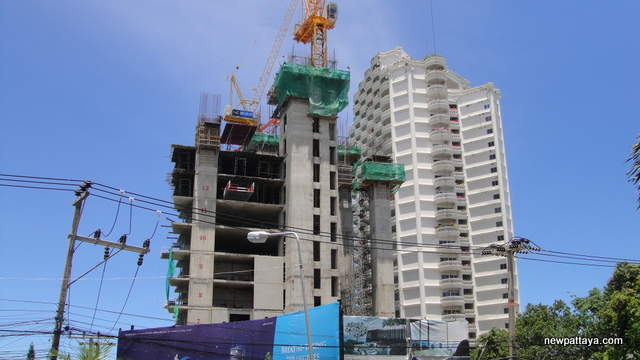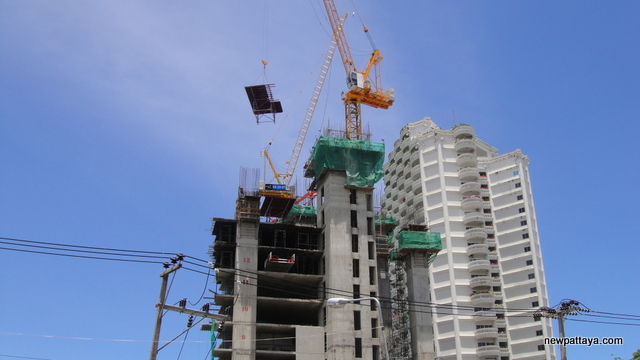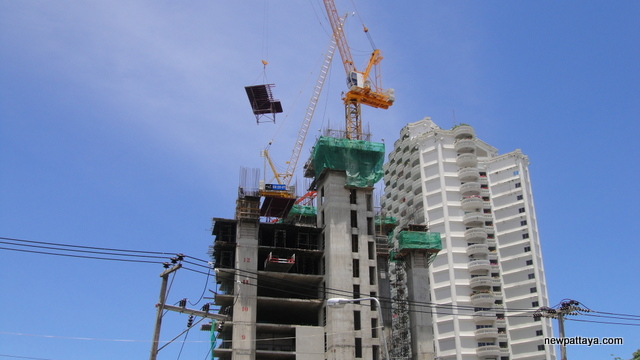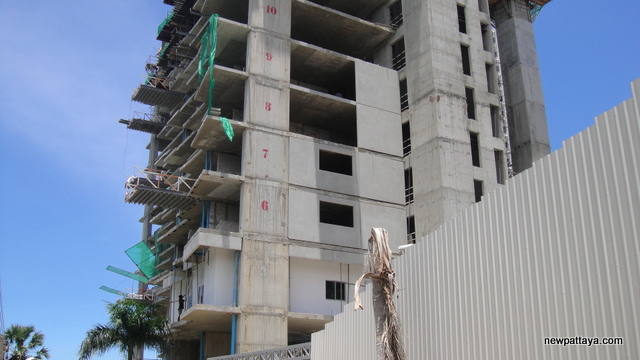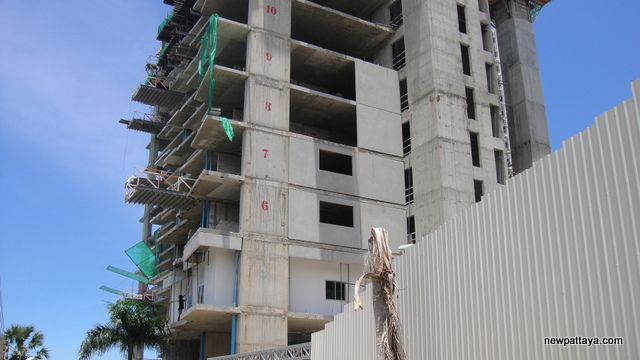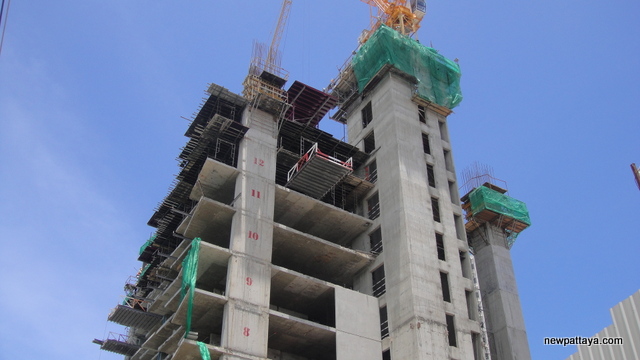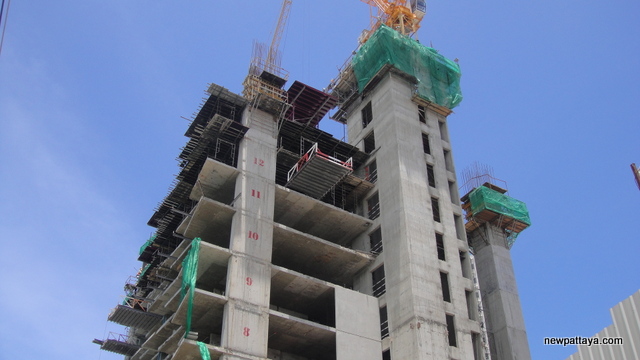 Me and my daughter are back for a saturday picnic on 1 September 2012 – we bought some supplies from the local Family Mart. We sat down on the stairs leading to Wong Amat Garden Beach Resort Condominium and had a good time. Notice the word 'condominium' is omitted in the english translation. It is an advantage being able to read thai.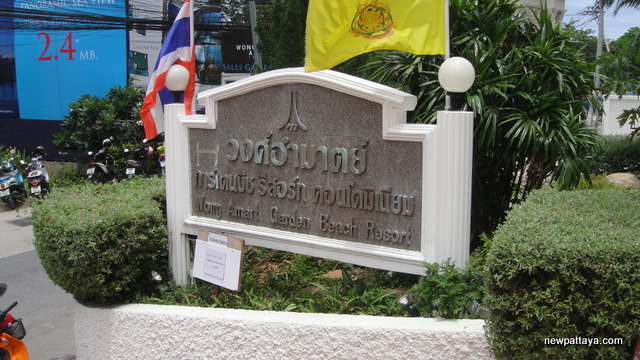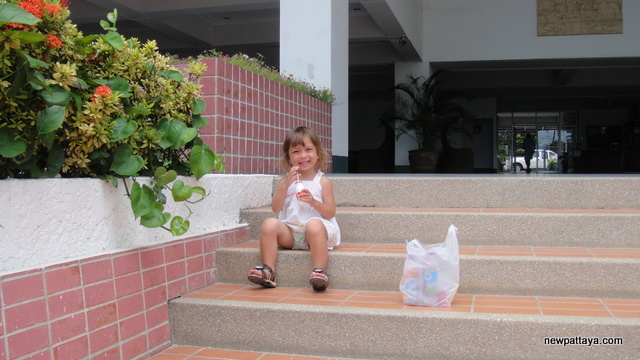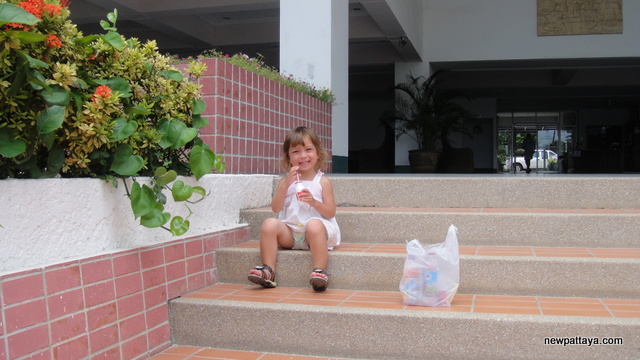 The clever reader will notice the number 15 and then he will go back to 11 August and notice the number 12. That is 3 floors in 3 weeks meaning they can make 1 floor per week – another 6 month and we will be at the 38th floor. They work fast and I have kind of gotten used to that. I must come here more often so I do not miss out on some of the good stuff. It is happening right here and now, in 6 months time the party might be over. Where will I go then???? Maybe drown my sorrow in the bars of downtown Pattaya…..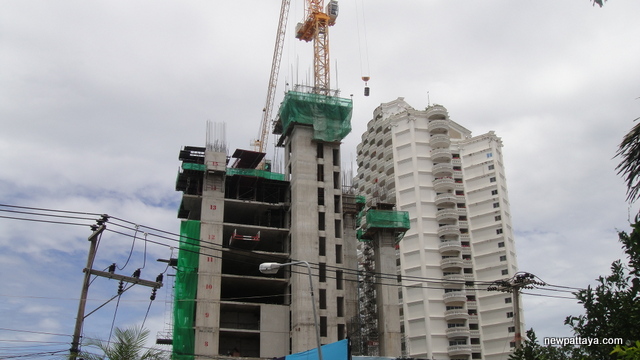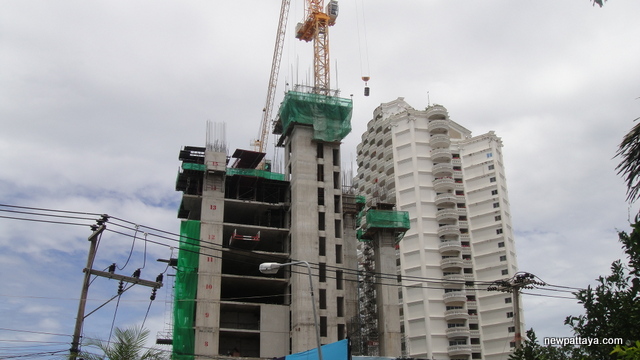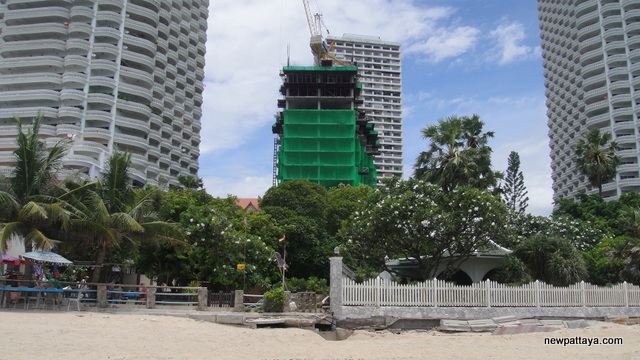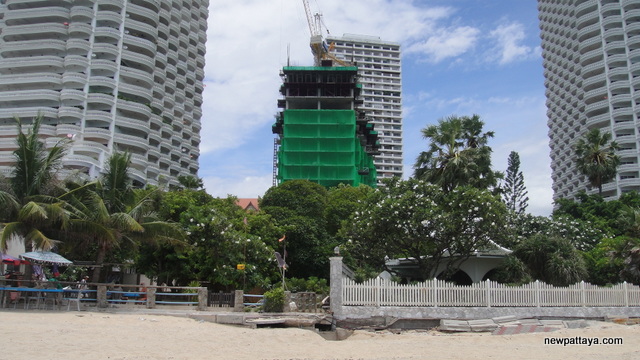 Back on 8 September.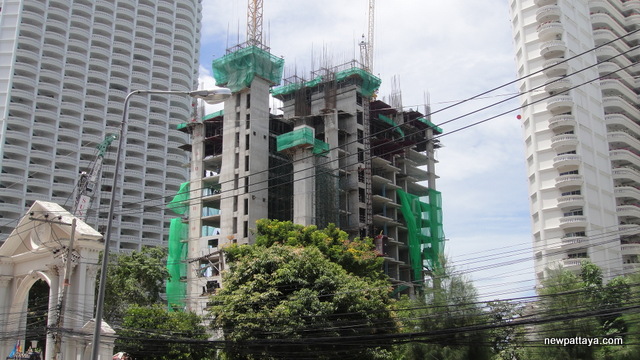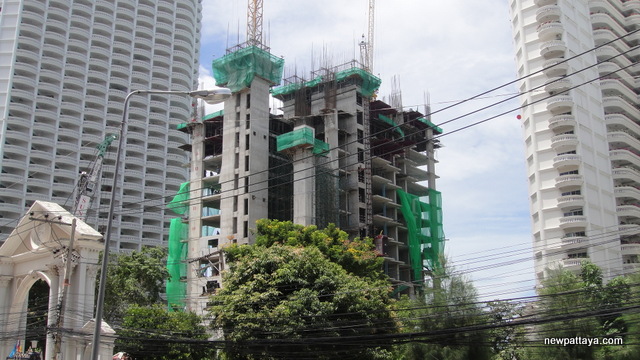 Below you will find two pictures dated 18 september 2012. I sure hope these workers do not fall down from up there. It looks kind of scary.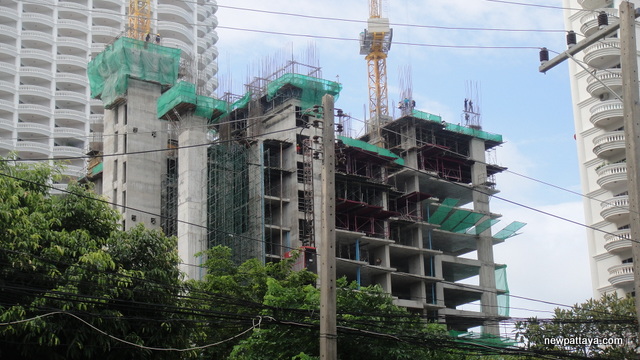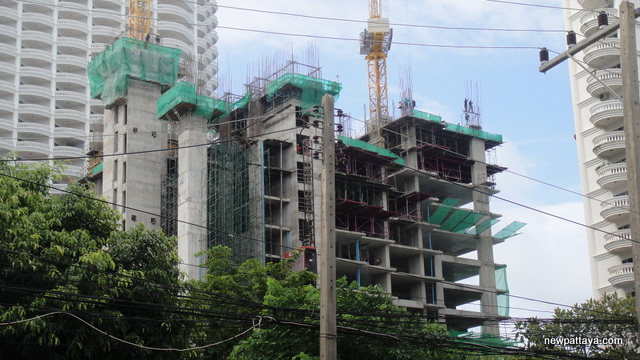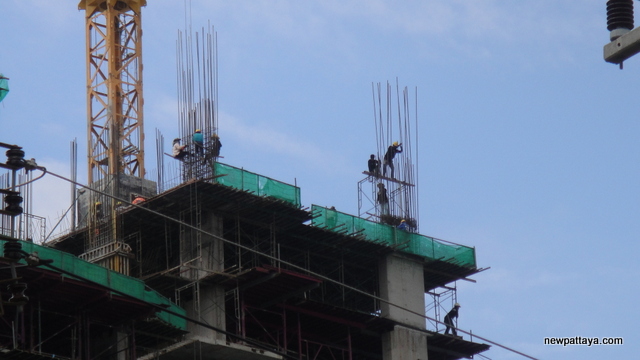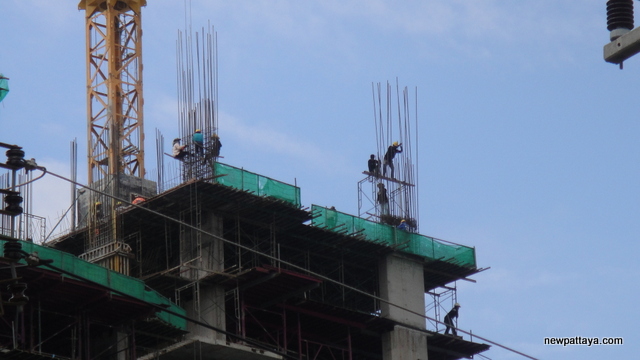 Below is a picture dated 4 October 2012. I see the number 18 written on the building. Lock-Build Group can be very proud of what they have achieved in such a short time. Such an achivement on the resume should lead to more jobs for Lock-Build. I am doing my best to promote the building contractors on this website – I don't think they understand that I am their best friend. I find it very strange that Mario Kleff's name is not on the billboard at the construction site, after all the building is designed by him – please give the man some credit for his work.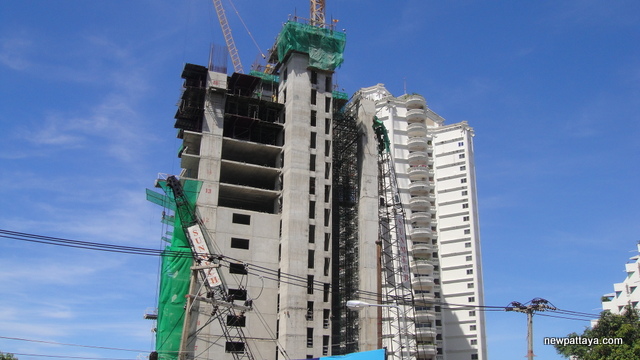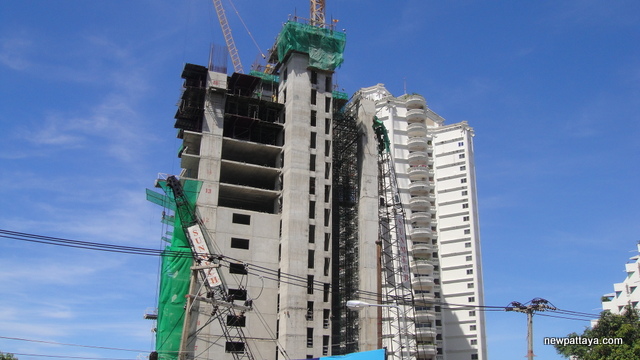 We are back on 29 october 2012. Actually we have been here many times before that just for fun. 20 is the magic number at the moment….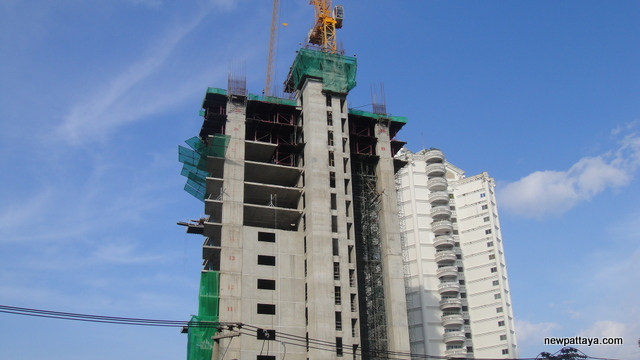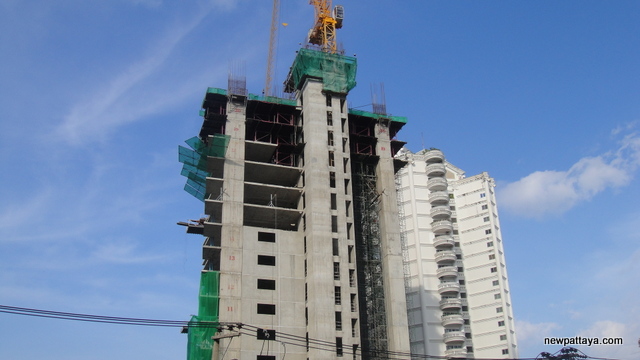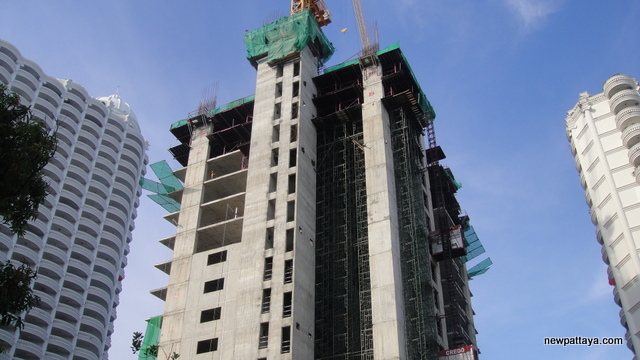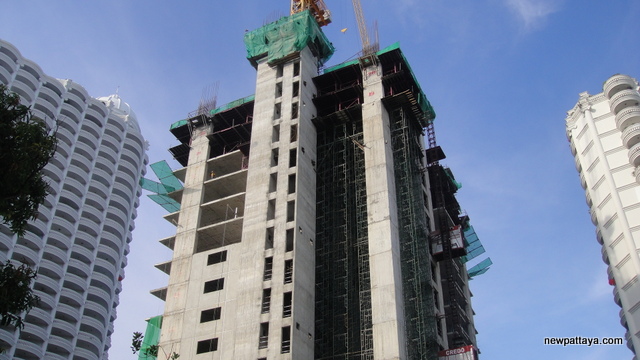 21 is the magic number on the 6th of November – but today we are focusing on what they are doing on the ground. They are building something in front of the W-tower, I wonder what that is. There is a deep hole where the piles are visible, they have excavated soil around the piles. Ah, of course, that is the parking area that will be in front of the W-Tower, maybe a 10-storey building or so.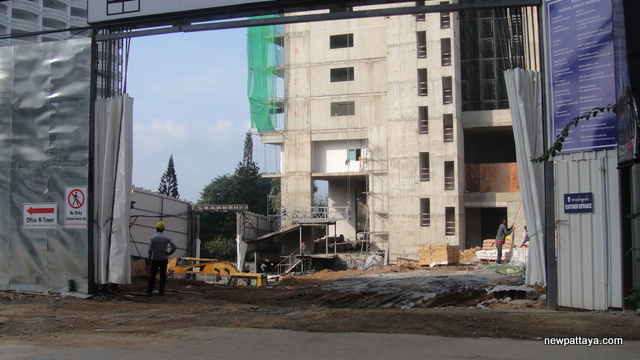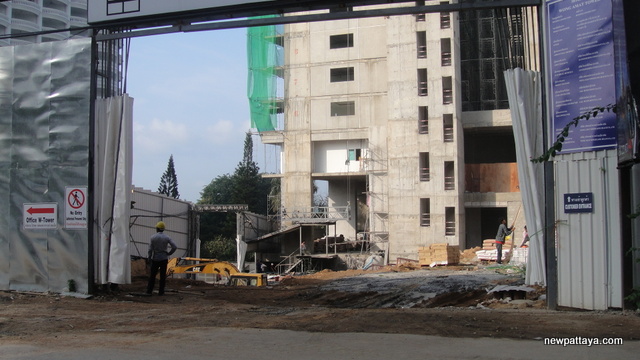 Some pics dated 7 November 2012. This guy here is on a very high floor, I hope he knows what he is doing. Did I tell you I am scared of heights? The ceiling looks nice though.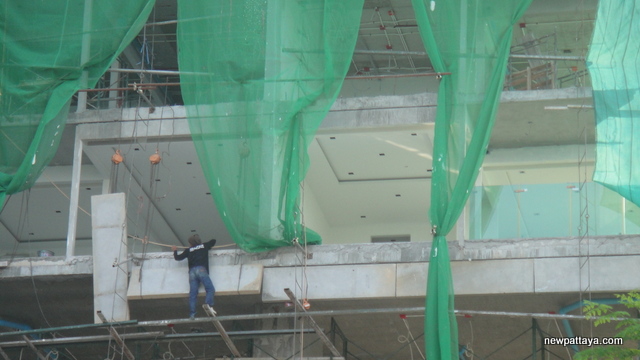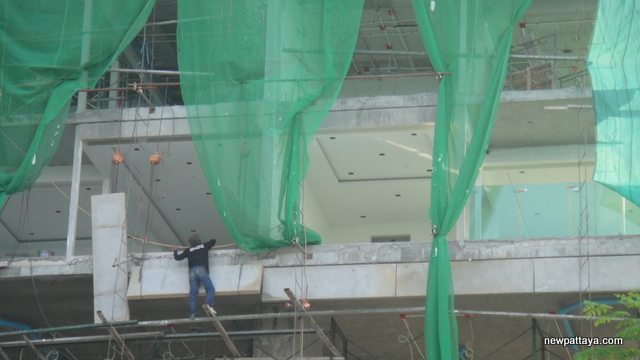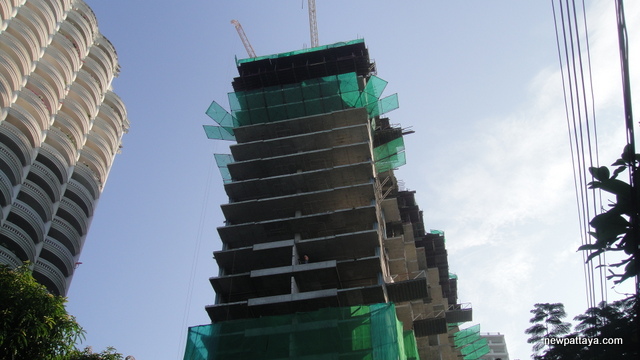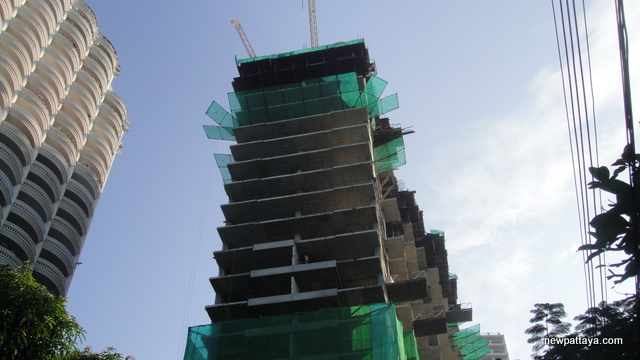 And some pics dated 13 november. The magic number is 22. But I still have not forgotten that they jumped from floor 3 to 6. where is floor 4 and 5?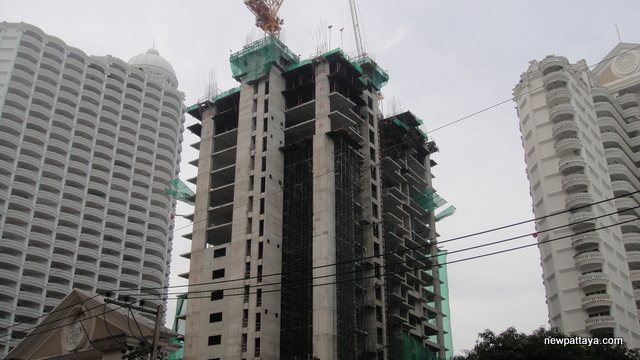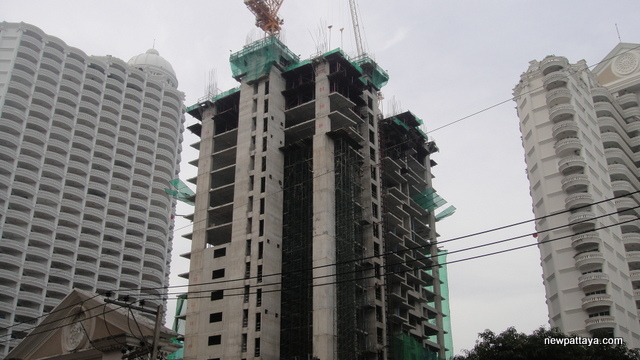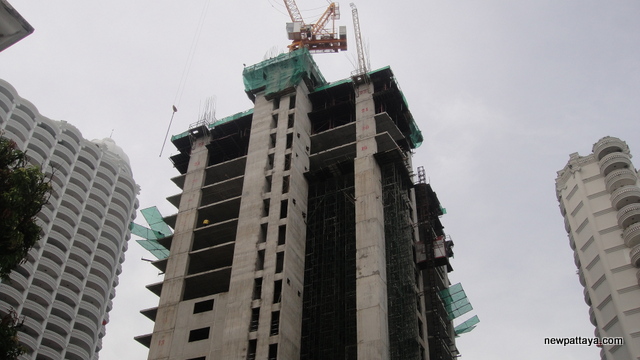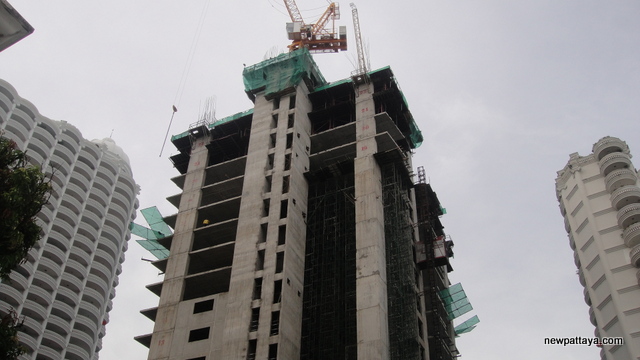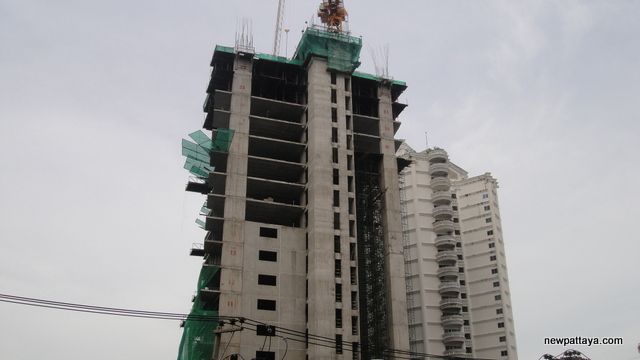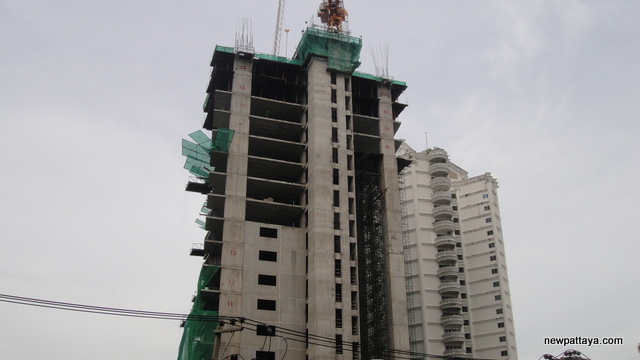 What is it that makes the W-Tower so special to me? I honestly can't answer that question. I feel good when I am there. It is a scary feeling being drawn to a place like that. Then there are other projects where I don't feel comfortable at all, it is like I sense negative energy, like something is not right there – a voice inside me tells me not to go these places. I am a sensitive guy….
Some pics dated 18 November 2012. Can I borrow 3 Million Baht from somebody? I need that money desperately, man….
I believe you will get a 40 sqm unit for 3 MB. Be impulsive, you will not regret it, just go for it, it will be the best decision of your life, contact the sales team at www.heights-holdings.com or e-mail oliver@heights-holdings.com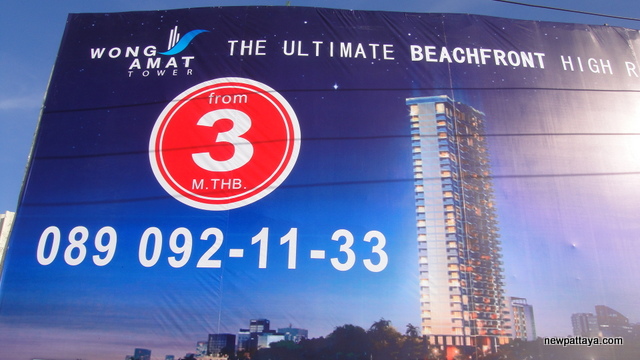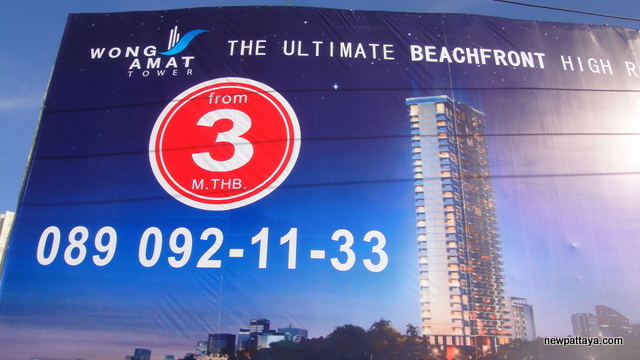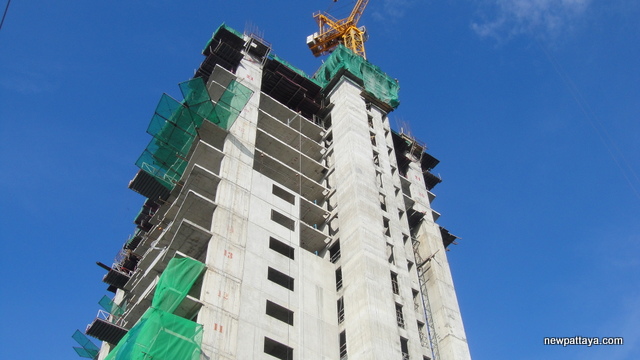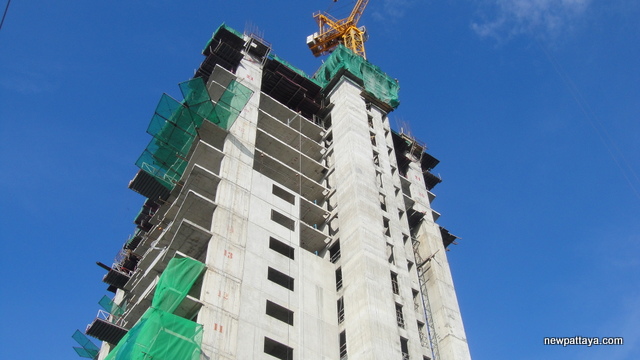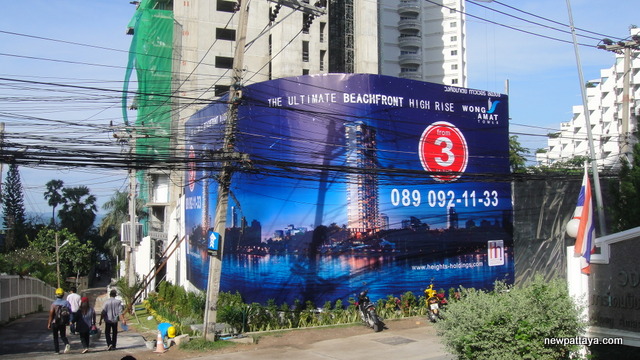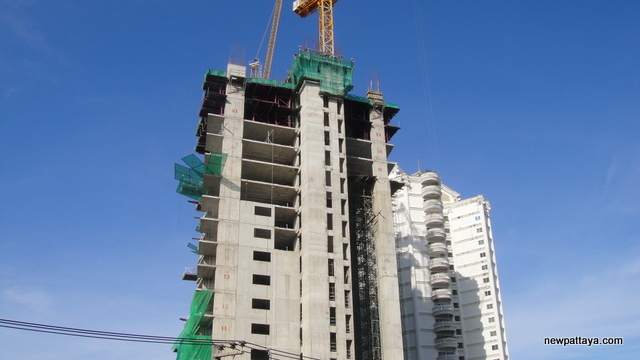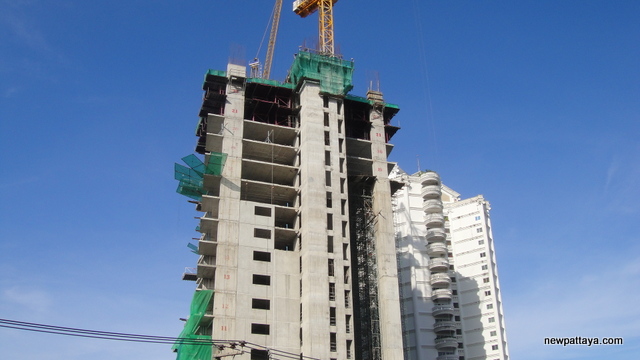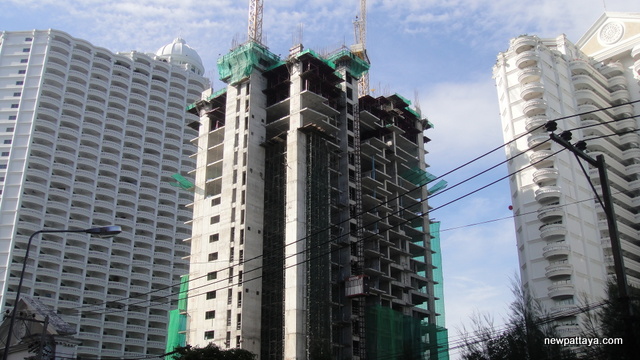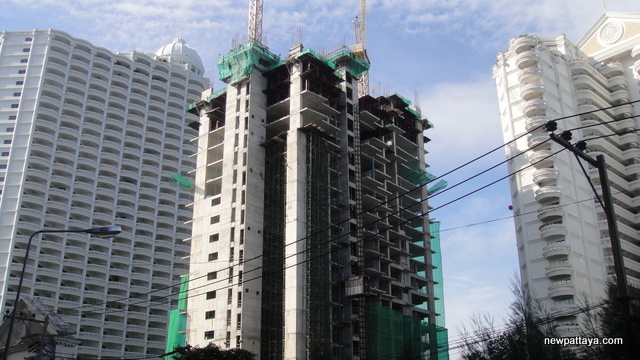 A picture dated 19 November 2012.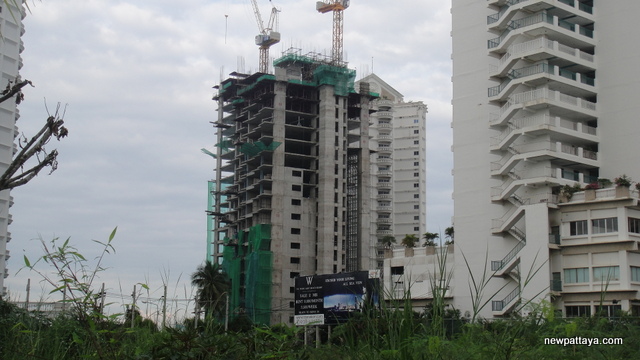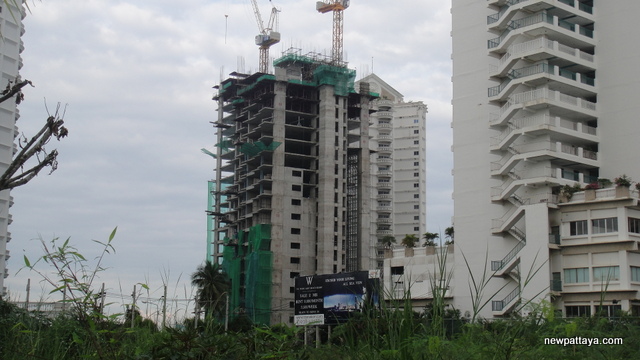 Back on 26 november 2012 and as usual passing Laguna Heights condominium located in the same area, another development by Heights Holdings. Personally I think Laguna Heights is Mario Kleff's masterpiece – it gives me great pleasure to look at that building. The magic number is 23.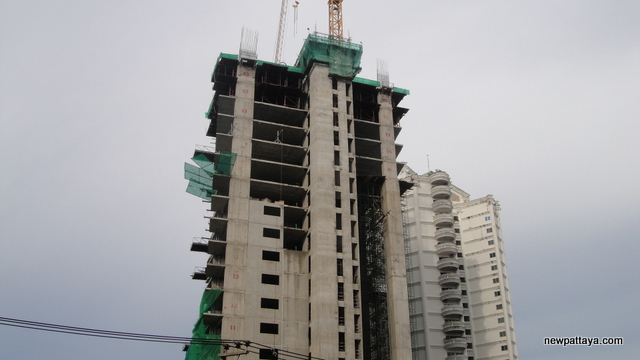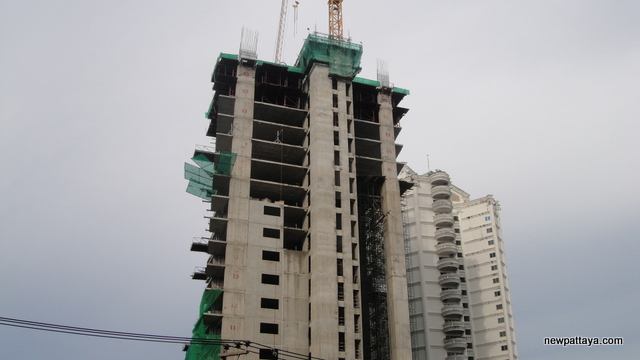 Aha – now there is a spirit house near the W-Tower. When did that happen? I used to be sharp, I used to notice things – I must be getting old.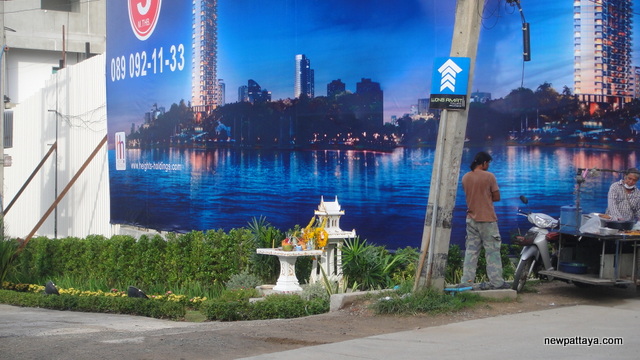 The neigbour to the right is Silver Beach Condominium, a 20-storey building.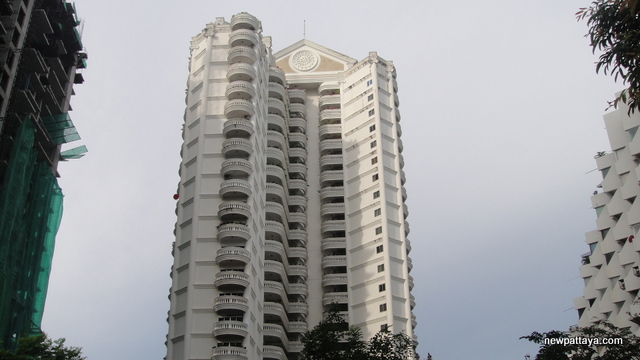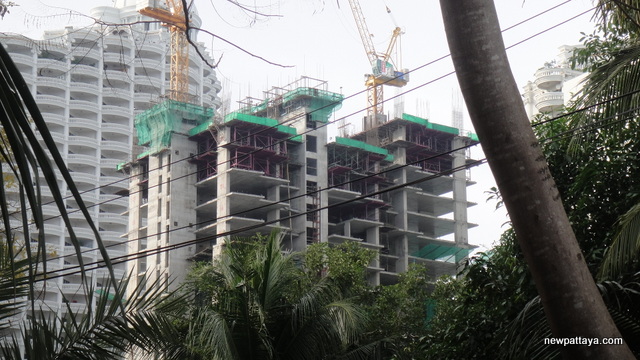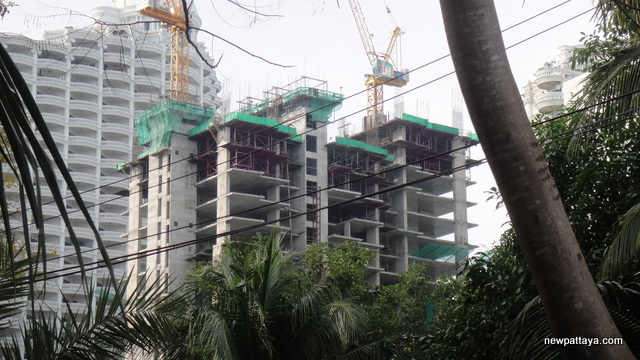 The neighbour to the left is Park Beach Condominium, that building is around 30 stories high.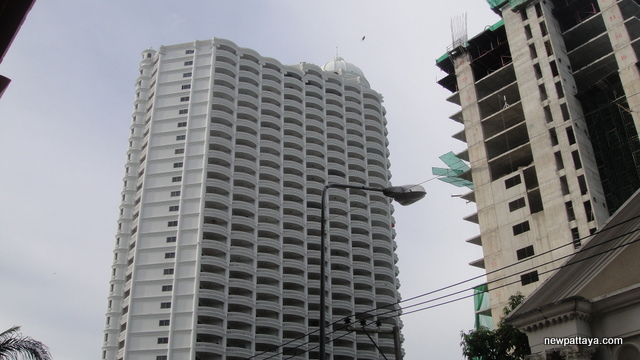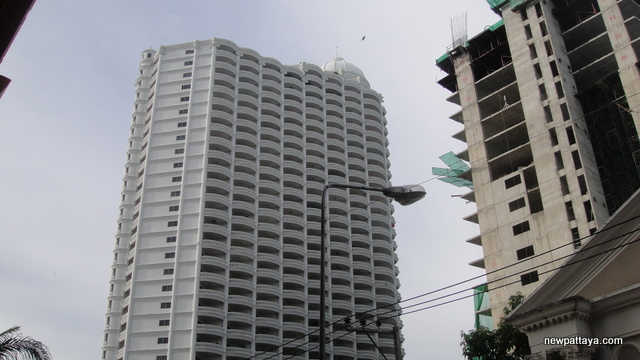 Some pics dated 3 December 2012.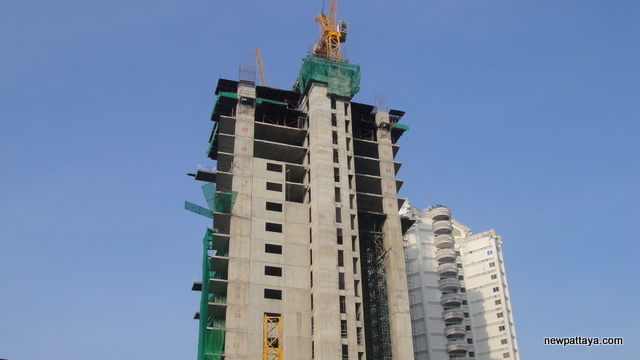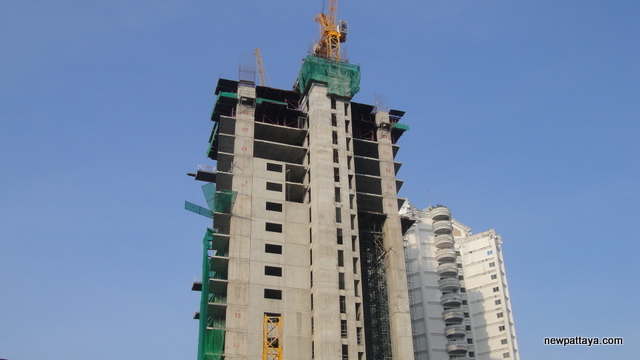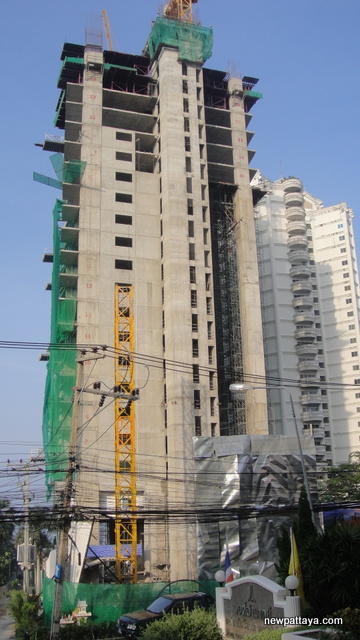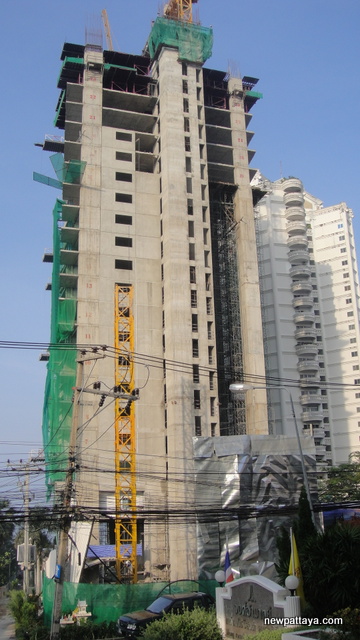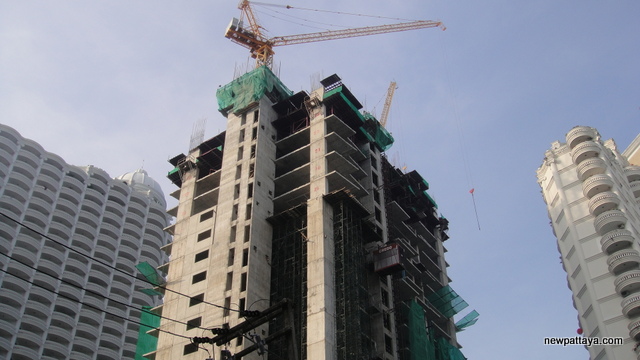 Some pics dated 5 December 2012.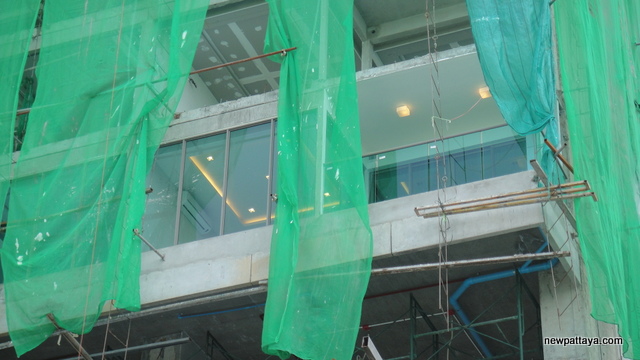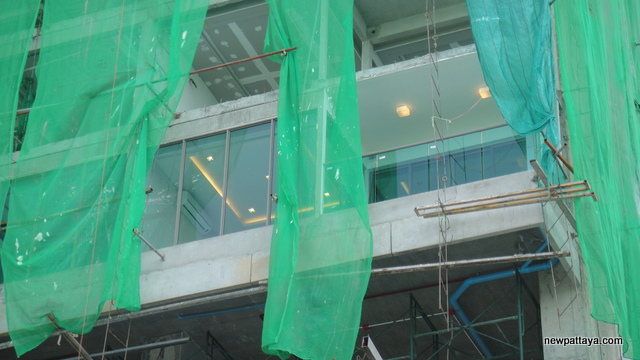 What kind of air conditioner is this? A Samsung or LG or a high quality Mitsubishi? You can tell a lot about the quality of a condo by simply looking at which kind of air conditioner is installed. A Mitsubishi air conditioner costs twice as much but it surely is worth the extra money. Been there, tried it myself!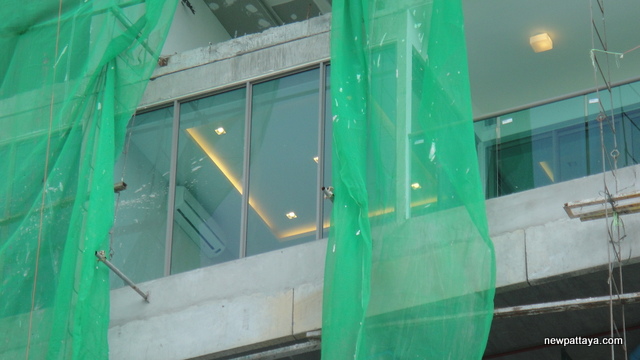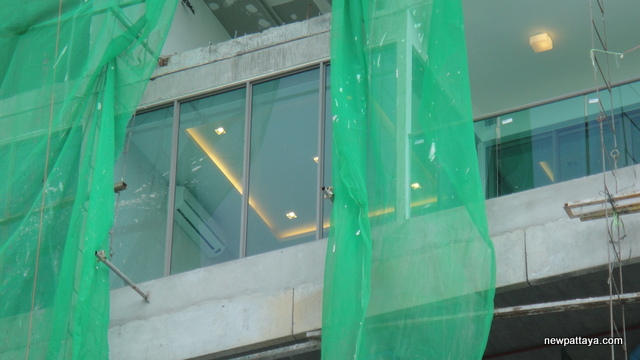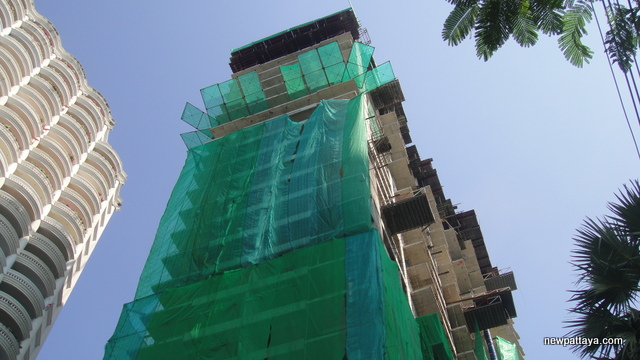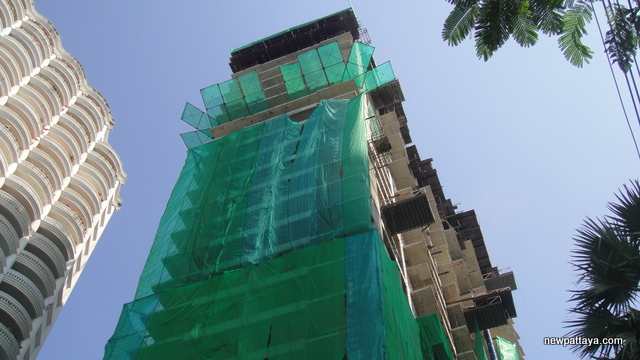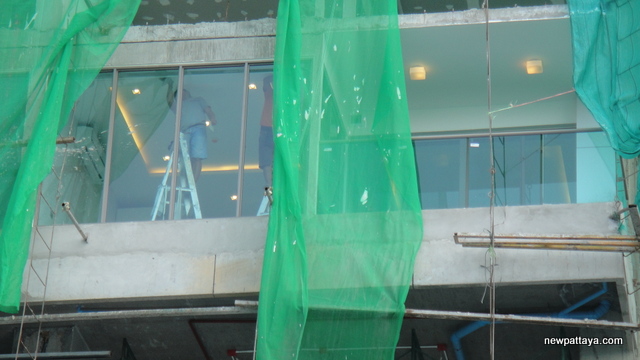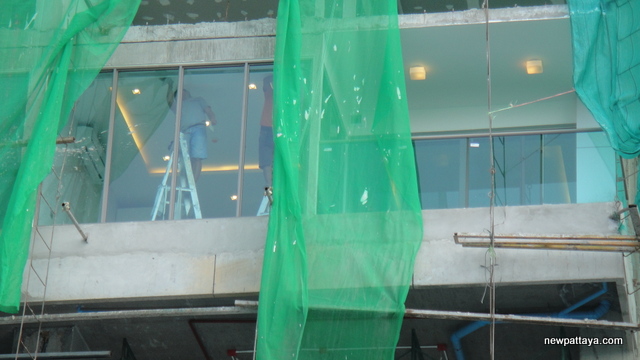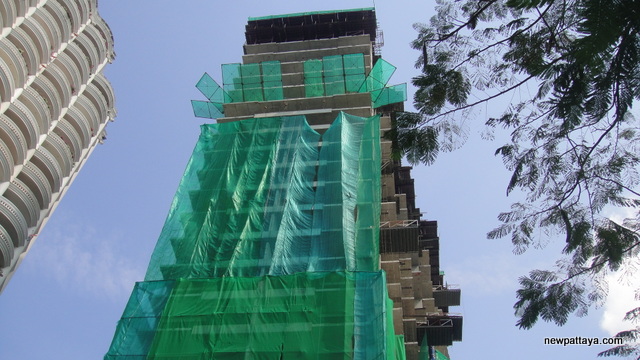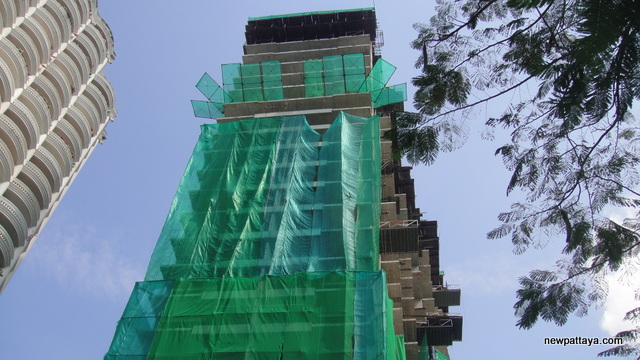 Notice the deep blue sky, that is very unusual in Pattaya, normally it is hazy with low visibility. The picture is dated 11 December 2012. The magic number is 24.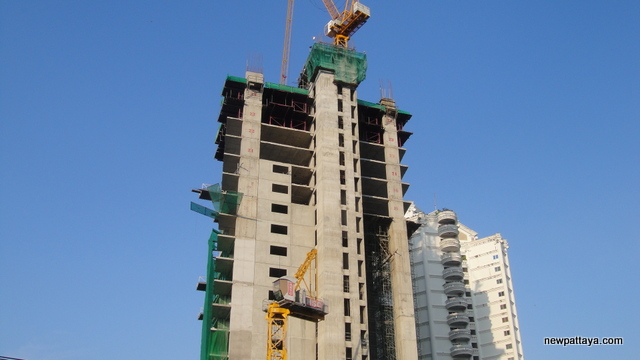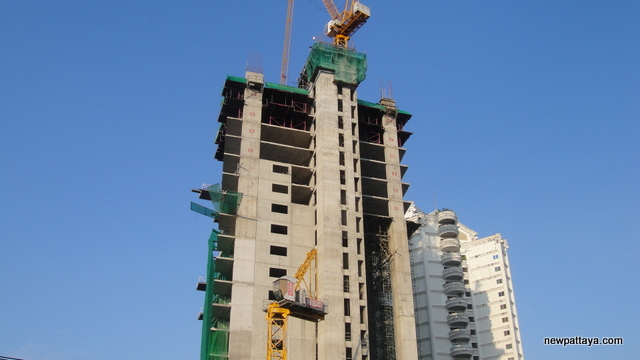 A picture dated 17 december 2012. The magic number is 25.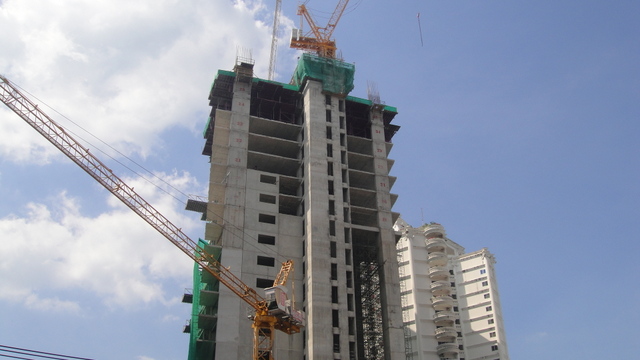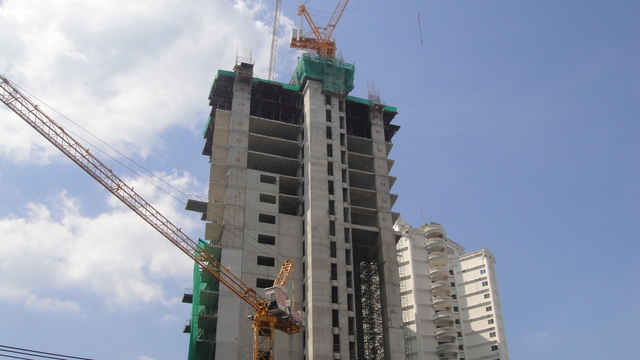 27 March 2013: Very sorry, I have been very busy, spending a lot of time in Bangkok and have not had the time to post new photos. Don't worry, I have the photos in a safe place, photos from all the developments both in Pattaya and Bangkok, I will post them, just give me some time. No no, I have not forgotten about the W-Tower, not at all, but I have no staff and there are limits as to how much one person can do.
28 June 2013: Here is a good photo of the W Tower. We have reached the 38th floor.
It looks like the Wong Amat Tower is about to be topped off. This is it, it will be 38 stories high. A weird feeling. I have spent many a good hour watching this project, it has brought me joy and happiness.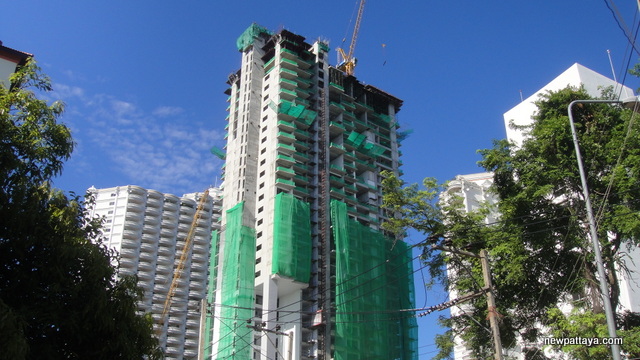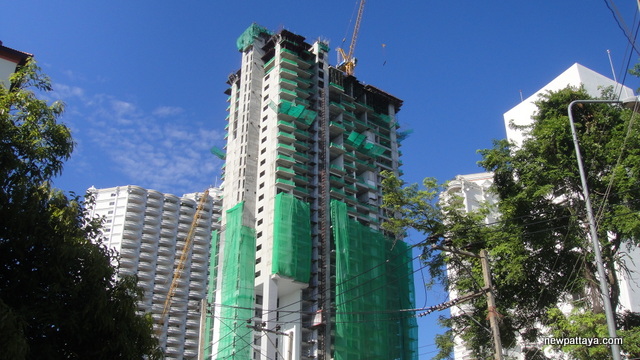 Some photos taken 30 November 2013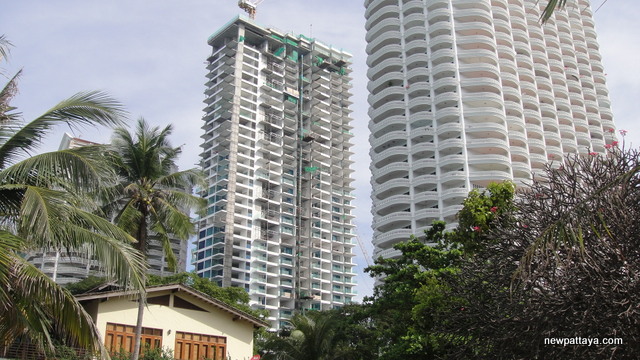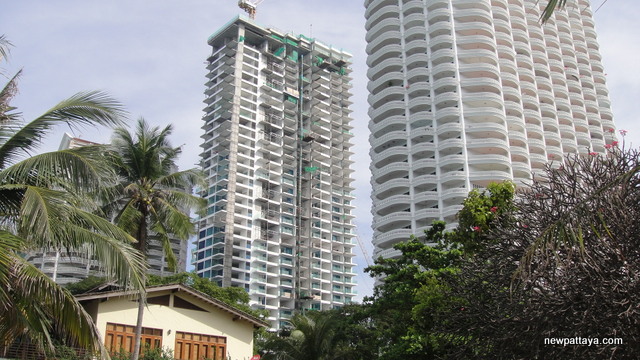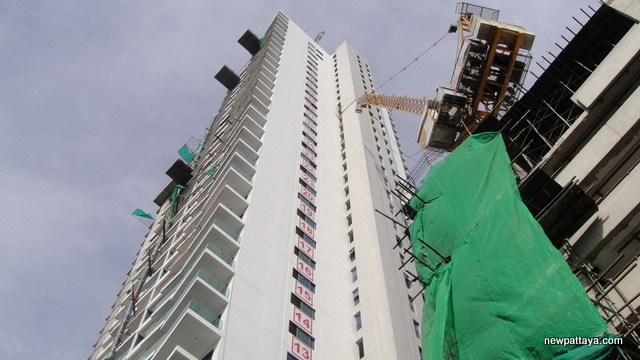 Some photos taken 25 April 2013
Wong Amat Tower is nearing completion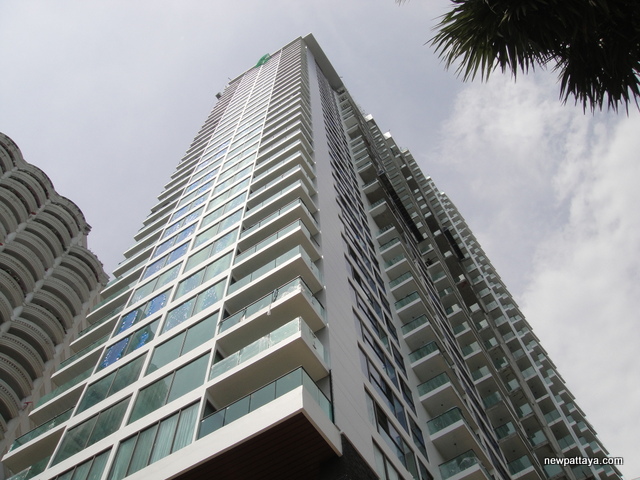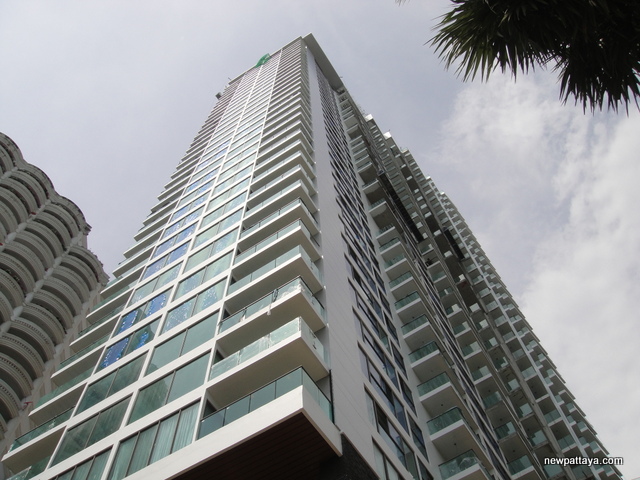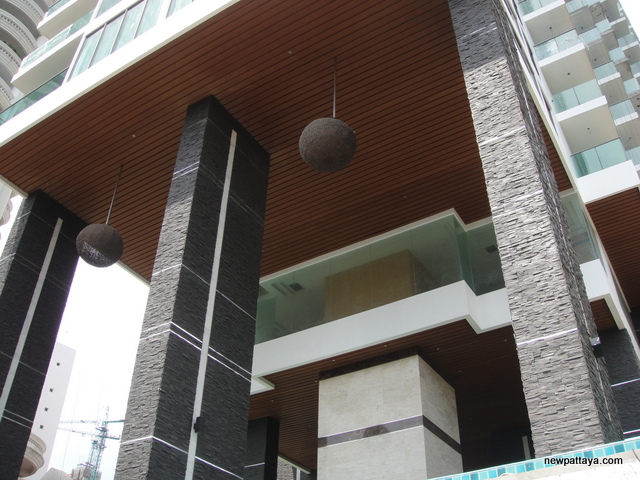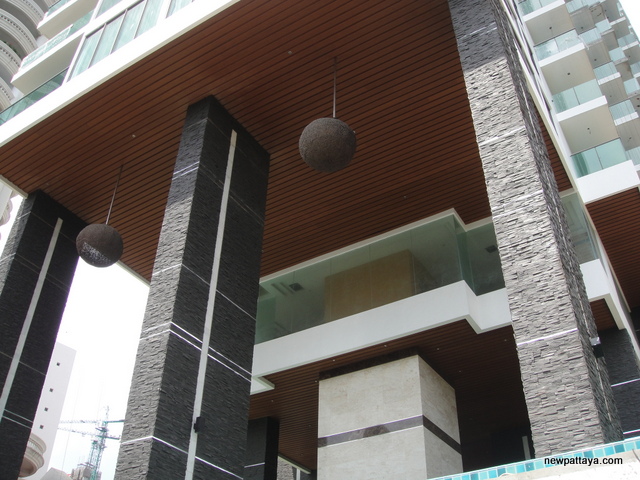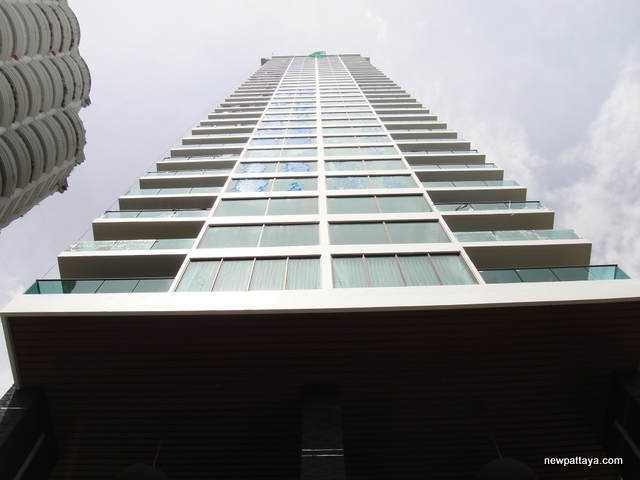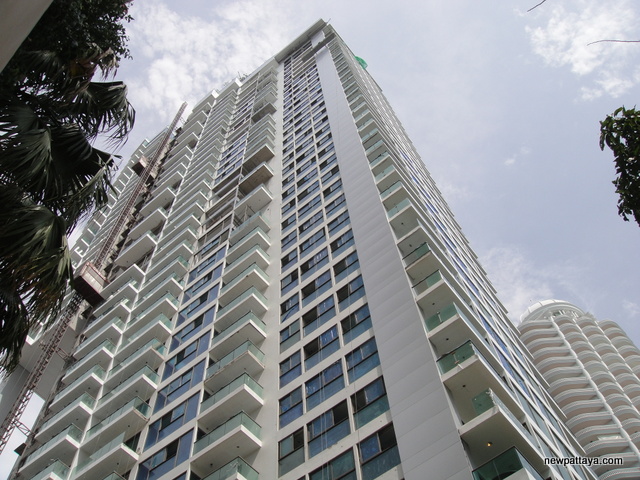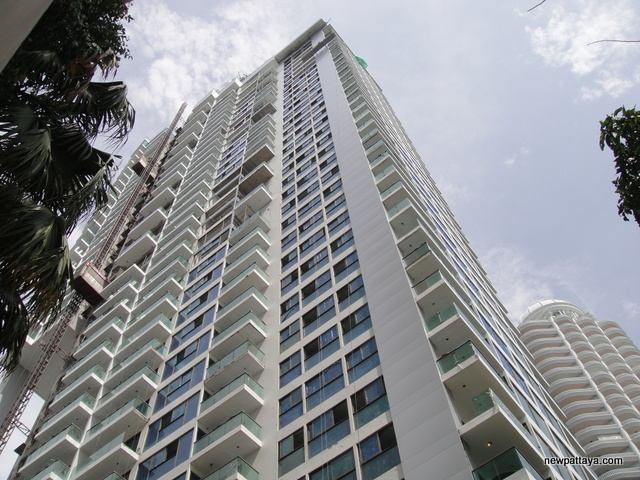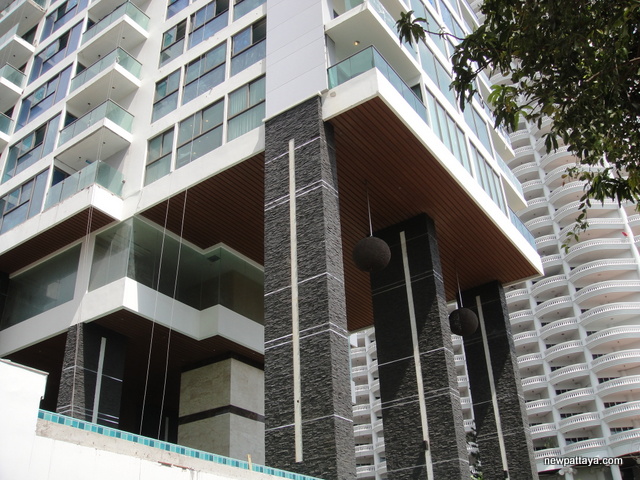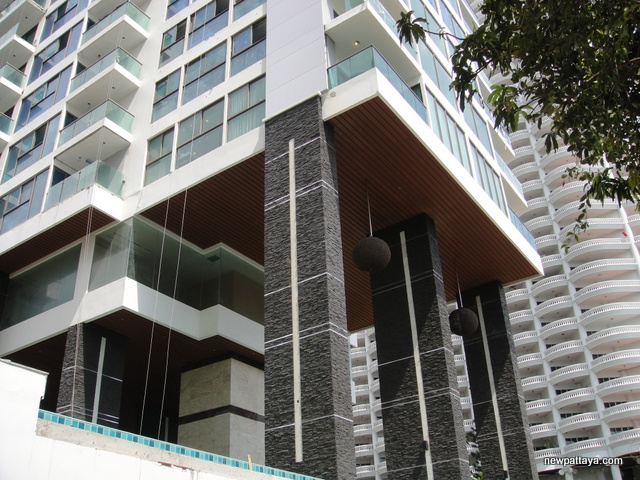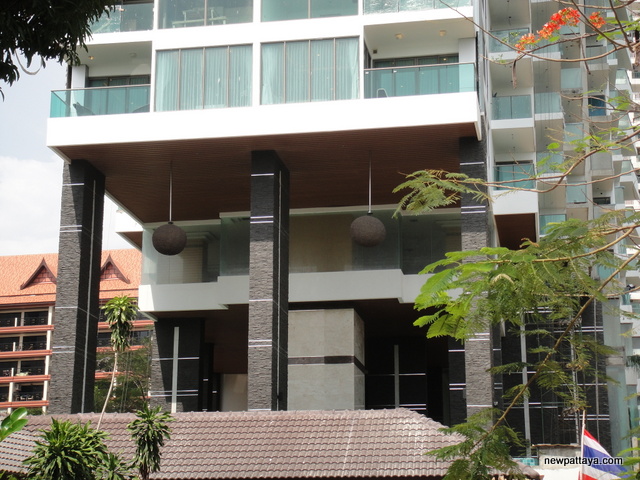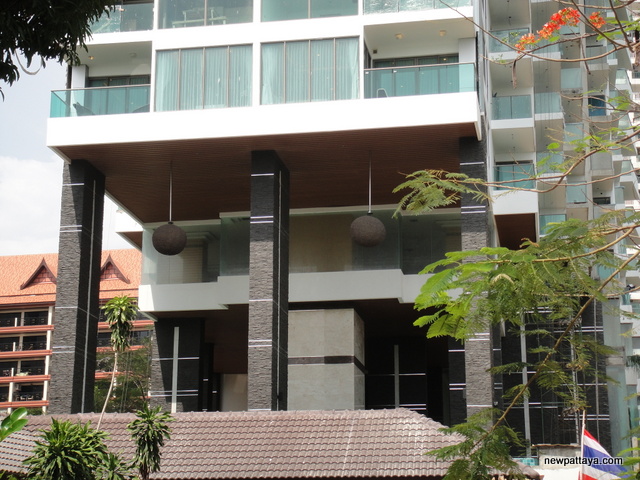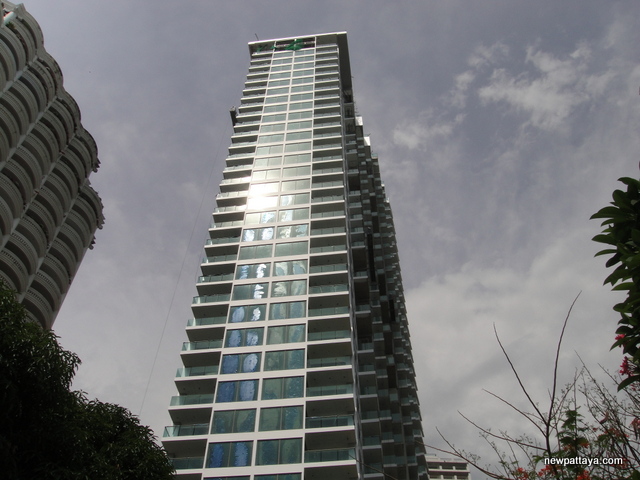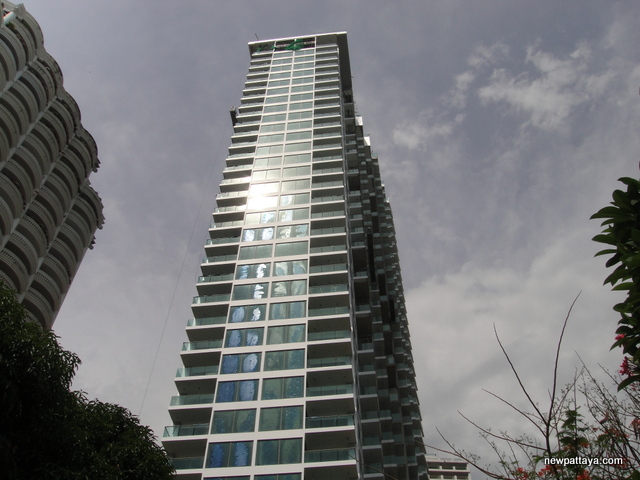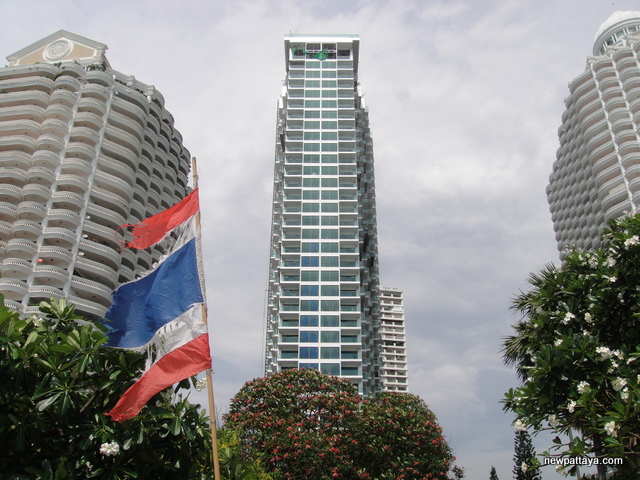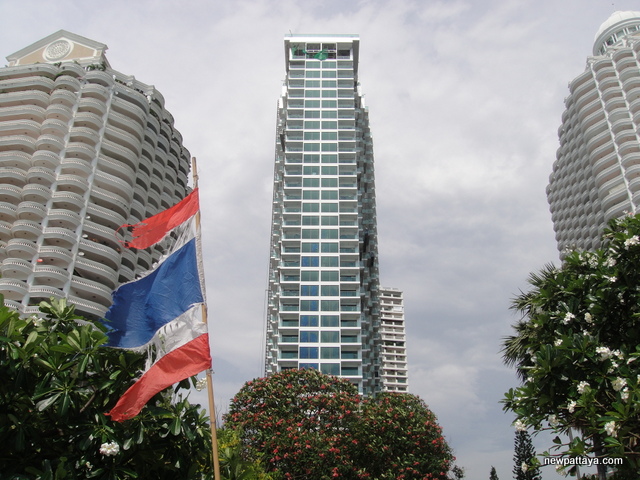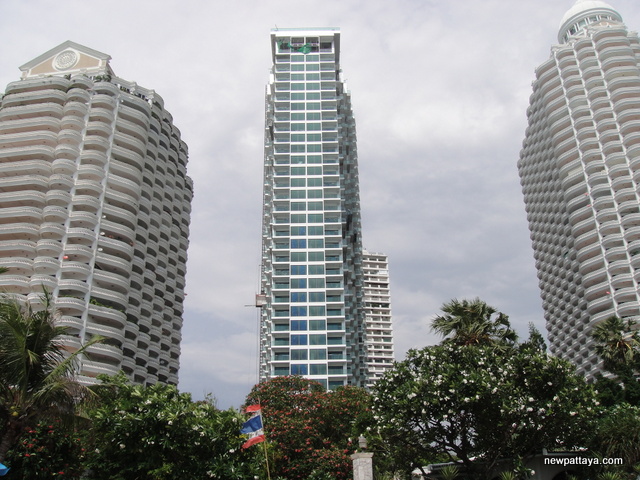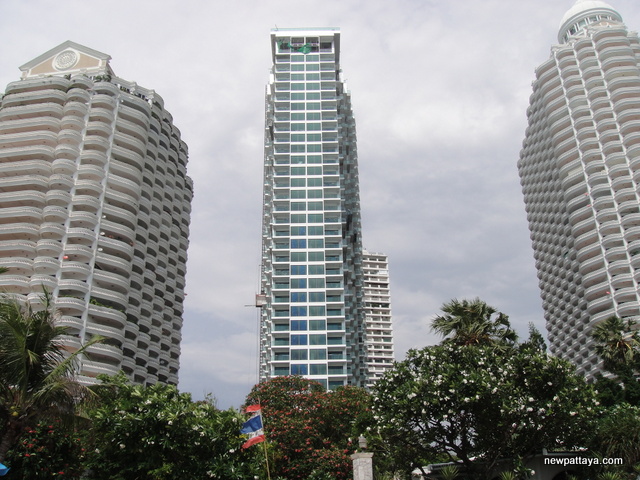 Would you like to support this website? Send funds to us using PayPal, send to secondtouch@hotmail.com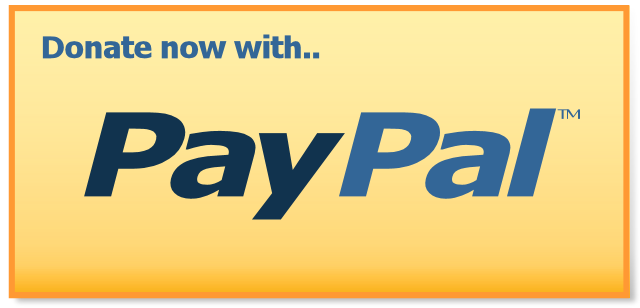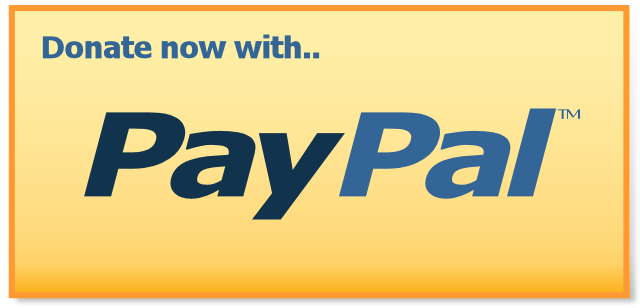 Want more information?