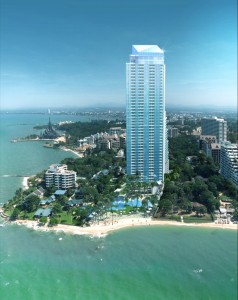 The Palm condominium is a Nova Group high rise project located in a beautiful part of North Pattaya called Wong Amat, an area that has always been very popular with Thais – actually this is considered one of the better areas of Pattaya.
There is a lot of open space surrounding The Palm with most of the neighbours being low-rise housing developments. This is unusual on Wong Amat where most of the high-rises are almost touching each other. The open space will give the residents not just spectacular sea views but amazing views of the whole peninsula. At The Palm you are buying more than just a condominium, you are buying a lifestyle.
The architectural firm behind The Palm is the award winning Interkon Akitek Co., Ltd., a company that has also designed The Peak Towers. Apparently Inter Akitek does not have a website, kind of unusual these days.
Originally The Palm was a project that Winston Gale and his UK business partner Simon Swain put together in 2008. They had a good relationship with land owner Khun Birathon Kasemsri Na Ayudhya. Funding was raised but when the US credit crisis struck, funding disappeared. In 2010 they decided to invite Nova Group as a partner and publically it now looks like a Nova Group project. In business the largest partner unfairly often gets most of the publicity but Winston Gale is still on board as a co-developer of The Palm and I believe he is in charge of the daily affairs.
The Palm comprises two towers, 26 and 45 stories respectively with a total of 544 units. For a long time I thought there would be only one tower because the poster I was looking at only showed one building – the grammatically correct name ought to be The Palms (two palms, two towers).
The Palm condominium gives you the most spectacular sea views from all units. Unit sizes: studios 32 – 33 sqm, 1-bedroom 46 – 53 sqm and 2-bedroom units 62 – 96 sqm, as well as penthouses 500 – 520 sqm.
There is a large infinity edge swimming pool, a children's pool, a sundeck, water features, a kids' club, fitness and games rooms, floating pavilions and large open areas.
Studios from 2.6 – 3.6 MB, 1-bedroom apartments from 4.5 – 7.5 MB and 2-bedroom apartments at 5.9 – 13.8 MB.
August Interior Design was hired to do the corridors, lobby etc.
The Palm condominium was pre-launched in December 2010 and a pre-launch event was held at the Four Seasons Hotel on January 21st 2011. The Palm received E.I.A. planning permission in February 2012 – the paperwork had been delayed due to the flooding in Bangkok at the end of 2011.
The piling work began on 24 February 2012 by Ital Thai Trevi, one of Thailand's respected piling specialists. The piling is expected to take 5 months to complete. Somboon Kwangthung is Project Manager at ITAL Thai Trevi and Ekachai Phongphua is the General Manager.
Cornerstone Management, one of Thailand's most respected Project Management companies, was awarded the 3 year Project Management Contract at The Palm. Richard Bell is MD at Cornerstone.
While Cornerstone was appointed project managers the Lock-BUILD Group was awarded the 1.3 Billion Baht construction contract. The Bangkok based company Lock-BUILD Group is also busy with constructing Amari Residences on Pratumnak Hill and Wong Amat Tower by Heights Holdings. Managing Director of the Lock-BUILD GROUP is Nuttapong Intuputi and the Director is Vutikorn Kamolchote.
Building work on this 3.2 Billion Baht development is expected to take 3 years time.
The property consulting agency, CB Richard Ellis|Thailand, or CBRE|Thailand is the sole agent for the project.
The Palm Pattaya is also on Facebook, a service provided for the younger generation. A multi-billion project of this size must of course have its own Facebook Page with daily updates and I don't have either the time or the information needed to do it. I don't understand why Nova's friends at Tulip Group don't explain the power of the internet.
The picture below is dated 21 april 2012. Construction is scheduled for completion 2015 so there is plenty of time.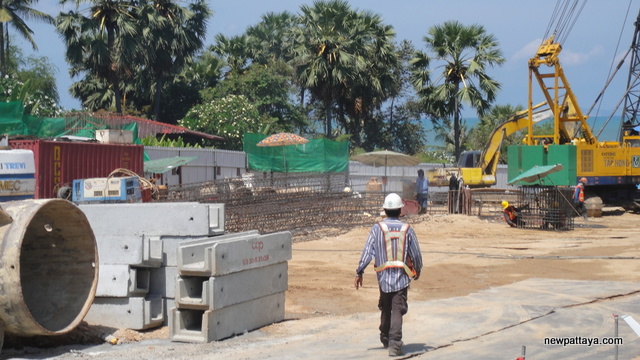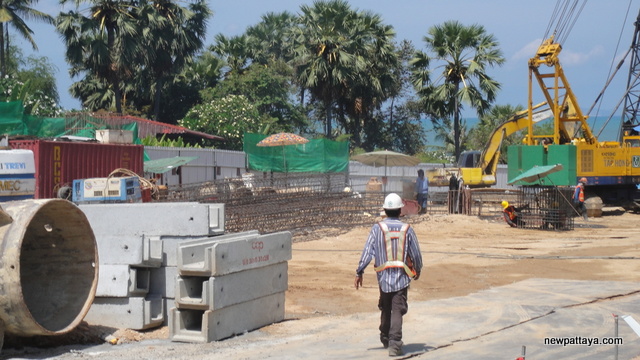 Below are some pictures of The Palm sales office dated 23 May 2012.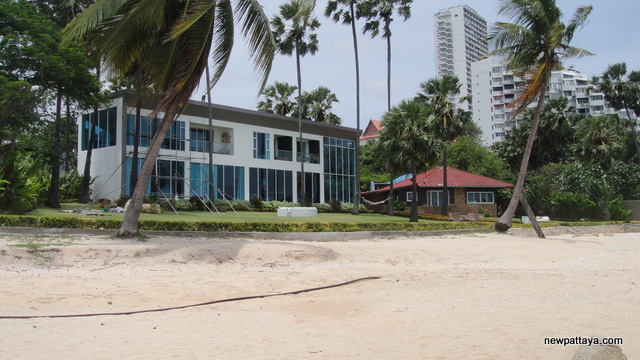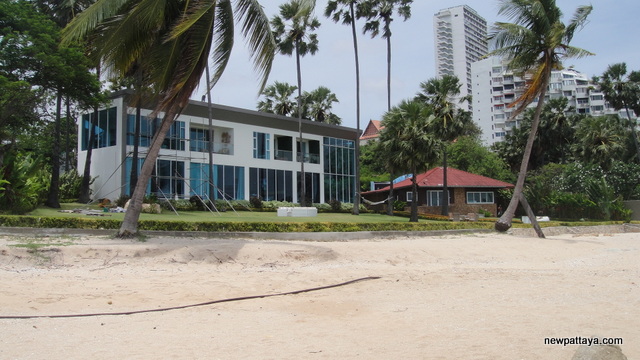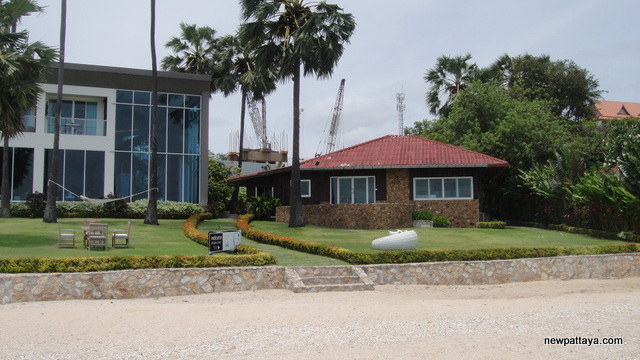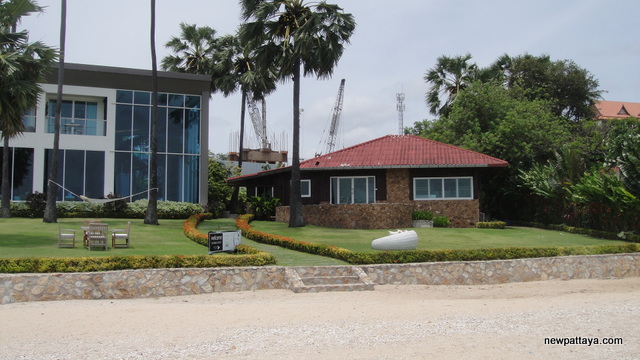 Finally it seems they have completed the time-consuming piling works and now it won't be long before we can see some of the good stuff when the building rises. The picture below is dated 23 september 2012.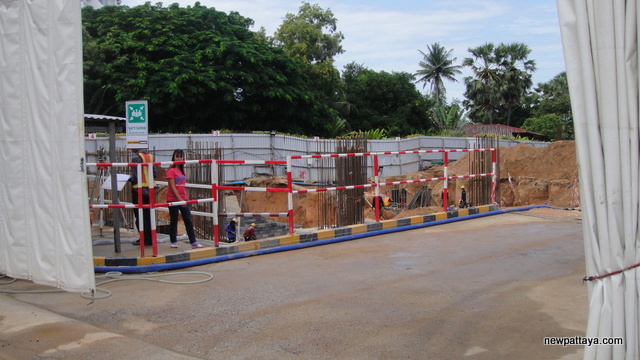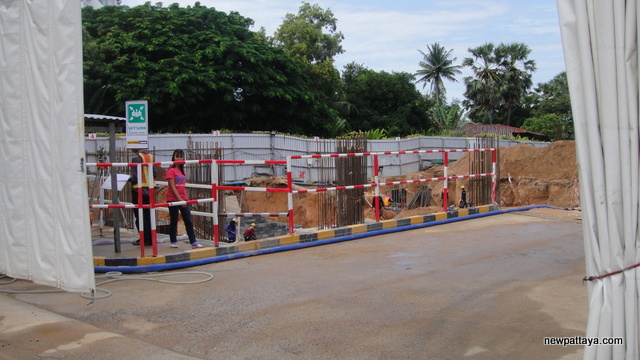 I was passing by on 18 November 2012 and even though they are making an effort to hide their build, I got a sneak peek at what is going on behind the curtain. Unfortunately I have no pictures to show, but there is some really good stuff going on at the site these days. Maybe you have to ask to take pictures, maybe you have to be friends with the developer, I don't know. All I can tell you is that it is starting to look very interesting inside.
The picture below was taken 19 November 2012.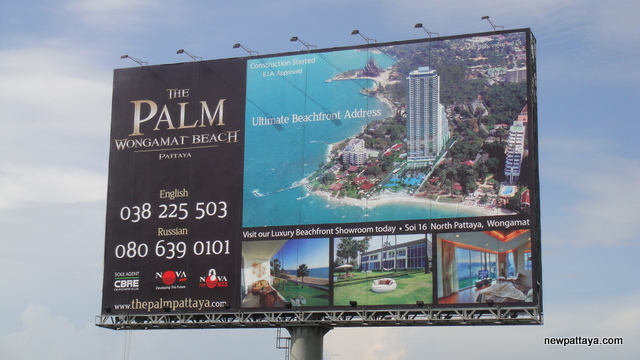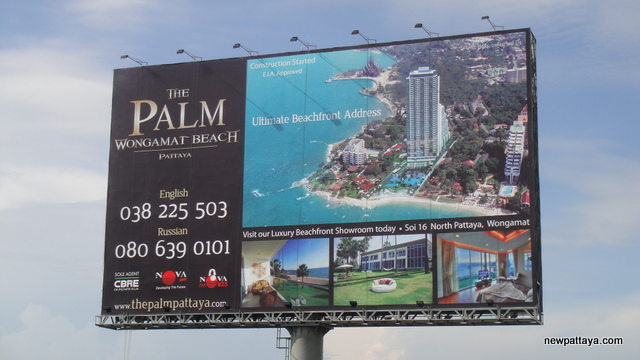 December 2012. The time has now come to follow The Palm on a more regular basis. The Palm has reached a level where things begin to be very interesting. We will be witnessing the rise of a giant building in 2013. The picture is dated 3 December 2012.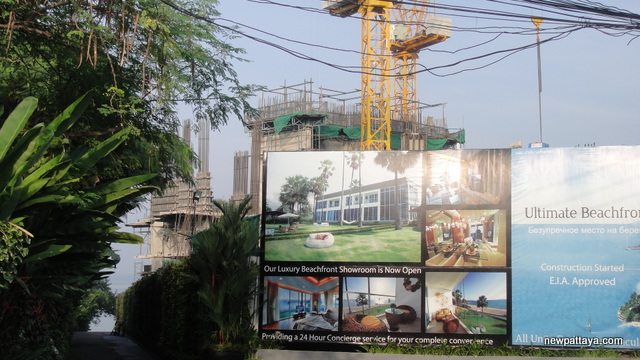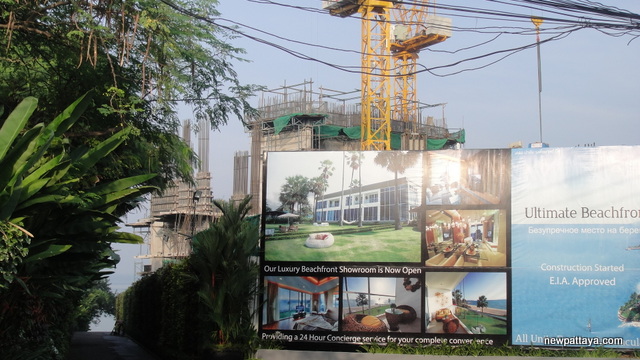 Some pics dated 5 December 2012.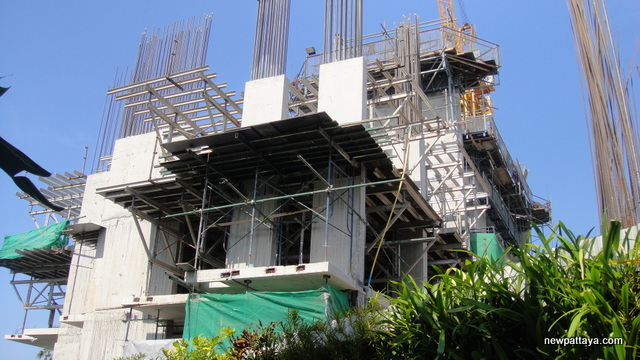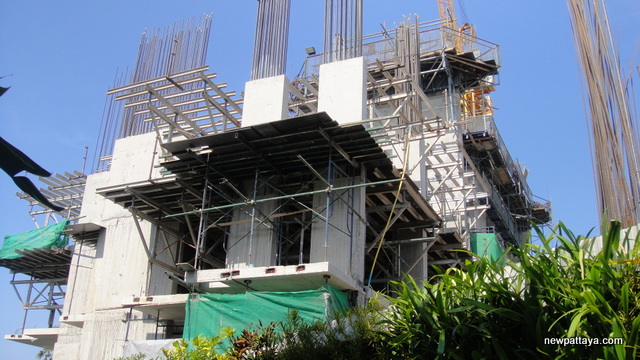 And now some of the really good stuff. Please notice how wide the building is. It is much wider than Zire or the W-Tower. By the end of 2013 – if all goes according to my plan – there will be a gigantic 45-storey building right here. The Palm condominium in Pattaya will become a landmark, of that there is no doubt. 2013 will be a great year for those who love high-rises, we will have three exciting projects right here on Wong Amat – Zire, W-Tower and The Palm. I don't know when Baan Plai Haad will join the club.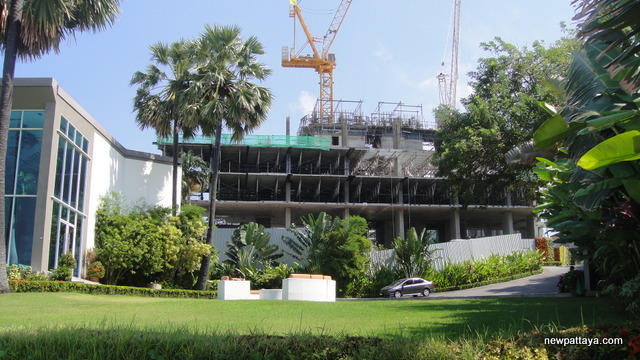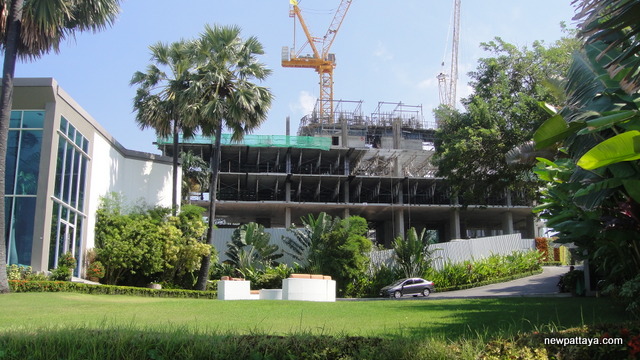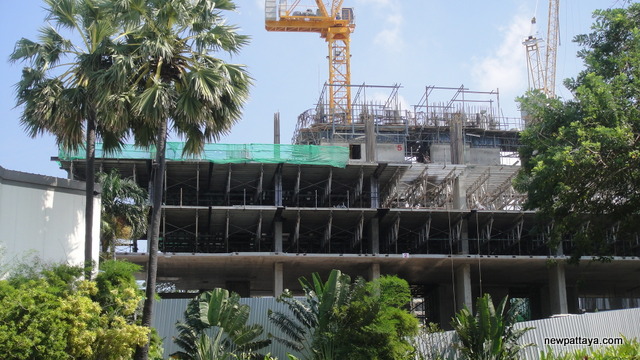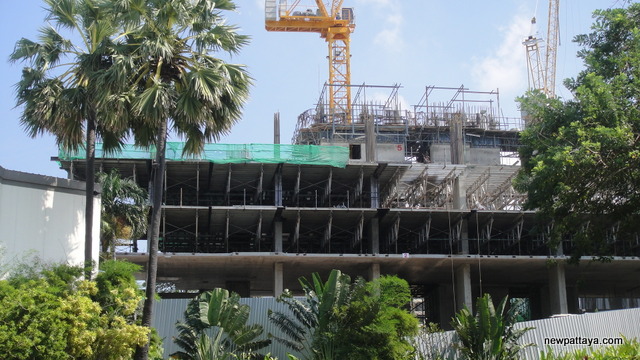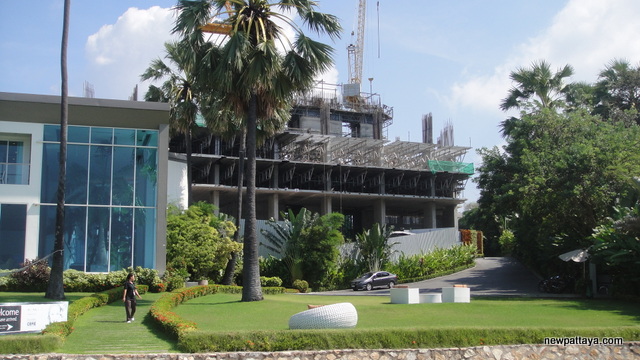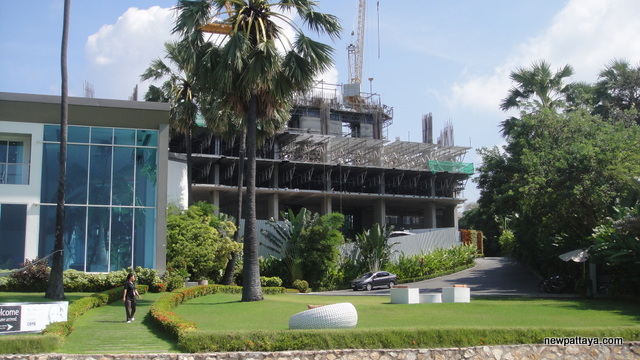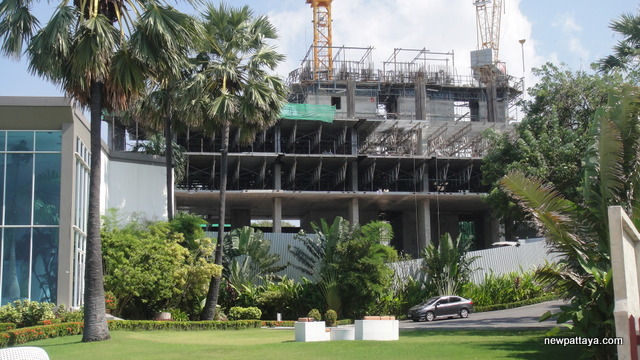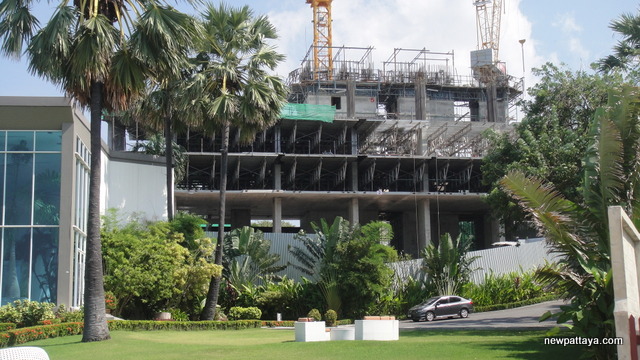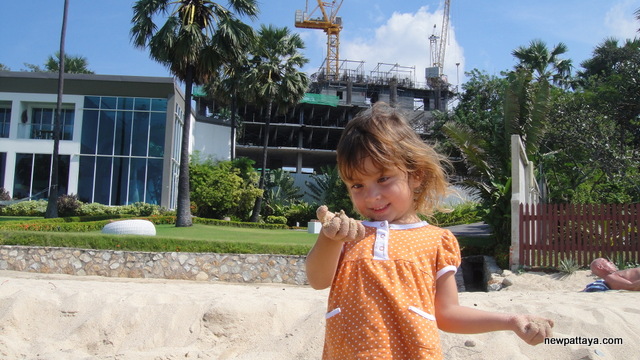 Some pics dated 18 december 2012.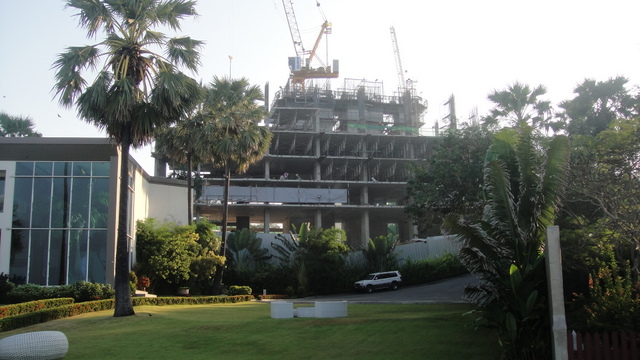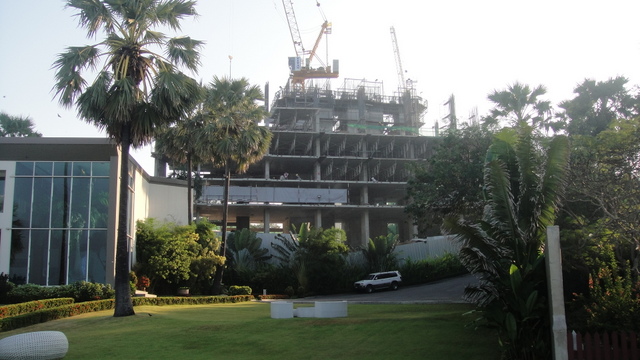 This is what the beach at The Palm looks like. There is a worker at The Palm that cleans the beach every day so it looks nice.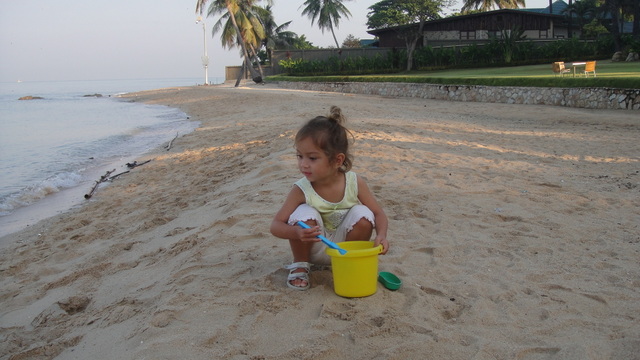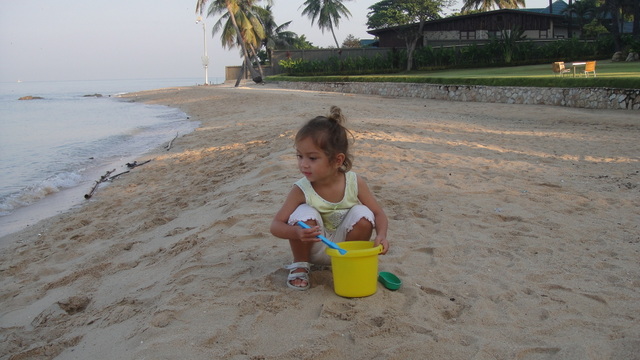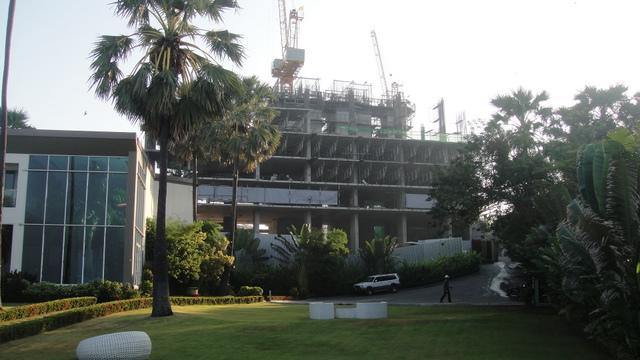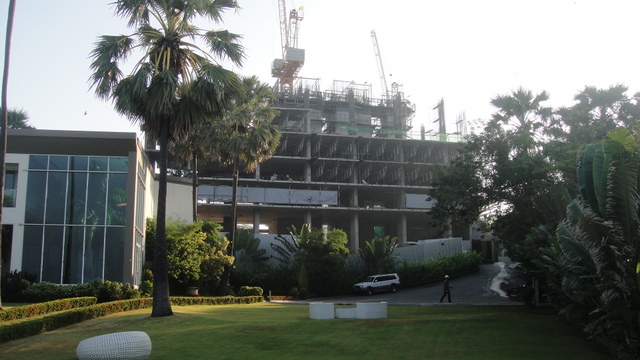 More pictures from the beach at The Palm. Maybe we are looking at a future developer or building contractor here?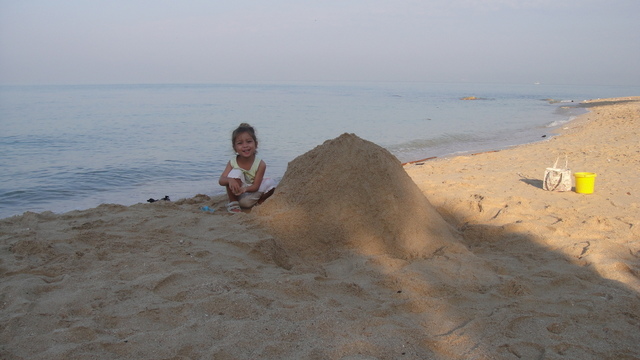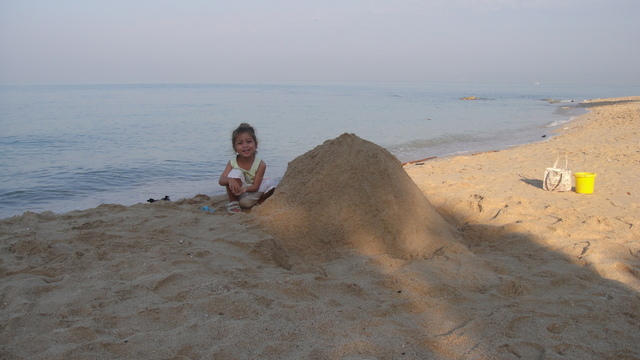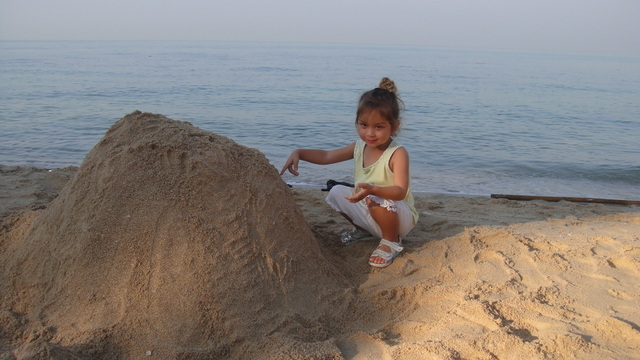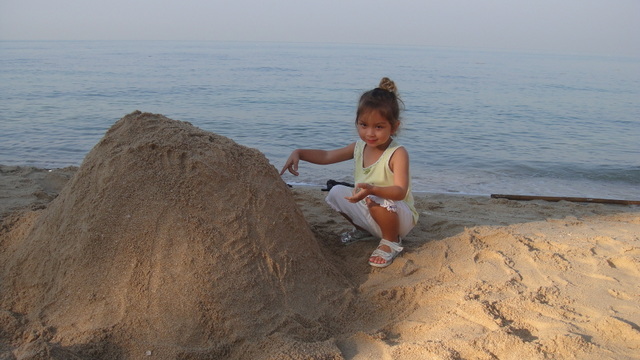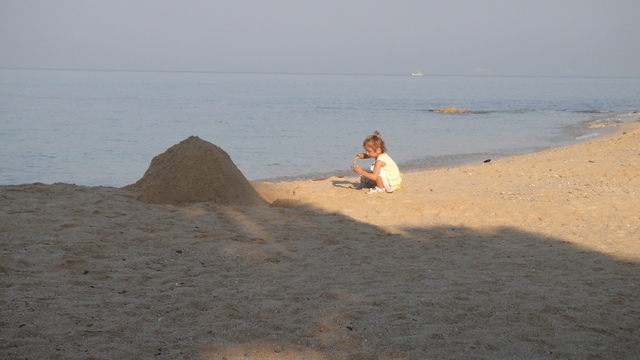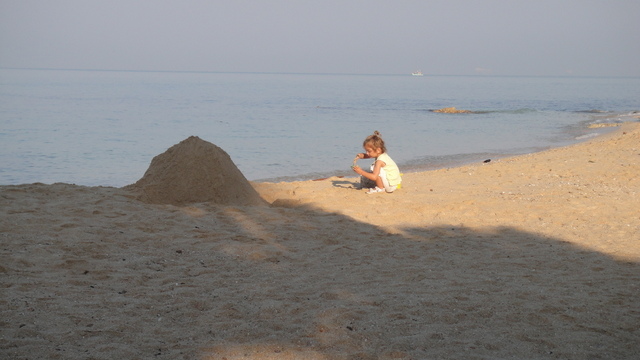 This palm tree needs a helping hand….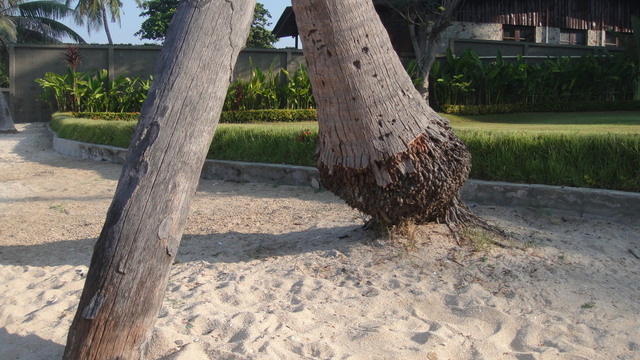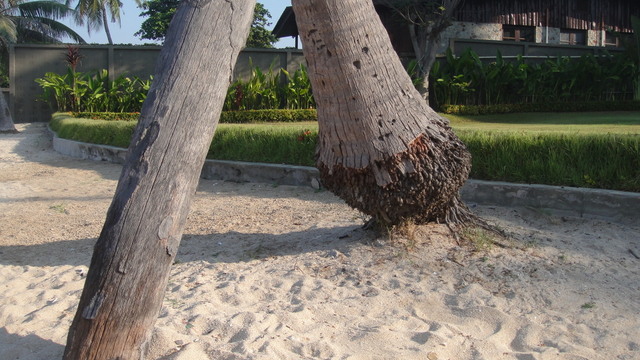 A picture dated 27 december 2012. If you compare with the pictures taken on 5 december 2012 you will notice the difference. Construction is starting to pick up speed now. I guess I would be even more excited if I had a stake in the company or had bought a unit. Owning a unit in The Palm is a privilege for the few and I am unfortunately not among them. January 2013 there are still units available in the beachfront tower. There are 8 units on each floor in the 45-storey Beachfront Tower. All units in the 26-storey Tower B has long been sold.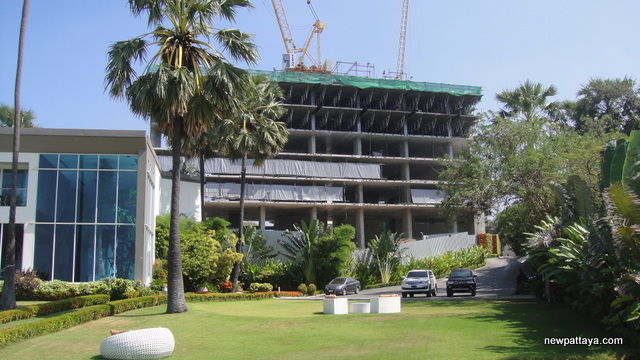 A picture dated 5 january 2013.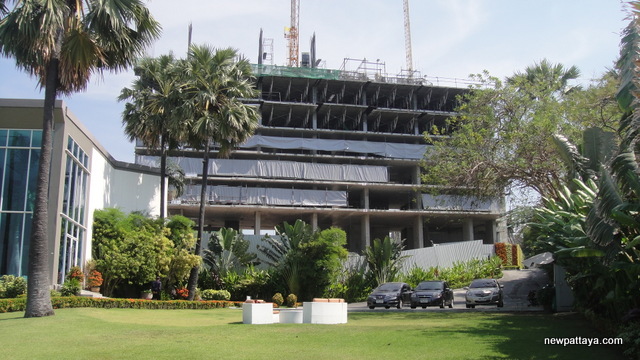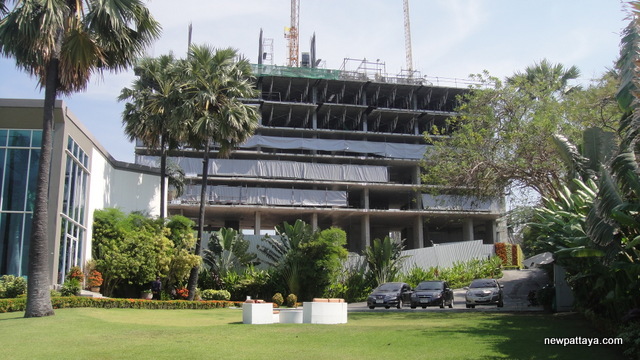 Tower B at The Palm on 14 january 2013.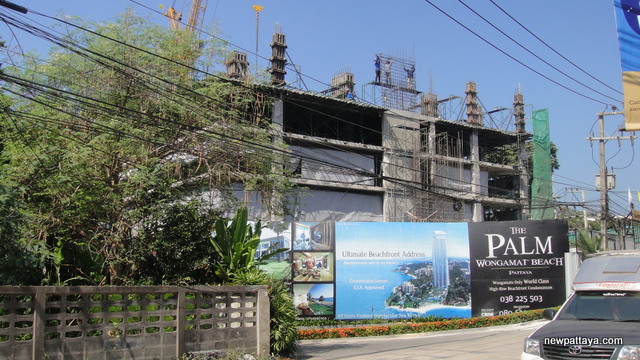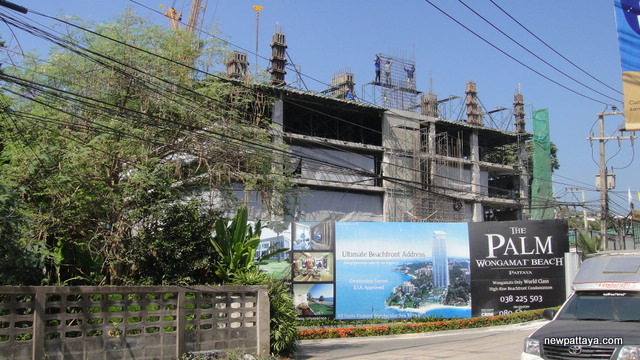 The Palm Pattaya is also on Facebook, it is a service provided for the younger generation.
All units in the project will have sea views but the beachfront tower will of course offer the best sea views.
The Palm on 19 January 2013 seen from Baan Plai Haad.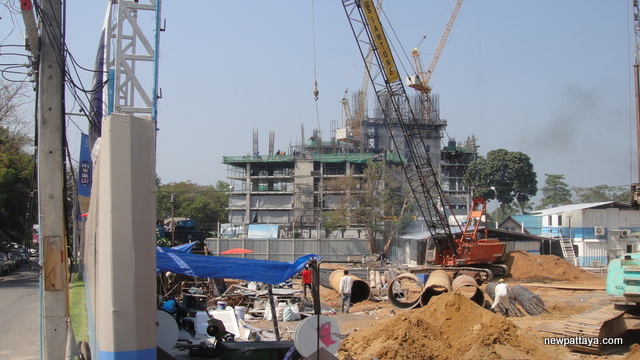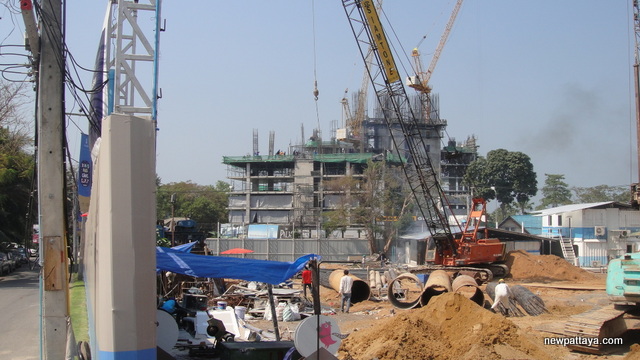 Some more pics from 19 January 2013.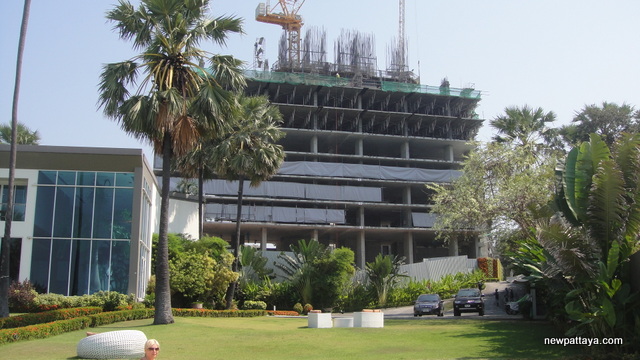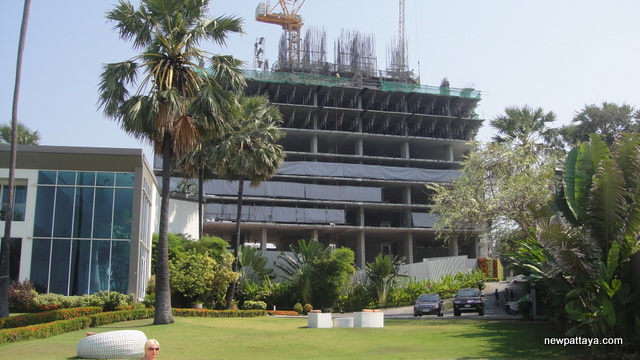 The building to the right that is under construction is Wong Amat Tower. The other building under construction is The Palm. In this picture you get two-in-one.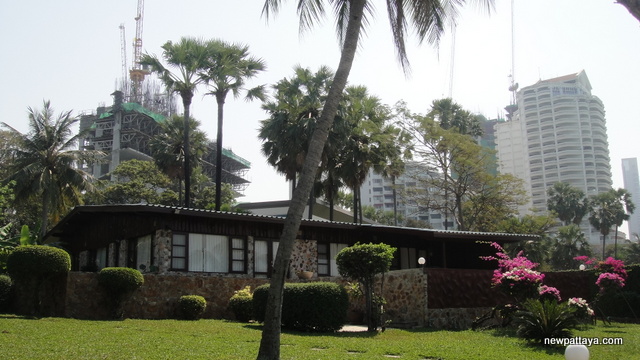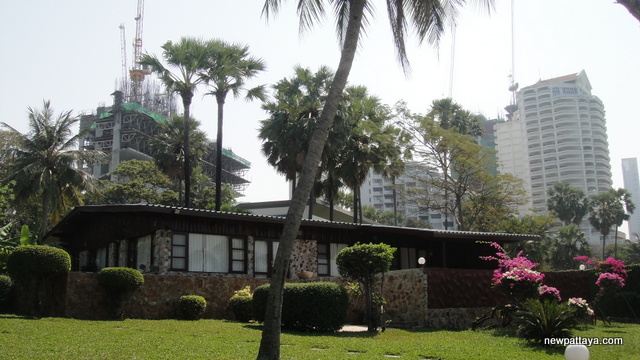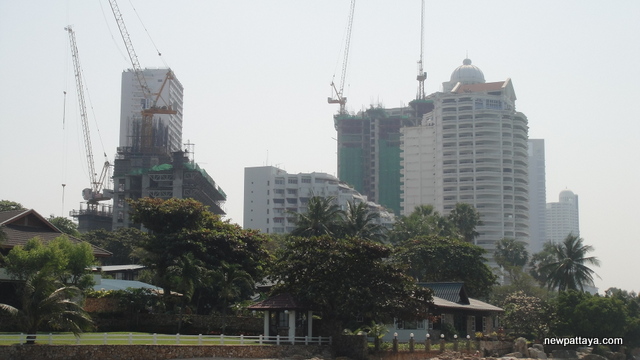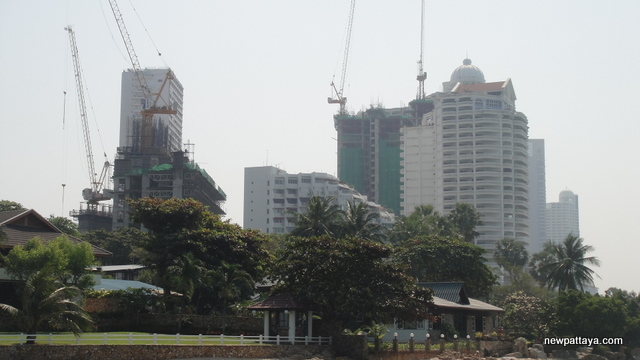 Some pictures dated 31 January 2013.
The pictures are from the beach in front of Modus, Baan Plai Haad and The Sanctuary Condominium.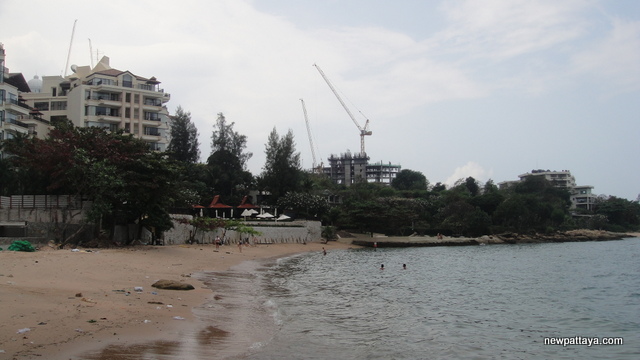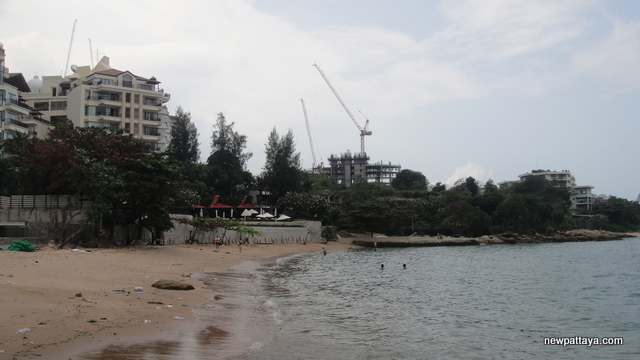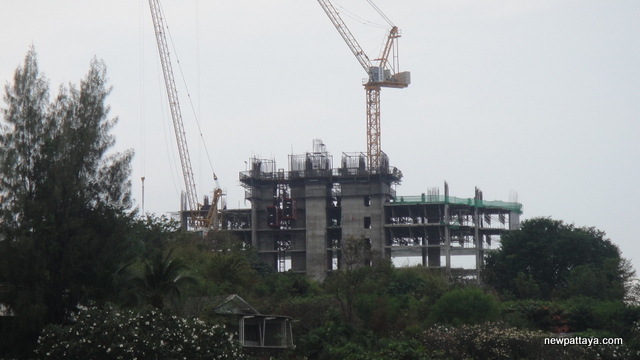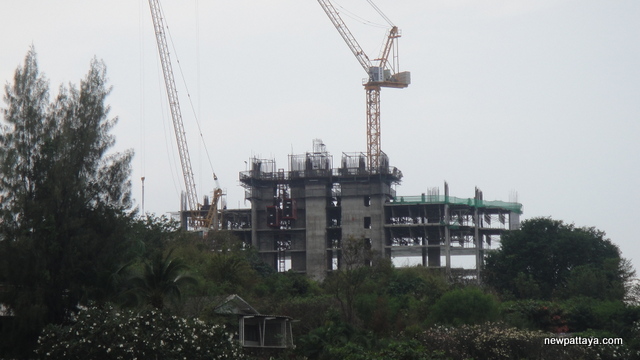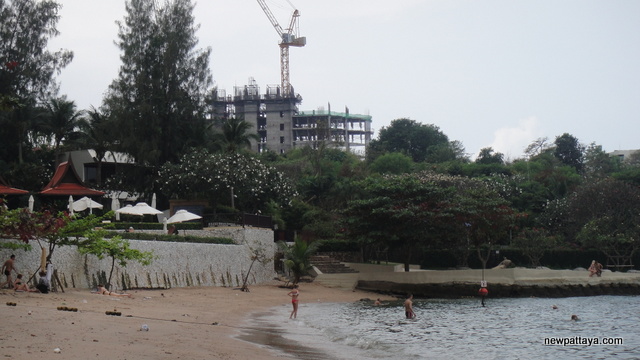 The pictures below are dated 1 february 2013.
This picture of The Palm is taken from the construction site at Serenity. There is only a short distance between Serenity and The Palm.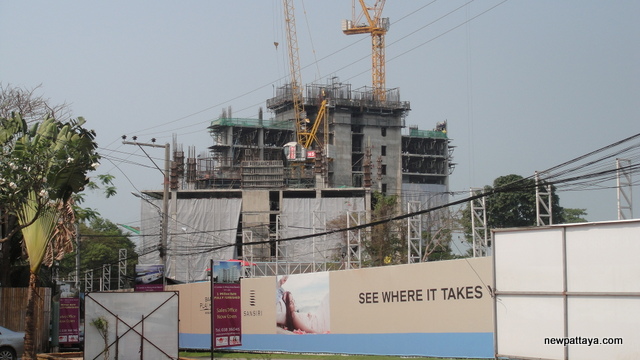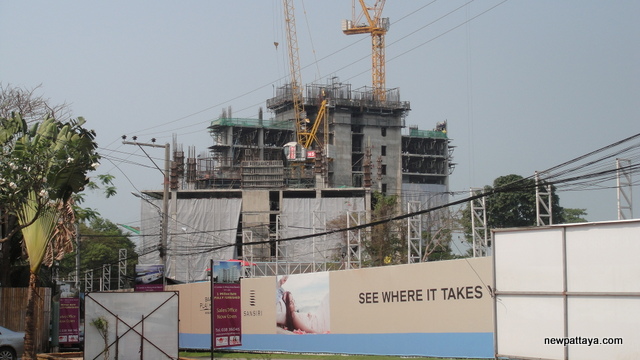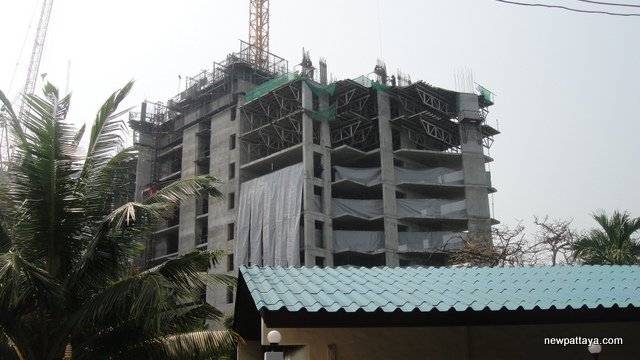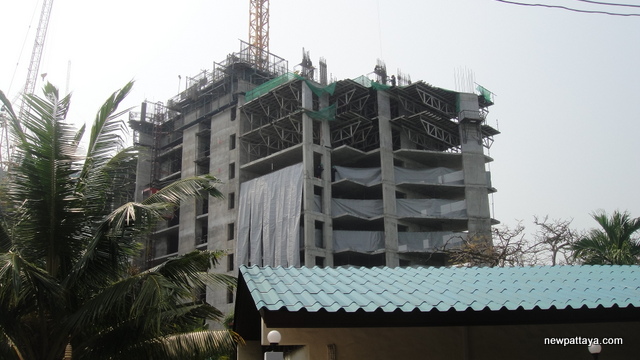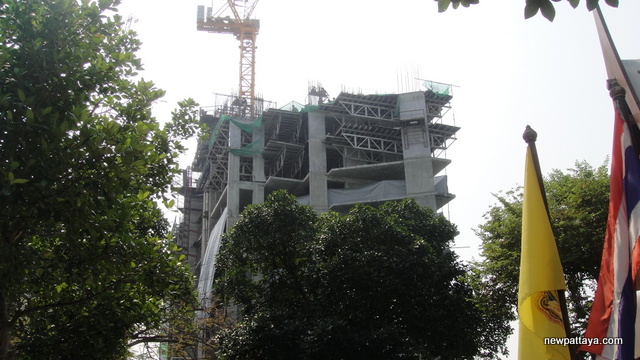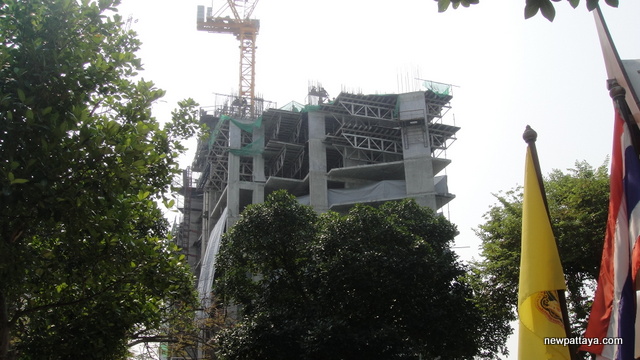 Can you guys take it easy? I would like to be here each time you add one storey to the structure but at the current speed that is not possible. I can't come here that often. You guys are working too fast. Slow down!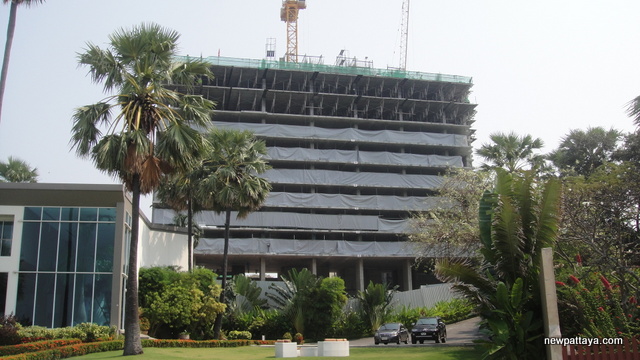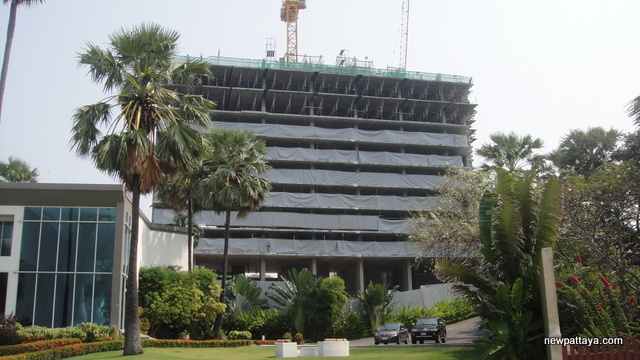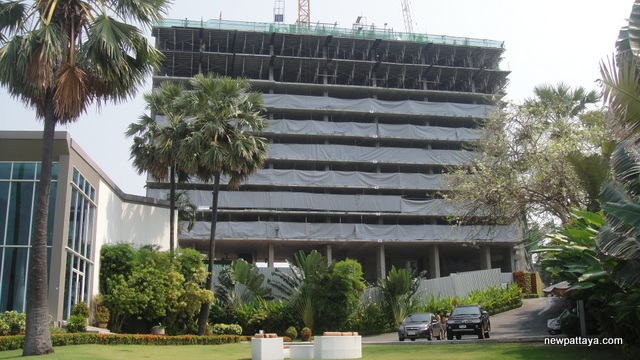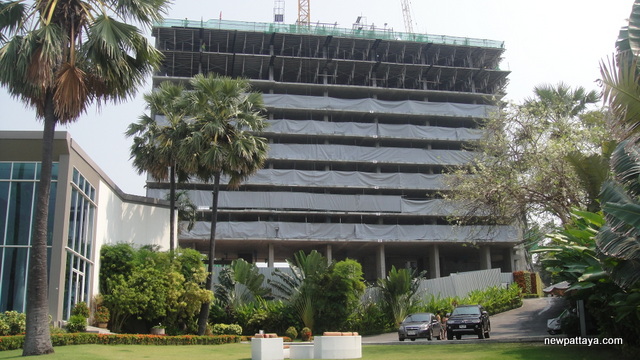 The pictures are from the beach in front of Modus, Baan Plai Haad and The Sanctuary Condominium.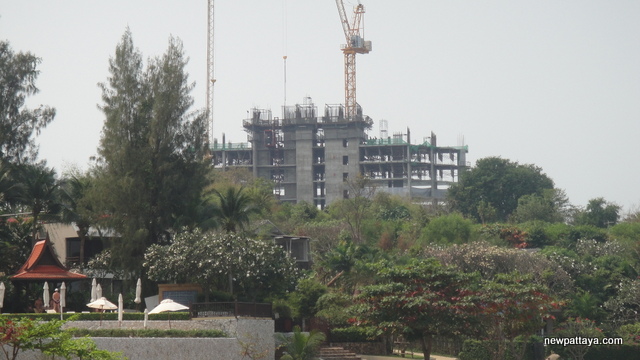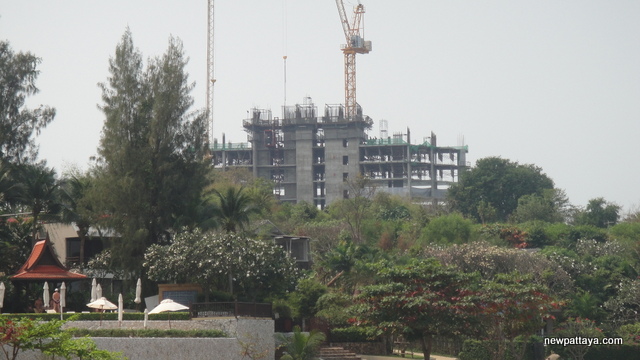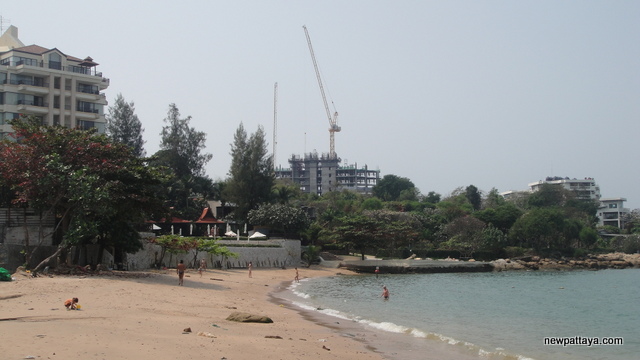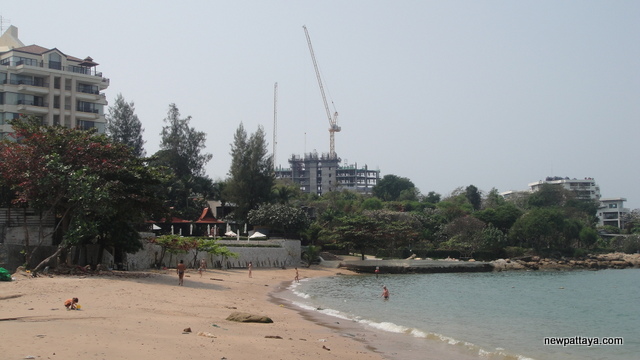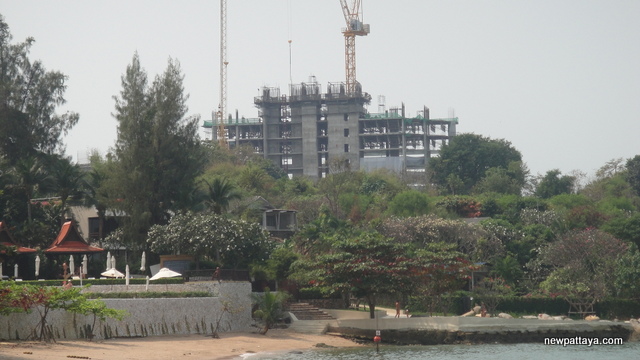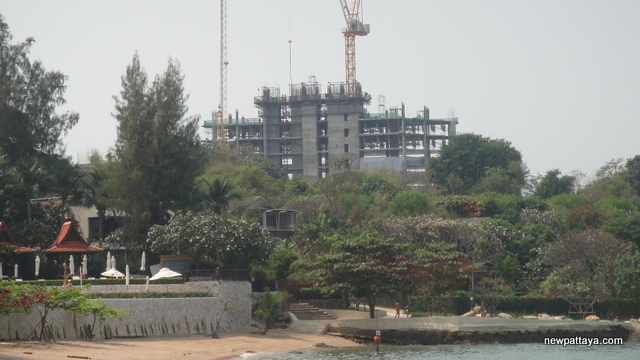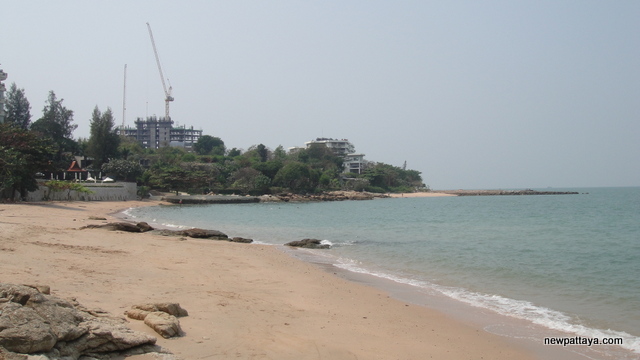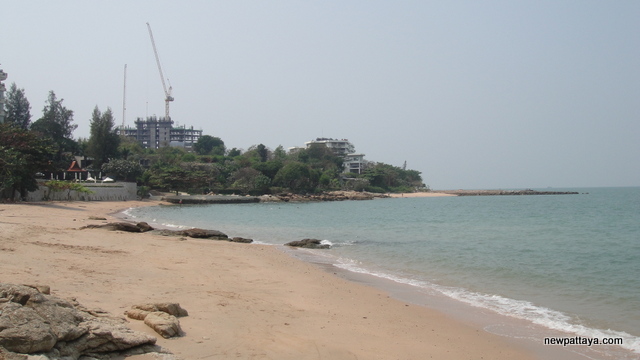 The Palm to the left and Wong Amat Tower to the right.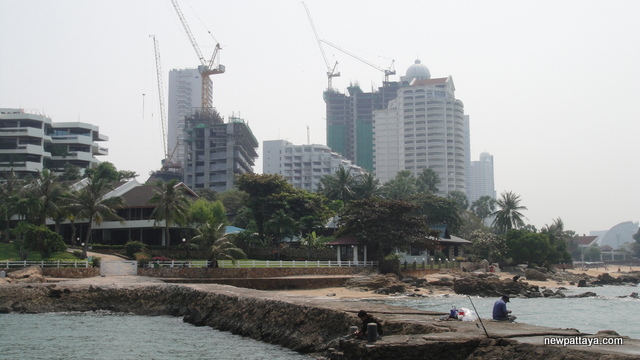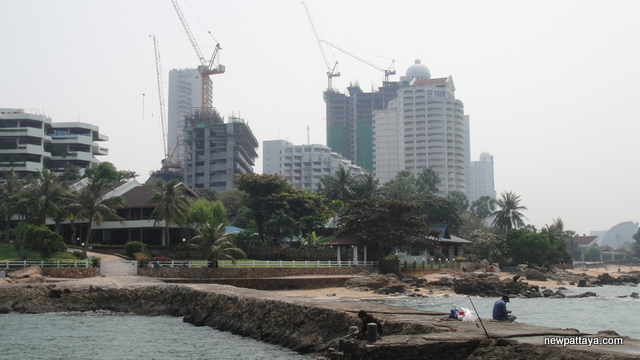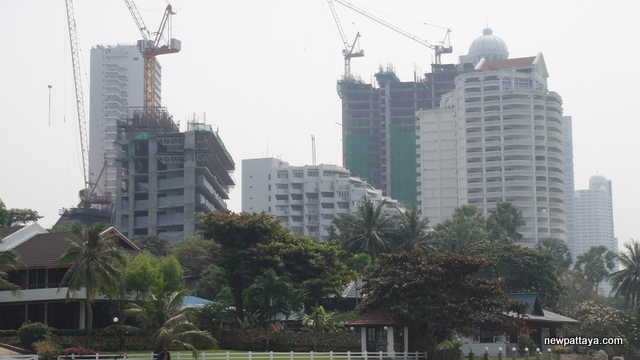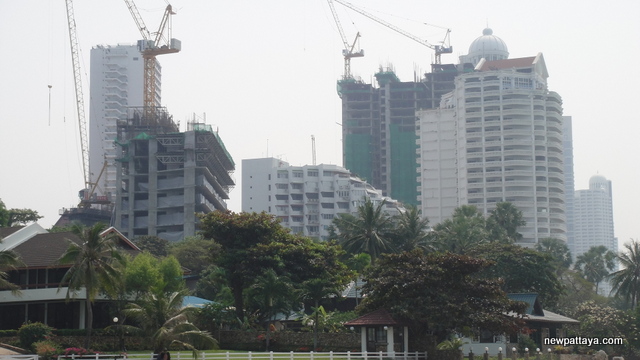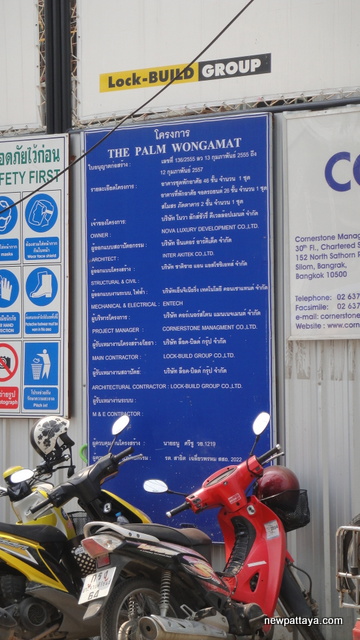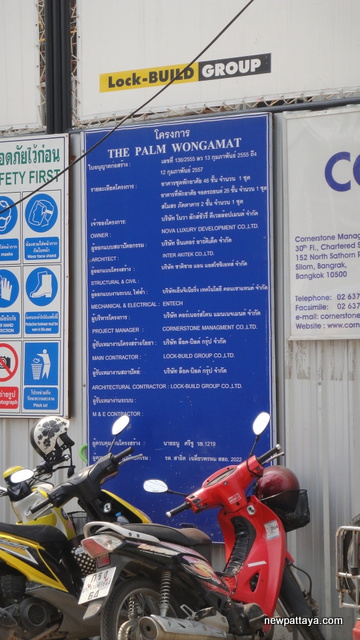 We are back with some more pics dated 11 february 2013. This baby is growing fast. Only last year I was whining about that things were happening too slowly, perhaps I have learned my lesson.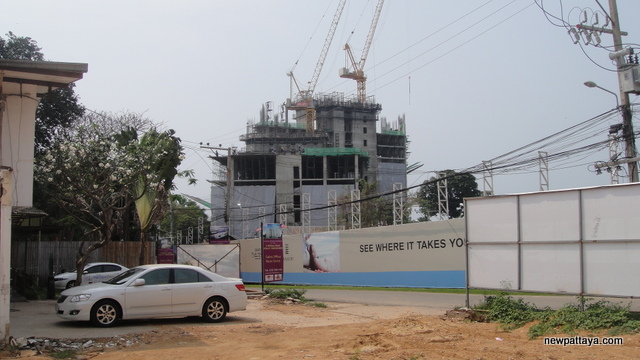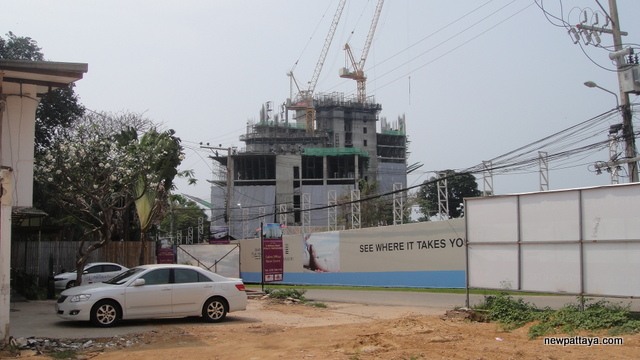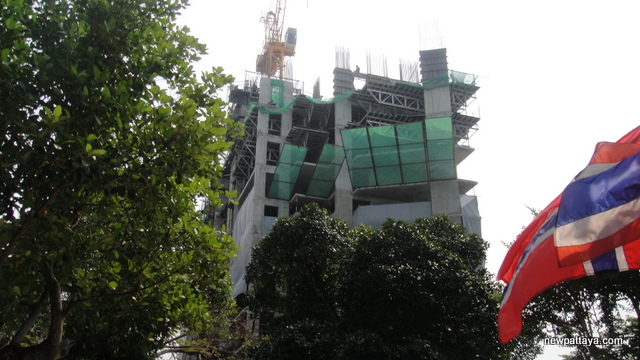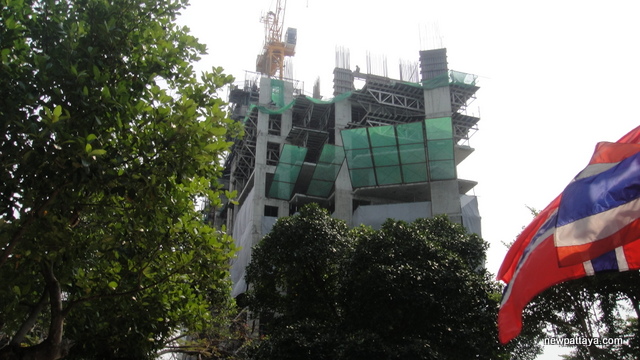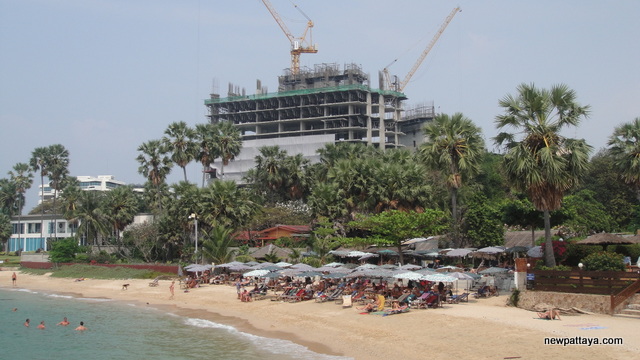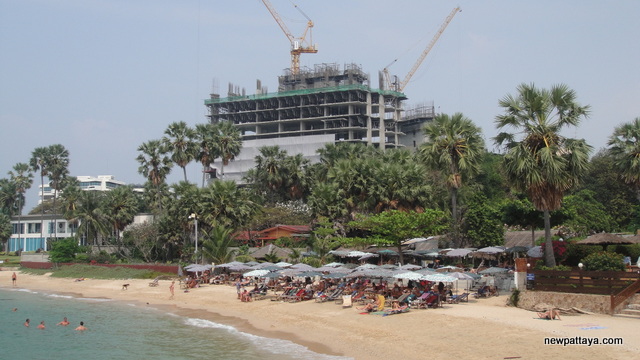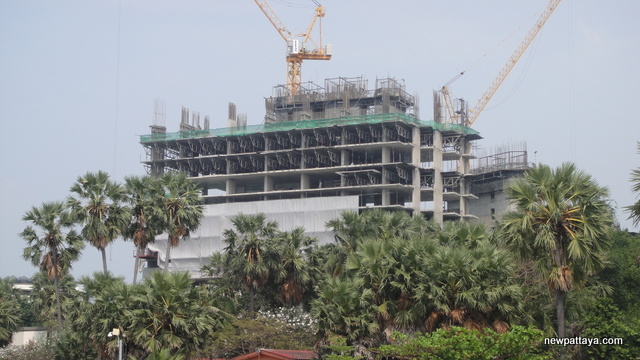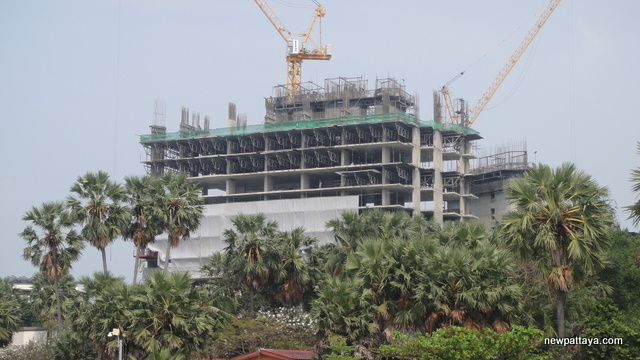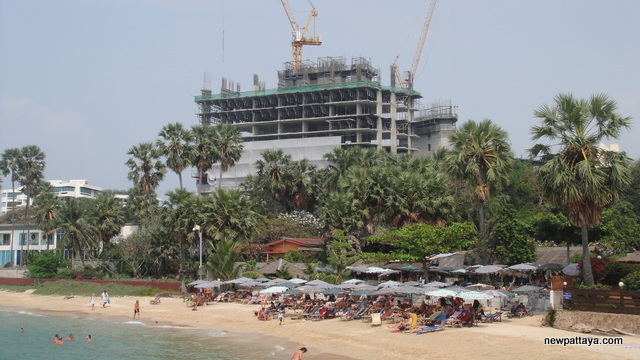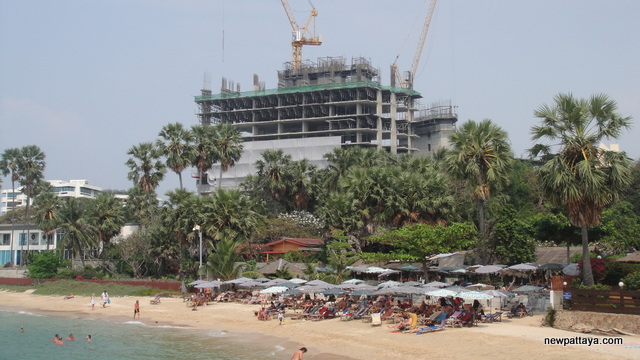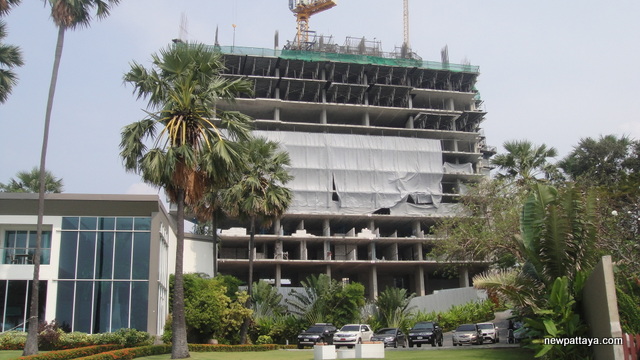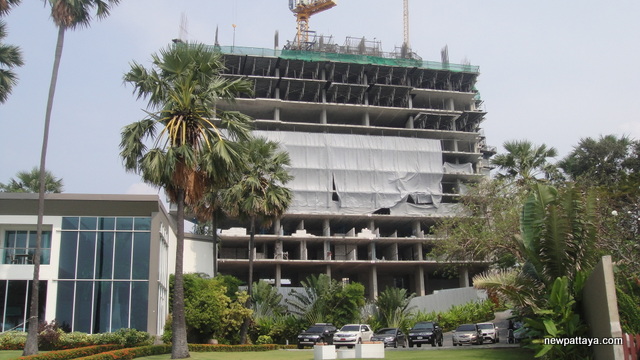 Fantastic Baby, they have started the electrical wiring. At this speed The Palm could be completed ahead of schedule, maybe already at christmas 2014. Easy now, I don't want to hand out early christmas presents that are not for me to give, but unless they slow down it is possible that The Palm could be completed in two years time.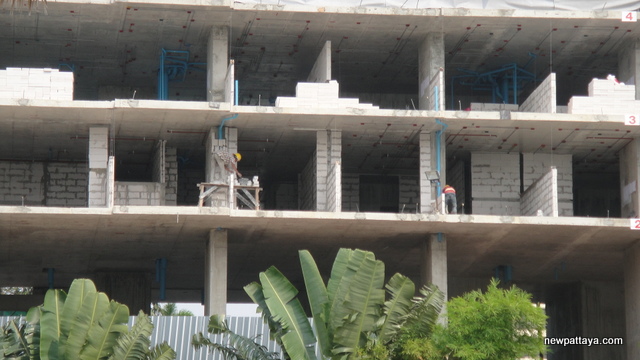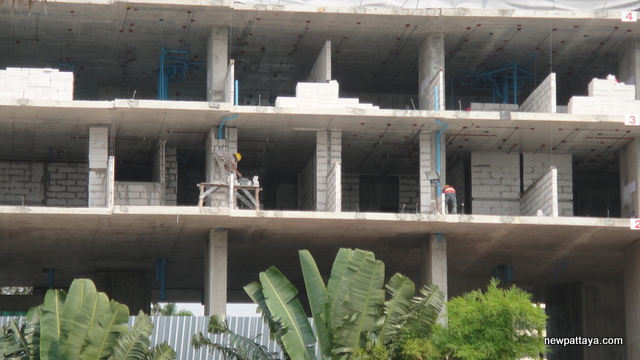 Some pics dated 25 feb 2013. I believe the building has risen one storey since 11 feb and that suits me just fine since I am busy elsewhere and don't want to miss too much of the good stuff. I have 500 projects in my little head and The Palm is just one of them. The weather is starting to heat up and I had to find some shade under a palm tree. I am really suffering when it gets too hot. A lot of people are sunbathing on the beach and they seem to be enjoying life while I am dreaming of cold northerly winds and a deep blue sky. The grass is always greener on the other side…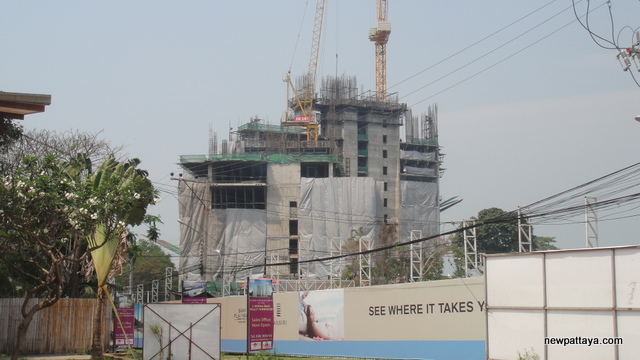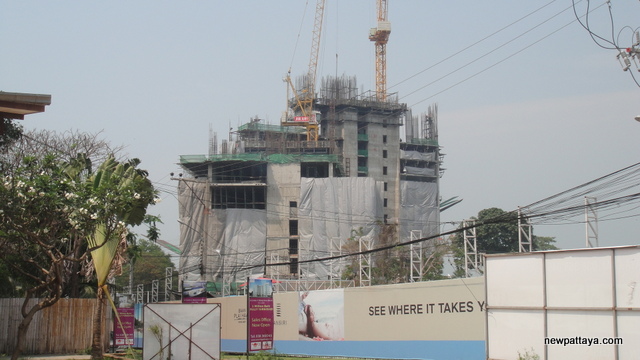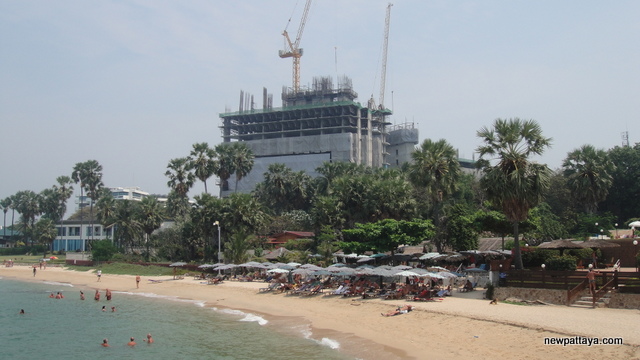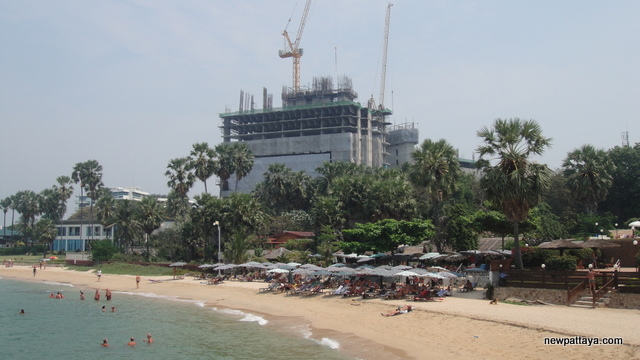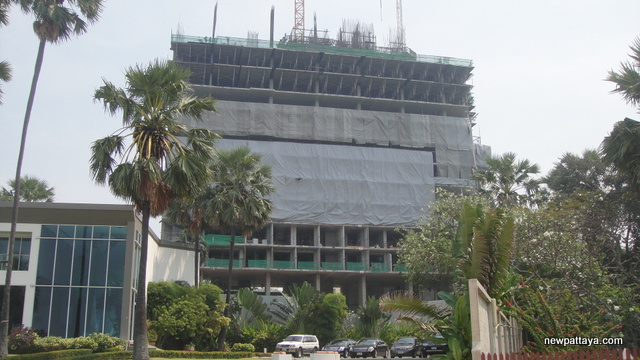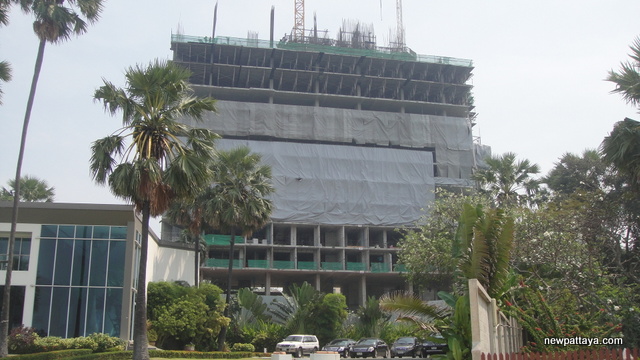 Back on 6 March 2013. Today the sky was blue, a good day to take photographs. We went to play with the sand today and I got some pics. My daughters dress got wet and I yelled at her so we left early.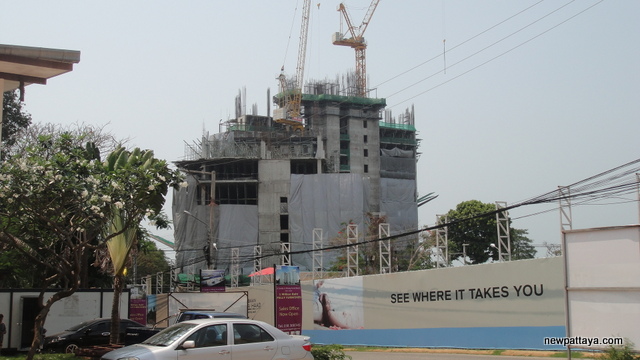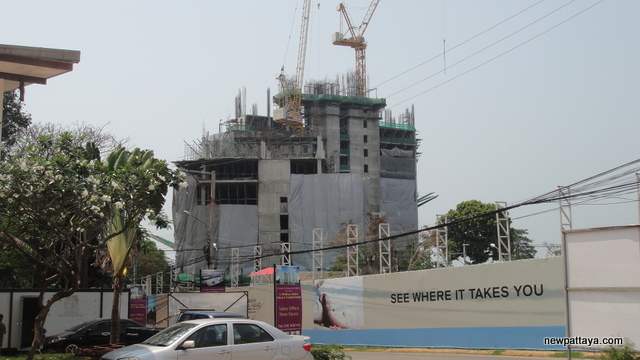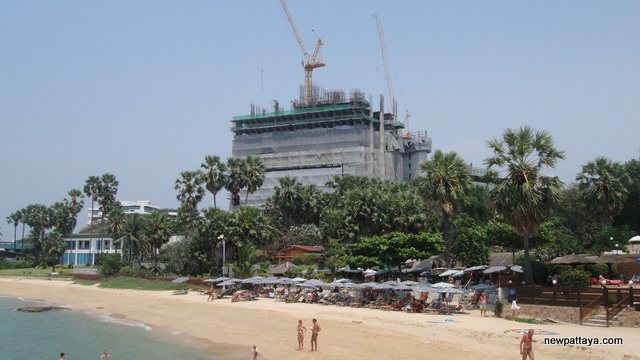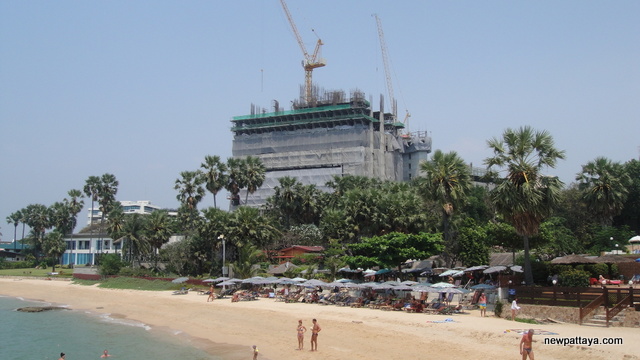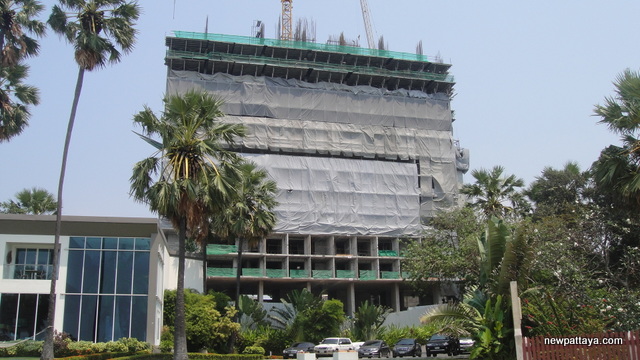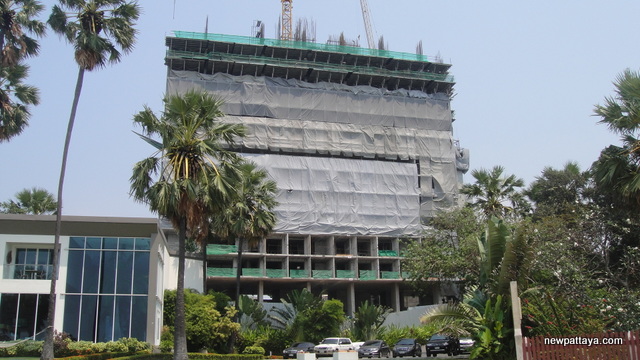 Back on 13 march 2013. Some nice pictures with a blue sky. Very few people at the beach today. Perhaps this is the end of high-season? Well, we must be nice to the thais that buy 50% of the units and the russians that buy 30%. That leaves 20% to the rest of the world, so no, we don't really need to be nice to the europeans and americans, they are not that good customers. Isn't that how it works in business?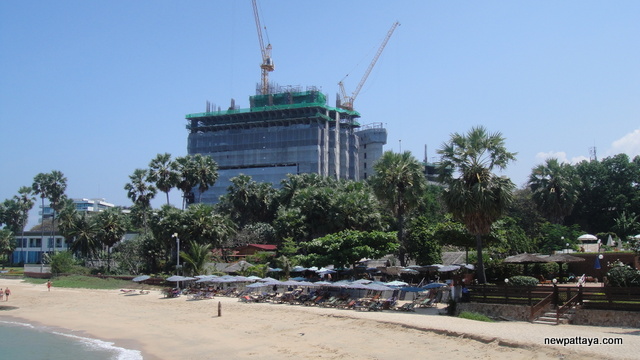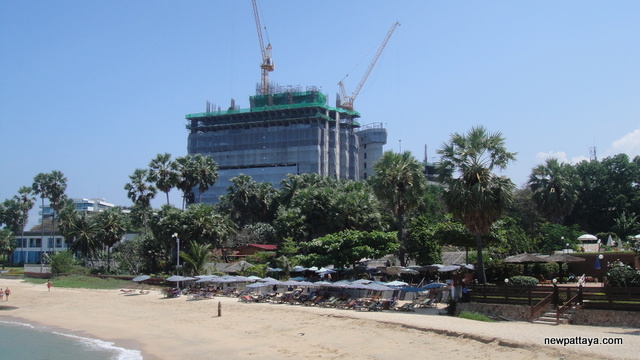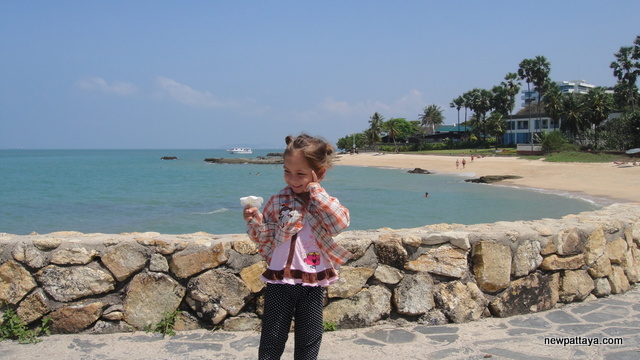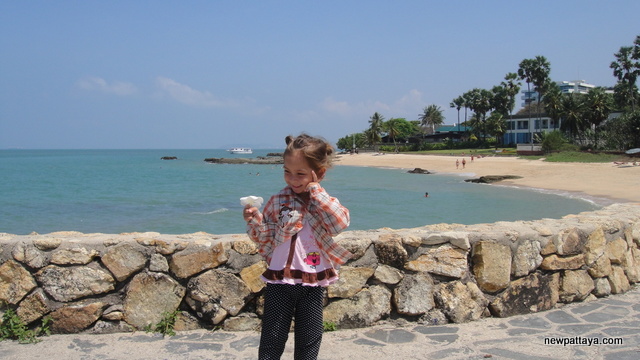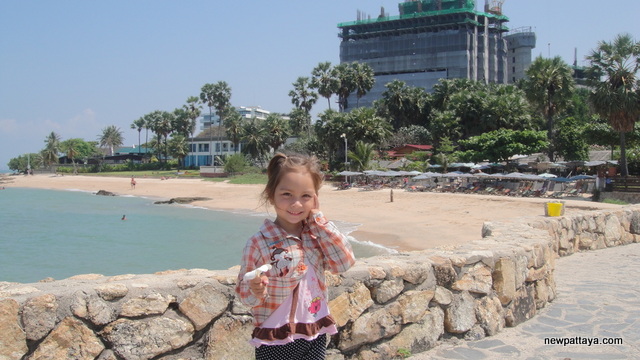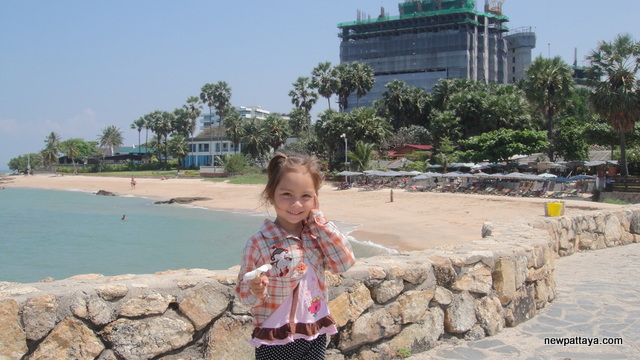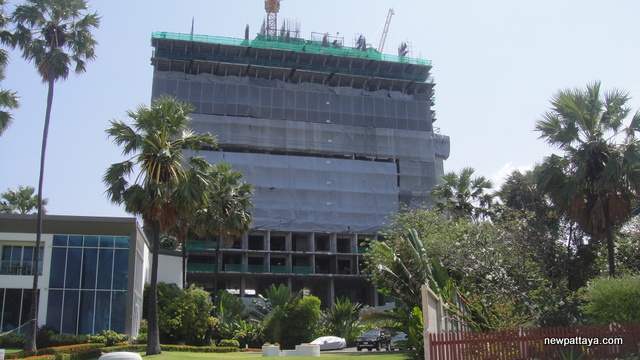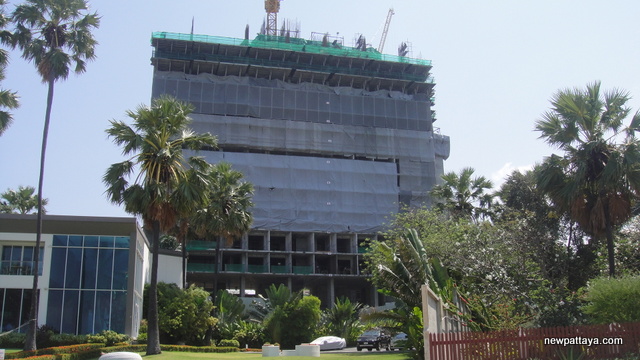 Back on 26 march 2013. Too hot these days, just returned from Bangkok, as usual I have some really good stuff to report, unique stuff that few know about and certainly unknown to the english speaking community. All the info is in my head but I will need 3 – 4 days to make it perfect. Few know where the new CBD's in Bangkok will be, I will tell you about the new hot spots, much hotter than beachfront property.
Below a photo of The Palm taken from Nova Mirage.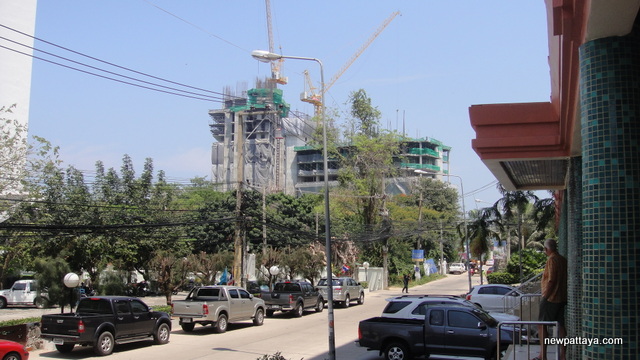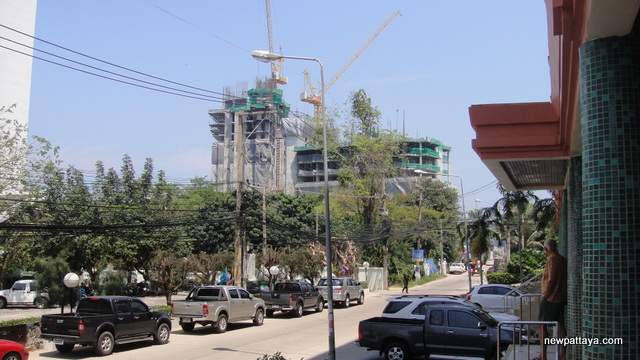 One of the best beaches on the eastern seaboard.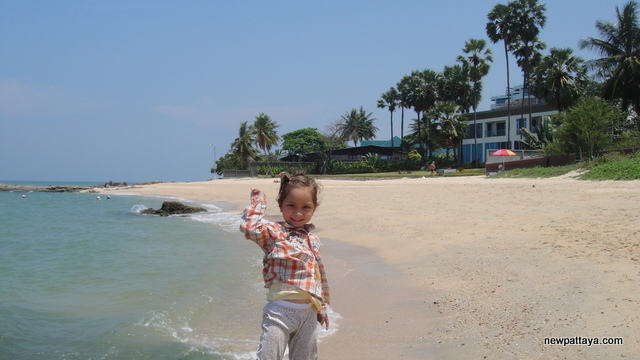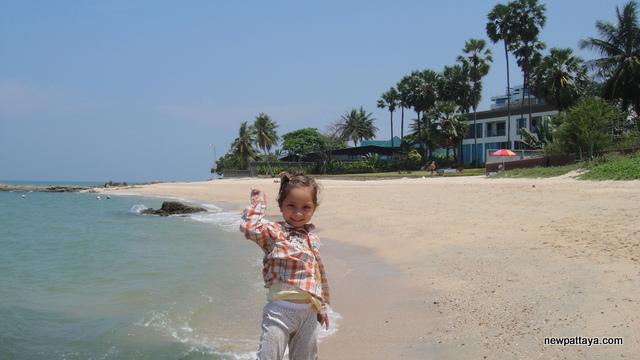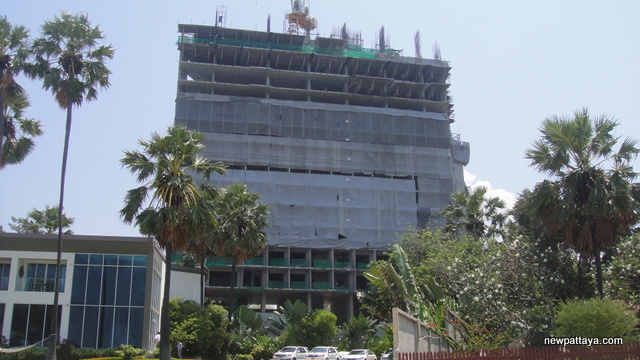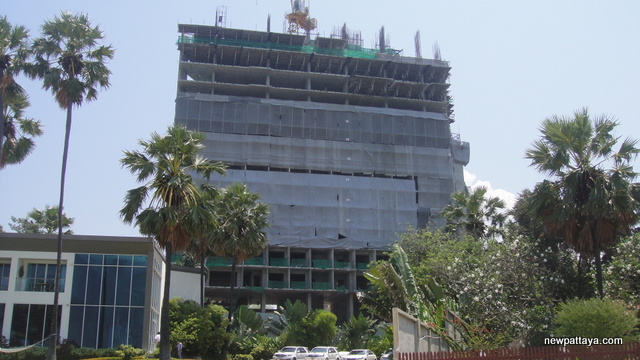 6 April 2013: I don't work for Nova but there are a few things I would do differently if I were involved. If I had hired an award winning architectural company do the design of my building I would of course use it for branding purposes and to promote my project. It is obvious that I would do that, especially at times when competition is tough. The architectural firm behind The Palm is the award winning Interkon Akitek Co., Ltd., a company that has also designed The Peak Towers. Apparently Inter Akitek does not have a website, kind of unusual these days.
Below is a picture of The Palm dated 6 april 2013. Yes, I really do like The Palm. It has turned out much better than I expected. I find it hard to understand that the project has progessed so much so quickly. Mentally I am still back in 2012, Songkran is already here next week, what happens, why does time suddenly seem to go faster?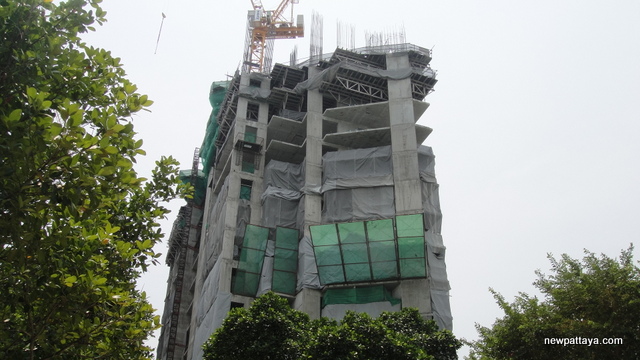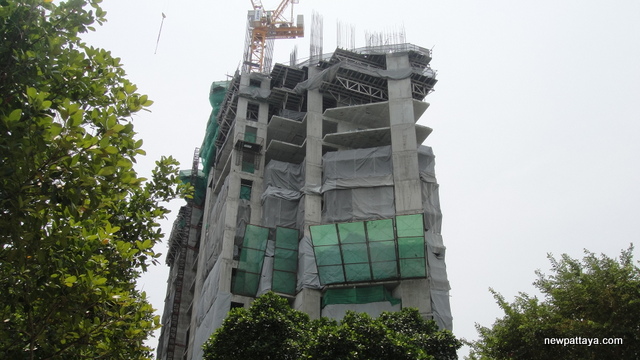 7 April 2013: I like Mega Bangna, unfortunately I have to spend 700 baht on benzin to go and come back, I never liked gasohol, not good for the engine. So what did we find at Mega Bangna just outside the entrance to IKEA? Well, we found The Palm, or to more accurate, a model of The Palm. Ocean Residential Property has a large stall near IKEA, the sales lady was very busy most of the time.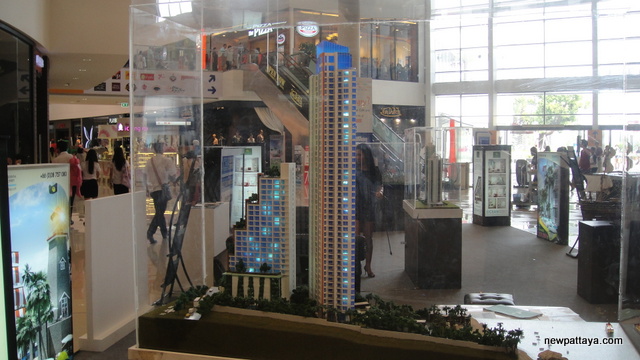 COMMENT on 9 April 2013: As you know, I'm an avid reader of your site, and love catching up on this corner of Wongamat. Where is Baan Plai Haad up to in terms of construction? It seems that The Palm is growing very quickly, but no updates on Sansiri's offering as yet? Has production slowed, as I was of the belief that both The Palm and Baan Plai Haad would both be nearing completion at about the same time?
Thanks and regards.
Answer: The Palm is growing very quickly and Nova could use that for promotional purposes: "A short build time to produce high quality buildings". People don't want to wait too long to get their dream condo so if you have a reputation of being able to deliver quickly then that would be an advantage in regard to competition. Some projects are moving ahead very slowly, in Bangkok I can name The Sky on Sukhumvit Road, the sales office was there more than 2 years ago and they still haven't started construction yet. Also M Silom has been slowed down, I don't know the reason for that. Baan Plai Haad started the foundation works in January 2013, let's give them a couple of months more. I believe The Palm is about 7 months ahead of Sansiri's project. Normally a project can be slowed down to wait for better times to come back. Talking about The Palm and Baan Plai Haad it is obvious that The Palm has a better location, the beach is also much better. The Palm has a lot going for it, I believe it is a good investment. Sansiri has the Sansiri name and they have 45 new projects, in comparison to LPN and SC Asset that each has 13 new projects. Big companies like LPN and SC Asset are small compared to Sansiri but even empires can disintegrate, just look at Nokia. We may get a fast train connection to Bangkok in 2020 and by then the prices may have more than doubled. Just be patient, the future is just around the corner, short term looks ok, long term even better.
A picture taken 28 May 2013
Tower A is about 23 storeys high now, these days there certainly is something to look at. Baan Plai Haad has not started rising yet, I would have expected to see something above ground now by the end of may, but no. Apparently Sansiri is not in a hurry, they may have their reasons.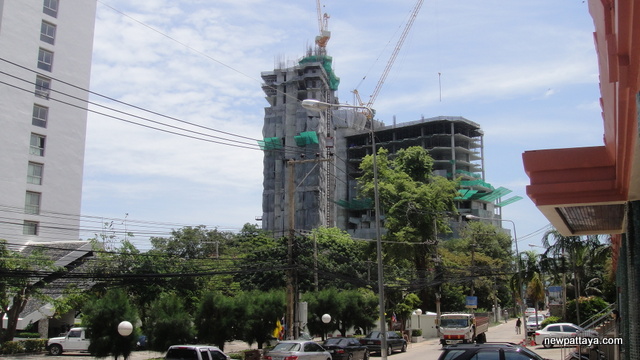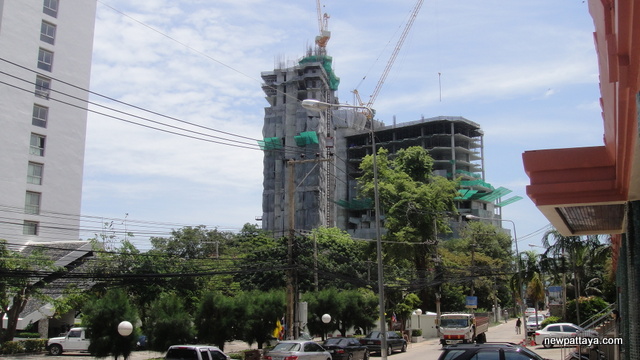 One fine day at The Palm 1 June 2013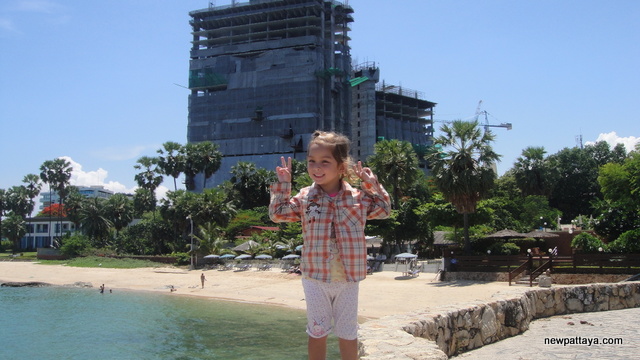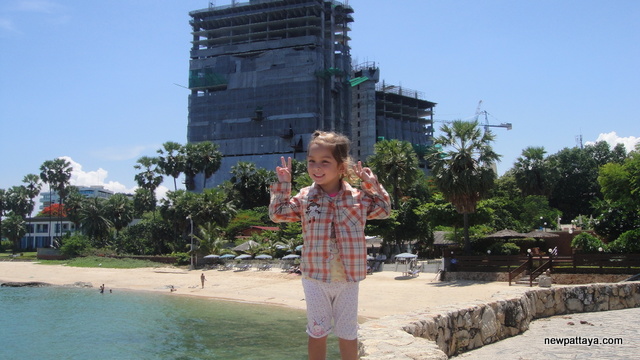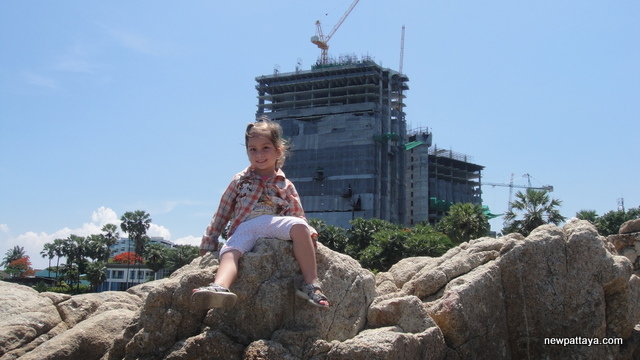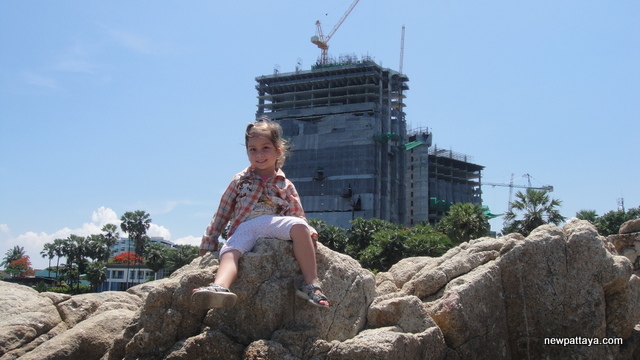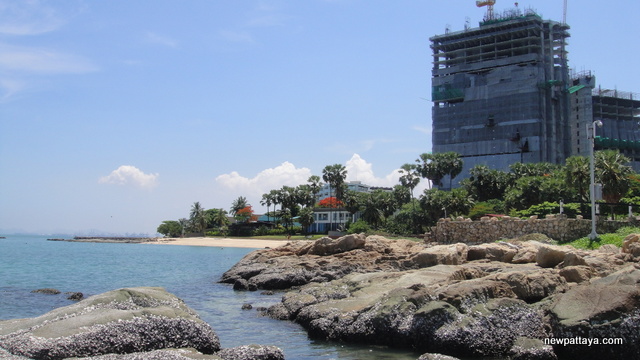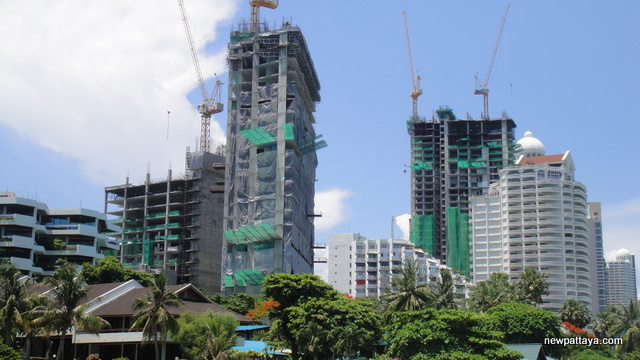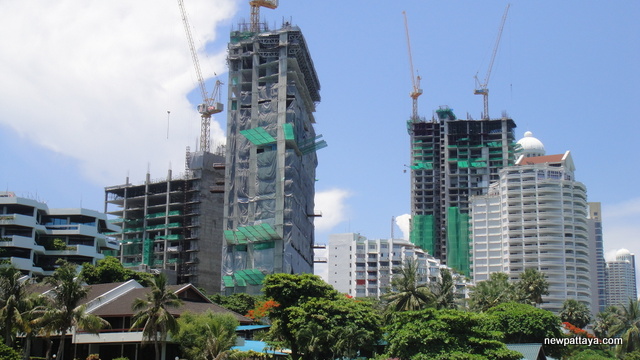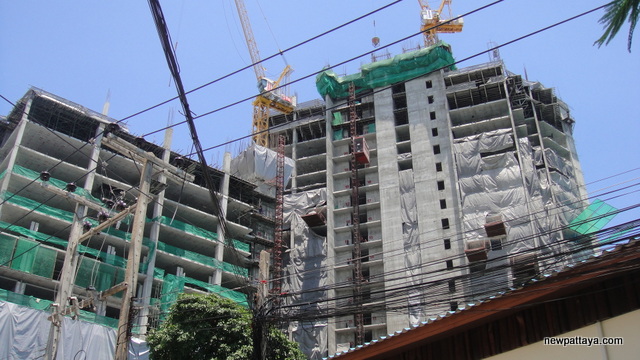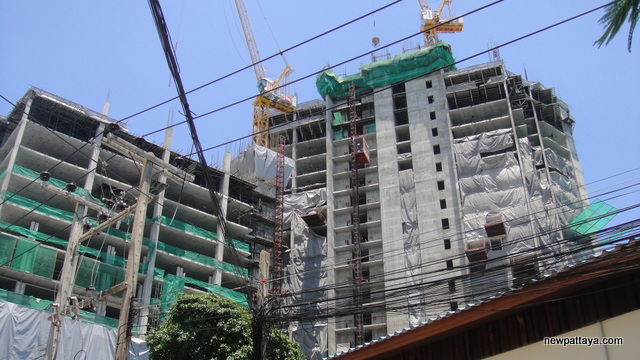 A photo taken 31 July 2013. I bet you have not seen The Palm from this angle before. They are working on the 30th floor.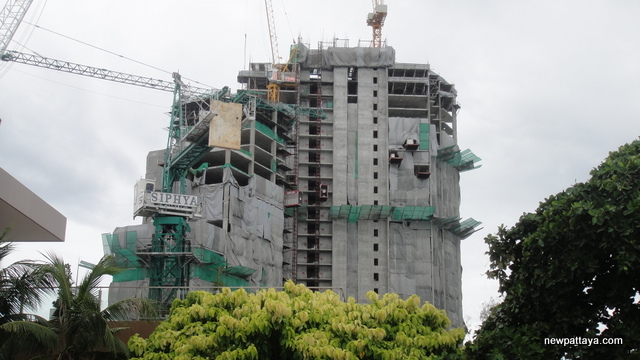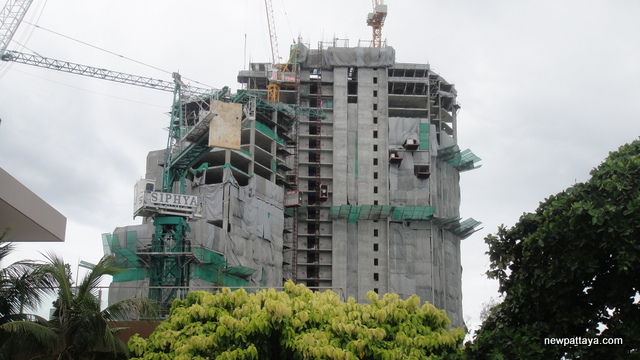 A photo taken 25 November 2013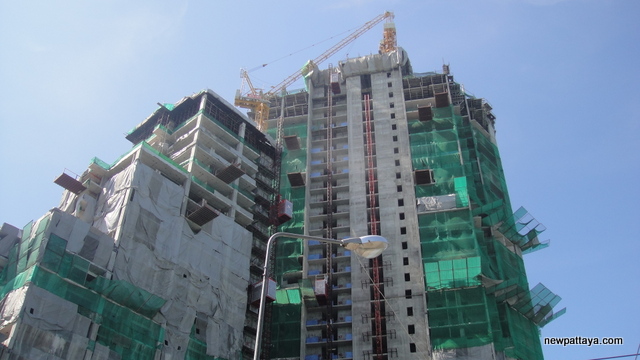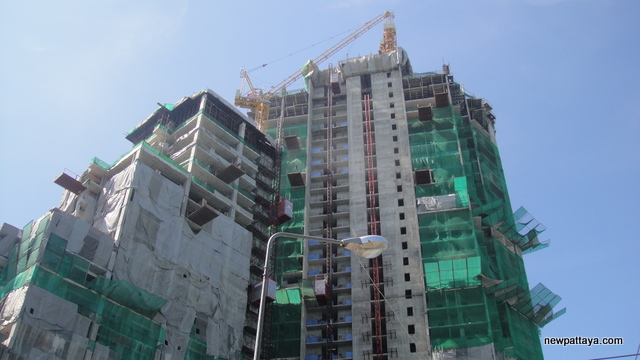 A photo taken 23 March 2014
The Palm in Wong Amat is reaching its full height, I count 45 or 46 floors.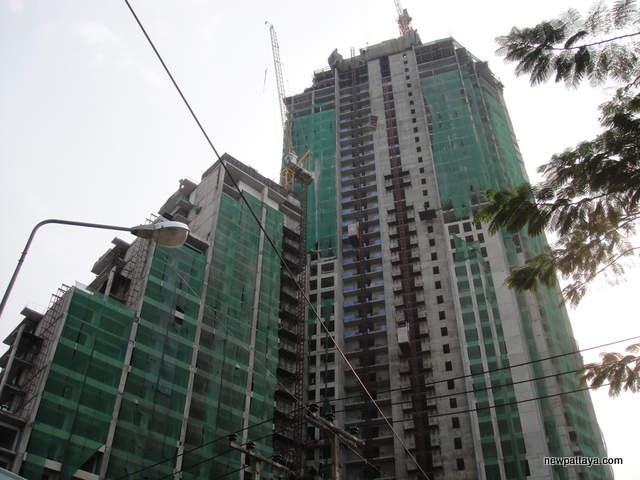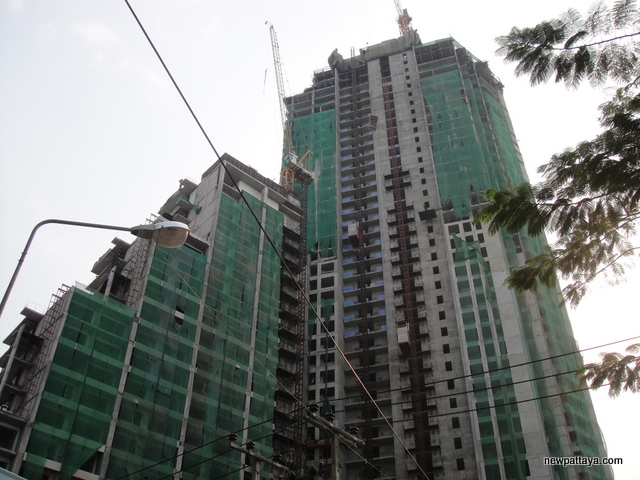 A few photos taken 31 March 2014
Hey, wait a minute, what is this? They are making the facade of The Palm now.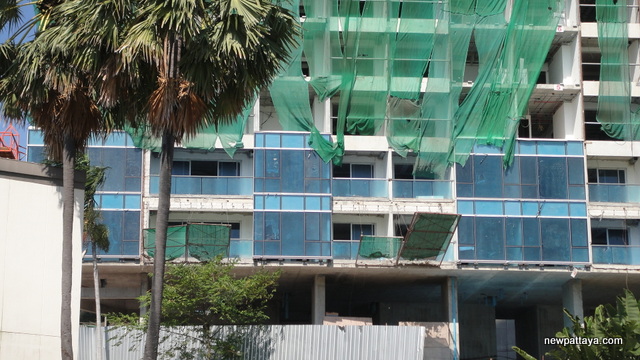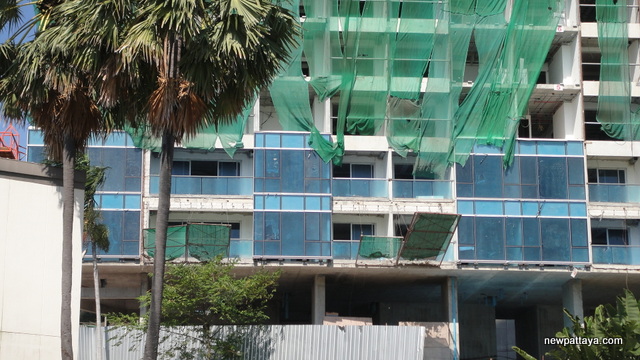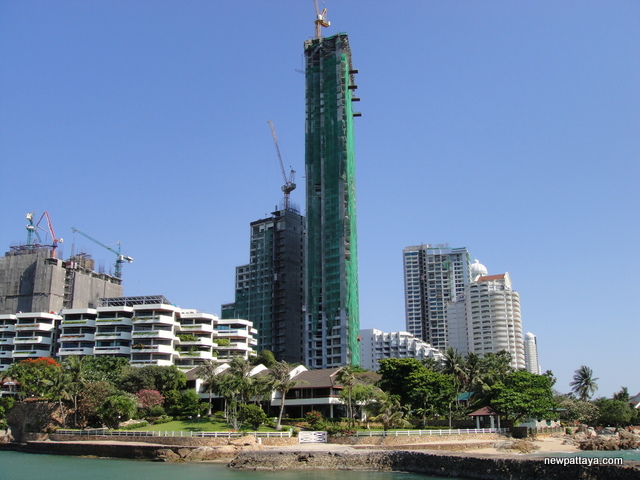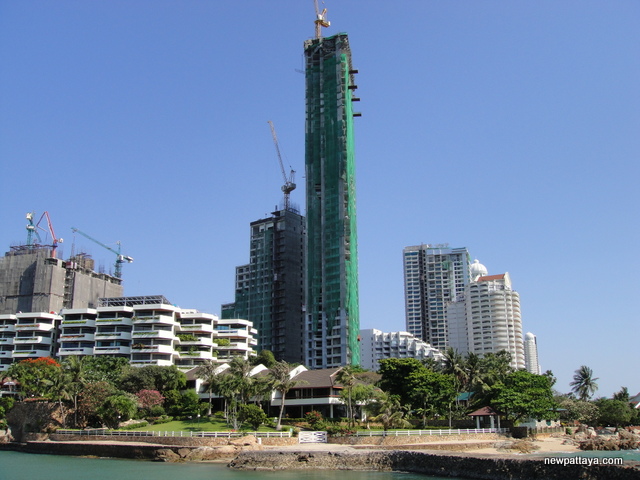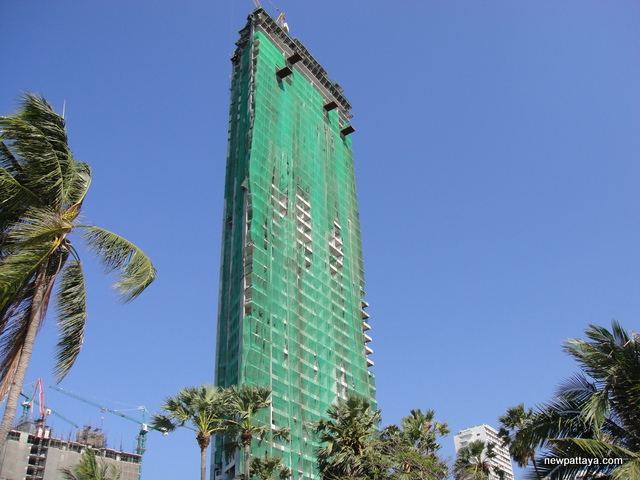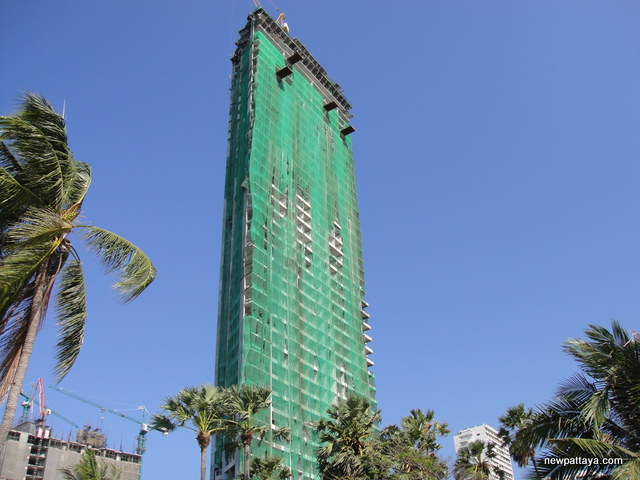 A photo taken 2 June 2014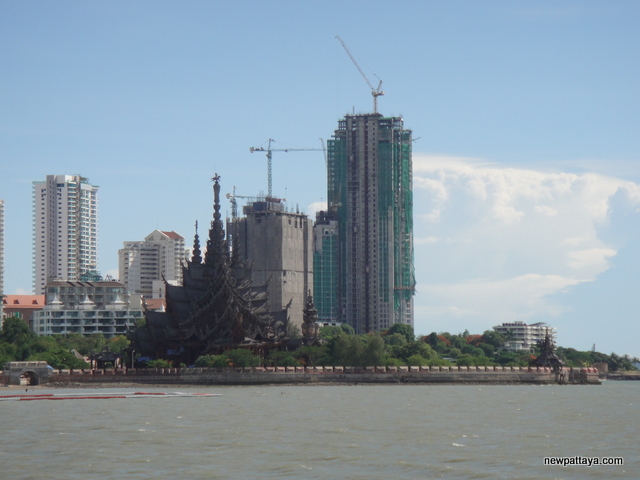 Some photos taken 3 August 2014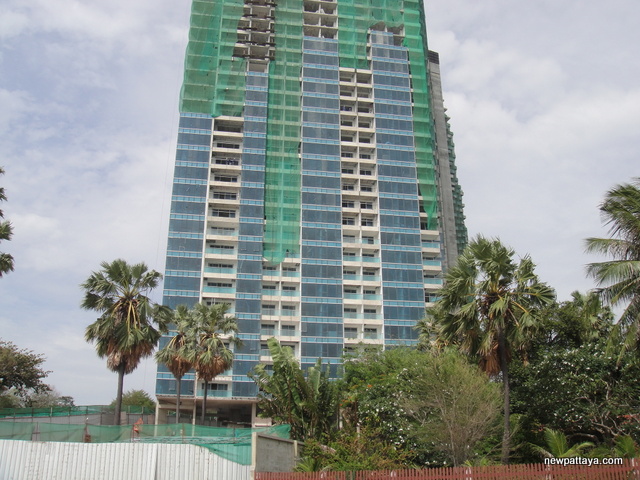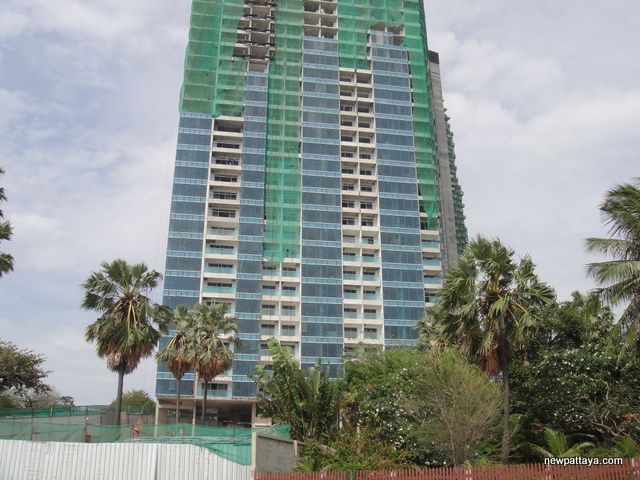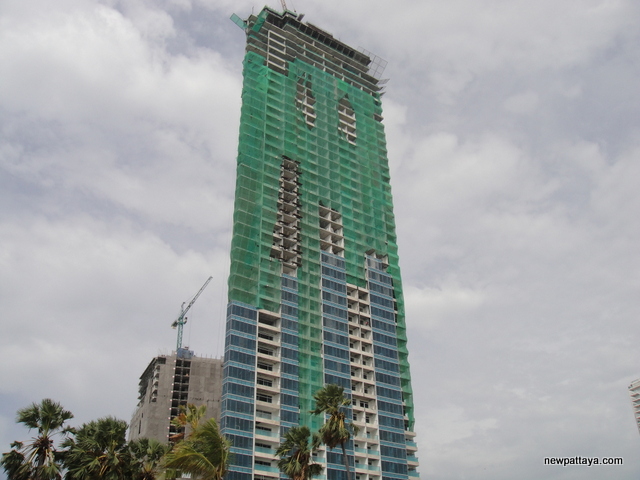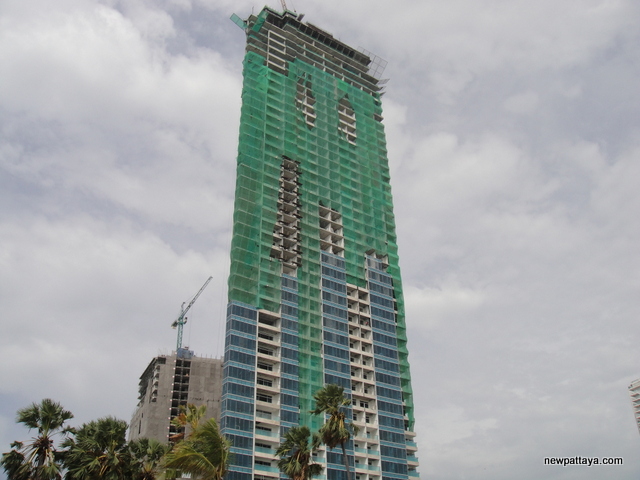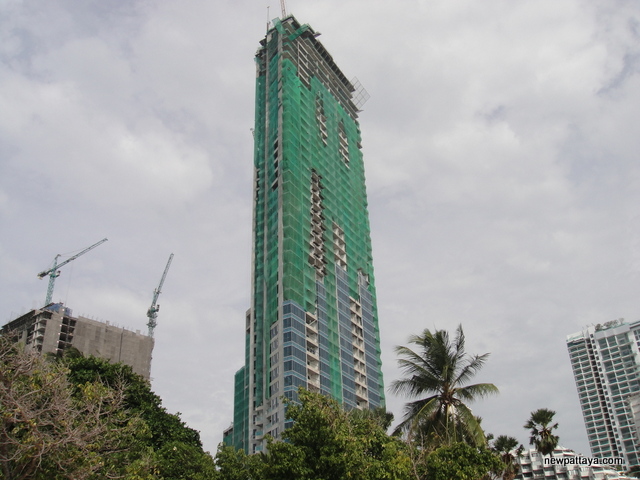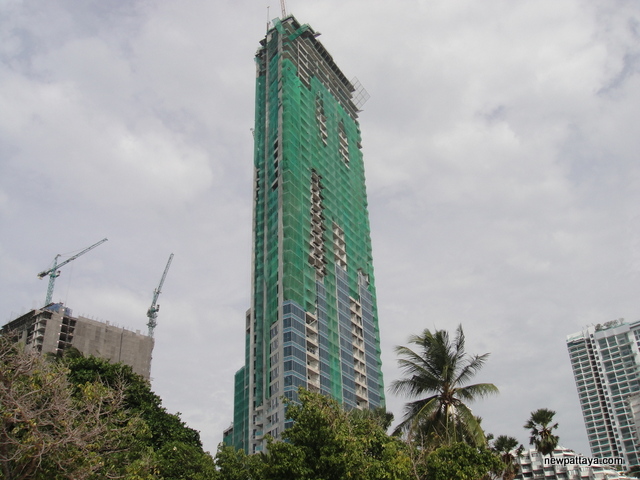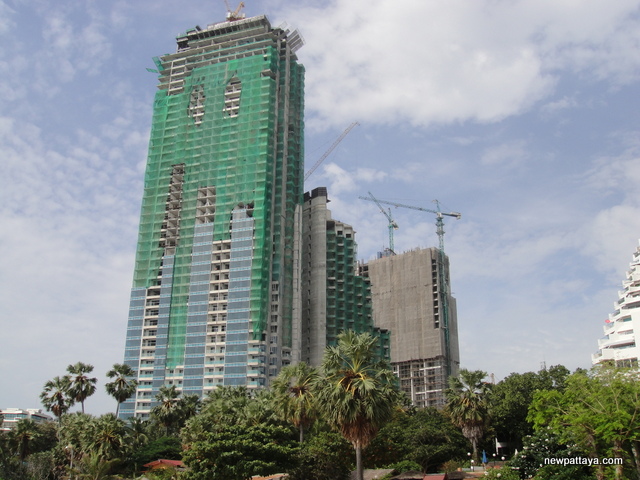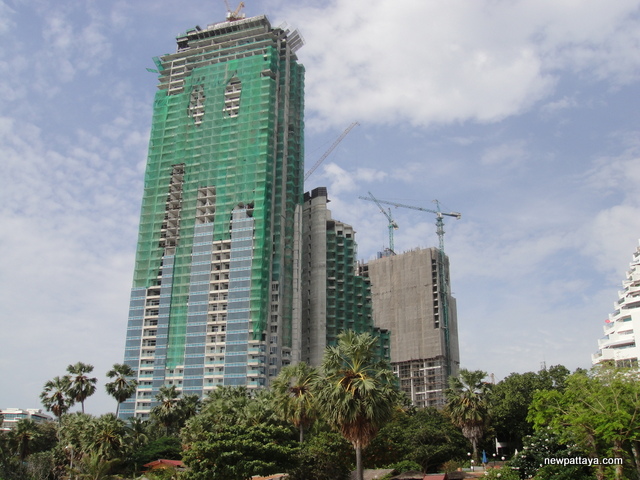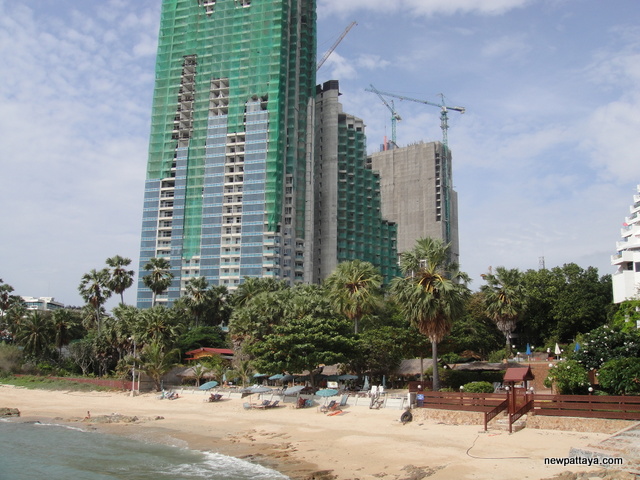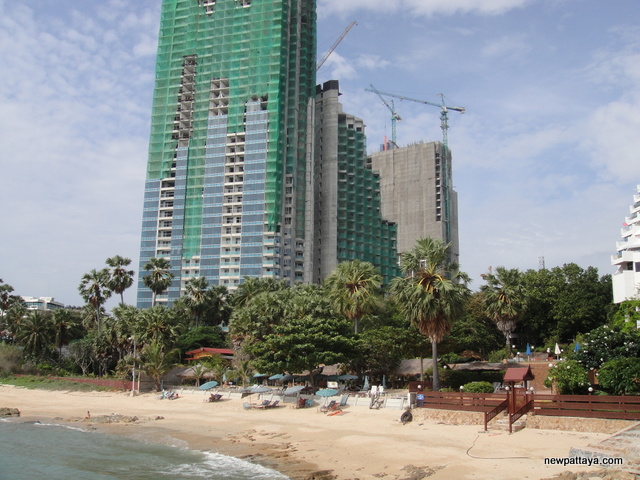 Some photos taken 4 September 2014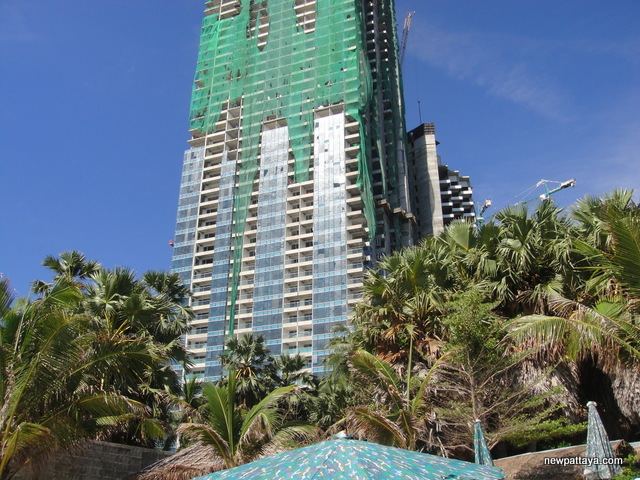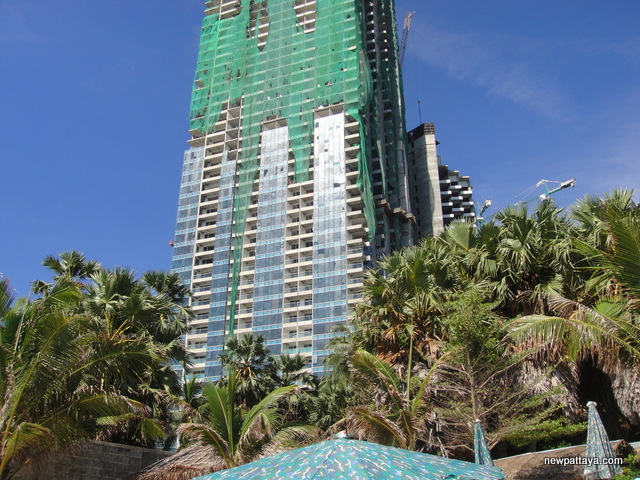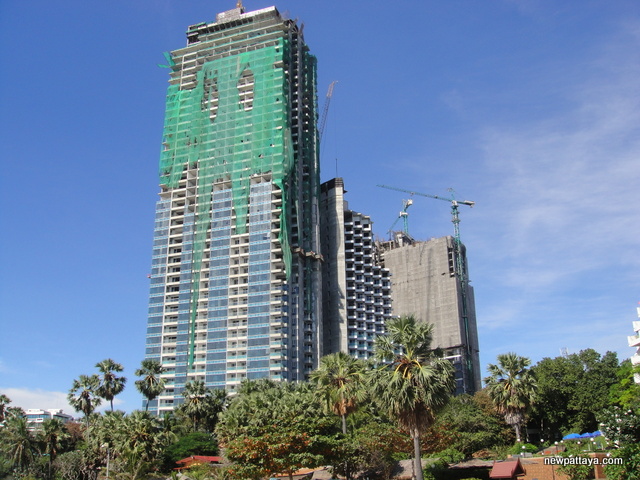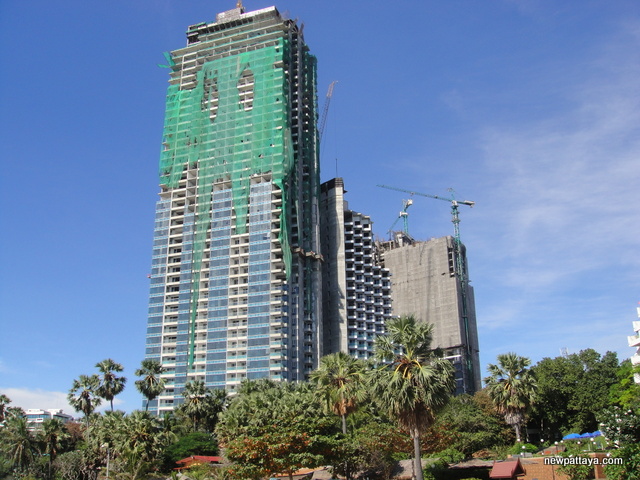 A photo taken 15 January 2015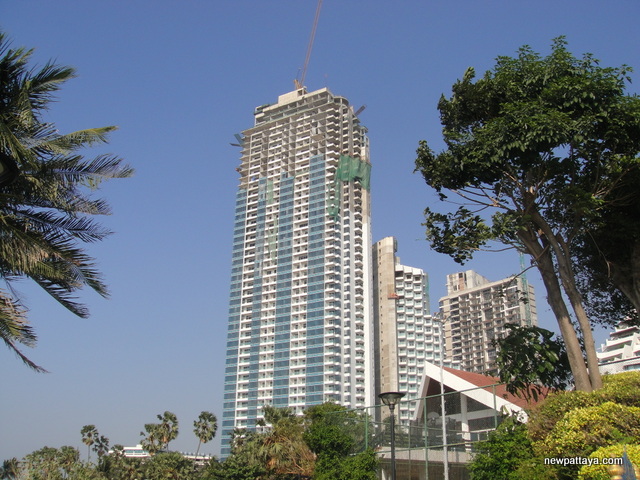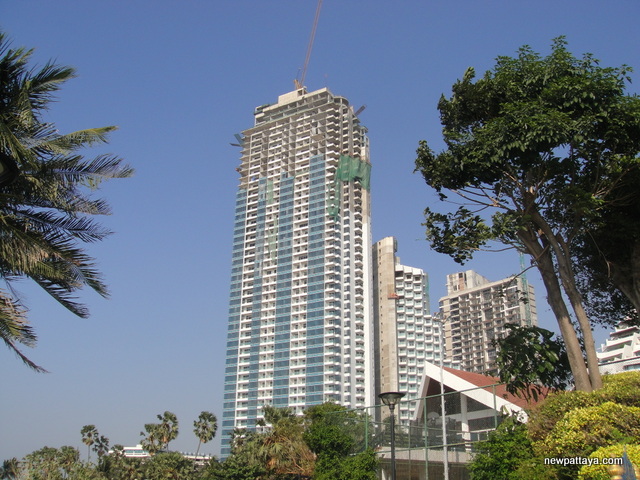 Some pictures taken 7 December 2015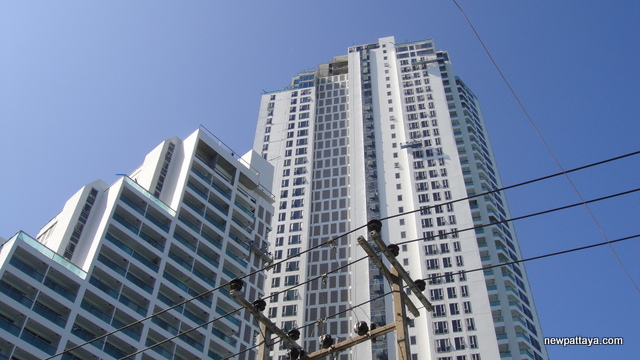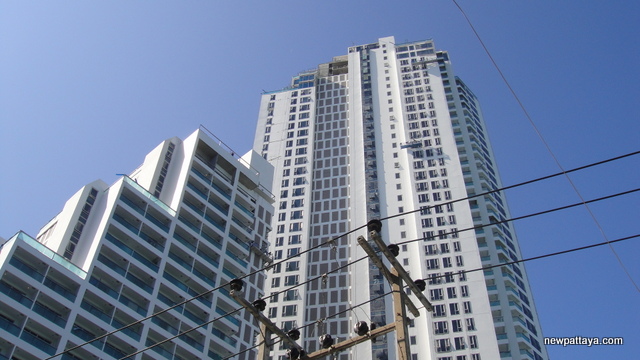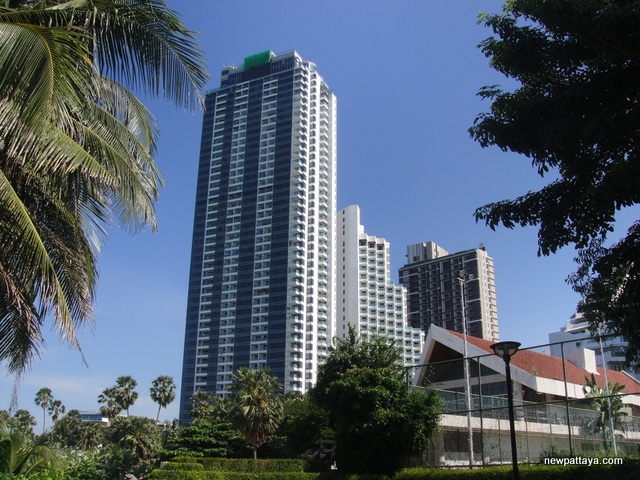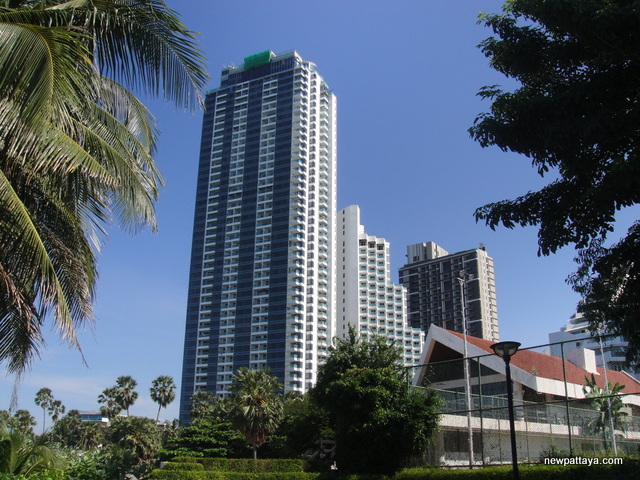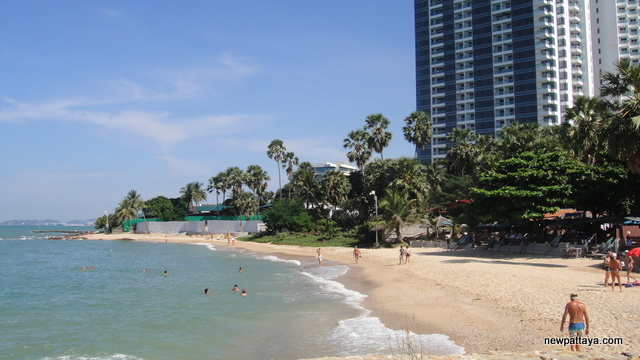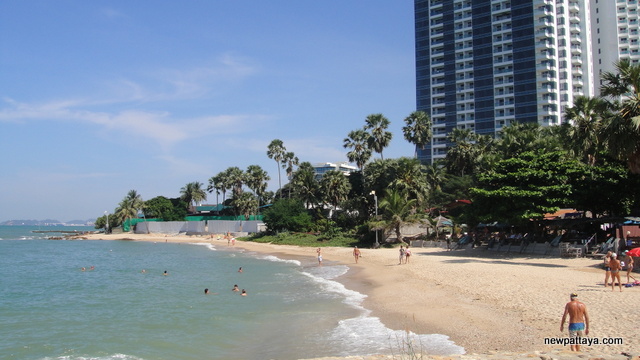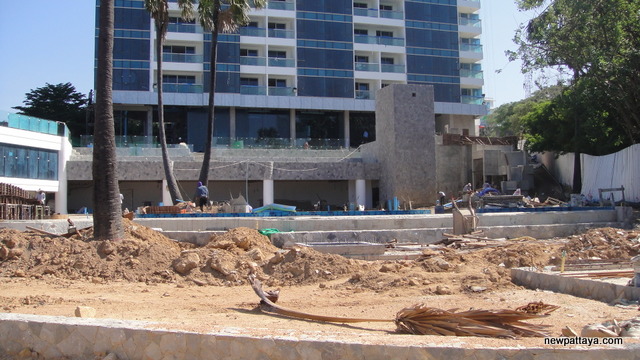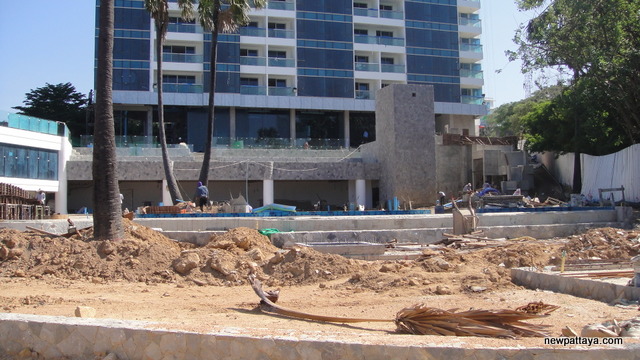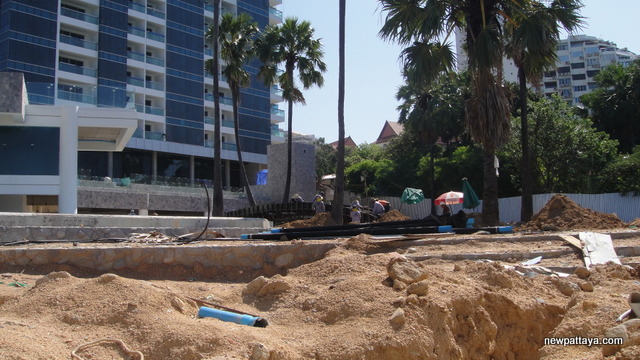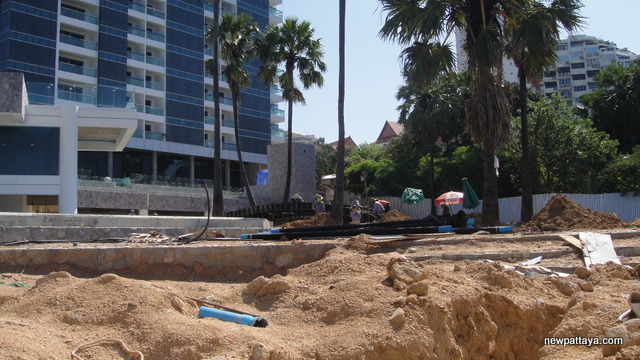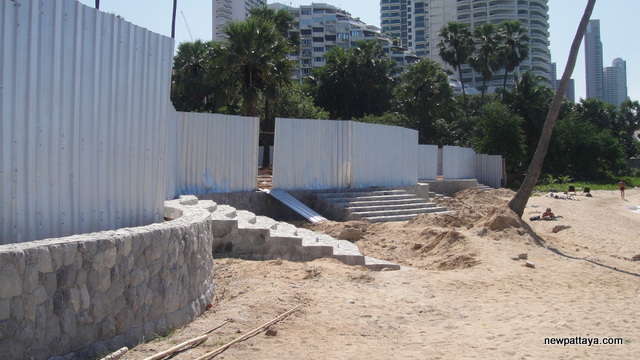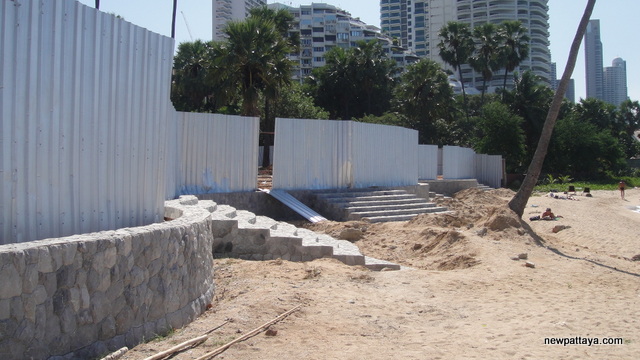 Would you like to support this website? Send funds to us using PayPal, send to secondtouch@hotmail.com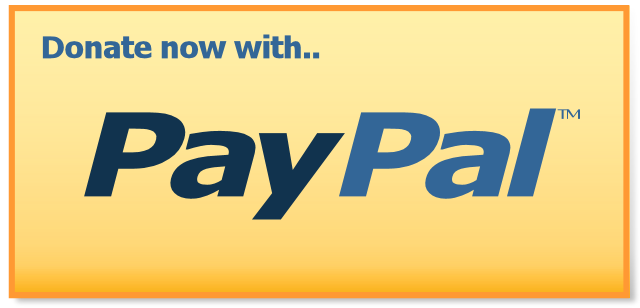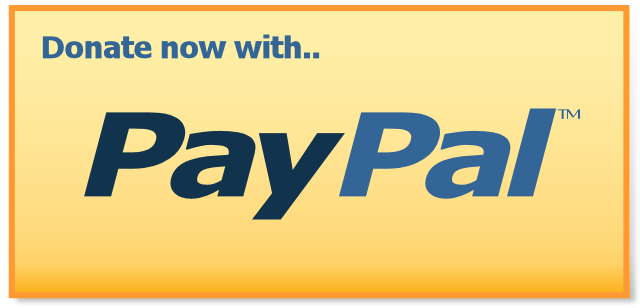 Want more information?