The Beaches Resort & Residences in Bang Saray is a development that never got built. The project was supposed to include four 5-star hotels, villas and private residences. Prices were around 160,000 baht per square meter.
The developer was Pacific Shore Developments Ltd. The company was founded by CEO, Mr. Liakat Dhanji.
Carl Ettensperger, President of C&C Studio, was the architect and designer of this project.
The project was launched in 2008.
Construction was supposed to start in June 2008 and be completed in 2012. 70% of all investors were foreigners, especially Russians.
Mr. Liakat Dhanji is currently the chairman and CEO of Amazon Falls Co. Ltd., the developer of Cartoon Network Amazone.
Published 27 July 2014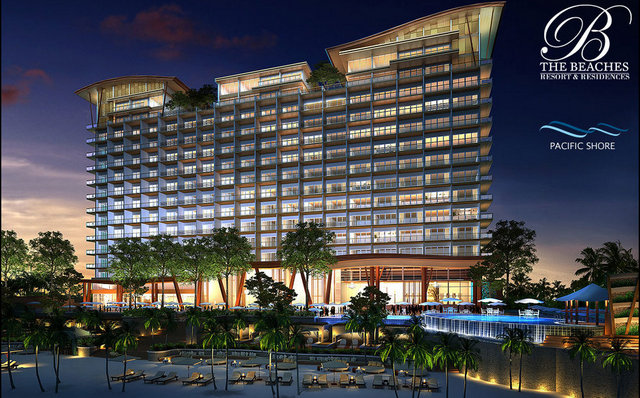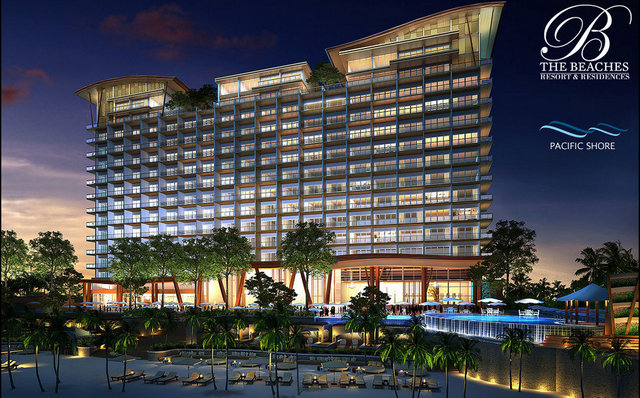 Want more information?


From Pattaya Daily News:
We were all well treated to food and copious drinks and given a first-hand view, in the form of the Beaches show suites, of the top quality product that Pacific Shore Developments Ltd. is presenting to fortunate buyer-investors. Mr Liakat told PDN that construction will commence soon after the EIA (Environmental Impact Assessment) has been passed, which is expected imminently.
Mr Liakat also told PDN, when asked about the origin of his finances, that he is essentially self-funding, though will have some support and sponsorship from HSBC. Mr Liakat was also keen to correct some alleged price per square metre (p.s.m.) estimates that have been misquoted. The actual p.s.m for the Beaches Private Residences low-rise condotel is Bt160,000, not Bt330,000, which is an extraordinarily good bargain-price, considering the certain high return-on-investment potential of such a mega-development, estimated to cost in the region of Bt9 billion to develop.
The Beaches Resort & Residences, Thailand is the new flagship resort of Pacific Shore Developments Ltd., where construction on Phase 1 is scheduled to begin in Q4, 2008, and be complete between Q4, 2011 and Q1, 2012. Mr Liakat has stated that "The Residences is about creating a sophisticated zone, something that is more luxurious, more decadent, truly different than anything that exists right now in the resort category."
The Beaches ocean-themed Resort & Residences is unique among Asian beach destinations and is set to compete with Hong Kong, Macau, Singapore, Bali and Malaysia, with its five architecturally diverse components. These cater to five distinct categories: the Maldives Water Villas for "jet-setting romantics", Mediterranean-themed hotel residences for "cool couples and singles", the South Beach with its 24-hour New York deli-cafes and hip nightclubs, the 4-star hotel and water-theme park for families and the Brazilian-themed hotel for "people-on-the-go".
George Morgan, Pacific Shore's VP of Sales and Marketing, attributes the successful aesthetic integration of The Beaches' five architecturally diverse components to the quality of its assembled talent. He asserts that involving multiple experts created a synergy whose culmination represents something entirely unique, never previously experienced in Thailand.
Set in 88 rai on relatively unspoilt Bang Saray Bay, The Beaches 300-room, 5-star condominium resort project will combine the beach cultures of the Mediterranean, North and South America and Thailand in a 30-acre waterscape. Within one venue, it will combine a grand palace as its flagship hotel, two other 5-star international hotels, a boutique hotel with Maldives-inspired water villas, three man-made beaches, three lagoons, Asia's most technologically advanced water-park, all-adult and family pools, a state-of-the-art fitness centre and tennis academy, a wellness and longevity spa, a hi-tech conference, meeting and convention centre and the kilometre-long Grande Promenade, sporting 20 themed gourmet and casual restaurants, nestling in miles of picturesque, landscaped gardens.
Pacific Shore's CEO, Liakat S. Dhanji, has a fine pedigree of developing some of Thailand's most luxurious housing projects, as well as prestigious developments in Vancouver, Toronto, San Francisco's Nob Hill, Malaysia, Hong Kong, Australia, Spain, London, Sri Lanka, India, and Indonesia.
The resort's designer is C&C Studio's Carl Ettensperger, winner of numerous illustrious awards, including the Will Ching 2006 Designer of the Year for creating the Maldives' Huvafen Fushi Spa Resort, voted the Best Beach Resort in the World by Harper's Bazaar Travel. Ettensperger has a pedigree to equal Mr Liakat's, with at least 10 prestigious international hotel projects.
Entrance Lobby
The temple-like lobby, crowned with dramatic two-storey ceilings, features suspended 25-foot copper-woven, wind chime-like, cylinder lights, while below square, marble seating pods with flowing water-filled centres match the sun-arc colour transformations, going from morning blue, through orange to evening magentas. The Grand Reception and the Owners' Lounge both sport mosaic floor tiles, mother-of-pearl and rosewood counters and bamboo walls.
World's First Cyber Beach City
In partnership with True's innovative products and services across voice, video and data platforms to facilitate fibre-to-room, hi-speed, 100 mbps internet, total in-resort wireless mobility, Edutainment, 70-channel Digital TV, cash-free banking and online gaming, The Beaches, according to True Corp. President Songtham Phianpattanawit, "will become one of the world's showcases of convergent lifestyle communities."
Accommodation
The Beaches Private Residences low-rise condotel, with a Bt7.2m entry price, run by a 5-Star international hotel management company, offers studios, one-bedroom deluxe homes, and two-bedroom presidential suites, featuring balconies and three-metre high ceilings. Purchasers of the condotel contribute capital to the building project, and can build equity simultaneously. "Condotels are a tangible asset a consumer can own and enjoy," says Mr Liakat, "and if they fully participate in the rental program, they will be able to defray some property costs."
Owners can also choose the rental management option of purchasing a fully-furnished hotel package (including plasma-screen TVs, iPod entertainment system, wireless internet and in-room bar), with guaranteed 6 percent rental returns for 5 years, plus 30-day use of suite and resort amenities.
Ocean Suites and Deluxe Ocean Suites, ranging from 36-65m2, feature sleeping areas, living room sofas, working desks, bistro tables and private balconies.
The corner wing, two-bedroom, 96-118m2 Presidential Suites feature an entry foyer, full-height glass walls, corner balconies affording sea views from the master bedroom, master bathroom, living area and four-seat dining area.
The six, top floor, 120–200m2 Grand Villa Suites feature an executive office, 6-seat dining area with full kitchen, parlour with home theatre, guest bedroom, bathroom and full-length terraced balcony with personal butler!
The 15th & 16th floor, 400m2 Penthouse Suite features an executive office, ten-seat dining area, chef's kitchen, butler's office with dry bar, and master bathroom with oversize shower and 2-person jacuzzi.
Eco-Friendly
The Residences at The Beaches, phase I, offers 150 luxury condominiums that will be "the first residential project to employ the first sustainable energy system in a resort." Mr Liakat maintains "I want this project to be up to LEED (US Green Building Council) standards — building an environmentally friendly resort that incorporates the newest and latest in green building technologies and water consumption."
The development's energy system will consist of buried piping, providing energy-efficient cooling, solar panel-heated hot water, rooftop garden, and an energy recovery system that conditions the fresh air entering the building; giving 40 percent energy savings, overall.
State-of-the-Art Fitness Facility & Spa
Situated in the Boma Beach Club, there is a state-of-the-art fitness facility with dedicated yoga/cardiovascular studio, weight-training area, personal trainers, fitness seminars and classes in dancing, yoga, meditation, pilates and T'ai Chi, an activities centre with six tennis courts and a children's fitness programme. The Maldives Wellness & Longevity Spa offers comprehensive spa treatment, including 100-fold pampering, from massages, facials, nail bar, hair salon, specialized treatments, to manicure and pedicure.
Water Features
Atlantis Water-Park will be Asia's most technologically advanced water-park, designed by White Water West, who count Disney, Seaworld, Dubailand among their achievements. Mom Luang Rajadasri Jayankura, Honorary Chairwoman of The Beaches Resort & Residences, stated "Our goal is to redefine the concept of a world-class destination resort with a water-park amenity that will set new standards of excellence in Asia."
Included in the 30-acre waterscape's attractions are the Boomerango, Superbowl, Racing, and Jet Blaster water slides, waterfalls, water-holes, water-grottos, and giant rain fortress. Then there's the Zambezi Surf Park with its "flow-rider", guaranteeing day-long surfing. Finally, the 1-mile long, Anaconda river-ride system, surrounding the water-park, features elevations, drops and white-water rapids, while a wave generator surges riders along the river's course on the wave crests. Additionally, there are tidal pools and also the pools of Montego and Caribbean Bays.
Shopping and Dining
Inspired by The French Riviera's Promenade des Anglais, Miami's Ocean Drive, and California's Venice, the kilometre-long, Grande Boardwalk, meanders through the resort's heart, linking all the hotels, amenities, beaches and lagoons. Spread throughout its length is a European-style village with covered walkways, indoor and outdoor dining options, pizzerias, dim sum, fresh seafood venues and over 20 international restaurants, ranging from casual to gourmet, pubs, bars and cafés, with street entertainers, musicians and luxury boutiques and retail outlets.
The Fisherman's Village
Inspired by the Italian and French Riviera's seaside communities, the Fisherman's Village replicates an authentic fishing village, where guests can chose their own seafood from the daily market, or dine at the seafood restaurants.
Rio Hotel
This Brazillian-themed hotel caters to "people-on-the-go" with daytime tanning butlers and private cabanas, while by night, it has an exuberant Carnival atmosphere.
Diamonds at The Residences
The privileged access pool area and 20 private cabanas are an exclusive amenity for Residences' owners. The centrepiece is a spectacular diamond-pool, purposefully shallow to encourage lounging and socializing. The pool also features a 6-inch edging "shelf", accommodating chaises "in" the water. The Diamonds also includes the Pool Café and bar and a second bar, plunge pool and a DJ spinning mood-music during the day, who transforms the pool into an Ultra-Lounge by evening. Further along is The Ultra-Beach offering daybeds and lounge chairs with beach concierge service.
Decadent Cabanas
Along the outer perimeter of the ultra-pool are the luxury cabanas, covered by a shading, teak pergola, complete with water-mist fans, flat-screen TVs, iPods, daybeds, refrigerators, massage services and a butler.
Cascades — The Family Pool
Exclusive to guests and owners of The Beaches, Cascades Pool is a zero-entry pool, formed by a cascading waterfall, with concierges available.
The Beach Club
The Boma Beach Club offers an alternative to the pools; situated on Montego Beach, it features drink-and-dining service, concierges, masseurs and chaise longues. It also offers water-sport facilities like windsurfing, private boat charters, fishing, kayaking, parasailing, water ski-ing etc. The resort also provides volleyball, and football.
The Beaches is proving extremely popular among local developers like those of Talay Sawan and Palm Grove, who welcome all that the world-class resort will bring. Local real estate agents, like Premier Homes, are also reporting healthy expressions of interest, with six floors of the Residences already sold out, while the exclusive CIS agent, Denis Nemtsev of Farang Ru, confided to PDN that the resort is proving immensely popular, especially among Russian families, who particularly appreciate the unified facilities of a one-stop venue.
We wish the Beaches every success in its endeavour to bring a truly world-class super-resort to the people of Pattaya and the world.