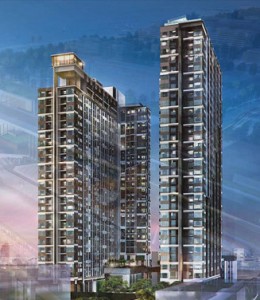 The Base Central Pattaya is the latest high-rise development in Pattaya from Sansiri. The Base Central Pattaya comprises two towers, 28 and 31 stories respectively with a total of 1112 units ranging in size from 28 sqm – 70 sqm. It is quite unbelievable that we will get another 30-storey high-rise on Recond Road. It is very exciting news and it is even more exciting that Sansiri will be developing this project. We already have another 24-storey high-rise under construction on second road opposite Big C North, a hotel development called Siam@Siam Design Hotel Pattaya.
The Base Central Pattaya will be located on Second Road between Soi Diana Inn and Soi 11 also known as Soi Honey Inn and there will be an entrance from Second Road. These two sois are party sois, this is where you go for a beer or a massage. There is a large piece of undeveloped land right behind LK Renaissance Hotel and this is the perfect location for a condominium development. Perfect, because we are close to the beach and close to the Central Festival Pattaya Beach complex that is located within walking distance, probably not more than a couple of hundred meters away.
• The Base Central Pattaya is on FACEBOOK.
Did you know that the main building contractor at The Base Central Pattaya is Construction Lines Co., Ltd.? This may be the first time we see that company in Pattaya.
Read all about Sansiri's exhibition at Siam Paragon on 15 – 17 february 2013 here. Also read about Sansiri's exhibition at Central Festival Pattaya Beach on 23 – 24 feb here.
We know The Base Sukhumvit Soi 77 in Bangkok, also a development by Sansiri. The Base Sukhumvit 77 is not a development that brings out great emotions in me – I just wish to say that Sansiri usually do much better, they are capable of delivering an outstanding quality that few developers can match but The Base Sukhumvit 77 is not among those developments. We are honest and we don't sweet-talk but some people do have a hard time dealing with the truth, especially males.
Sansiri's first high-rise development in Pattaya is the famous Baan Plai Haad on Wong Amat Beach and that is a Grade A development we really like and highly recommend. Sansiri's third develpment in Pattaya will be the dcondo on Thepprasit Road located near Soi Ko Phai (กอไผ่). I mentioned that Baan Plai Haad is a Grade A development. In Pattaya nobody specifies the grade of a development, mostly because we have a lot of Grade D developments here. The grade is determined by the materials used in the development. A 1 million baht condo will be a Grade D development. The only local developer capable of producing a Grade A development has for a long time been Raimon Land PCL but all that seems to be changing these days. A Grade A development will cost no less than 4 – 5 MB simply because quality materials are expensive. You must also distinguish between the grade of the development and the grade of the location. But again, these are terms never used in Pattaya due to lack of local experts in this field. The Base Pattaya is somewhere between Grade B and C, perhaps Grade C+. The location is probably a Grade A location because we are close to both the beach and the Central Pattaya Beach Complex. I might mention that there is nothing wrong with having a Grade D development, Sansiri also has some Grade D developments like the dcondo in Rattanathibet where a 28 sqm unit costs around 1 million baht. Don't use the grade to mock your opponents, it is a tool so customers know the quality of the build and the materials used.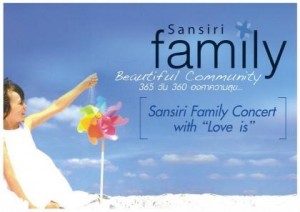 I know Sansiri very well as it is one of my favourite developers. Sansiri is a very big Bangkok based company with more than 40 developments in the portfolio and that make the local developers seem very small in comparison. Actually it does not make any sence to compare the big developers from Bangkok to the local developers, it is like comparing comparing mice and men, not in any way disrespecting the local developers but they are up against some really huge professionally run companies. Practically all of the big developers in Bangkok are listed on the Stock Exchange of Thailand and Sansiri has been listed since 1996. Most of the local developers in Pattaya did not even exist 7 years ago and they do not have a real company structure, it is more like a company where just one man is making all the decisions and that person has to work very hard (a one-man show).
I knew that sooner or later the developers from Bangkok would come to Pattaya and I knew they would end up dominating the market but I did not anticipate it would happen so quickly. I don't mean to unnecessarily dramatize the situation but there has been a severe change in momentum regarding the property development in Pattaya signaling a change of direction with new companies taking charge and leading the way. Sirisa is a giant in the development industry, a giant that can easily crush any opponent. Sirisa has a strong financial background but that is not the only reason why the local developers should fear them. It is a thai company with deeply rooted connections to the thai middle and upper classes. A thai customer faced with the choice of buying a condominium from Sirisa or from a foreign developer will at any time choose Sirisa. You don't really need to know much about the property market in Bangkok to understand that Sirisa has an invaluable reputation in the development industry.
All points to that the good times have come to an end for the local developers. LPN Development will take care of the lower segments of the market while Sirisa will deal with the middle and upper segments. And then we have not even considered what will happen when the other 20 mega developers from Bangkok enter the local scene. Click on the link above to see how many developers from Bangkok are coming. For the local developers Sirisa and LPN could be seen as The Borg: Resistance is futile. My guess is that the local developers will need to look elsewhere. This is Thailand and Thais prefer to do business with other Thais. And when the foreigners find out what Sansiri has to offer they too will prefer Sirisa. This kind of news tend to attract attention and spread fast on the internet. What is hot and what's not? – Sirisa is hot and The Base Pattaya is even hotter!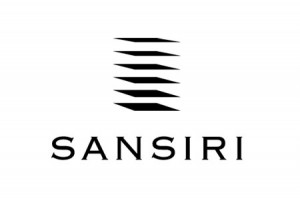 Bangkok high-rise developments by Sansiri include Blocs 77 located right next to The Base Sukhumvit 77, the recently completed Vyne near Sukhumvit 71, the beatiful Siri at Sukhumvit near BTS Thong Lo, the recently completed 28-storey Keyne even closer to BTS Thong Lo, 39 By Sansiri completed 2010 and architcture by Palmer and Turner, the beautiful just completed 42-storey Pyne (298 units) at BTS Ratchathewi, the 26-storey Onyx Phahonyothin under construction, just to name a few.
As mentioned, Sansiri is a company with a very good reputation. Sansiri serve mostly thai buyers that are very loyal and return to buy units in their new developments. If you have a good product you will get a good reputation and if the developer is a thai it is even better – this is indeed the case for Sansiri. The Base Central Pattaya will be a fast selling development, of that there is little doubt. We are not talking "maybe it will" or "probably it will", we are just stating a fact. Name of developer, location and price, that is all it takes. And the success will quickly lead to more launches from Sansiri. Read more about Sansiri and LPN winning the property war in Pattaya here.
Price started from 1.99 MB. Unfortunately Sansiri charge foreigners more than thais just like the local developers in Pattaya do – I looked at a unit that cost 3.35 MB for thais and 3.7 MB for foreigners, a difference of 350.000 Baht.
Remember where you read this unique piece of information. Unique information is our specialty, it is all provided by Thailand's one and only Property and Construction Guru.
A lot more is happening on newpattaya.com in the near future. We quickly became the biggest and most powerful property site in Thailand. We may be big now but that is nothing compared to what is coming. We will be 100 times bigger. What is the recipe for this success? Just be honest, curious and tell the truth.
Published 11 february 2013.
Some pictures dated 16 february 2013.
This is the 31-storey building A. Red colour means the units are sold, grey means they are in the process of being sold. This is what Sansiri can do in a little more than one day. This is the first day of the pre-selling phase. Many local developers struggle with only 30 – 40% sold during 1 year and this clearly shows why Sansiri is feared by the local developers. They are not happy that somebody is doing so much better than they are, not happy at all. We should mention that Sansiri is famous for selling all units in just 1 day. I call it the "Sold-out-in-one-day company". The 35-storey Edge Sukhumvit 23 by Sansiri comprising 443 units sold out in just 1 day, pre-sales started 15 february 2013 and was completely sold out the same day. Selling all units in just one day is not unusual for Sansiri, it is a bit scary that Sansiri is such a strong company.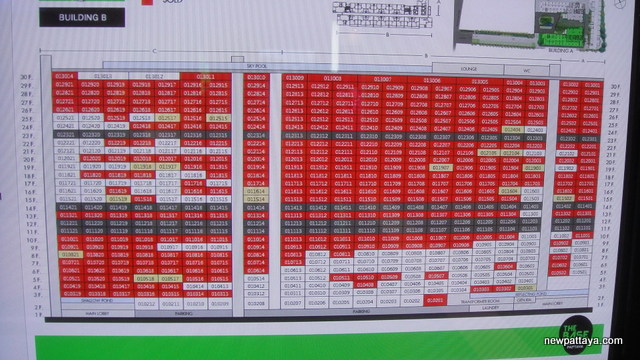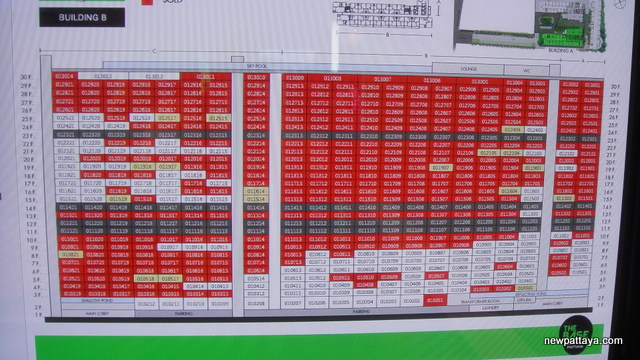 I had to go to this exhibition. Nobody else reports from big events like this so I had to do it myself. If I want a job well done I must to do it myself. I am kind of used to it by now but why must it always be me? Why is the babysitter always better than, well, who else is there? I surely can't find anybody.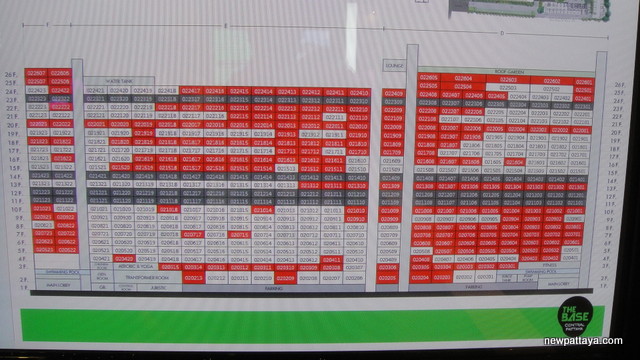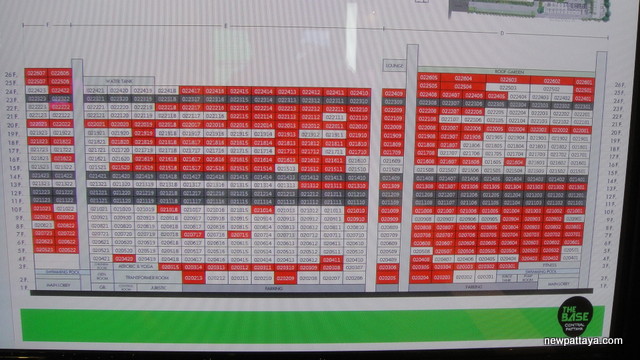 Below you will find 4 pictures of the showroom.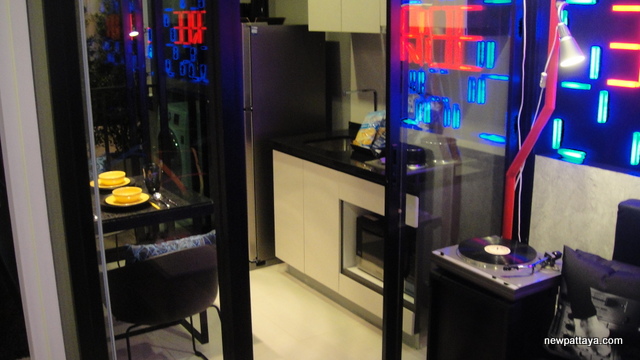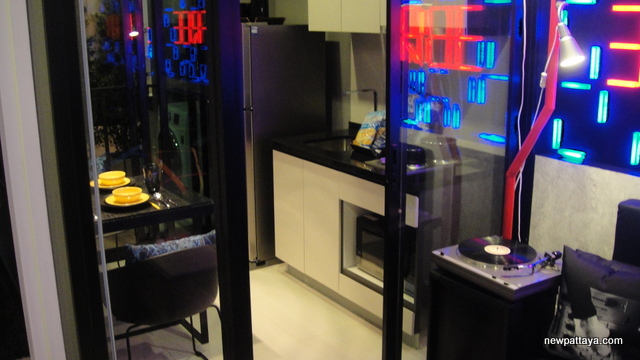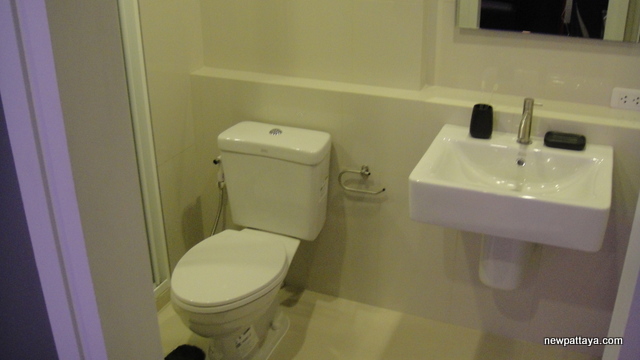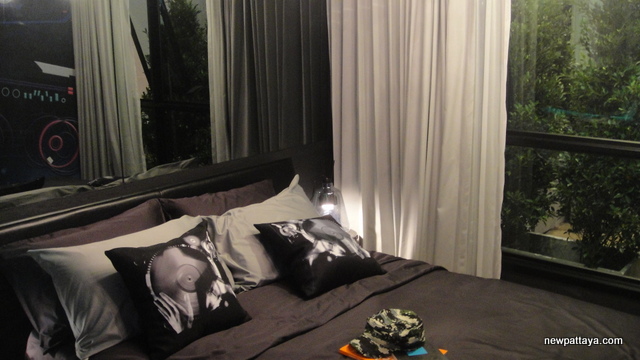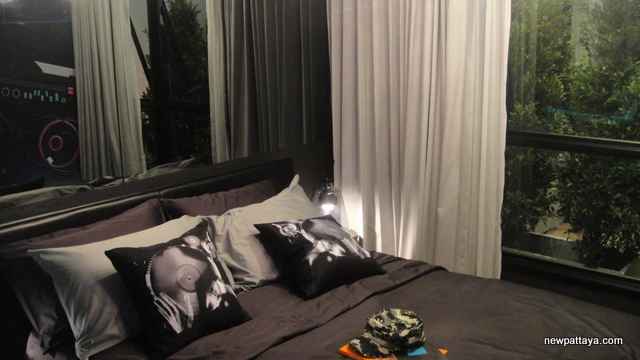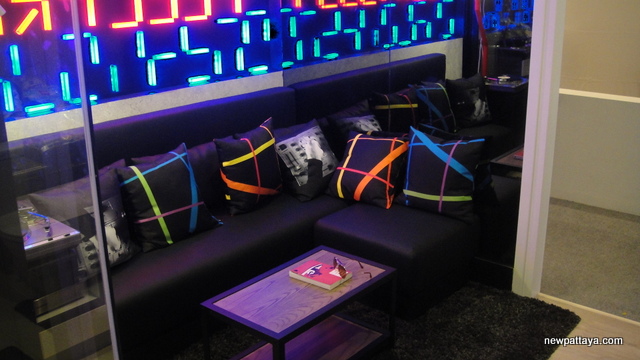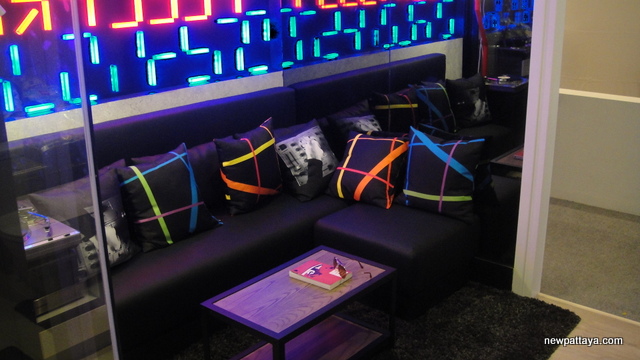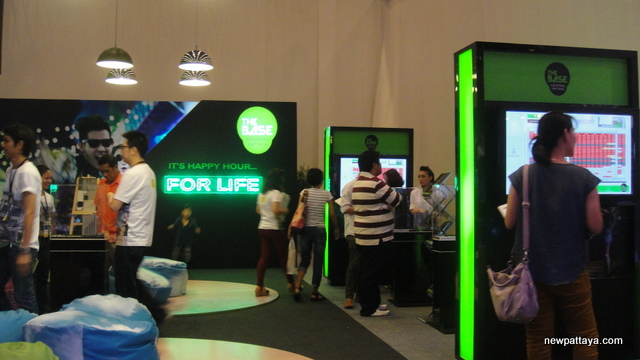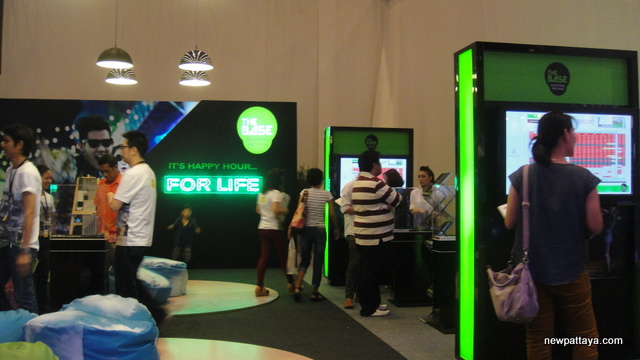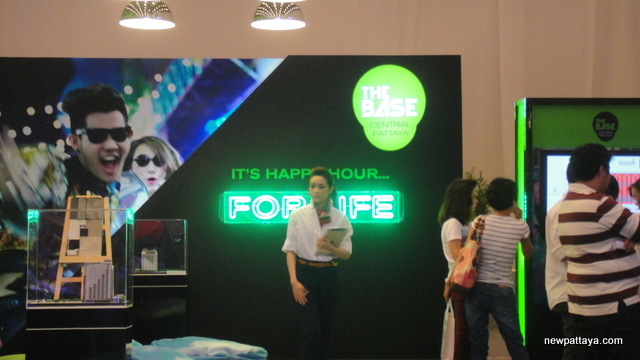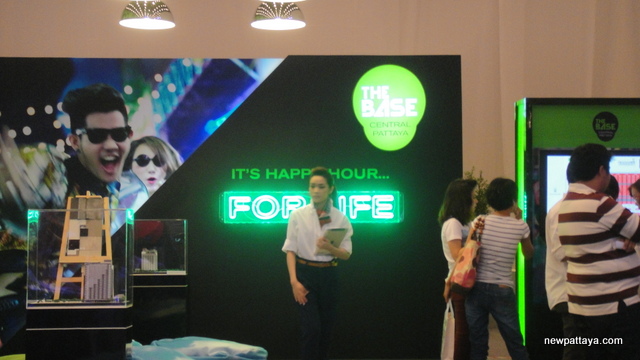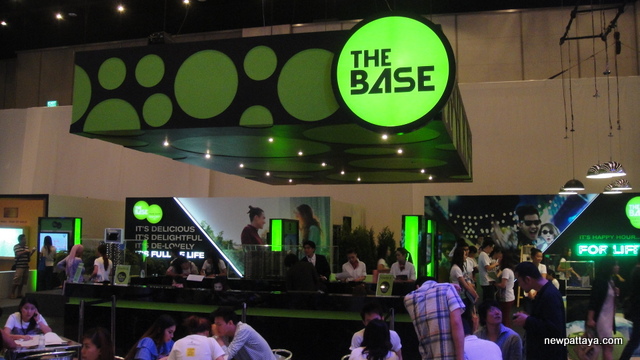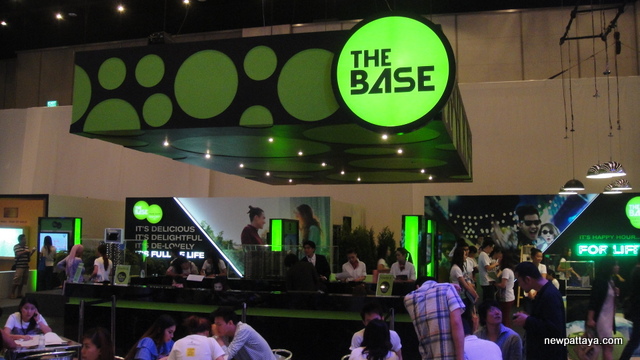 The pictures are dated 11 february 2013.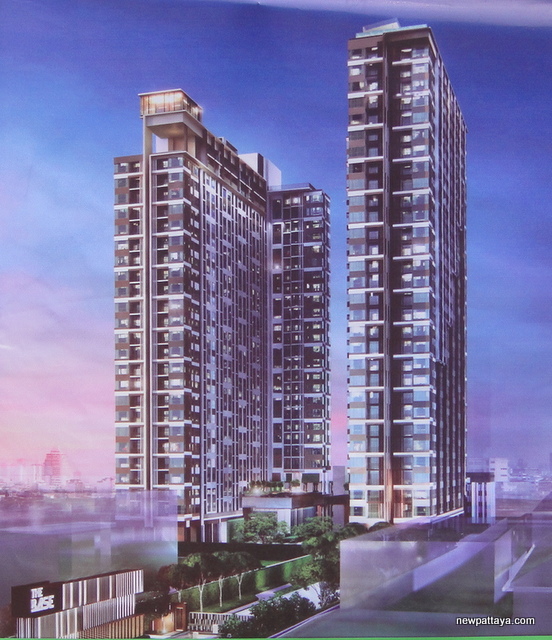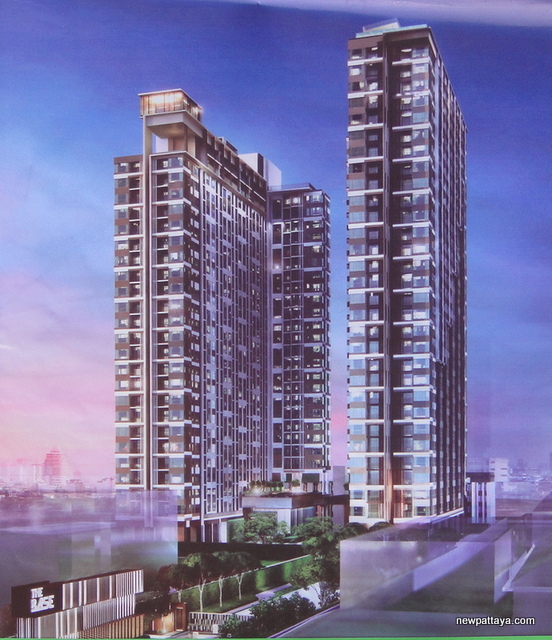 Fantastic Baby, we are the first to get pictures of the sales office on Second Rd.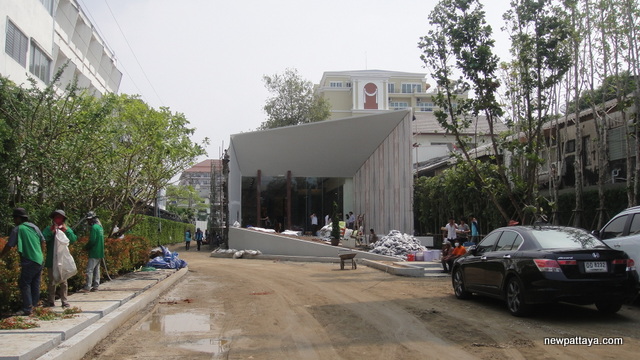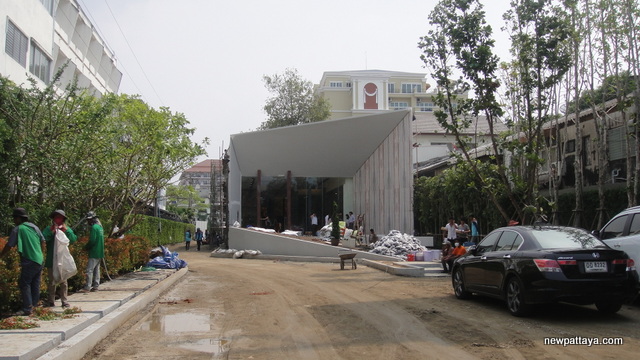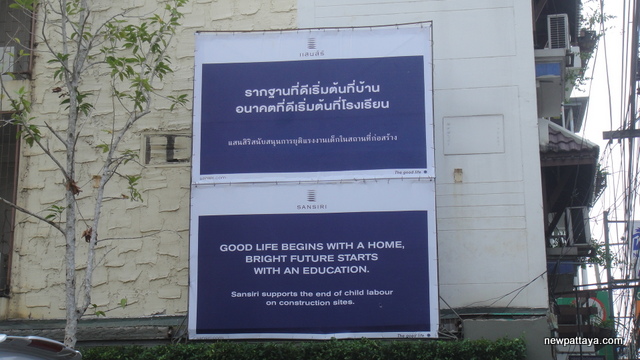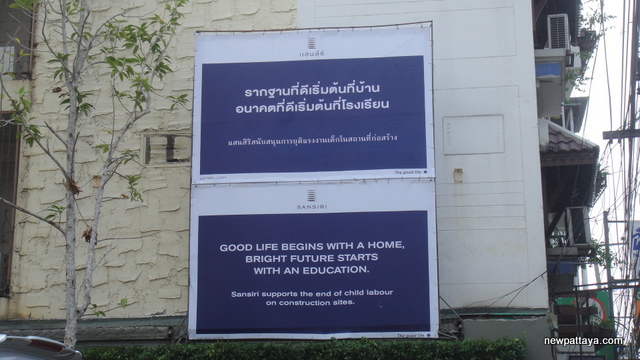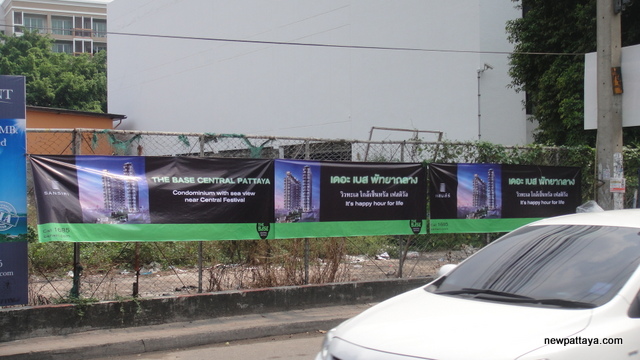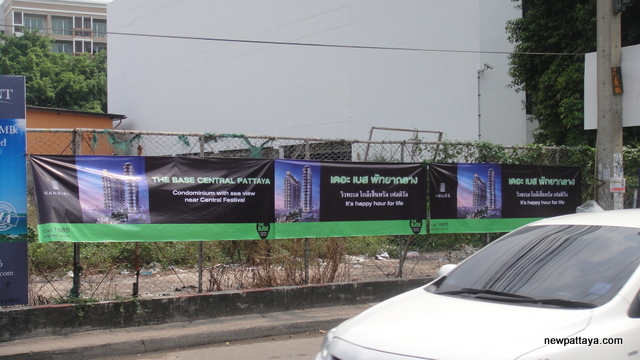 A photo taken 19 May 2014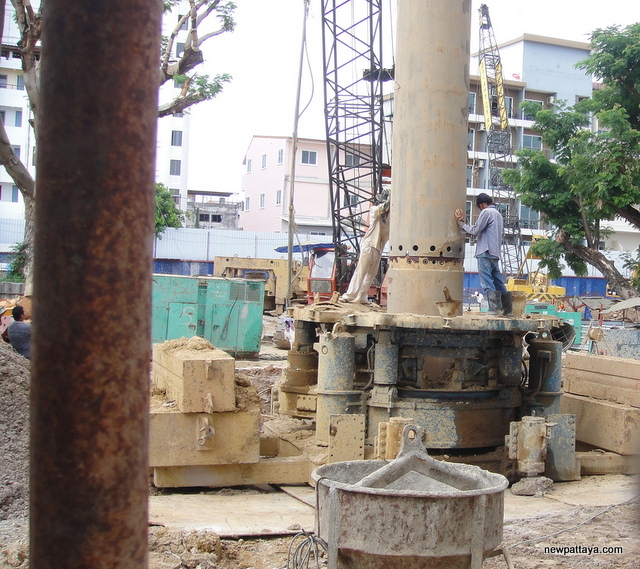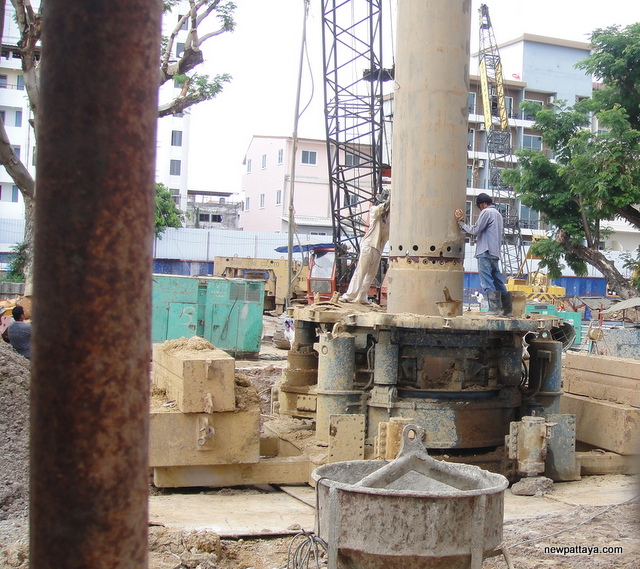 Some photos taken 30 July 2014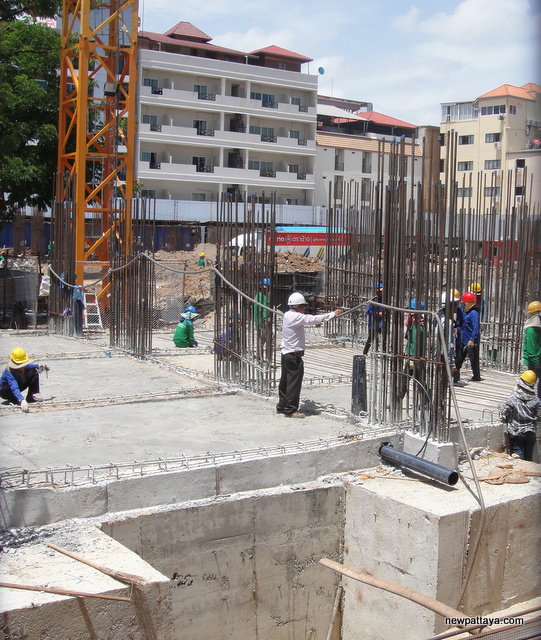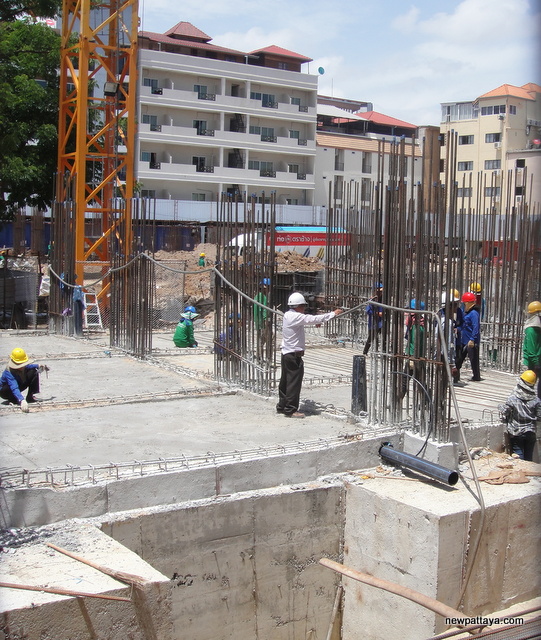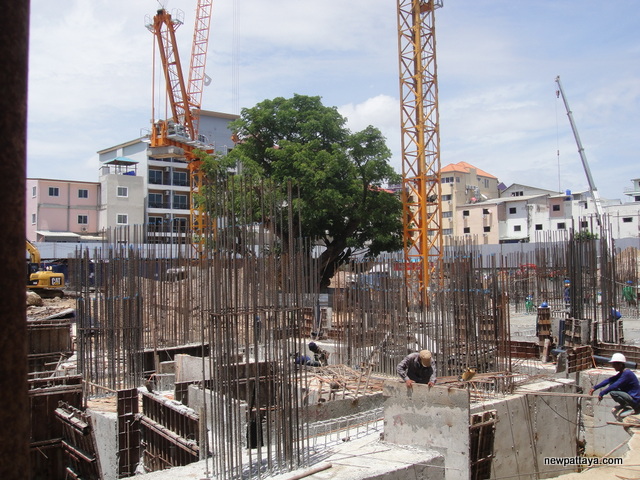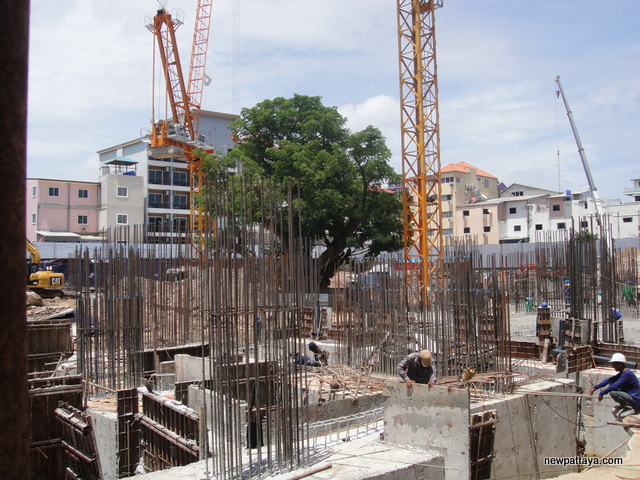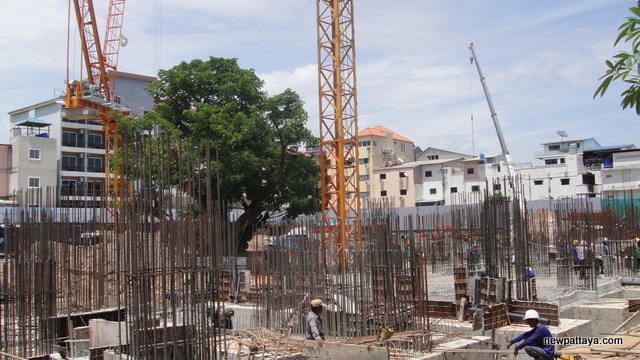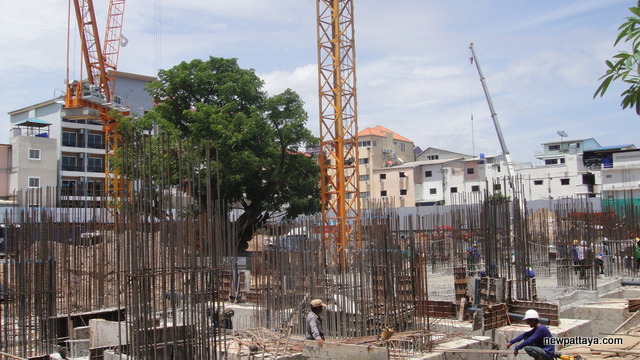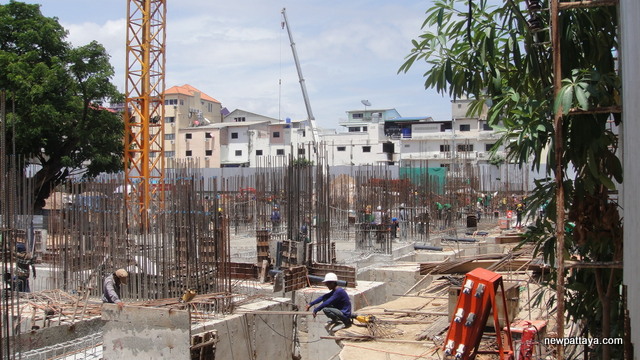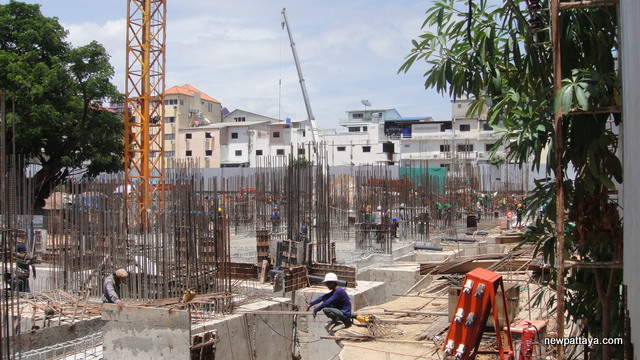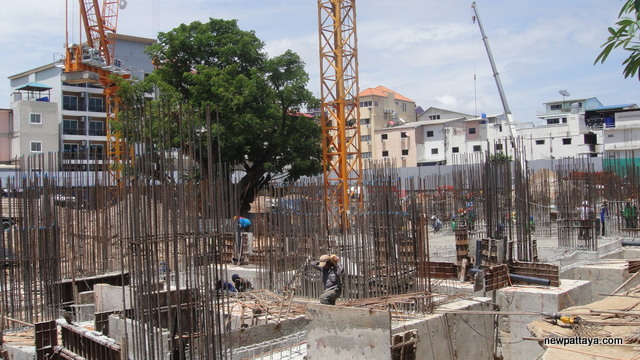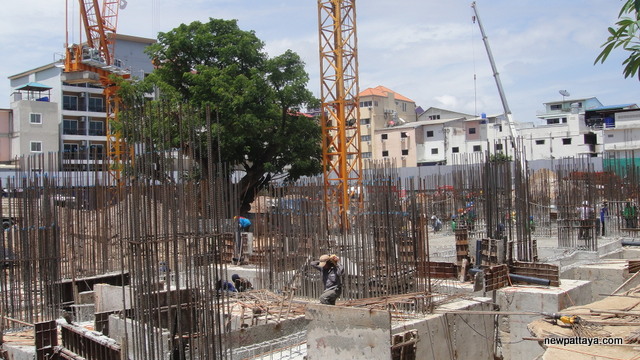 A photo taken 20 October 2014
A lot has happened at The Base Central Pattaya during the last month. I expect topping off in about 6 months time. Once they get started they work fast.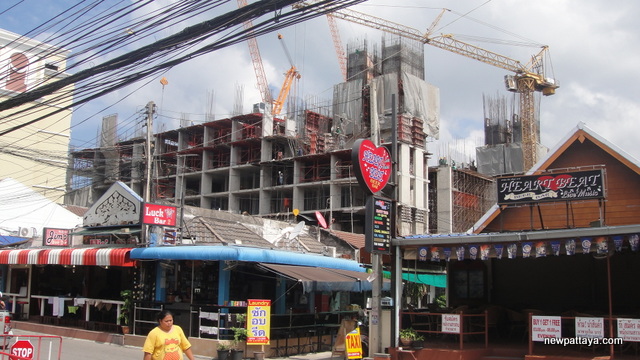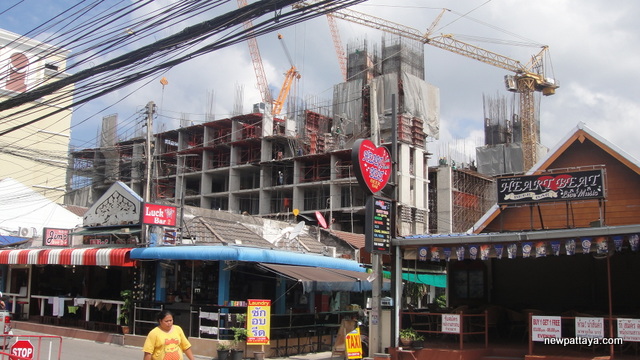 A photo taken 9 November 2014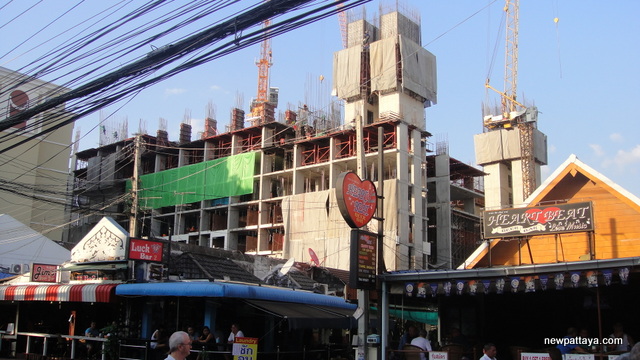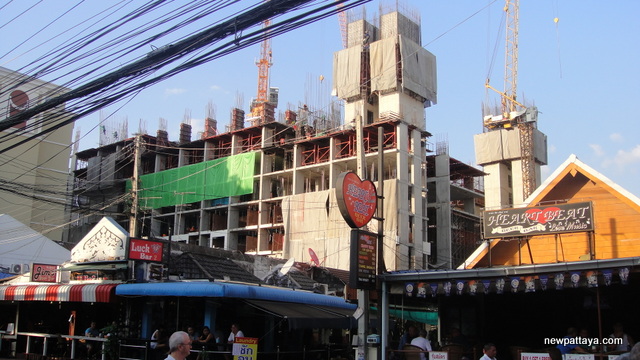 The Base Central Pattaya on 24 November 2014.
They are using prefabricated concrete walls at The Base.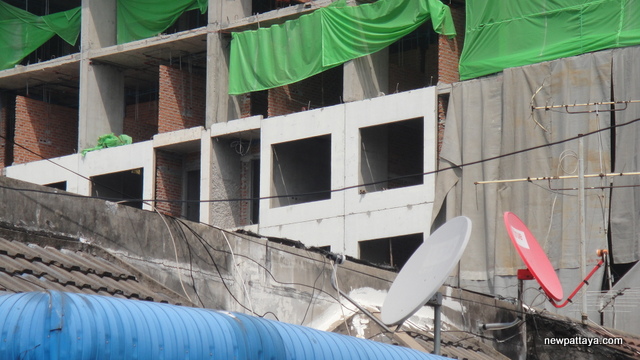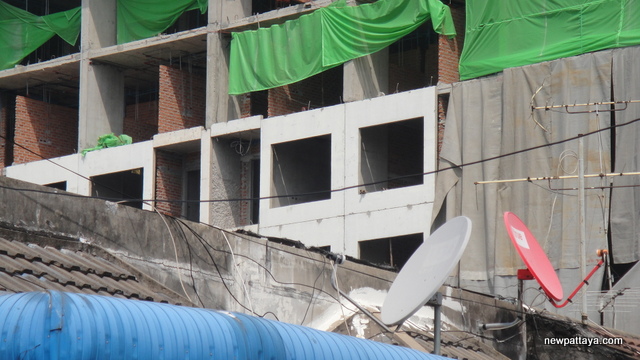 A photo taken 9 January 2015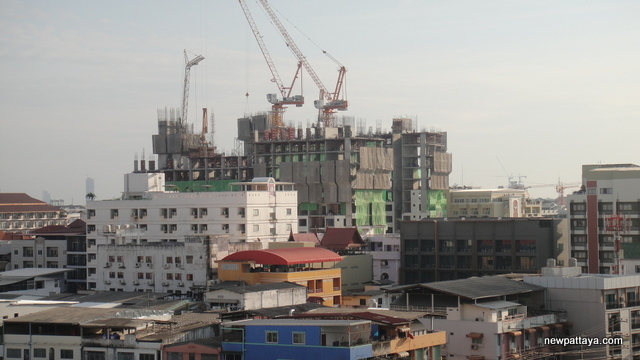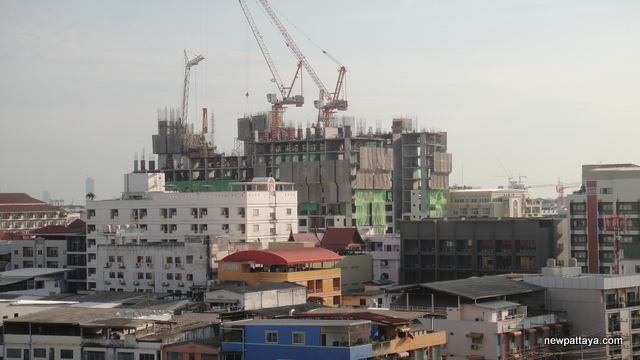 A photo taken 16 March 2015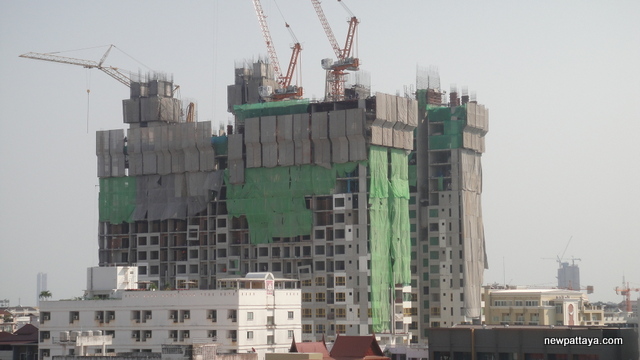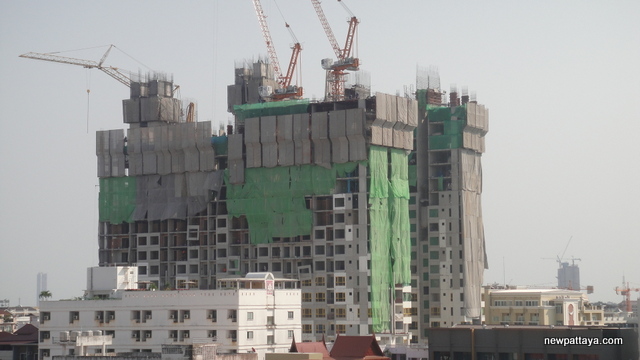 Two photos taken 1 July 2015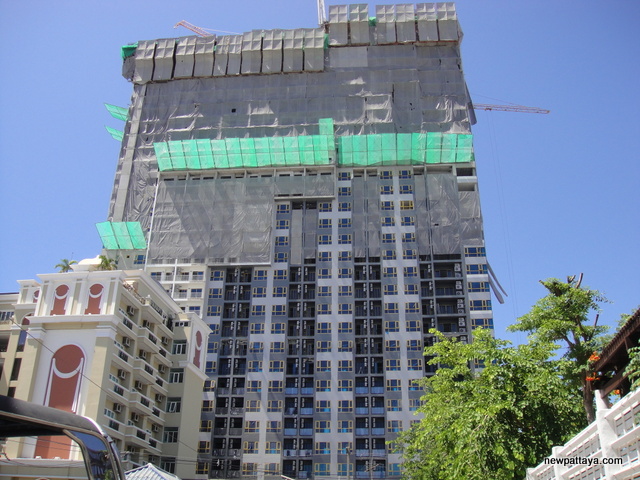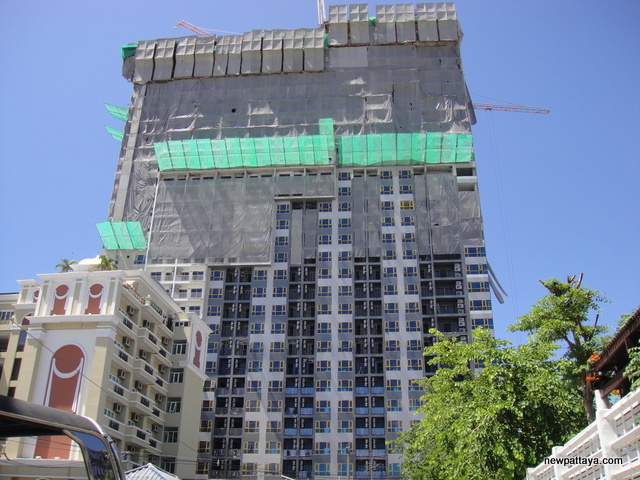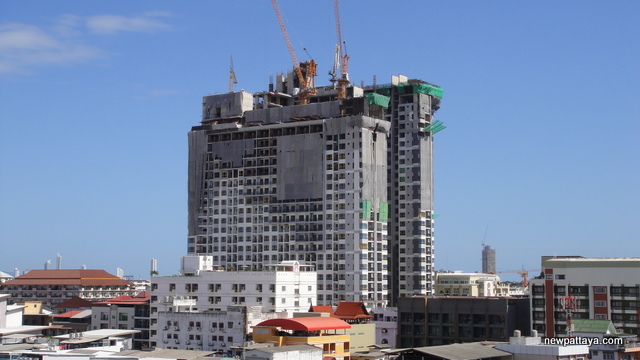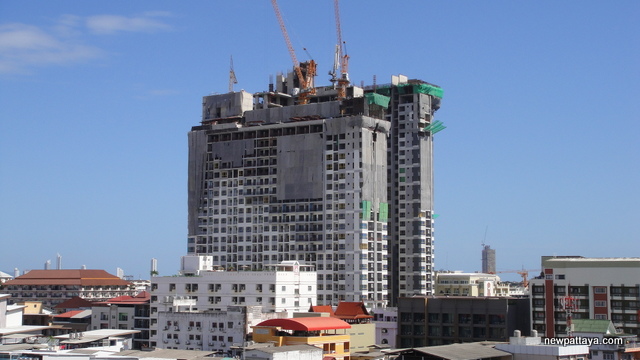 Would you like to support this website? Send funds to us using PayPal, send to secondtouch@hotmail.com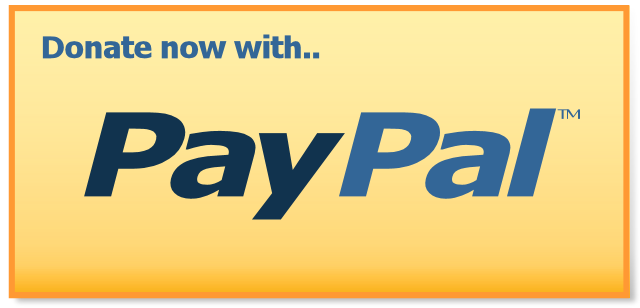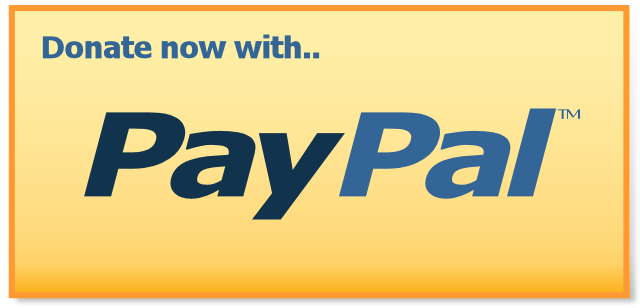 Want more information?