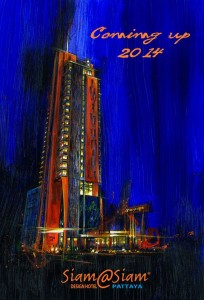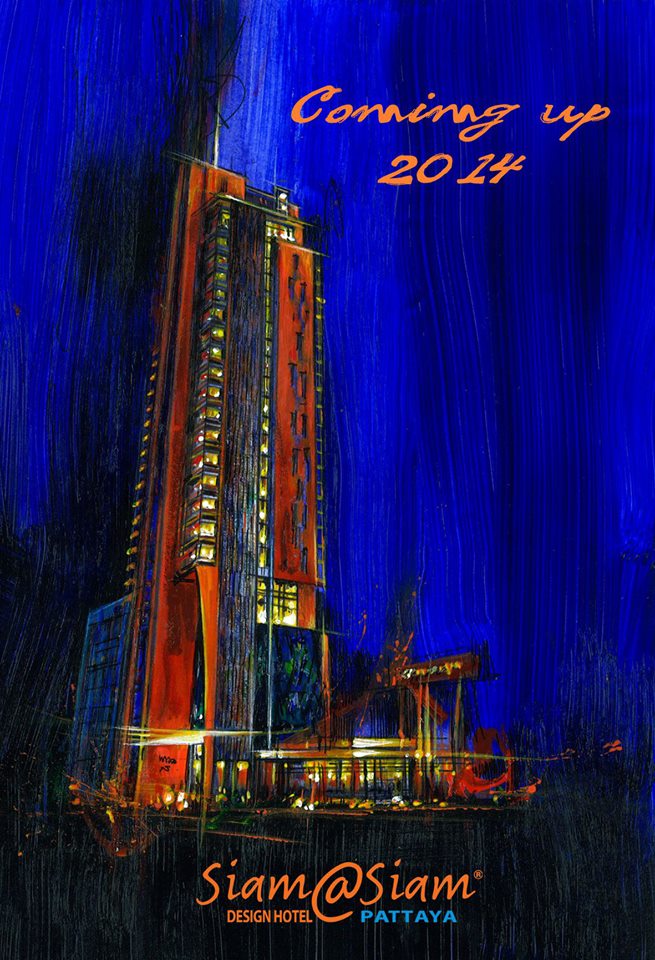 Siam@Siam Design Hotel Pattaya is a 24 storey high-rise currently being built on the corner of Soi 2 and Second Road in North Pattaya. The 25-floor hotel located near Central Festival will have 268 rooms of around 34 sqm each. Its signature feature will be a rooftop infinity swimming pool offering views of Pattaya bay.
With five categories of rooms to choose from, Siam@Siam Design Hotel Pattaya caters to a wide range of budgets and needs. All 268 rooms feature intricate handcrafted furnishings, high ceilings and huge bay windows.
Leisure Class (30 sqm):
205 rooms located on floors 7-22. Leisure Class rooms are very spacious, featuring high ceilings and large picturesque windows that offer stunning views of Pattaya. Boasting a 42 inch plasma TV, IPTV, a media hub for entertainment, and high speed internet, Leisure Class rooms provide comfort and technology within an art-inspired atmosphere.
Grande Leisure 32-38 sqm, including balcony)
49 rooms located on floors 7-22. Larger in size, Grande Leisure rooms offer an airy space with a sofa/daybed for relaxing during the day or night. These rooms feature large bathrooms with a soaking tub, along with partial or full sea view.
Youth Class (43 sqm, Balcony Included)
6 rooms located on floors 14, 16, 17, 19, 20 and 22. Youth Class rooms offer spacious accommodation and are ideally suited for families or three people travelling together. Offering the same amenities as Leisure Class rooms, Youth Class rooms come with three separate beds. They include a large ensuite bathroom with double sink and shower, as well as a partial sea view.
Bliss Class (35 sqm, including balcony)
6 rooms located on floor 7. Bliss Class rooms feature a 6 sqm balcony with green surroundings, and relaxation amenities such as a hammock and a daybed. Bliss Class rooms offer an outdoor leisure experience with a stunning Pattaya view.
The Suite (81.5 sqm, including balcony)
The two suites are located on floors 21-22. Exclusive suites with all the amenities a living space can offer. Enjoy a top-notch sound system, 60" flat screen TV, giant King or double Queen size bed with top-tier mattress, large living space, kitchenette and a giant indoor Jacuzzi with sweeping views of Pattaya's seaside.
The main contractor is the renowned Bangkok based PRE-BUILT Company Limited. As far as I know Pre-Built is at the moment busy with 4 projects in Pattaya, Zire Wong Amat, The Trust Residence North Pattaya and The Trust Residence South Pattaya on Sukhumvit Road.
There is also a Siam@Siam Design Hotel & Spa in Bangkok near BTS National stadium and I expect they will bring the same quality to Pattaya. You can book a night at this Bangkok hotel here for only USD 131 with breakfast included.
Take a good look at the reinforced steel bars in the picture below. Judging from the number of steel bars this is going to be a very tall building – I hope it will be a high-rise, that would be exciting. Believe me, this building will be more than 7 or 8 stories high – I have not asked anybody yet but I can tell by the number of steel bars.
The owner of the project is Siam@Pattaya Company Limited. The Architectural Company is Gateway Architects Company Limited. The interior design is taken care of by LEO3 Interior Architecture Co., Ltd. and the Project Manager is 18 Engineering Consultant Co., Ltd.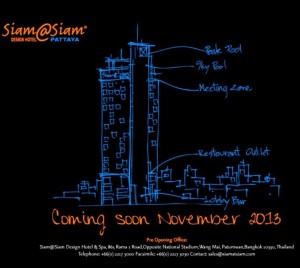 On 19 september 2012 I went by again to try to find out just how many floors there will be in this hotel. I could find no peace of mind, I needed to know. So I asked a worker and he said 24 floors. Wooow, we are going to get a new high-rise just opposite the Big C North Pattaya complex. It's just fantastic. This is what I call really good news. Why is nobody talking about it? Am I really the only person in Pattaya with a normally functioning brain?????
A high-rise on Second Road – people will soon wonder whether they are in Bangkok or Singapore. Pattaya will become a real city. This project will have my highest priority. This is unbelievably good news for Pattaya and I am personally very excited about this project.
Read about Siam@Siam Design Hotel & Spa in Bangkok, click here.
Published 15 September 2012
The pictures below are dated 13 september 2012.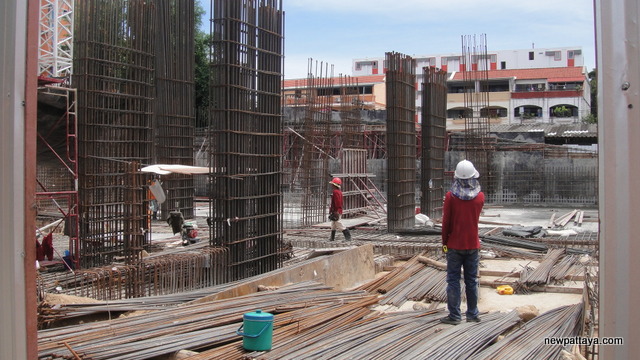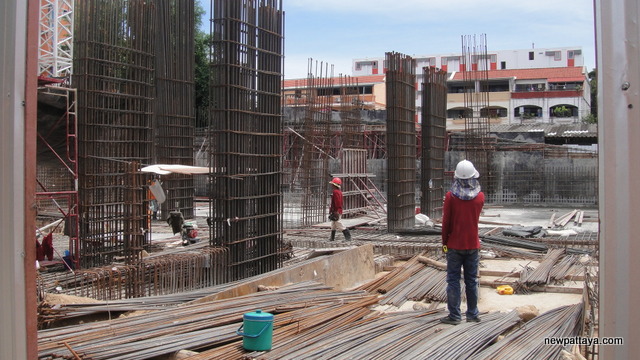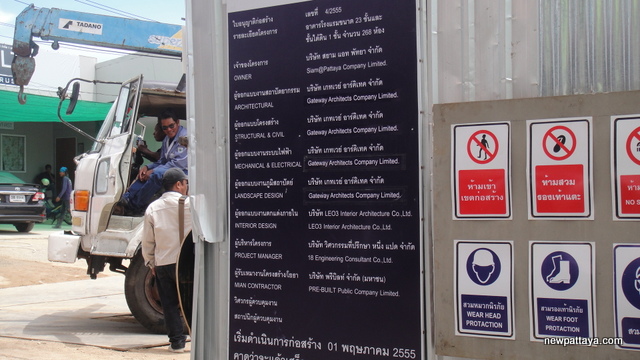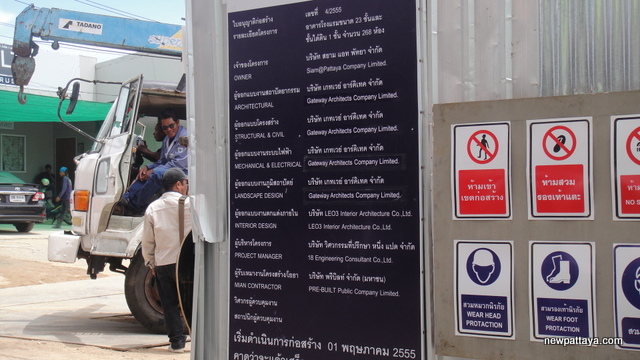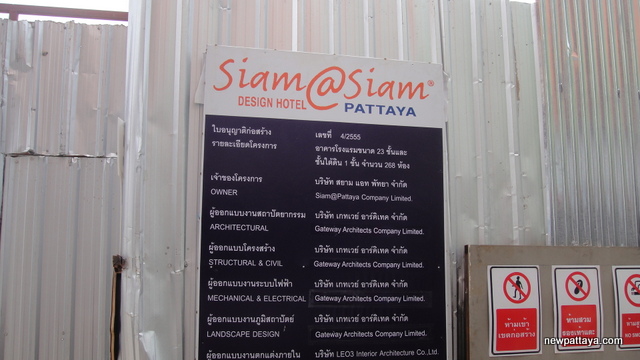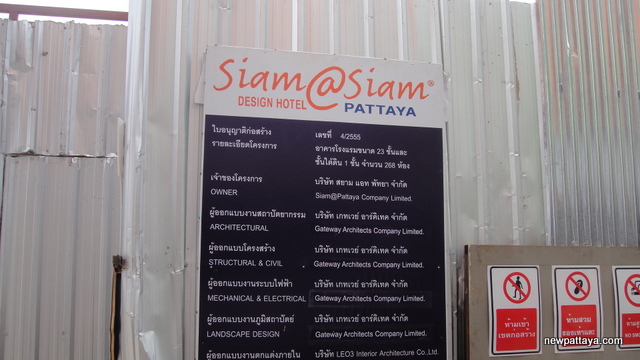 And now take a good look at the construction site 6 weeks later on 29 October 2012. It is amazing to see just how much has changed, isn't it? You just have to love the Pre-Built construction company.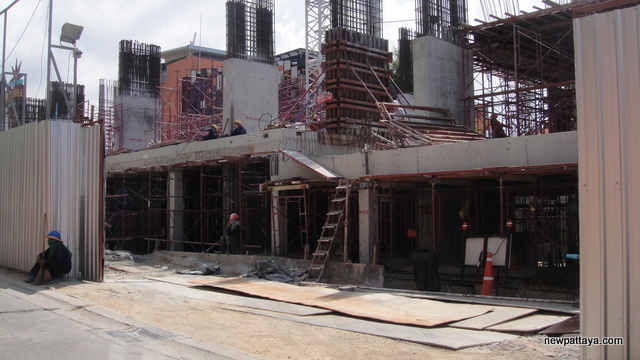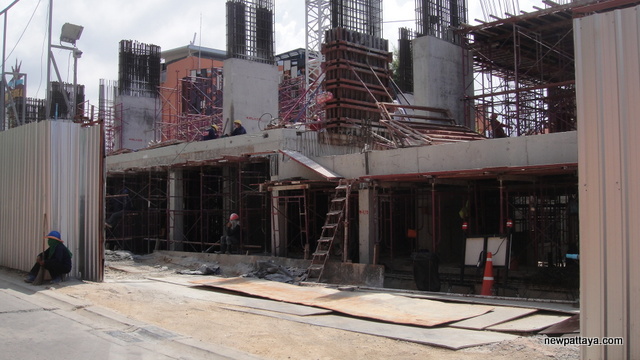 The picture below is dated 15 November 2012.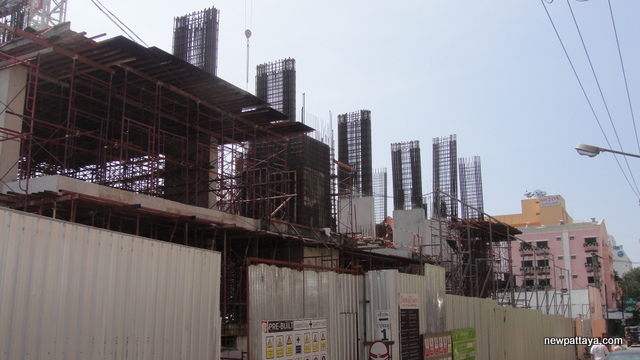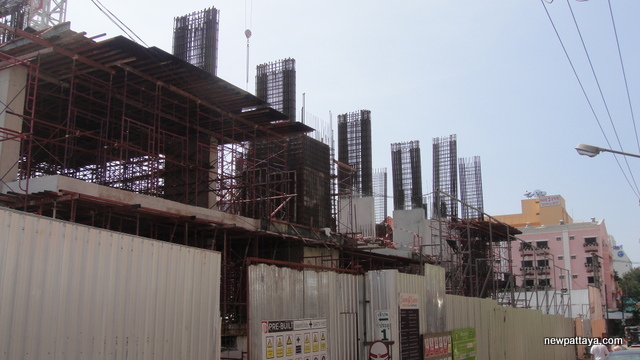 The two pictures below are dated 19 November 2012.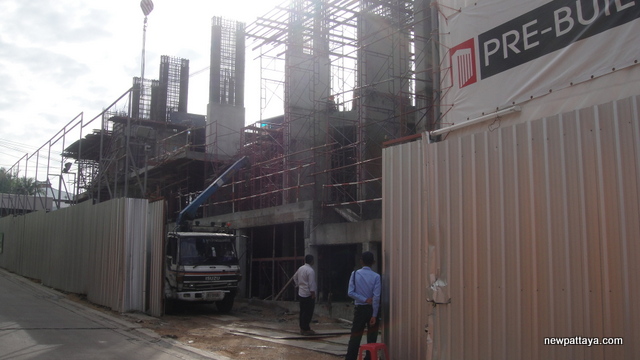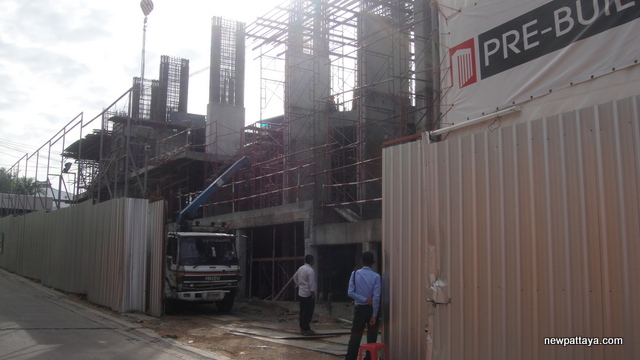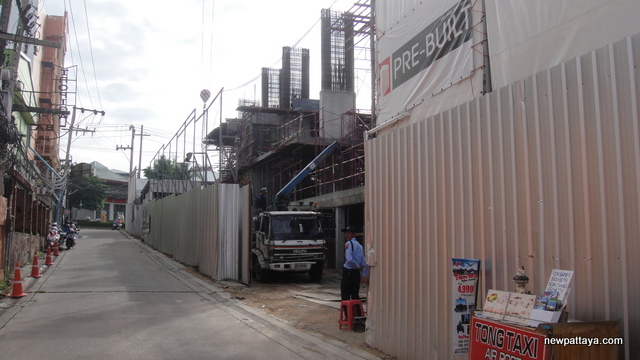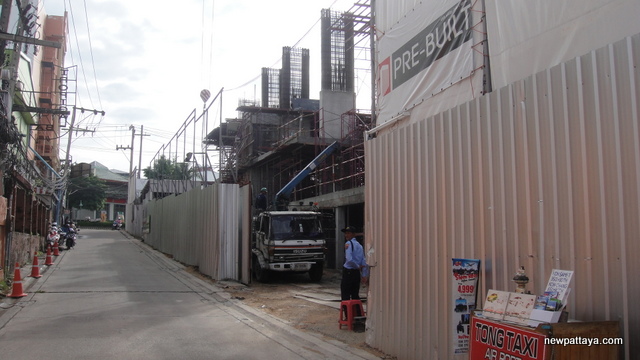 Some pics dated 4 December 2012.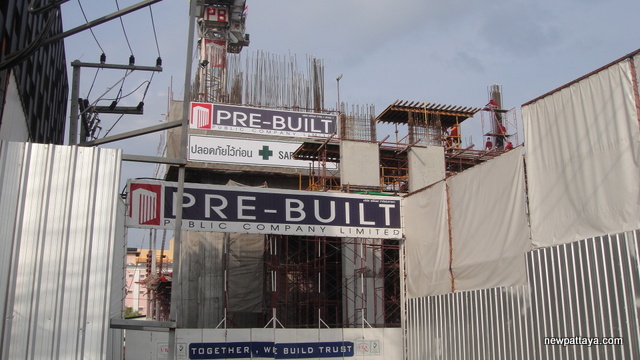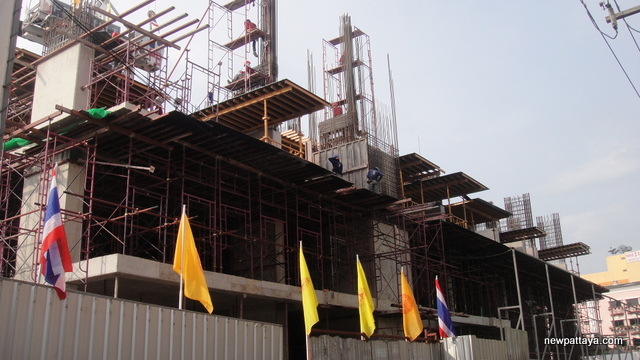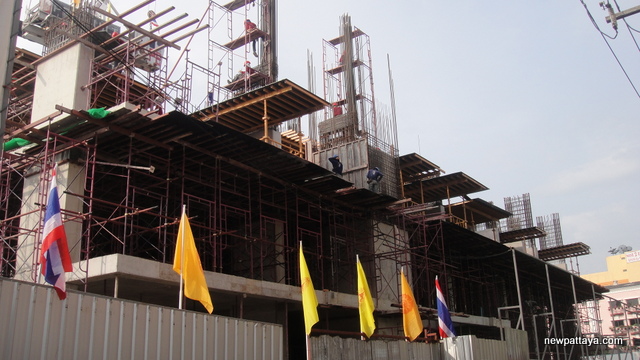 Some pics dated 22 december 2012.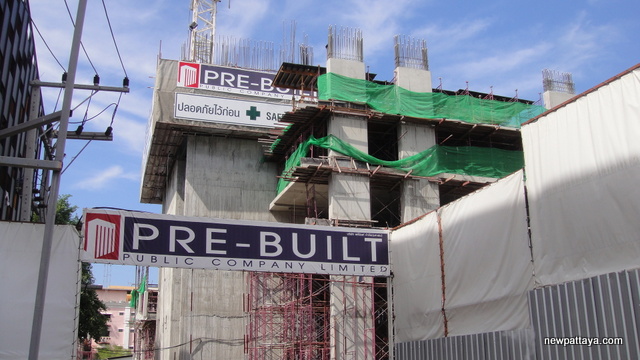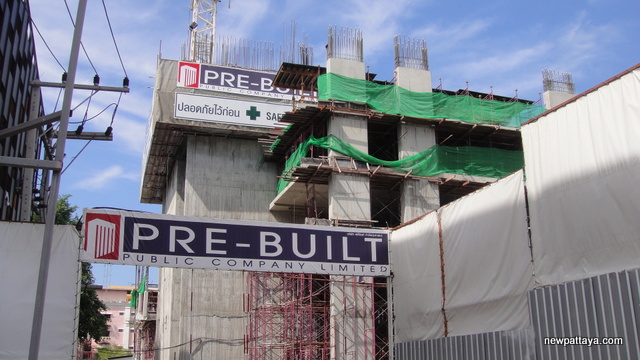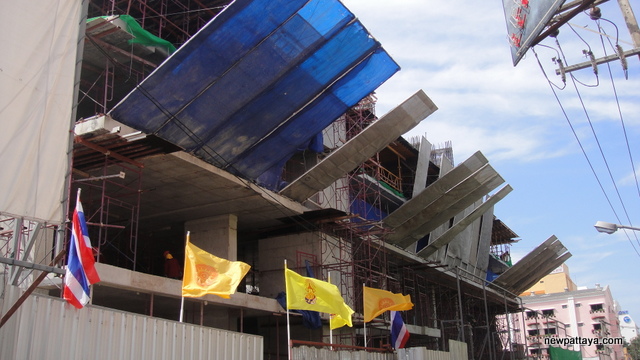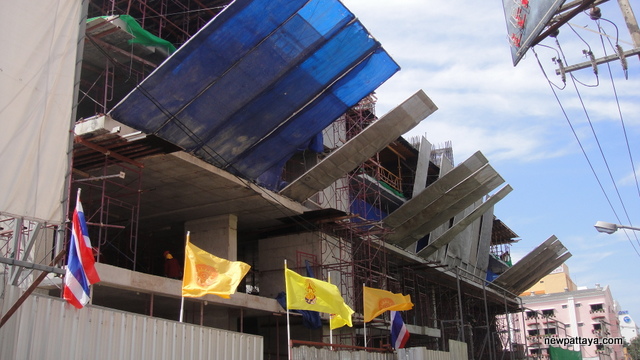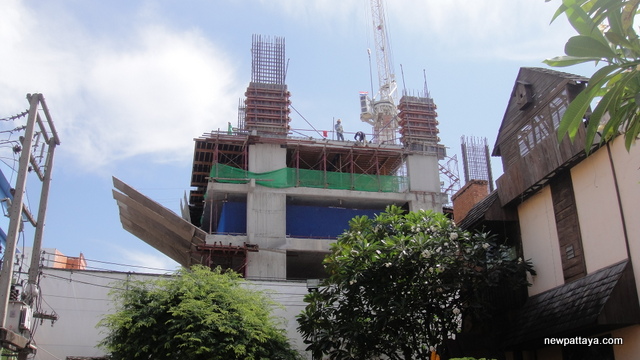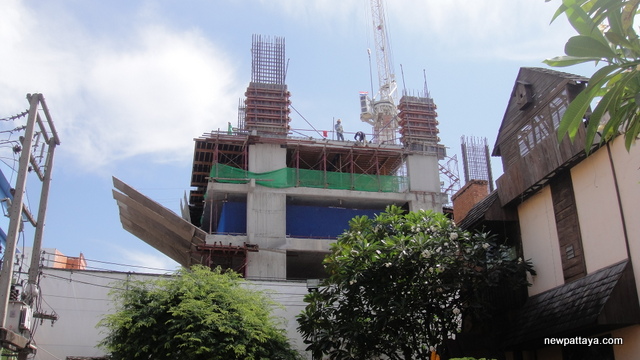 A photo taken 7 June 2013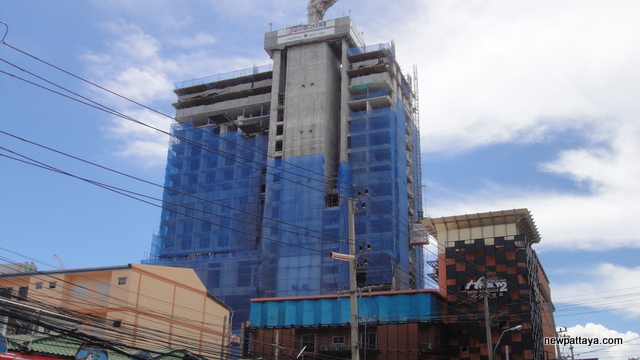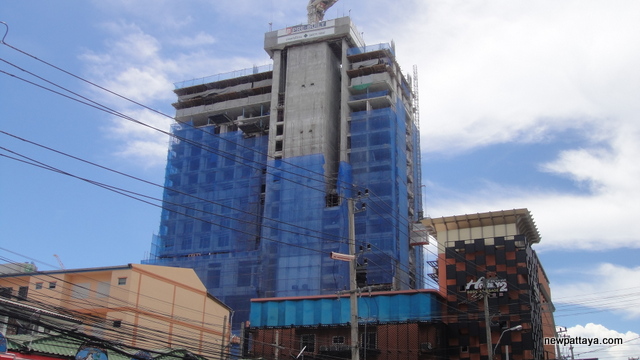 Some photos taken 8 June 2013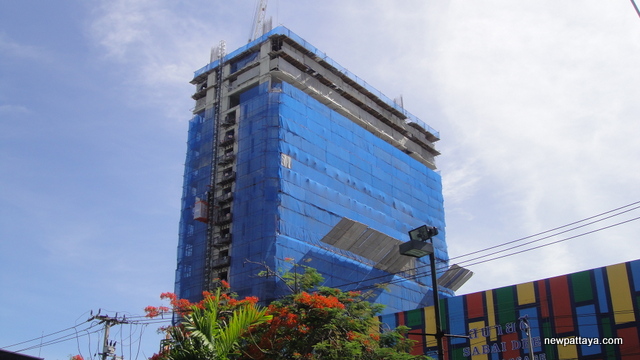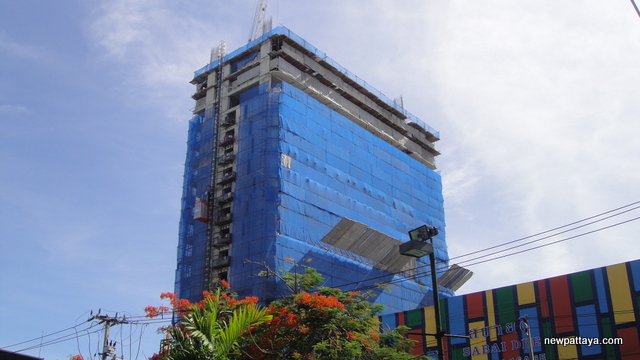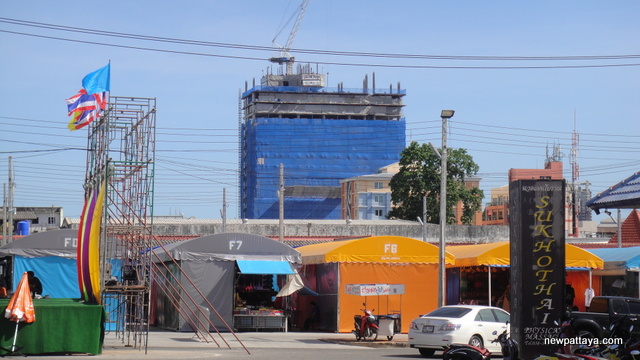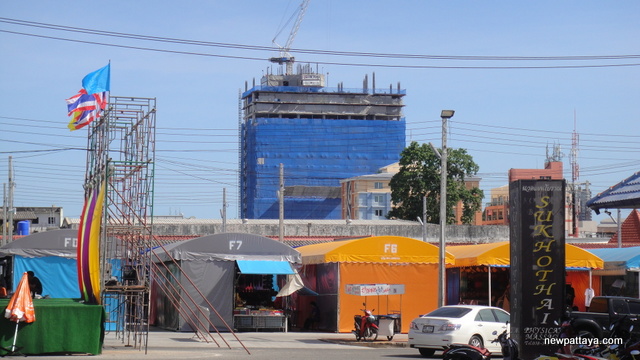 Some photos taken 28 June 2013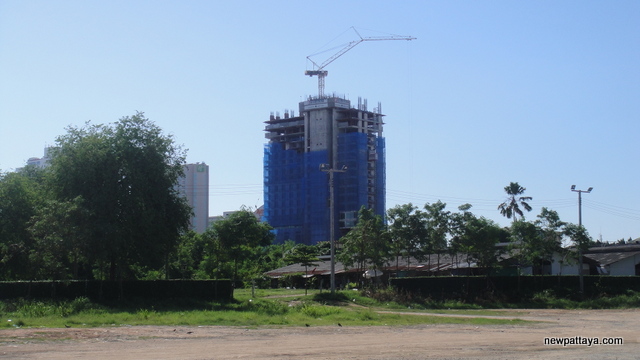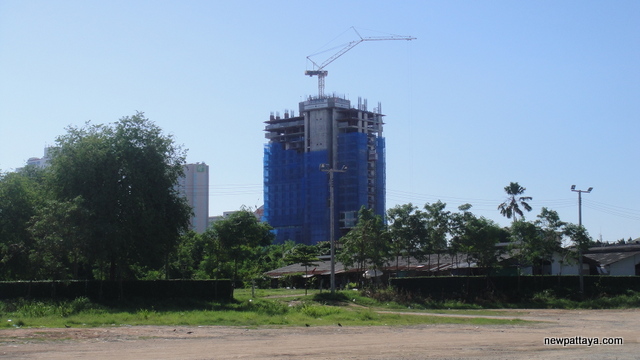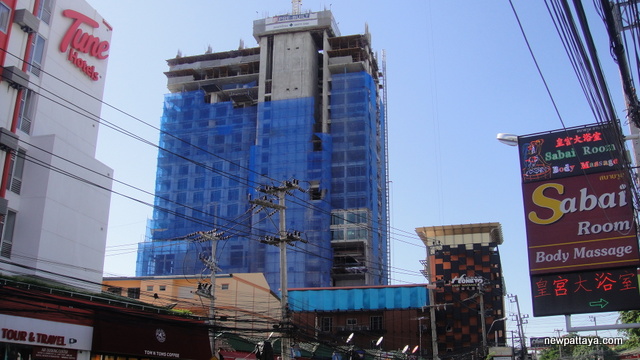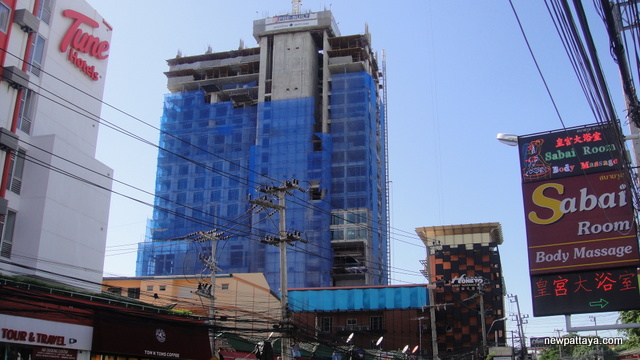 Some photos taken 13 July 2013
They have started painting the hotel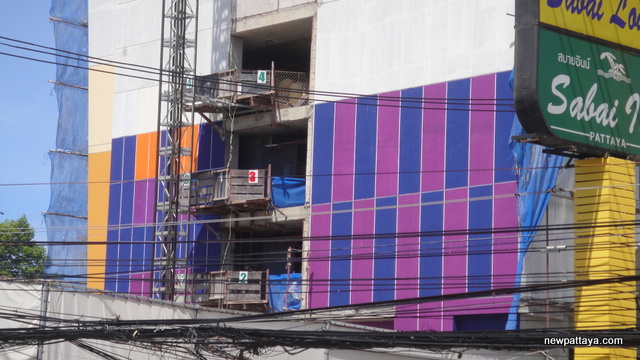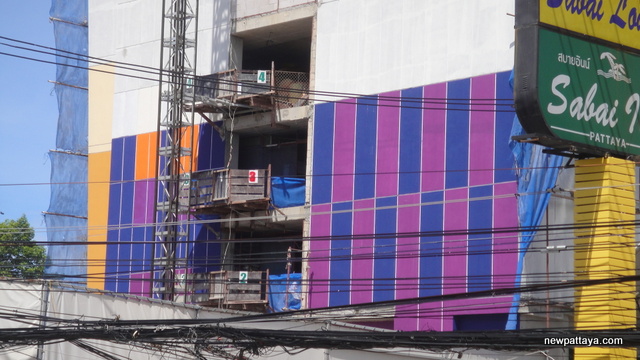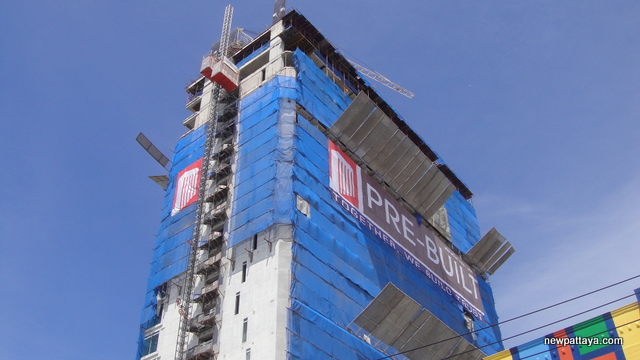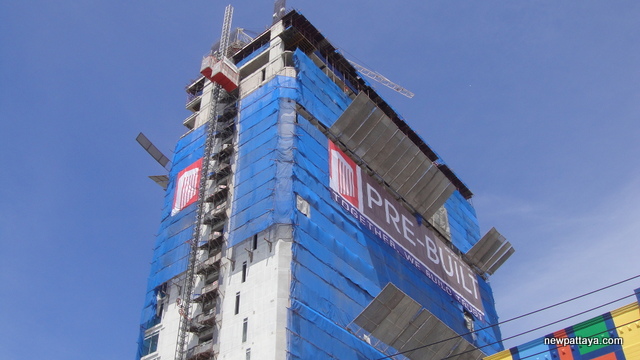 A photo taken 2 August 2013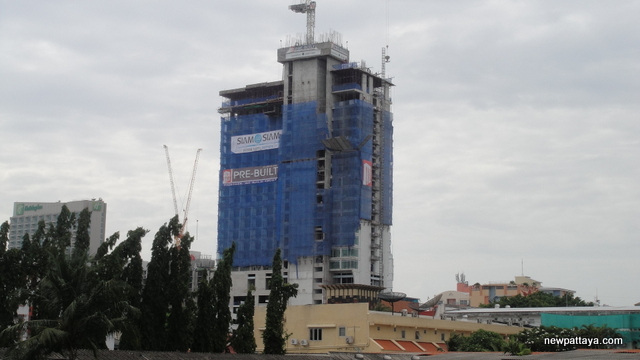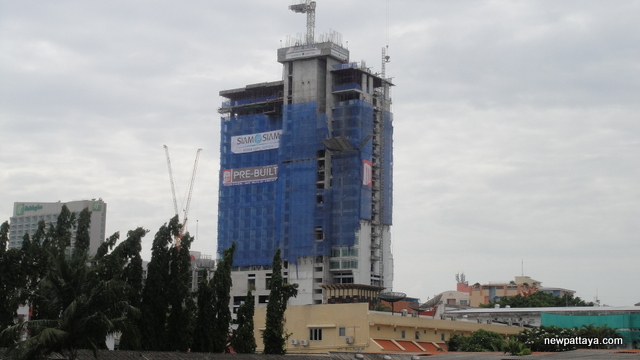 A photo taken 8 August 2013
I would not be surprised if the hotel were to open by the end of december 2013. It is unlikely but not impossible because they work really fast. I think they will try to open before the next high season ends.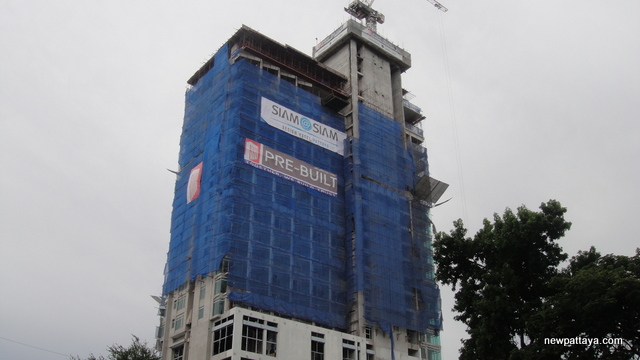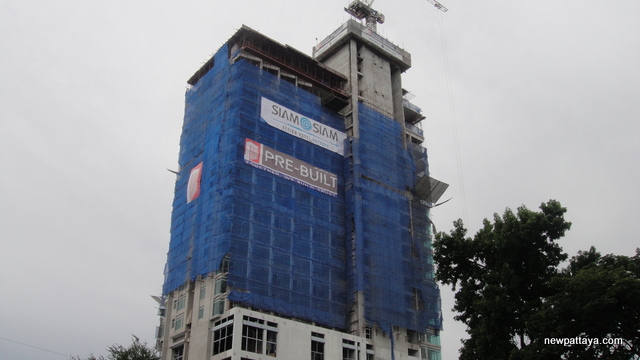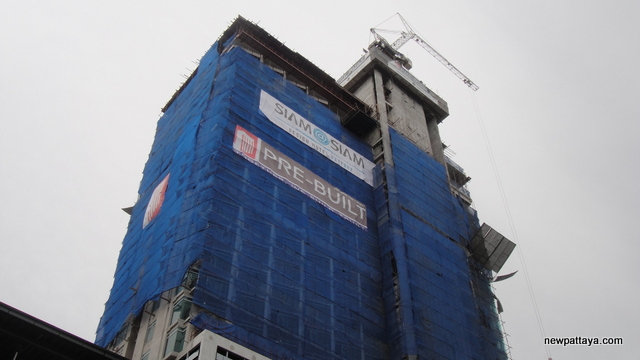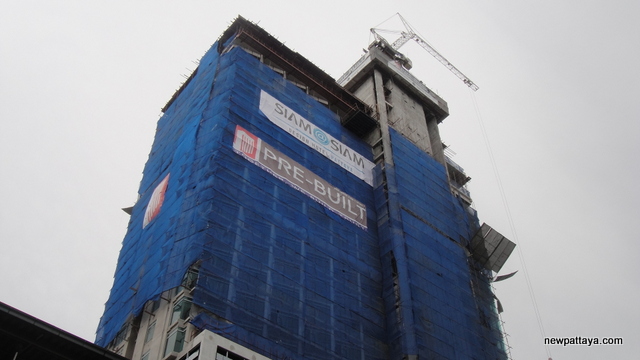 Some photos taken 28 august 2013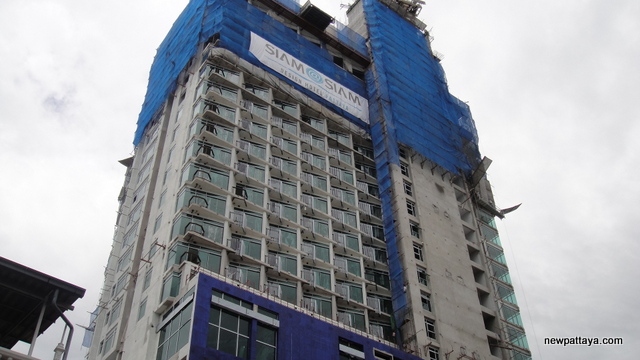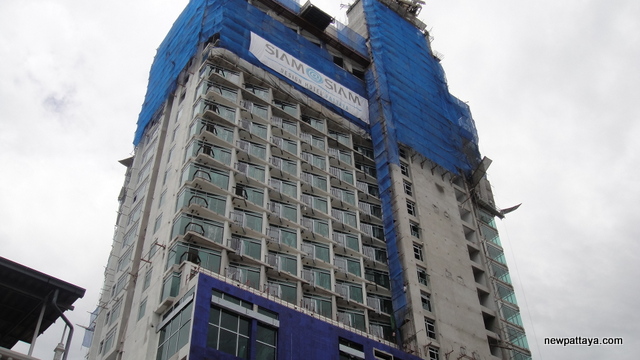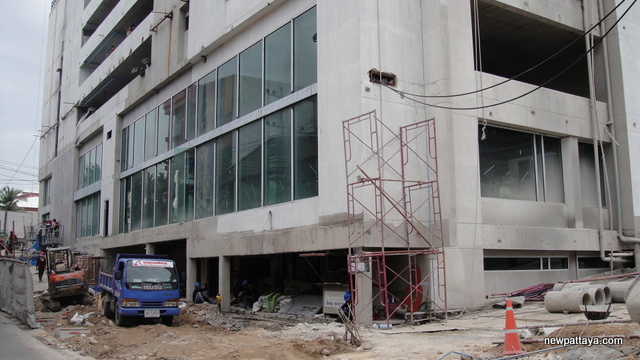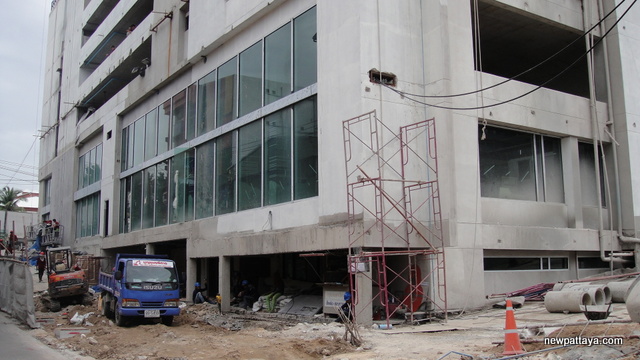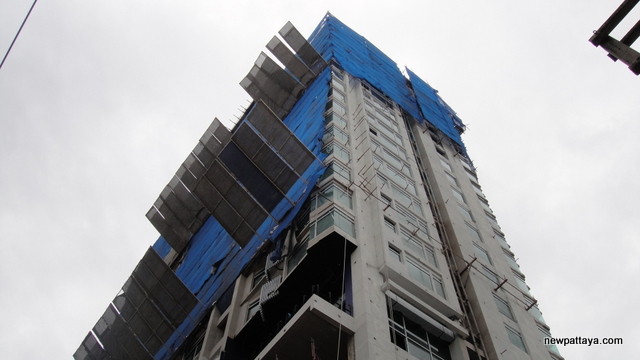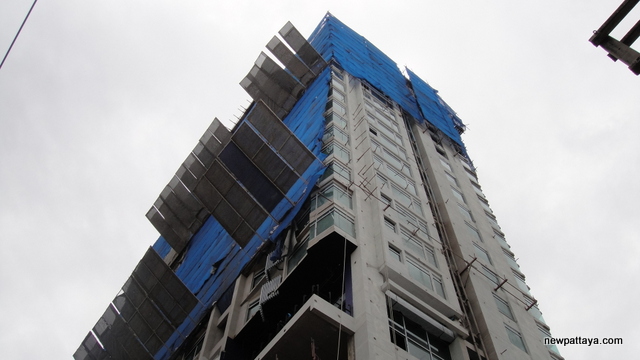 31 August 2013:
Really Hot Hotel News from the Hotel Guru: We have previously noticed unusual activity at the Siam@Siam Design Hotel, we suspected that they wanted a piece of the next high season. Now we know that this new hotel will be opening on the 1st of november 2013.
I did not know that, I am very surprised.
Lesson: A 25-storey hotel can actually be built in just 1 years time if you really want to. Yeah, I am truly surprised.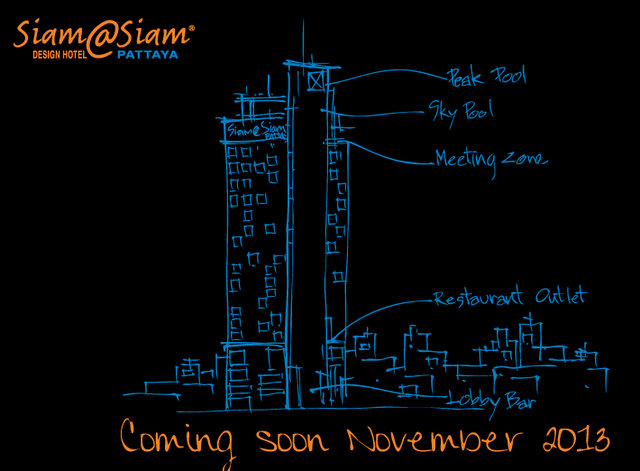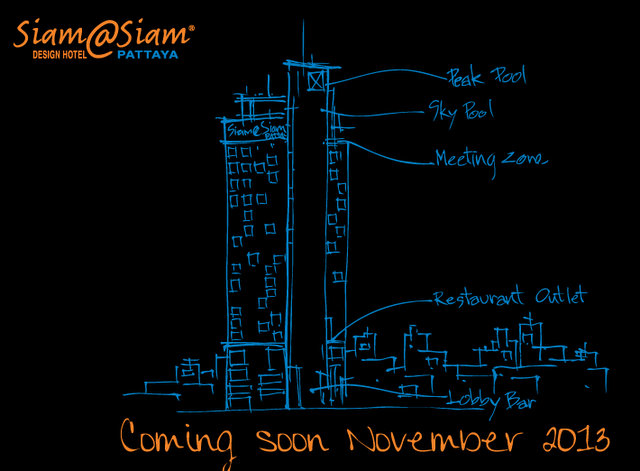 Siam@Siam Design Hotel Pattaya was hiring in Big C Extra on 31 August 2013. Salary: 7000 baht plus benefits.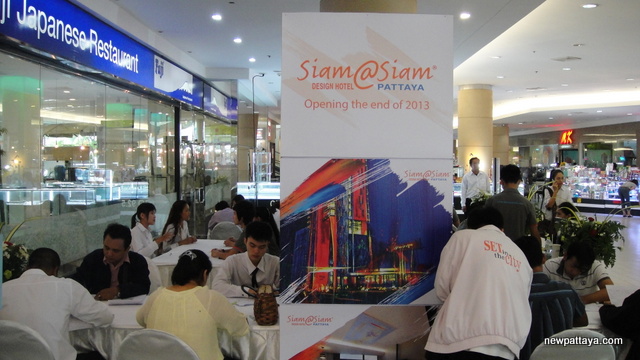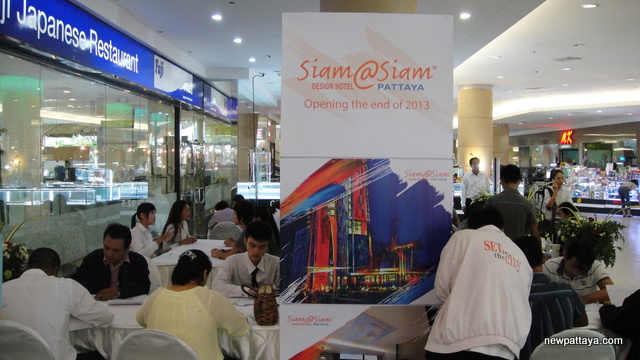 A photo taken 16 September 2013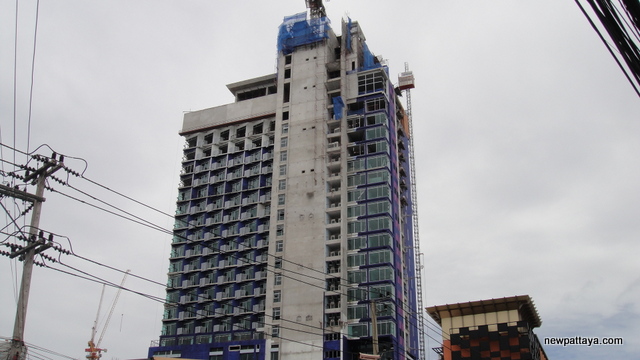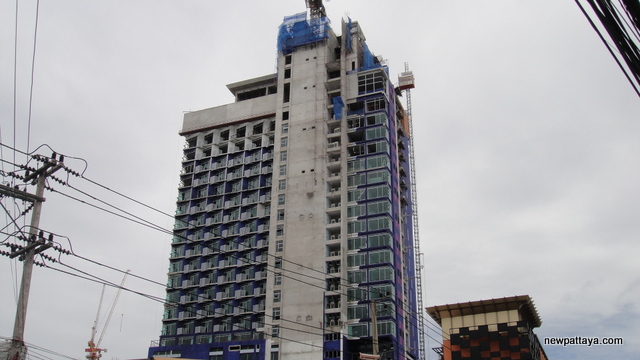 Some photos taken 2 November 2013
Siam@Siam Design Hotel Pattaya will open soon. It is a 25-storey building, but each time I look at the hotel I say to myself they should have built 50 stories (or even more). The taller the better. I am never satisfied, I want the buildings to 100 stories tall.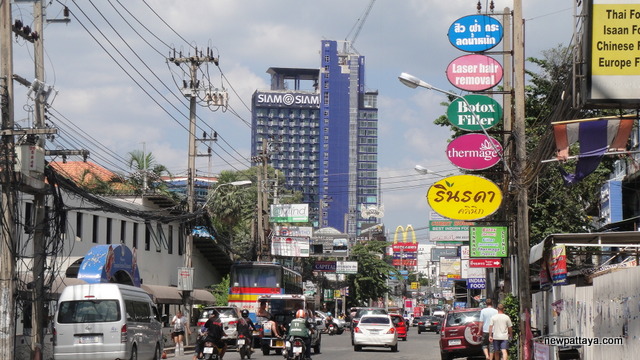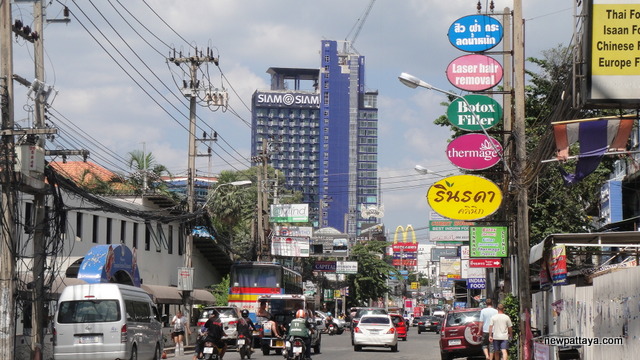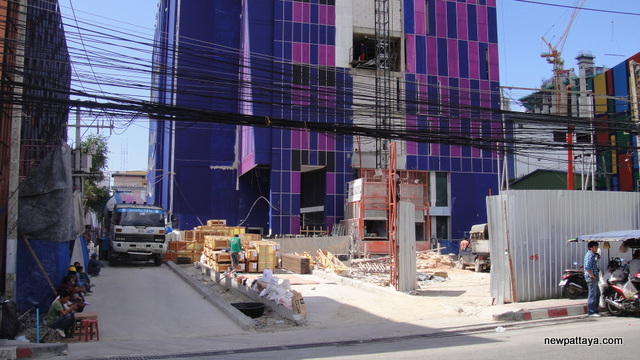 A photo taken 25 November 2013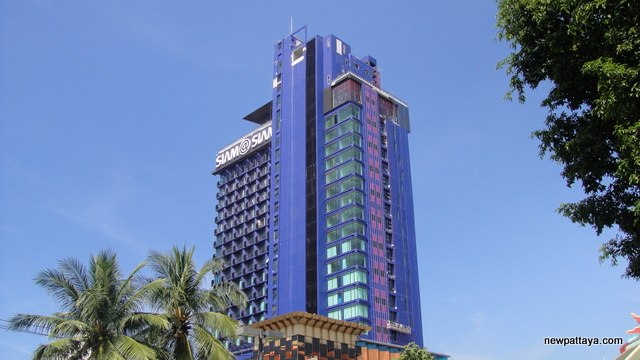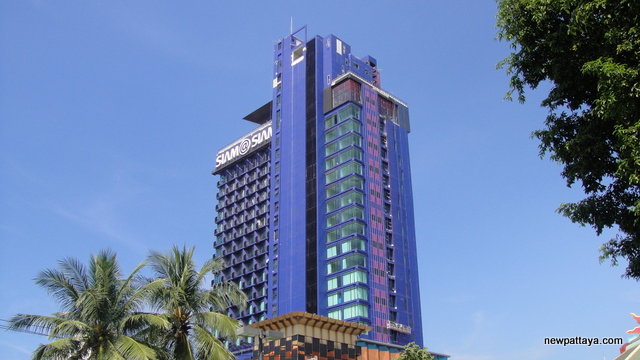 A photo taken 14 December 2013
Siam @ Siam Design Hotel Pattaya will have a spirit ceremony on 15 december 2013. Starting from 15 december VIPs are invited to stay at the hotel. The hotel will open its doors for guests on 24 december 2013.
24 december 2013 is an important day for Pattaya.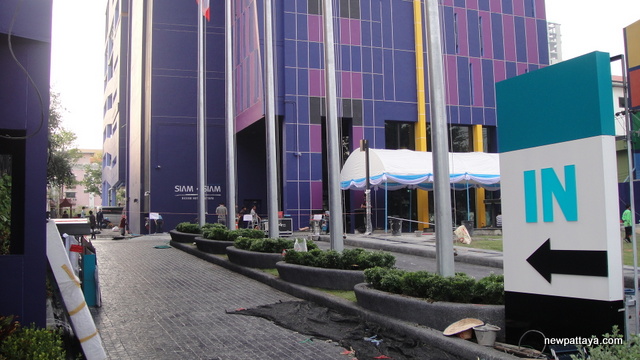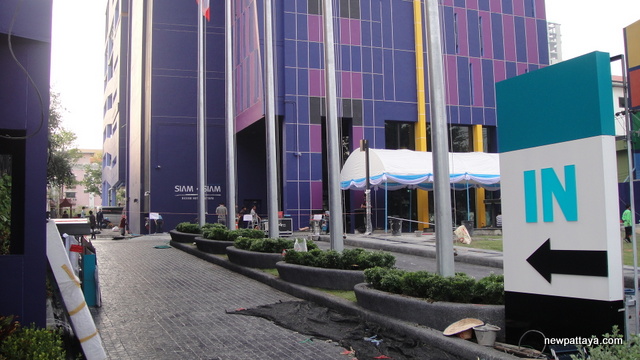 Two photos taken 28 March 2014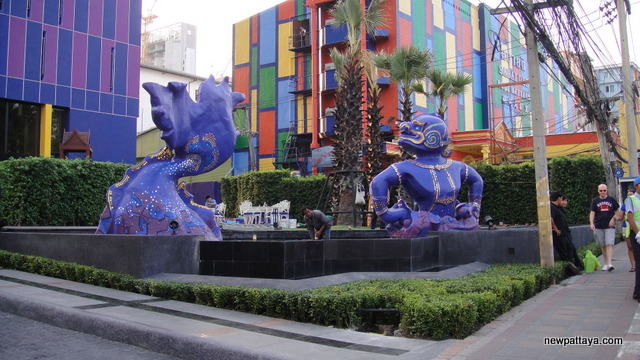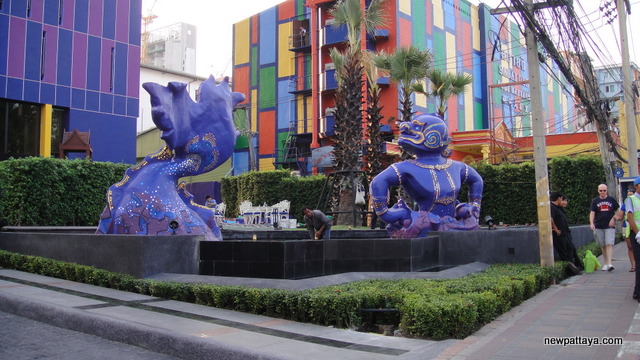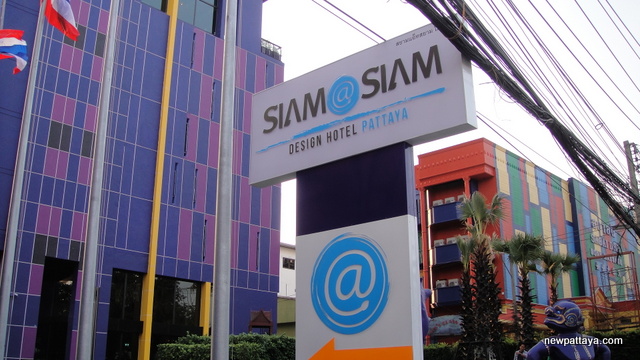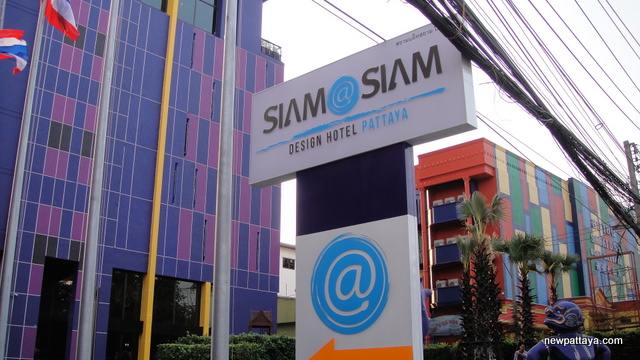 Would you like to support this website? Send funds to us using PayPal, send to secondtouch@hotmail.com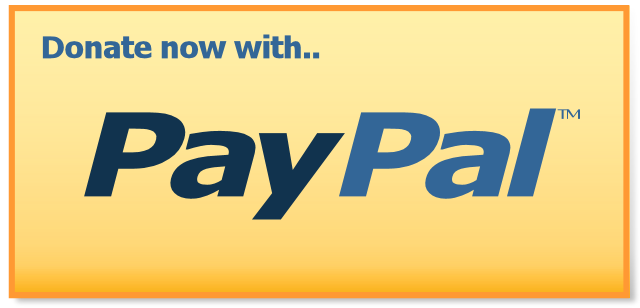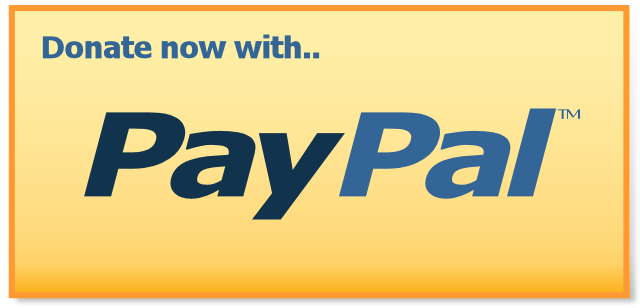 Want more information?