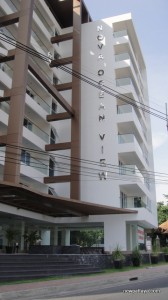 Nova Ocean View is located on Pratamnak Hill Soi 6 and the construction was completed in April 2011. It is a brand new development by the Nova Group. We must not forget to mention that Tulip Group is a partner in this project. The distance to the beach is about 450 m.
Nova Ocean View condominium is an 8 story luxury building with a rooftop terrace and swimming pool overlooking the sea. The sea view from the rooftop is of course stunning. The size of the units: 45 m2 – 106 m2 and the price: 2.700.000 Baht – 8.100.000 Baht.
As always, you get high quality products from the Nova Group, after all they are one of the most successful developers in Thailand.
21 january 2013: Quite amazing that you can get award winning property at 49.950 Baht per square meter in 2013. Nova Ocean View won a Thailand Property Award in 2010, it was Highly Commended in the category 'Best Condo Eastern Seaboard'.
It is easy to portray developers as being greedy monsters so it is nice to prove that is not always the case. Compared to what property is selling for in Bangkok this developer is practically giving it away for free.