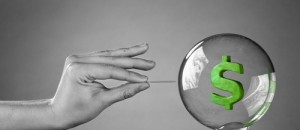 Here we go again. This time in the midst of a global pandemic, a worldwide spread of a new disease called Covid-19. So how am I supposed to start the story this time around? To be completely honest I am not in the mood for it. Am I enjoying this? No, not at all! Is it draining my energy? Yes! But somebody has to do it. Frankly speaking, do you know anybody better qualified? The fact is that nobody cares about what is going on in Pattaya. Or even in Thailand for that matter. Face it, I'm all you have right now. I can help you explain a thing or two. If I do it, it will not be boring. You see kid, if you've got it, you know it.
Why not? There is a "good" story to be told here, a once in a lifetime opportunity to get some attention if you're into that sort of thing, a chance to make some noise just like in the good old days.
Well, to understand the future we have to go back in time. The last property crisis in Pattaya was caused by the Russian annexation of Crimea in 2014. The idea that small causes may have large effects, also known as the butterfly effect, that idea is not so far-fetched after all. Before 2014 the Russians were the best customers in the property sector in Pattaya, they were buying a hell of a lot of condos. Between 2014 and 2016, the Russian ruble lost half of its value on international currency markets. Talk about having all the eggs in one basket. Mind you, that was just before the Chinese entered the scene.
That was then, some 6 years ago. The Russians more or less disappeared from the scene and there was a local property crisis in Pattaya. It was felt throughout the city. It was a big thing indeed!
Ok, are you still with me? By now, you have probably figured out what comes next. Yes, it seems so easy when you are reading the words but it is damn hard putting the words on paper. Ok, back then just a single country caused a hell of a lot of problems for Pattaya. Now imagine the same thing happening on a GLOBAL scale!
So what is the situation now in 2020? The whole freaking world is in pain. The whole world is in chaos. There are ZERO tourists in town, in case you hadn't noticed. This has been going on since March 2020. Thailand was one of the last countries to close to tourism and we don't know when international tourists will be allowed back in the country. It is not just Thailand that is reluctant to open up again, it seems to be a problem for the whole region. Even Australia and New Zealand are acting more weird than expected.
One theory is that they will open up when they receive the green light from China to do so. China has an enormous influence on Southeast Asia because of the size of its economy, its geography, and its growing military capabilities. I am not sure Thailand is even interested in opening to tourists other than from China!
So why is the absence of tourists a problem? Pattaya is a city where most businesses rely on international tourists. The same thing goes for Las Vegas in the US, Phuket, Koh Samui, Hua Hin etc. Even in Bangkok there is, it seems that way at least, a hotel on every corner, along with restaurants and thai massage shops. Bangkok used to be the most visited city in the world! Please think about that for a minute.
The direct contribution of travel and tourism to GDP is probably around 25%. It is difficult, and probably impossible, to state the exact percentage because of the widespread black economy in the country. The black economy is a segment of a country's economic activity that is derived from sources that fall outside of the country's rules and regulations regarding commerce. If some reports are to be believed, the size of Thailand's shadow economy is equivalent to 40.9% of the country's GDP. The point of all this is that international tourism is extremely important.
So, back to good old Pattaya. Yes, the developers have stopped launching new condominium projects in 2020. Completely stopped. How is this Corona crisis in 2020 compared to the 2008 financial crisis? I was there in 2008 and I can assure you that life went on. There were tourists in town back then. The hotels and restaurants were not closed in 2008. The COVID-19 pandemic is hitting many industries harder than the 2008 financial crisis, and most industries will take longer to recover from the losses they sustain. The COVID-19 pandemic is exerting a more radical and abrupt effect. It has put the real economy out of action immediately and completely – evaporating supply and demand simultaneously.
No new condominium projects in town is one thing, but what will happen to the projects that were launched recently? Again, we must go back in time to the Russian crisis in 2014 to find some answers. I quote Mr Rony Fineman, CEO of Nova Group, January 2015:
"The problem with Ocean Pacific was that 90 per cent of the buyers in the project were Russians and, given the dramatic recent fall in the value of the rouble, we were certain that if we went ahead and built it then buyers would not be in a financial position to transfer and probably stop payments."
A very high numer of projects were cancelled during the Russian crisis. Simply because the buyers stopped the payments. The COVID-19 pandemic is a thousand times worse. What do you think is happening as we speak? Come on, I have handed it to you on a silver platter. With the mass unemployment on a global scale, what do you think is happening? Just how many of the condo projects that were launched during the last 2 – 3 years will make it? The are all off-plan projects so the buyers are the ones paying for everything, not the developer. This thing is hitting all the countries on the planet.
Will the property market recover one day? Don't jump to conclusions. Not this time. Unfortunately nobody knows what the future holds. At the moment there is no reason to be optimistic. We are only at the beginning of the pandemic.
Published 13 July 2020
Want more information? Contact us on FACEBOOK