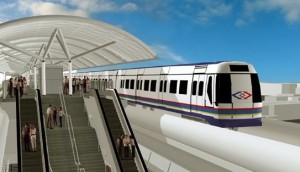 Purple Skytrain. This is not just a Mega Project, this is an awesome Ultra Mega Project with a budget of more than 1 Billion U$ Dollars. Bangkok will soon get a new Purple Skytrain system with 16 stations and soon in this case means around 2015. The 23-kilometer railway system will not be called BTS like the old Skytrain, instead it will be called the MRT Purple Line. Just like the BTS, the new MRT Purple Line will be an elevated train system. So which is better, an elevated train system or an underground train system? Many people, myself included, feel more comfortable with an elevated train system. However, riding the Skytrain is not as fun as it used to be. The BTS trains are not just crowded, most of the time they are over-crowded. I do not recommend to bring children or elderly people as it is not a pleasant experience to ride the train, actually it has become a bit of a nightmare because of too many people and too few trains. You will get from point A to B rather quickly but you will most likely not enjoy the ride. The authorities could could solve the problem by buying more trains resulting in more trains in service but that is not likely to happen.

The MRT Purple Line will have 16 stations from the Bang Bua Thong district (บางบัวทอง) to Tao Poon station (เตาปูน). For your information Bua Thong means golden lotus, that is a nice name for a district. And Bang Bua Thong is very far away from the centre of Bangkok, many Thais have heard about it but never been there. The first (or last) station at Bang Bua Thong is called Khlong Bang Phai and it is located on Outer Ring Road also called Kanchanaphisek Road or Motorway route 9. You don't need to worry if you don't know what I am talking about as this is deep inside information from the guru himself – no foreigners know about this, they never come here. But all that is going to change soon.
Tao Poon Station (S16) is an interchange station that allows commuters to travel to the centre of Bangkok by switching to the MRT Blue Line system. The existing MRT Blue Line system at Bang Sue station will be extended and connected to Tao Poon station via a tunnel and a transition structure.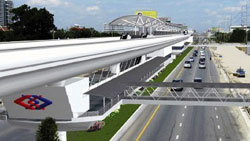 Even though this article is mostly about the MRT Purple Line up in Nonthaburi I will throw in a few construction goodies along the way to show you what is happening in the property sector in Nonthaburi. Yes, I know you have never heard about Nonthaburi but in just a few years time local roads like Krungthep – Nonthaburi Road, Tiwanon Road and especially Rattanathibet Road will be as famous as Sukhumvit Road. The property sector is BOOMING in Nonthaburi, all thanks to the new fantastic Purple Skytrain.
Purple Skytrain. Remember that name because that is what it is going to be called in the future. That is not the official name which is MRT Purple Line, it is the name that I personally have given the project. Purple Skytrain simply sounds better and that is the end of that. I know I am right on this one. I have also written an article about the MRT Blue Line Extension – Part 1.
Here is how my story about the MRT Purple Line started: up 4 o'clock sunday morning the 3rd of february 2013 and then off to Bangkok. As you know I am Thailand's leading property and construction guru and as you all know a guru has to be very well informed. Us gurus are not leading the easy life, we can never relax, it is hard work all the time.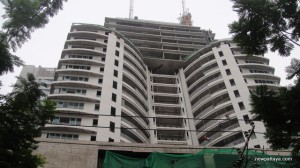 The first stop on my journey from Pattaya was Sukhumvit soi 23 where Sangfah Group is building a 34-storey high-rise that I believe it will be Chodtayakorn serviced apartments. Sangfah has a 1000 MB construction contract, everything looks very nice and in 4 – 6 months time the project will be completed. Around 2 years time, that is all they need to complete such a big project. This is some god stuff that only a guru would know about. I had to stop by to check the progress of a few projects when I was in the area, for me it is like saying hello to an old friend.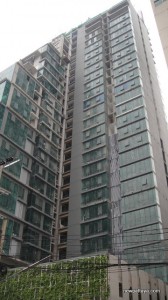 The next couple of stops on my way I will just mention briefly because this is a Purple Skytrain and Nonthaburi article. The Room Sukhumvit 21 by Land & Houses is almost completed. Prices start at 7 MB. A wonderful project that makes me wish I was rich.
Then I went to take a look at Supalai Premier @ Asoke that has reached the 9th floor by now, Syntec is the contractor. At this point there is a deeper reason for talking about Supalai PLC as that developer is very active in Nonthaburi as you will learn soon. You are about to read some top level guru stuff, information that is not available anywhere in the world and I am only happy to share my knowledge.
Then a quick look at Equinox and M Ladprao both by Major Development and both progressing nicely followed by a visit to Abstracts Pahonyothin Park that are two 35-storey condominium towers, one of which is already completed and the other has reached the top. Prices from 2.7 MB.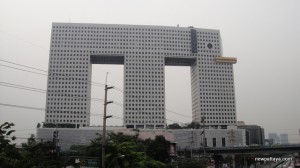 Since I was in the Pahonyothin area and since I was walking I had to say hello to the famous Elephant Building and another gigant project by LPN called Lumpini Place Ratchayothin. Then it was time to take a look at three projects on Ratchadapisek Road, first the 38-storey Wind by Major Development (370 units), a project that was completed April 2010 and then Vantage by Eastern Star, Vantage being the real reason for making this detour. It was very exciting to see the 32-storey Vantage (322 units) that is located right next to Supalai Park @ Ratchayothin, a 32-storey condominium completed by the end of 2012. Vantage had reached the 15th floor in december 2011 and will be completed around june 2013, the main building contractor at both Vantage and Supalai Park is Syntec, a company that has a dominating position among Bangkok's construction companies. I was talking to some Syntec workers, they were surprised to see a farang in this area. They asked whether I could do what they did with the steel bars (ทำเป็นไม่) or if I had eaten yet (กินข้าวหรือยัง) and if I was going to eat noodles (ก๋วยเตี๋ยว). I might mention that the project management at Vantage is by Stonehenge Inter. I left the workers with a big smile on my face and headed off to Bang Sue where the real adventure was about to begin.

I took the MRT Blue Line to Bang Sue and from there on I had to walk. I don't mind walking, I am what you might call 'a walker' but I don't recommend others to literally follow in my footsteps, that would simply be a too big undertaking for the average person, not so much because of the distance but because of the heat and the humidity. The humidity in Thailand is a killer. I must admit I had one of the best days of my life – I was very tired and very dirty by the end of the day but also very happy. The most exciting moment for me was seeing the construction of the Skytrain bridge over the Chao Praya River – just wait until you see my pictures later, perhaps then you will understand my euphoria about being there. Not just being there, but being there at the right time.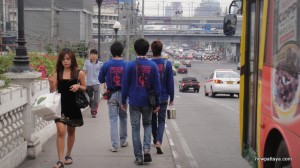 I walked and the whole day and from Bang Sue and onwards I did not even see a single foreigner. A whole day in Nonthaburi and no tourists or expats, this is what I call unspoiled thai country. No massage shops, no bars, no entertainment venues, perhaps that is why there are no foreigners here.
The foreigners and tourists will soon invade this area too, remember we are north of Bangkok close to the old Don Muang airport that now serve low cost airlines like Air Asia. Furthermore we also have the good old Chao Praya River up here and it is just as beautiful as further downstream.
The Purple Skytrain is already changing the area dramatically and there is still plenty of land available for developers. It is amazing to vitness how a train system can change a city and bring economic growth. We have seen it happening along Sukhumvit Road and it is still happening there despite an over-crowded Skytrain. The mantra is simple: You build near the train stations. Whether it is logical or illogical does not matter because it works that way so there is no point in analyzing any further.
The Purple Skytrain has two building contractors. One is CKTC Joint Venture which comprises two companies, Ch. Karnchang Public Co., Ltd. and Tokyu Construction Co., Ltd., that company is working from Bang Sue and a distance of approximately 12 km or 8 stations. The other contractor is Sino-Thai Engineering & Construction PLC that is building the remaining 8 stations covering a distance of 11 km including the bridge over the Chao Praya River.
Furthermore there is a group of 11 consultant companies managing the project, including two german companies DB International Gmbh and D2 Consult Ingenieure Zt-Gmbh.
Some of the most active developers in the area along the Purple Skytrain include Supalai PLC, Narai Property, SC Asset and AP.
Published 5 February 2013.
"The desire to seem clever often keeps us from being so" 🙂 (Francois de La Rochefoucauld). Notice the word "often", it opens up for exceptions. Why is Francois so serious, sometimes somebody is just having fun. There is no harm in teasing the general public, is there…
Below you will find 169 pictures that were all taken on the 3rd of february 2013. Enjoy the journey.
This is the tunnel and transition structure that connects Tao Poon station and Bang Sue station. We start the journey at Tao Poon station and move slowly towards Nonthaburi.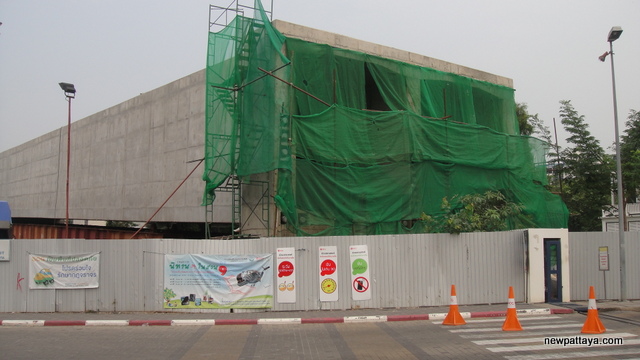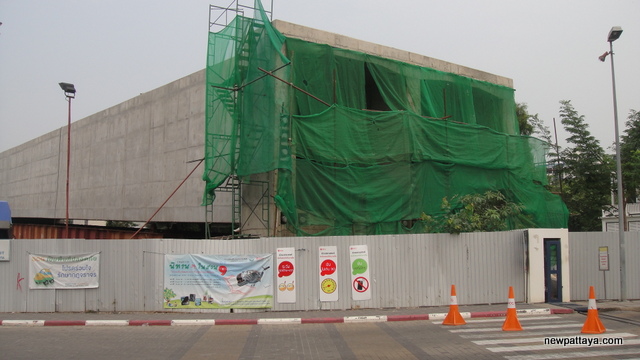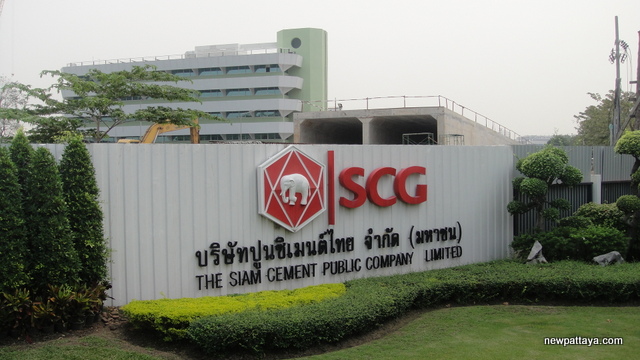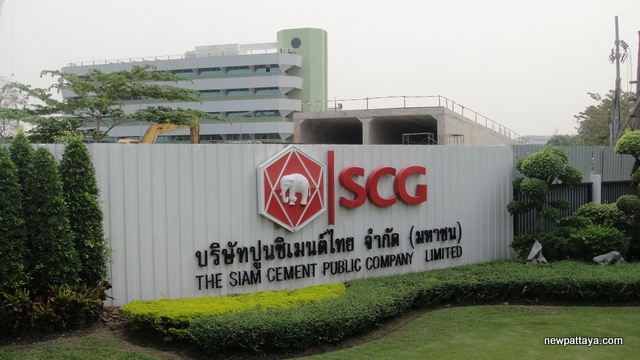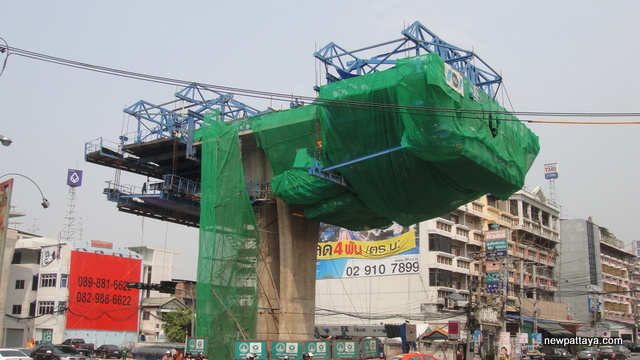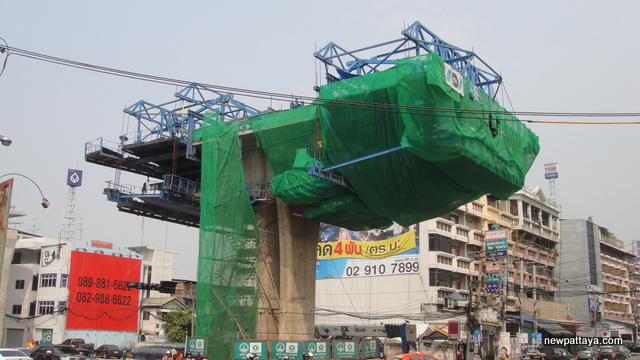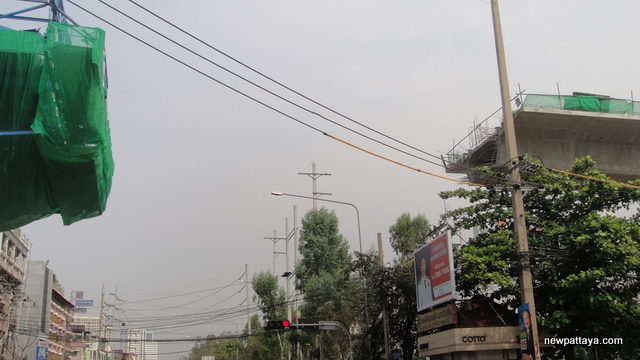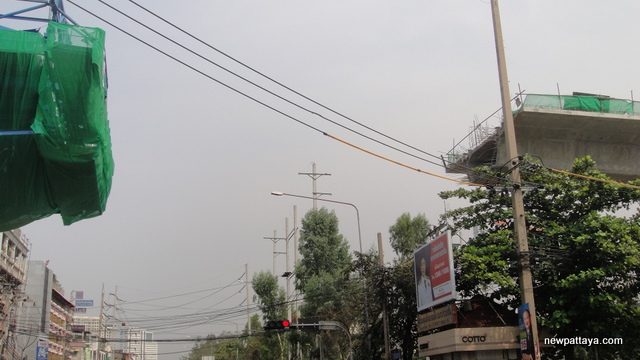 Approaching nirvana, sorry, I mean approaching Tao Poon station.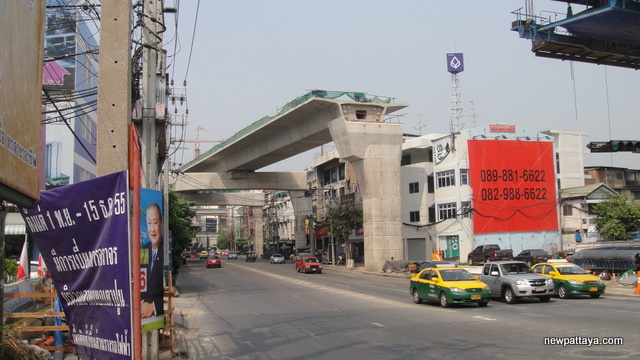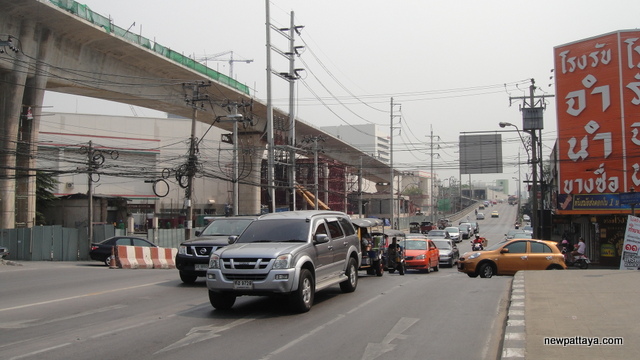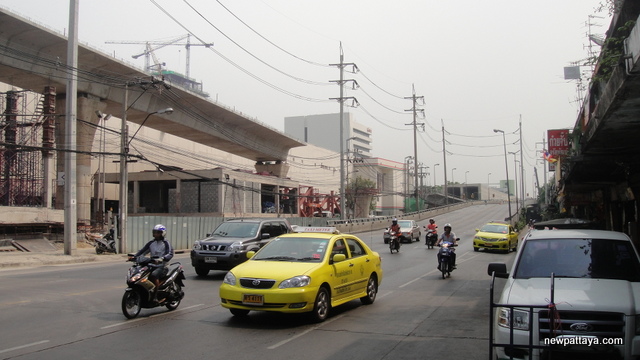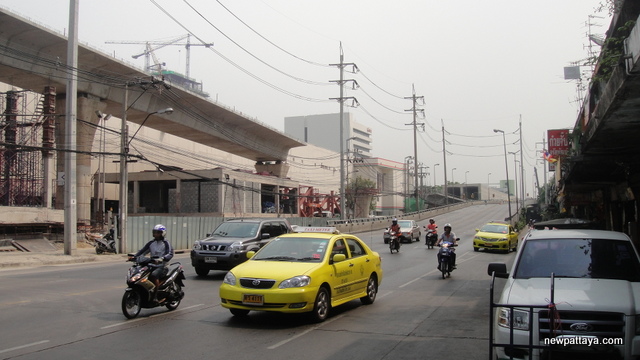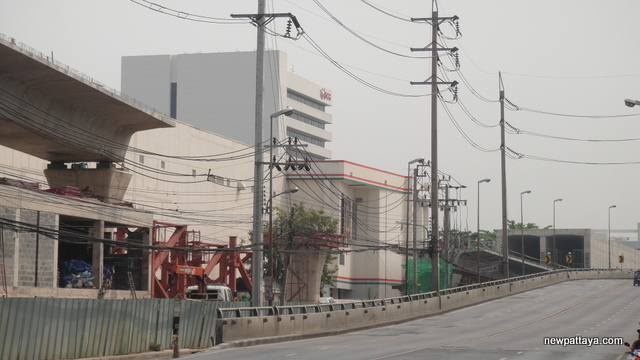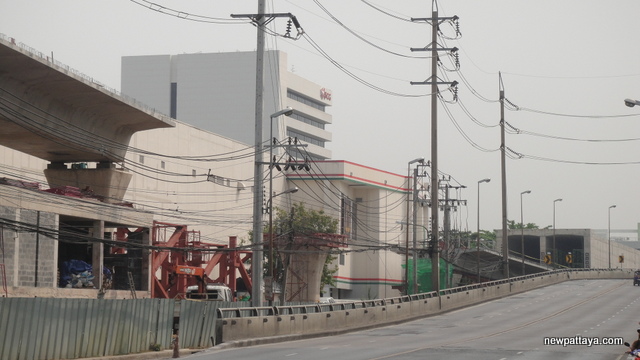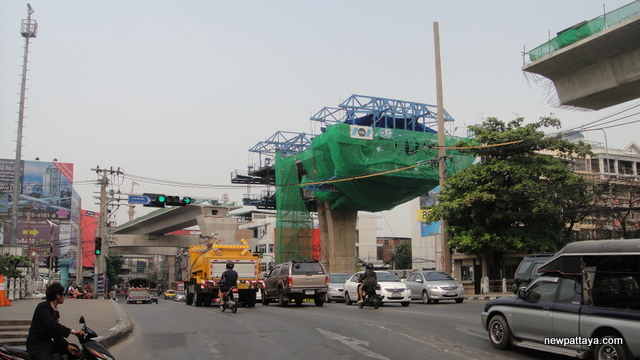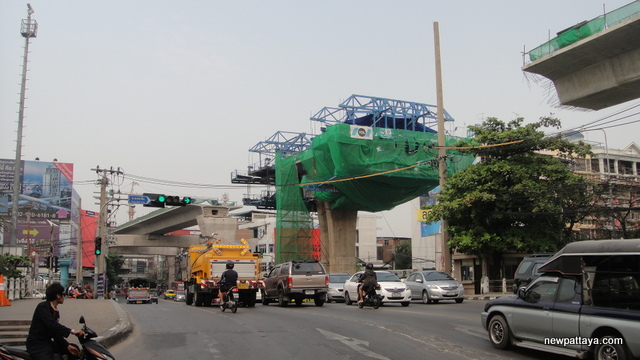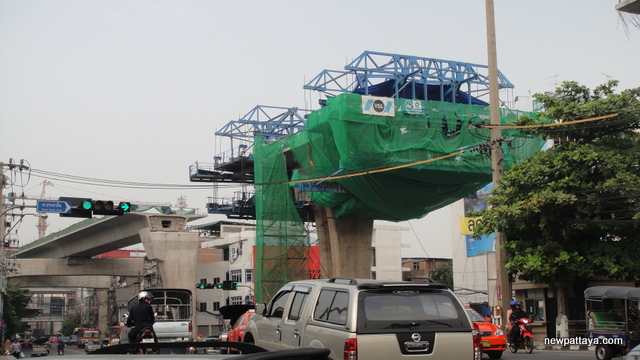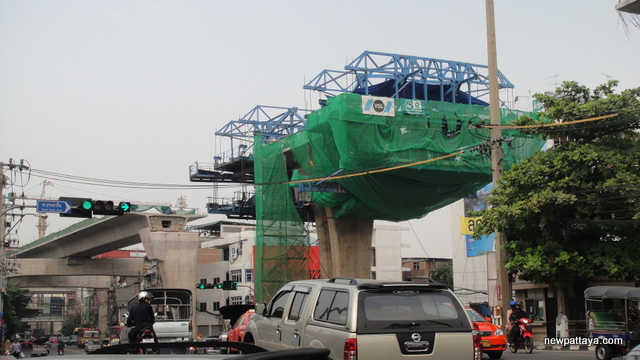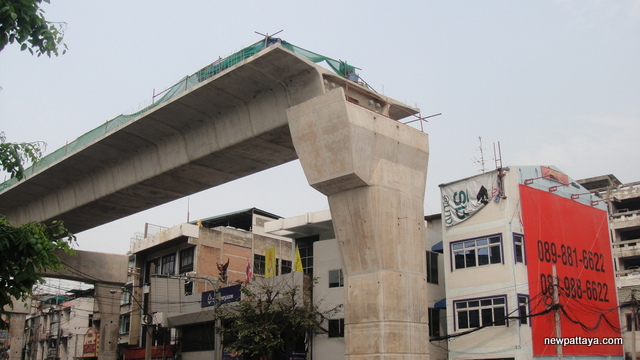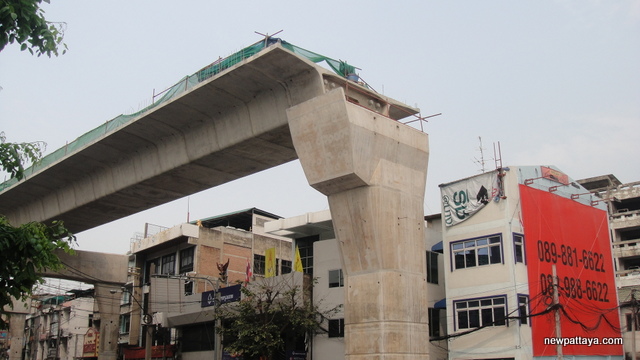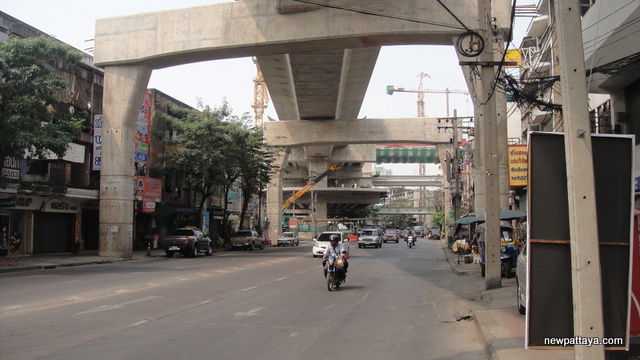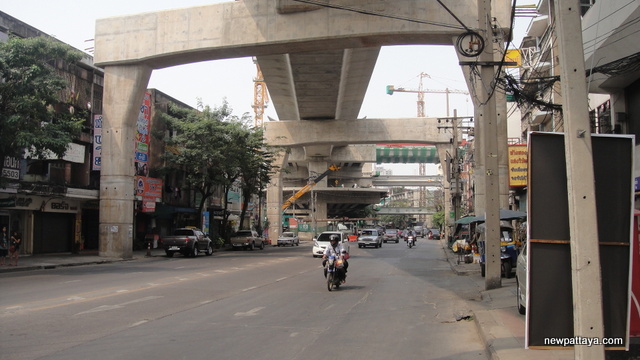 Tao Poon interchange station. This is where the Blue Line and the Purple Line meets. Bang Sue is the first station if you take the Blue Line and you want to go to the centre of Bangkok.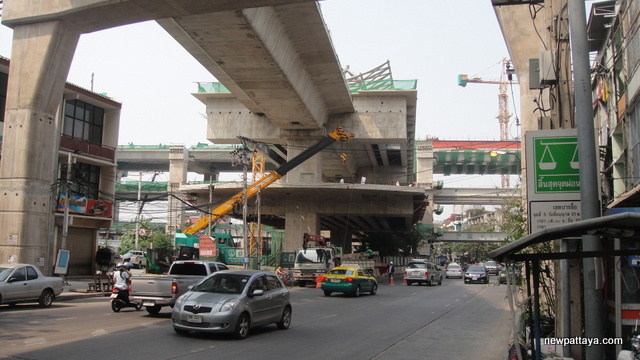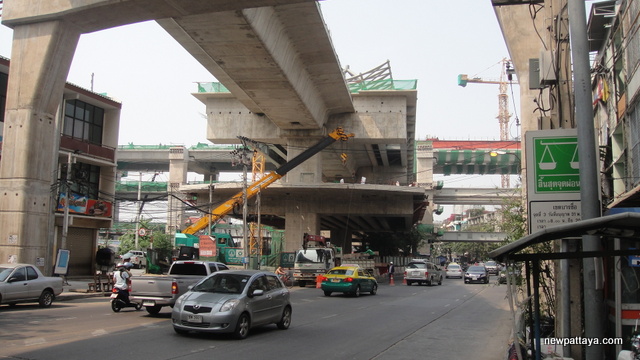 Magnificent, isn't it. Joy, happiness and big smiles all day long. I am on a journey to the core of my being.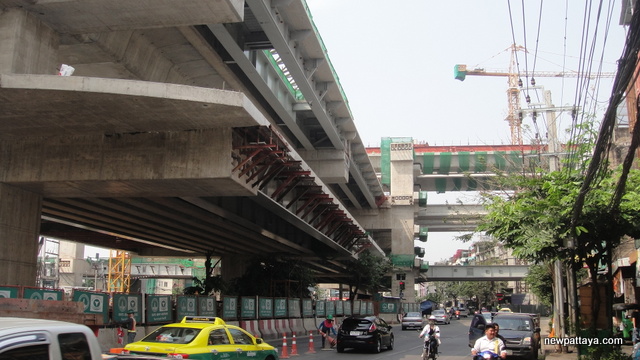 CKTC Joint Venture comprises two companies, Ch. Karnchang Public Co., Ltd. and Tokyu Construction Co., Ltd., that company is working from Bang Sue and a distance of approximately 12 km or 8 stations.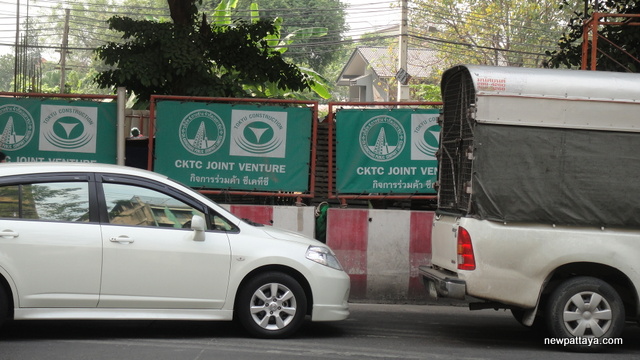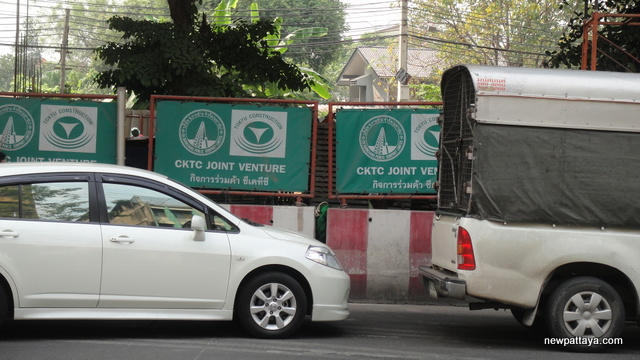 Look at these steel beams. Mario Kleff would probably make circular holes in these steel beams 🙂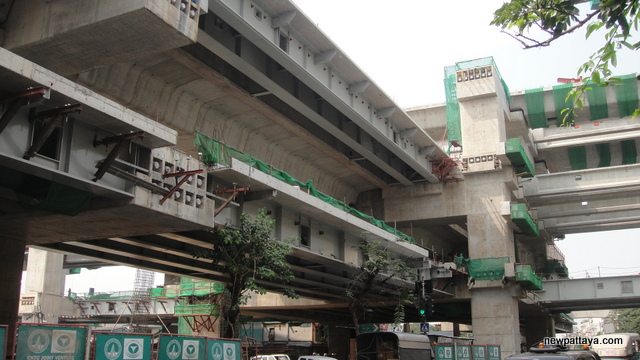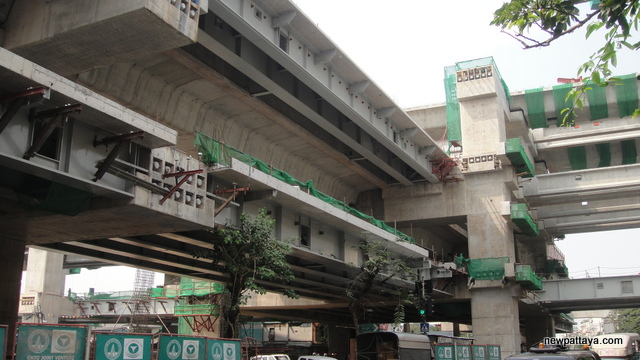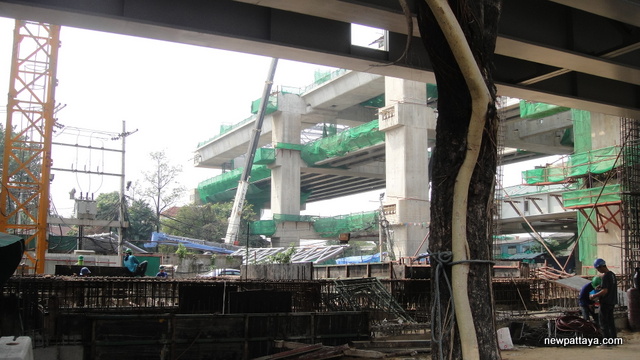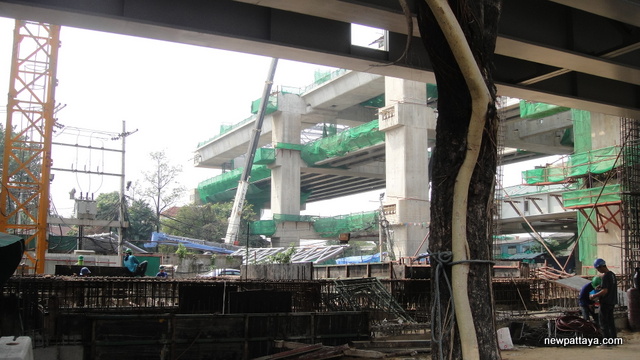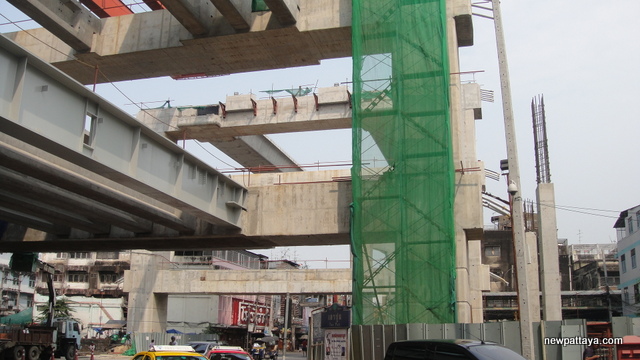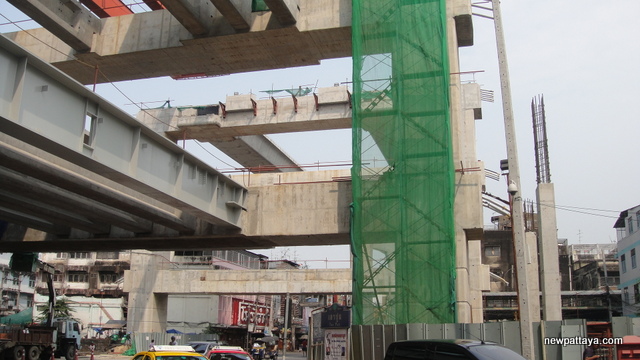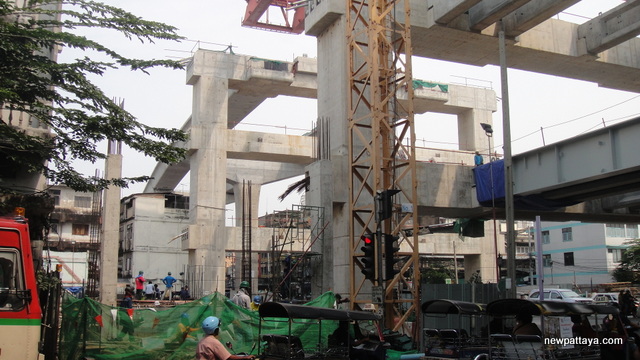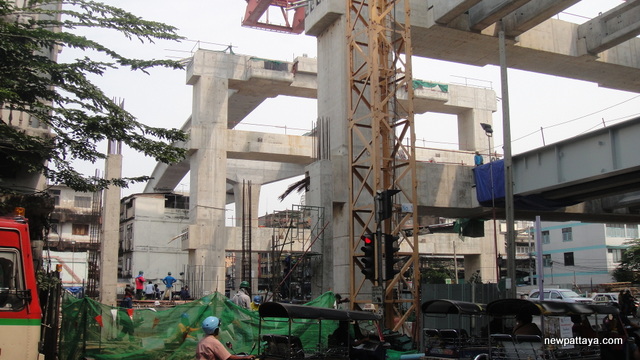 Look at that. It is almost science fiction-like. Too good to be true. This is better than high-rises.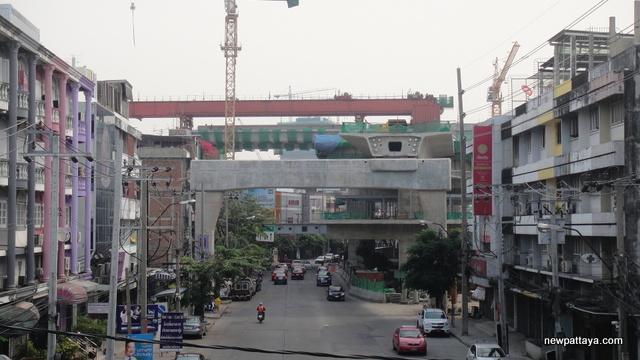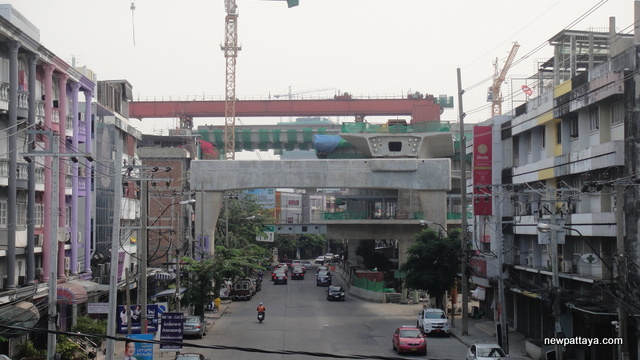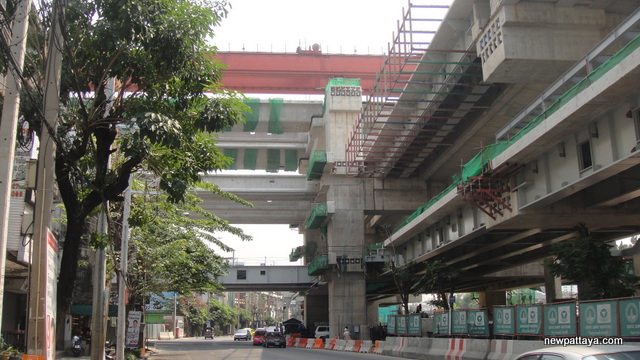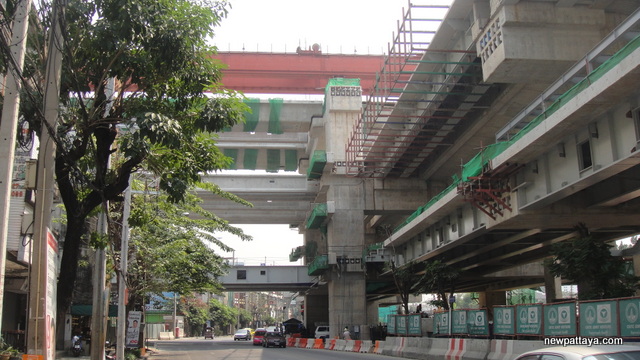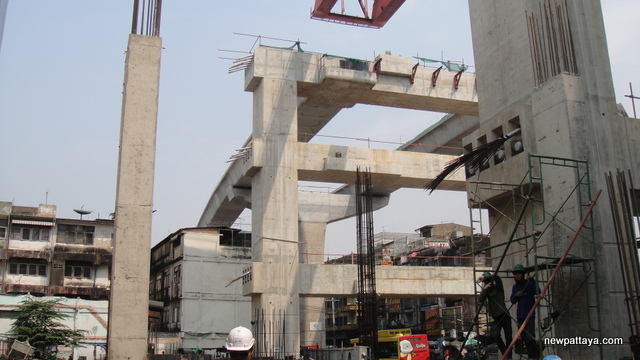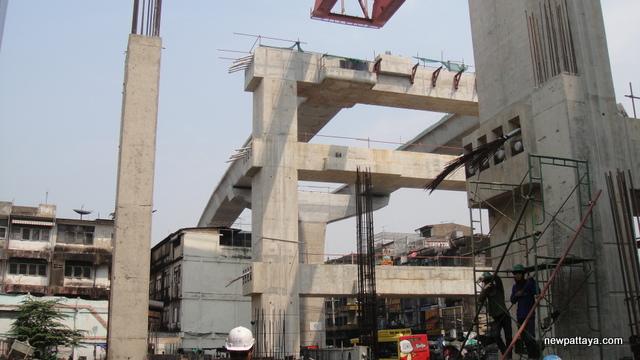 This is a good picture. I like it.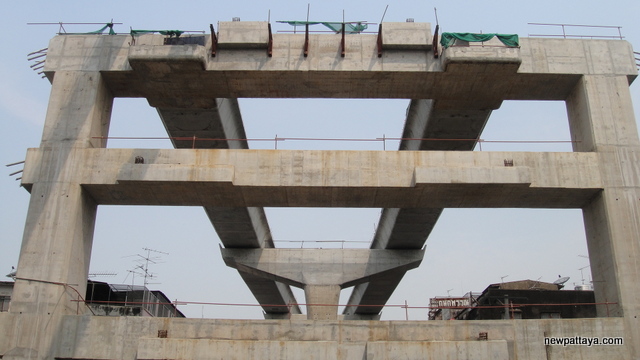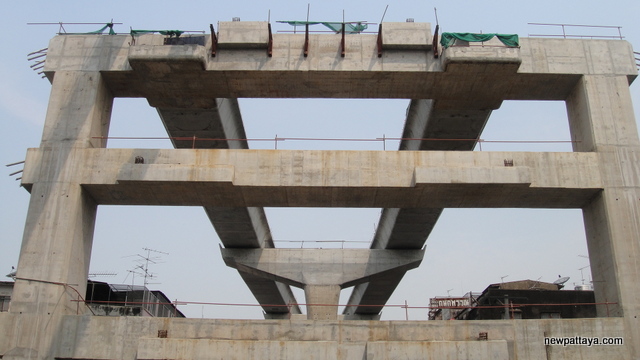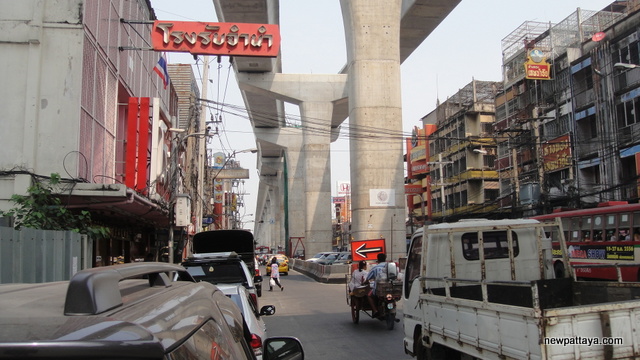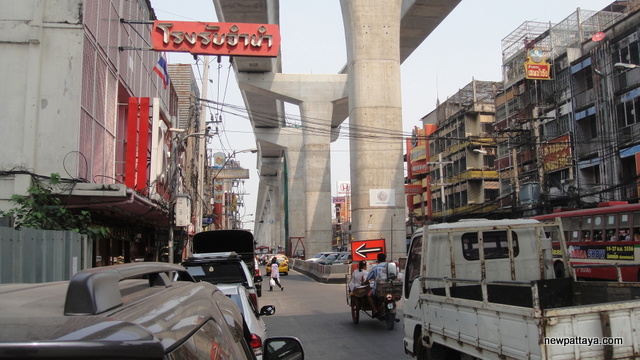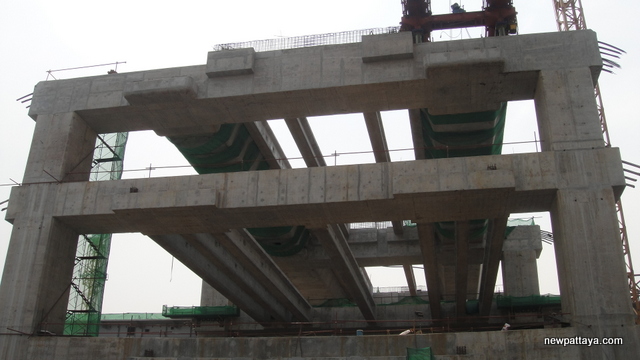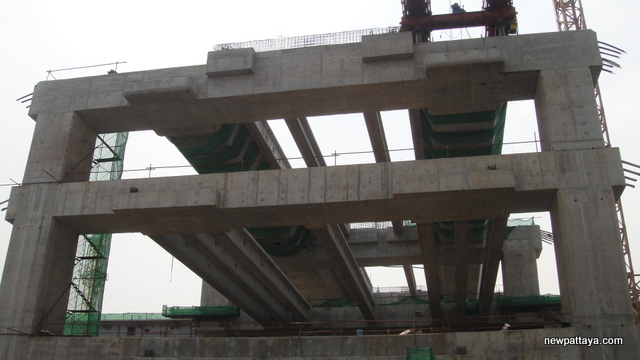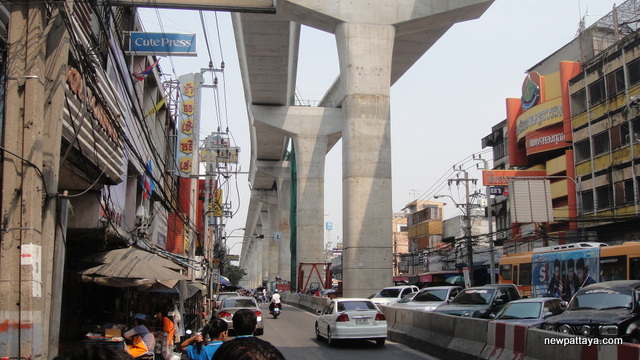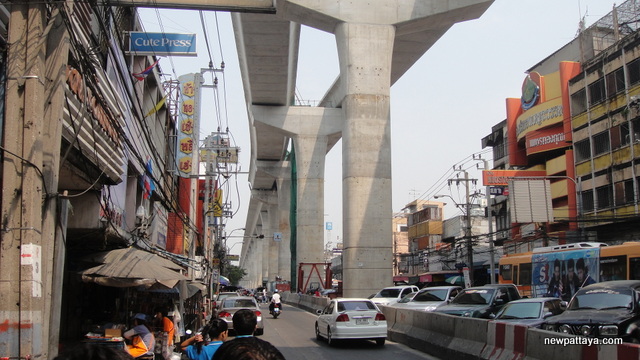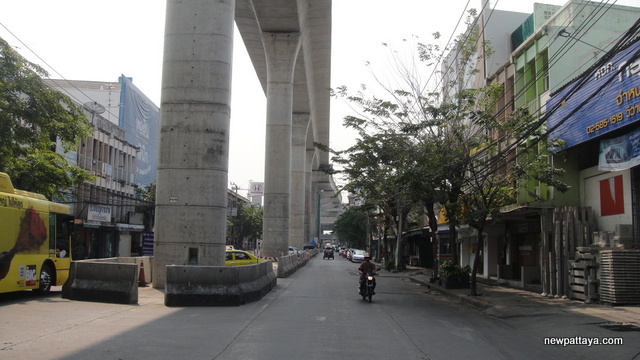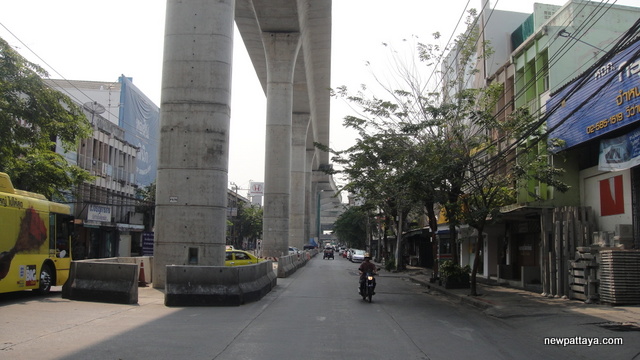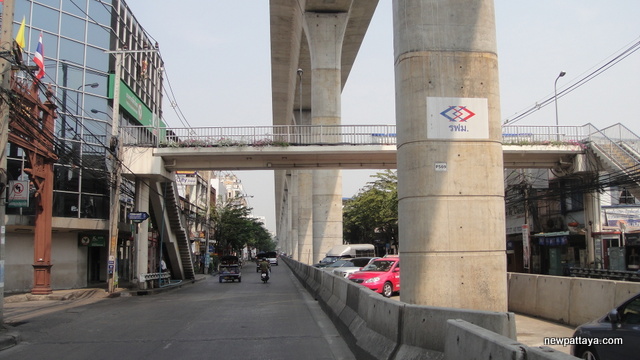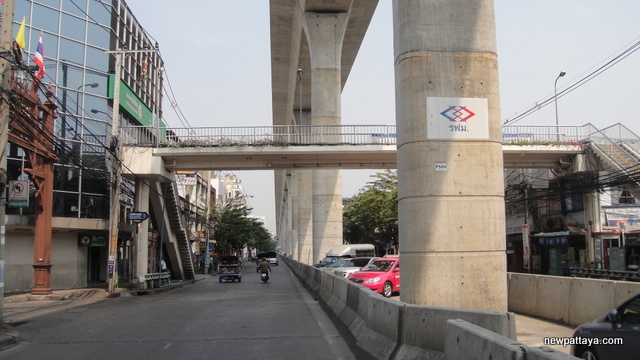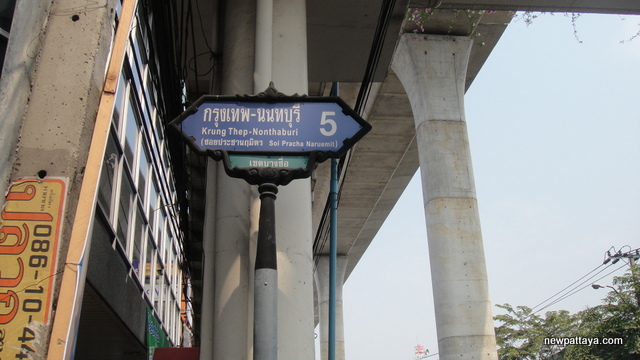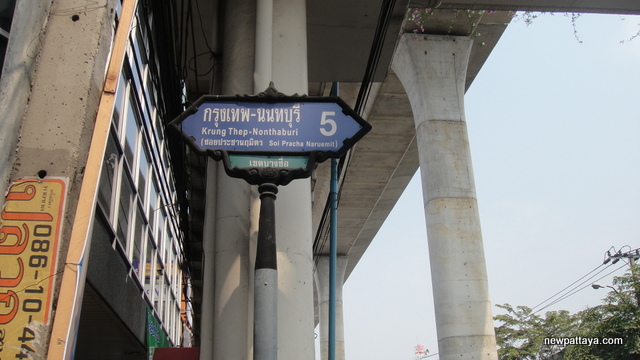 Standing elegantly like a lady. Fantastic, baby!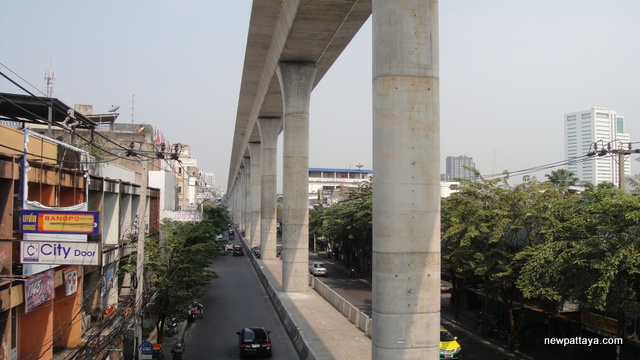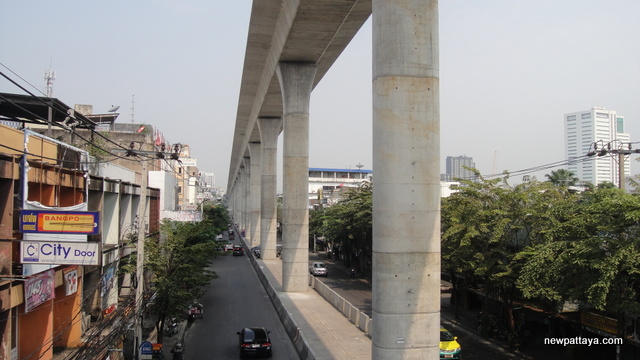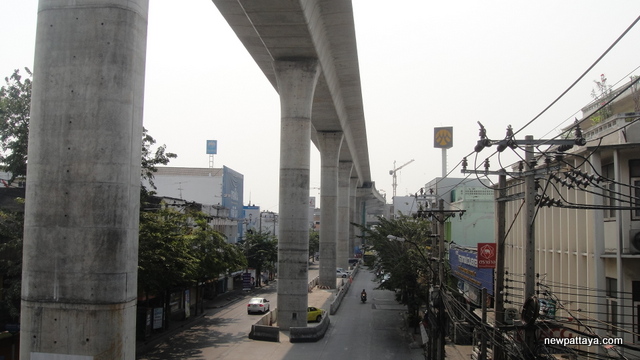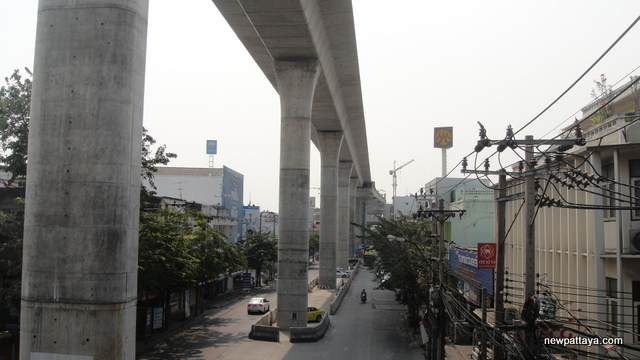 Bang Son Station. A lot of work has gone into making this article so I hope you appreciate it. A lot of cement and a lot of steel bars are needed for this ultra mega project.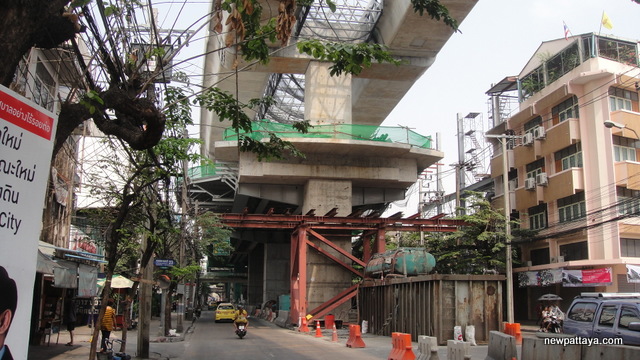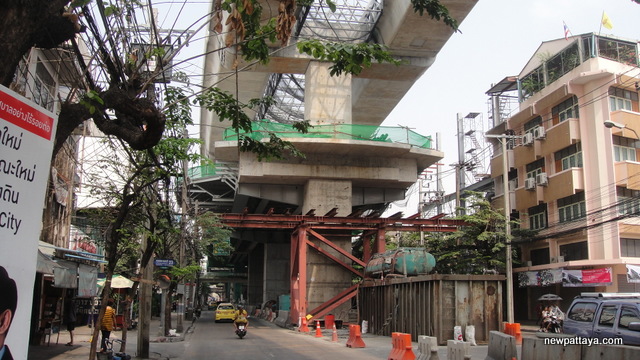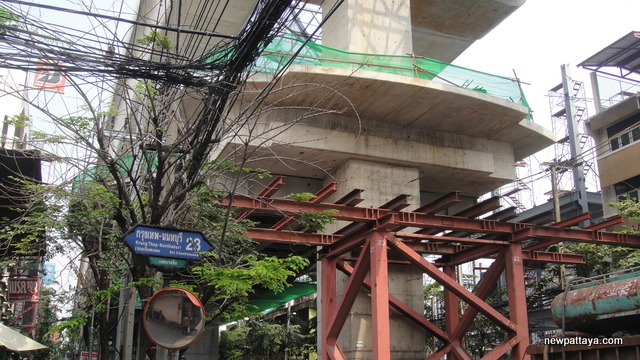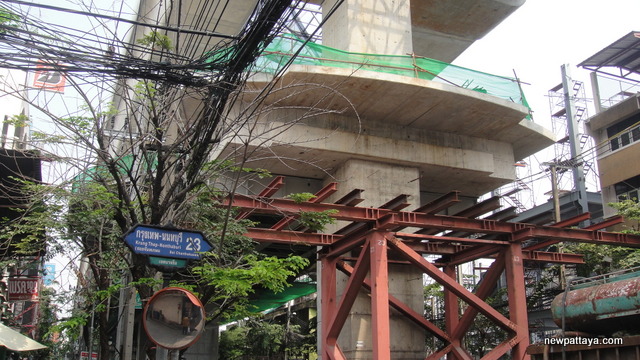 This steel beam structure will be the entrance to the station. All stations will have some kind of access way from the sidewalk.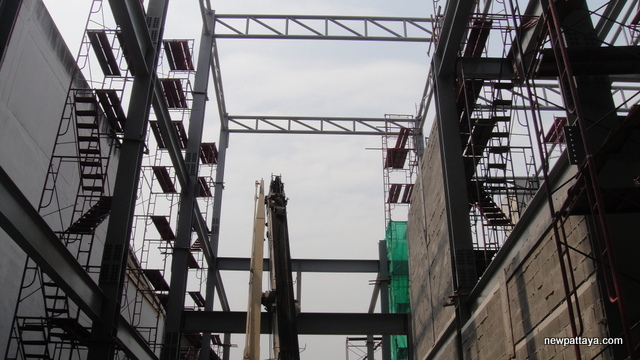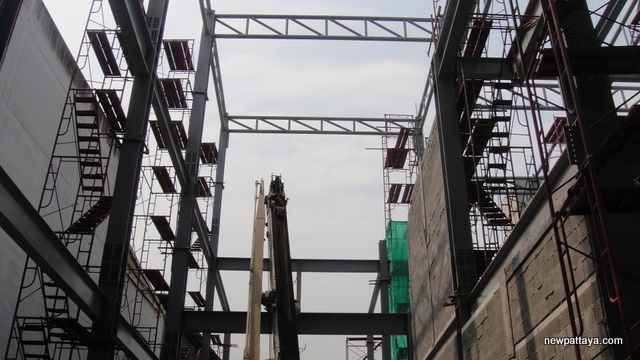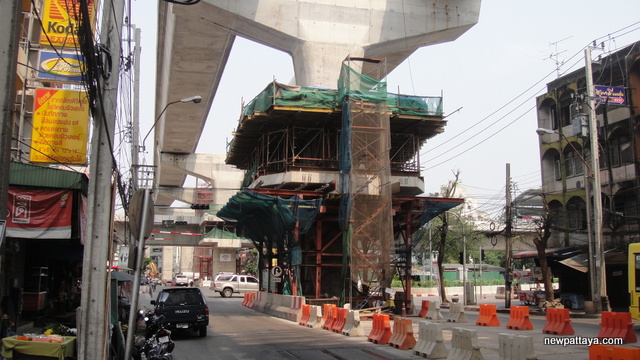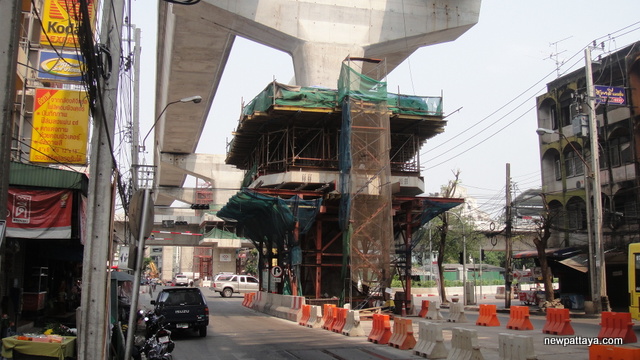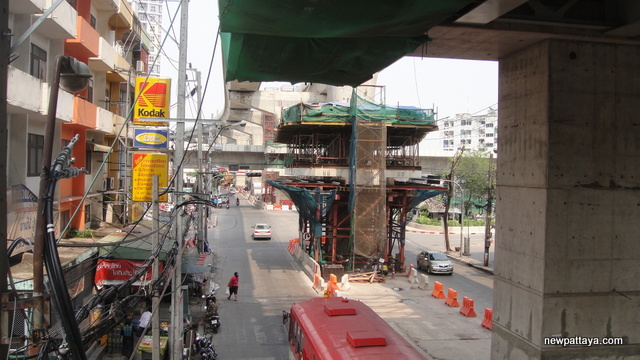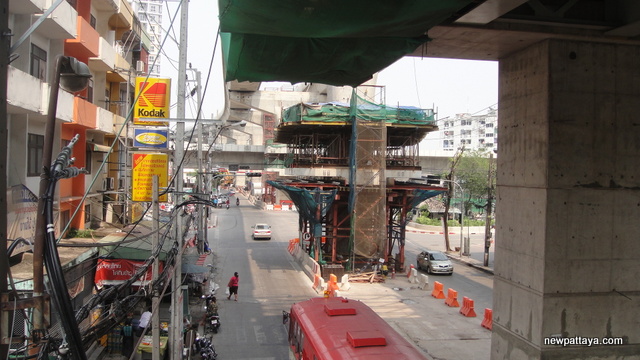 This is Rich Park @ MRT Bang Son Station, www.RP.co.th
February 2012 they were working on the first floor that means they have been working very fast on this project. This is a 27-storey building with 803 units. Yes, I said 803 units, each unit is between 28 and 30 sqm.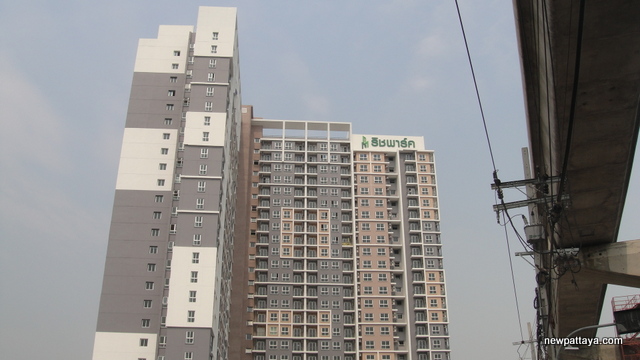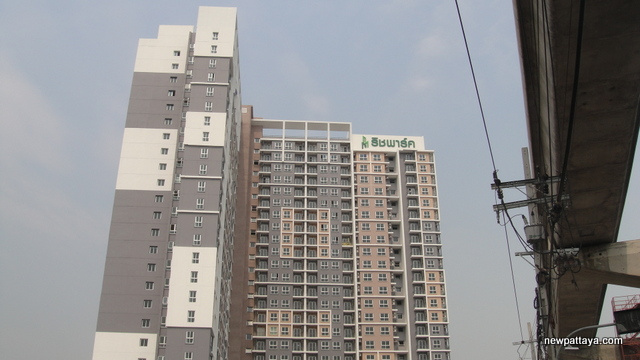 I was talking to a guy, he pointed at the Rich Park condominium and said: "this building is much taller than the buildings on Sukhumvit, do you know that". Obviously he was very proud of having a high-rise up here.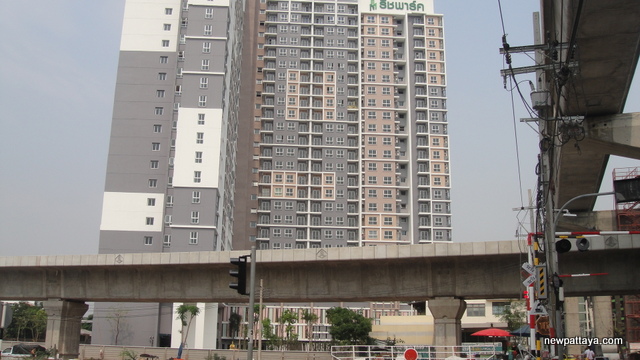 Stay sharp, it is going to get a little complicated here. Bang Son station is an interchange station with the SRT Light Red Line under construction, STR being the State Railway of Thailand. Unique Engineering and Construction PLC is the contractor for this project.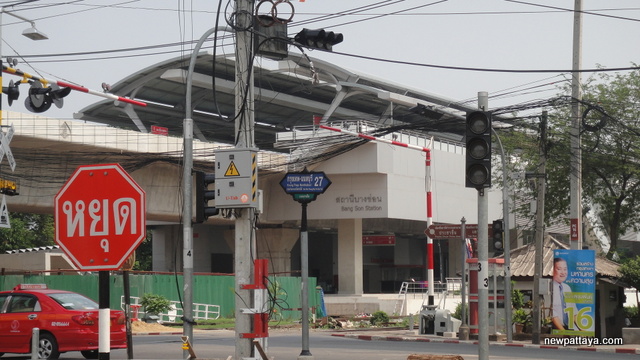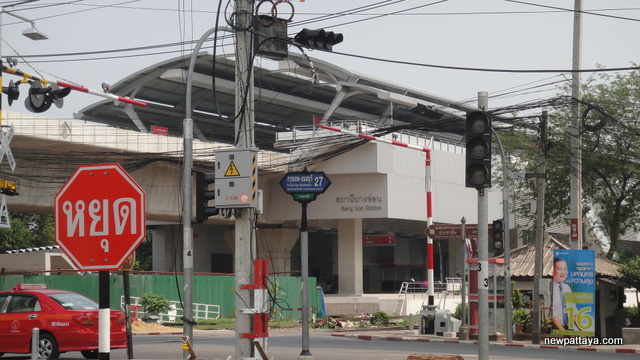 This is the Light Red SRT Line, not the Purple Skytrain.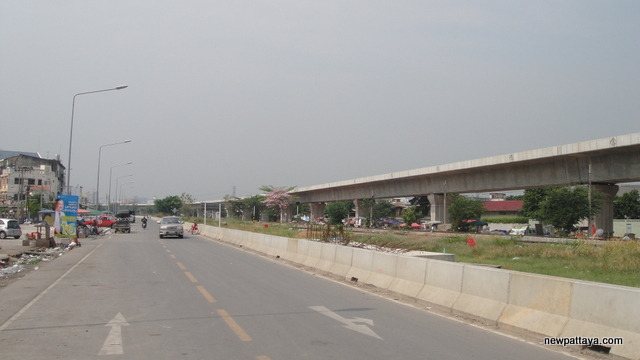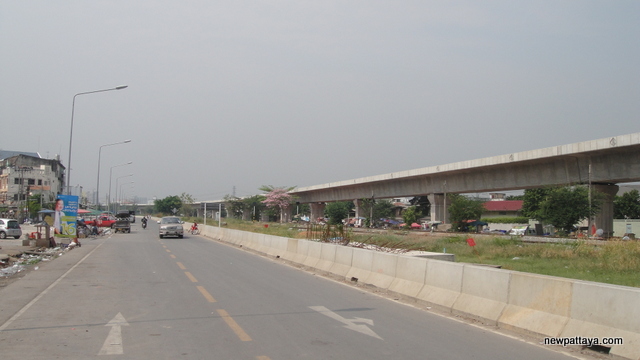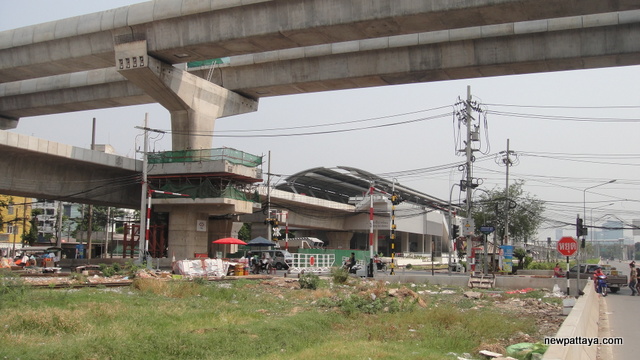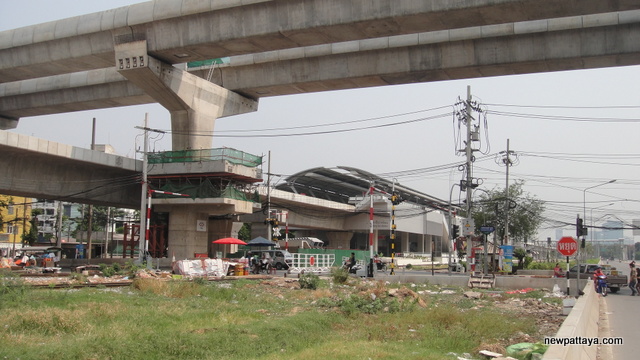 The Purple Skytrin is the one crossing over the SRT Light Red Line.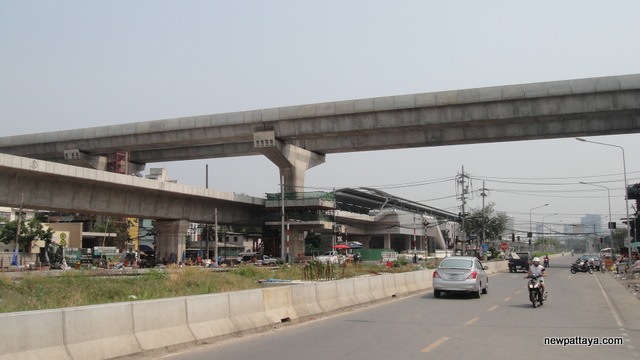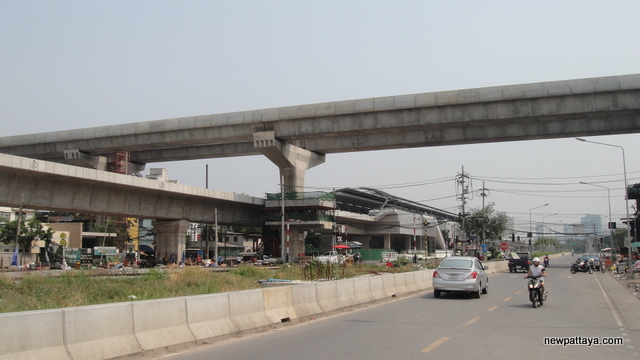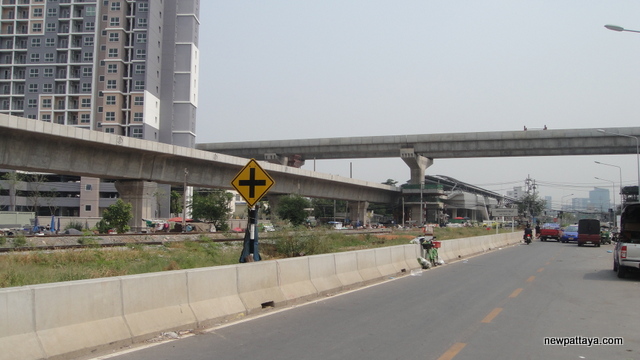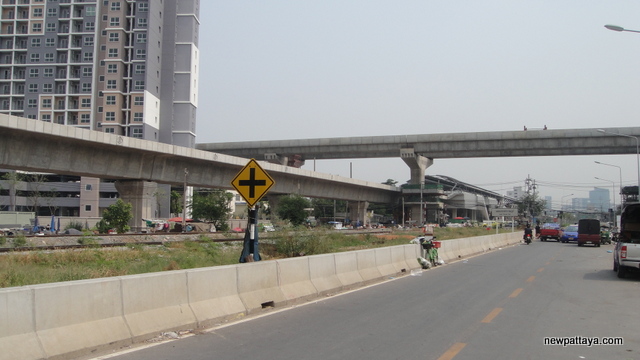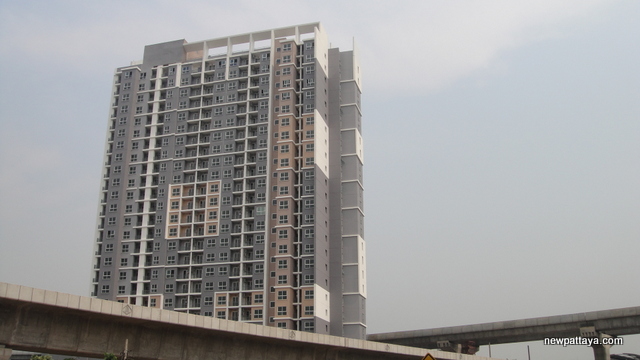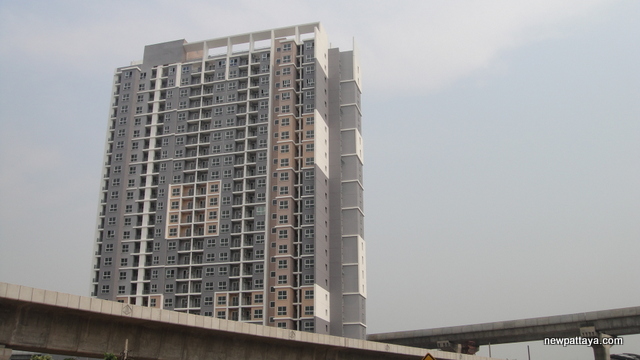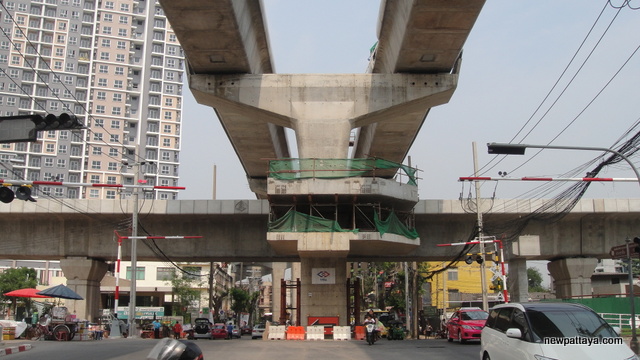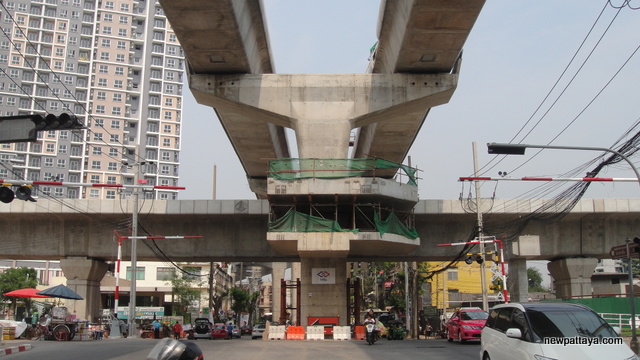 Bang Son Station @ The Light Red SRT Line. NOT the Purple line.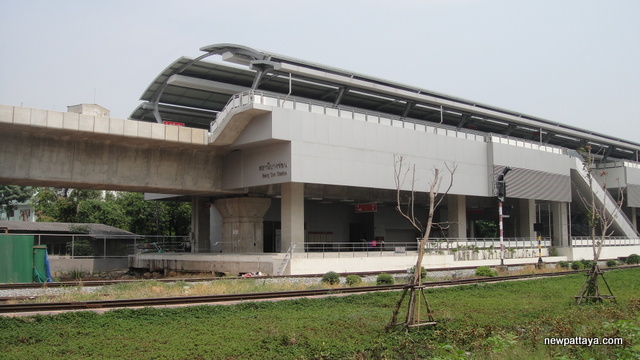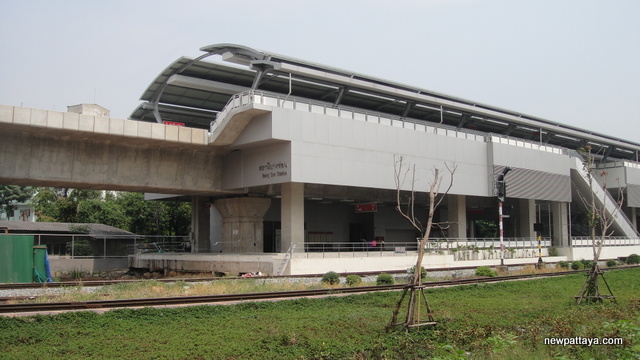 Thailand is changing, I just thought I would let you know.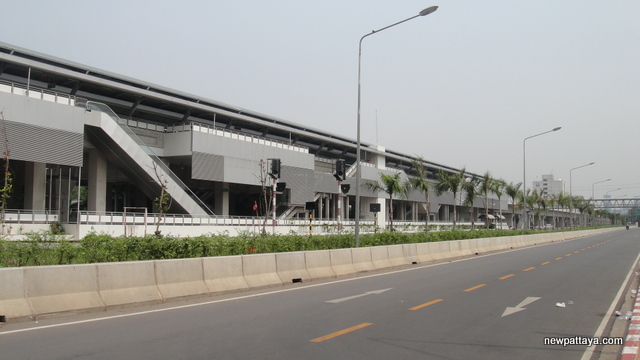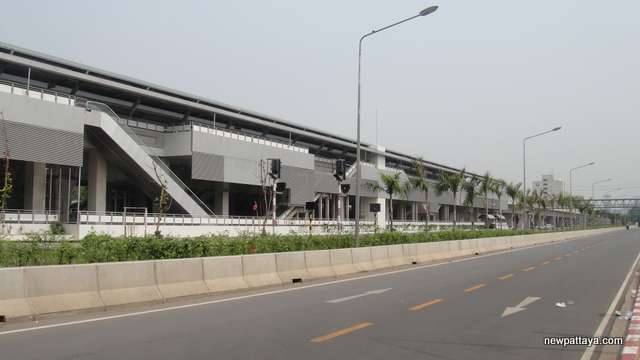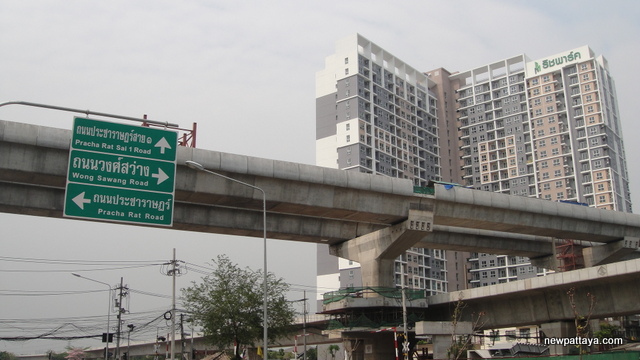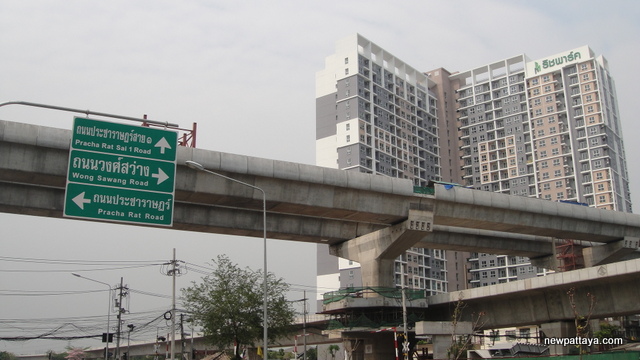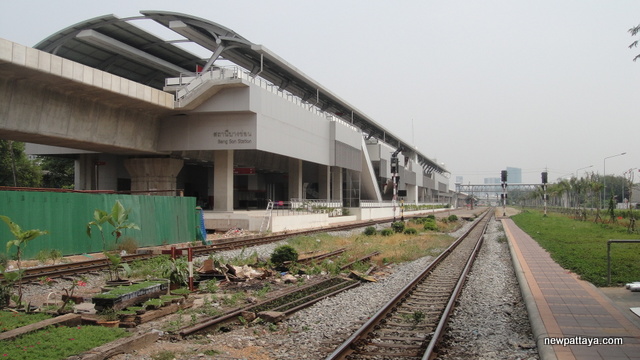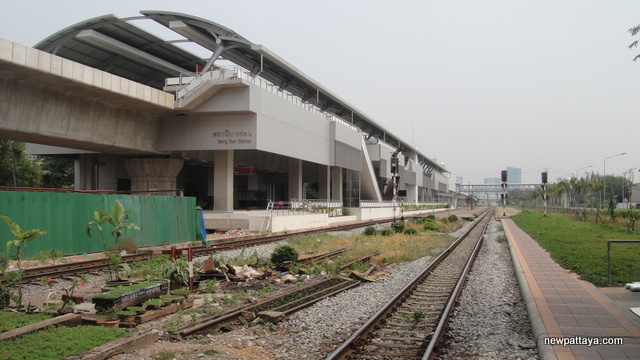 We are back on track, this is the Purple Line again.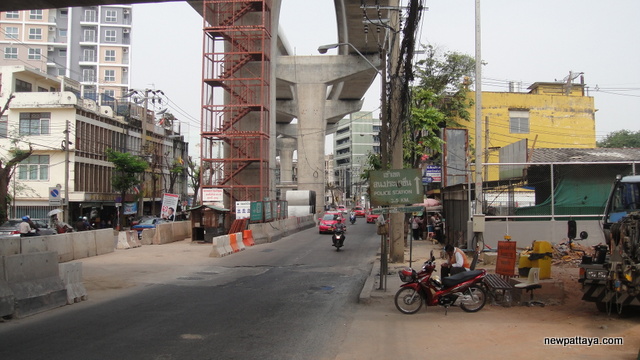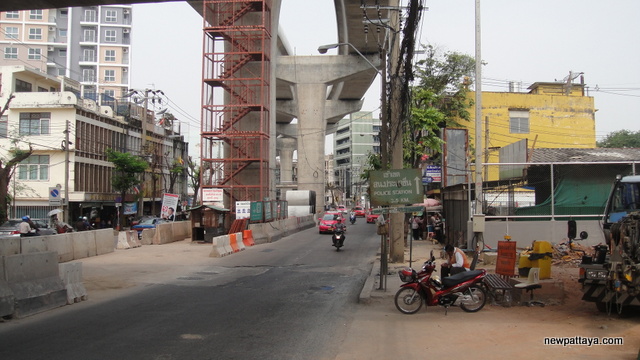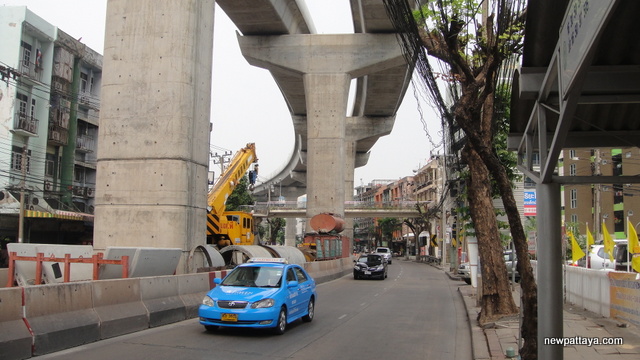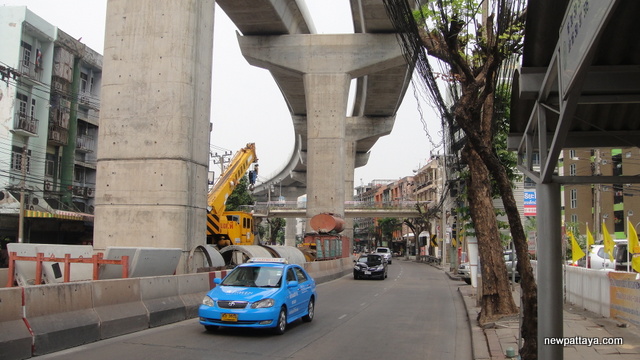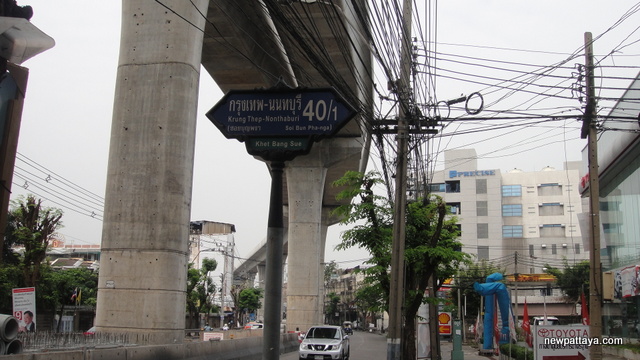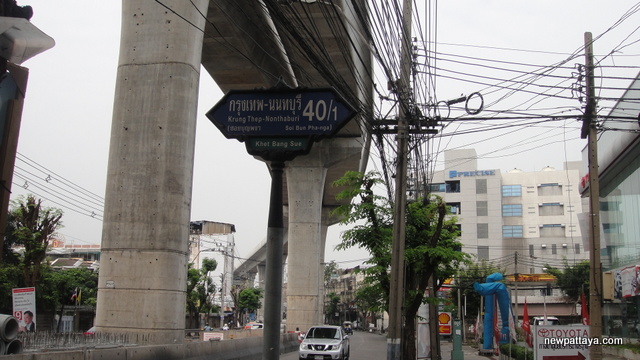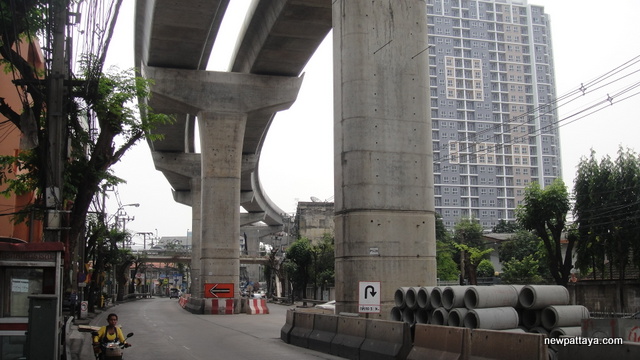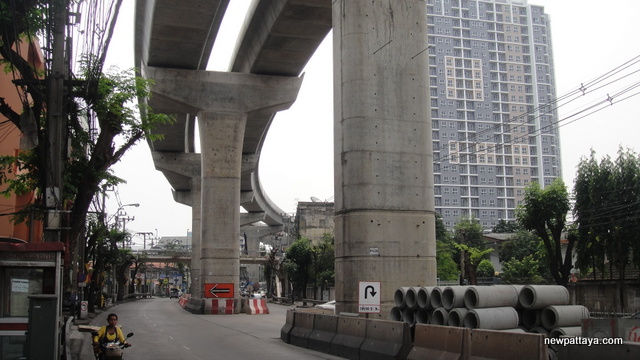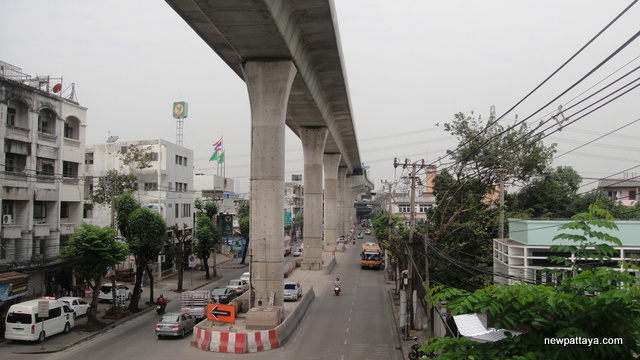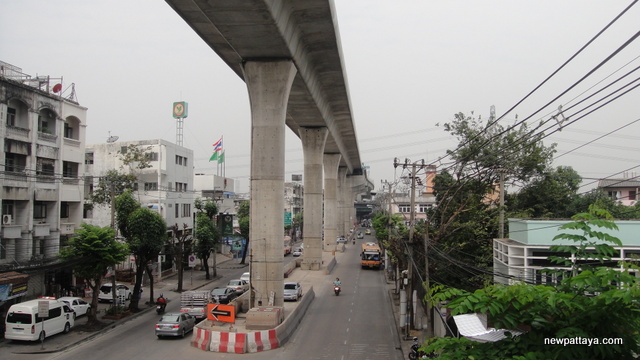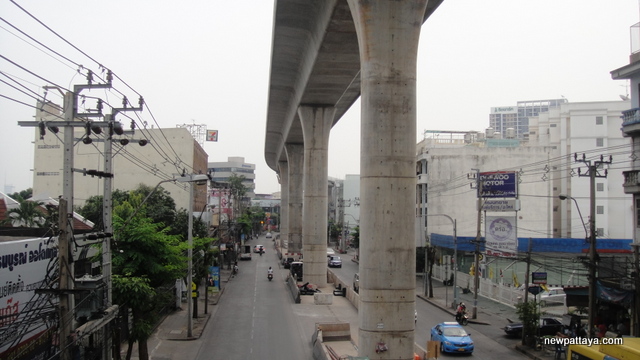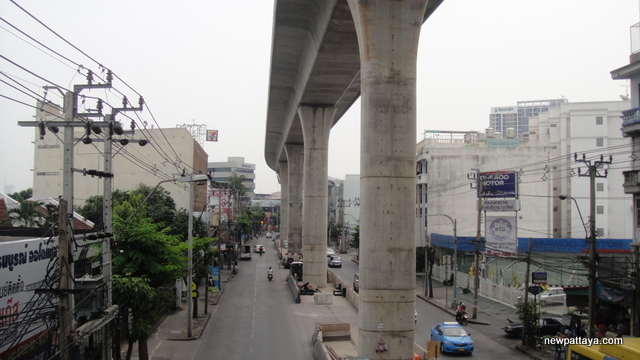 There is a Big C Supercenter here. Approaching Wong Sawang (วงศ์สว่าง) station.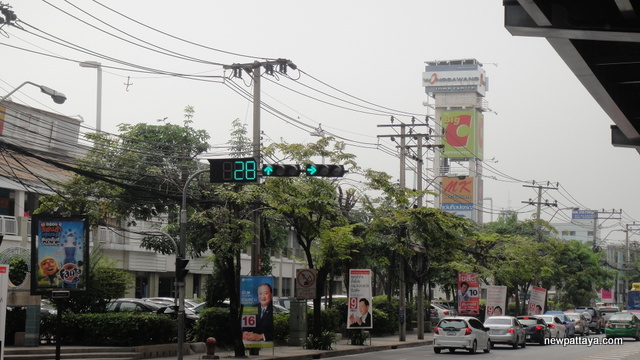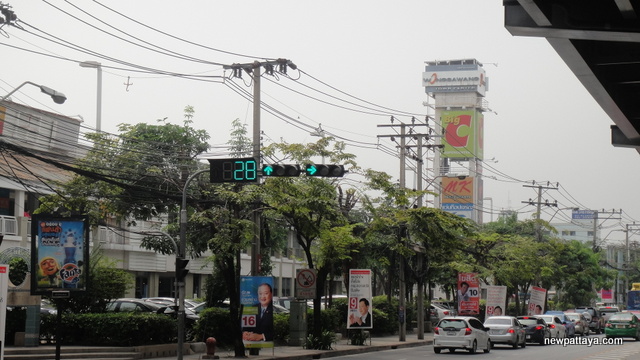 Wong Sawang station (วงศ์สว่าง)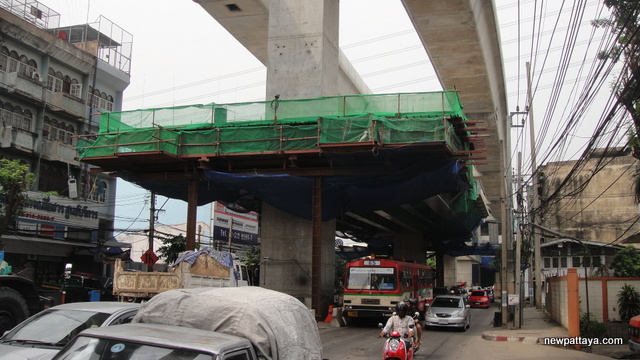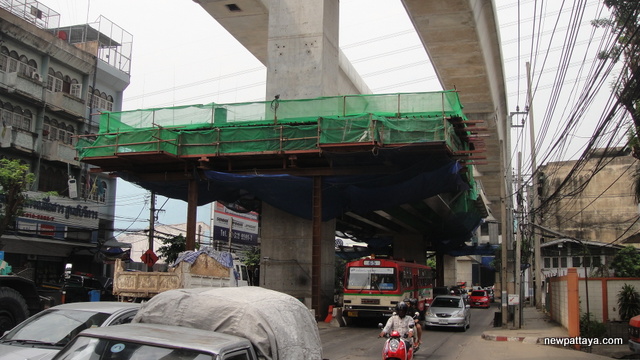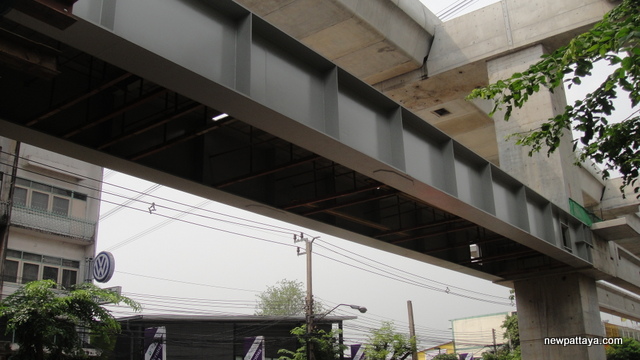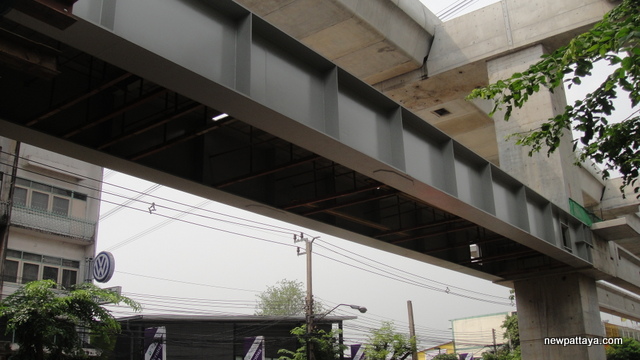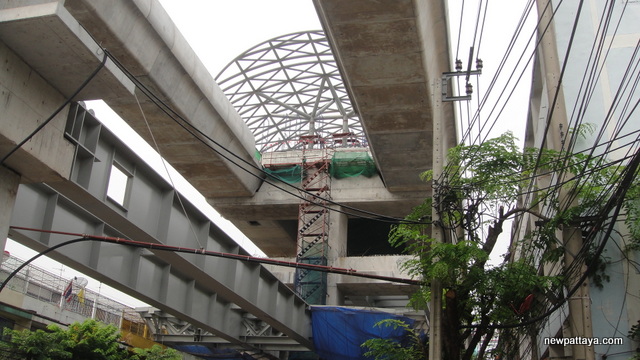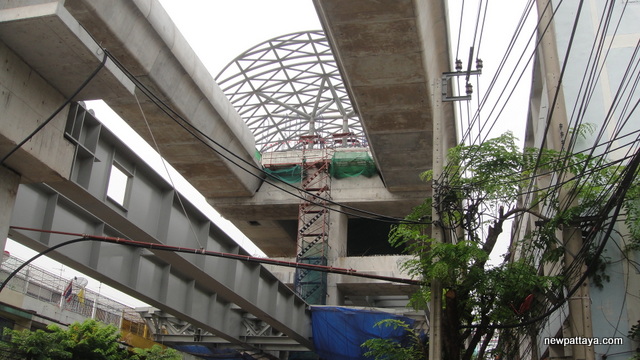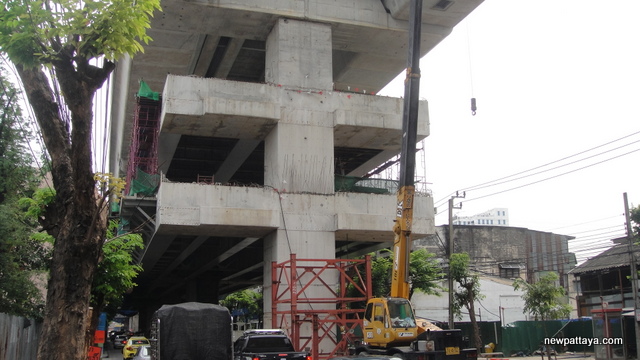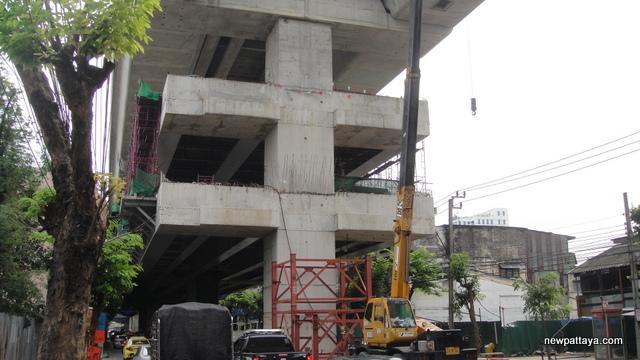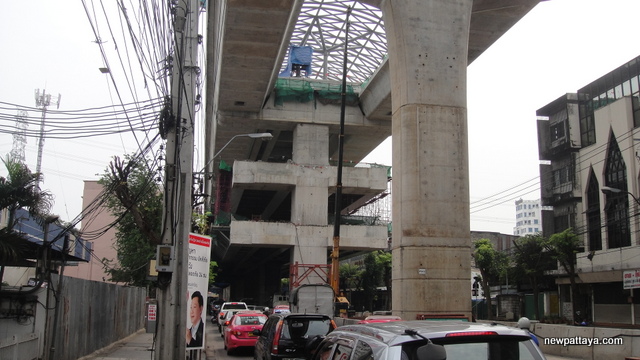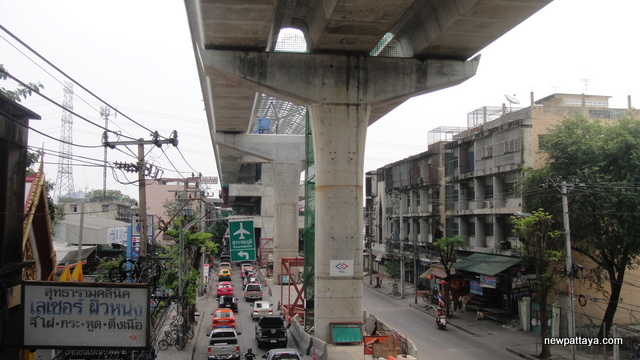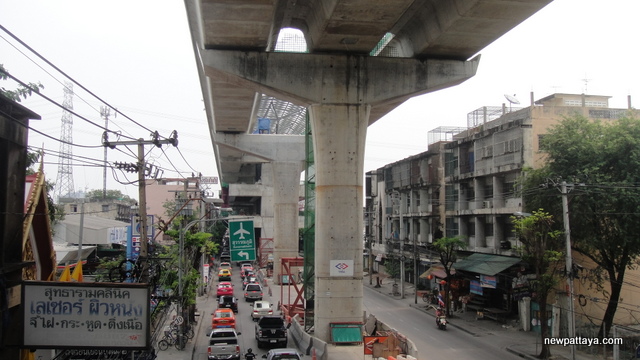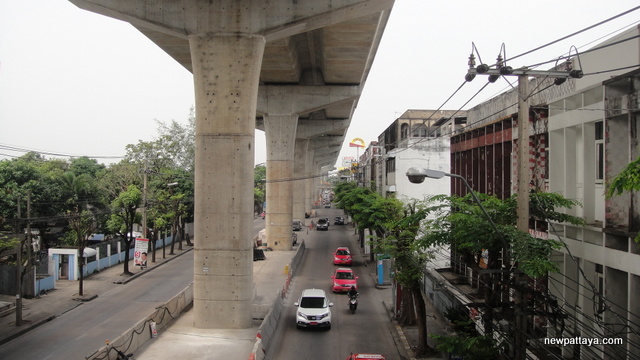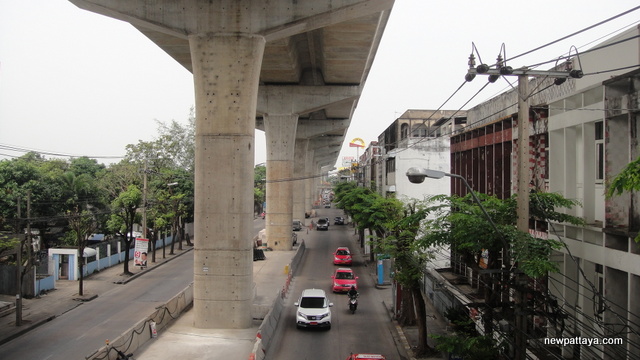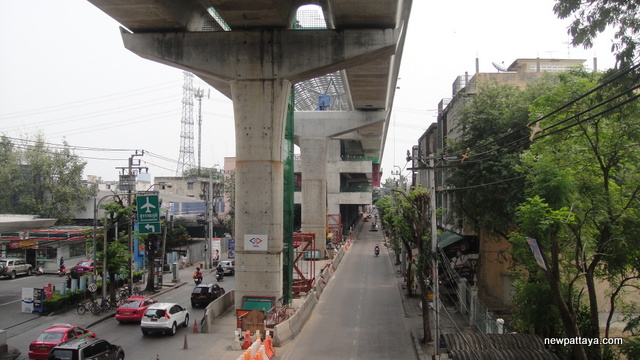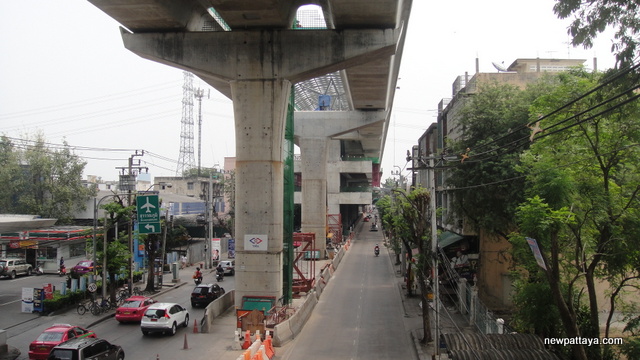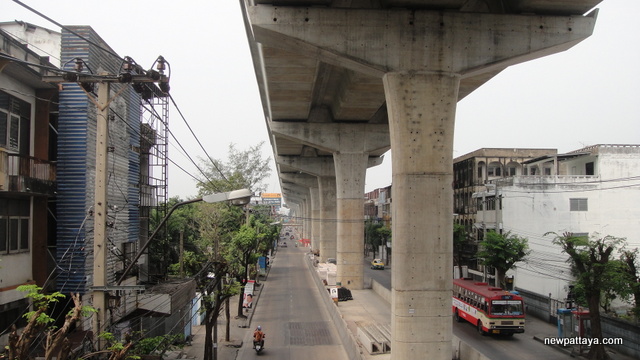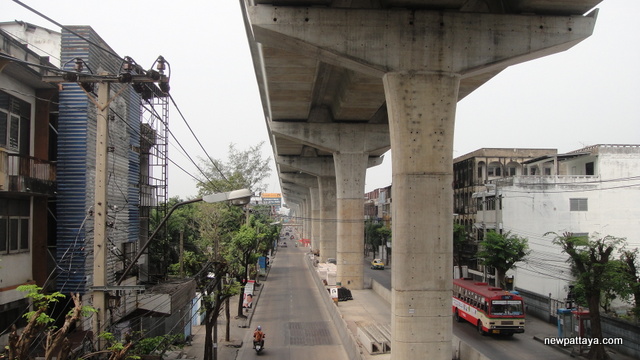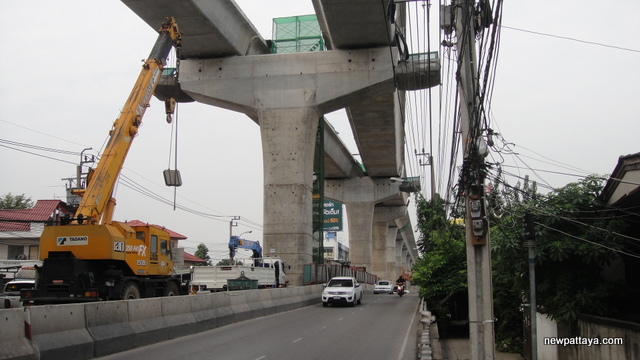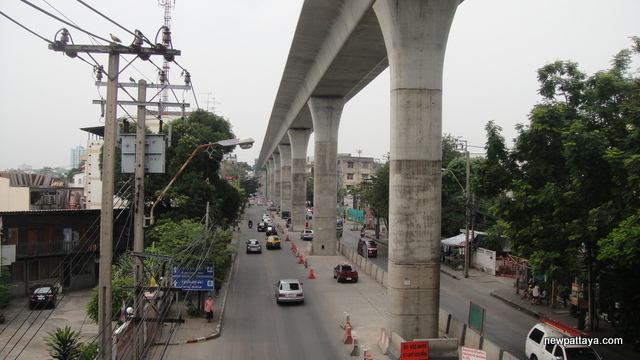 Flora by Narai Property is located between Wong Sawang and Tiwanon Station. Stay with me, we will soon look at another project from Narai called The Parkland Ngamwongwan located a few stations from Flora. Narai is one of the pioneer developers in this area. It could be fun if some of the developers from Pattaya would try their luck here. The company would need to have a strong financial background and I don't know whether or not we have such a company in Pattaya.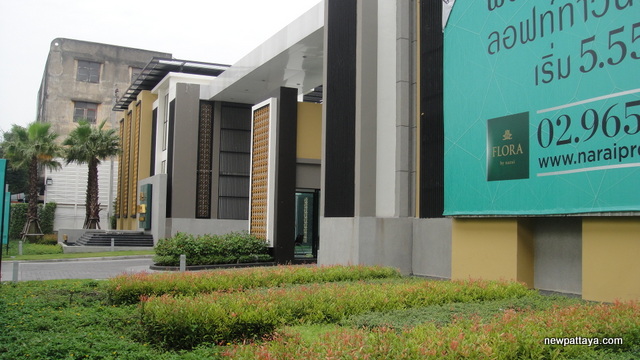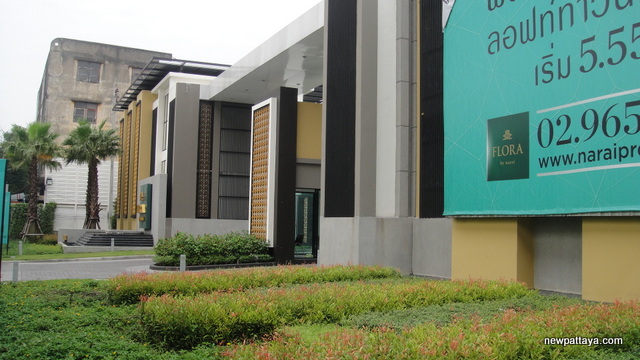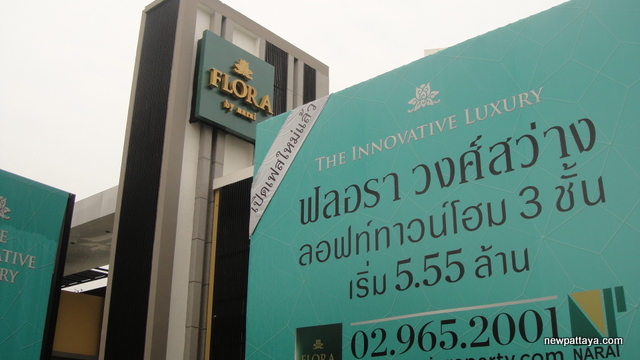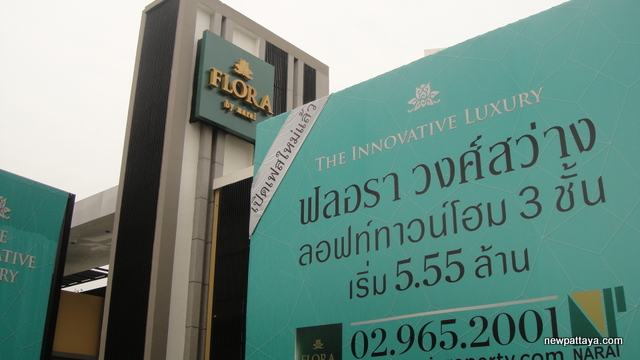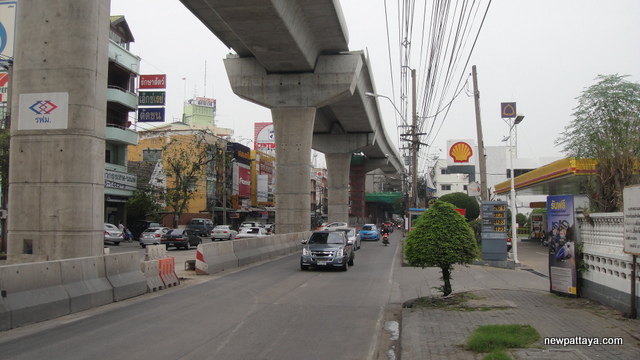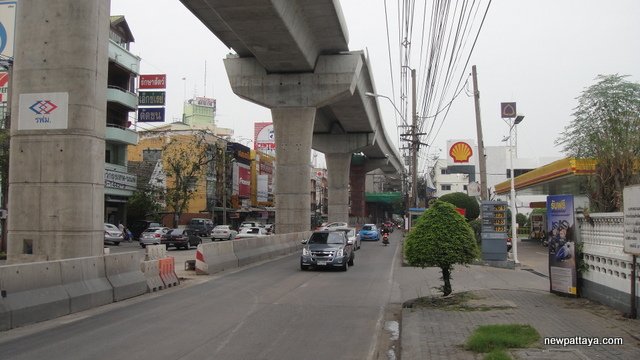 Tiwanon Station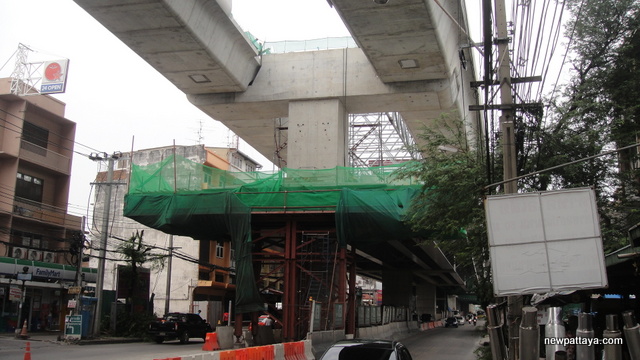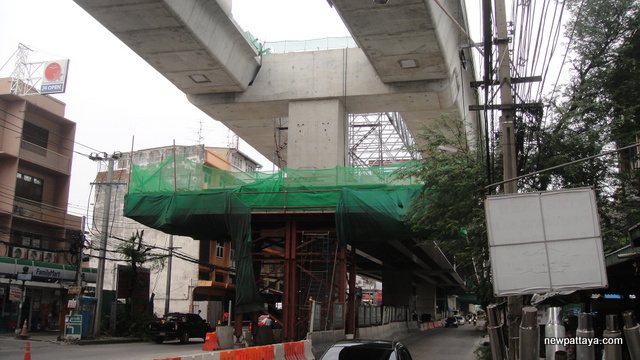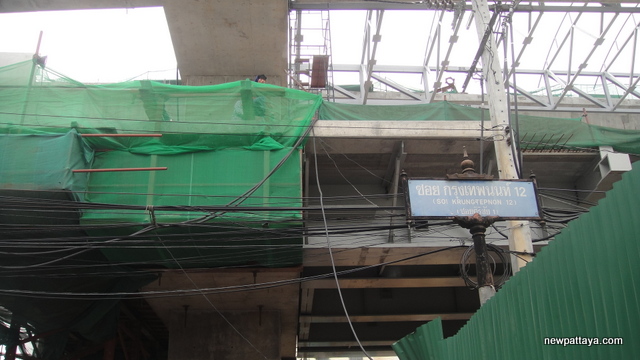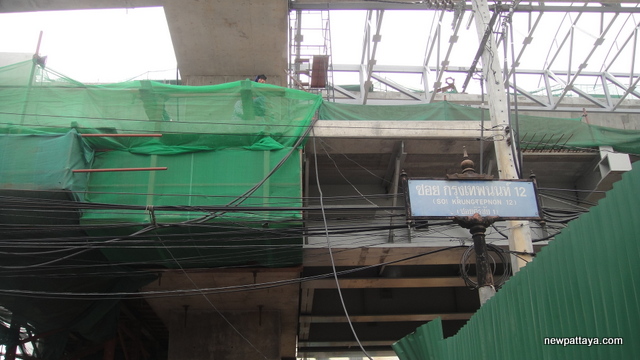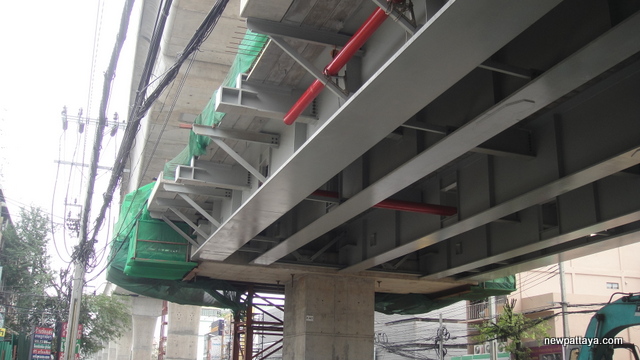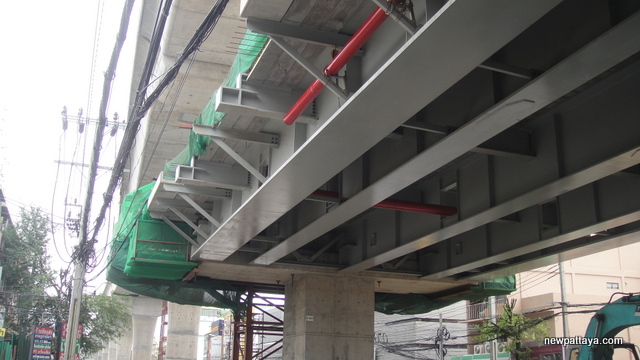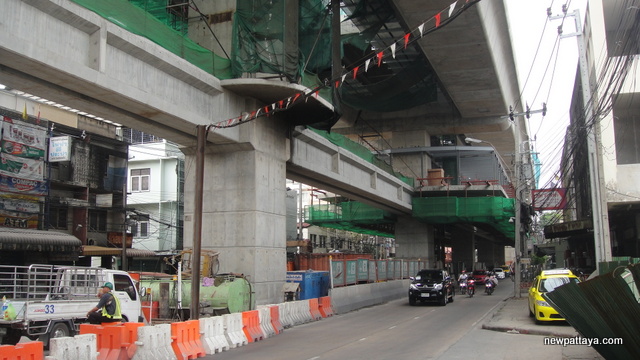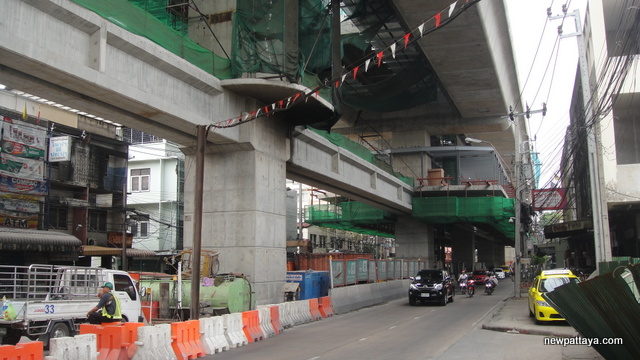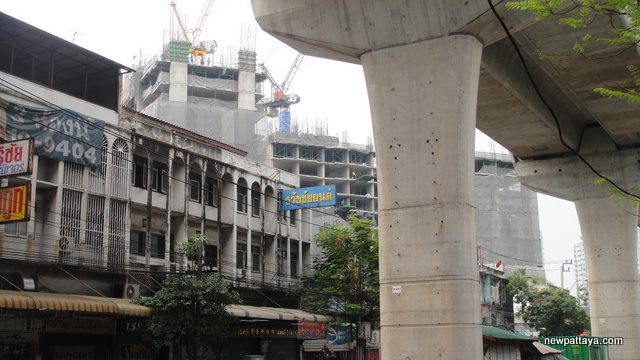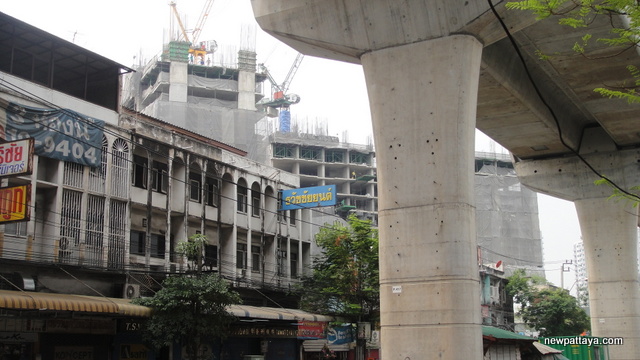 Aha, we see some of the good stuff here. This is the 37 + 41-storey Centric by SC Asset that is owned by Thailand's unofficial Prime Minister Thaksin Shinawatra. February 2012 the building had not started rising yet, there was nothing to be seen at the construction site other than a few cranes. Once the foundation works is completed a building can apparently rise very quickly. Just look at what has happened in less than one years time, it is quite amazing. Here is a little extra Guru's goodies, a bonus for staying with me: SC Asset has just started the foundation works at The Crest that is a 28-storey condominium comprising 265 units and located on Sukhumvit Road near BTS Thong Lo, there used to be a Caltex Service Station on that plot of land. The Crest is situated just 15 meters from two other high-rises, Keyne by Sansiri, a 28-storey building with 208 units (128 meters tall), a project that was completed october 2012 and Noble Remix 2.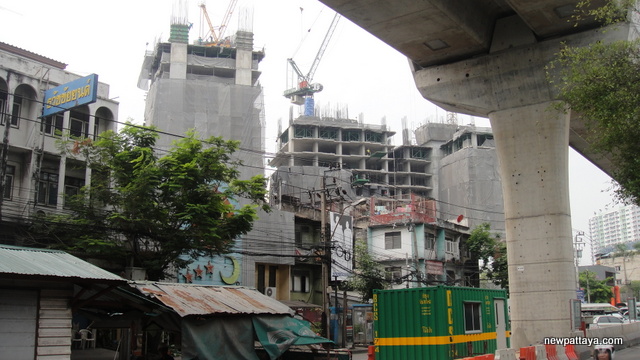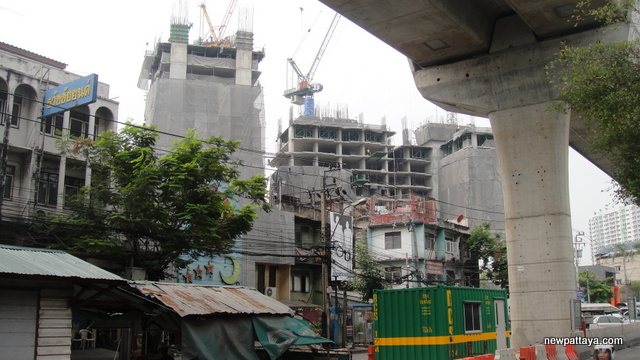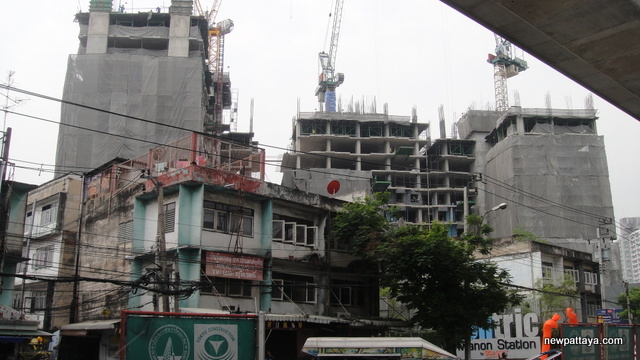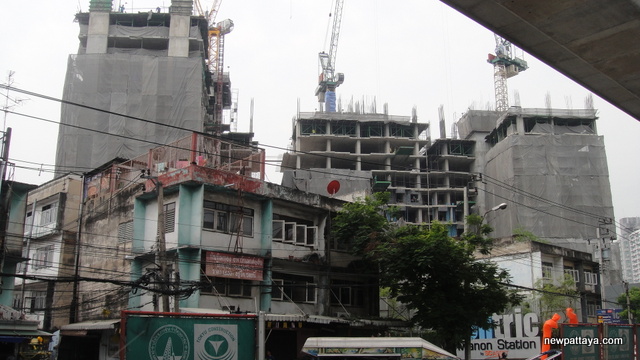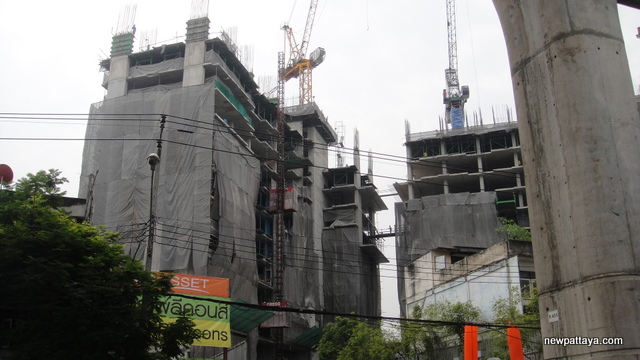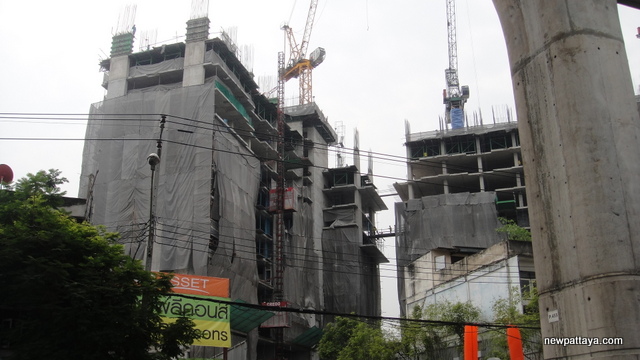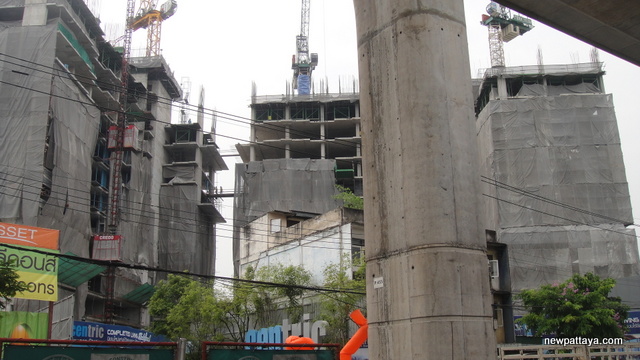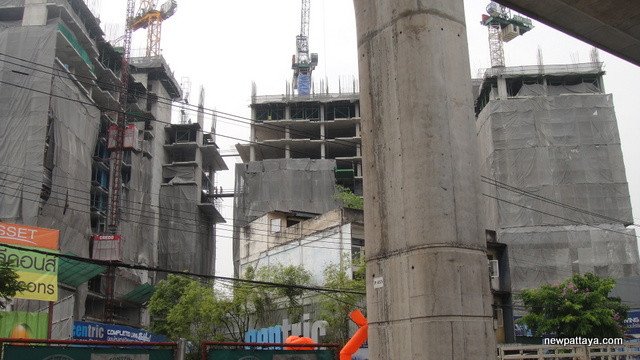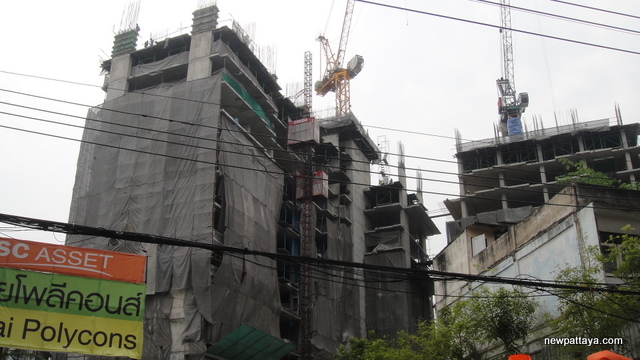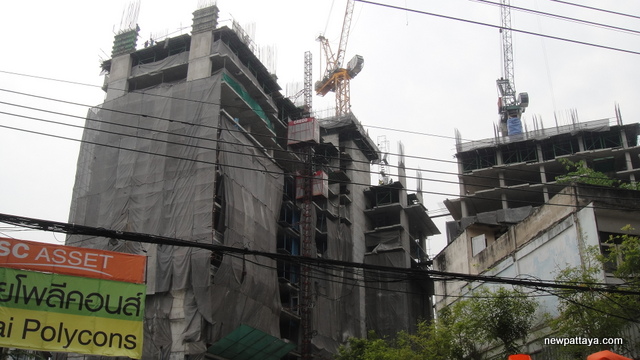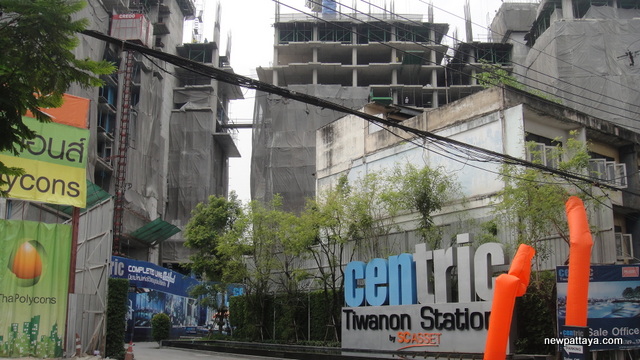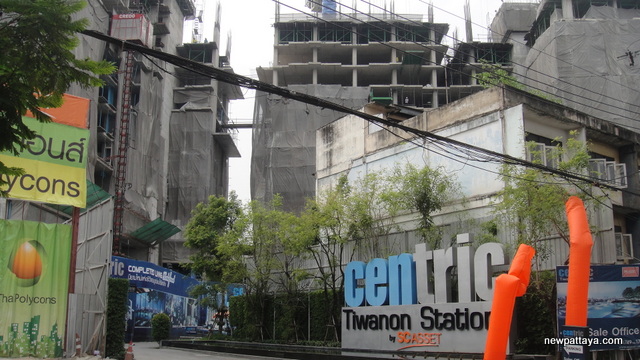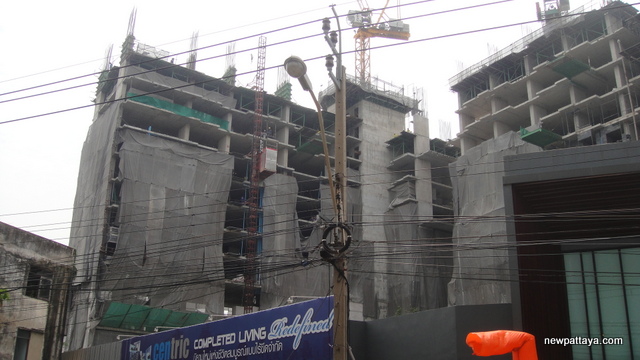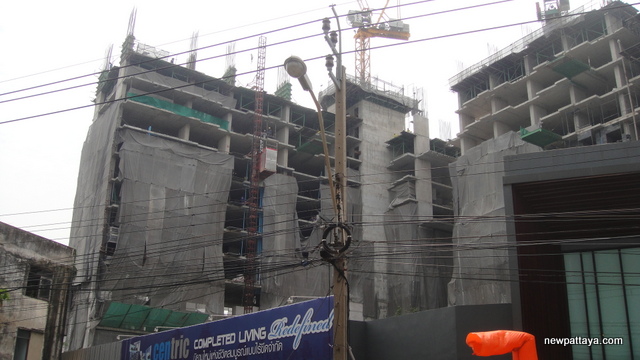 This is Supalai Vista @ Tiwanon Intersection. They have not started construction yet. Supalai PLC is a major player in this area, let us hope they are being rewarded for their effort. Property pioneers should be rewarded but the world is not always fair. Supalai Vista is located right next to Centric.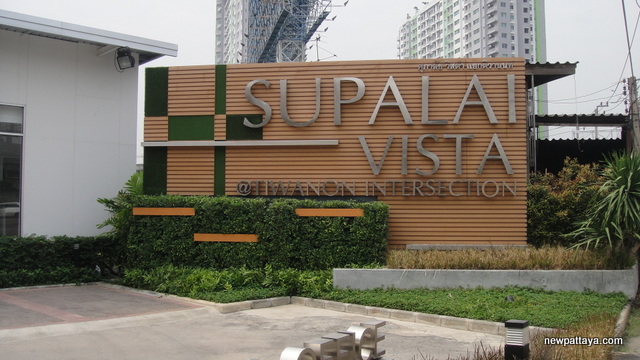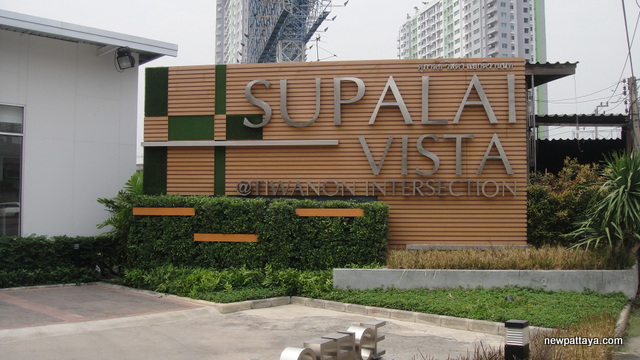 Here we see Supalai Park @ Tiwanon. There are two 21-storey buildings with a total of 948 units. They started construction around January 2010 and I believe the project was completed around September 2011.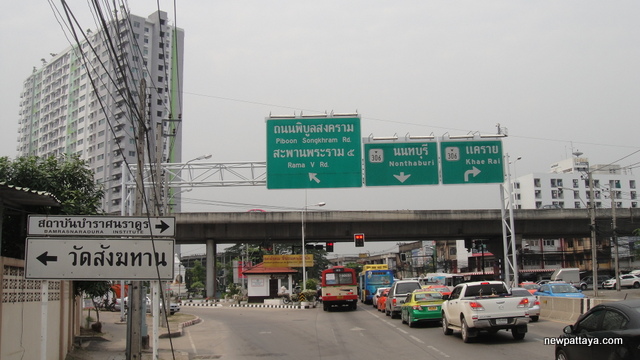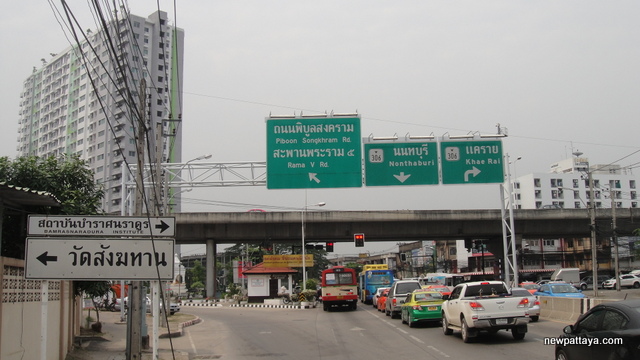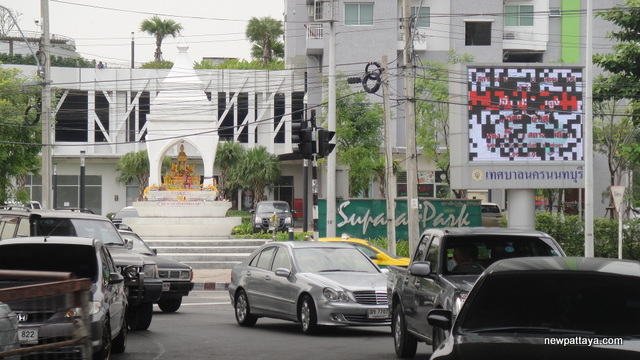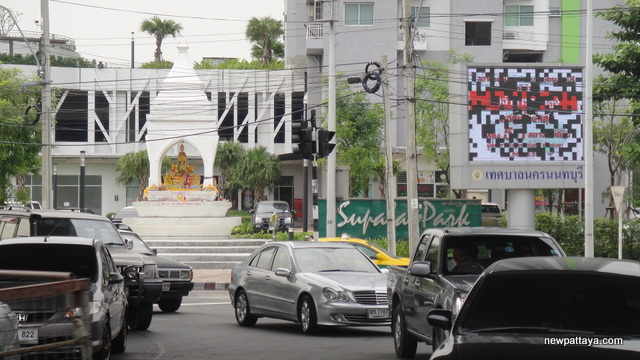 Here we can see that Supalai Park comprises two buildings.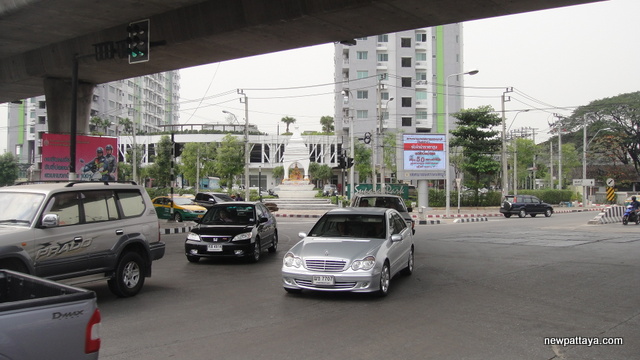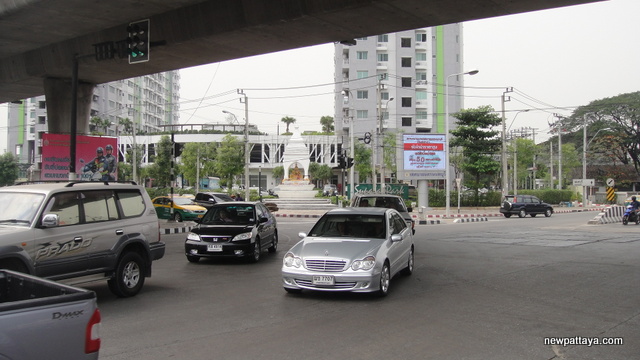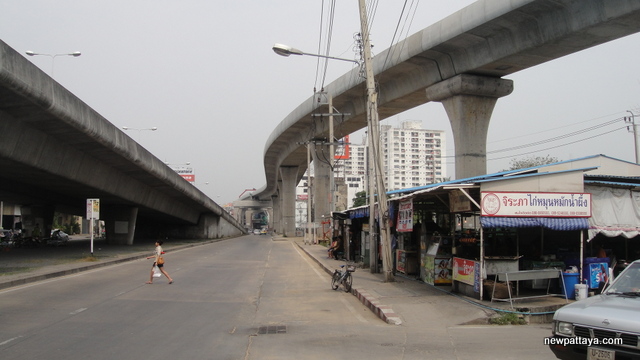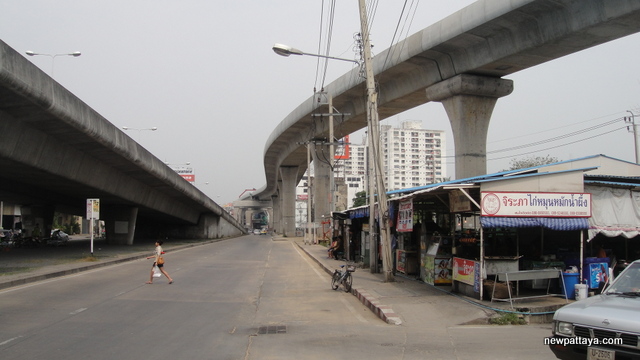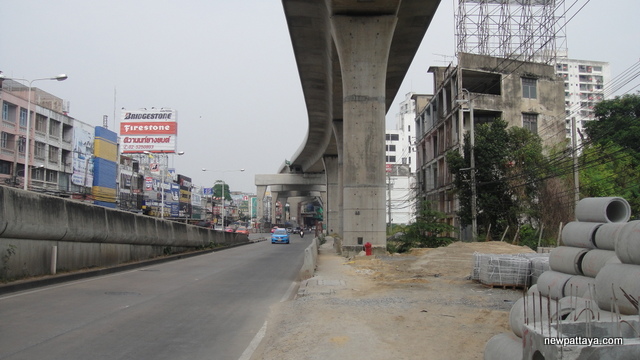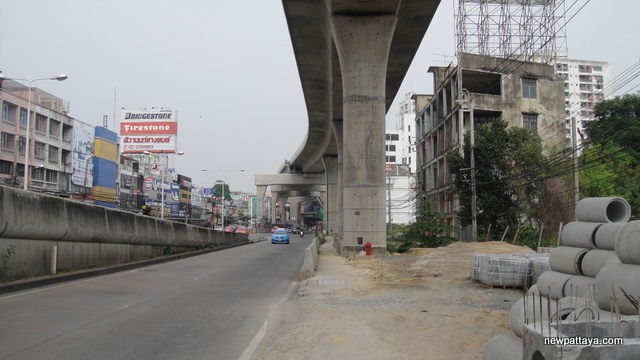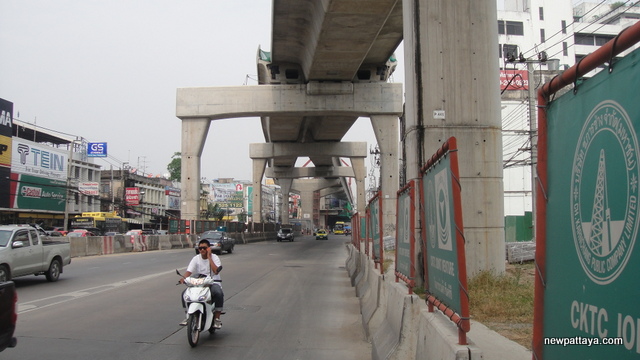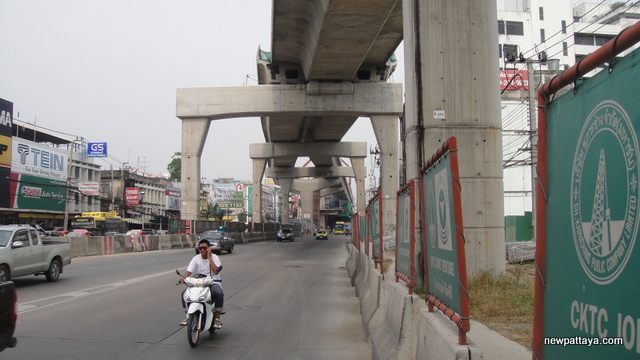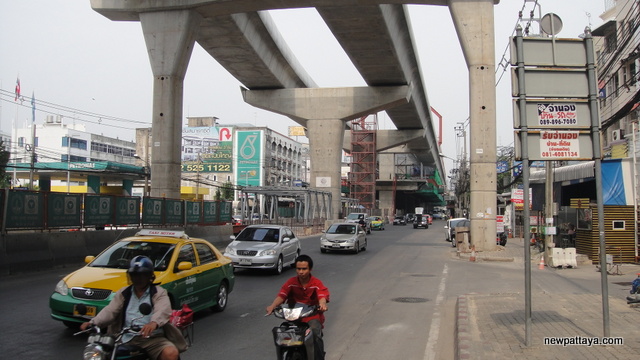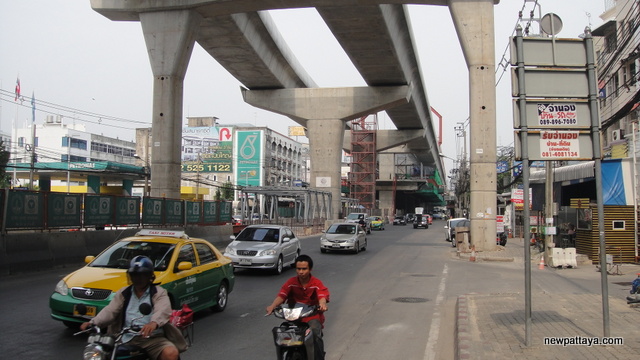 This station is called Ministry of Public Health.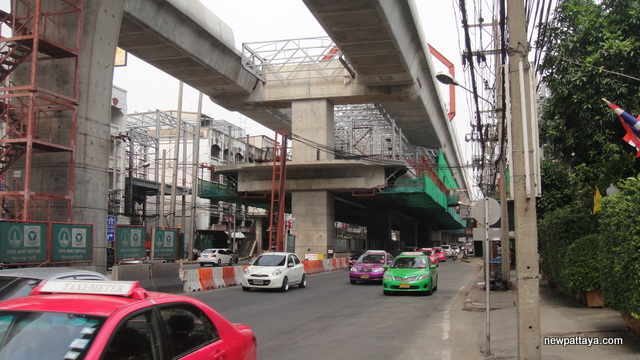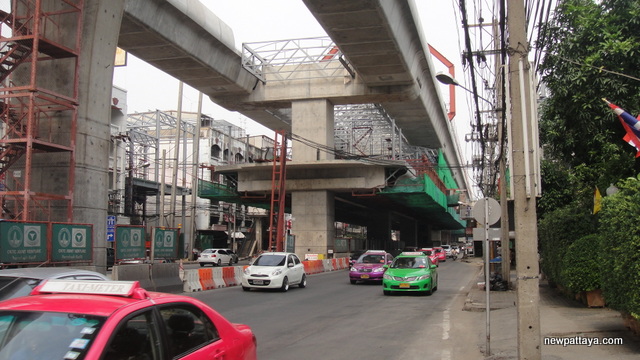 We are on holy ground. We cannot get any closer than this. It looks like this was my lucky day. Fantastic, baby! (The South Korean band Big Bang has tought me a thing or two)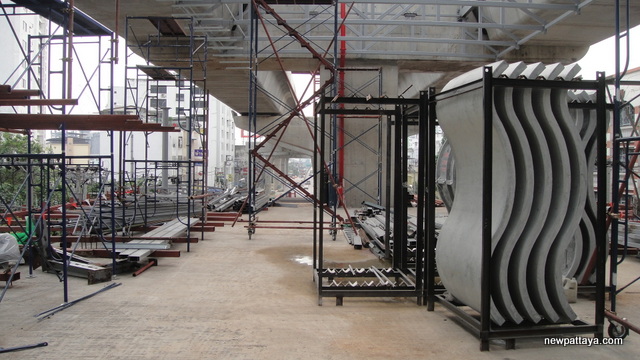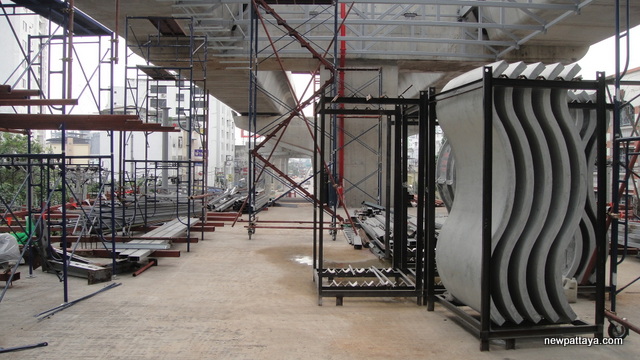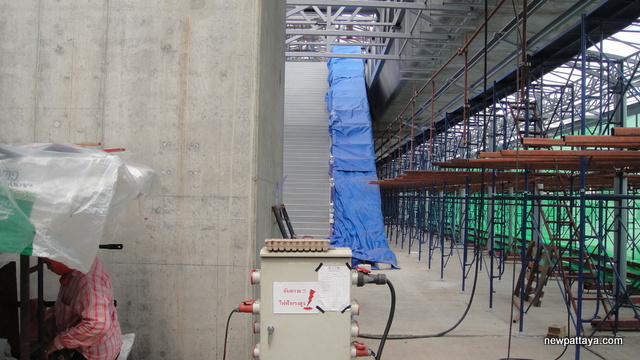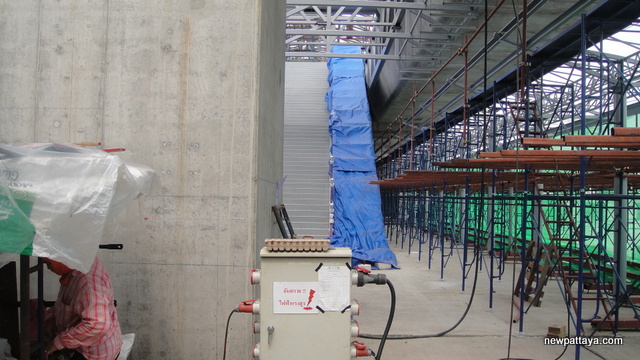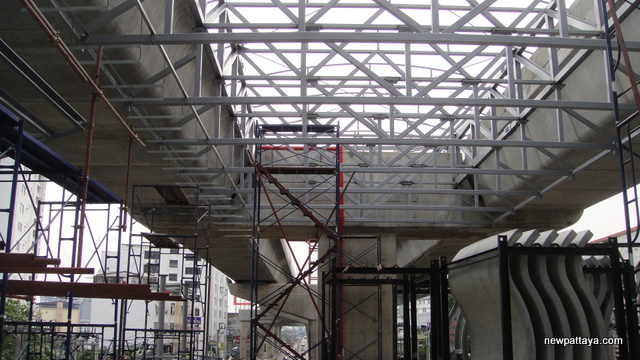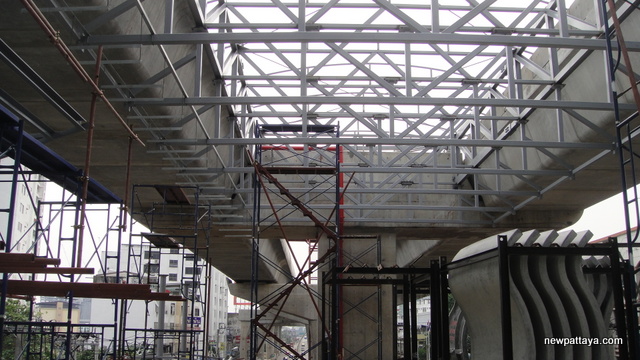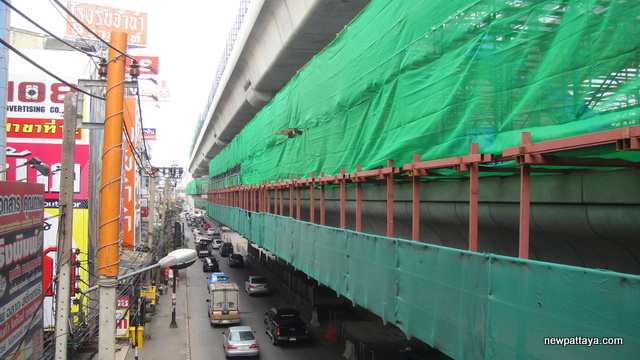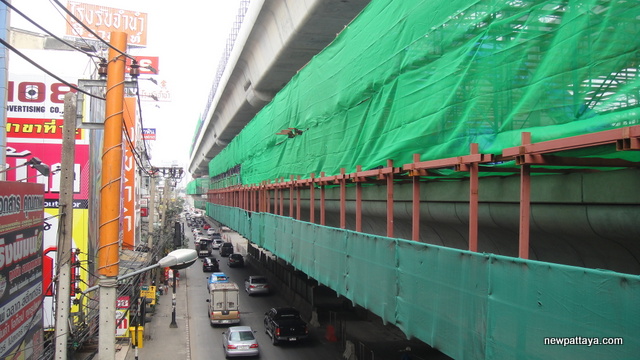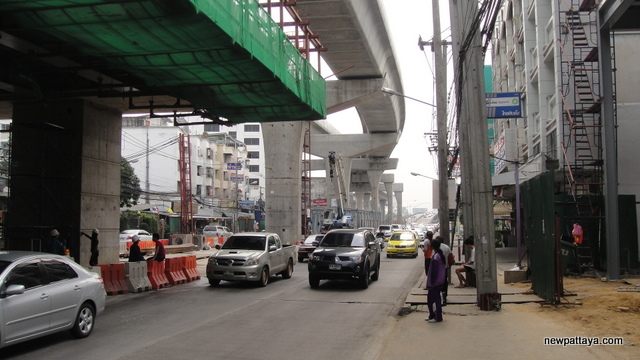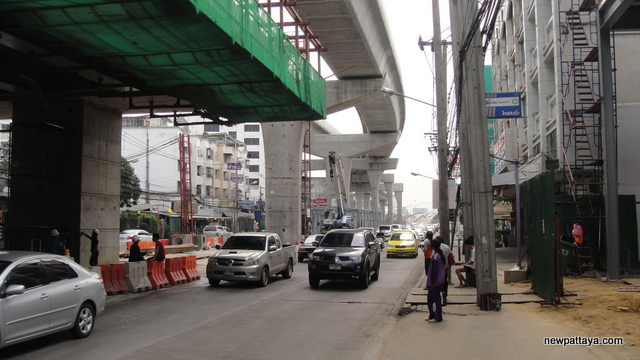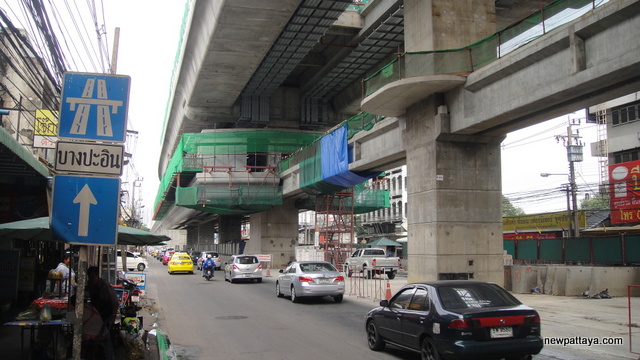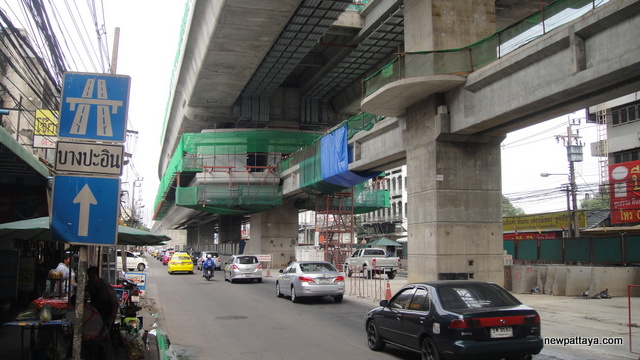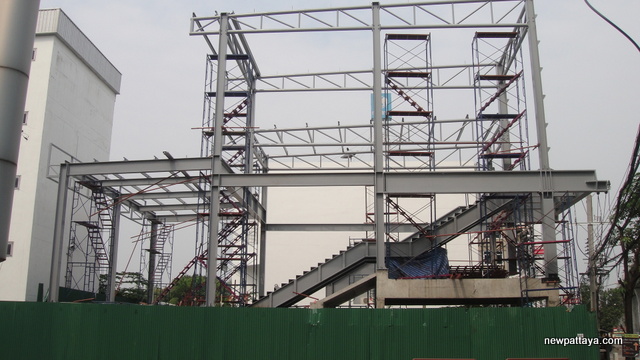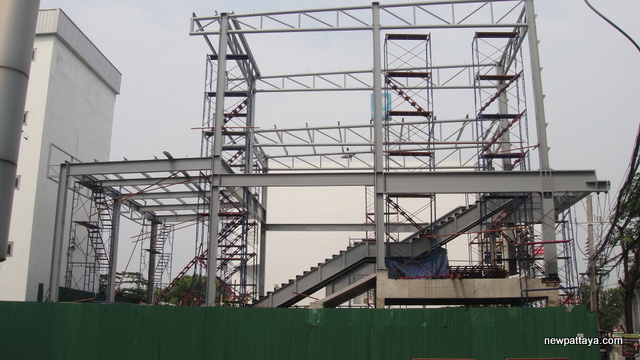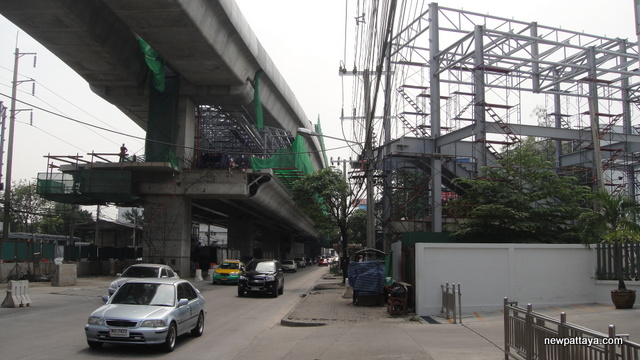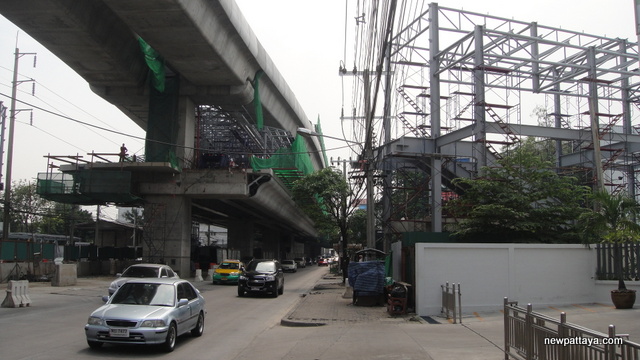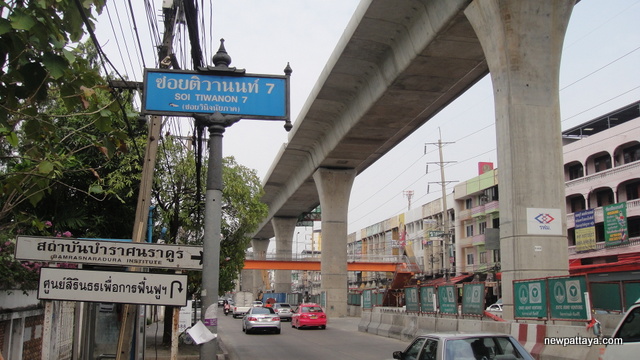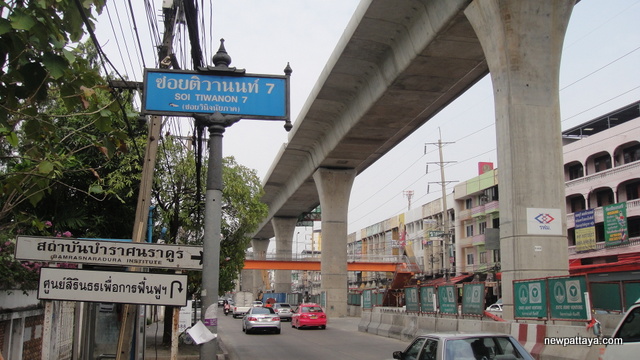 The Skytrain is changing direction, leaving Tiwanon Road and turning left towards Rattanathibet Road.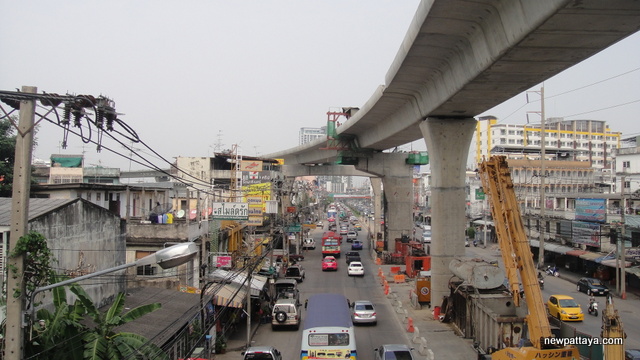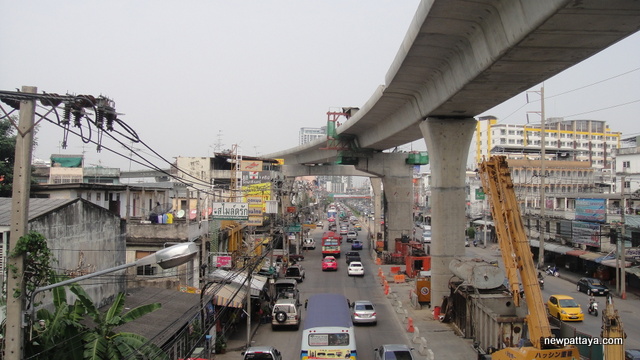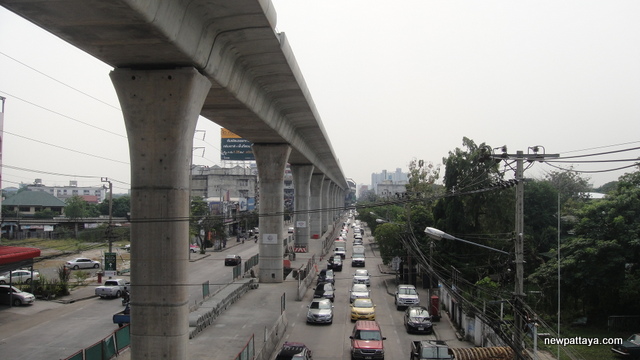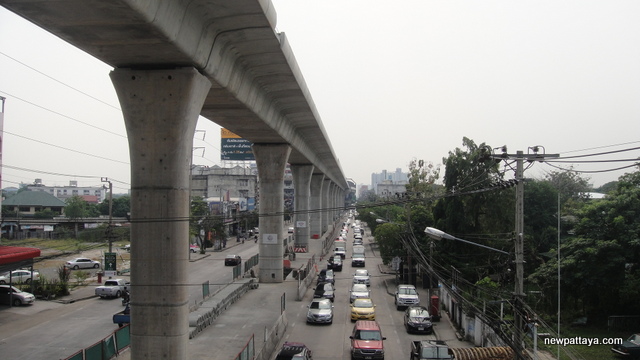 Please tell me what a picture of a Porche has got to do with the new Purple Skytrain. It is not my car, I wish it were though. Ahmmm… I like cars, that is the best explanation I can come up with. It was there on Tiwanon Road and now it is here for everybody to enjoy. Fantastic, baby!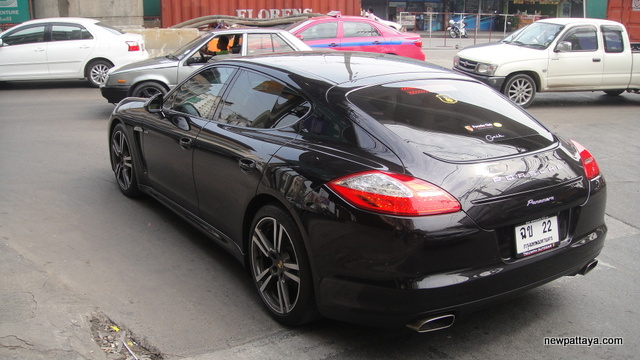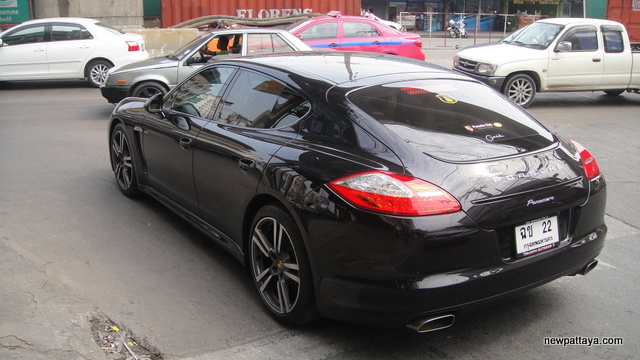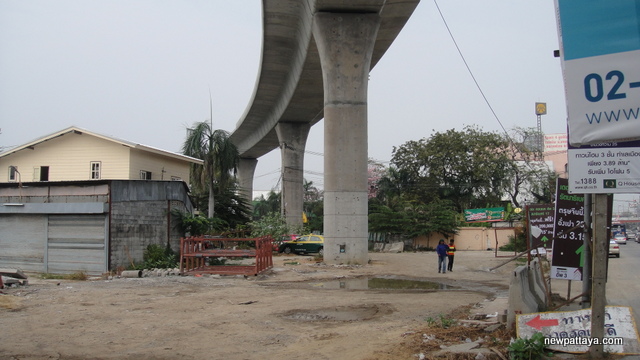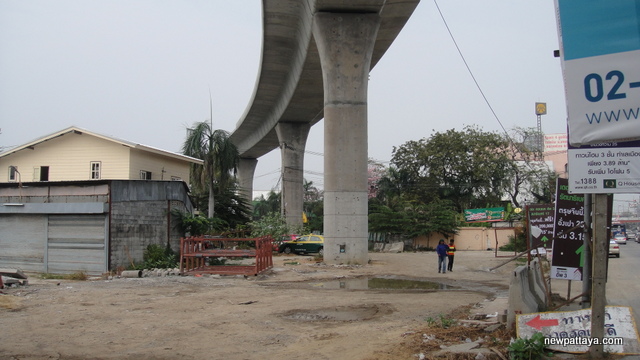 This is The Parkland Ngamwongwan – Khae Rai by Narai Property, a 28-storey building with 591 units, most of which are ranging in size from 30 – 35 sqm. October 2011 the building had not even started rising yet, there was nothing to be seen at the construction site and January 2013 the project was completed. I did not expect the project to be completed this fast. Looking at the high-rise now it feels almost like it has been standing there forever. Prices started at 55.000 Baht per square meter. The Esplanade Shopping Mall is located only 200 meters away and that adds value to the property. We live in a world where everything is about money and value, I find that kind of sad. Well, at least this information is free, free as all information should be.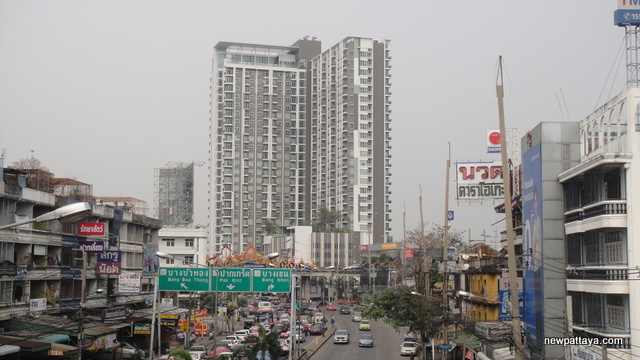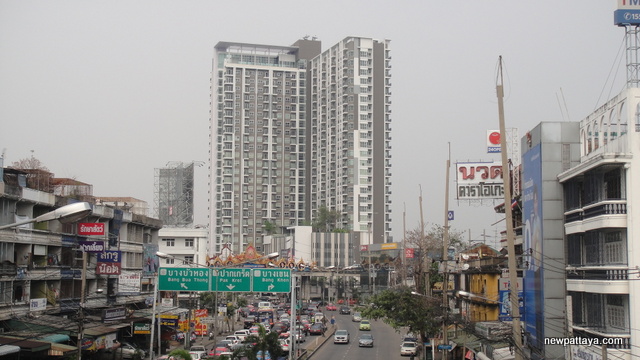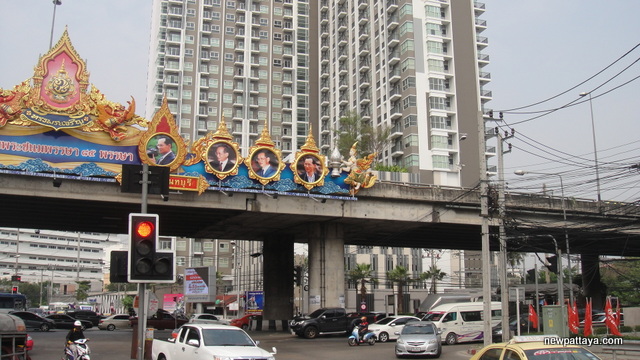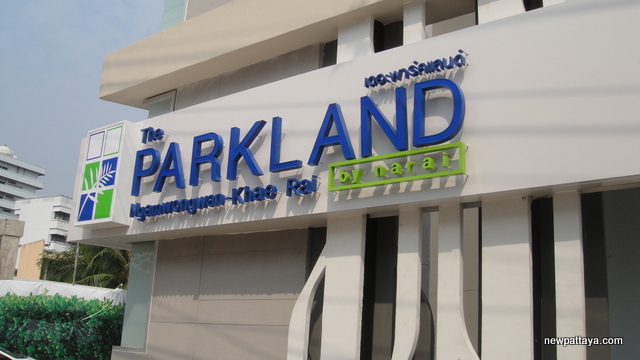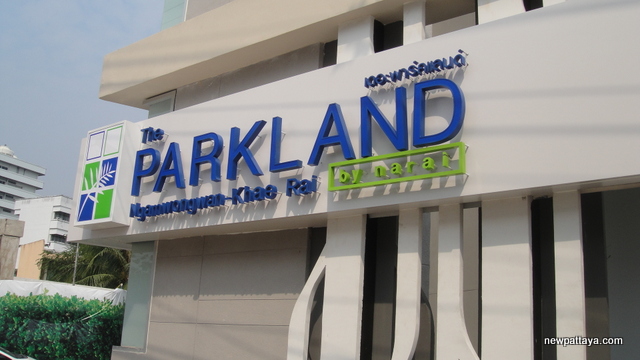 The high-rise looks good, it is not the same quality as Northpoint in Pattaya but seen from this angle there is something about it that makes me think of Northpoint.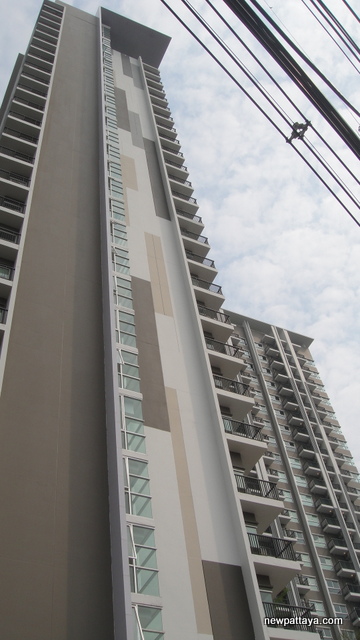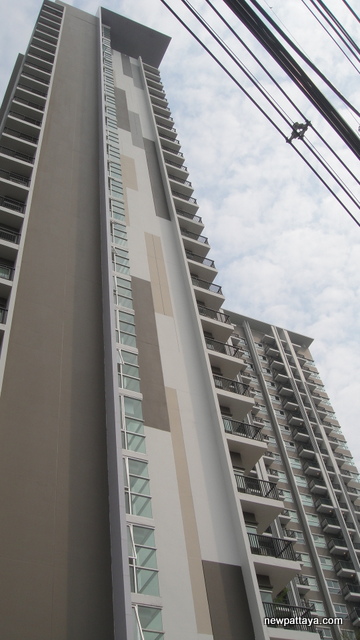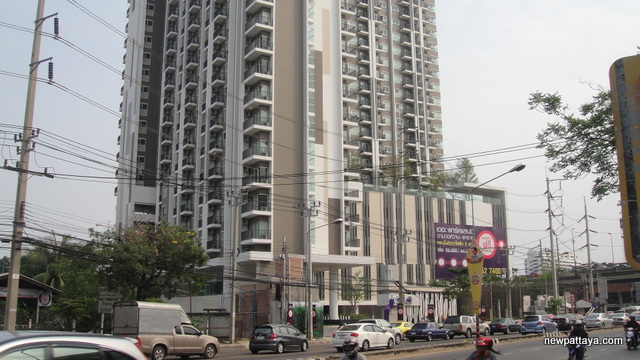 This is Esplanade Shopping Mall. I bought a "Cone Dip" ice cream for 15 Baht at KFC. It is convenient to live near a shopping mall. The residents at The Parkland are lucky.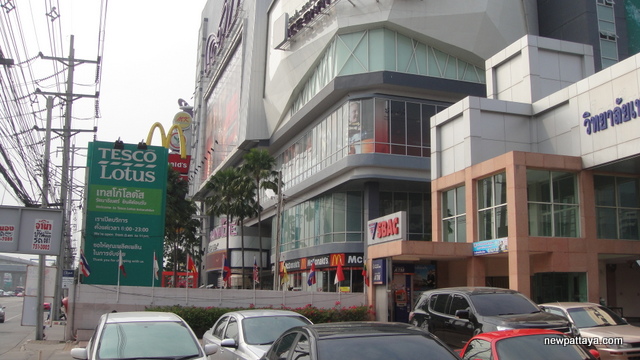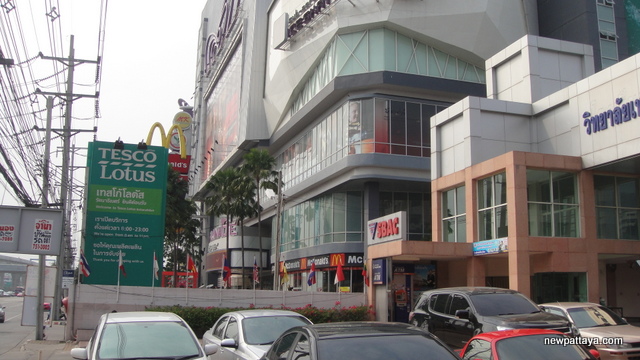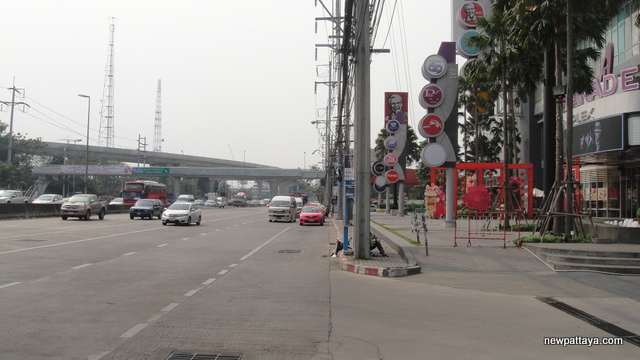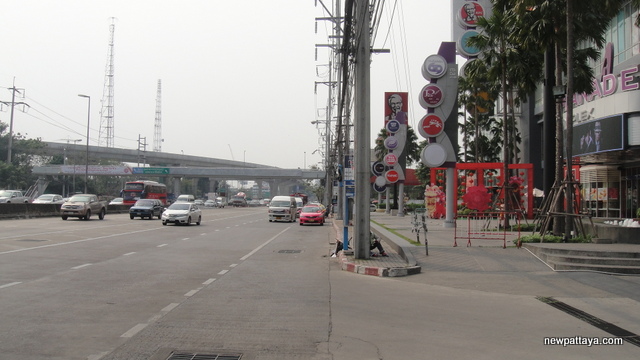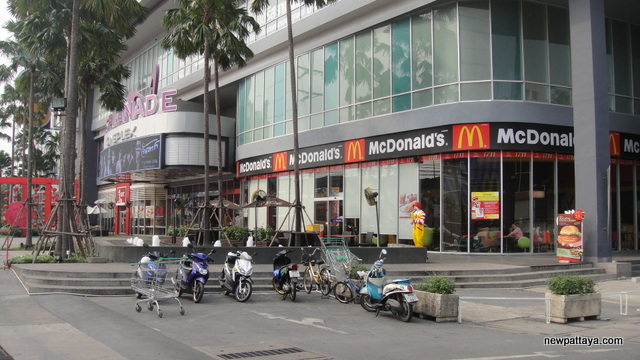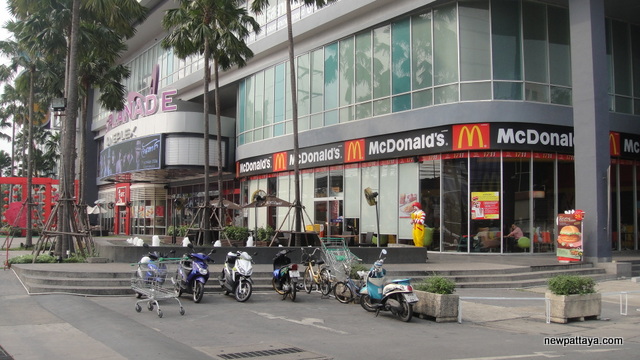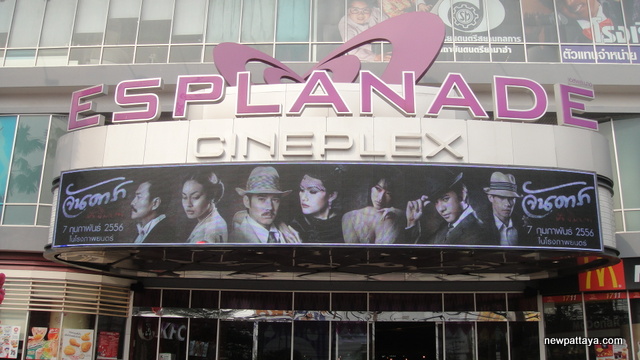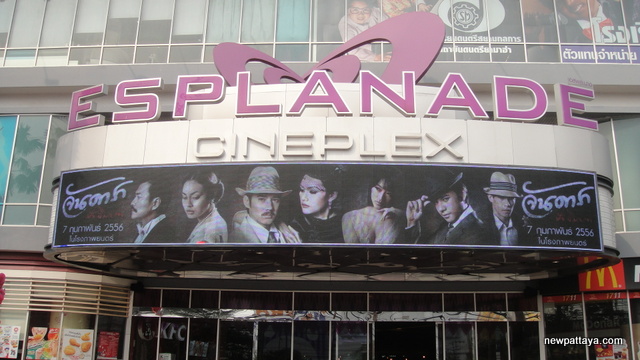 The Purple Skytrain is reaching Rattanathibet Road. As you can see this is a wide road with many lanes.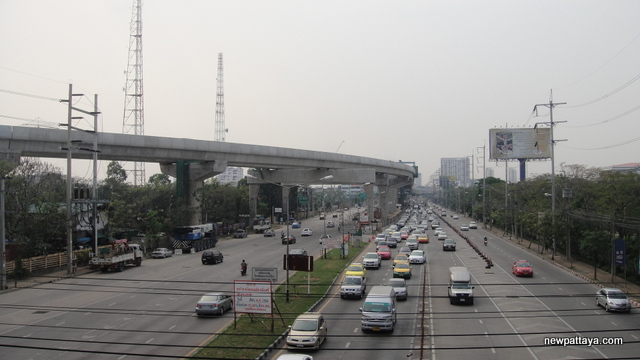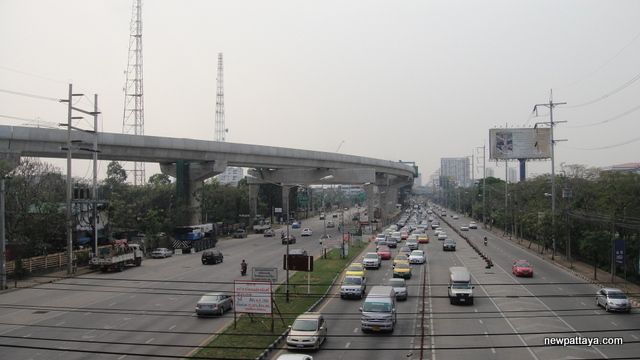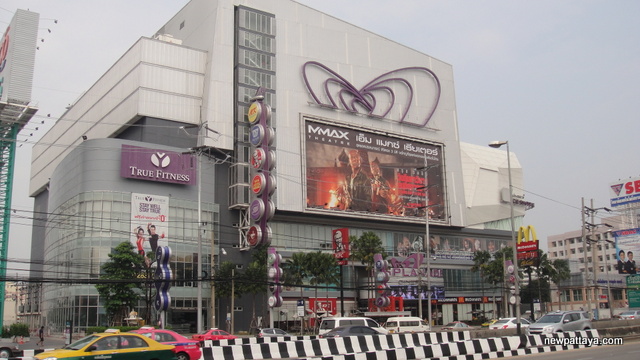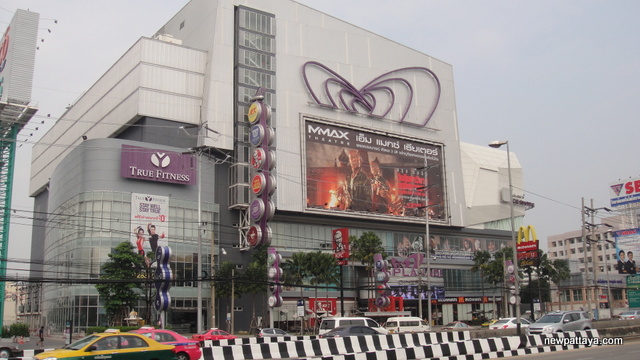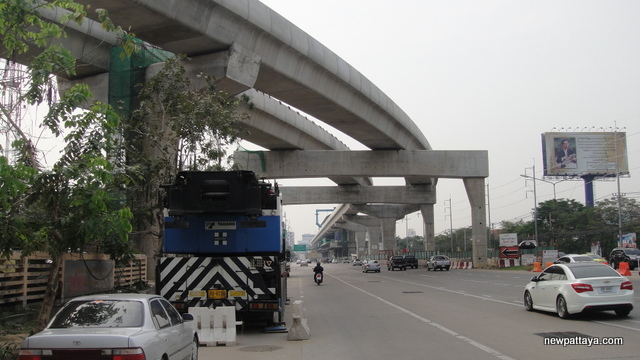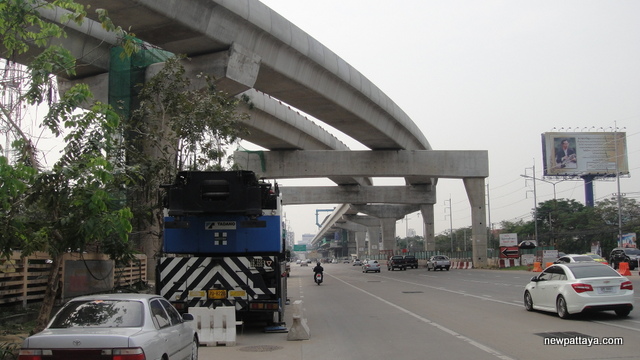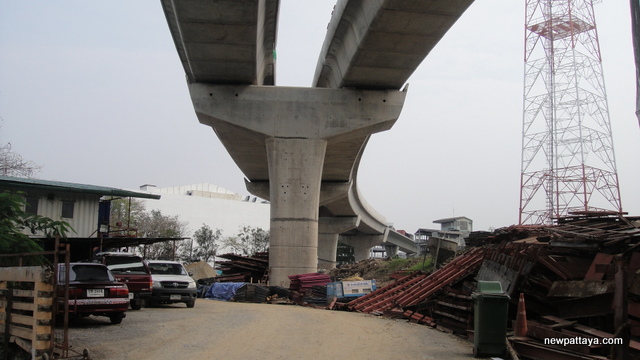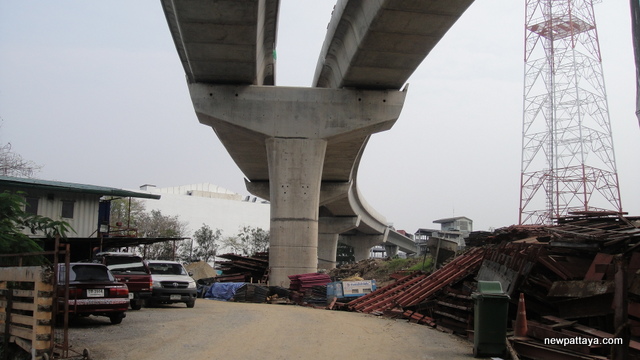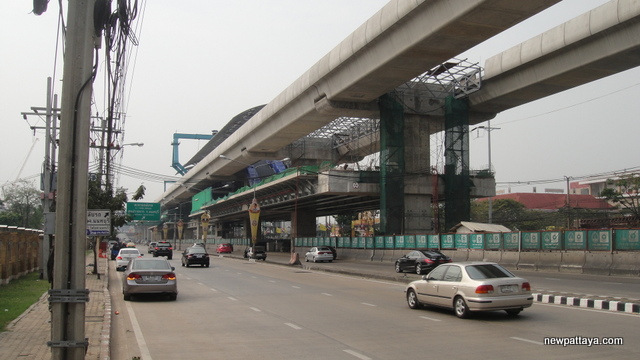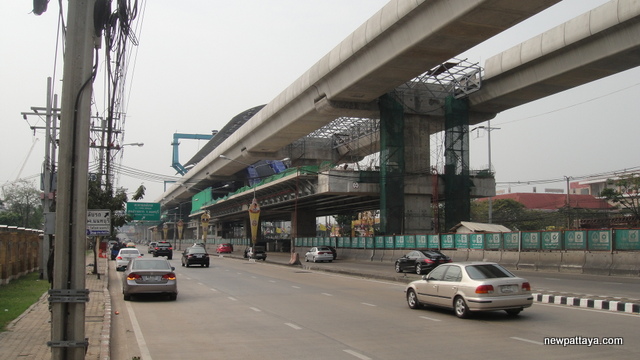 This is Nonthaburi Civic Center Station (ศูนย์ราชการนนทบุรี)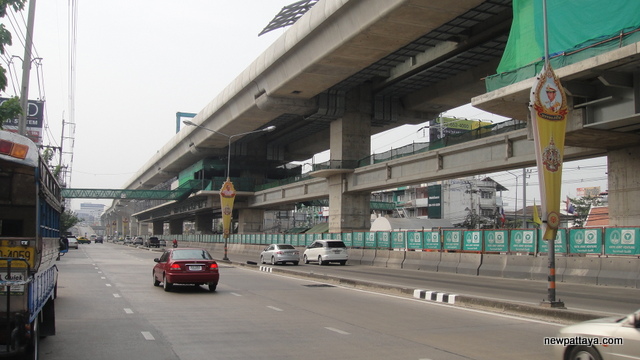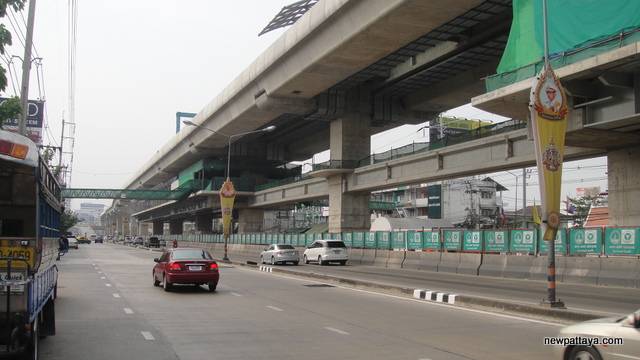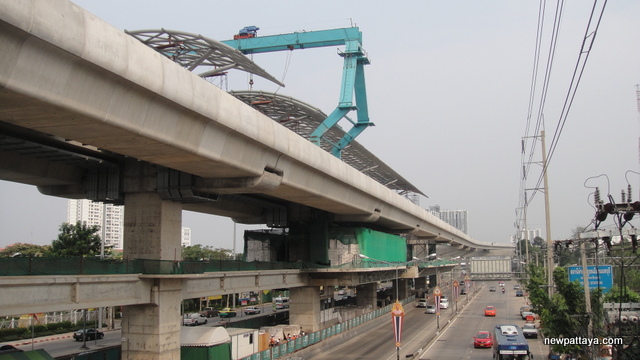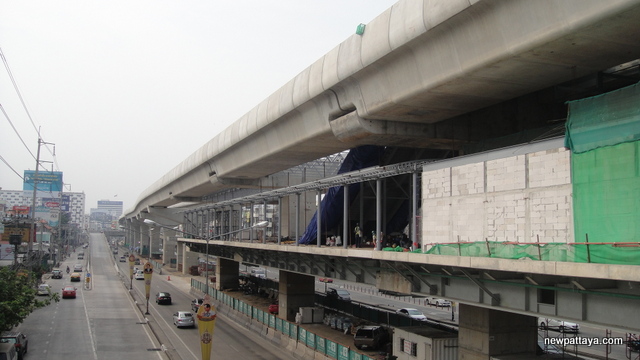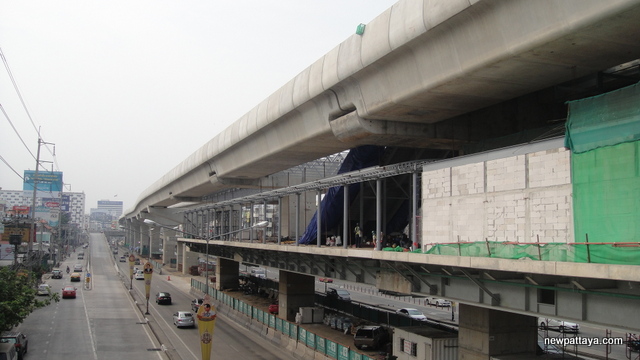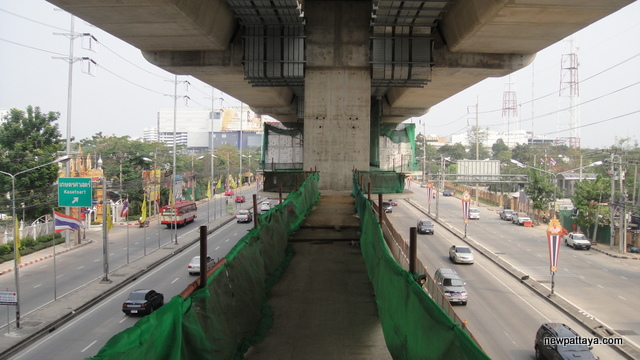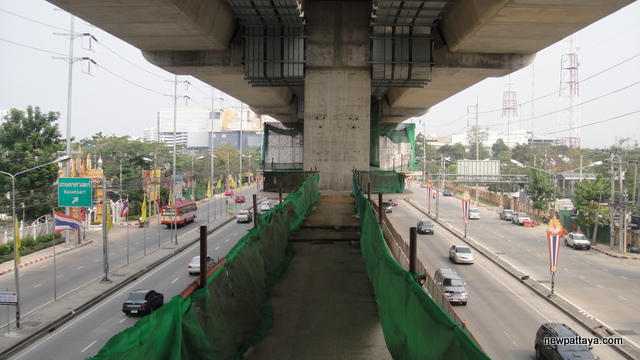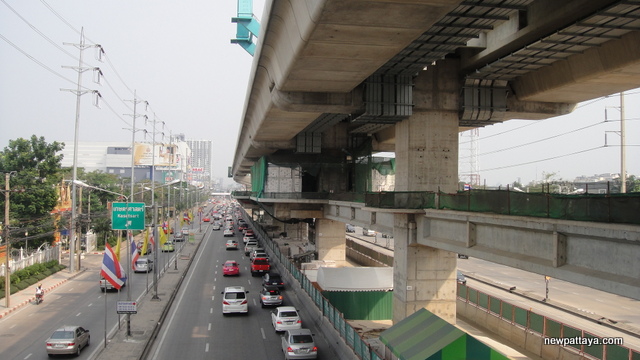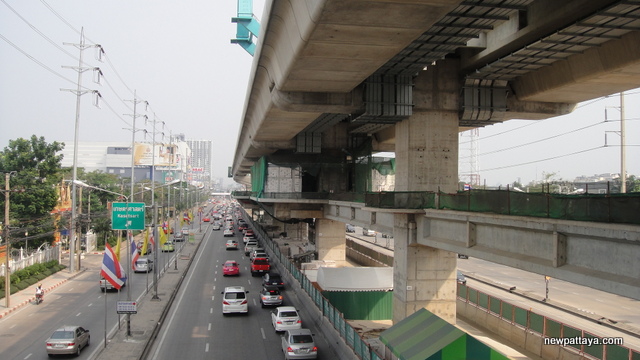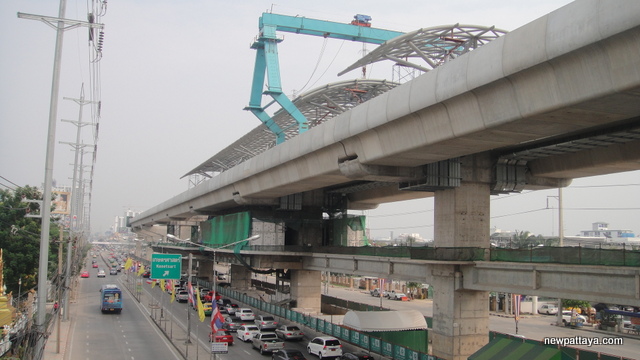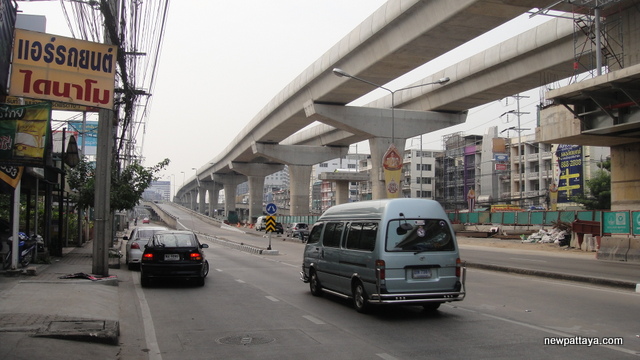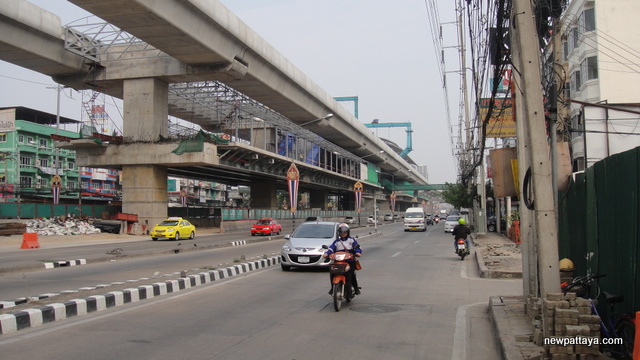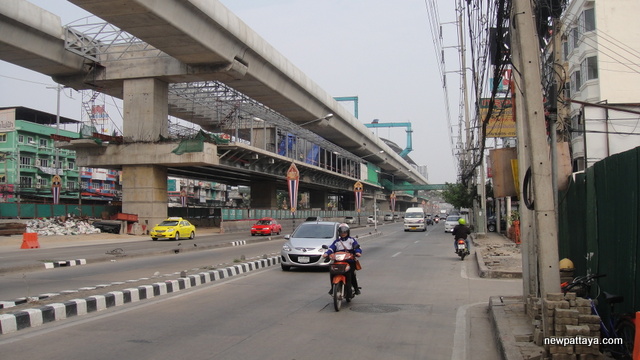 Supalai Park Khae Rai – Ngamwongwan. This will be a 34-storey high-rise comprising 697 units with prices starting at 53.000 Baht per square meter. Piling started november 2012 and the building has started rising. This high-rise is located close to Nonthaburi Civic Center Station and a 30 sqm unit will cost approximately 1.6 MB – units on higher floors will of course be more expensive.
Supalai PLC is very active with many projects along the Purple Line but what about all the other developers from Bangkok?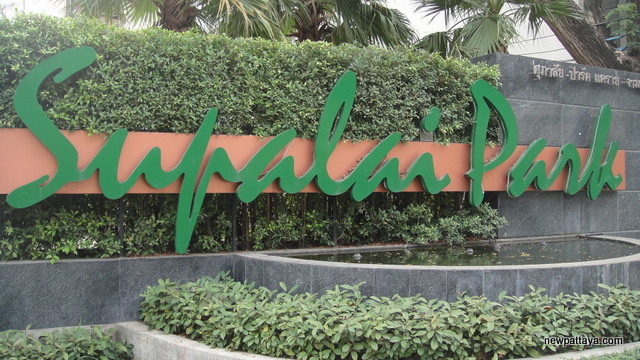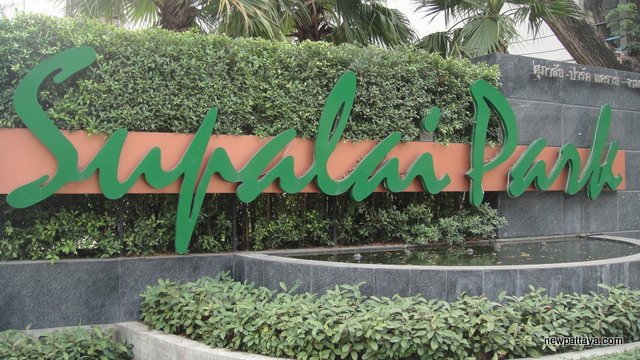 Sales office for Supalai Park Khae Rai – Ngamwongwan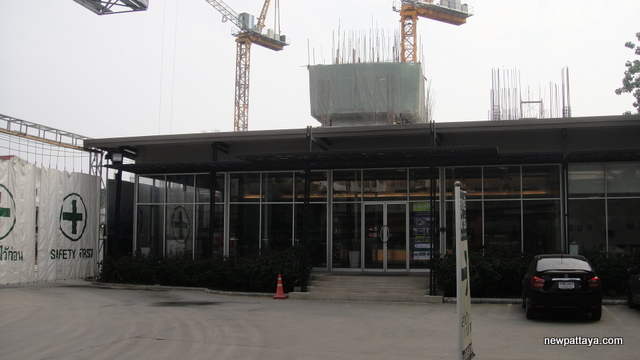 In the background you can see the Richmond Stylish Convention Hotel.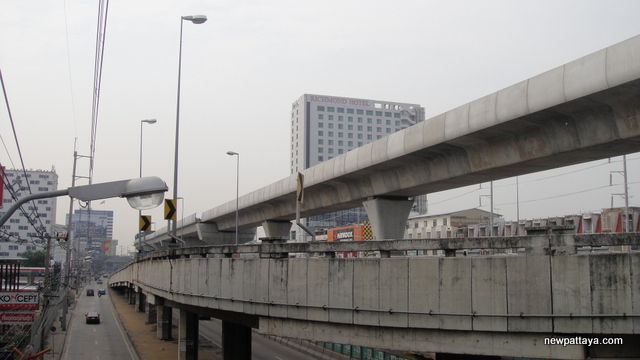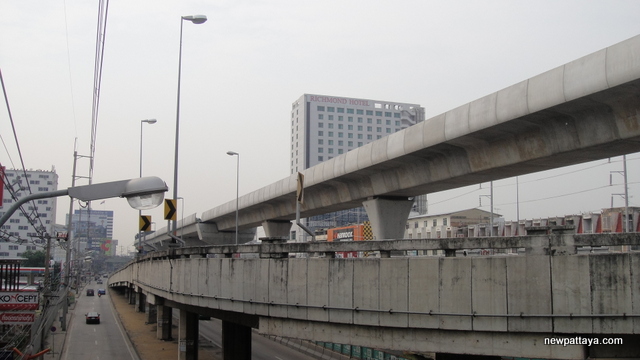 According to the security guard there will be a high-rise called Aspire by AP Development on this plot of land. They are building a sales office in february 2013. We are very close to the Supalai Park development mentioned above. All the projects have been put on a map at the botten of this page.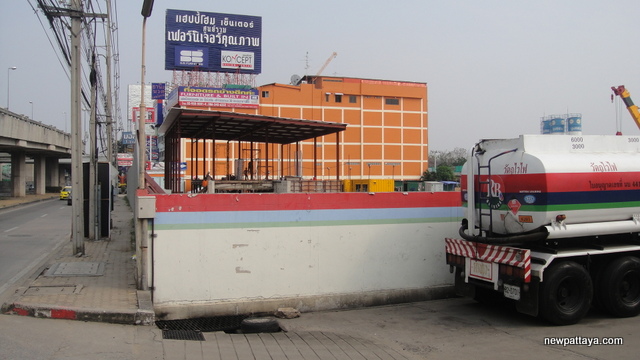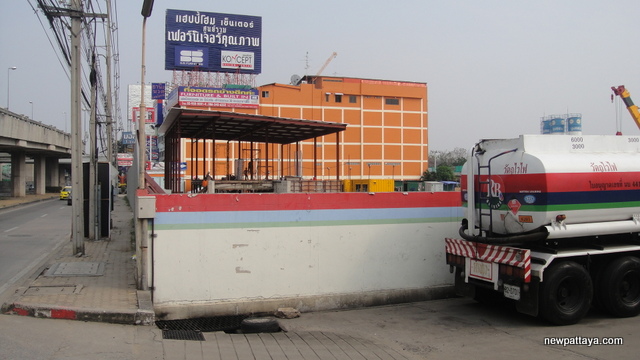 Si Phon Sawan Station (ศรีพรสวรรค์)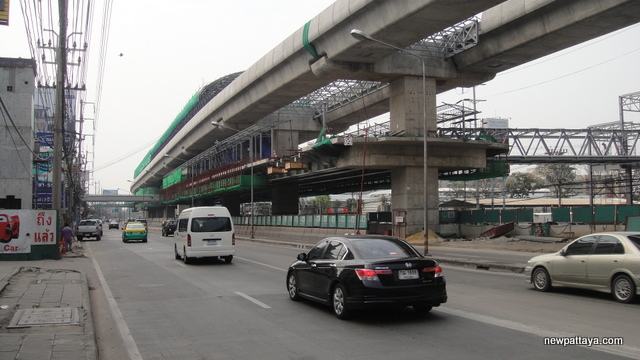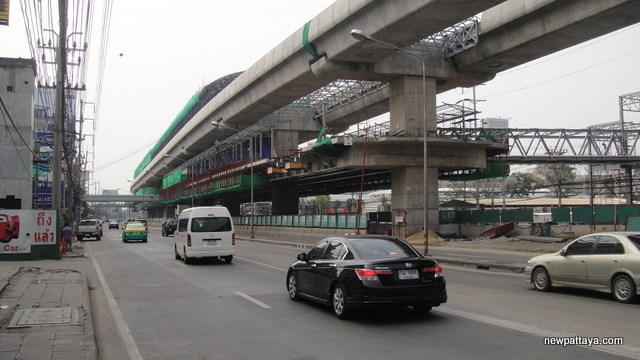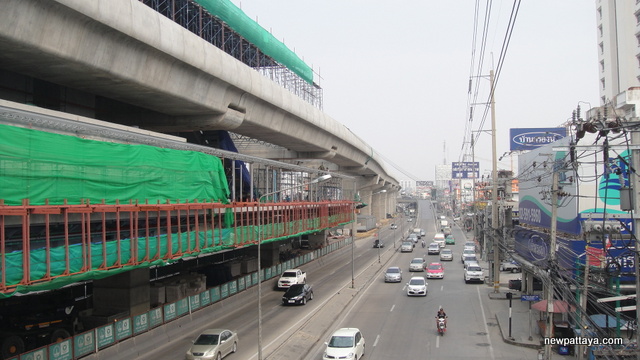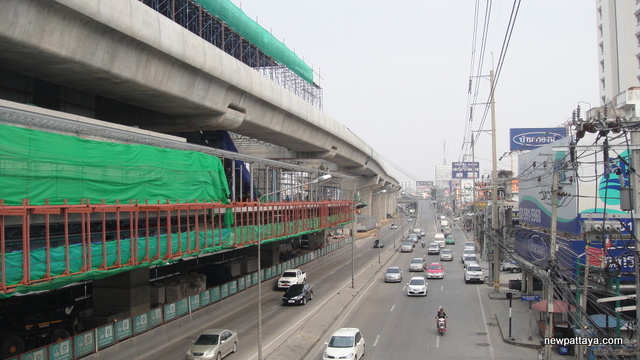 There is a Big C Supercenter at Si Phon Sawan Station.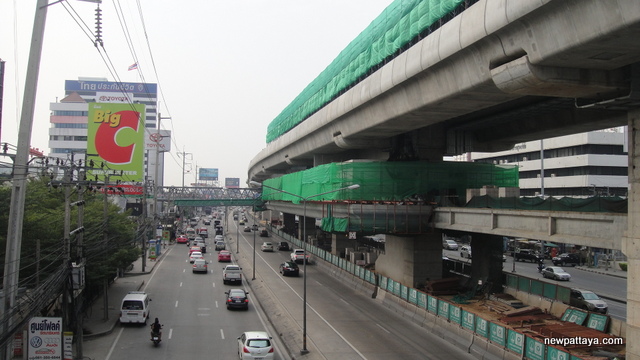 The Hotel is not a hotel, it is a 26-storey condominium project located at Si Phon Sawan Station opposite Big C. Price starts at 1.59 MB. Read more about it here: www.thehotelcondo.com – construction has not started yet (3 february 2013)
I sure hope you appreciate all the information I am serving on a plate here. It all comes from me, unique information not available anywhere else.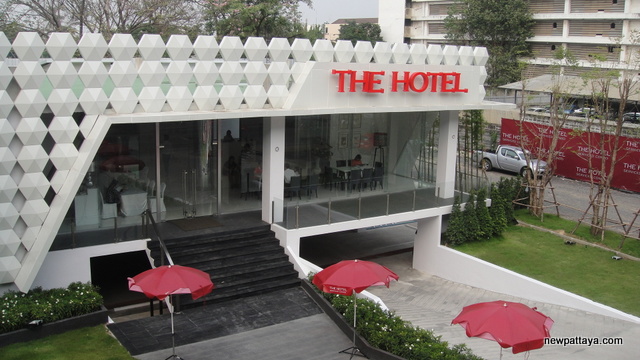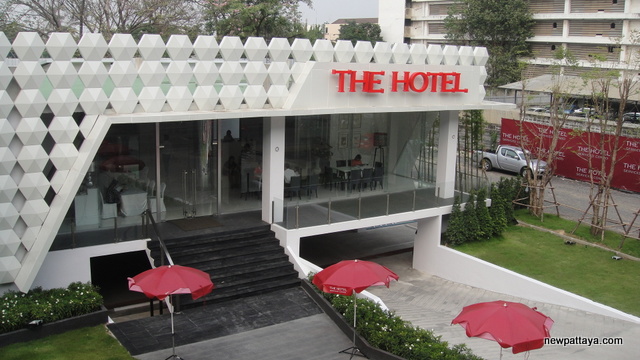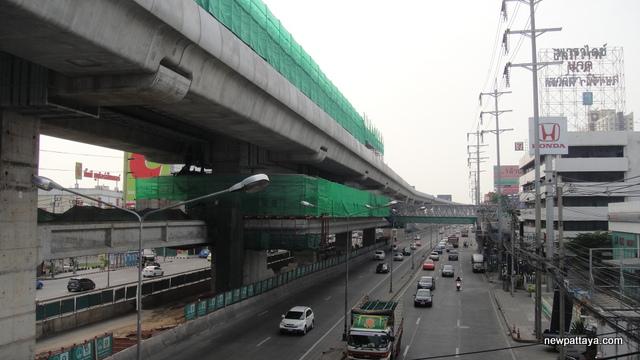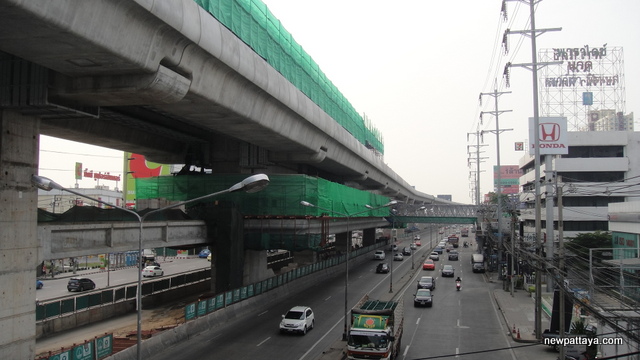 Very convenient with Big C Supercenter at Si Phon Sawan Station.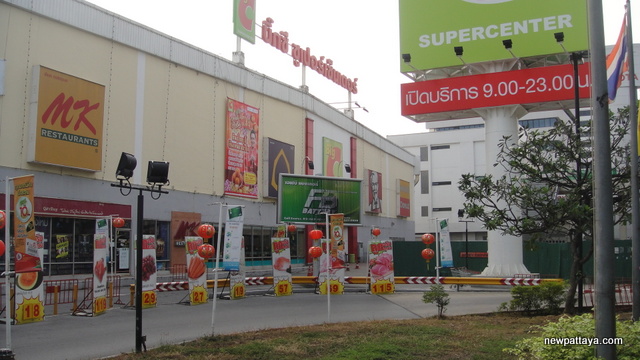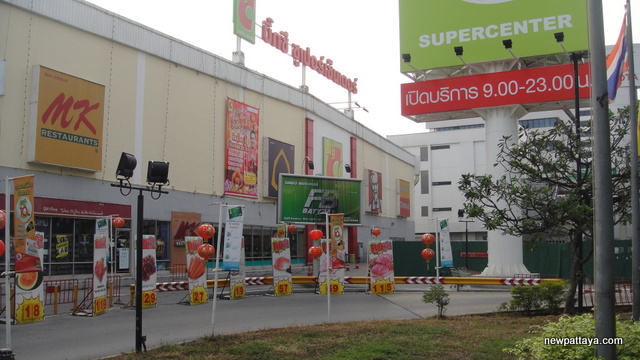 Yaek Nonthaburi 1 Station (แยกนนทบุรี 1). Central Plaza Rattanathibet is located at this station.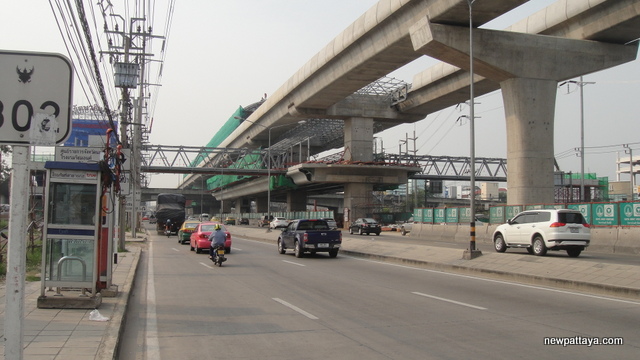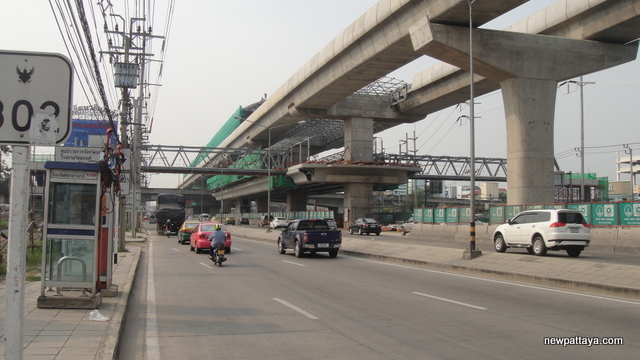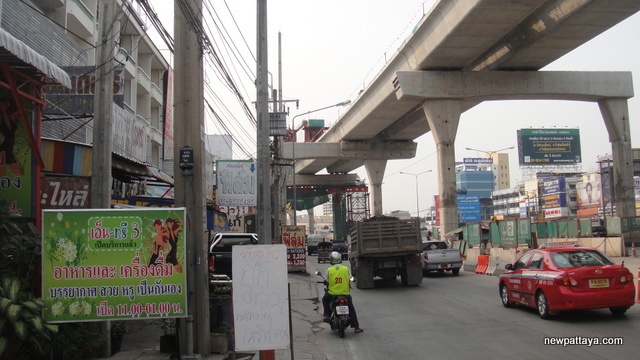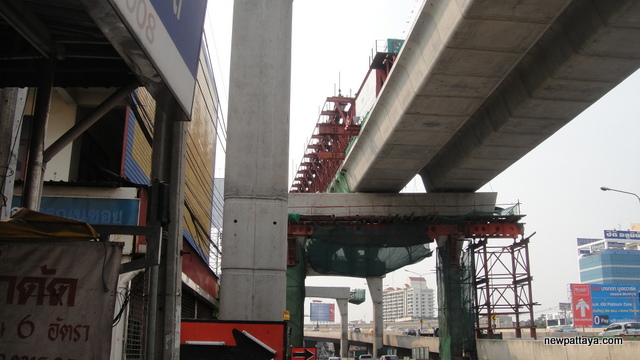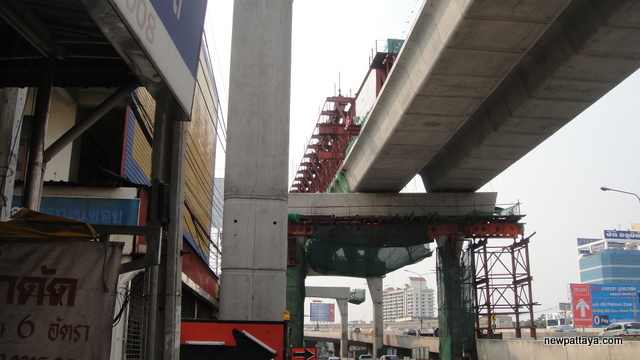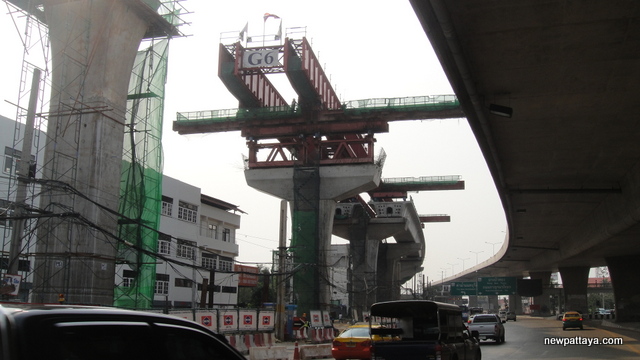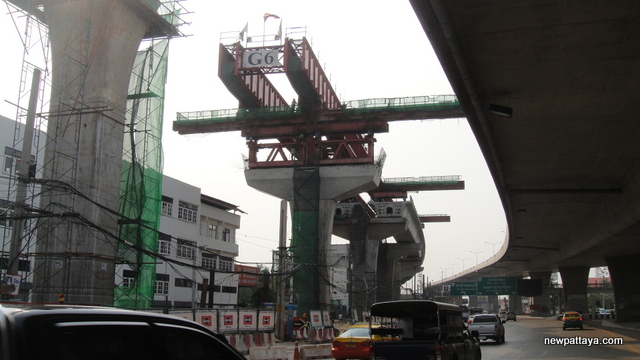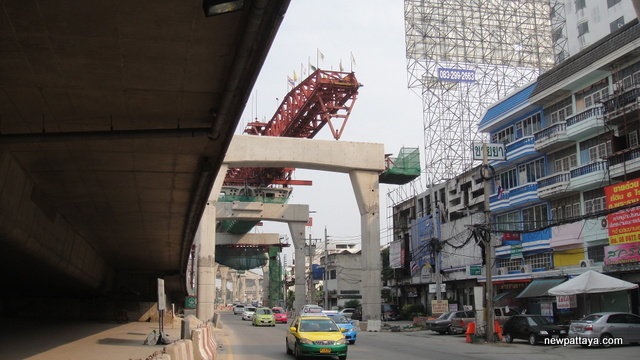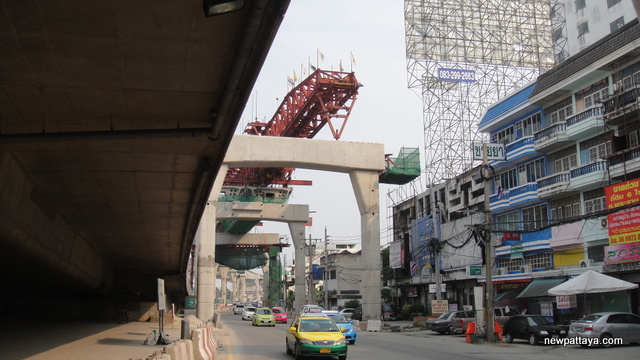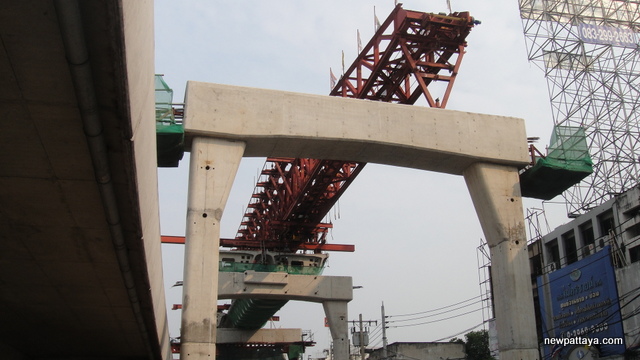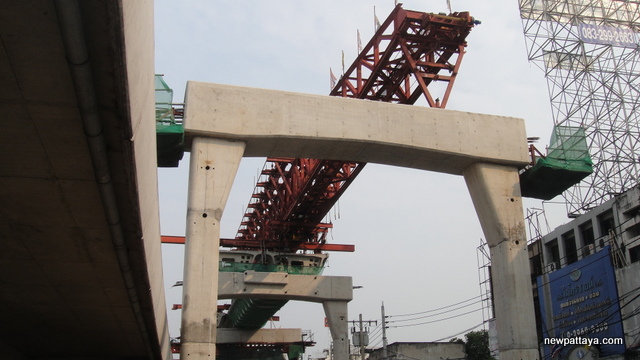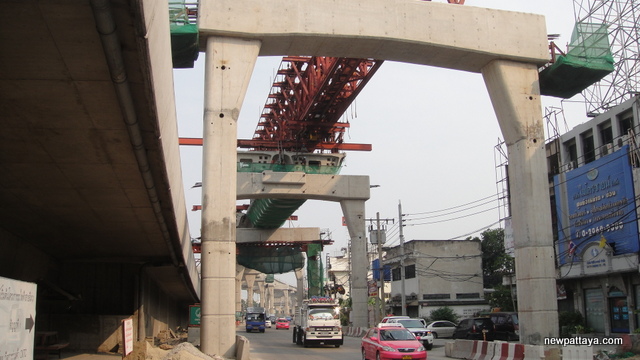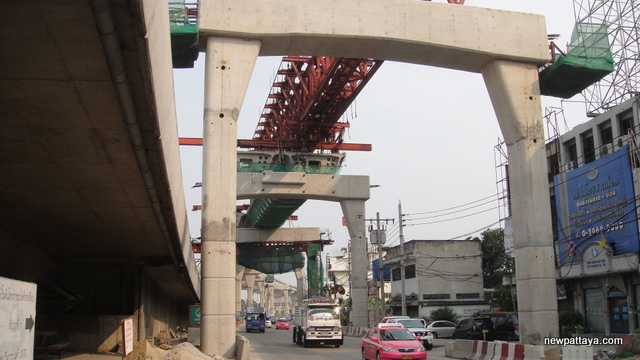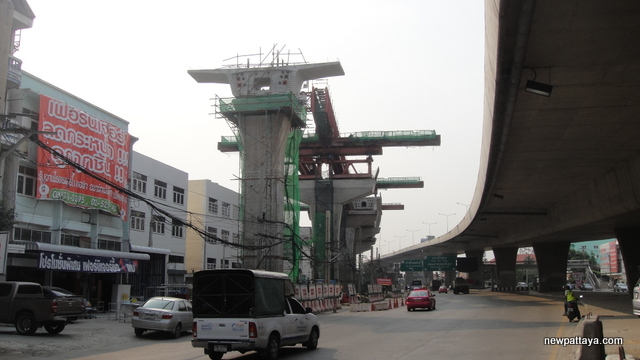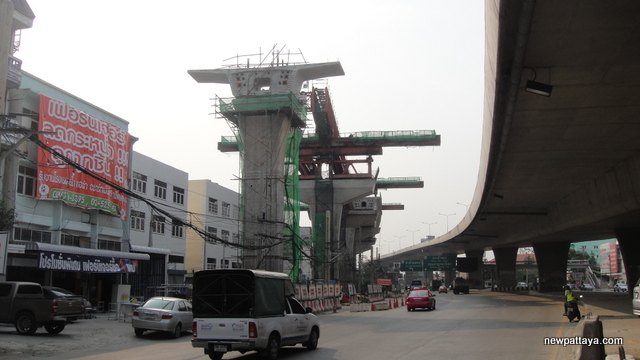 Here you can turn left to Sanambin Nam Road (ถนนสนามบินน้ำ)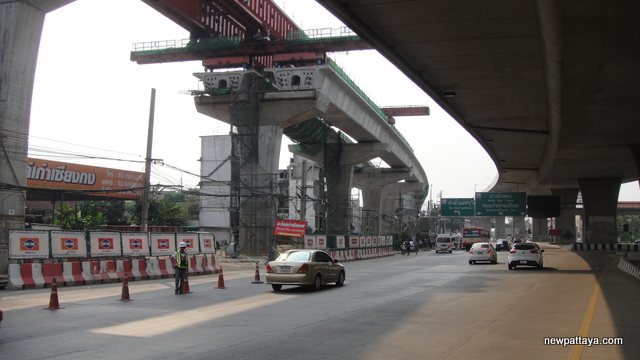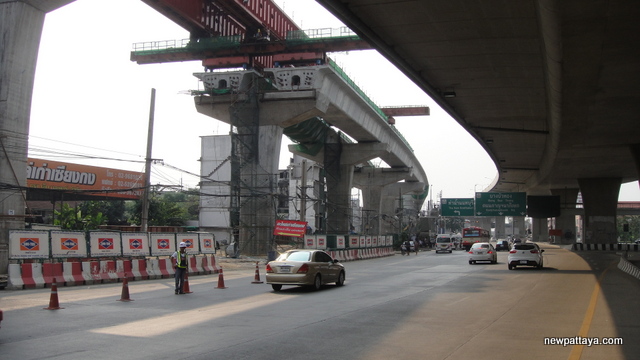 Below you will find ten pictures of the construction of the Skytrain Bridge over the Chao Praya River. For me it was truly amazing to observe this technical achievement that deserves an award. This was the climax of the whole day.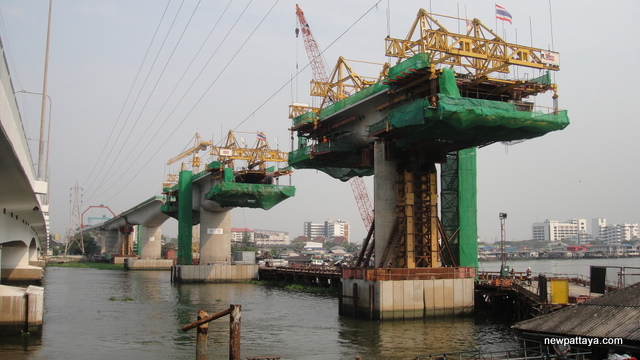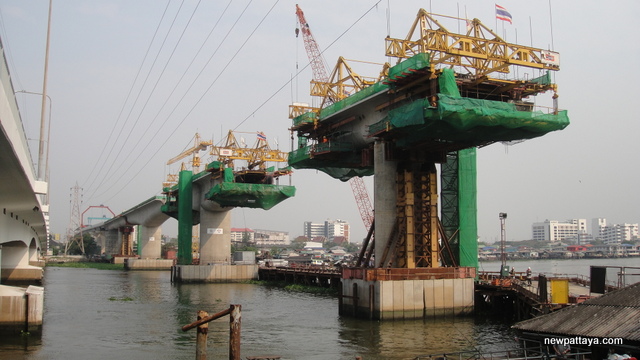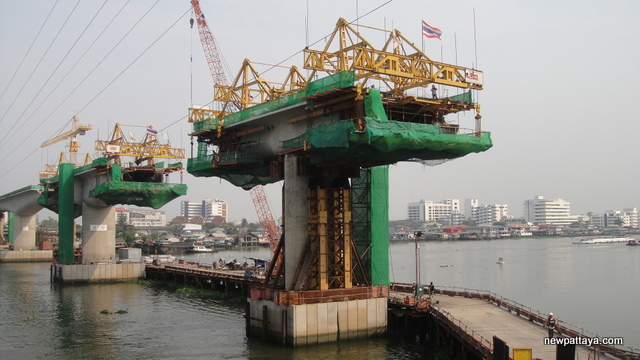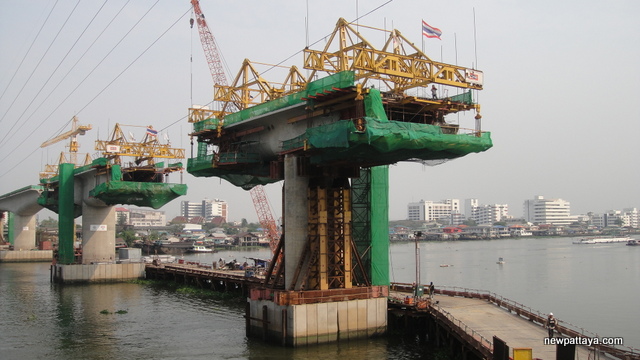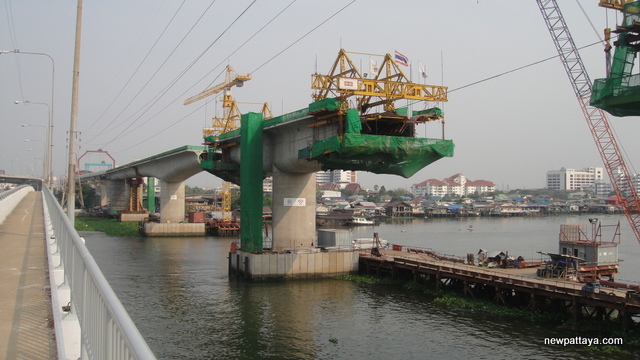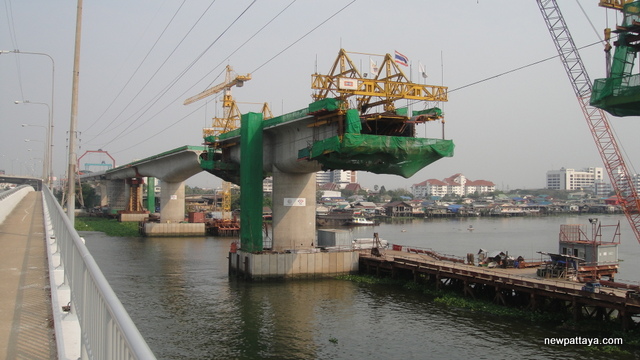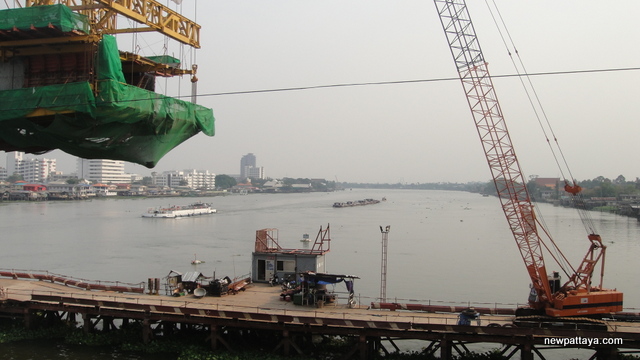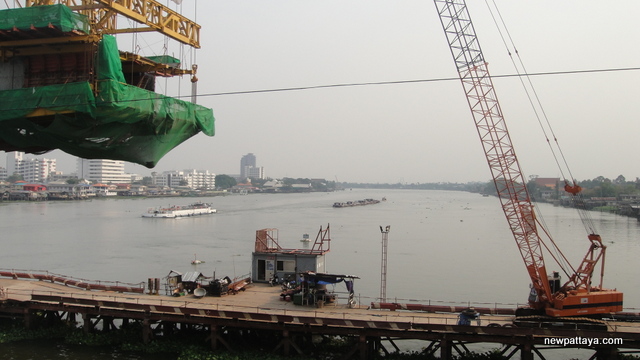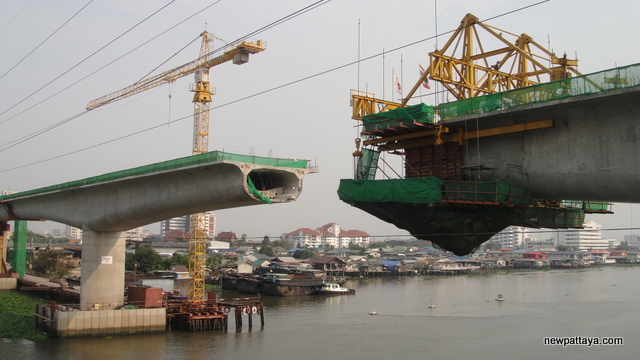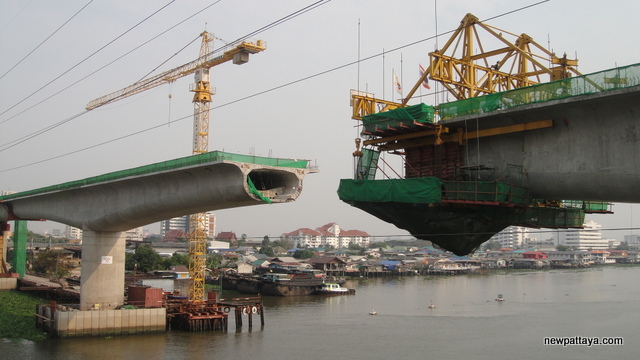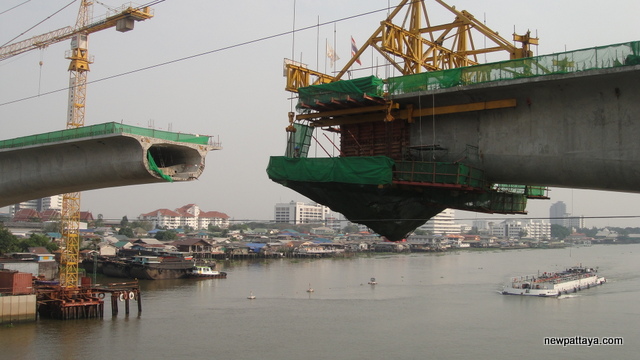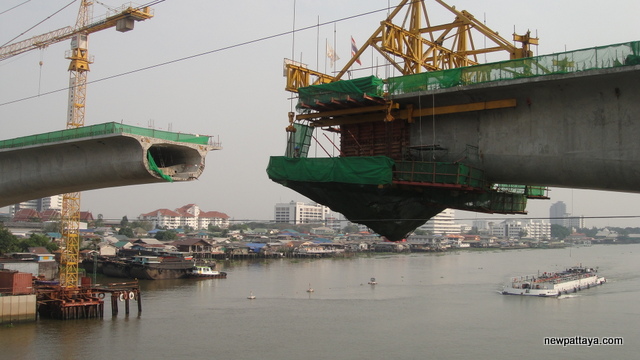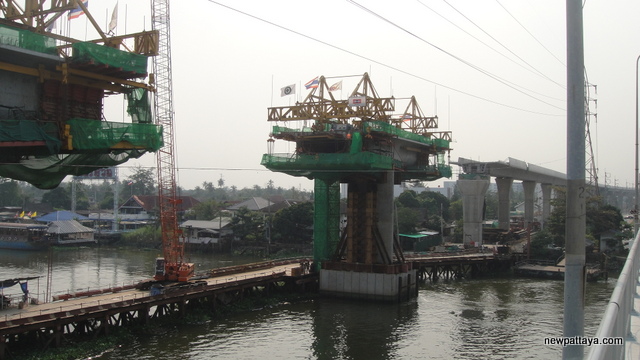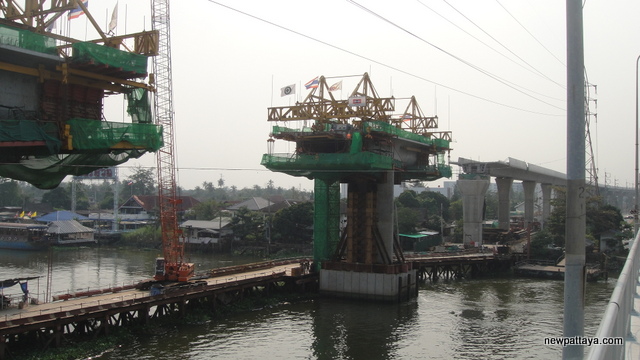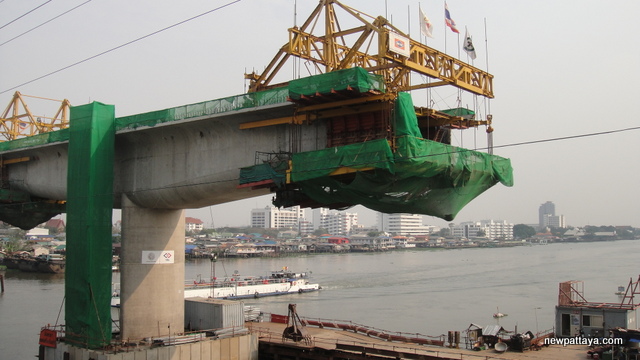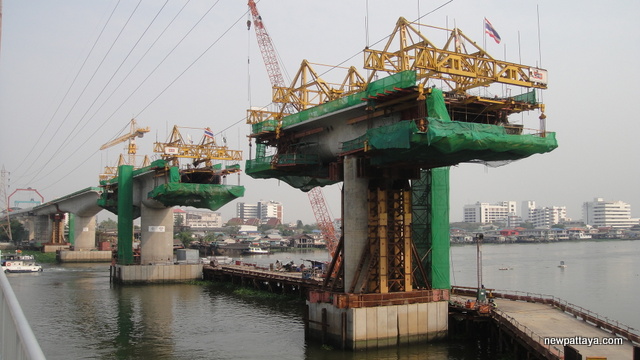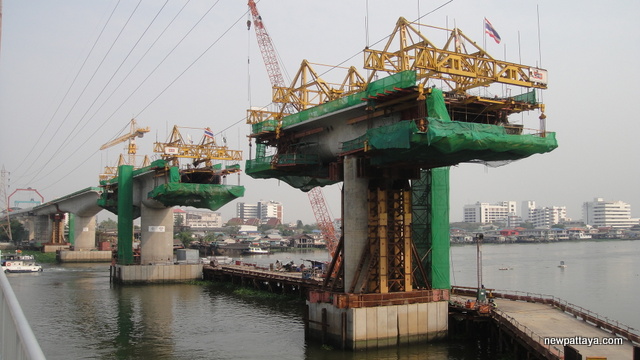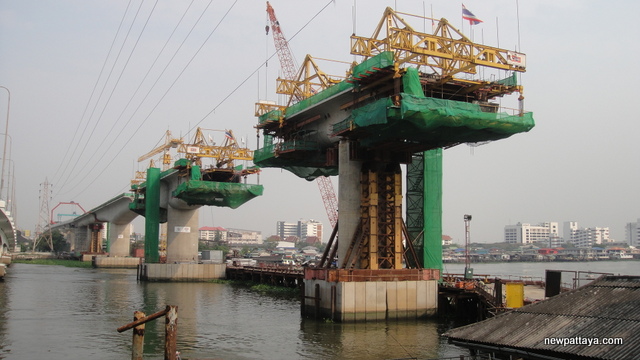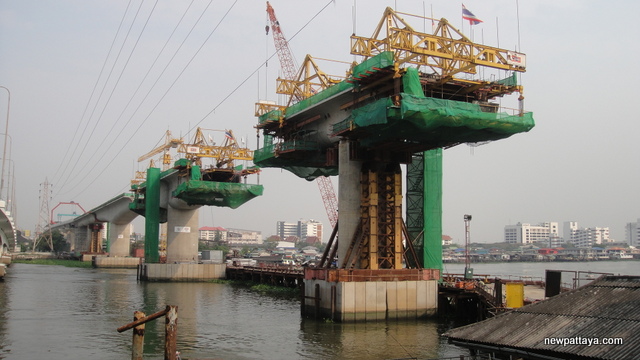 Sino-Thai Engineering & Construction PLC is building the remaining 8 stations covering a distance of 11 km including the bridge over the Chao Praya River.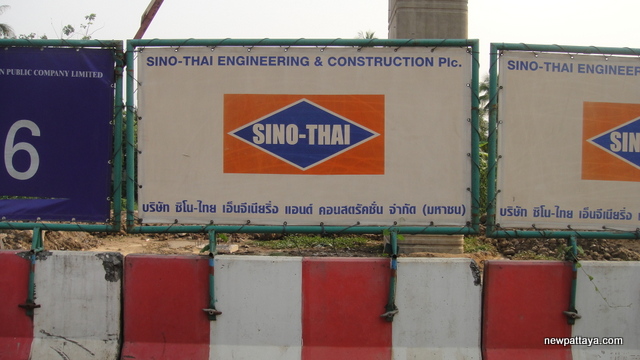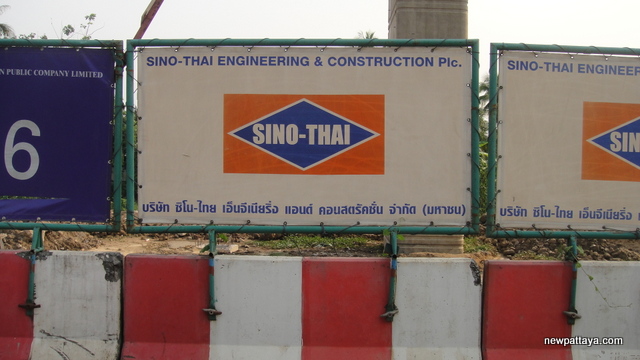 Sai Ma Station (ไทรม้า)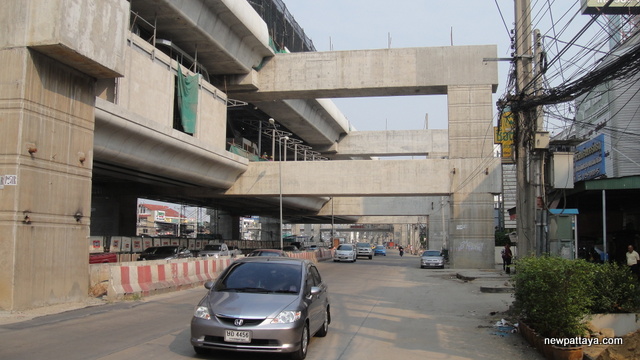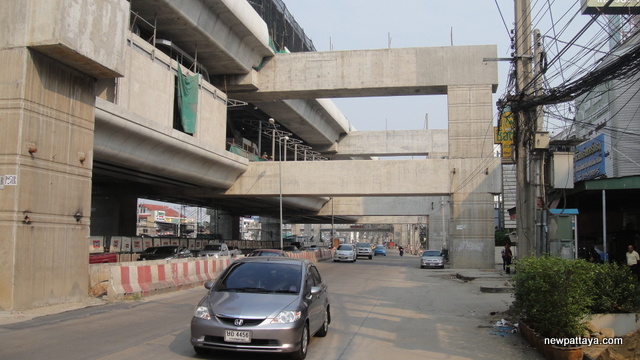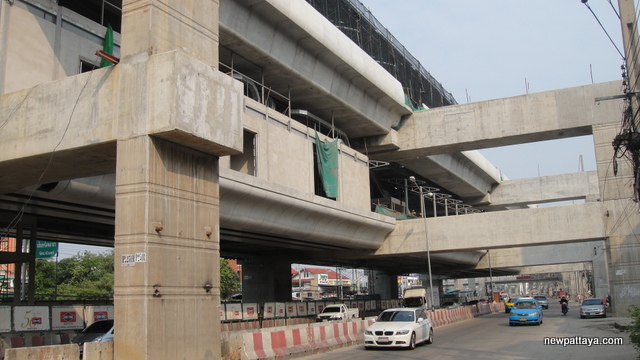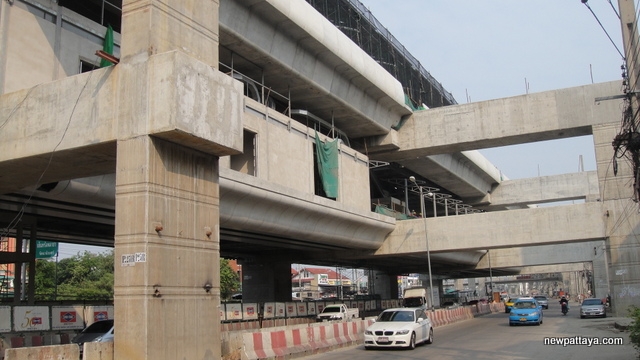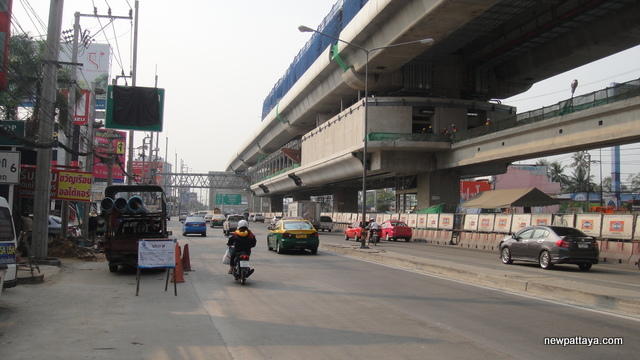 Tha It Station (ท่าอิฐ)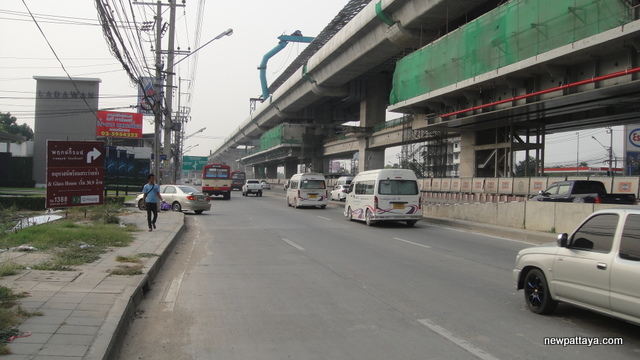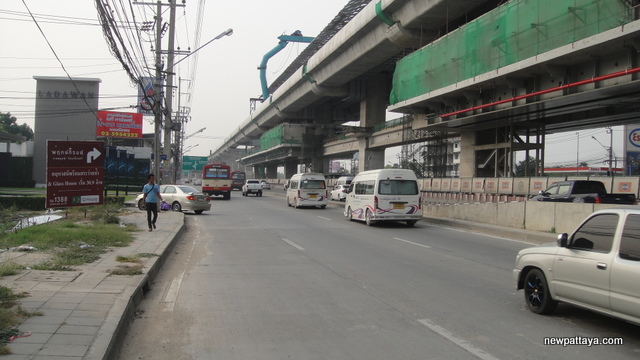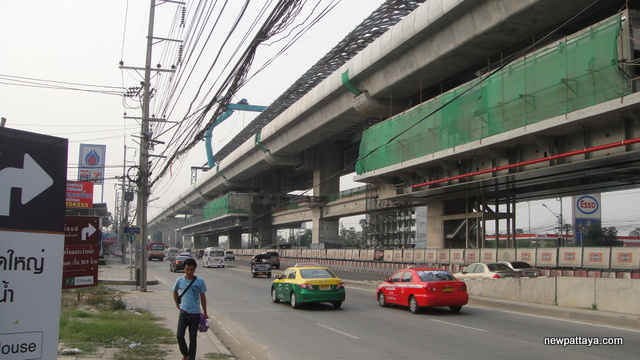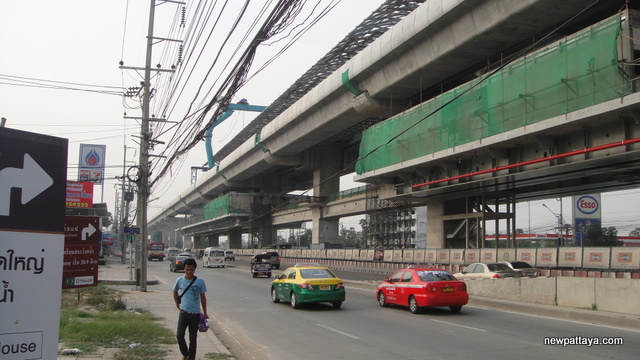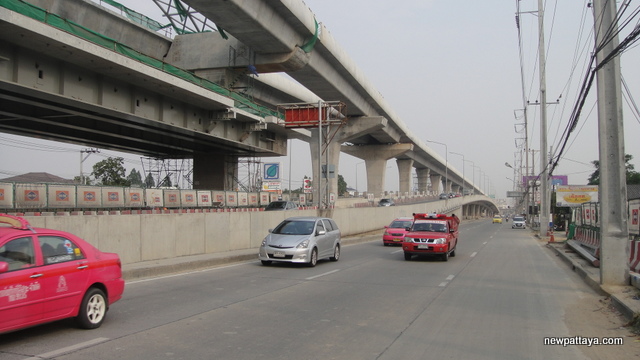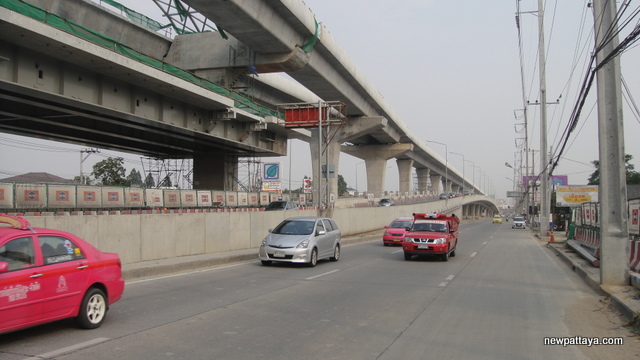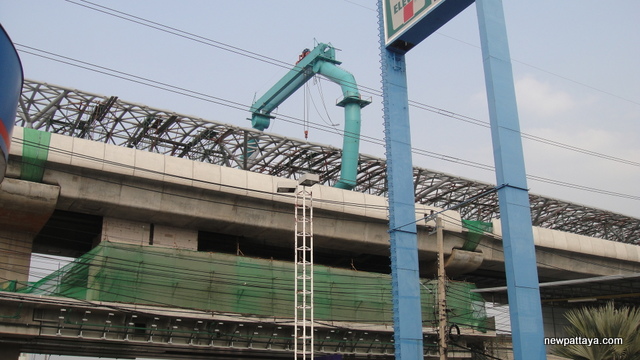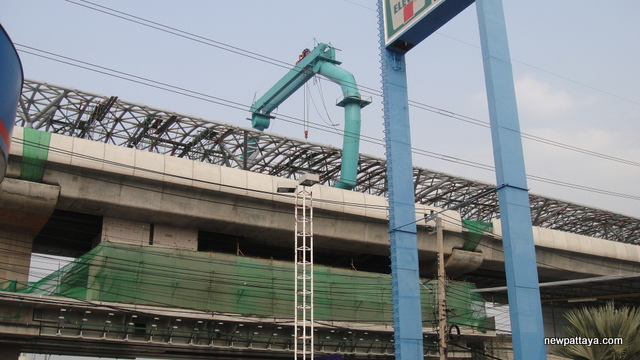 Sam Yaek Bang Yai Station (สามแยกบางใหญ่)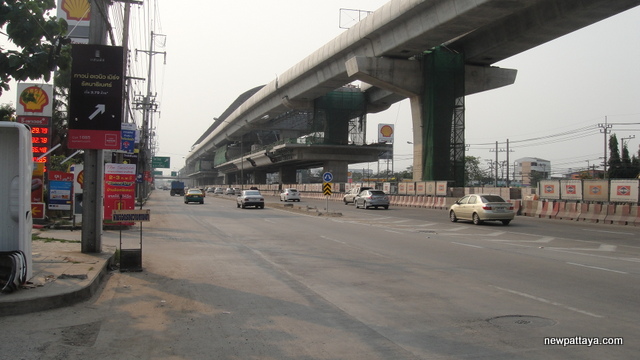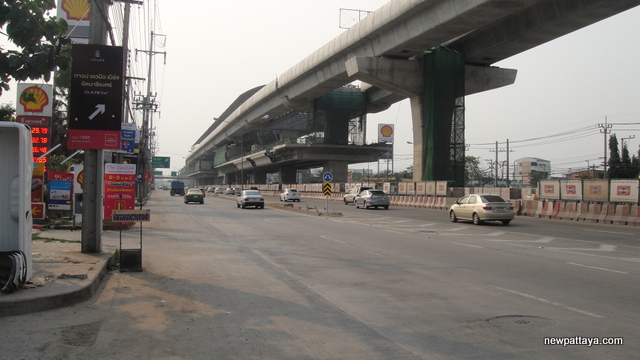 The Purple Skytrain is leaving Rattanathibet Road and going to Outer Ring Road also called Kanchanaphisek Road or Motorway Route 9. Outer Ring Road is for the most part a high speed motorway but the part we see here is just a highway. This road also leads to Suvarnabhumi Airport and Motorway 7 if you are going to Pattaya.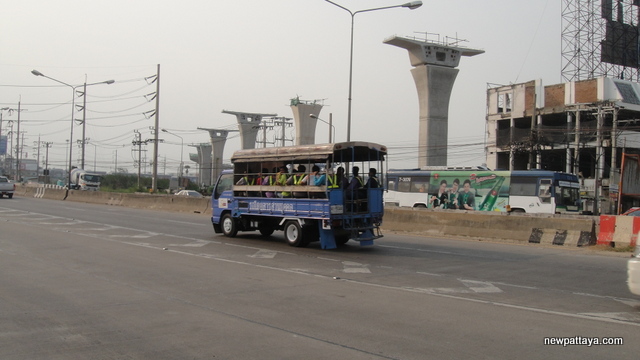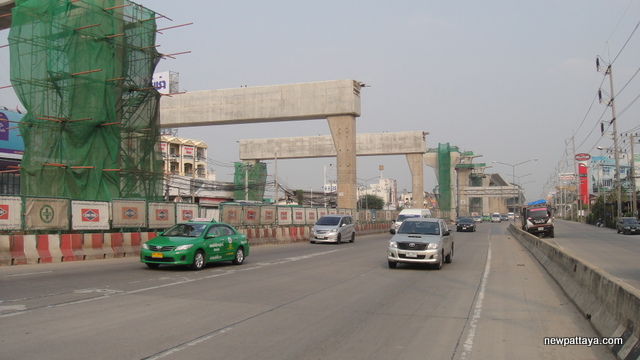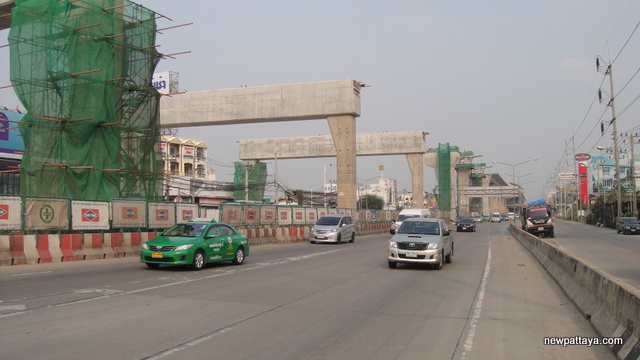 This is Outer Ring Road also called Kanchanaphisek Road or Motorway Route 9.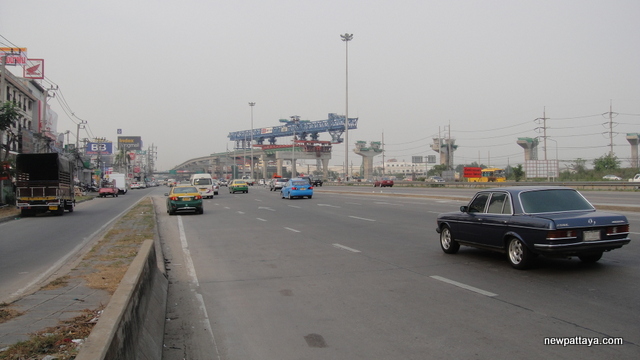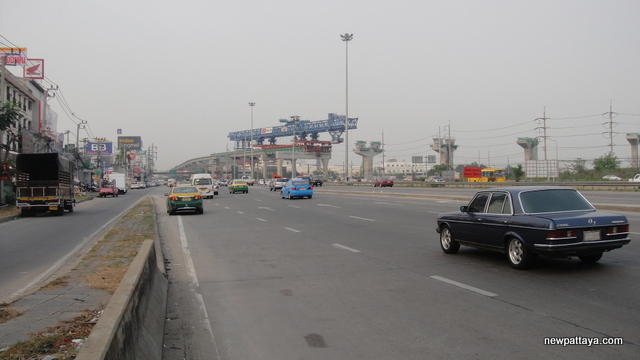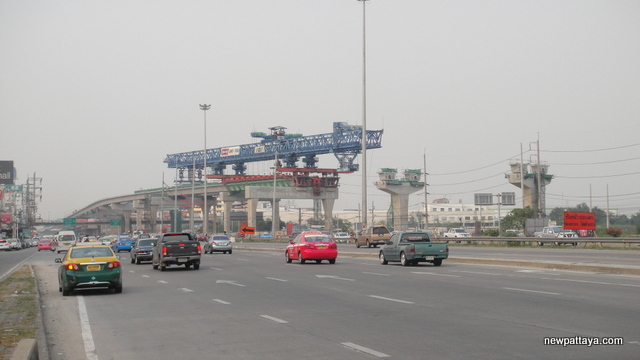 Khlong Bang Phai Station (คลองบางไผ่). The first or the last depending on how you look at it.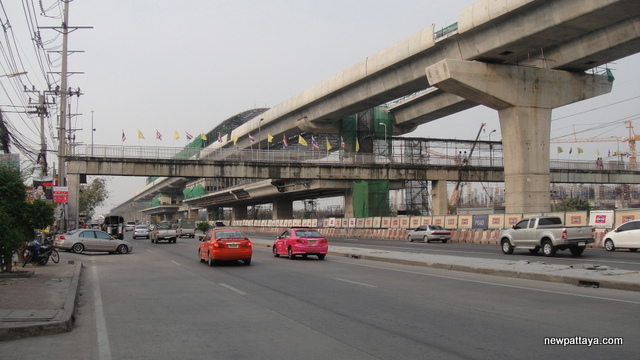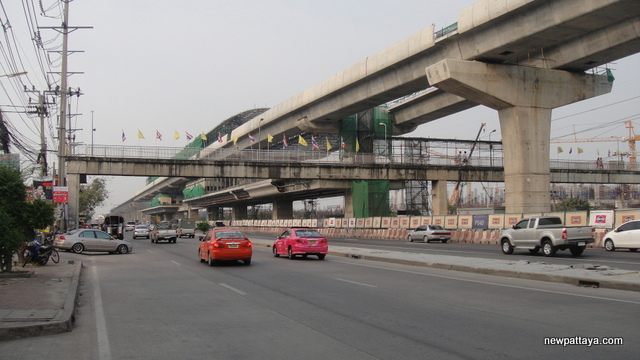 If you read these words it means you might have followed me to the end. Making this article about the Purple Line was something I just had to do. I have been wanting to do it for a long time and for me it was like going on an adventure just like I did when I was younger, exploring the world. I am still young at heart and curious but I am a father now and that puts constraints on what I can do, at least for the moment. Here I have given the most precious thing I always have too little of: time.
Want more information?