The new Editor's Corner can be viewed here.
Editor's Corner Part 2 can be viewed here.
25 November 2013
Some developers are getting desperate. The booking fee is reduced from 50,000 baht to only 5000 baht. They don't do that unless they have to.
Some do well, many others are in trouble. It is not enough to have low prices anymore. You also need to have a good location and be a respected developer.
25 November 2013
Old and tired
Energy levels below zero
A little melancholic
Yes, I have those days
When I don't feel strong
When I feel lost
When I don't know
Where I am headed
Whining again
I know
I will try
To get over it
To be strong
I have to be
25 November 2013
I went jogging today. For the first time in 6 month I think. Can't remember. This year I have gone jogging less than 5 times. I simply have not had the time. I bought a DVD a long time ago, last year I think, I still have not had the free time to watch the movie. Always something comes up.
Whining again. I know. I will try to get over it.
25 November 2013
What is life worth
If I can't relax
At least once in a while
2013 is ending
Long before it started
Gone with the wind
Did I live
Or did I just work
Work work work
Need a holiday
A week in Chiang Mai
Would be nice
I dream
Of getting away
Just for a while
But it is just a dream
Dreams are good
I won't stop dreaming
You never know
Perhaps one day
24 November 2013
It sounds crazy but I often write about a project long before the developer goes online with information about the project.
I mean, it is his project, logically he ought to be the first. I think it is lack of professionalism.
These developers often act against their own interests, it is almost as if they don't take it seriously. They make so many unnecessary mistakes.
24 November 2013
If information is not available online I will step in. That is my specialty, to do what nobody has done.
There is a lot of activity going on behind the scenes. I get a lot of requests from many different people. Last week somebody asked me about the location of Pattalet, that information is not available online.
It will be now, I will make sure of that.
24 November 2013
There is somebody out there, I call him the phantom of the opera, I have no idea who he is, but he knows a lot of stuff that most people do not.
This phantom is following me, he has been following me for a long time. Who is he? He wishes to remain hidden, I know that much.
I know he is in Thailand, most likely not a thai national, he probably lives in Bangkok.
Funny guy, smart guy, unusual guy.
24 November 2013
If I were to run a local newspaper I could beat even the big newspapers with a staff of 60 people. Single handedly I could beat them all and I would not even have to try that hard.
It is not that they suck (or is it?), it is just that I am that much better.
Now, I am not opening a newspaper any time soon so they can relax. I am just saying it would be so easy for me to stay on top of the news, not just the construction news.
I don't know how I do it. But I do it. And they all know it. Stay tuned, something big is coming.
23 November 2013
The list of new projects include projects that went on the market in 2013. Many of these project have not been officially launched, for all I know the developers may choose have a big launch party some time in 2016. I don't care about whether a project has be pre-launched, soft-launched, re-launched, unofficially launched or officially launched. If the units are on the market, that's what counts. That and only that.
I don't play these stupid time buying games.
23 November 2013
A new Makro store is under construction in North Pattaya, the store will have a size of 3000 sqm. The new Makro North Pattaya is located opposite Pattaya Posh Condominium. This will be the second Makro outlet in Pattaya.
22 November 2013
Thanya Building Co Ltd is the main contractor at The Vision. Most people don't care who the contractor is, they just want their condo delivered on time.
However I care about who is constructing the buildings, I care about the details. In Pattaya VKK Construction is responsible for building an extremely large percentage of the current projects. They also build hotels for lesser known companies.
VKK has become extremely powerful, they almost have monopoly status regarding construction in Pattaya. They build for most other developers and they also build for themselves.
The money is rolling in, they have become double digit billionaires.
22 November 2013
In 2012 of all the launched condominium units, no more than 45% were sold. Presumably in 2013, of the 9854 units that went on the market no more than 30% has been sold.
What does that mean? It means that some of the developers will go down with a bang, they will go bankrupt. The banks will not finance a project unless 50% of the units have been sold.
That leaves us with the big question: Why do the developers keep launching projects despite of low sales numbers? In my world, what they are doing is not logical.
21 November 2013
It is likely we will get just a single water park, the Cartoon Network water park. Ramayana and Nusa water park looks more like wishful thinking, at least for the immediate future.
That will not be a problem, Cartoon Network WP is big enough to handle the demand. Give Pattaya and the region time to grow, then, if needed, more water parks can be built at a later stage.
There is no need to rush things, if something is bound to happen it will happen.
21 November 2013
Tomorrow is the prelaunch of Pattaya's most prestigious resort residence.
Ok fine, you can get the "most prestigious" residence for just over 1 million baht. Ahmm, well…. here in Pattaya we can get away with saying anything, can't we?
I am the best property Guru in the world, Porchland is the best developer, Matrix is Asia's best developer and Heights Holdings offers the most prestigious residence at only 1.2 MB.
I told you, we can get away with it. No need to walk in too small shoes, it is painful. Just keep saying it, somebody will believe it sooner or later.
20 November 2013
Take chances
A lot of chances
By doing so
Things may happen
The future
Can be changed
The future
Is yours to make
You can
If only you want
Remember
You only have one life
20 November 2013
Hotel D'Acqua comprising 1200 units was originally offered to investors so ordinary people could become hotel owners.
However, this concept was not successful so Nusasiri decided to manage the hotel project alone and has returned the money to the investors.
20 November 2013
Do you know that the fast train system to Bangkok will run through the Nusa Chivani development separating phase 1 and 2 on one side and phase 3 on the other side?
Do you know 40% of the 88 houses in phase 1 have been sold? There is just 1 house left at 8 MB. The rest cost between 10 and 14 MB.
Now you know.
19 November 2013
Magic, guiding angels, poetry, property bubbles, new developments near and far. Rather innovative if you ask me.
Anyway, we had a great trip to Sriracha both today and yesterday. We is of course myself and the little princess. We leave home very early in the morning so we are back before 10 o'clock.
19 November 2013
It seems there is an untapped market for development in the area between Sriracha and Laem Chabang. I have recently talked about 3 new projects in that particular area, all projects launched in november 2013, Supalai Vista, Zen City Condo and Sea Hill Condo.
Follow the Property Guru on his journey through the property jungle in Thailand. Remember, there is just one expert, the others are just wannabes.
19 November 2013
Hmmm….
They like this kind of story
What a shame it is just a story
What a shame the world is not a magical place
Or perhaps it is after all?
Some secrets I must keep for myself
Some secrets are never to be told
An indication will have to do…
19 November 2013
Yesterday the spirits told me to go north. So I did. Again this morning they told me to go north.
Weird, I thought, I went there yesterday, why repeat the journey?
I did not ask any questions, did as I was told.
Today, more or less the same journey but I knew I must have missed something yesterday.
Absolutely correct, I did miss something very important. And today I was led in the right direction. Read all about it later.
Call it magic, call it what you want. I don't need to convince anybody.
It is amazing news.
19 November 2013
Not just a few steps ahead, but as usual many steps ahead. A lot more amazing news is on the way. OK, I admit I am going bankrupt by doing it, not much I can do about that. But I love doing it.
Stay tuned.
18 November 2013
This morning the voice inside me told me to go north. I went on the motorbike, this time of the year the mornings can be absolutely great for a ride. Feeling the fresh wind blowing, the sun is not hurting me at this hour. Try it, it is really nice, you will feel alive. I came back with a story. Lesson: Leave the office once in a while and learn to live. And learn a little at the same time.
16 November 2013
There is magic in my life
I go where the wind takes me
Always follow my heart
Follow the voice inside me
Not knowing what will happen
Believe it or not
Today I met a developer
Just like yesterday
An amazing developer
Someone I admire
He talks with authority
Like a professor
Magic will come
Into your life
If you are pure
If you follow your heart
I do feel honoured
I do feel lucky
I do feel blessed
However
I don't deserve it
16 November 2013
Running away
To Bang Saray
Watching CN Water Park
A car pulls up
Who could it be?
A developer
Shake hands
A great guy
A wise guy
I like him
Oh my God
Nowhere to hide
16 November 2013
Too many new impressions
Are not good for me
I become unstable
I am too sensitive
I need to take a step back
To protect myself
To get back to normal
I think
Better for me
To watch from a distance
16 November 2013
I was impressed
Truly
It does not happen often
Only
I had no idea
Totally unexpected
Glad to learn
Creative people
Are to be found
In Pattaya
Glad to learn
I was wrong
16 November 2013
I like the artist
If you impress me
I will write about it
If you are creative
I will write about it
It is not enough
That you can make money
The easy way
Using the network
Making phone calls
All day
Only to make deals
If you are an artist
I will write about it
15 November 2013
Sorry that I talk a lot today. I was overwhelmed by what I saw. If I feel good about something I will need to talk about it. When there are feelings involved funny things happen to me, that is just how it is.
One day I hope to tell the real story with photos. Not today, not next week but hopefully in the near future.
15 November 2013
I am impulsive
Guided by the spirits
This morning
Going out
To buy breakfast
For my wife
Thinking
Hey
Let's take a quick look
At a few construction sites
I had not even showered yet
Not brushed my teeth
I wore the same t-shirt
For the 3rd day in a row
Not dressed to meet people
The food shop
Corner of Nern Plub Wan
And Sukhumvit Road
Took a detour
Shot some photos
There he was
Out of the blue
He had tired eyes
He did not know me
Did not recognize my daughter
Something happened
I got inspired
Felt happy
Felt lucky
Felt honored
I learned a lot
A great day
Glad I made that detour
15 November 2013
In Thailand the developers need to have good relations with the EIA guys. In Cambodia the high profile developers need to have good relations with Prime Minister Hun Sen, president since 1985. The procedure is more or less the same in both countries, however there are a few more rules in Thailand.
15 November 2013
The little one needed to go to the bathroom, naturally I started to check out whether the tile works in the bathroom had been done properly, check the quality of the light switches etc.
I look, I touch, if something is not right I will find it.
15 November 2013
With me you get the real thing
Passion
The guy who hangs out
At Kanyong
HomePro
homeWorks
Boonthavorn
And IKEA
– Just for the fun of it
15 November 2013
Thinking I am the best
Mr Perfect
Only to find
There is someone better
Someone more perfect
A true genius
True
Can't compete with him
He has worked hard
For a long time
He is damn good
In a league of his own
It is an honour to have met him
He is beating all the odds
A winner
He may not know it yet
Greatness awaits him
Of that
There is no doubt
15 November 2013
Absolutely wonderful
Sometimes dreams do come true
Sometimes life brings pleasant surprises
A great morning
I saw something
Got blown off my feet
Think I am in love
Did not want to leave
Met someone
A great guy
Had a great time
Had the time of my life
Left speechless
Too good to be true
Some people get it right
Some people make it perfect
Attention to details
So many details
Love at first sight
A miracle
Amazing
Very surprised
Much better than expected
Love his ideas
His own ideas
Not someone else's
Absolutely wonderful
Thank you Sir
For making me happy
14 November 2013
I have been productive this week, however, continued health problems in the family means there will be more non-productive days in the near future. I miss Bangkok, I miss IKEA, I miss being out in the real world doing fieldwork.
14 November 2013
Ask yourself where it is happening. It is happening right here. A local from Pattaya is taking care of it all. Don't worry, you are in good hands. I have many more surprises up my sleeve. Stay tuned.
14 November 2013
The one who controls the print media in Pattaya will become extremely powerful and rich. Having a strong presence both online and in the print media is recommendable for most businesses. A strong online presence will give you influence because you will be able to reach prospective customers instantly. With just one click on the mouse you can send a message to thousands of people all over the world in less than a second. However, the big money lies in in the print media.
Only 6 years from now we will be in the year 2020. By then Pattaya will have changed considerably, Pattaya will be a real city very different from the Pattaya we know today.
If there is some rich guy out there looking for influence and power I suggest you buy magazines and newspapers like The Trader, Real Estate Magazine and Pattaya Mail. It won't be cheap because the present owners are making real good money, however, 6 years from now they will be making a lot more money than they do today.
There is a big difference between running a paper or a magazine in a village and doing so in the second largest city in Thailand.
14 November 2013
My new name is คนน่ารัก ใจดี. เบื่อฝรั่งจริงๆ. There are too many fake people that would sell their grandmother for a few bucks. There is nothing worse than fake people. Don't trust anybody.
13 November 2013
Do you want to follow Pattaya's Property Guru on a trip to Phnom Penh? We will look at Riviera Condominium in Phnom Penh.
Yes, I said Riviera Condominium – it just shows how small the world is? The clever architects copied Marina Bay Sands in Singapore.
You don't know what I am talking about but you will learn. The architectural firm is A7corp from Thailand. Yes, a thai company is involved.
Follow the smart guys, or follow the only smart guy and see what happens.
13 November 2013
If a project fails for various reasons, be it low sales numbers or lack of EIA approval, investors should NOT come to me for sympathy.
Even if the developer end up pocketing 50 MB from the failed project, still don't come to me for sympathy or ask for your money back.
When you invest in off-plan developments you gamble, then you must be man enough to take the losses if they come.
13 November 2013
The sheer number of projects on the market are confusing the prospective purchaser. Frankly spoken, navigating through this jungle of properties is difficult even for the experts. It is a mess.
12 November 2013
To be fake or not to be fake
That is the question
Someone baked a cake
– The cake is delicious
– Can I have one more piece?
That is what my sister would say
Even if she did not like the cake
Every weekend
For the rest of her life
She would eat the cake
Even if she hated it
To avoid hurting others
In that respect I am different
If I don't like the cake
I will say so
I seek neither to please
Nor to displease
If I clap my hands
I will tell you
If I am not so happy
I will also tell you
Not to hurt you
Just to tell you
How I feel
Nobody likes criticism
Myself included
For what it is worth
At least I am not fake
12 November 2013
Information is power
Information is influence
I educate people
They learn
Become aware of certain issues
Learn what to watch out for
I am growing
I have a strong online presence
Not everybody likes that
But most readers do
12 November 2013
Pattaya's Property Bubble Part 12 has just been released. Just know, these bubble articles are damn hard to make, I need to focus real hard to produce them. There is no 'copying and pasting', it all comes from me. Creating from nothing is difficult but who cares. Enjoy.
http://newpattaya.com/news/pattayas-property-bubble-part-12/
12 November 2013
Do you know that many people fear me because I am smart? They don't like that I have grown from nothing in a years time. They don't like the truth to be spoken out loud.
Yes, there are somebody that would like to get rid of me.
12 November 2013
"Only few people can report independently because of the dependence of the industry"
12 November 2013
"Some developers believe nothing has changed. Perhaps they are addicted to the game? Perhaps the risk is worth the reward?"
11 November 2013
Most condo owners are speculators looking for a bigger fool than themselves. Finding the bigger fool is getting tougher these days. But there are still plenty of naive people around that don't know anything about the property market.
11 November 2013
Love developers without condition
Talk about their projects with only good intentions
Give to developers for no reason at all
Care for developers without expecting anything in return
(Not in the real world)
9 November 2013
Been gone a week. Some nurses from hell almost drove me crazy but what doesn't kill me makes me stronger. I learned a lot this week, I learned that thai culture is deeply rooted in Thailand's tradition of slavery.
Not sure whether I should tell that story or not since I may need their services in the future.
9 November 2013
Want to read about the Landmark Waterfront project in Bangkok? The Nation, Property Report and even a local paper from Pattaya just copied a press release from the Stock Exchange of Thailand and that was it. None of them knows anything about the project, not even the location. What is the fun of just copying and pasting?
I have the story, the real story. The only Pro in Thailand, believe it or not, that's just how it is. Stay tuned.
3 November 2013
The starting price of Kindom Property's 50-storey Wong Amat high-rise will be 170,000 baht per square meter.
This is a big and dangerous gamble. The Guru says wait, it is too early.
3 November 2013
It has been a busy week for me. I feel like I have been spending more time at the hospitals than at home, still, I have been able to cover 3 new launches, COO Condo Pattaya, Ampio Pattaya and Ocean Pacific Condominium. I think I have earned some respect, working hard under difficult circumstances.
The same rules that apply to CEO's apply to me; If we don't do a good job we will be replaced by someone better.
I don't have a big network protecting me so I need to always be a few steps ahead.
3 November 2013
I look at the watch
Make a deep sigh
Not easy being a Guru
Haven't even showered today
Need that shower
Now
Or I will go crazy
However
She needs fruit
And goodies
Off to the market again
Tomorrow
We try again
Wish us luck
3 November 2013
Please don't launch more projects at the moment, I don't have time to cover these important events. Believe it or not, Nova Group has just put a new high-rise on the market.
I will write about it, you don't need to worry, this is a professional who is writing about it. I may be the only pro in town but I certainly know what I am talking about.
I have known about this project for a while but I thought Nova's CEO would wait, I was wrong. It is on the market now, you can make a booking today.
2 November 2013
Are you in the mood for a glimpse into Pattaya's future? I know something that only a handful of people know. All I can say is that we are in for some really big changes in the next 5 – 10 years. The fast train connection to Bangkok will turn our lives upside down. Good or bad, life will never be the same again.
I may write a few words but I have to be very careful with what I say. He is watching my every move….
2 November 2013
Important people are following me, not just local VIP's but also high caliber individuals from the big city. I have been considering whether I should change image and become more mainstream, become Uncle Buckley II.
Do I move past the mental patient image or keep running the business as usual? I don't want to become mainstream, I like being emotionally unstable and unpredictable.
I guess I will keep things the way they are, at least for a while.
2 November 2013
I have received complaints from several readers regarding the CEO of a Bangkok based development company. I have been informed that the CEO is not good at dealing with people and clients of the company in particular.
Of course I can't name any names, then I would be accused of slander against that CEO.
The world is not fair and sometimes the wrong person ends up as the boss, especially if that person is well connected. However, in the long run the CEO will be replaced if he does not produce good results.
1 November 2013
It is great to see AP in Pattaya. They make better products than LPN and Supalai. I am only sad that their first project here is not a high-rise.
1 November 2013
There will always be somebody that stands out from the crowd. I am one of those that stand out. Even when my hands are tied behind my back, even when I am weakened by sickness.
My ideas are powered by passion. That is what makes the difference. I am sorry to inform you but you can't compete with passion.
1 November 2013
My mind has merged with the internet to a degree that I know exactly who is snooping around different places. Some people try to cover their traces but they are not safe from me.
So who are the most smart or intelligent people on the net? As with any product, you will find out by comparing the quality and uniqueness of the products on the market.
Compare 10 cars and you will quickly learn which one is the best. There will always be one that stands out from the crowd.
Follow the smart people on Facebook and you might be surprised how much you'll learn.
1 November 2013
There is this girl at Raimon Land whose job is to research new developments. She does not find the news herself, she follows brilliant people that are able to find the news.
She is harvesting the fruits from other people's trees. If you let other people do the hard work then you are really smart. It is money for nothing and your checks for free.
There are smart people and then there are the ones who follow the smart people.
This kind of comment you will only get here.
29 October 2013
500,000 baht cash back at Del Mare. Question:
1) Do you really get 500,000 baht back or is it just a trick of the trade?
2) Ask yourself why developers all of a sudden are forced to give money back.
3) If it is money back to the customer, then why don't they just make a reduction of the unit prices?
I smell rotten eggs here. Last week Reflection offered 2 MB in cask back, now Del Mare follows with half a million.
WHY would developers give presents to customers unless they were forced to do it????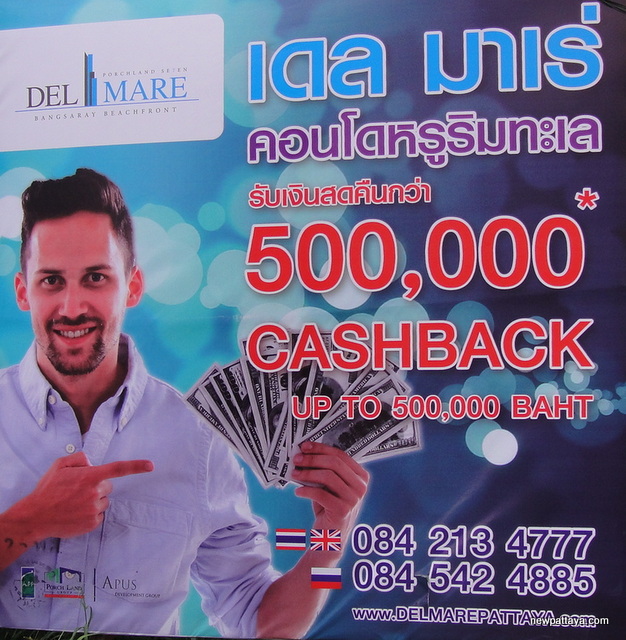 29 October 2013
It seems so easy, doesn't it? Knowing what others do not know is the hardest thing.
29 October 2013
I am offline on facebook, I will not have internet access for a long period of time to come. Sebastian is the only one who might have a few news to pass on.
I may post a little bit today, life goes on even without me. But if I don't do it, nobody will. There is nobody to replace me. I wouldn't want to be the guy who succeeds me. My shoes are very hard to fill. Call me a dictator, say I have some controversial statements, that is all fine, but I am all you have.
24 October 2013
Facebook Chat:
Wife upstairs with Ipad (21:30):
Sanwich อยู่ไหน น้ำส้ม ด้วย
(where is my sandwich, orange juice also)
Myself downstairs: Mate, the kitchen closed at 7 o'clock. Namsom duay? Dream on baby.
She got her sandwich anyway.
This is her breakfast: ข้าวต้มหมูใส่ไข่ใส่ถุง (boiled rice with pork and eggs put in a bag)
24 October 2013
I can see exactly how many people read each of my posts. It is posts about my thoughts that attract the most visitors, even posts that have nothing to do with real estate.
What does that mean? It does not necessarily mean that the readers like these posts but it means that information about real estate is not always people's highest priority.
There is somebody out there that wants to know what I am thinking. At the same time I am trying to figure out what my readers want.
I guess both sides are learning something.
24 October 2013
It was always my dream to write about all the buildings in Bangkok. Very few people can do that but I can. The only problem for me is that it would take too much time due to the high number of buildings.
But I still dream about doing it. I am the right person for that job.
24 October 2013
When launching a new high-rise project in Pattaya there are basically two ways to go, either you aim at the middle market or the luxury market.
I will disregard the lower end of the market with units at less than 1 MB.
A condo development aimed at the middle market will usually have half of the total number of units with a size of less than 35 sqm, these units will be priced somewhere between 2 and 3 million baht.
The luxury market, which I personally find more interesting, will most likely not offer these ultra small units that speculators are so fond of, here the smallest units will be the one-bedroom unit with a size of 45 sqm with a starting price at 5 MB while the two-bedroom unit with a size of 90 sqm will cost 10 MB. In Pattaya it is difficult to sell units priced at much more than 100.000 baht per square metre.
In other words we are talking a starting price of 2 MB versus a starting price at 5 MB. Please note that the price per square metre for the two projects will be almost the same, the project aimed at the middle market may have prices at around 80.000 baht per square metre while the luxury project may have prices at around 100.000 baht per square metre. The luxury project will only have a slightly better quality of the finishings.
The big difference is the size of the units and the number of the units. There will be twice as many units in project aimed at the middle market compared to the luxury project. And the luxury project will not offer units with a size of 30 sqm.
We all know that Kingdom Property is planning a 50-storey residential project on Wong Amat. I have a feeling, it is just a feeling, that Mr Cornick is going for a Northpoint II, meaning a more expensive product than what he currently offers at Southpoint. It could be fun to see how the market will react to a project with a starting price of 5 MB.
24 October 2013
Let's talk about friends
And the problem with having friends
Having an opinion is dangerous
Words is my business
Words can be dangerous
Words can hurt
Words can make people fall in love
Or hate each other
The more you like me
The more my words can hurt you
Every day brings new words
Every day a few will disagree with me
It may take thousands of words
For you to like me
But just a few
For you to hate me
I never know what you will like
I never know what you will hate
That is why friends
Often bring problems
24 October 2013
Private message: "You have a lot of friends here whether you know that or not. You have let us into your life, you have shown us your passion, and you are trusted."
Hmmm. Looks like this guy knows something I don't. I hope he is right.
23 October 2013
Running at only 1% of full capacity I am still able to deliver the goods. Even I am surprised. Stay tuned. However, certain things are on a need to know basis, these things I will keep for myself. But I still have a lot of good stuff to tell in the days to come.
22 October 2013
I admit, I have been working at less than 20% of normal capacity during the last week. This may go on for at least 1 month, perhaps even longer than that.
Complaining about a lower standard of service will not help, however, if you write a check for 400,000 Baht normal service will resume within one week.
22 October 2013
COMMENTS: Hey my friend, what the fuck have you been going on about lately. It seems that it is all about you, etc.
Get back to reporting real estate development in Pattaya and Thailand, the good, the bad, and the indifferent, and keep bringing us good story's and photographs of what you do well.
Answer: It is my website and I run it exactly the way I want to. It is a free service, the door is open for people to come and go as they please.
I talk about real estate but I also talk about what is important in my life. That is NOT going to change. There are other sites that are less personal, I strongly suggest you hang around one of these places.
20 October 2013
Someone called me a stranger. I don't agree with that point of view. If you have read my website you will know that I have put a lot of myself into it. There is me when I am happy and in a good mood and there is me when I step with the wrong leg out of bed.
I say what I feel, I do not hide that I am a sensitive person. I show all sides of myself, also the ones I am less proud of. Some of you may even know me better than you know your best friend. Friends may be fake and have ulterior motives.
A stranger? I think not.
20 October 2013
Someone suggested that I am normal after all. His way of reasoning brought a smile to my face, at least for a while.
Calling me normal is probably the worst possible insult. You may call me names, say I am crazy, disrespect me but please don't say I am normal.
Normal is boring and depressing. I may be temporarily normal at the moment. I miss my old self, that guy is faster and more sharp, more fun to be around.
It is out of my hands. The pain is somebody else's but I feel it as if it were my own.
I was going to do the laundry today but I did not get around to doing it. No energy, no power. I feel like a dead man walking.
But this time it is not about me.
18 October 2013
At times it felt like I could fly
It was a good feeling
Break all the rules
And still make it
Against all odds
My wings were opened wide
Got some unexpected help
Never dreamed of that
Thanks a lot
Now my wings have been cut
I can no longer fly
The crazy guy is gone
He is now busy with other things
Wait and see
That is all I can do
16 October 2013
A new shopping mall in Pattaya: Why does it always have to be either The Mall Group or Central Group of Companies that build a new shopping mall? The cost of building is around 3 – 4 billion baht so another high profile developer could easily venture into the retail business. Is there nobody out there who is bold enough? There is money to be made, everybody loves these shopping malls.
15 October 2013
"Nusasiri's Pattaya project will comprise 570 single houses priced from 8 million baht on a 162-rai site opposite Suan Nong Nuch."
Sebastian: Are they for real? 570 single houses on 162 Rai??? That's huge! Didn't know it will become soooooo huge. Next time I have to stop by and have a look …
NPT: I don't think the location is opposite Nong Nooch, I believe it is on the same side of the road. But the location is absurdly huge, the land stretches deep into the countryside in the direction of Silverlake. But I did not know there would be 570 single houses. Let's just say that sounds rather unusual. The land includes a shopping mall, a hotel and a water park. Nusasiri has bought a lot of land down there but this information has not been made public yet.
15 October 2013
Pattaya 15 October – Relative Humidity: 74 %
Chiang Mai 15 October – Relative Humidity: 43 %
It is not the temperature that is killing me. It is the high humidity.
15 October 2013
There is no alternative to me, there is no other place for people to go. I provide action, entertainment, knowledge, philosophy and poetry. What I do is unique.
Constantly new readers find my website, some of them will follow me for a while, then some might lose interest. But as long as I keep doing what I do, new readers will come along and the number of followers will grow slowly. However, some of my followers will end up hating me and then they click dislike.
But there is no alternative to me, so you had better hang around. It might be wise to take better care of the regular readers and not piss off the local VIP's but I am trying to attract new readers.
15 October 2013
What can I do? As you have seen I can make a story out of nothing. I can play with words, I can gain the attention of whomever I want. I can get a message out. But I am the outsider, I don't get involved with people. I make my own rules, I create my own world.
15 October 2013
A new day
A new surprise
New words
New photos
New surprises
The same place
The same team
Here you get stuff that you get nowhere else
15 October 2013
The first guests will be arriving at Centara Grand Phratamnak today
A great day for Centara Hotels & Resorts
A great day for Tulip Group Thailand
A great day for tourists looking for that little extra
A jewel in town is opening its doors today
15 October 2013
Being good at something does not mean you are good at making money.
One is not necessarily a consequence of the other.
14 October 2013
Chronic fatigue syndrome. I'd say that pretty well describes my condition. I would not say I am a hypochondriac but it has been 3 weeks now and I still have not recovered. The little one is also still coughing with running nose, we can't seem to get rid of this bloody disease. The little one is not whining, I am whining bigtime, my ears are plugged.
13 October 2013
Many years ago, long before my daughter was born I used to dine at Subway in Carrefour. One time per month you could find a few copies of Pattaya Trader at Subway. The next day all the 10 copies would be gone, understandable since they were all free copies.
Back then I thought that The Trader was identical to Real Estate Magazine. Earlier this year I was handed a copy of the Real Estate Magazine, that was actually the first time I learned about that magazine.
These magazines are probably quite interesting, the only problem is that they are hard to find. I have a feeling that they leave some copies in bars and real estate offices. These are places I never visit, that is the reason why I know little about these magazines.
These magazines could have a lot more readers if they were more easily accessible. Then again, I don't think the publishers worry about the number of readers.
13 October 2013
In 2020 you will most likely be able to travel from Bangkok to Pattaya in a little more than half an hour's time in the comfort of a high speed train.
There is no doubt that the Bangkok-Pattaya rapid railway line will have a tremendous effect on the future growth of Pattaya. Land prices and condominium prices will increase dramatically long before the railway is completed. Over the past decade Pattaya has enjoyed strong growth and the condominium prices have increased slowly. It is certain that the new fast railway connection to Bangkok will change the whole region significantly over the next 10 years.
This new fast railway will actually make it possible to live in Pattaya and commute to work in Bangkok and vice versa. Visiting Bangkok will become a hassle free affair. No more spending hours stuck in traffic, no more worrying about driving after having had a few drinks. Being able to commute to work is an enormous advantage because it means you don't have to uproot your family.
In other words, the distance between Pattaya and Bangkok will appear to be reduced significantly in the future and eventually the two cities will merge into one.
There will be stations in Chonburi, Pattaya and Rayong. It remains to be seen whether Chachoengsao and Sriracha will also get a station.
The train will be able to run at a speed of 250 km/h.
People love to travel quickly but the Bangkok – Pattaya Rail Link will be running with a loss.
13 October 2013
I just want to say that all this talk about property bubbles is NOT in my own interest. I ride around and look at construction sites, if there is no construction going on there will be nothing for me to look at, nothing to report.
That is why you should listen when I speak. If it turns out that I was wrong, that the bubbles were all just in my mind, then I am man enough to apologize.
Actually I hope I am wrong, being wrong would be best for everybody, myself included.
12 October 2013
Passing by hotels now and then I have been wondering what it takes to be a good hotel manager. I believe that successful managers must have the following qualifications.
1) Be a diplomatic person
2) Be a great conversationalist
3) Be intelligent and well informed (diplomats usually are)
4) Be a people person
5) Always smiling and friendly
6) Be a good administrator
7) Be able to adapt and give the customers what they want
Not everybody has these qualifications, the job may seem easier than it is.
12 October 2013
I am alive and I am not a computer. I don't follow other real estate websites or Facebook sites because I find them all totally boring.
It feels like they are written by a machine or someone lacking passion for the subject.
I follow my own Facebook site because this crazy guy (myself) keeps surprising me, I never know what to expect from him. I am never bored in my own company.
12 October 2013
These days we are witnessing developers gambling bigtime. It is a big gamble to launch a new development at the moment. It is a very big gamble for investors also.
Frankly I don't understand it. These developers have already been very successful in the past, they have enough funds to live the good life for the rest of their lives. I guess it is in the blood, I can find no other logical explanation.
Why the hurry? It is no secret that the market is dead, at least in some parts of Pattaya. Do they take it for granted that the next high season will make a difference. They should know that some years high season never comes. It has happened before that high season did not make a difference and in my opinion you should not expect too much of high season 2013.
The developers have bought the land, good, that is a wise decision. Hold on to that land, it will be worth much more in the years to come. But there is no need to be in a hurry, just wait a couple of years or three. The new high-speed railway connecting Pattaya and Bangkok will most certainly make a difference and all the high-rises will be worth much more by then.
Why build now when the risk is high? Why build now and sell cheap when you can build later and sell at a much higher price?
Be patient, Rome wasn't built in a day. There is no need to gamble unnecessarily.
12 October 2013
Insider information: There is talk that the Pattaya Station for the new high-speed railway project will be located near Ambassador Hotel.
However, before the location is made public, all land near that station will have been bought by powerful individuals. The location is probably already decided and the neighbouring land has most likely been bought. That is how it works around here. The land will soon be worth 10 times more than the current prices. An easy way to make money fast.
As a separate issue, did you know that the Phoenix Golf Course recently has been bought by the Shinawatra family? Only a stone's throw away from Ambassador hotel. Of course this is just a coincidence…..
12 October 2013
Many tourists will use the internet to look for information about Teddy Island in Pattaya. If they use my website they will also get a chance to look at all the new condominiums in town.
A simple tactic used to lure tourists into buying condos. Yes, I am that bad…..(manipulative like a woman, lol)
11 October 2013
A big thank you to the many people that work behind the scenes, more than a handful of people by now. Not often, but sometimes, someone may give me information that is for my eyes only. I appreciate it even when it is obvious that I can't write about it.
Knowing all kinds of details gives me a better understanding of the big picture. Something new is coming but out of respect for the persons involved we have to wait until it is official.
11 October 2013
COMMENT: Hello
I am looking for a studio unit at 1,000,000 Baht
In reality, these prices are not available. The units cost more, especially for foreigners.
What am I doing wrong??
What advise can you give?
Answer: It is true that many of the these 'less than 1 MB' are thai-name only, you may need to add 200,000 baht to these prices. Anyway, if the location is great these 1 MB-units sell very fast, investors buy in order to resell. A bit further away from the beach in a less attractive location you can still get a unit in that price range. But mostly this is just one of the many advertising tricks of the trade.
9 October 2013
There will be those who are disappointed in me
I understand
Sorry I can't live up to their expectations
It is not possible to please everybody
Nobody can agree with me on everything
Nobody is right all the time
Not even me
9 October 2013
I can't always speak what is on my mind
There is no point in stepping on people's toes
Or hurting their feelings
I don't hold a grudge against anybody
I have no scores to settle
There is no need for anybody to fear me
I am not looking for scandals
I don't need the headlines
I look after the locals
I support the locals
Even those that don't like me
9 October 2013
I am covering my ears like a kid
This I did not want to hear
No joking
Been having a headache since this afternoon
It is very bad
Many knows about this
Nobody allowed to talk about it
9 October 2013
There are many ways for a developer to buy time. If a project comprises several buildings he may choose to launch each building as a separate project. In other words, the developers will separate the project into phases in order to buy time and make it easier to get a bank loan approval. Getting financing for a smaller project is a lot easier than for a mega project. You need 50% of the units sold before the banks will even consider giving a loan, so by separating the project into phases life becomes a lot easier for the developer.
We have seen the recent launch of Natureza Art, it is just the second phase of the Natureza project. I believe four phases are planned. Each phase will need its own EIA approval.
Another way to buy time is to leak information before the pre-launch, some people refer to this as the pre-pre-launch period. This sometimes becomes a humiliating circus style launch, it is used when the developer has little money. Dragging time out by officially launching a year after pre-launch is another time buying tactic.
In reality, when a condominium project has been put on the market and you can make a booking then it has been launched.
8 October 2013
Believe that everything happens for a reason
this may not be true
just believe it anyway
Believe in yourself
even when others do not
Believe you are a genius
even if it is unlikely
Believe in something
and you may change the world
Believe you are unique
because if you do
you will be unique
No matter what happens
stay strong
never stop believing in yourself
8 October 2013
Want to hear a few of the development industry's secrets? Ok, here we go again. It is one of those obvious things that developers don't want to talk about.
A condominium project is being pre-launched at very attractive prices. Great, everyone loves good prices, everybody wants to buy into that project.
What most people do not realize is that these prices are based on the assumption that the main contractor will work for XX,XXX Baht per square meter which is the current price.
After pre-launch and a proper launch 6 month later, a period of 2 years can easily pass before construction finally starts. By then the main contractor will most likely NOT want to produce work at prices from 2 years in the past.
There will be an increase in the cost of building materials, the salary for the workers will most likely also increase. If it is a large project the construction time may be varying between 2 – 3 years, so we are talking project completion 5 years into the future.
Furthermore, the interior works and landscaping may start 4 years after pre-launch. You don't need to be particularly smart to realize that prices 4 years into the future will be considerably different from the current price level.
What is the result is this miscalculation? Obviously, the developer will not be able to deliver the promised quality and finishings of the condominium.
You may believe me or not, but many developers do not take the increased labour and construction costs into consideration.
7 October 2013
A high-rise project put on the market during high-season 2012 has only sold 20% of the units. Source: a real estate agent.
Agents usually like to make the numbers look nicer than they really are so the percentage may be even lower.
If sales during the upcoming high season are not good there will be trouble in Paradise. The banks want 50% units sold before they will grant a loan to finance construction.
"Shit, is it that bad", that was what I was thinking.
7 October 2013
Take chances, take a lot of them. Because honestly, no matter where you end up and with whom, it always ends up just the way it should be. Your mistakes make you who you are. You learn and grow with each choice you make. Everything is worth it. Say how you feel, always. Be you and be ok with it.
Not my words but "take chances", "say how you feel, always", that is exactly what I have been doing. Just know there may be a price to pay, especially if you live in a small village. You may upset somebody, if not your boss then perhaps some his friends or family. You may upset a VIP in town and he may use his network against you.
Say how you feel, always. Well, this way you may get a few enemies and some doors will be closed forever. It is not the right way to build up a network. Having a network is very important.
There is a higher chance of becoming successful if you play by the rules and kiss ass once in a while. Playing by your own rules will seldom get you far.
7 October 2013
There are a lot of websites that suck. The web design companies like to add a lot of shit trying to make a site look cool. Bad web design and layout is unfortunately common. These design companies totally freak me out.
A simple design that is user friendly, it should not be so hard to accomplish.
I practically live on the internet, very seldom do I come across a website that I like and feel comfortable with. Steven Leach Group's website looks nice and clean and easy accessible. That's how it is supposed to look like.
I am not just whining because I am sick, currently web design is at the stone age level 2. And that's a fact!
6 October 2013
Want to know a secret? It is very obvious yet no one talks about it.
Want to know why this 2.3 trillion baht loan will destroy Thailand?
Simply because the passengers are supposed to repay the loan. The new fast railway lines will NOT become successful. The new lines in greater Bangkok will no doubt become successful but the lines to Pattaya and upcountry will NOT.
Very few, myself included, will pay 1000 baht or more for a railway ticket from Pattaya to Bangkok when a bus ticket is only about 100 baht. A few tourists might use this new service but the thais will NEVER! See the point?
4 October 2013
Sebastian mentioned that the beach is in a terrible state after heavy rainfall monday night due to the lack of a proper drainage system.
I have been mentioning the drainage problem in Pattaya so many times. Now I have stopped because there is no point. Just say "this is Thailand" and move on and don't think about it any more.
I don't know whether this is a result of incompetence or authorities that just don't care. A quality job costs money, they do have it but they always go for the cheapest solution. And they never adapt to changes, just keep doing what they always have been doing.
Newspaper headlines or media reporting of scandals don't have any effect at all in Thailand. You can have hundreds of scandals and the people in Thailand will not vote any differently. A paradox but there is nothing anybody can do to change that.
You would need a new educational system that works where students actually do homework. Believe it or not, in Thailand there is no such thing as homework. That is why the thai politicians and wealthy thais (same thing) send their kids to study abroad. It is both sides in parliament that want to keep the status quo, don't for a second believe that Abhisit wants to make any changes. He had the chance, nothing happened.
When the people are ignorant the politicians can get away with anything. Keeping knowledge to a minimum is the way to maintaining power.
Surprisingly few people know about the true state of the thai education system. You have to compare with other countries and only a small percentage of the thais travel abroad and learn and become enlightened about these matters.
Writing about this makes me depressed!
3 October 2013
Quality bread with a slice of tasty cheese. Mmmmm….
One of the seven wonders of the world.
The little one has fever yet she is still jumping around. I am feeling shitty like it is the end of the world. Then I had purple bread with cheese and decided life is worth living after all….
No field jobs today, staying home.
3 October 2013
Talking about 1-bedroom units. Many of these 1-bedroom units are so small that there is room for only the bed.
I mean, there is not even enough space to walk around the bed.
It is a weird world. Or perhaps I am the weird one since I dare to question the way things are done?
3 October 2013
Fully furnished? Fully furnished has become the magic words that all the developers like to like to highlight in their advertisements.
Please talk about something more interesting, it is really starting to get on my nerves.
I would like to choose my own furniture if you don't mind.
2 October 2013
About 100 liters of rain water entered my house through a wall the night before last night. This problem needed to be fixed, Manit was the man for that job. Manit has layed the tiles both downstairs and upstairs in my house, he is good, I would say he is a B+ contractor. He has worked at Northpoint so he is good. A truck with 10 bags of cement, a lot of stones and sand was needed. 8 people working the whole day. Total cost: 7500 baht.
Working with thai workers is NOT easy, unforeseen conflicts arise easily. Supervising is not good for my health. Today brought back memories from when my house was built, that was 6 months when I daily was close to having a nervous breakdown.
2 October 2013
The power of the internet. Among people who are more than 50 years of age there is a certain percentage that still don't understand the importance of the internet. These people simply find it difficult to adapt to new technologies, they feel that they lack the necessary technical background. Doing business the old fashioned way has worked fine for them and they see no reason to change and embrace this new media. That is a shame because the internet and the social media presents a wealth of new opportunities.
If you own a newspaper or a magazine you might might easily convince this group of people to place an advertisement with you even if you have very few readers, but if you own a website, even a successful website, they will be hesitant about engaging in business with you.
This will most likely change but it will come slowly.
1 October 2013
Having the "right" address is important, especially for wealthy people. It reflects success in life, it gives a sense of belonging to a social group in society. Equal neighbours get along better, having the same cultural background, being educated and civilized, in short, living among people with the same social status is of great importance to many from the upper class.
Why do I talk about this? I saw an advertisement on a baht bus, "Fully furnished units from 1.3 MB – 16 MB", it was one of those 1000++ unit projects in Jomtien.
Listen, listen well: If you have 16 MB and intend to buy a condominium or a penthouse you do NOT want to share the address with several thousand people who have bought a condo in a project where most of the units are in the 1 MB range.
The address matters. That is just how it is!
A few years ago Northpoint was the right address. In a few years time Centara Grand Residence will be the right address. I can't prove it, but I have a feeling that most of the customers in CGR are wealthy people from Bangkok.
1 October 2013
The biggest mistake a developer can make is to believe that potential customers will come to Pattaya and thus not try to reach them in their home countries.
Some of the wealthy foreign clients are businessmen with long working hours, a busy schedule, board meetings etc. These clients that regularly put in 60 – 80 hour work weeks as senior executives have really deep pockets but they are left little time for leisure travel.
10 MB++ is a small amount for these customers.
I just thought I would tell you.
30 September 2013
She needs to eat, drink water regularly, go to the bathroom and sleep when tired. And she refuses to walk by herself so the poor daddy or the royal elephant must carry the princess all the time. It could be easier. Well, I asked for it, didn't I? Someone once told me people get what they deserve….
At times I feel like I am losing my mind. Bangkok is very far away from Pattaya and not a place to bring a little kid.
30 September 2013
What kind of father drags his kid around to look at construction sites in a city far away from home? This part I am not proud of.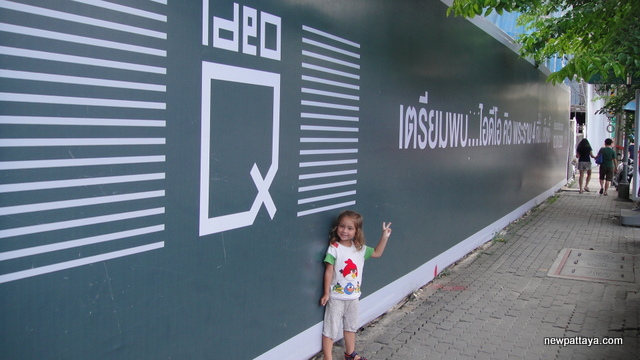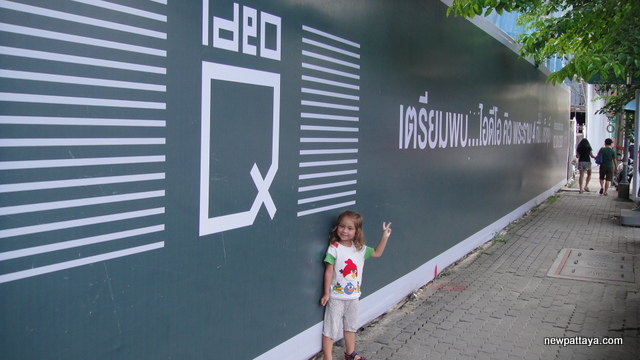 30 September 2013
If you read my words you will learn about construction and development. But I am also giving a piece of myself. Hang around, and you may get to know me better. There are lots of skeletons in the closet. If only you knew…..
30 September 2013
Am I proud of what I do? Yes, very much. As most of you know, I am not selling any condos, I don't rent condos out. I don't need to be the first to present the news, it is fun to be the first but it does not mean more money in the pocket for me. I have been first so many times that I really don't care about it anymore.
There is magic in my life, sometimes I do feel blessed, blessed by having a beautiful daughter, blessed by being guided or shown the way in times of trouble, blessed that I am allowed to tell a lot of great stories about what is going on in Thailand at the moment.
I have learned to focus on the good things in my life, I have learned that is the only way forward.
But I am starting to feel mortal, starting to feel like an old man. Only 10 years ago I looked like a teenager, I felt fresh and unspoiled ready to conquer the world on my own. Looking in the mirror I am starting to see the old man in me. Losing my father was very tough for me, for the first time I learned that life can be really cruel.
Nothing is forever, the gift of life is something to be cherished. Now I am starting to count the years, I have to be here as long as possible so I can look after my daughter.
Yes i'm stubborn, I am covering my ears like a kid when there is something I don't want to hear.
30 September 2013
Prescient investors will be making a lot of money. Once the high-speed train connection from Bangkok is a reality you will most likely see at least a 50% rise in the value of properties built with a certain standard of quality.
29 September 2013
NONE of my readers will have the slightest idea of where this is, absolutely nobody. This is true Guru Stuff, stuff that only gurus know. Nobody compares to me.
But this you need to know, this is important stuff. One of these days….
Demolition is just as fun as construction. You just have to love it.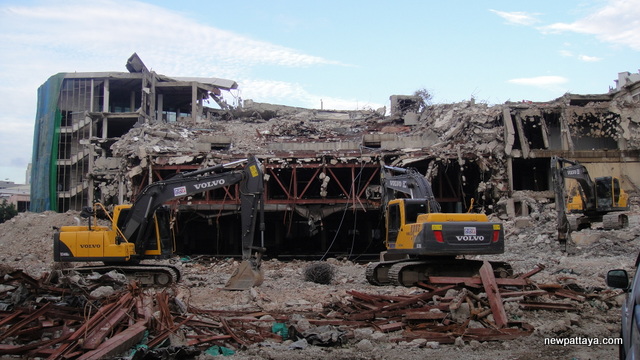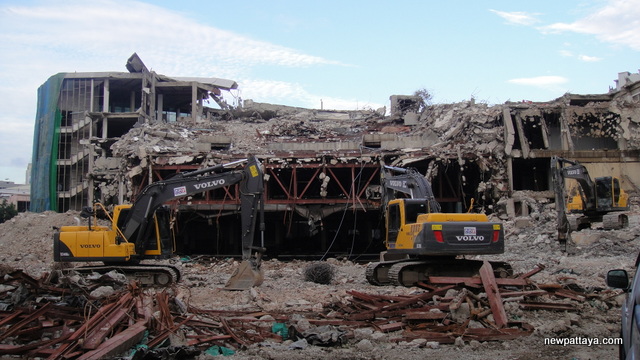 29 September 2013
The high season 2013 is approaching, I notice it by all the new launches I see at the moment. It is sunday for christ's sake, give me a break, I never have a day off.
28 September 2013
If I do what everybody else is doing there is little chance of success.
But that's not why I do it differently. I do it differently because I am different.
28 September 2013
Did you know that Ideo Q Ratchathewi has been launched in Singapore before it has been put on the market in Thailand? That's why I only have the prices in Singapore Dollars. Price starting at 210.000 SGD, about 5 Million Baht.
Perhaps a strategy we can learn from? The ones who adapt and react to change the fastest will most likely survive.
New and fresh ideas is the way forward.
28 September 2013
Ideas only exist in our minds
I can create something out of nothing
I can make things happen by just using my imagination and by being creative
That is what makes me special
28 September 2013
Khun Nigel Cornick: The best names are often the simplest. Getting new ideas, finding out what works, well I am the best there is.
Kingdom Tower Wongamat is the name you are looking for.
There is also a Kingdom Tower under construction in Saudi Arabia.
It is a good name, a fitting name, it is a name that works.
It you don't like that name I suggest Gold Coast Tower Wong Amat.
Now put me on a one-way flight to Australia's gold coast.
26 September 2013
The Palm won an award at Thailand Property Awards 2013.
I just found out now, a week too late 🙂
I must admit I personally don't pay too much attention to these awards. Of course it is always nice to be declared a winner and it is probably good for publicity purposes also. If it was important to me I would have put a note on my table, I did not do that.
A good year for Nova with Novana and The Cliff being highly commended. Tulip Group is also very much involved in both The Cliff and Novana as a partner.
Best Condo Development (Eastern Seaboard)
Winner: The Palm, Wongamat Beach by Nova Luxury Developments Co., Ltd.
25 September 2013
Not just a major source of information, actually in many cases the only source of information: newpattaya.com
Stay tuned
25 September 2013
I looked at a showroom today. Normally I don't do that. I like interior architecture and design very much but it is a hassle with all the security personnel and sales people breathing down my neck all the time. It bothers me having to explain why I am there. So I practically never visit showrooms.
25 September 2013
There is magic in my life, almost on a daily basis. I will give just one example, but there are countless others.
I know the difference between what is likely and what is not likely. Stuff that is not likely is happening to me. In many ways it is like I am being guided by spirits.
For no apparent reason I might make a u-turn and then things start to happen. I let myself be guided.
Stay tuned. I have a very unlikely story to tell, it is about showrooms and new projects.
24 September 2013
I have more than 30.000 photos from various construction sites. Most of the photos are from Bangkok, not from Pattaya. Bangkok is a lot more exciting than Pattaya, Pattaya is nice but very small.
Pattaya has the potential to grow rapidly if City Hall has the courage to clean up the city. We need to have zoning of areas in this city, at the moment chaos rules.
24 September 2013
This photo was taken on 26 May 2012. RITTA workers are installing the outdoor escalator at the Gateway Ekamai Japanese shopping mall. Even back then I brought the little one to Bangkok, just me and her, a 2-year old and daddy looking at construction. She might end up being a true expert.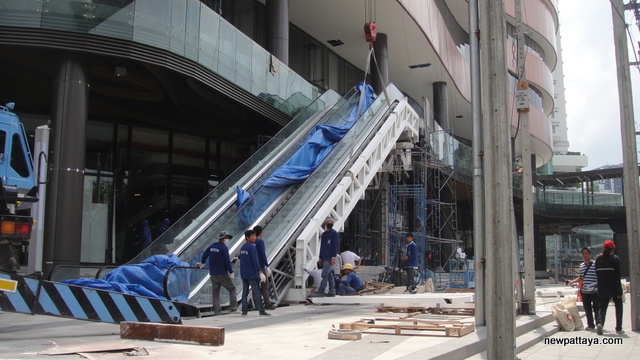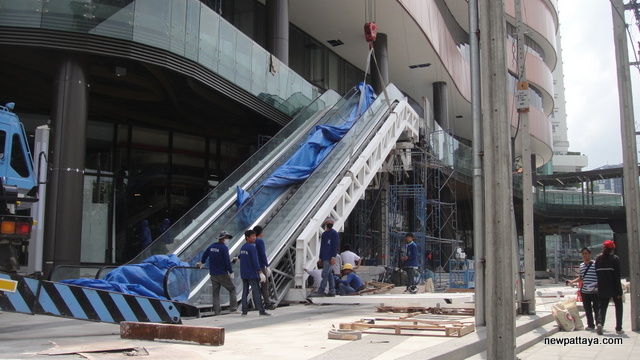 23 September 2013
"Put me on you newsletter list". The IP address reveals he is from Denmark near Roskilde. He is interested in The Riviera.
The only problem is that I don't make a newsletter. Perhaps it would be a good idea but these things take time. Anyway it is nice that people take me serious.
It is good for Pattaya that people are serious about investing in condos here. When the developers are making money a lot of other people in the city are also making money – but I don't have that product he is asking for.
23 September 2013
Do you know there is a 'shopping mall war' between The Mall Group and Central Group of Companies in Bangkok. Central Embassy versus Emporium 2 and 3.
Chid Lom versus Phrom Phong. The gigants in the industry are fighting to increase the market share.
I know all about it and I will tell you. Unique stuff as usual is on the way, my specialty.
22 September 2013
The Master Plan:
1) Make a list of everything you want to do
2) Make a new list when there is no more space left on the paper
3) When you have about 30 lists you must make a list of all your lists
4) A time will come when you realize you will never have time to do any of these things
5) Throw all these lists in the garbage
6) Start all over with a new list of what you want to do
This is the recipe for a happy life.
22 September 2013
Do I look like a Thai national? Yesterday I was looking at an exhibition for a project, it was in Bangkok, a sales lady approached me and started talking to me in thai about a project. She did not even ask me whether I spoke thai or not she just kept bombarding me with information about the project.
I understood most of what was said but how did she know I would understand. I did not say anything until after she stopped talking.
22 September 2013
Busy busy busy, I have been to Bangkok again. So much I want to do, so many stories I want to tell and not enough time on my hands. I guess I will have to keep most of those stories for myself.
A week ago I asked a developer if I could take a look at one of his showrooms, an 'old' project launched in 2010, I always wanted to look at that particular showroom. I got a 'yes' but I have not had the time to go visit yet. It is not just the time I need, I also need to be in the right mood.
I am a little stressed out at the moment.
20 September 2013
My closest competitor does not even know 5% of what I know. That is really sad. Why? Because there is nobody to inspire me. Nobody at all.
19 September 2013
Few people ever get to understand the beauty of mathematics. Mathematics is a universal language. Mathematics is not created by humans, it is discovered by humans and only a small part has been discovered. Once you do see the beauty of math you will know that the universe is not here by coincidence. Understanding mathematics is the key to unlocking the secret of life. We only know a small part of the of the puzzle but we keep learning, and that is what make mankind with its God-given creativity so dangerous.
I am not being religious here, I don't believe in the afterlife. But through mathematics I can sense something, perhaps something not meant for humans to understand. It is in our nature to destroy ourselves but if we escape that fate we will become Masters of The Universe.
19 September 2013
Let's delve into the world of statistics which is my field of expertise. Some people in the development industry like to talk about the absorption rate of condos on the market. They use the average absorption rate as an indicator of the state of affairs but this can be a very deceptive indicator.
There are certain projects that have an absorption rate of condos close to zero, this is actually the case for more than a handful of projects.
When you mix the absorption rates for healthy projects and unhealthy projects you will make the healthy projects seem to be in a worse state than what is actually the case and you will hide the existence of the unhealthy projects.
Be careful when using these absorption rates as you may get the wrong picture.
Furthermore new projects are constantly being launched making customers and investors lose interest in last year's projects only to focus on the new projects. These brand new launches will have a negative effect on the absorption rates for the 'old' projects.
If you want to talk about absorption rates then do so for each individual project as the numbers vary too much. There are fast selling projects, average selling projects, slow selling projects and extremely slow selling projects.
This was the professor talking about absorption rates, class dismissed.
18 September 2013
Raimon Land shares have started rising again, today closing at 1.38 up from 1.01 on 28 August 2013. To be honest, I blamed the new CEO Mr Johnson Tan for the shares plunging but that was not fair. When shares drop or rise you cannot always blame the CEO, sometimes you can but not always. External factors often play a role and there is not much a CEO can do about that.
To my excuse I must say I was not happy when the new guys replaced Mr Hubert Viriot in may 2013. If a person does a bad job, ok, then it is fair to get rid of him. But if he has made no mistakes at all then it is wrong to kick somebody out. Then it is nothing but a thirst for power and it is correct to use the phrase hostile takeover. However all owners have the right to replace whomever they want. I did not know the old guys at Raimon land and I don't know the new guys. I am not talking about liking or disliking, I am talking about doing business the gentleman's way.
17 September 2013
I suffer from fear of heights. Yesterday I had another nightmare, I was on the the 100th floor of a high-rise, I was out on the balcony and there was no balcony railing at all. I think my daughter was there with me, we had to slowly crawl back from the edge. I think we made it to safe grounds but I woke up anyway.
A nasty dream. Fear of hights is a terrible thing to suffer from. I was on the roof of Paradise Park in Jomtien, an 8-storey building, looking down to the pool area was too much for me.
16 September 2013
In the movie business, a test screening is a preview screening of a movie before it is released in order to see people's reaction.
Developers of condos could use this method to test and find out whether the design of a building is liked or not.
If I were a developer I would certainly do it that way. It is wise to get this kind of input, especially if it is a mega project.
There are many things I would do differently. But I am not a developer, I am just a guy with a big mouth.
16 September 2013
I want to thank Raimon Land for their report. Normally this kind of report has a lot of nice graphs, a lot of fine words, pretending to be very wise without really saying anything.
Raimon Land's report was very different and refreshing and it did say a lot, I really appreciate it.
Raimon Land did a great job, much better than any of the others. You must tell someone when they do a great job and that is what I do here.
I fell asleep myself while putting the little one to bed, I was tired.
16 September 2013
COMMENT: "Things could be a whole lot easier easier for me…."
If you had any help?
Answer:
With this particular problem I was talking about, nobody can help me. It is probably karma, I am probably being punished for bad deeds.
16 September 2013
Is it my job to lead the way? Each time there is an important issue of some kind I get the feeling I am left to sort things out.
The one doing it ought to have more financial muscle and more time than I have.
I am just the little guy.
16 September 2013
Things are getting out in the open now. Which is better?
1) We talk about it
or
2) Projects just silently disappear without being mentioned
I would argue there are advantages when projects just silently disappear.
16 September 2013
WRONG – Here is where Raimon Land is WRONG: The Raimon Land report talks about an absorption rate of new launches, based on this rate, it is concluded it will take about 13 months to absorb the remaining inventory.
Unfortunately you are NOT allowed to reason like that. A big NO-NO. I may explain later but I think it is obvious.
16 September 2013
I am not saying the conclusions of the Raimon Land report are wrong but the conclusions can be presented more clearly:
It is the tough bank requirements, the tougher loan approval conditions set by banks that will eventually put an end to the oversupply of condominiums.
16 September 2013
I just want to say there is a lot more then 4 projects that have been put on hold. That is as far as I will go.
It was late last night, I was multitasking with too many things. More is coming. Stay tuned.
15 September 2013
There is a lot of weight on my shoulders: New launches, property bubbles, developers, debate, new information, difficult readers – I am supposed to be able to manage everything in no time.
I am not a superhero, there are limits as to how much I can do as a single person. I don't have a staff of XX people, I don't have a research department that can help me.
There is no one I can ask to hear whether my ideas, thoughts and explanations sound reasonable.
Apart from that I do have other problems in my life to attend to. Things could be a whole lot easier easier for me….
15 September 2013
How do I define a property bubble? A property bubble exists if projects with a large number of unsold units do not get off the ground. This either because the supply is greater than the demand or because investors do not believe that the selling price will be higher tomorrow than it is today.
Demand can be low because the economy is contracting which again can be caused by money flowing out of Thailand and back to the USA.
A Raimon Land expert told the Bangkok Post on 14 september 2013 that there is 'no danger' of a condominium oversupply in Pattaya.
No danger?? Four Pattaya projects with a total of 1700 units have been put on hold due to funding problems and there is no danger?? The fact that projects are being put on hold is a clear sign of danger.
The oversupply problem will disappear simply because there are projects with a large number of unsold units that do not get off the ground.
But at the moment we do have an oversupply of condos, it is proven by the projects that have been put on hold.
The property bubble is real, we see it when projects do not get off the ground. There is a name for it, it is a name that people in the industry don't like to use: we are talking about Failed Projects.
15 September 2013
People scare me because they often have ulterior motives for doing something. Promises are broken easily, power struggles arise, business partners go separate ways.
A few wrong words, talking to the wrong kind of people, people gossiping, that is often all it takes for a relationship to go bad.
15 September 2013
Weird stuff is happening. The number of visitors to my website has doubled in just 1 week. This is not supposed to happen.
Someone, and I have no idea who, must have done some external SEO for me, perhaps added my website to a few directories or provided some quality backlinks.
It is nice while it lasts, but I know that what comes easy often goes away easy.
14 September 2013
Unixx on Pratumnak. A Raimon Land project with prices starting under 1 million baht.
A dream location, a good project with very attractive prices then why were the sales numbers at only about 40% for a very long time?
If my budget were less than 2 MB I would invest myself in that project. But why has the project not been more successful?
Perhaps too many units? 1207 units is a very high number. The truth is that it is very difficult, if not impossible to predict what the market wants.
14 September 2013
Fully sold out = Pay more
Fully sold out in X days = Pay more
Fully sold out means there are still plenty of units left, you just have to pay more if you want to buy one. This is a problem that money can solve.
The extra amount needed can vary from a couple of hundred thousand baht to a couple of million baht.
14 September 2013
I can be a bit strange myself from time to time, I am fully aware of that, but some of my readers are extremely strange people. Why do I attract this kind of people?
Perhaps they see something in me that they recognize in themselves…
14 September 2013
I met a friendly guy that I know from the world of construction in the supermarket on the ground floor of Central Festival Pattaya Beach today. He was there with his wife and kid and I was there with my daughter. My daughter was not in a friendly mood at that time, there are always tears when we have to leave the toys behind.
When the child is not behaving well it is also tough for the father. I am doing my best but if I am having behavior problems when she is only 3 years old then heaven help me when she becomes a teenager.
I must focus on the good things I have, that is the only way forward.
14 September 2013
Just one visitor every minute means you will have 60 visitors per hour and 1440 visitors per day. A single visitor every minute is actually something that most website owners can only dream of having. It does not sound as much but it is very hard to get.
14 September 2013
I just looked at the statistics for the visitors to my website. Yesterday between 18:38 and 18:39, european time, I had 30 visitors with different IP addresses, visitors from different countries. 30 visitors in just one minute is not bad. Not bad at all.
I follow the statistics closely and this is very unusual. Yesterday was the best day ever regarding the numbers of visitors to my site.
I have to be honest, I am not able to explain what happened. I certainly hope somebody enjoys the benefit of all these visitors.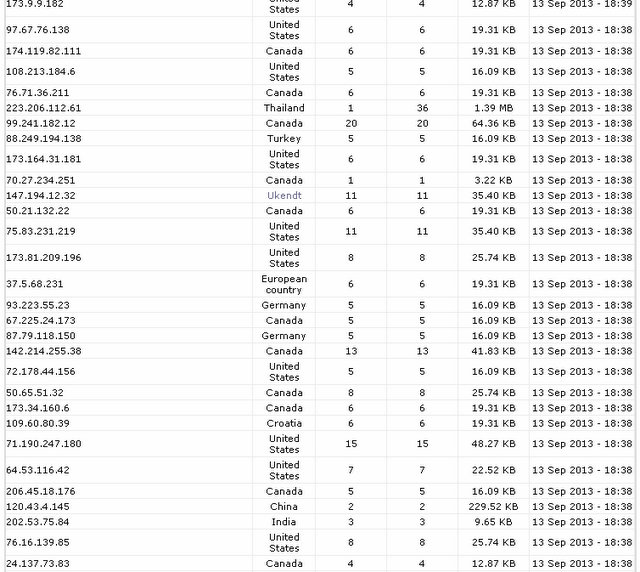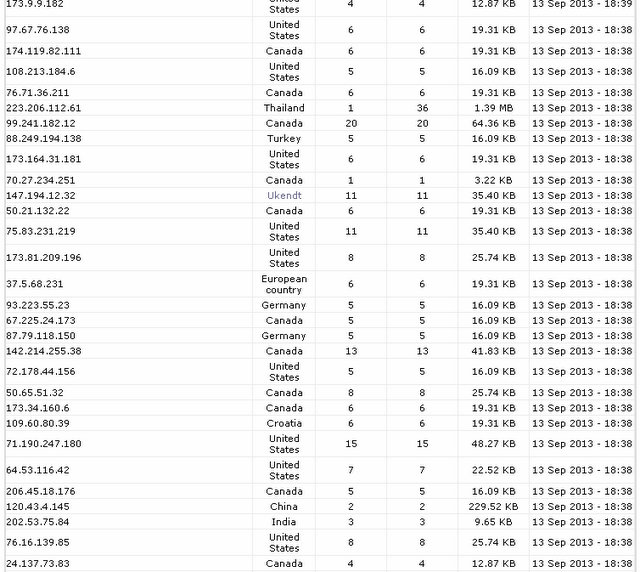 14 September 2013
Have you ever been to a motorcycle auction in Thailand? They come with trucks and have hundreds of motorcycles that you can bid on. Understand that when the auction starts there will be some of the staff pretending to be customers wanting to buy in order to push up the prices. Many of the motorcycles that have been 'sold' at the auction are loaded back on the truck when they leave. We are talking about fake auktions. Nothing unusual, it is pretty obvious, the thais know about this procedure.
Pushing up the prices of condominiums is also a game that many developers in Bangkok play. When they notice that there is a high demand for condos in one of their newly launched projects they act very very fast. When a project is selling fast there is a way for developer to increase the profit significantly. Instead of simply raising the prices, staff, friends or family members of the developer will make bookings so the units can be resold at a higher price. High sales numbers can seldom be trusted, and 'project sold out in just one day' is probably not true.
There is no reason to be surprised about this way of doing business, in the end the prices are determined by how much people are willing to pay. There is no transparency in the process, just understand that this is Thailand and there is a certain way of doing things here.
13 September 2013
We have been to the children's playland today, there were some russian kids as usual. Do you know the russians often leave their children alone in these playparks so they (the parents) can get some free time for themselves? If there is a problem mommy and daddy are not there to help. I keep an eye on my kid every second, I would never go to a cafe for a coffee or ice cream and leave my daughter unsupervised.
In 1985, the musician Sting told us that the russians love their children too. It must be a different kind of love, a different culture. I just don't understand it.
12 September 2013
During the cold war the KGB of the Soviet Union tried to use sexy ladies as bait in order to get pictures of especially male embassy personnel in compromising, embarrassing situations. A smart way of getting a double agent to work for them.
These sexy ladies know exactly what to do in order to control the male species. The female species uses intelligence and body language to control the male species. Unfortunately I am not immune to the charms of a nice bottom. I gotta hand it to them, these developers are smart people. It looks like they won the first round.
12 September 2013
Bringing in the sexy ladies is the oldest trick in the book. I am afraid it is working on me also.
12 September 2013
The wise man is not to boast in his wisdom, but how many of you have actually looked at the finishings of the The Hill Residence in Khao Yai, how many have been standing on the rooftop of that house? I know a lot more than people would expect. I give a whole new meaning to the word expert. If you are still sceptical then I am certain I will convince you during the next couple of months. The good stuff is waiting just around the corner.
12 September 2013
newpattaya.com has an extremely strong online presence because we are so fast. Fast with the news, fast with comments and thoughts, fast with construction updates.
And we are not involved in any way so we don't need to kiss ass like all the others have to. Developers may not always like an independent view on matters but the readers do and that is what make us so popular. For this reason the readers trust me, perhaps not all, but most of them do.
12 September 2013
The question that everybody is asking these days: Will The Riviera be a fast selling project or not? I can't tell. I thought that Centric Sea by SC Asset would be a fast selling project, also a twin tower project just like The Riviera. That was not what happened, instead Tower A was not released to the market. I burned my fingers on Centeric Sea, my prediction was WRONG.
I predicted that The Base Central Pattaya would be a fast selling project, that did happen, just know that traditionally most of the units in Sansiri's projects in Bangkok are NOT transferred to the people that make the bookings. As is the case with many projects in Bangkok, you can't always trust the sales numbers to be correct, sometimes staff, friends and family members of the owners make the sales numbers seem to good to be true.
SC Asset is 10 times smaller than Sansiri, that may be the reason why Centric Sea did not perform perform satisfactorily. The Riviera Group that will be building The Riviera is a newly formed company, it will be interesting to see whether the location itself can carry the project through to completion.
What I can say about The Riviera is that the location is indeed fantastic. The prices are comparable to to both prices at The Base and Centric Sea, with prices starting at around 2 MB.
Logically The Riviera should be a fast selling property given the fact that Wong Amat is indeed one of the hot spots in town.
SC Asset did some surveys before launching Centric Sea so they were prepared for what happened, they knew beforehand that the market was weak. But SC Asset has the financial muscle to carry the project through anyway.
It will be very interesting to see what happens during the first week after The Riviera is launched, then we will all be much wiser.
Winston Churchhill may end up being a very wealthy man but no one knows for sure. I believe this is a win big or lose big situation. If you want to win bigtime you must take some risks. All they can try to do is to be smart and do everything to perfection, make sure they have lots of friends that can support them.
11 September 2013
More than 1000 people visited my facebook today. Say what you want, but there is a lot of activity going on here.
This is an outsider writing and commenting so you will get to hear what the others are scared of saying.
I don't know these developers or people in the industry personally so I have no reason to like or dislike any of them.
I do know there is a lot of gossip going on in this town, grown up people acting like children. It is big business, there is a lot of money at stake for a lot of people.
11 September 2013
These days it takes balls launch a twin tower. Almost 1000 units in The Riviera is a very high number. It will be very interesting to see what happens, they will be testing the waters.
11 September 2013
People in your life:
1) Who were there for you when you needed a friend
2) Who left you in times of trouble
3) Who put you in difficult situations
Be careful with people, they can change character overnight.
It is raining outside…..
11 September 2013
We will be leaving Pattaya for a while and I must admit this makes me feel relieved. I do have mixed feelings for Pattaya. First we will look at a few projects within a radius of an hour's drive from Pattaya and after that we will go even further.
Why me, you may ask. It has to be me, believe it or not I am actually the ONLY PERSON who possess the knowledge and skills necessary to accomplish such a task. Sadly this is not a bad joke, it is the truth.
Join me on this adventure, I will be saving the best for last. Learn about new projects and see photos from various construction sites.
I have been looking forward to this for a very long time.
10 September 2013
Big brother is watching. The internet is an experiment in anarchy, an experiment that few really understand.
Personal and private information of a kind that I am not supposed to know about is provided to me. Provided by people I don't know and have never met. The internet can be more dangerous than most people realize.
I see it happening and it scares the hell out of me. It is big brother watching and I am not sure I want to be that big brother.
Many are watching me, people are starting pointing and whispering…
10 September 2013
The vultures were flying low at Mr Nigel's birthday party. He was 60 years of age on the 24th of august 2013. Let's be nice, Nigel is a source of income for many people, not just in Pattaya but also in Bangkok. He carries a lot of people. Last night I was not well, it was one of those few evenings I ended up in front of the TV. I watch local TV stations less than 10 times per year, normally the TV is locked on the cartoon channels.
350 people were invited to Mr Cornick's birthday party at the Centara Grand Mirage. Nobody has that many friends, perhaps 20 or 30, but not 350. So what was this really about, was it a brithday celebration as we are led to believe?
No it was not, it was a media event which means it was an event or activity for the sole purpose of media publicity.
Lately we have been seeing developers focusing more on the person and less on the condominiums they are building. Is this the correct way to go?
Portraying a developer as a celebrity is getting more and more common. I am sure these developers are very nice people but personally I like to focus on their products instead. Understand that what the developers do and how they do it is carefully planned, at least in some cases. In this business you can't entirely avoid the media, the developers need the media in order to get a message out.
Let's face it, there are some developers that are better at handling the media than others, there are some that understand the importance of having an active Facebook connected to a project. An active Facebook with relevant content is a 'must have', you will be surprised to learn just how many projects there are that either don't have a Facebook or have an inactive one.
Who are attending these events and why? These 350 people are not friends all of them, a few are, but most are not. The answer is simple: Nigel has become a celebrity and people in general like to be seen in the company of celebrities.
If people know someone important they believe this could be good for them, good for their careers. And they will have a few good stories to tell their friends.
Who were there? I don't know most of them, however I did recognize a few. The Pattaya Mail was there, I was watching their show at 8 o'clock last night. Tony Malhotra was interviewing Mr Nigel. I did not see that scottish guy.
I know that Raine Grady from Pattaya Plus was there, however she did not appear in Pattaya Mail's coverage of the event 🙂
Pattaya Mail and Pattaya Plus are always present at such events, why you may ask. Well, Nigel is a generous client for both of them and they have to be there. Nothing new under the sun.
Mayor Itthiphol Kunplome was there. Dave Buckley from the Real estate Magazine was there, Torben Rudgaard from Asia Property Innovation was present, Nigels 3 sons and a lovely daughter, even his father were there. Frank Satar was there, did he not work for Tulip last year? I believe he is currently the a sales director at Kingdom Property.
Friends, family and colleagues were there. And then a few persons kissing arse, but hey, that's part of the circus, part of the job. This is quite common in the business, everybody does it, there is no other way.
Knowing a celebrity makes people feel important.
10 September 2013
After spending all night in the notorious soi 6 in Pattaya, touring all the bars in the company of sexy ladies and ladyboys, I ended up at the beach in the early morning hours. As I was sitting there, I got a vision. Or rather, I saw The Vision.
Exiting dream mode, let me start all over: This morning I had to send a young 17 year old lady to school. Instead of going home my daughter and I went to the beach. We parked the bike near Soi 6 and played at the beach. Then I noticed a relatively tall building under construction on Pratumnak hill, it took me a few seconds to figure out that I was looking at The Vision by Matrix. I was thinking the views from up there must be absolutely great. And I was thinking I should have focused more on The Vision. There are so many great projects and I have too little time on my hands….
9 September 2013
Do you know the story about the professor experimenting with the laboratory rats?
I would get in trouble for telling that story……
9 September 2013
Marketing in Pattaya:
1) Contact the real estate agents
2) Get a few big banners in the city
3) Put ads on the Baht busses
4) Put ads in the local magazines and newspapers
5) Buy the media (same as above)
6) Put ads in local TV stations
And that's it.
This way you are not going to reach the russians, the japanese, the chinese and south koreans. And it is the asian markets that are the most important. These groups of people are not likely to walk into a real estate office.
Just by simply having connections to the local agents you can make millions. These are connections that ANYBODY can make. Some foreign developers think it is difficult to make such connections and that's when they bring out the big wallet.
8 September 2013
A developer about to launch a multi-billion baht high-rise during the upcoming high season will suffer from fear, uncertainty and doubt.
There is absolutely NO ROOM for mistakes whatsoever. The marketing has to be handled by THE BEST in this business, you can't just do it the way that others have done in the past, then you will most certainly fail.
This time it is NOT business as usual. If you want A CHANCE to survive then everything has to be done to perfection.
Letting friends handle the affairs is NOT wise.
NOW perhaps you understand why I worry.
8 September 2013
I am a weird guy. You can't bribe me to write nice things about projects that I don't want to. My words are not for sale.
Yes, I have said no to people offering money in return for a nice review.
You have to be a really weird person to say no to good money, to say no to easy money.
I don't know anybody who is that crazy, especially not in Pattaya.
7 September 2013
Most of us tend to follow the behaviors of others.
That, dear readers, is a game I don't play and never will. I make my own world, I make my own rules.
I know I may end up paying a price for being like that, a price that might destroy me or kill me.
7 September 2013
The Thaksin Shinawatra story attracted more visitors in just half an hour's time than the Louis Lee story did in 10 hours. I knew that in advance, I just think it is great fun testing a theory, but it would be even more fun if I did not know the answer.
Good marketing is done by being smart, by analyzing and understanding people.
Most people react the same way, they suffer from group mentality. While we all like to believe we stand by our own convictions during any situation, most of us tend to follow the behaviors of others.
7 September 2013
Successful, effective and smart marketing is about being unique and creative and by telling a story or giving a message that people do not expect to hear.
Mass marketing campaigns are expensive and produce little return of investment.
Just know, it does not have to cost much if the right person is doing it.
Good marketing is difficult if it is part of your work. But if you think it is just a game it becomes so much easier.
6 September 2013
I am doing a story on this developer I met yesterday. I am NOT doing it because he is a great guy that I want to help and promote his business, I am doing it because his projects has caught my eye. If I stay more than 5 minutes at a construction site it means there is something special and interesting to look at.
I am not saying I could never do a story just to give a helping hand, but it is not the case this time. Whatever I do, I do because I choose to, I make the decisions. And I have asked the developer for permission to write a few words. He never asked me to do anything. That is the way I like it.
Don't be pushy, I don't have time to write about all the projects there are, so I have to make some choices.
Now it is this guy and his projects, next week it will be somebody else. I always move on, I don't look back.
5 September 2013
The guy that don't like people (me) actually met a great guy today. Ok, there are limits as to how well you can get to know a person after just half an hours talk, but the the first impression was surprisingly good. He is a developer, I have never heard of him before but I know the future belongs to him. He is an unusual guy, perhaps that is why I like him.
Today was truly an amazing day. I learned a lot of new things. I have a new story to tell, perhaps one of these days if time permits. I was out covering a story when I stumbled upon this guy and his projects.
5 September 2013
Don't say I am a good guy
Don't say I am a bad guy
It is best if you don't talk about me at all
If you must to say something about me
Then say as little as possible
I don't want anybody to like me
I don't want anybody to know me
I am not looking for friends
I am not not looking for fame
I know some good stuff
I have some good stories to tell
Just remember
I am a very private person
Please respect that
5 September 2013
It is lack of leadership if you can't make a decision. A leader is not supposed to write these beautiful speeches, a leader is supposed to make the hard decisions – that is what is means to be a leader. I know what Reagan would have done.
"Left unchecked evil will flourish"
5 September 2013
There is no need for you to worry about me becoming too powerful. Yes, I am smart, but if I was going to make it big, it would have happened a long time ago.
Right now I am watching my daughter eating corn flakes and messing up the dinner table. She is the future, not me, my time has come and gone.
After showering her we will go look at some villas. I already have enough projects to keep writing for the next several years but I always keep looking for new projects.
3 September 2013
The Thai Baht will be worth nothing in the years to come. The minute the international community finds out that the thai government intend to finance all the planned high speed rail projects by borrowing TRILLIONS OF BAHT abroad, then nobody will want to touch the thai baht. The situation will be much worse that what happened to Greece.
There are some people in Thailand that know this and will gain huge sums when it happens. A few thai individuals actually gained billions from the 98′ crisis in Thailand. A few that knew beforehand what would happen.
This time it is more obvious. When a country is indebted to this degree there is no way out.
2 September 2013
I was at Baan Fah Greenery today, last time I was there was in june 2012. I had heard that the houses were made completely of concrete, of pre-cast walls, so I had to take a look myself.
Disadvantages of precast concrete construction include:
A very small margin for error
Connections may be difficult
Limited building design flexibility
Joints between panels are often expensive and complicated
Skilled workmanship is required in the application of the panel on site
It looks like the houses are made completely of concrete but I can't tell for sure.
The advantage of precast concrete construction: Rapid construction on site, cheaper construction and higher profit for the developer.
I don't know whether the whole village is made with pre-cast walls or whether they chose to change the method of construction during the process. I do know that they have been building these houses for almost two years at the site.
Many developers are starting to use precast concrete construction. I believe The Trust Central Pattaya also uses this method of construction.
2 September 2013
Dialog with Sebastian:
S: Remember my problem with a certain developer?
NPT: I certainly do.
S: You are writing about the power the internet actually has! You probably underestimated your own power.
NPT: Correct, in many cases I have underestimated my own power. But I do know that with very little money I can reach an audience of 50.000 people. That would cost me less than 400 baht. Considering that developers spend up to 100 million baht on advertising then 400 baht on an internet campaign is practically free. I am aware of the power of the internet.
S: You have so much power on your finger tips nowadays … The internet has such an unbelievable power, that it even ended dictatorship in some North African countries (whether the result is as good as the people who started the revolution thought it would be, that's a different question … Guess they dreamed of a different result …) So I am not surprised that a certain developer asked me to remove the post from Facebook and good I (you) have done it right away. Things are moving in the right direction. I have been at the sales office today and the lady told me, that they are going to have a meeting next week on Tuesday at the head office in Bangkok. I'll keep you posted!
S: BTW, this is what our lawyer (a reputable lawyer from Bangkok, who is our company lawyer since about 15 years) wrote regarding my case: "If the developer will change the specification as clearly stated in the land and house purchase agreement, in this case they breach agreement and the buyer can terminate agreement with them (clause 14) by sending a notice of termination (clause 16) and demand money back from them with the interest of 15% per annum plus compensation (clause 15.1) … So always read the contracts carefully and don't be to afraid to defend your case. They are just developers and also they have to appreciate the law!
NPT: We cross our fingers. A war is fun for nobody, we all have better things to do and spend out time on.
2 September 2013
In January 2010 my daughter came into my life. My life changed totally after she was born. It is the single most important event in my life. My feelings towards my daughter are incredibly strong, it sometimes scares me. I am the one she turns to when she is afraid or needs something. She knows I care for her, even the regular customers in Carrefour (Big C Extra) know that.
I am probably a more boring person now with my hands tied behind my back. I hope I can be there to support her and watch her grow up. That is my wish.
1 September 2013
Sansiri's reputation has been damaged severely. From now on not many informed people will think of Sansiri as a builder of high quality condominiums. This is good news for Sansiri's competitors but terrible news for Sansiri.
Here is the story: An owner of a condominium unit at The Base Sukhumvit 77, which is a development by Sansiri, found foam inside the wall near the balcony and kitchen in the newly completed project.
The owner demanded an explanation from Sansiri but they did not respond immediately and the issue was taken up on the Pantip.com portal with thousands of people sharing the post. Then Sansiri was now forced to react quickly, a senior executive vice-president had to explain the situation and try to minimize the damage. But it was already too late for damage control, the damage had already been done.
A few questions come to mind: Who was responsible for performing the quality control? Who was supposed to supervise the construction? Somebody did not do their job.
Problems at just a single condominium can through the power of the internet significantly reduce people's confidence in a huge listed company like Sansiri. The question is whether this is a fair treatment of Sansiri or not? Some foam found in the wall of a single condo, perhaps just one problem in one condo out of 20.000 units and then the shit hits the fan.
No, I believe it is not a fair treatment of Sansiri. It could easily effect the value of Sansiri's stock. Sansiri's share prices could be falling as a result of bad press. Not only could billions of baht be lost down the drain, thousands of shareholders could become poorer. Even worse, people's confidence in Sansiri might no longer be the same.
"A good reputation that has taken decades to build up can be destroyed in a matter of days"
The damage has already been done, even the Bangkok Post has written about this story. This is absolutely NOT goood for Sansiri. A single story on an internet portal was all it took and then the press got hold of the story.
I would not have written about this story if it were not already known in both print and online media. It is simply out of proportion, the consequences for Sansiri could bring destruction of an unwarranted magnitude.
People in the media have to think carefully about the consequences for the company involved before they publish publish bad press. More importantly, developers need to take both print and especially online media more seriously. With just a few clicks with the mouse bad press can reach hundreds of thousands of people. Scandals tend to spread very fast on the internet.
The story with the foam was a scandal. Remember, this is Thailand, the salary is low and the hours are long. Skilled labour as we know it in the western world is seldom found here.
1 September 2013
The butterfly effect. Can problems in the middle east affect the thai bourse, the amount of money flowing into Thailand and the value of the thai baht? It most definitely can. A military intervention in Syria could strengthen the thai baht and increase investment in Thailand. The US might be a weakened super power with less financial strength but the country still has global influence.
31 August 2013
I just realized there is too much information on my Facebook and website, even I myself have trouble finding old articles or pieces of text I have written earlier.
At least there is activity. Some sites have very little activity and are rather boring.
I am not boring. Slightly insane? Perhaps, but not boring.
30 August 2013
Most people worry about what other people think about them
Most people want to be respected by others
Most people try to keep up appearances
I don't
Why should I care about what other people think about me?
What matters is what I think about myself
If I can look at myself in the mirror and feel good about myself then I can wish for nothing more
All that matters is that I respect myself
Why would I want to keep up appearances if I don't worry about what other people think about me and don't need their respect?
I am who I am and I am proud of it.
Sometimes somebody gets upset because I say what I think. They don't want me to say what I think.
They want me to say what I am supposed to say in order to keep up appearances.
I am sorry to inform you, but keeping up appearances is just not my style!
30 August 2013
This is where is gets weird: Did you know that this newpattaya guy does not really exist, did you know he is just a figment of somebody's imagination. He is just a character that somebody has created to serve a purpose.
30 August 2013
I have not told you about the people working behind the scene. There is somebody helping me from time to time. It is not who you would expect, it is not a developer but somebody that is very well informed. And then there is this mysterious guy, I don't even know whether it is a man or a woman, also that person is very well informed. So many secrets….
COMMENT on 29 august 2013: Hey, where have you been? You are right, the editors corner has become one of my favourite morning rituals. So come on, we need MORE.!!!!!
28 August 2013
People in the Media Business that go to work and sit in an office every day, what exactly do they do all day long??? Drink coffee and chat? Certainly not news reporting!
I don't sit in any office, I am out every day doing all kinds of things. How come newpattaya.com is the ONLY place NOT just for unbiased news but for news in general.
Is it me who is extremely bright or everybody else that sucks? Yeah, I am good but THAT good???
What does it take to be In The Know, to be on top of the news??
27 August 2013
I am old enough to remember Leonid Brezhnev, Yuri Andropov, Konstantin Chernenko and Andrei Gromyko. Then Mikhail Gorbachev came to power in may 89 and there was hope. Words like glasnost and perestroika meant much to me, it meant the end of the cold war. I was worried about the thousands of nuclear missiles on both sides.
Leonid Brezhnev was very old, I remember wishing he would die so there could be a change. I remember the song 'wind of change' by the german band Scorpions back in 1990. The germans were so proud of that song. I remember riding on my bicycle down through Germany while the wall (or border) was still there. I remember seeing the trabants cars from eastern germany crossing the border for the first time.
I rode my bicycle down through Germany to have some fun in the alps. The higher I could get the better. Col de la Bonette 2715 m in southern France was the highest. Downhill all the way to the city of Nice. Then I found Mount Evans in Colorado that is 4350 meter high, there is a road all the way to the top. I brought my bike these places.
I can't do now what I did back then but I still have that impulsiveness in me. Now it is not the Rocky Mountains on a bicycle, now it is Khao Yai in a car.
27 August 2013
Did you miss me yesterday?? Very quiet, eh? Oh come on, just admit it, I know y'all love me, even the ones that pretend otherwise. There ain't nobody that can tell a story better than I can. If you got it you know it, if you think you got it but don't have it, well, that's another story.
27 August 2013
The New Pattaya Team (me and my daughter) were in Bangkok yesterday to get updated information on important projects. One half of the team (my daughter) did not want to walk so the other half (myself) had to carry somebody for a whole day.
Walking around in Bangkok a whole day carrying somebody is something I don't wish for my worst enemy. It is hotter and more humid in Bangkok than in Pattaya.
Most of you living in Pattaya don't know how lucky you are. I am barely alive but I can still throw a punch.
25 August 2013
Do the same as everybody else and you will most likely fail. Do something unique and you may have a chance of success. Don't be different just to be different. Be different and better. Remember that you can't be different and better without being creative. Being creative is the key.
Find a niche and be the best. Work on something that has enormous potential for growth. If you stop growing something is wrong.
Investor advice is not good for creating a unique product. Nobody can help you create a unique product — that's your job.
25 August 2013
Competition is good, it brings out the best in all. Otherwise we will all just fall asleep and NOT do our best. Always keep improving, never take anything for granted. That is the key to success. Well, not in Pattaya but most other places. Pattaya is more about having good connections than having a good product.
24 August 2013
Talking about demand and supply I can inform the readers that we have no talented, creative and passionate people in the marketing industry in Pattaya. There is nobody with a degree in marketing from a western university, nobody with a degree in creative design, nobody with an understanding of intelligent marketing. There is nobody to impress you, nobody to make you open your eyes.
The developers use many different project management companies. Why don't we have many different marketing management companies, that is a question I ask myself?
There is a demand for professional marketing management companies from abroad in Pattaya. There is a demand, there is big money to be made for any competent company that is able to provide creative marketing campaigns.
24 August 2013
How about 1 million baht paid in cash if I create content and build up a website. No thanks, not enough. In some cases that service is worth much much more.
Content creation. Is your website screaming for content? I could help but I don't want to. It is simply a huge undertaking, much more difficult and time consuming that most people understand.
For this kind of job there is a huge market but there is nobody out there who is able to deliver such a service. It is called content creation, it is building up a website.
As one in a million I am able to do that job. It is a damn difficult job and the pay should reflect that. Supply and demand should determine the price. There is a demand but there is no supply.
The web design companies don't have a clue about how to create content. All they know is how to steal content from other sources. The web design companies can manage the the technical part of designing a website, they know how to make it look nice and user friendly. And they know a thing or two about search engine optimization.
The web design companies are not able to write articles. For that job you need someone who is able to write a book. You need a person who is an author more than a journalist. Furthermore that author needs to know a hell of a lot about the subject in question.
In my field you need a person considered to have complete property guru status who is also an author. In today's world, that combination is rare. I don't know anybody else in Thailand that has these qualifications.
I possess these qualifications and I will take you on a journey. I already know you will join me, I know you will not want to miss out on this adventure.
24 August 2013
The Editor knows how to tell a story, he knows how to get a message out. Take a look yourself and see what kind of magic I can do. I can do much more than this if I really want to. I do things differently and I do it my way. I can easily reinvent marketing if I want to, I can do it by only using brain power.
I played a game with myself. I said: Let's try and see if we can make Editors Corner the most viewed of all my pages. I succeeded. There was no reward, it was just a mind game, my way of having fun.
24 August 2013
I have had two offers THIS MORNING, two offers in one day, a bit unusual. One was a paid job which is always nice.
I had to tell them the truth, this is just a hobby. I am more or less a single dad and I take care of my 3 year old daughter full time. She is with me all the time, she is not in kindergarten. While the money could be nice, really nice actually, I don't have the time.
The other guy offered me a partnership in a company but even him I have had to tell that I don't have the time.
Content creation, building up a website, people understand that I am able to do that job. I have had many offers from both developers and real estate agents in Pattaya wishing me to do exactly that job, build up a website and attract customers. I have had to politely say no because I don't have the time on my hands.
24 August 2013
There are those out there that are laughing at me saying:"By all means, let him be the Property Guru. We are the ones that get all the money." I can't argue with that, they are absolutely right.
23 August 2013, time is 23:50
A Bitch in Paradise. A loyal reader has expressed concern about the possibility of me becoming one of the many 'bitches' we have too many of here in Pattaya.
Being somebody's bitch or just working for somebody, what is the difference? I have had bosses before and I did what they asked. No problem. Most people actually have a boss.
Bitches in the property business kiss ass, they have little or no credibility. There is a dependency to the industry, to the developers.
But are things really that bad? Are there important things that should be said where people keep quiet? Not really. Apart from low sales numbers there is not much to tell.
Are there bad developers in Pattaya that only wish to screw the customers? Not as far as I know.
If the magazines or newspapers do an interview with a developer on page 2 and there is a full page ad of one of his projects on page 3, would that be a problem? I don't think so. The readers are not stupid, they understand who is paying for the advertisement, they know how the system works.
What about paid journalism? Paid journalism is everywhere, in all countries all over the world. It is just another kind of advertising, no different from the ads in the newspaper.
You must treat the one who is paying with respect in the same way you show your boss respect.
Everybody needs money, everybody needs to have an income. If the newspapers or magazines strive to uphold a high moral standard of honesty and trustworthiness then they will not survive for long.
It is the bitches in the industry that make the big money. The honest person standing tall with courage to face the world alone will not stand a chance in the long run. That's just how it is.
If one day I too are to be found among bitches it will be because I was left with no choice.
I know there is a least one developer that does not try to influence the media but my gut feeling says there are not many of that kind in the industry.
Bitch or no bitch, I am who I am and it is difficult for me to pretend to be someone I am not. As always I speak out when I have something at heart but I also understand that not everything needs to be said out loud.
23 August 2013, time is 7:30 in the morning
This bed-buzz.com guy contacted me on sunday the 18th august. He wanted to have a meeting monday 19th.
I told him I would be out all day. That was a lie, YES, I lied because I suspected I would be wasting my time. He said he would be bringing a souvenir from Bangkok.
If I had agreed to the meeting and if he had told me he wanted me to advertse for him for free I would have totally freaked out.
Is the guy totally crazy? Asking someone for a meeting, taking their time for NOTHING!!!! No sane person would do that.
I suspected that to be the case so I "was busy all day". Then last night, on 22 august, he tried once more. I never approached bed-buzz, only responded to their requests. I thought they got the message on sunday.
They did not, and then they pissed me off.
They wanted a message out so they kept trying. Now I get my message out. They can go to hell.
22 August 2013
Let's say a PR company lands a 50 million baht contract. What does he do in order to to reduce the costs and maximize the profit? He hires subcontractors to perform part or all of the obligations of his own contract.
The subcontractor might also in term hire their own subcontractors to perform part of his contract.
That way the subcontractor will get paid without doing any or little work himself.
The incentive to hire subcontractors is often to reduce costs. Most of the money will end up in the pockets of the primary contractor.
It is all about money and about finding ways to get the job done by paying as little as possible.
22 August 2013
I was just contacted by a big Bangkok Based Public relations company, bed-buzz.com, that works for a PR company here in Pattaya that again works for Blue Sky Group. They wanted me do a PR job for them.
How much are you paying for my services, I asked an hour ago.
The nice young man answered:
It's just a property news with no pay..
My answer: I don't work for free. Do you?
These guys can go to hell. This is the reason why I freak out at times. What is wrong with people? Why should I spend my time working for a company that gets paid by a well known company in Pattaya? People are people. Why do I attract this kind of people?
21 August 2013
Ask yourself where you will get the real thing, ask yourself where you will find a guy who travels far to find interesting projects. It is NOT the Bangkok Post or The Nation. It is that little guy from Pattaya who is beating all the big guys. I am beating them bigtime. They have the big budgets, they have the big money. But they don't have me. Stay with me, we can go much further. This is just the beginning, I have not even warmed up yet.
21 August 2013
I am not a diplomatic person. If I feel strongly about a subject I will speak about it even when there may be a cost involved. I don't smile at people just because there is money to be made, just because somebody might be a potential business partner. At times it does have its disadvantages to be honest. Some bridges may be burnt, bridges that did not need to be burnt. Being fake or being diplomatic is part of playing the game. You must say only what you are supposed to say and nothing else. And please don't forget to smile.
21 August 2013
I use Facebook for the marketing of this website. At first I did not want to have a Facebook page linked to this website, actually the first 6 months after the website was launched there was no Facebook attached. I wanted to avoid having lengthy discussions that would take my precious time of which I have little. But Facebook is an important tool that can't be ignored.
The use of Facebook and even Twitter have exploded over the internet. Facebook in particular present valuable opportunities for readers of of a website to interact with the website's staff and authors.
Let's face it, Facebook is a great social media that can be used for marketing purposes, it increases brand awareness and the readers will get a more intimate and personal relationships the author.
Now more than 10% of my readers arrive through Facebook, a number that is constantly increasing. I watch closely where my readers come from, I can assure you that everything is carefully planned, nothing is left to chance. Furthermore I can reveal that eventually more than 50% of my readers will arrive through Facebook, a bit into the future though but that is where the arrow is pointing.
I know these things, I am an internet wizard of a kind you have never seen before. I use Facebook for the marketing of this website and for the marketing of future client's products. With just one click on the mouse is is possible to instantly reach thousands of people, some websites can even reach millions of people.
Whether I like it or not, this is the path I have to follow. Not everybody can do it, I don't doubt for a second that I can.
19 August 2013
I can inform the readers that it is no fun to taking part in a race if you know beforehand that you will win. I have so much unique information but I don't need to hurry to write about it if I want to be the first. That is actually a bit depressing. What will you do if I am no longer around? I'm telling you, life without me will not be worth living. You may not know it yet but you would miss me. You don't know what you got till it's gone. Tell me you love me before it is too late.
19 August 2013
Fancy hearing about a new project by one of the old developers to be pre-launched in Central Festival Pattaya Beach in October 2013?
My monthly Pattaya Investment Report (PIR) has just increased in price to 99,991 baht per month.
Honestly I think it is a fair price. If you want to know what is NOT known, if you want to be the first to know, if you want to be prepared and if you want unique information the price should reflect that. There is just ONE Property Guru around here and you all know who that is.
Do you want the information badly enough???
By the way, how does one become a Property Guru, what are the qualifications? You will become a Guru if you know what no one else knows, if you have proven over an extended period of time that you can provide information that others are not able to. And on top of that you have to beat me, and that, dear reader is NOT possible. In other words: Forget about it, you know very well you can't dethrone the master.
Sunday 18 August 2013, 08:30 in the morning
If you count the little developers, the ones that have recently arrived from Bangkok, the old handful, then in total you will find in the range of 30 developers in Pattaya.
Property bubble or not, the times when a handful of developers can have 5 active projects at the same time has come and gone my friend.
If the good times do return each developer may have just ONE project each, 4 – 5 projects just does not work anymore.
Pattaya has become too crowded. This it is NOT an opinion, I am just stating a fact.
If you look for unique facts you have found the right place, the right person. Perhaps at times a difficult person but a person with character, someone with the ability to stand alone with an opinion. I certainly don't fear being judged or ridiculed. I guess I believe in myself.
Whether I have deserved it or not, today I will take the day off.
17 August 2013
Following all the projects is not an easy task. And if I also have to write a property bubble-bursting article every now and then, update the website and entertain on Facebook then I will not have time for much else. On top of that I also have to find all the new projects, find secret beaches and places, write about developments in other parts of Thailand etc. It may seem easy but this job involves long hours. Just another day in paradise…..
17 August 2013
We (me and my daughter) were at the playpark at Central Festival Pattaya Beach today. She was jumping happily around, singing, smiling and playing with all the other children. She likes people. More than 90% of the time she is alone with me and considering I am nothing but a grumpy old man who is always so damn serious then why is she always so happy with a smile on her face? I surely hope she does not end up like me. You know, I was not always like this. I used to be the guy who, when entering the bar then some of the regular customers would clap their hands because NOW the party could finally begin. The MAN was in the house. I always had some good stories to tell. But that was a very long time ago and that person does not exist anymore. That person liked jamaican rum.
16 August 2013
I Talked to Sansiri today at the True Luxury Living exhibition in the Central Beach Pattaya complex. I had only two questions: A) When will Tower A be released to the market and B) How many percent of tower B has been sold.
The sales lady told me that Tower A will be released to the market next year, that means some time in 2014. Aha, I would find it natural to launch Tower A when the next high season starts and not wait until 2014. But SC Asset is a Bangkok based company, perhaps they are not familiar with the term high season. Develoments in Bangkok are mainly for thais and the few foreigners that invest do it all year round. Perhaps someone had better inform SC Asset that high season is a good time to launch the new tower.
And then the other question, how many percent of Tower B has been sold until now? 55% was the answer. Ok, not bad, certainly nothing to be ashamed of. SC Asset is known for telling the truth and I find the percentage likely.
However, for some developers the sales numbers are a sensitive issue and the staff is not allowed to tell the truth, they are given orders from above.
16 August 2013
High season is approaching, november is considered the start of high season. A good time to launch a new project is just before high season starts so in my humble opinion october is a good time to launch. And october is just one and a half month away so I predict we will soon start to see some new launches. I expect we will see at least one new high-rise project in Wong Amat, currently they are working on the sales office so the exact location is already known.
It certainly will be exciting to see what happens. Who will be courageous enough to launch? Some developers have already burnt their fingers and will most likely not be launching new projects.
Last year Sansiri launched Baan Plai Haad in the beginning of October. There is no doubt that october is a good month to launch.
However, it is likely that this next high season it will be different from the previous ones. The developers will be watching closely what happens. This time they will be very careful before making a decision to launch.
15 August 2013
Has it changed me that I have been running this facebook and website for well over a year now? I am afraid it has to some degree. Just like an actor gets affected by playing a role for an extended period of time I have also slowly changed.
I am wearing many hats. I am the secretary, the journalist, the photographer, the boss, the staff, the passionate guy with the ideas, the webdesigner, the programmer, the philosopher and the father. And I am also the investor even though I don't like that word. The word associates with something bad, like a cold calculating and cynical person with no feelings. A necessary evil but that part of me tries to make sure there are funds left for retirement.
The person I want to be is the philosopher, he is the one that plays the role of the father. He is the nice guy, he is the one I like. The philosopher part of me is getting less and less space and the other guys are slowly taking over.
The passionate guy and the investor are from two very different colliding worlds, it is difficult for them to agree on anything. What part of me will win this battle?
15 August 2013
I have to be honest, most of the problems I have had during the last year has come from people living in Pattaya, people involved in the real estate business. They are not my target group. The website and Facebook is meant for people who are NOT living in Pattaya. I can reveal that I am targeting wealthy people from Bangkok, people with a budget of 10 MB++. There is a plan on how to reach that target group, the plan involves something that has never been done before. For obvious reasons I can't talk about what and how at the moment. As usual: expect the unexpected. Expect to find stuff not available anywhere, that my specialty. And I am damn good at what I do.
I would rather attract just 1 wealthy customer than 1000 customers looking to buy a 1 million baht condo. I want quality, not quantity.
15 August 2013
About myself: I do have a temper. Normally I am a calm person but I am NOT the kind of person you tell what he should or should not do. It is entirely up to me. I have a strong personality, I don't take shit from anybody.
Of course it depends on who you are. If you have been here for, let's say 25 years, and you are a well respected senior person in the construction business, then I would probably listen to your words. Or if you are my boss, the one putting bread on the table, then I would have no choice but to listen. I respect wise people, typically these people are older than myself.
Believe it or not, some people actually believe that I on a mission aimed at providing free advise, that my single purpose in life is to assist stingy millionaires. Not one person, not two, actually up to 20 persons. And this is only regarding real estate matters. Others have been asking for a list of interesting places to visit, some wanting information on family friendly hotels. Sometimes I answer if I have the time, at other times I press the delete button. What they all have in common is that they expect I am some kind of friendly guy that has nothing better to do than to provide FREE advice. People from all over the world have exactly the same behaviour, somehow it must be in the genes.
My mission is to write about stuff that I personally choose, this important part here is MYSELF. What I choose myself is of course free, nobody has asked me to do it. The "problem" is where others want to to go in a specific direction, they make A REQUEST and they expect me to do that job as if I am one of their staff.
Most people ask me discretely and no one ever gets to know about it, it never gets published. To these guys I say: I know what's in it for you, you are here for business purposes. Please explain what is in it for me. And then I never hear from them again. Some say let's share the information, sharing is nice and friendly. Ok, sounds nice but a bit naive. What is the point if only one part gets the benefit of the sharing. If both parties feel there is some kind of reward involved it all makes sense, everybody is happy.
Mostly it is not about sharing information, it is about people using other people that possess information in order to make some kind of business of their own. Please understand that I am NOT a problem solver for rich people and I don't work for free. I have said it a few times and I will probably need to say it again soon. How do I get rid of this friendly and naive guy image? In the beginning I was friendly but then I started feeling used and now there is only one thing to say: Enough is enough.
13 August 2013
Information has no weight or mass, it can't be seen with the eyes. You can't touch it so many people think they don't need to pay for it. But if a person has put time and effort into producing valuable and unique information it is indeed a product.
If someone wishes to use that information it means they wish to use the product. As most of you know a product cost money, all services cost money, otherwise people would be working for free and nobody does that.
Yesterday a guy asked me the following: Do you have any statistics on how many condo projects are planned, under construction and completed in Pattaya? If you ever get access to this data please post it or message me. I would find that very useful.
I am sure he would find the information useful, I am sure he would use it for business purposes. I was actually shocked when I read the words, I mean who do they think I am? Some guy that do work for others for free? I certainly don't.
Actually this request was nothing unusual, I have had 15 – 20 similar requests. The requests have been by someone trying to do business and they need my help. Normally they don't want to pay, but there has a few cases where someone has offered a ridiculously low amount. When I feel like I am being used I put it in reverse and back out fast and I never look back. A dead end is a dead end, I will not be wasting my time.
A developer at least has a product that you can see and touch, it is called a condominium. I can assure you, the developer will not give away his condos for free. A product cost money.
Information may just be words, but information is the result of someone's thoughts and hard work. It is the result of someone who has spent time and money putting the pieces together. I do what I choose to do, please don't expect that I do other peoples work for free. A product, whether you can literally see it or not, cost money. Even real estate advisors charge a fee.
People will try if they think they can get away with it. Where is the honour and the good behaviour, where is the respect of other people's work? I know the answer: People are people and there is nothing better than a freebie.
12 August 2013, time is 21.30
Almost 10 years ago when Northshore was launched in 2004 a lot of investors made huge gains when buying into the project at an early stage and reselling 6 months or a year later. Even now, 10 years later I still hear people wishing they bought into that project. If they knew then what they know now they would have acted differently.
How do you know when the conditions are right if you want to make quick money? Some people look at the statistics, that is probably a good idea, but understand that the market is not static and neither is the risk. The market is dynamic and continuously changing, an investment strategy that worked two years ago may not work today. The market conditions keep changing and the investors need to adapt accordingly in order to survive.
I heard that an investor bought a unit at Waterfront at 3.9 MB and resold at 6.2 MB so quick money can still be made in Pattaya, even in 2013. In this case it was probably the location and the quality of the project that made the difference. People know that Waterfront is a unique and iconic project that must be considered a safe investment.
Some of the old hand investors know these things, they know when the conditions are right. In order to make the right decisions the investors need to have access to first class information on movements in the market.
The question is, where can you find a reliable source of information to guide you through a turbulent period? The answer may be right in front of your eyes, you just haven't realised it yet.
11 August 2013, time is 08.30
I have come across the latest edition of Pattaya Gold, a supplement to the Real Estate Magazine by Dave Buckley.
Honestly, and you get the truth from me, I have never, not even once, looked inside the Real Estate Magazine. I have wanted to but I never knew where to find a copy.
However, in may 2012 I found a copy of Pattaya Gold, someone left it on a table in Carrefour. It was good stuff. And now I have my hands on the latest August edition of Pattaya Gold, I must admit, just like last years edition, it still is good stuff.
In this issue they take a look at the companies that Tulip Group work with. Ok, most people know that Tulip is a company that is associated with luxury but I guess I will never fully comprehend just how luxurious their properties are. They only work with top companies.
All the other developers use the word 'luxury' when they describe their condos, even when they talk about units priced below 1 million baht or units at 35,000 baht/m2.
Take a look at this Pattaya Gold supplemet and learn the true meaning of Luxury. Read it, learn and then make up your own opinion. I hope you will understand that there are not that many true luxury developers in Pattaya. Most developers target the lower end of the market so if you want a long lasting high quality product your options are limited.
9 August 2013, time is 16.30
Today was a very good day. We were out doing fieldwork from 8:45 – 16:00 and we had a great time. I learned a lot today. I thought I knew it all only to be proven wrong – today I learned that there is still a long way to go. Some of the information is of a nature not suited to be repeated here, not by myself or anyone else for that matter. Lately I have come across a lot of information that I can't even discuss with my wife.
I am starting to feel like a secret agent that has been in the service too long. Knowing a secret is not a burden for someone like me but it is not much fun if you can't tell anybody. However collecting information will lead me to a better understanding of the big picture and hopefully to grow as a person.
8 August 2013, time is 00.30
You have the pleasure of visiting the website of Thailand's only Property Guru. There is no doubt I am the best informed in this part of the world. The next couple of months will be very exciting, I will present loads of information that is not available anywhere in the world. My only competition is myself. It will be a lot of hard work but it will also be fun. Already tomorrow I may throw in a few goodies if you behave nicely. How about two new projects, does that sound interesting? Somehow I do it, but I don't know how. At times it feels like somebody is giving me a helping hand. If that is the case I don't deserve it. Stay tuned.
7 August 2013
I possess confidential and vital information about what is going to happen and where it is going to happen. I know who has bought land, I know how much land, I know the location and I know what they are going to build. All I can say is that we have to look to the south of Pattaya. We are close to the new high speed railway system going to Rayong.
It is happening at a much faster speed that I expected. The ones who have invested in property in the greater Pattaya area will be handsomely rewarded. I might already have said too much. This information is not available on the internet. They will tell us when they are ready for it. If I talk now it will have consequences…..
5 August 2013, time is 21:00
Today was one of those bad days I could have done without. Not fun. In this world there is a certain way things are done and you have to play by the rules.
I am sitting with the latest issue of The Nation Property Guide published 4 times per year. They don't talk about that many projects, probably 10 different projects at most per issue. One one page you will find a friendly interview with the developer and on the next page you will see an advert for one of his projects.
That is what the customer wants. He wants the friendly interview, in order to get that he must advertise with the Property Guide. That is how the Property Guide survives and that is how the system works. Just placing an advert with the property guide is NOT what the developer wants, he wants the full package.
And the customer is always right. The Property Guide don't talk about many new projects, mostly it is the same old faces that return each time. I may be wrong, but I believe I have seen an interview with Mr Cornick from Kingdom Property in each af the last four issues. They advertise and they are granted an interview.
That is the way the system works and I have no problem with that. The Nation Property Guide is very good and I enjoy reading it, it is actually a good product.
Only I don't think I can do it that way. If I feel good about a project I can write about it, but the "we pay – you write" system does not work for me.
I did not make the rules, I just know that if you don't play by the rules it will be difficult to survive in the long run. That is what gives me a headache.
5 August 2013
I have been doing some soul searching this morning.
Call me naive but I like the freedom to write about what I want and what I love. And the next month or two I will be busy writing about projects that are NOT in Pattaya.
I will follow my heart, I don't always go the route that leads to the big money. I hope I can choose a route that leads to happiness knowing it not nessecarily will lead to financial success.
I have had some beginner's difficulties. I need to find the right way for me to go and at the same time avoid shooting myself in the foot.
4 August 2013, 8 o'clock AM:
As mentioned, Central Plaza Rayong will be opening in Rayong in a few years time.
It is really very vey very simple. A Central Shopping Mall will attract the big developers from Bangkok. These developers from Bangkok are not too bright, in Pattaya it took them 4 years to figure out how the system works.
BUT there is no doubt that a new Central Shopping Centre will have a tremendous effect on the property market of the whole region. Prices for land will sky rocket, new hotels will open, the area near the beach will see many changes coming. Did you know they have strong wind and very big big waves down there. Very different from Pattaya.
I actually go and visit these places, you need to do that if you want to be the best. Since I am the only one who is really serious about property development in Thailand it is easy to be the best.
No, I take that back, as a matter of fact it is NOT easy, it is hard work hard all the time, the activity light is on constantly and must never be disabled.
Most people would have thrown in the towel a long time ago, I have to be relentless in pursuit of my dreams. My dream has something to do with my daughter….
3 August 2013:
The Big Bangkok based developers are coming to Rayong. One might think that LPN, Supalai or Q-House would be among the first, but NO, it is another company.
I thought I would drop a bomb tonight, it is saturday night, time is 10:30, everybody is out drinking so not much harm will be done.
I am the one and only Property Guru, I am the best informed, that's just how it is. We are talking about Rayong, a city that will see a lot of changes in the near future.
Narai Property is building The Parkland Rayong, a residential high-rise project.
If I say the Bangkok based companies are coming to Rayong it means they are coming. I only ask myself why it took them so long.
And I ask myself why the Pattaya based developers have not looked outside Pattaya for greener grass. Rayong is only 50 km away, we should have conquered Rayong long before the giants from Bangkok entered the scene.
The Bangkok based companies will come to Rayong, they will suck the market dry and then they will leave when there is no more profit to be made.
It is not too late, the party is just about to begin. The question is whether there are any visionary developers in Pattaya.
31 July 2013:
Wong Amat is where you will find Pattaya's skyscrapers, some of which are more than 50 stories high. We will see more very tall residential buildings coming to Wong Amat soon, developers will launch new projects in this area despite of any property bubbles. The future of Pattaya lies in Wong Amat, it is the jewel in the crown. We will see growth in this area in the future. There is no doubt this is a good place to invest. I am just saying what I believe is obvious.
24 July 2013:
Pattaya's hotel sector is booming, I have never ever seen so many projects in Pattaya at the same time. I am the ONLY guy in town that knows all the hotel developments, I am telling you the number is amazingly high. I don't know the names of all these new hotels but I know the locations. There is room for expansion during the next many years, Pattaya is growing and constantly reinventing itself. I could make a website about all these hotels, that alone would keep me busy. I would say we are looking at minimum 20 active hotel projects at the moment. I have to count them one day, it would be easier if I had the names of all these hotels. I can tell you that Sangfah is constructing a 10-storey hotel on 3rd road near Soi Lengkee, that Bangkok based construction company will only come to Pattaya for a big project. Sangfah is one of the bigger players, they built the new Holiday Inn in Sukhumvit Soi 22, they have built some very big projects in Bangkok like The Coast. Sangfah is in Pattaya now, that is going to be fun for me.
20 July 2013:
It is amazing that someones personality can shine through on a medium like the internet, but it is my experience that it can.
The character often shines through, just how bright the person is shines through. You can tell a lot about a person by what he writes and how he writes, it is obvious when someone voices an opinion without really knowing anything about a subject.
The personality can shine through, you don't need to meet people in real life to judge them or understand what kind of people they are. Personally I find the internet media absolutely amazing.
Some people are VIP's, other people pretend to be VIP's but the real VIP's don't make much noice. They are simply too busy to fool around on the internet.
15 July 2013:
The impact of real estate investors on the market
Not everybody loves the real estate investors that are not end-users. Some developers in Bangkok even hate them and want to avoid them at all cost. They require high deposits in order to scare these investors away, to prevent them from pushing the market in the wrong direction. Read more….
15 July 2013:
Thai Coffee Club Culture.
Things work differently here in Thailand. What is considered good manners and decent behaviour in the western world does not necessarily apply in Thailand. Read more….
12 July 2013:
Did you know that most of the condos in Singapore are priced above 1 Million Singapore Dollars? FYI that is 24.6 MB. Well, you can find some condos at around 700.000 Singapore Dollars, that equals 17 Million baht.
Please understand that prices of condos in Thailand are very low in comparison to the prices in Singapore. With that in mind I hope you understand that investing in Thailand and in Pattaya in particularly is highly recommendable. Despite of various rumors of bubbles, long term investment will yield high rewards. The future of Pattaya looks bright. Read more:
http://newpattaya.com/a-bright-future-for-pattaya/
11 July 2013:
The big question that ALL investors in Pattaya ask themselves at the moment is how will the rental market behave during the next couple of years. A huge number of newly completed apartments will come on the market, how will that affect the market prices? The number of tourists will most likely increase, YES, but what kind of tourists are we talking about? Tour group tourists? I so, we will have a problem, as they are not the kind of tourists that will make the property industry grow. Most likely the next couple of high seasons will give us the answers to this question. And YES, it is a very important question. Actually, if the big investors are pessimistic about the the immediate future it could have severe consequences for the property market. Long term there is no need to worry but obviously at the moment there is some uncertainty as to what will happen.
7 July 2013:
What?? Bouygues Thai back in Pattaya? How in the hell did Kingdom Property get Bouygues Thai to build Southpoint???? Great but totally unexpected. Bouygues Thai is the best and if you want that company you have to pay some serious cash. Just like newpattaya.com don't really have any competitors the same can be said about Bouygues Thai. Bouygues Thai takes the first place, second place, third etc. I totally love Bouygues Thai, how can you not.
I never thought Bouygues Thai would come back to Pattaya after Northpoint. Definitely something of a scoop for Kingdom Property. Only personal relationships could make this happen, this shows the power of personal relationships.
And no, I will not just copy the press release like Property Report and everybody else have done. I read and then I write how I feel about the matter. That is how I do it. That is what an editor would do. And that is the only way to become an opinion maker which is my goal.
4 July 2013:
With Alexa most people say that if you manage to make it in the top 100.000, it is a sign that your site enjoys quite heavy traffic.
2 July 2013:
Yesterday I had 2 posts about Waterfront and then perhaps I had better leave that project for a while in order to be more balanced. But I can't help it, Waterfront is very important to Pattaya and it will get special attention from me. Likewise The Palm will get special attention. I am a high rise guy, I need these projects in order to feel good. Today the plan was to go home and write about our Mayor, I didn't do that. Instead I escaped to Bali Hai Pier to look at Waterfront. And I don't regret doing that. I follow my passion, that is just the way it has to be. What will WF look like at christmas? I can't wait to see, I know it is going to be absolutely fantastic. I can go and take a look at Waterfront whenever I want. I feel like the luckiest man in the world.
Expect great stories to come from me during the next year. I have saved the best for later. The adventure is just starting. Expect high entertainment value.
28 June 2013:
Friday 28 June. I look at my daughter and I still can't belive she has been in my life for 3 years and 5 months. I feel blessed to be her father. I went to bed at 1 o'clock last night, busy with this internet posting while she was sleeping, I had to wake up 6 o'clock to get the milk ready for her.
I woke up thinking about a developer that said he felt he had weak bones and then I was smiling. I never thought I would ever hear a developers saying that.
Then we went to Wong Amat beach to play with the sand for a couple of hours, my daughter got sand in her hair, sand all over, very messy. Then going back home where I needed to shower her and wash her hair, comb her hair and put baby powder on her. Then watch some cartoons and now we must go get something to eat. That's my day at the office.
At the same time the momentum is pointing to newpattaya.com, we have to do the impossible every day. I need to relax, I need to lay in a pool and do just nothing. Just a couple of days in Bangkok, is that too much to ask? I am only human.
24 June 2013:
Did you know that most of the people that ask me for advice on how to invest mainly come from Asian cities like Hong Kong and Singapore, very few come from the western world. I will do my best but the future will always arrive on a path that is not for man to know in advance.
23 June 2013:
We are looking forward to reaching 400.000 page views tonight and I will use this opportunity to talk a little about myself. You might think that I am a person that likes to talk a lot, perhaps looking for attention, no, that is not the case. On the contrary, in real life, I am the quiet guy, I don't talk much. I am a very good listener though. The last thing I want is to become famous. However I want newpattaya.com to become famous, that is another story.
I don't need to attend parties in order to feel important. What makes me feel important is my family. Without my family I have nothing. I am a family man, that is all I want to be. I am a private person, I don't like being in the spotlight but it is getting more and more difficult to avoid. People from all over the world are now looking to newpattaya.com as a major source of information, asking for advice on how to invest. I believe they trust me, I don't know exactly why, but that is the feeling I get when I read the emails.
22 June 2013:
Nobody informs me about anything, I find all the information by myself, it is a one-man-show. I find the information, connect the dots and draw the conclusions by myself. Other people rely on friends, colleagues, partners or advisors. They debate and get feedback. On newpattaya.com there is just one guy doing it all alone, there is no debate. In order to single handedly draw conclusions you need to believe in yourself. I don't have a problem in that area.
On 20 June I had to wake up 4 o'clock in the morning in order to cover the events at SC Asset's exhibition when Siam Paragon opened at 10 o'clock. I had to return to Siam Paragon later in the evening to get the latest sales numbers. I was back in Pattaya 11 o'clock at night the same day. That is the life of a Guru, it is big fun and very exciting, I get a lot of information but there is also a price to pay. It is not as easy as it seems. Tell me if you know somebody who is passionate enough to do what I do.
15 June 2013:
I have so many projects in Pattaya that NOBODY has written about yet, I have known about them for a very very long time but just not had the time to write about them myself.
My question is: What are you going to do when I am not around anymore, there will be nobody replacing me. There will be nobody reporting all the news, apparently nobody is able to.
I'm telling you all, Pattaya will certainly be a boring place without me. I may or may not write about a new project today, let's wait and see, after all it is saturday and weekend. Stay tuned.
What are the qualifications for filling my position. There are several:
1) You need to love all about construction
2) You need to be smarter than the average guy
3) You need to be curious like hell
4) You need to be more machine than man
5) You need Google to be your best friend in the world
6) You need to know the Internet as the palm of your hand
7) You need to love taking pictures
8.) You need to know how to make a website
9) You need to want to do some crazy stuff once in a while
10) You need to be a gifted writer
11) You need to believe in yourself
12) You need to be be persistent
13) You need to be relentless and passionate in pursuing your goal
14) You need to be unique
15) You need to have a sense of humour
16) You need to be an entertainer
17) You need to be me
There is me, then there's me, and that's it. That's why I have to do it and that's why people look to me as a major source of information. To become really successful I need to learn teamwork. And I need my hands untied.
8 June 2013:
It is about branding, about getting the message out. It may be somebody reading about an article, he might tell family and friends at work that again might tell others. Agents certainly might read the articles I write, I have learned about that the hard way.
Talking is good, keep talking. They say silence is golden but not when you want to sell property. Keep talking, keep repeating yourself, some might be bored but don't stop talking – and then suddenly one day you may catch a fish. Talk and get the message out. It is that simple.
And the more my website keeps growing, the more readers there will be. Just one year from now I could easily have doubled my size, if I am still doing this 2 years into the future I could become extremely powerful on a global scale.
I have material to keep writing non-stop for at least another 3 years time, that does not include all the new projects they keep launching.
It is a niche, it should not be so, but it is. If the right guy is doing it, it will be great. I am the right guy.
Stay tuned, I have decided to give two or maybe three presents today. One will be a surprise, a 47-storey new high-rise that yet to be released and two very famous hotels currently building phase II.
I am not just the major source of new information, I am the only source. My problem is that I have too little time and spend a lot of time in Bangkok.
20 April 2013:
Words from the editor. Just words, but where do they come from? I am not sure but they keep coming to me. Sometimes I get inspired by events that have taken place recently and I need to put my thoughts into words.
I try to be fair and treat everybody equally but it is not possible in the real world. Until now (april 2013) I have not met even a single developer face to face, not talked to any of their staff and I thought by doing it that way there would be a better chance of staying neutral. Avoiding personal relationships may have its advantages but in the real world everything is about networking and relationships.
Nobody can do it all alone, the system does not work that way. April 2012 I told my wife I was going to buy this domain, newpattaya.com, and I was going to show them it could be done differently. I knew back then I could easily make a website grow even though I also knew that trying to popularise development and construction would be an impossible task. I love construction, the average person do not, I knew I could not change that. But I could try to make it more entertaining.
This Songkran week something happened that made me think of the sad song by Bonnie Raitt "I can't make you love me if you don't". This event also inspired me to write these words. Having a website, writing in public like I do, there will always be somebody who does not like me, others who do not really care and then somebody who think I am doing a great job. The scary part is that I don't know any of these people, they are all strangers to me. Somebody I don't know have an opinion about me, I am not sure I like the thought of that. I do know you cannot twist somebody's arm and make them love me if they don't.
Something happened this week that made me sad so thursday 18 April I went to Silverlake. I alway go there when I feel blue, I go to this beautiful place where I can look at all the flowers, the lake and the hills and forget about the problems in the world. I am a garden person and a nature lover and Silverlake is my getaway place. I must enjoy it while I still can, next year it will all look very different with a huge water park as a neighbour and I will need to go elsewhere when I need to heal my soul.
Don't get me wrong and don't feel sorry for me, I did feel tired, and at the time almost ready to throw in the towel thinking it was more trouble than it's worth, but looking back I am happy it happened because it helps me evolve, it helps me see the world from a different perspective and that is exactly what I am all about. I believe I must constantly work to improve myself, and if I don't feel down once in a while I will not be able to appreciate life to its fullest. Just being alive is a miracle, being able to walk and talk and to wonder about things is a miracle. Why I chose to sit here and write this nonsense, well, the little one (another miracle) is sleeping upstairs and I am alone with her in the house.
Perhaps I should be more objective and less subjective when I write. I was there when they were building Northpoint, I saw they were doing something different, I grew attached to the project and perhaps I lost my objectiveness. In this moment of truth I must admit that I do favour certain developers. I favour the little developer with a small budget, the developer striving to become successful while battling with the big boys. And I favour Tulip Group, not because I like the people involved but because I believe they are bringing quality to Pattaya. I favour Sansiri, I know they can build but they are scary like hell, like a machine with no heart. Yes, I am being subjective again. Feelings are involved, it is my feelings and I'm a human, not a robot. This is the only way I can do it, it may not be fair but what else can I do?
The role of an editor is not to be right all the time, that would be boring. An editor must have a strong personality and believe in himself while understanding the world is complex and he is not right all the time and nobody can predict the future. His job is to raise awareness of certain topics, to start a debate and make people think for themselves so they will end up having their own opinion. Of course, a very talented editor could end up being an opinion maker and especially in a very competitive market his words could make a difference.
I miss the smart controversial editor who is not afraid to tell his opinion, who is able to cut through all the crap and go against the mainstream when needed. Sometimes the newspapers are handed a story on a plate and I ask myself why they don't use it. As an example, Kingdom Property recently sold an entire tower to an investor, had a press release and then the papers all just copied that press release. Instead of just copying the press release somebody could have made an analysis and written a great story. A headline like "Kingdom Property's market position in Pattaya strengthened considerably" could have been used, instead it was treated as normal news. This was editorial news, earth shattering news in Pattaya, it does not happen every day that an investor buys an entire tower comprising 224 units, almost a third of the whole Southpoint project. Who is this mysterious and secret investor that can afford to go shopping for close to 1 billion baht? Obviously someone who believes in the future of Pattaya, someone not afraid to take chances. I am still skeptical, it sounds too good to be true, I will believe it only when the money has been transferred.