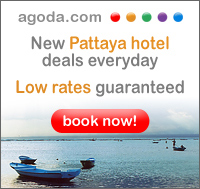 The face of Pattaya is changing. Pattaya is turning into a new Pattaya. We are witnessing an unbeliveable change taking place these days where Pattaya is turning into a Resort Community. We are witnessing the many new projects in Pattaya altering the skyline with Thailand's tallest buildings being built here at the moment. Don't believe me? Just take a look at some of the links on the right side of this page. I am just showing some of the new  projects. There are many more projects taking place and a lot more coming. Of course this massive new development of real estate can be explained.

Pattaya has a bright future. We see Pattaya as being the heart or the center of a strong growing south-east asian region. Sooner or later Pattaya will merge with Bangkok, at the moment we are just waiting for a fast rail service that will speed up that process.

There are several factors that need to be considered when trying to explain the reasons for these rapid changes. First there are the higher number of tourist arrivals. A high number of tourist arrivals means that a lot of world class property development is taking place in the area. Property development brings economic growth. Developers from Bangkok have realised that Pattaya has a great future by being a seaside resort community. Who would not like to own a condominium in a beautiful High-Rise building with a stunning sea view? Not only the developers from Bangkok but also Bangkok citizens from the middle and upper classes have finally discovered the true value of this seaside community. These Bangkok residents usually buy a condominium here and use Pattaya as a weekend getaway. You will notice the people from Bangkok by the increased traffic especially on Sukhumvit Road and by the high number of visitors in the famous shopping mall Central Festival Pattaya Beach that opened on january 23, 2009.

I simply can not imagine the Pattaya we see today without the beautiful Central Festival Pattaya Beach complex. I believe that the opening of this shopping mall has had a tremendous impact on Pattaya. It is probably this event that can explain the transformation that has taken place and pushed Pattaya in the right direction. We must not forget that situated above the new Central Festival Pattaya Beach complex is the stunning 5 star Hilton Pattaya hotel.

The fact that the 5 star international hotel chains like the Hilton and the Holiday Inn have come to Pattaya is a strong indicator that Pattaya has changed. We aim to promote Pattaya and the job is easy with so much activity going on. Pattaya is an exciting place to be, you simply get the feeling that this is the place where things are happening. This place will keep attracting tourists. This is the place to invest because this place has a bright future.

There used to be a high season and a low season in Pattaya. Not anymore. The high season was from november to january, this is the dry season where the humidity is generally lower and the temperature can drop a few degrees. The high number of tourists especially from Russia have cancelled the low season because they keep coming all year. The Russians simply love this place, sometimes you will get the feeling that the Russians are everywhere. This a good thing for Pattaya and its hotels because that means a high room occupancy. Tourists spend money, some tourists invest in property and that means economic growth. The economic crisis in the eurozone is not affecting Pattaya severely as visitors come from all over the world. Of course, Pattaya looks forward to a european recovery. China is enjoying a yearly growth of about 10% and Pattayas proximity to our great northern neighbour can only be considered an advantage. There is no need to mention that the economic growth in India is also good news for the asian region.

In short, the higher number of tourist arrivals means that world class property development is taking place in the area bringing economic growth. International 5 star hotel chains coming to Pattaya is a healthy sign for the area. Pattayas proximity to the new Suvarnabhumi airport is of course a great advantage. World standard hospitals are already in the area and both tourists and expats are frequent customers. Pattaya has international schools and we must not forget the famous Central Festival Pattaya Beach complex. Pattaya also has a motorway system that goes all the way from Bangkok to Pattaya Klang. Now we are just waiting for a fast rail system to Bangkok.

Reading the text above one might the impression that everything is just fine in Pattaya and this is not the case. Many parts from the old Pattaya are still around. Powerful individuals are preventing Pattaya from getting such a basic necessity as metered taxis. An extremely high percentage of tourists travelling to Thailand criticise the thai transportation services.

There are a lot of the so called the Baht-Buses that contribute to the traffic congestion on the streets, especially on Pattaya Beach Road. Why is the Baht Bus Mafia allowed exclusive rights to transport passengers in Pattaya? They do not allow competition. Things like that give me no pleasure to write about but Pattaya can't be ruled by the lokal mafia. The Mafias logic is like this: We were here first so we own this city. It is all about money ending up in the right pockets.

Pattaya has grown into the second largest city in Thailand and people have a right to metered taxis just like in Bangkok or any other normally functioning city. Ripping off tourists and residents have to stop. This can not be done locally so the thai government have to step in to protect the tourists and save the reputation of Pattaya. Also the Jet Ski Scam can't be dealt with locally.


Would you like to support this website? Send funds to us using PayPal, send to secondtouch@hotmail.com