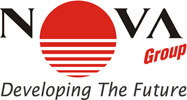 Located on Second Road in South Pattaya near Walking Street and Holiday Inn Express Pattaya under construction, Nova Platinum Hotel has grown from a 70-room property to a 270-room property with 3 buildings and two swimming pools. After 4 years of construction the new wing and the last phase of the Nova Platinum Hotel was completed and there was an opening celebration or a celebration of the completion 3 February 2011. It is in order to mention that the General Manager of Nova Platinum is Michael Procher.
What makes this hotel special is that there is a story attached to it (which makes it more fun to yours truly), well, the story is that apart from Nova Group the hotel has another very famous owner, Nova Group's long time business partner, 90 years old Dr Hari Harilela. They say Dr Harilela grew up as a street vendor in Hong Kong and ended up as one of the richest Indians in Hong Kong, he is the Chairman of The Harilela Group. Dr Harilela has set up a chain of hotels, one of which is the Holiday Inn Park View in Singapore. Without knowing Dr Harilela personally he seems like a very friendly person – very different from the greedy and corrupt businessmen we all know too well here in Thailand.
Another fun story is that The Nova Platinum Hotel is managed by ONYX Hospitality Group, a thai company which is also behind Thailand's famous Amari Hotels. Peter Henley is the CEO & President of ONYX Hospitality Group. The ONYX brand portfolio spans a range of hospitality segments of which Amari is probably the best known in the 4-Star segment, SAFFRON deals with the luxury brand and OZO deals with the 3-Star brand. Read more about ONYX's different brands here.
So Nova Platinum is not a branded Hotel, well it has the Nova brand of course, but Nova Group want ONYX's services for management. ONYX have 3 hotels they manage for Nova Group, one is the Amari Nova Suites which is obviously a branded hotel, then there is the Nova Platinum Hotel and Nova Gold Hotel.
You can book a night at this new hotel here for only US$ 38, this rate does not include breakfast. If you want breakfast included the price is US$ 55.