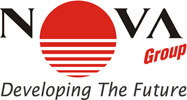 Nova Group started business in Pattaya in 1994 with the acquisition of the Nova Lodge Hotel formerly known as the Amari Nipa Lodge. In 2000 Nova Group was formed with the first project being Nova Park Serviced Apartments. Nova Park Hotel & Serviced Apartments is not exactly a new hotel but I make an exception here.
Nova Park Hotel & Serviced Apartments is located in Central Pattaya in the area also known as Nova Village or Nova Street – Nova Group have changed the area dramatically with its many completed projects in the recent years. In this area you will find the Nova Gold Hotel, Amari Nova Suites Pattaya and Centara Nova Hotel & Spa Pattaya and Nova Atrium.
Guests who stay here usually like to come back. The apartments are not new but clean and still in good shape and the rooms are spacious and equipped with kitchenette. Very good value for money indeed, this hotel must be recommended to guests looking for a good place for a reasonable price. Personally I was surprised to learn about the high customer satisfaction – considering the price they do get good customer reviews.
Jameson's The Irish Pub, Bar & Restaurant – Established 2004 and opened January 17th 2005 is part of the hotel complex – very good but some customers find it a little bit pricey, looking at the menu I must agree. 140 Baht for a Bacardi Breezer is not exactly value for money. It looks like this Irish Bar has established a regular clientele – two of the most famous is probably Dr Iain Corness and Paul Strachan.
You can book a night at this 3-star hotel here for as little as 850 Baht, this price does not include breakfast. The Hotel has 95 rooms.