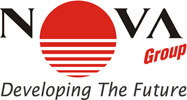 Nova Gold Hotel is located in Central Pattaya in the area also known as Nova Village or Nova Street – Nova Group have changed the area dramatically with its many completed projects in the recent years. In this area you will find the Nova Park Hotel and Serviced Apartments, Amari Nova Suites Pattaya and Centara Nova Hotel & Spa Pattaya and Nova Atrium. I would call Nova Gold a Business Hotel as they have a lot of corporates staying there, especially a lot of Koreans and Japanese, about 80% of the guests are corporates. You can book a 37 sqm Superior room here for only 1.170 Baht – that is an extremely good price, I dare say you can not get a 4 Star quality hotel like this at such low prices anywhere in Pattaya.
There are 77 rooms in this hotel. It is located in a quiet area so you will get a good nights sleep if you wish to wake up early in the morning. A desktop computer is provided in every room and Nova Gold Hotel Pattaya offers complimentary WIFI connectivity throughout the property.
The Nova Gold Hotel is managed by ONYX Hospitality Group, a thai company which is also behind Thailand's famous Amari Hotels. Peter Henley is the CEO & President of ONYX Hospitality Group. The ONYX brand portfolio spans a range of hospitality segments of which Amari is probably the best known in the 4-Star segment, SAFFRON deals with the luxury brand and OZO deals with the 3-Star brand. Read more about ONYX's different brands here.
So Nova Gold is not a branded Hotel, well it has the Nova brand of course, but Nova Group want ONYX's services for management. ONYX have 3 hotels they manage for Nova Group, one is the Amari Nova Suites which is obviously a branded hotel, then there is the Nova Platinum Hotel and Nova Gold Hotel.