Movenpick Siam Hotel Pattaya has been purchased by Siam Motors Group. As the owner of Siam@Siam Design Hotel & Spa, the company is no stranger to the hospitality business. Siam Country Club Pattaya Old Course, Siam Country Club Pattaya Plantation and Siam Country Club Pattaya Waterside are also owned by Siam Motors Group.
Siam Motors Group has purchased the property from Apex Development. Originally the hotel was named Movenpick White Sand Beach, now the hotel has been renamed to the 5-star Movenpick Siam Hotel Pattaya.
This is a true beachfront property, located on a prime plot of land with a 90 meter stretch of beach.
The hotel is located on Sukhumvit Road close to Ocean Marina Yacht Club.
Movenpick Siam Hotel Pattaya is a 34-storey high-rise comprising of 270 rooms with balconies. The rooms are relatively big, a standard room has a size of 47 square meter.
There will be a beachfront swimming pool and beach restaurant.
Design by P49 Design & Associates.
The hotel is scheduled for opening in January 2016.
The project comprises two towers, the hotel is the north tower. The 37-storey south tower, Movenpick Residences owned by Apex Development, will be managed by Movenpick Siam Hotel Pattaya. Movenpick Residences is home to 210 units.
Published 4 June 2015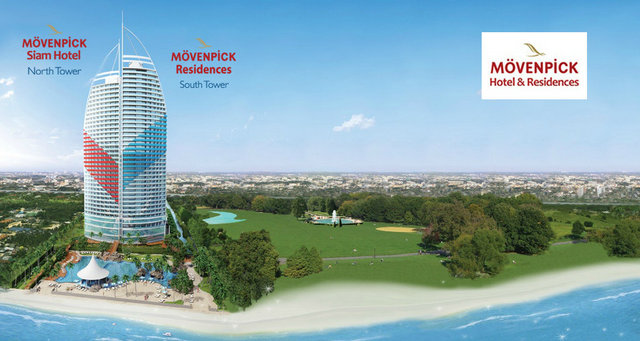 Want more information? Contact us on FACEBOOK