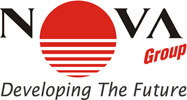 Notice the -5 Ice Bar and Lounge to the right in the picture below. Thailand is indeed a hot country and if you need to cool yourself without air conditioning this is the right place to go – and you can enjoy a cocktail in the bar at the same time. The -5 Ice bar is very famous – and Amari Nova Suites Pattaya is also famous. The Amari brand itself is well known and loved. The manager of Amari Nova Suites is Mr Sascha Kunze.
Amari Nova Suites is a 5-star hotel with 77 rooms, the Hotel opened November 2007. There are stylishly decorated studios and suites: Spacious studios, 1-bedroom, 2-bedroom and 3-bedroom suites, with a size from 46 to 190 sqm. Located in Central Pattaya in the area also known as Nova Village or Nova Street – Nova Group have changed the area dramatically with its many completed projects in the recent years. In this area you will find Nova Gold, the Nova Park Hotel and Serviced Apartments, Amari Nova Suites Pattaya and Centara Nova Hotel & Spa Pattaya and Nova Atrium.
Amari Nova Suites is owned by Nova Group and managed by ONYX Hospitality Group, a thai company which is behind Thailand's famous Amari Hotels. Peter Henley is the CEO & President of ONYX Hospitality Group. The ONYX brand portfolio spans a range of hospitality segments of which Amari is probably the best known in the 4-Star segment, SAFFRON deals with the luxury brand and OZO deals with the 3-Star brand. Read more about ONYX's different brands here.
So of course Amari Nova Suites Pattaya is a branded Hotel but Nova Group want us to know that they are also involved, hence the name Amari Nova Suites. ONYX have 3 hotels they manage for Nova Group, one is the Amari Nova Suites,  then there is the Nova Platinum Hotel and Nova Gold Hotel.
You can book a night at this new hotel here for only US$ 47, this rate does not include breakfast. If you want breakfast included the price is US$ 64.