The island of Koh Chang offers tourists a combination of the mountains in Khao Yai and the beaches in Koh Samui or Koh Samet. Koh Chang offers a two-in-one package and that is indeed unusual. While relaxing in the hotel swimming pool you can enjoy the amazing mountain views and the stunning sea views, all at the same time. Koh Chang has real mountains, not just hills. Koh Chang's highest point is Salak Phet which is 744 meters above sea level. Furthermore the mountains in Koh Chang seem bigger than their counterparts in Khao Yai, simply because the mountains on Koh Chang rise from sea level, while the mountains in Khao Yai rise from a plateau a couple of hundred meters above sea level. Koh Chang is the best preserved tourist holiday destination in Thailand.
Koh Chang Island is close to being an undiscovered paradise. Perhaps I should describe the island as an undeveloped paradise – I will explain what I mean by that later. Koh Chang is Thailand's third largest island after Koh Samui and Phuket and two different ferry companies, Ao Thammachat Ferry and Centrepoint Ferry, provide transport services between the mainland and the island. In that respect Koh Chang is different from Koh Samet – You can actually bring your car to Koh Chang, that is certainly not the case for Koh Samet.
Let me explain why Koh Chang is an undeveloped paradise. Here are a few questions you should ask yourself:
– Are there any white sandy beaches? Indeed there are, actually a lot of them.
– Is the water crystal clear? Oh yes, very different from the water quality along Pattaya's shore.
You will find no shopping malls on Koh Chang, not even an MK Restaurant. If you are looking for western fast food chains then Chesters Grill in White Sand Beach is your best option.
Lamai Beach on Koh Samui got its first McDonald's restaurant in 2002, more than 10 years ago, however there isn't even a single McDonald's restaurant on Koh Chang.
Personally I can do without a McDonald's on the island but from a business point of view it would make sense for someone to open an outlet of this kind. Many Thais from Bangkok would love for there to be either an MK or a Fuji Restaurant. A lot of Thais visit Koh Chang during new year, Songkran and long weekends etc., so there is a demand for this kind of restaurants but still no supply.
A shopping mall would be nice as it would provide a place where both tourists and locals could relax in air conditioned comfort when the temperatures peak. While the swimming pools keeps us comfortable an air conditioned mall could be a nice alternative. Some of us feel that a temperature of 35 degrees is not exactly pleasant.
On Koh Chang you will NOT find:
• Motorbike taxis
• Deckchairs and umbrellas on the beaches
• Annoying sellers on the beach of:
– Toys
– Sunlasses
– DVD's
– Tattoos
– Fake watches
– Beach towels
– Ice cream
– Food and fruits
These sellers of goods of all kinds will not leave you alone while resting in a deckchair on the beach in Pattaya or in Koh Samet. You may close your eyes and pretend to be asleep or dead but they will not leave you alone. You will be forced to either tell them NO or shake your head, you have to give them some kind of signal that you are not interested in buying anything. They will come and bother you every 2 minutes and there is nothing you can do about it. That is how it is in Pattaya, that is how it is on Koh Samet – It is NOT like that on Koh Chang, thank Buddha for that.
Another good thing is that you will not find any Thais visiting Koh Chang for the single purpose of drinking thai whisky on the beach. In Pattaya they arrive at the beach in a pickup truck carrying 10 people or more, they then settle down and sit there all day eating and drinking and doing nothing else. We have loads of them in Pattaya during the weekends and holidays, fortunately this group of people is not to be found in Koh Chang.
There are indeed many thais that visit Koh Chang but it is mostly people from the middle class and they tend to have a more civilized behavior than the thais that invade the beaches in Pattaya.
While there is no motorbike taxi service on Koh Chang they do have songthaews similar to the Baht Busses in Pattaya, these songthaews are used for longer routes between the villages. The easiest way to see the island is to rent a motorbike at prices starting at 200 baht per day.
The most famous beaches or villages are White Sand Beach, Kai Bae Beach, Lonely Beach and Bang Bao. Of these places White Sand Beach is most developed followed by Kai Bae Beach that has a lot of construction activity at the moment.
The other side of the island, the side facing the mainland is of little interest and there is a simple explanation for that: the beaches are not nice, there are rocks, stones and no sandy beaches. One this side of the island you will find the two ferry piers, a hospital, a police station and a temple. However, there are a few waterfalls that might be of interest. In general people stay away from this side of the island. I have been there once and I see no reason to return.
I mentioned earlier that Koh Chang is an undeveloped paradise. This is certainly true from a property point of view. There are extremely few condominium projects on the island, I am only aware of 4 projects.
One project is the Chang Noi Condominium at Siam Royal View located in the northwest corner of Koh Chang.
Then we have Tranquility Bay Resort and Residences located near Bang Bao in the southernmost part of the island.
Then there are two off-plan projects that we keep an eye on.
In other words, there are surprisingly few condominium projects on Koh Chang. One reason is that 80% of the island is a national park, naturally that sets limits as to what can be built.
Finally we can mention that a new Catamaran Ferry service between Pattaya and Koh Chang is scheduled to start operations at the beginning of high season 2014. Read more about it, click here.
If the new catamaran ferry is successful then Koh Chang could be invaded by Russians in the near future. That would certainly change a thing or two.
Finally, let us talk a little about the distance to Koh Chang. There are 245 km from Pattaya to the ferry pier on the mainland just outside the city of Trat. First we reach Rayong, then 20 km later we see the signs to Koh Samet. 45 km from Rayong we will find Klaeng, then Chanthaburi and finally the pier outside Trat. It is a long drive and we are close to the Cambodian border. Then we wait for the ferry to arrive and after after 30 minutes onboard ferry we reach the final destination. From the ferry pier on Koh Chang there is another 30 km to Bang Bao.
Published 21 April 2014
Always a mountain lover. This is why I love Koh Chang.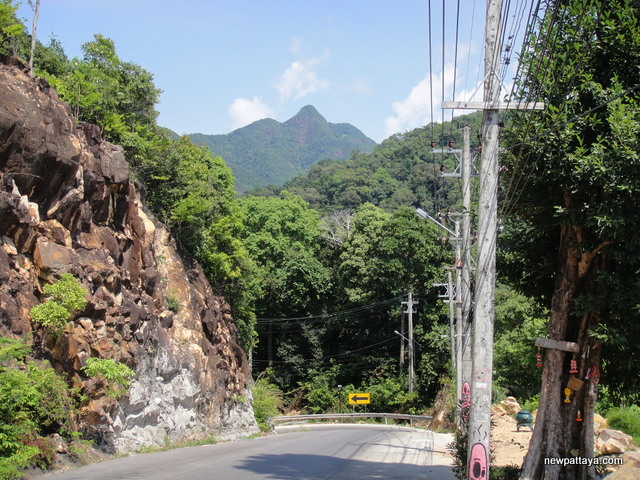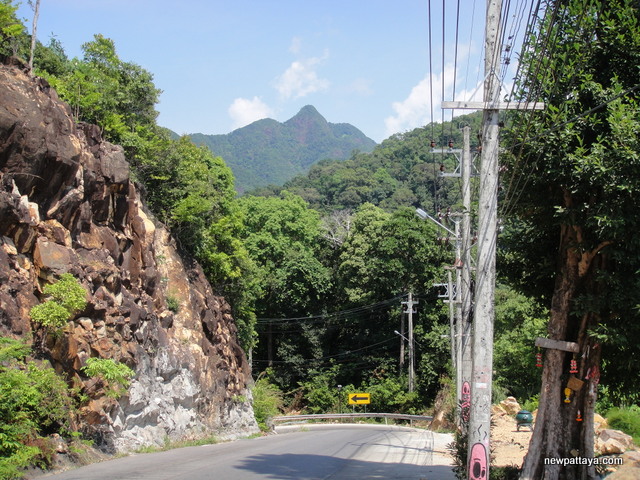 Koh Chang has a great future. It is better than Khao Yai. I love the place. Once people find out about this place things will start to happen.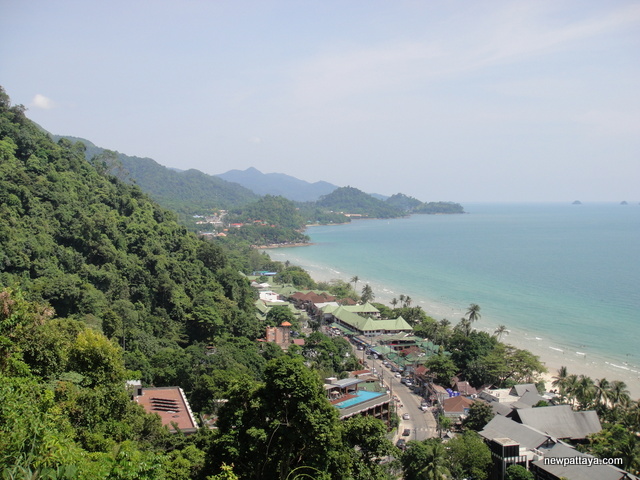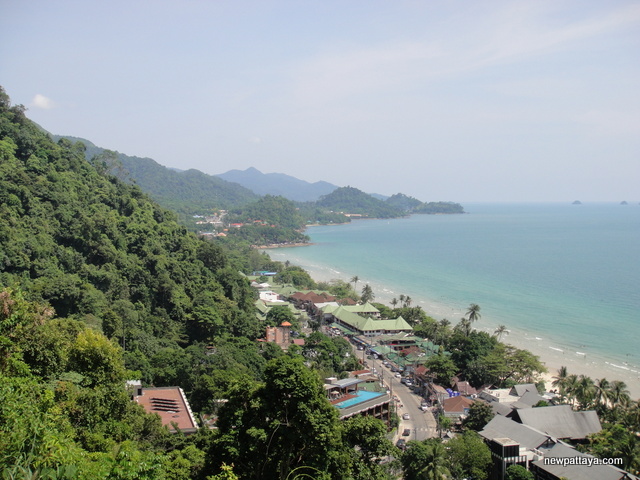 No deckchairs, no umbrellas, no sellers of goods, no whisky bottles.
Only children playing.
This is Koh Chang.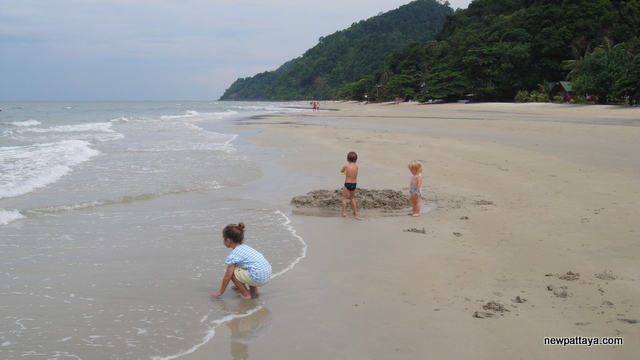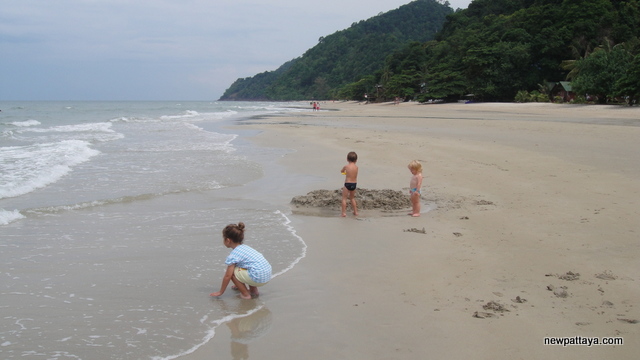 If the kids are happy then what more can you wish for? A camera can capture the moment.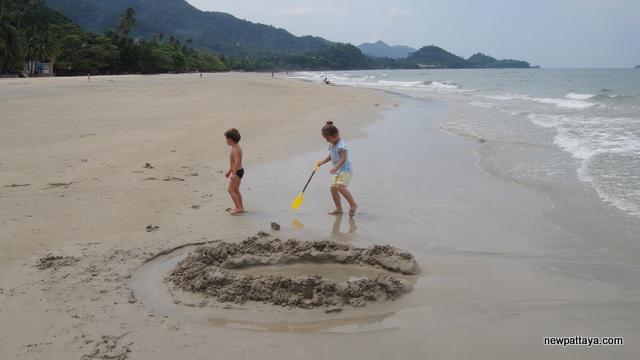 This looks dangerous. An infinity edge swimming pool and a baby alone in the pool.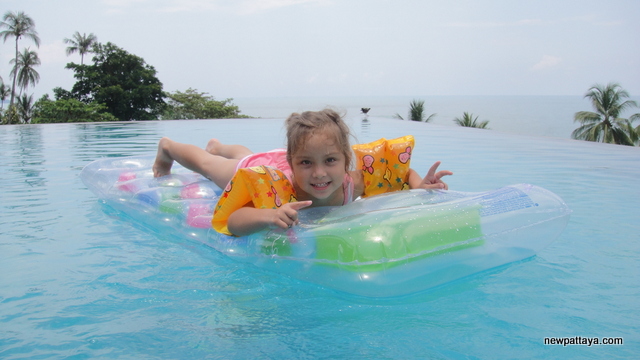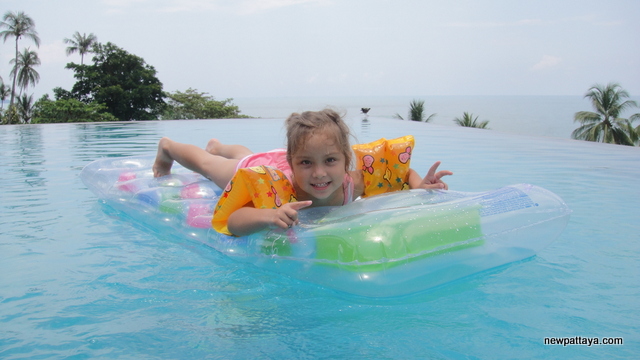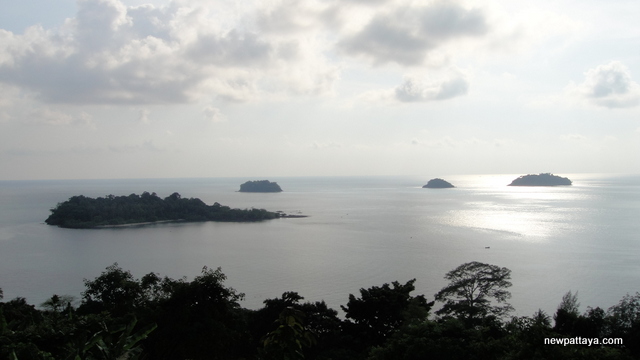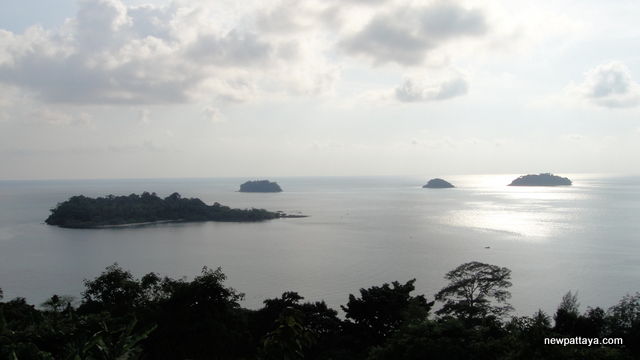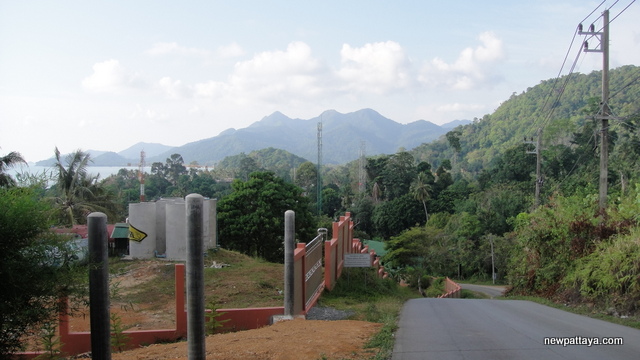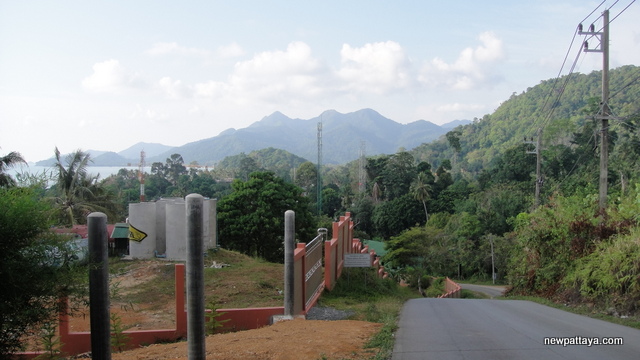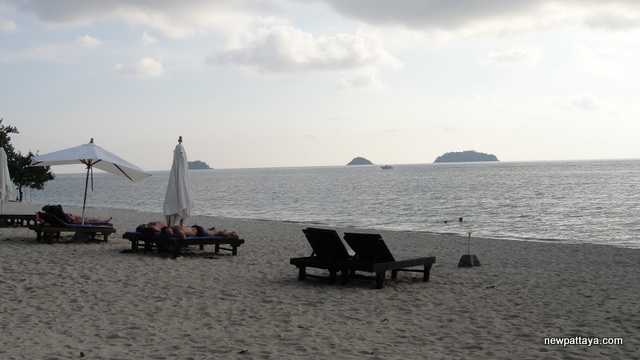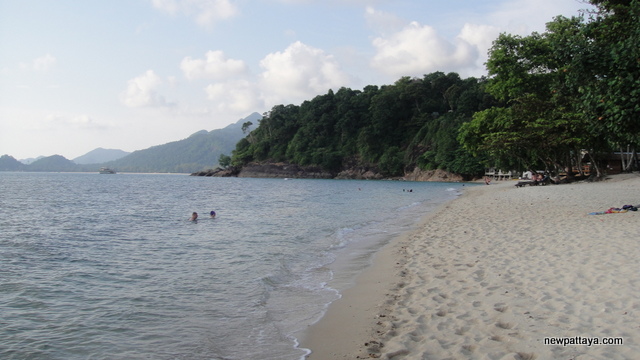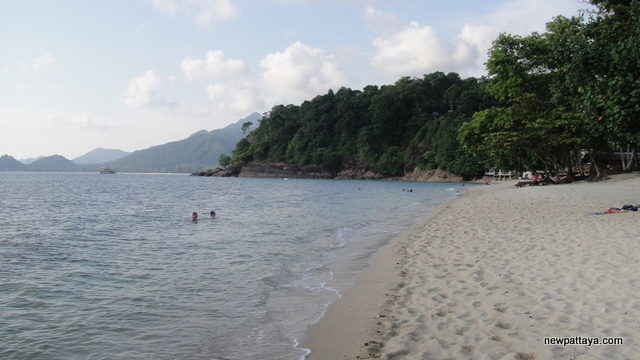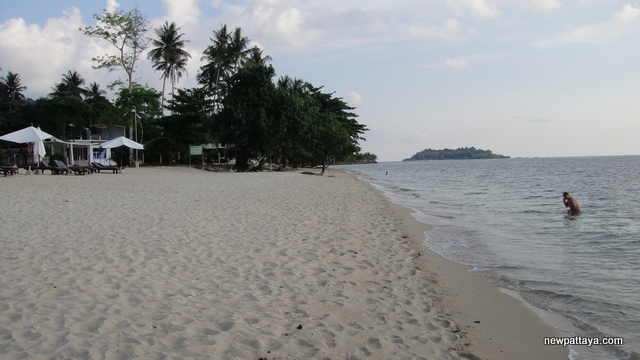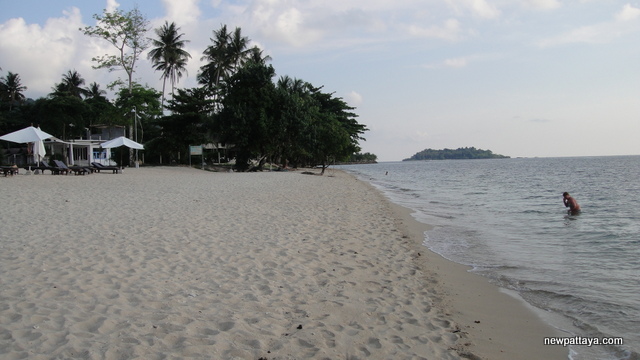 A room from 150 – 300 baht including free WiFi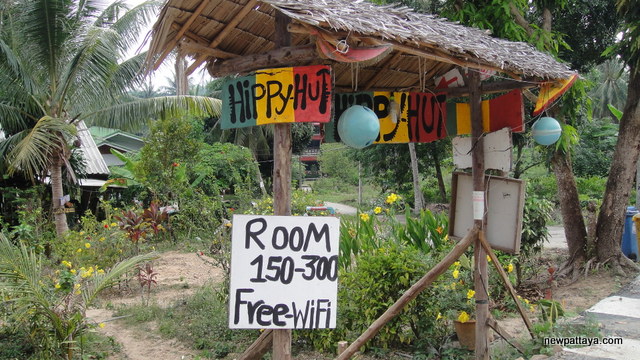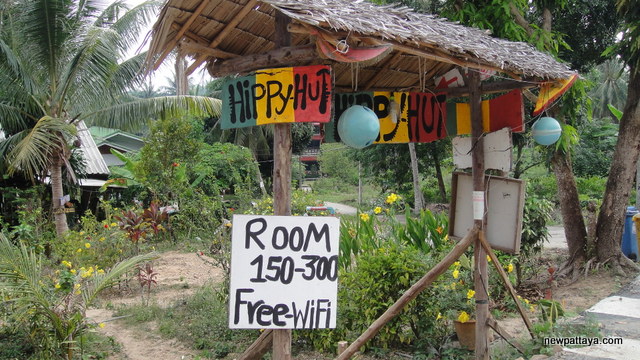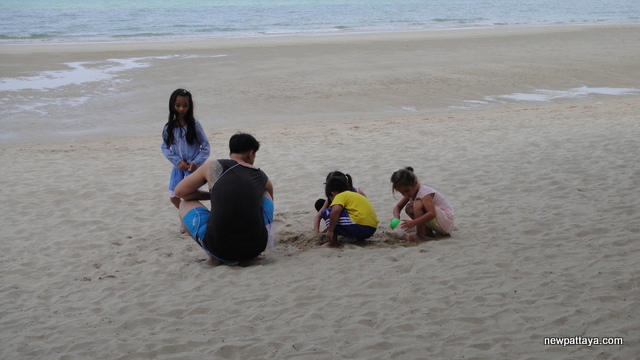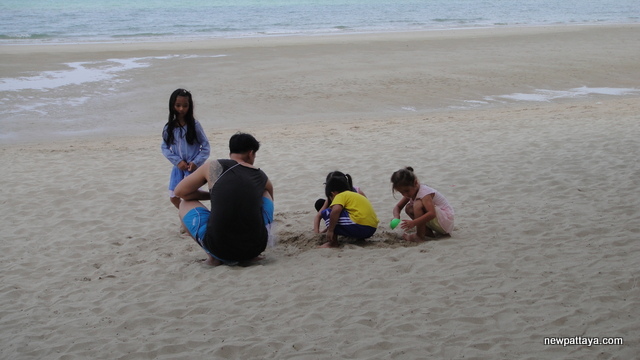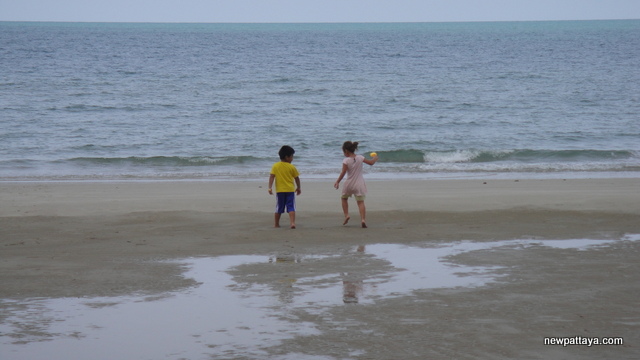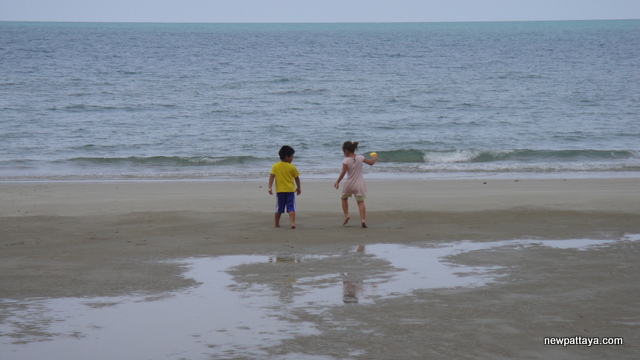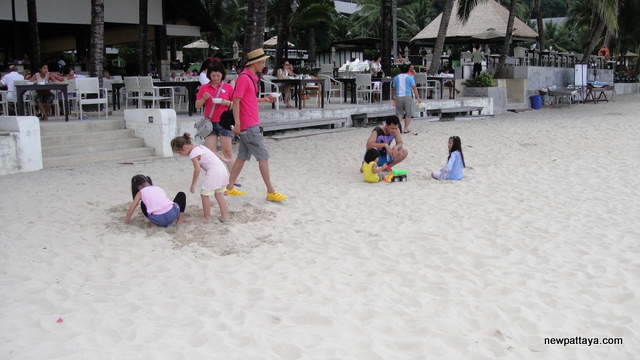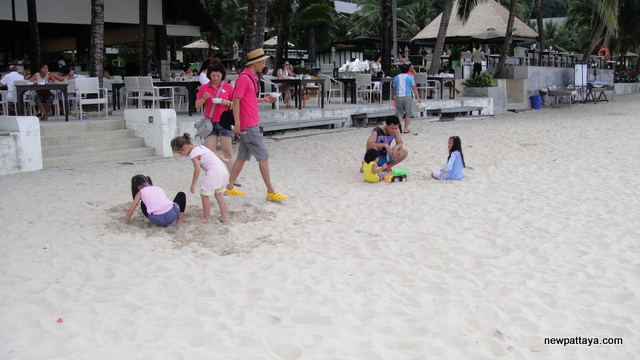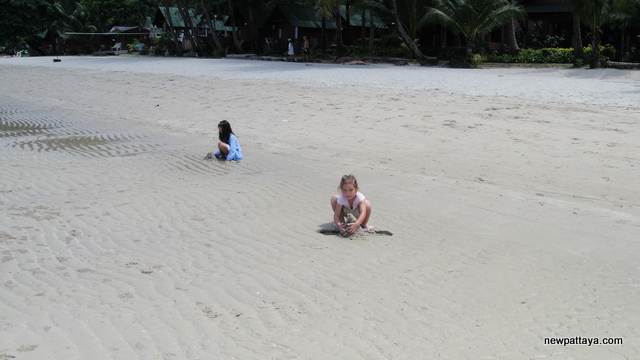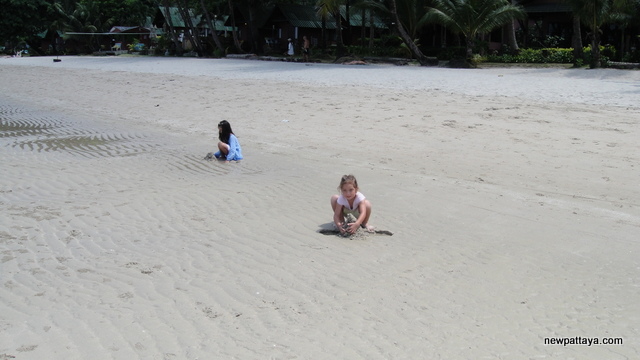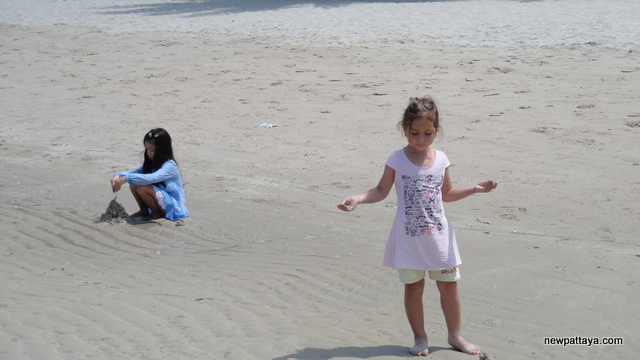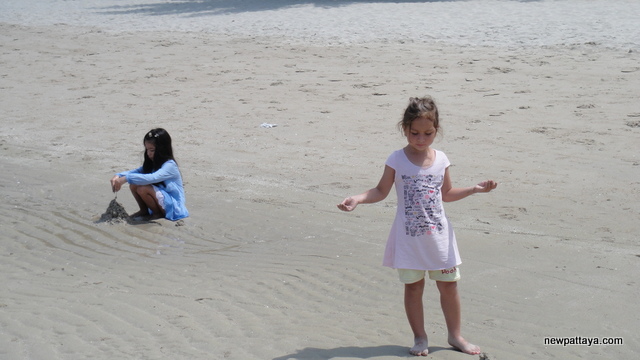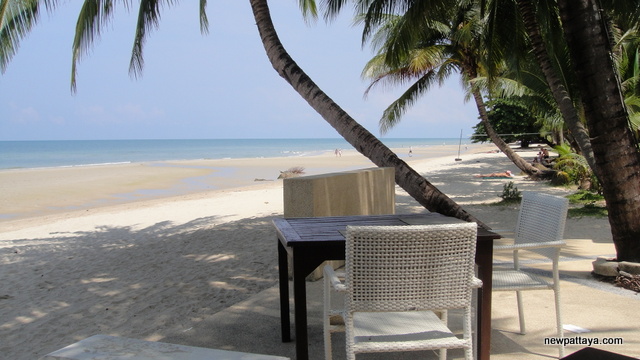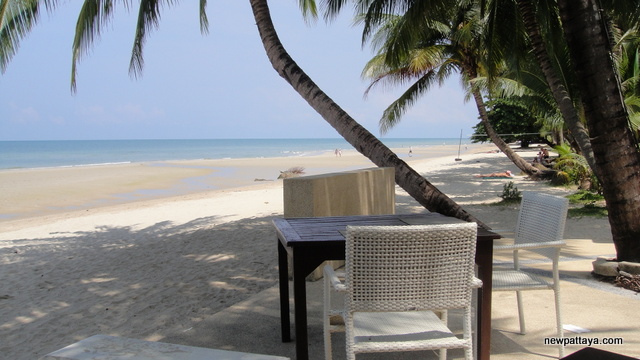 Would you like to support this website? Send funds to us using PayPal, send to secondtouch@hotmail.com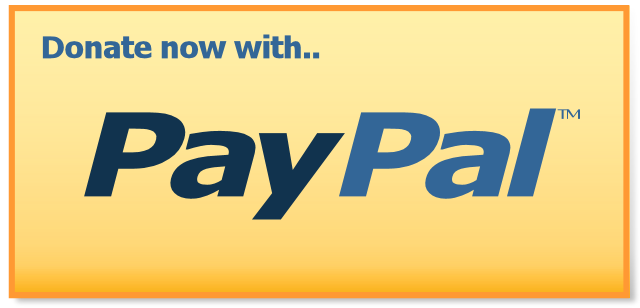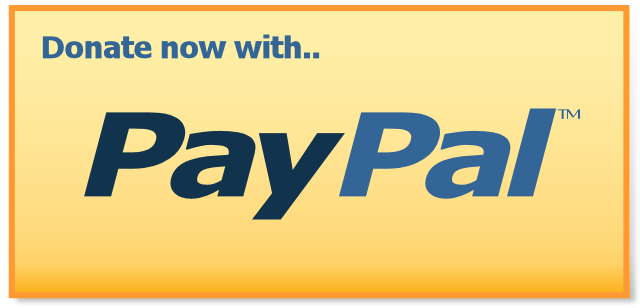 Want more information?