I always use agoda when I book hotels in Thailand. What makes agoda so valuable to me is that I get some of the best prices plus I earn points for each booking I make. I even earn 500 points for reviewing my stay at the hotel. I get 4-7% rewards cash back on every booking I make and when I have enough points I can stay a night at a hotel of my choise for free. Another plus is that agoda accepts PayPal so I do not need to use my credit card to make bookings. I promote agoda here, I even promote Paypal, I do so because their service is excellent.

My favourite hotel in Bangkok is the Grand Diamond Plaza Suites Hotel. I love the location, the breakfast and the pool. And it is located just next to the Platinum Fashion Shopping Mall. The hotel is not far from the Central World shopping Mall and the Paragon Complex.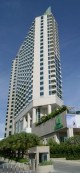 In Pattaya I recommend the Holiday Inn which is a family-friendly new hotel with a beachfront location. This is a very nice and new high-rise hotel and that is the main reason for promoting it. There is no denying it,  I just love high-rises. I am happy that Holiday Inn has come to Pattaya.
I also recommend the Hotel Baan Khun Nine if you like a hotel located near the beach. It is located just next to the bigger hotel Sandalay Resort. The owners of these hotels are brothers and sisters.