CTF Finance Centre in Guangzhou is a mixed-use supertall development with a height of 530 m. The CTF Finance Centre has 111 above ground and five below ground floors and houses a shopping mall, offices, apartments, and a hotel.
• Developer: New World Group
• Owner: Chow Tai Fook Enterprises
• Architectural company: KPF
• Main contractor: China State Construction Engineering Corporation
KPF is not just any company. The company has designed 5 of the skyscrapers on the top ten list of the tallest buildings in the world (April 2017):
• Ping An Finance Centre (599m, 4th)
• Lotte World Tower (555m, 5th)
• CTF Finance Centre (530m, 7th)
• Shanghai World Financial Center (492m, 9th)
• International Commerce Centre (484m, 10th)
Construction started in 2010 and the project was completed in 2016.
• Top 10 Tallest Buildings In The Word (April 2017)
1. Burj Khalifa | 829.8 m | 163 floors | Built 2010
2. Shanghai Tower | 632 m | 128 floors | Built 2015
3. Makkah Royal Clock Tower | 601 m | 120 floors | Built 2012
4. Ping An Finance Centre | 599 m | 115 floors | Built 2016
5. Lotte World Tower | 555 m | 123 floors | Built 2016
6. One World Trade Center | 541.3 m | 104 floors | Built 2014
7. CTF Finance Centre | 530 m | 111 floors | Built 2016
8. Taipei 101 | 508 m | 101 floors | Built 2004
9. Shanghai World Financial Center | 492 m | 101 floors | Built 2008
10. International Commerce Centre | 484 m | 118 floors | Built 2010
Online information:
• Guangzhou CTF Finance Centre [Wikipedia]
Published 18 April 2017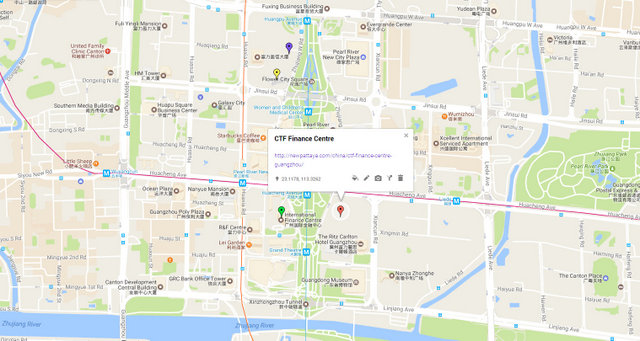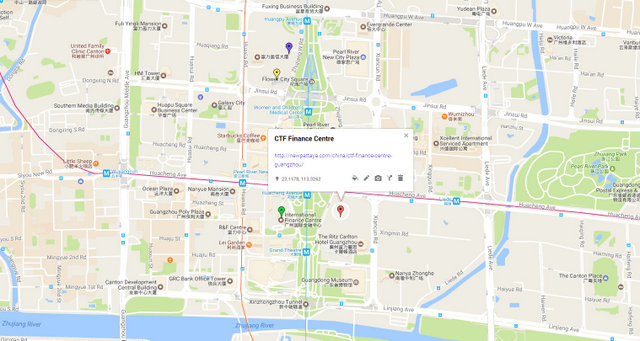 http://skyscraperpage.com/cities/maps/?cityID=25
Want more information? Contact us on FACEBOOK